12 Types of Digital Marketing Services
Digital Marketing has become a vital component of any business's success, especially because of its ability to target specific audiences. As a business owner, you may have considered engaging a digital agency to help augment your digital marketing efforts.
However, trying to learn about the different types of digital marketing services available and what would work best for you might get overwhelming.
That's why we decided to go in-depth into 12 types of digital marketing services that various digital marketing agencies offer, so that you can make a well-informed decision when choosing the right marketing agency for your business needs.
Unsure what a digital marketing agency is or what they do? We go into all the details here.
If you want to engage with agencies for digital marketing-related services, check out our Top 10 Lists: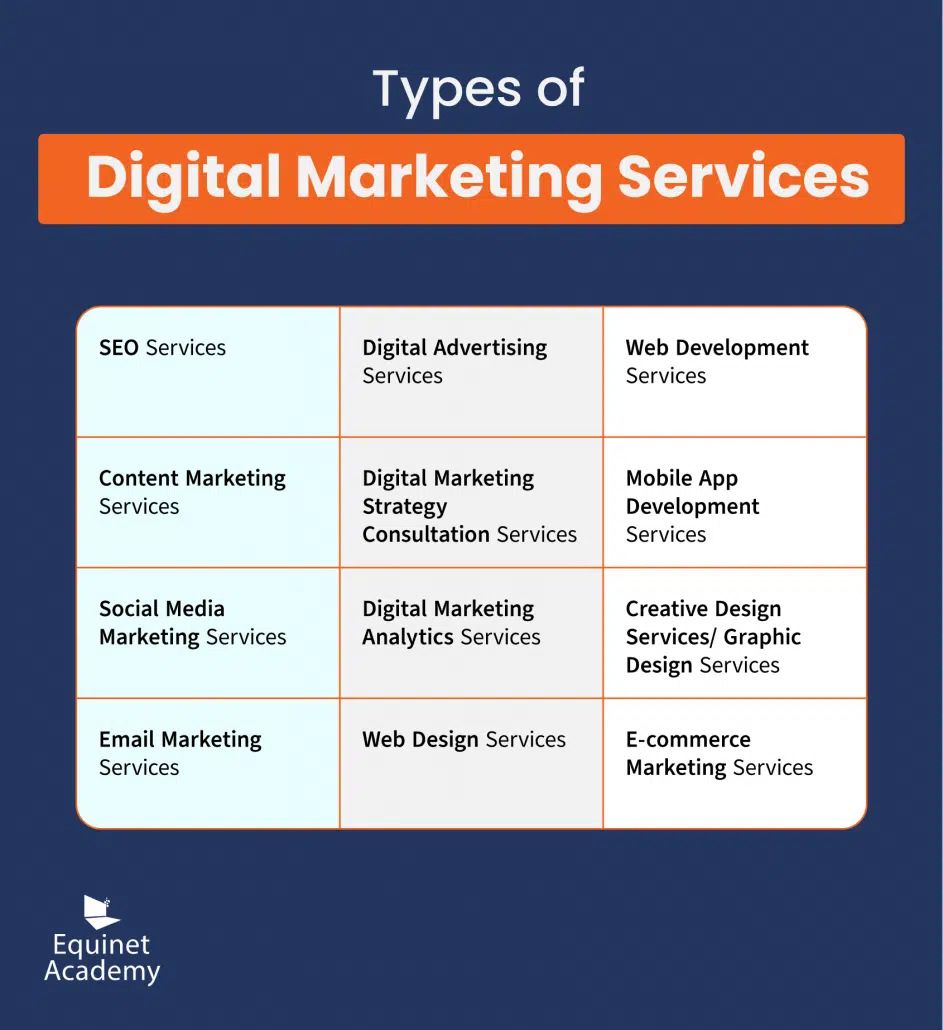 1.  SEO Services
SEO services provided by digital marketing agencies are designed to help your company rank well on Search Engine Results Pages (SERP) – the most popular being Google's, according to Search Engine Journal, a digital trade publication covering SEO. They state that Google takes up 86% of the search market share.
SEO marketing services comprise of:
Local SEO
As the name suggests, local SEO services optimise your website's copy to include keywords that would allow your customers to find you locally. This is especially useful for businesses that operate on a local level, and who might potentially have brick and mortar stores that they need to drive traffic to.
E-commerce SEO
E-commerce SEO services are perfect for businesses that are solely online. With the correct SEO techniques, these businesses benefit greatly from strategic keywords in their web pages' anchor text, having a succinct URL structure that makes it optimal for search engines to crawl, and having attractive product descriptions.
Voice SEO
Increasingly, people are beginning to use just their voice to search for information, products and services on SERPs. According to Backlinko, an authoritative SEO blog, this spike in voice searches can be attributed to smart speaker devices – think Amazon Alexa and Siri.
Social Media Today, an online publication that covers the latest news in the social media space, mentioned that close to 50% of people are researching products using voice search. It's therefore essential for businesses to start optimising their sites for voice searches.
On-page SEO
On-page SEO is sometimes referred to as on-site SEO. This service optimises content such as copy and HTML source codes on your website to make each page rank as high as possible on SERPs for related search queries. This service ensures the content on each page of your website is organised, therefore making it easier for search engine crawlers to give the pages on your site a better ranking. If you're interested in finding out in greater detail what goes into on-page SEO optimisation, consider giving this guide a read.
Off-page SEO
Off-page SEO services are tactics that focus on building credibility and a good reputation for the pages on your website. This is done by maximising the presence of the pages on your website by getting backlinks. Backlinking is the process of getting credible and reputable websites to include your site's link(s) on their pages. Having good backlinks will show search engine crawlers that your page is well-regarded, thereby improving your site's ranking for relevant searches on SERPs.
Technical SEO
To put it simply, technical SEO services are services that serve the needs of search engine crawlers. These services optimise your web pages so that crawlers can:
Find your page much more easily by optimising codes, sitemaps, information architecture, robots.txt and facets.
Index your page by optimising meta robots.
Render your page by optimising JavaScript, the DOM and page speed.
Understand the content on your page by optimising structured data such as Schema.org and HTML, as well as accessibility.
Receive the proper signals for ranking content, by optimising canonical tags and dealing with pagination.
Decide if your web page(s) are worthy of ranking by ensuring content is relevant, your page is authoritative, HTTP is optimised, UX is good etc.
SEO Audits
SEO audits should be performed when a business needs to either create a new SEO strategy or optimise an existing one, troubleshoot a drop in organic traffic to uncover the underlying reasons or if a business is performing its quarterly SEO audit.
Hiring an agency that provides this service would not only make your life easier, but the expertise they provide would be invaluable in helping you grow your organic traffic in the long run.
An SEO audit is a health-check of sorts for your website. While the steps to perform an SEO audit can be quite granular, there are 3 key overarching key elements that the steps stem from. These are back-end factors, front-end factors and the quality of links– both onsite and those that lead to external references (backlinking).
It takes a trained individual to be able to understand how to perform a proper SEO audit. For instance, when checking on the quality of backlinks, it's important to be able to tell which are black hat links (bad) and which are white hat links (good). Sometimes, bad SEO service providers might get shady backlinks– this can lead to your site being penalised by Google.
Shady backlinks include having multiple random no-follow links, or links that are purchased from Fiverr or cheap link services.
Good backlinks on the other hand, include practices like writing competitive, high quality content and writing testimonials for other websites. You can check out this article for a step-by-step guide on how to create SEO backlinks.
It helps to be familiar with how SEO works so that you can better manage and judge the quality of the SEO service provider you hire. Taking a quality course can help a great deal.
2. Content Marketing Services
Content marketing is an essential part of any digital marketing strategy. Creating great content that is both of a high quality and is strategic while being regular with it is not easy. This is why many businesses benefit from hiring a digital agency to carry out their content marketing efforts – at least until they can hire the right people to do the job. After all, with solid content marketing, your business will be able to attract and attain an audience that is clearly defined.
Content marketing services are usually combined with SEO and Public Relations (PR) to achieve the best results. Some popular types of content that agencies produce include:
Infographics
Infographics are a great way to present complex information to your target audience without being too wordy. Using an attractive infographic to get the job done can prove to be very effective – according to the Nielsen Norman Group, a UX research and consulting firm, infographics were liked and shared 300% more than other forms of content on social media platforms.
Web Pages
Optimising web pages to drive traffic with content marketing requires the creator to produce content that doesn't simply shamelessly scream that the product or service is good, but rather, to show their audience it is good through well-thought-out content. A great way to do this is to create landing pages that are dedicated to case studies or guides.
Videos
While video creation is generally thought of as expensive and difficult to do, it actually is easier than you might think – and this form of content is increasingly becoming one of the most effective ways to acquire customers. According to Biteable, a video making tool, 68% of marketers claim that video provides them a better ROI than Google Ads. If you're lucky, you might be able to create a video that goes viral for the right reasons.
Books
Writing books – both physical books and e-books, are great ways to add value to your customers. The idea isn't to sell the books for profit. Rather, especially with eBooks, they should be given away for free, to allow people to benefit from the content, thereby driving them to your website or physical store to find out more and eventually, make a purchase.
Of course, there are many more types of content that's produced– here are 120 you can use for your next content marketing campaign.
To ensure you understand if the agency you're working with is producing quality content that is relevant to the customer personas you're targeting, you and your in-house marketing team might benefit from taking a content marketing course to sharpen your knowledge first.
Remember, ultimately, you're the gatekeeper of the content that represents your brand.
3. Social Media Marketing Services
Social media marketing (SMM) services involve the use of various social media platforms to connect your brand with your target audience in order to drive traffic and sales as well as build your brand's presence. In this day and age, it is crucial to include SMM into your marketing strategy.
Social media marketing is also a great way to build your brand's reputation, create your brand's identity, and foster positive feelings and perceptions about your brand.
Hiring a digital marketing agency to do this would provide you with the expertise needed to execute an effective SMM campaign. Here are some of the SMM services that agencies provide:
Social Media Channel Services
These are services that entail a wide variety of things. Usually, a digital agency would first determine which of your current social media channels are performing well and which aren't. They would then determine which channels to focus on improving in accordance with your customer persona.
For instance, a B2B tech company would probably have to focus its efforts on LinkedIn, and probably stay away from a platform like TikTok, whereas a FMCG company that sells make-up would do well to have content on platforms like TikTok and Instagram.
Social Media Marketing Strategy Planning
Social media marketing strategy planning would be the natural next step an agency would take once they determine which channels to focus their efforts on. Deeper research into your company, your audiences, the keywords that should be of focus in your brand's content, as well as which formats of content to create are all part of the process.
An agency should present the strategy to you in a detailed and systematic fashion, and they should include a content calendar as well.
Social Media Content Creation
This service is the actual execution of the content. This is where the agency's team of videographers, designers and copywriters etc. will work either individually or cohesively to produce stunning content that you can use for your brand's social media accounts. The type of content the agency creates will always be tailored to the respective channel it is supposed to go on.
On your part, it's your responsibility to ensure that the content the agency creates is in line with your brand's persona and actually speaks to your target audience. Also, make sure elements such as optimal image dimensions and the use of appropriate hashtags that actually have large enough audiences that follow them.
Content Publishing
While a task like publishing content on your social media platforms may seem like an easy task, it can actually be rather time consuming and inconvenient. There are optimal times to post on various social media platforms, and further variations depending on the type of business and industry you're operating in. This is why hiring a digital agency to take care of posting and publishing content on your social media channels might be a good idea for your business, especially if you don't have your own in-house marketing team to handle that for you.
Alternatively, if you would like to handle this aspect of social media marketing yourself, subscribing to a social media automation tool might make your life much easier.
Research and Analysis
Research and analysis is very important – oftentimes this service is used in tandem with other social media marketing services like strategy planning, for instance.
Research and analysis services would include the digital agency conducting thorough research on your audience and customers – their interests and behaviours, your competitors – what they are doing on their social media platforms, as well as which influencers and brand ambassadors your company could potentially work with. A good digital agency would also use social listening tools (like Salesforce) to monitor trends and valuable content areas to delve into.
Consultation
Social media marketing (SMM) can be something that is daunting and confusing to navigate. After all, using social media for marketing purposes is vastly different than using it for personal use.
SMM consultation services would entail the consultant or digital agency educating your team and/or yourself about the best practices when it comes to the use of language on each social media platform, how to create a social media policy and guidelines as well as how to engage your target audience effectively, among other things.
Campaign and Community Management
Campaign and community management services would entail the agency running the day-to-day operations of your social media accounts – from posting, to engaging your followers in real time, to keeping up with the latest news and trends, so that the agency would be able to curate relevant content for your brand.
If you are considering getting an agency to handle your social media marketing efforts, it's important that you know how to gauge if they are delivering satisfactory results – taking a social media marketing course, would allow you to know the ins and outs of SMM– which would translate to confidence when handling an agency.
4. Email Marketing Services
According to a study conducted by McKinsey & Company, email marketing is up to 40 times more effective than social media marketing. The same study also found that the buying process is 300% faster in email marketing than social media marketing.
Email marketing is extremely cost effective. The best part about it is that the people you are targeting are individuals who have opted to be contacted by your business, making them more likely to be receptive to whatever your message is. While it may be easy to assume that email marketing is basic, it's not as simple as crafting an email.
Great email marketing takes skills – the most important of which is copywriting. Considering how powerful email marketing can be, you might want to consider hiring an agency to handle your email marketing. Their industry knowledge and the expertise they bring to the table can drive campaigns that would bring maximal results.
If you want to eventually bring your email marketing in-house after the agency has set the framework in place, you would need to subscribe to an email marketing automation tool/service. In addition, taking a solid email marketing course would help with equipping you with the skills necessary to pull-off successful email marketing campaigns.
In the meantime, check out this article which outlines the best subject titles to use to improve your click-through rates.
5. Digital Advertising Services
Digital advertising is driven by data – this is what separates it from traditional advertising. Digital advertising drives sales, brand awareness, and various other business needs across the internet– from Google, to Facebook, YouTube, Instagram, web pages and even mobile apps.
There are many digital advertising platforms and channels available– let's take a look at Facebook and Google.
Facebook
Facebook advertising is projected to make above $60 billion in revenue from advertising in 2021. This sheer size of their audience base means you should be advertising there if you aren't already.
Facebook advertising is great because it has amazing ad targeting options. Facebook Ads can target users by location, age, gender, interest, connections, relationship status, languages, education and workplaces. There are also options for detailed interest targeting, creating look-alike audiences as well as retargeting.
You can also get a good sense of what your competitors are doing on Facebook Ads to see how your ads measure up. If you'd like some quick tips on spying on your competitor's Facebook Ads, this article would make for a good read.
Google
There are a variety of campaigns that can be created on Google Ads – Search, Display, App, Discovery, Shopping, Video, Local, Hotel and Call. Each type of campaign suits specific marketing and business objectives, and there are many ways to further target and customise each campaign on more granular levels.
If you run Google Search and Display ads, this article covers best-practices for creating your next ad creative, and even includes a free checklist for that too.
Then there are also multiple ad formats, a few of which being: native, text-based, banner, video and push notifications.
a. Native
Native advertising is paid content that is designed to blend in with the organic content on a website. Native advertisements can take the form of articles, infographics, videos or anything that the publisher's website might deem as relevant content.
Here's an example of native content:
b. Text-Based
Text-based advertisements are advertisements that only use copy in them– no graphics whatsoever. What text ads lack in graphics, they seem to make up for in other areas. For one, they aren't affected by ad-blocking software and download instantaneously. Also, Google claims its text ads have a click-through rate 4-5 times higher than the industry standard for banner ads.
Here's an example of a text-based ad (with price extensions):
c. Banner
Banner ads are also known as display ads. They are embedded on various parts of web pages– usually, pages with a high volume of traffic. The idea is to get people to click on the ad, which will then redirect them to a landing page, which will lead them further down the sales funnel. Banner ads are part of a display network, the most common one being the Google Display Network.
Here's an example of a banner ad:
d. Video
Video ads are considered display advertisements as well – they just take on the form of videos, and are typically shown before, during or after a video on the internet. The most common video ads you might be familiar with are YouTube in-video ads. However, it should be noted that video ads occur on most, if not all social media platforms and video streaming services.
Here is a screenshot of a video ad on Facebook:
e. Push-Notifications
Push notification ads are ads that appear like regular notifications on your smartphone screen, or like small pop-ups on the top right hand corner of your web browser if you are on your desktop.
What makes this type of ad good is that someone must have agreed to receive the notifications in order to receive them in the first place, making them customers who are pre-qualified.
Here are examples of various types of push notification ads:
Digital advertising is a vast landscape – one that can be extremely daunting if you know nothing about its various moving parts. Advertising budgets need to be maximised, and one of the best ways to ensure this is to have a team that is qualified to run digital advertising campaigns. Whether hiring an agency or doing your digital advertising in-house, training your team and yourself by signing up for a digital advertising course will serve you well in this regard.
6. Digital Marketing Strategy Consultation Services
According to CoSchedule, a content marketing management tool, marketers who plan before executing a campaign or project are 356 per cent more likely to be successful in their efforts.
Therefore, hiring a digital marketing strategy consultant might prove useful – they work with businesses to develop an effective digital marketing strategy that gets results.
The consultants do this by conducting a thorough assessment of the business' current situation as well as their target customer's current situation. A SWOT analysis and audience research are commonly conducted to obtain the required data.
Digital marketing strategy consultants also determine which advertising channels are currently providing or will potentially provide businesses with the best ROI on their ad spend, and work to create a high-converting sales strategy. Oftentimes, the consultants adopt an omnichannel approach, which is necessary to achieve good results.
In digital marketing, measuring your results according to the right KPIs and metrics is just as important as the actual tactic itself. Digital marketing strategy consultants help develop systems for effective measurement, determine which metrics and KPIs to measure as well as educate businesses on which analytics tools and softwares they should use.
Ultimately, the fresh perspective digital marketing consultants bring to the table coupled with their knowledge of the latest trends in digital marketing would benefit businesses.
Whether you choose to hire a digital marketing consultant or choose to handle your strategy in-house, it's important you have an understanding of digital marketing strategies. Consider taking a course in digital marketing strategy to keep up with the latest trends as well get a firm understanding of legacy practices that have withstood the test of time.
7. Digital Marketing Analytics Services
Getting digital marketing analytics down to a T is essential to the success of any digital marketing campaign – understanding how to derive useful information from analytics data will allow you to make better informed strategic decisions. Moreover, campaigns need to be optimised constantly in order to achieve better results.
Agencies that provide digital marketing analytics services usually offer more than just that– which is a good sign that the agency will provide you with insights that will probably impact other areas of your marketing strategy and therefore, business.
It is also important that the digital marketing analytics service provider leverages technology to a great degree – they might have their own proprietary systems that will act as a central point for your data. Alternatively, they will be proficient at using the data analytics tools that are already in the market, the most common one being Google Analytics.
The general flow when working with an agency that provides analytics services might look like this.
First, the agency would have a discussion with you and set goals. Then, they would sync up and onboard your digital channels to their digital analytics platform. This usually would take some time, as they'd need to consolidate all the existing data from your digital channels, solve any kinks that are currently occuring and sometimes, set up tracking codes for certain channels that don't currently have them. Once this process is complete, they'd begin to set up and optimise digital channels, such as SEO and display ads among others.
After this, the agency will monitor the campaigns and use their expertise to optimise them, while regularly reporting the results to you and/or your team. A good agency would always provide actionable insights and be transparent about how they would be improving their results.
If you want to become clear on how digital marketing analytics works so that you can optimise your campaigns yourself, or perhaps so that you can better manage the digital agency you hire, consider taking this digital marketing analytics course.
8. Web Design Services
Your website is your 24/7 store. It never closes, and therefore it needs to function at a top quality at all times. Your customers might visit your website at any time of the day, and you need to be ready to serve them.
Web design services include graphic design, web hosting, flash design, multimedia development, video production and optimising the website to be user-friendly.
Each of these elements require specific skills, and therefore if you hire an agency to design your website, the team would usually consist of people who specialise in a single area. It's important to be clear about the direction you want your website to head, and it's crucial that you receive regular updates from the agency about the progress of your website.
If you choose to do web design in-house, there are content management systems like WordPress and Wix around, and you'll be able to add in plug-ins and web development softwares such as Elementor or Divi to make it easy to design a website without having to use hard coding.
Taking a website creation course might provide you with the expertise needed to handle web designing in-house after you use an agency to handle most of the initial legwork.
9. Web Development Services
While web design services focus on the design aspect of building a website, web development services focus on optimising a website to exist smoothly on the internet or intranet, which involves writing a lot of code.
It's common to find within a web development agency, or an agency that offers web development services: full-stack development services, e-commerce site development services, custom web application development services, custom content management system development services, web support and maintenance services, and quality assurance and testing services.
Unless you have someone in-house who can write code and handle these aspects of web development, it's highly recommended that you engage the services of an experienced professional.
10. Mobile App Development Services
If you engage the services of a mobile app development agency, you may expect to find four main categories of services.
The first would be design. Design would encompass creating the app with visual appeal, to ensure that the target audience would take a liking to it visually. The UI/UX team would also be responsible for ensuring that the app being developed has an optimal user interface and overall experience.
The second would be strategy. The digital strategy that the agency would craft would centre around how the app's design and the requirements of the app can be integrated with the purpose the app would serve in the marketplace.
The third would be development. This would involve the various members in the agency's team working together to successfully bring your idea to life. A good agency would also provide your team and yourself with regular updates.
The fourth would be maintenance. Maintenance encompasses minor bug fixes, adding new features to your app, rebuilding certain aspects or building new aspects of the app and adapting to market updates among other aspects. The agency should also be using analytics and measuring key metrics to provide your team and yourself with actionable insights to constantly optimise the performance of your mobile app.
It's important to ensure that your mobile app is running at an optimal level at all times; much like your website, it's also a 24/7 store and representation of your business that your customers carry with them at virtually every minute of the day.
11. Creative Design Services/ Graphic Design Services
Creative design or graphic design services cover various facets of a business – anything from branding, UI/UX design, product design, packaging design, to communication design etc.
The elements that graphic designers play with are lettering, typeface, colours, forms, images, and so on.
Graphic design is essential because it is one of the pillars holding up your brand's identity – the look and feel of your logo, website, products etc. need to be cohesive, telling the same story across all platforms without there being a disconnect.
When deciding which agency should handle your business' graphic design needs, it's important to take a look at their portfolio of work and determine if their expertise would tie in well with the direction you want your brand's design to take. A good rule of thumb is to work with agencies with experience working with clients who are in the same industry as your business
12. E-commerce Marketing Services
E-commerce stores solely operate online. Therefore, the digital marketing tactics used for e-commerce stores need to be heavily focused on driving traffic to the e-commerce sites and specific product pages, converting the traffic into paying customers, and eventually turning them into loyal returning customers.
If you own an e-commerce business or work on the marketing team of one, hiring a digital marketing agency that specialises in e-commerce would come in handy when trying to grow your business amidst the vast competition e-commerce businesses face in the marketplace today.
E-commerce digital marketing agencies offer services such as SEO, PPC, display advertising, and email marketing among others. The agency might also offer some web design and development services, as well as copywriting services.
These agencies should also be familiar with the various e-commerce platforms out there, such as EWCart, 3D Cart, Jazva, Ecom365Cloud, Shipedge, Shopaccino, and Shopify among others.
When it comes to digital marketing for an e-commerce business, engaging the services of an agency might just be the help you need.
Conclusion
While the information in this article might seem overwhelming at first, learning about the different digital marketing services that agencies provide can help you make the best decision when it comes to choosing an agency to work alongside you. Equipping yourself with the necessary digital marketing knowledge will not only help you when liaising with the digital marketing agency you're working with, but also allow you to take the work in-house eventually–  bringing your business to the next level and helping it thrive.
Feel free to take a look at the courses available here at Equinet Academy, which are run either in-person in Singapore or online, and also consider signing up for our Certified Digital Marketing Strategist (CDMS) Programme to gain all the skills needed to become a competent and successful digital marketer.