Top 10 Web Design and Development Agencies in Singapore
Websites are critical to any business and its digital marketing efforts. From expanding your digital presence, to establishing credibility and legitimacy, websites serve many purposes and can grow your new or small businesses largely. Oftentimes, they serve as a digital storefront where commerce is conducted on a 24/7 basis.
However, for someone with little to no knowledge on web design and development, creating your own website can seem like an impossible task. To help lessen that burden, we have curated this list of the top ten agencies for web design and development in Singapore. Give it a read and consider hiring one of these agencies to ensure your brand has a website that functions well, looks great, and brings customers in.
This list is in no particular order and the agencies listed here have proven their merits in being considered as one of our top 10 in Singapore. Each agency provides different specialisations and experiences for their clients and, depending on your needs, could be an incredible asset to your marketing efforts.
If you want to engage with agencies for more digital marketing-related services, check out our other Top 10 Lists:
At the same time, if you want to learn more about the type of digital marketing services you can engage an agency for, check out our article: 12 Types of Digital Marketing Services
1. Bray Leino Splash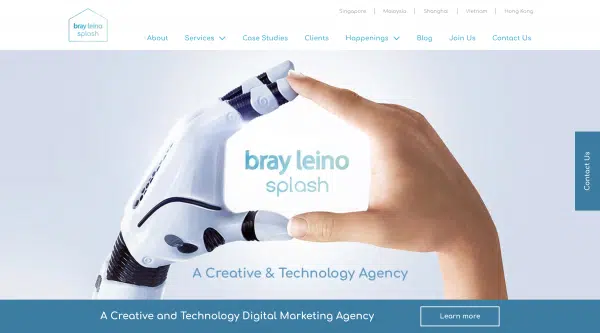 Bray Leino Splash, an integration between Bray Leino and Splash Interactive in 2019, describes itself as a creative and technology based digital marketing agency. Full of diverse talents with various specialisations, their excellent work speaks for itself.
As a digital marketing agency, they offer a wide variety of services but their web design and development is certainly a standout service. They create or revamp websites that function in a communicative and visually expressive way, while also adhering to each client's branding and style. They also work with clients to set up Content Management Systems or even customise their own.
For companies who currently do not host their own website and aren't sure where to start, Bray Leino Splash comes highly recommended by their host of previous clients.
Previous Clients include: Singapore University of Social Sciences, Club 21, NIE, UOB
Other Services: UX Design, User Research, Data Strategies, SEO, SEM, B2B Marketing, Email Marketing, E-commerce Marketing, Social Media Marketing, Video Marketing
Website: https://www.brayleinosplash.com.sg/index.html
2. Mullenlowe Profero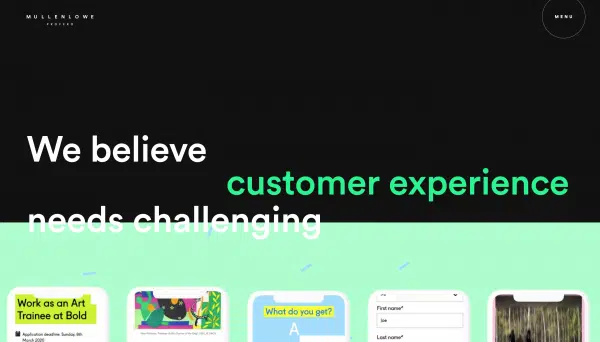 MullenLowe Profero, part of the internationally-renowned MullenLowe Group, is a full-service digital agency with an extensive reach across the globe and a vast portfolio.
With a customer-focused approach to all their projects, MullenLowe has created countless websites that are creative, compelling and customised for each brand's target audience. They are especially adept at brand transformation and can conceptualise a whole new image for your brand, with a fitting website to go along with it.
If you're a business facing a stagnancy in traffic and sales and are looking to start afresh, MullenLowe Profero could be the right choice for you.
Previous Clients include: Lifebuoy, Harley Davidson, Johnson & Johnson, CNA
Other Services: Digital Marketing, Content Marketing, Social Media Marketing, Data Analytics, UI and UX Design
Website: https://www.mullenloweprofero.com/
3. Lemonade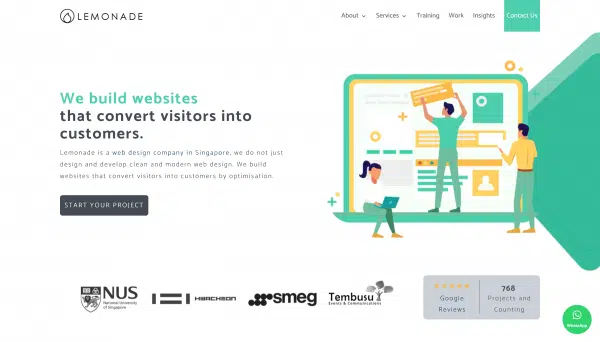 Lemonade is a local web design company that has been in operation for over 18 years, amassing a team of experienced and seasoned professionals. They have completed almost 800 WordPress web design and development projects to date; all to very satisfied clients.
Lemonade doesn't only focus on the aesthetics and functions of a website but also has a strong emphasis on search engine optimisation and increasing your conversion rate. Not only would your website feature a sleek design and easily navigated functions, it would also be optimised to be picked up by search engines, furthering your online reach.
We would recommend Lemonade to any small business who is struggling to get their name out there and wants to strengthen their online presence in particularly competitive industries.
Previous Clients include: Smeg, Tembusu Events, NUS, Shaw Preschool.
Other Services: Webpage Maintenance, SEM, Youtube Marketing
Website: https://lemonade-it.com/
4. NJI Media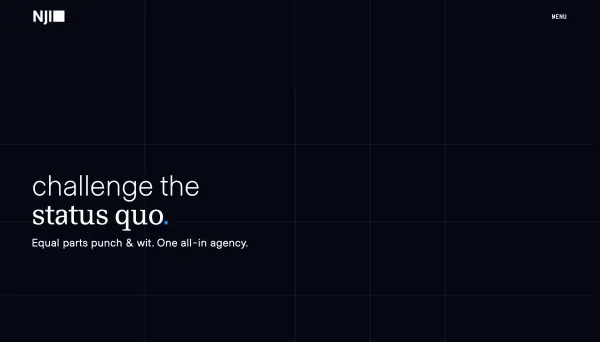 NJI Media, founded in 2007, is an award-winning full-service agency that specialises in web design and other creative services. With offices in Singapore, London, and Virginia, USA, they have truly made a name for themselves as a go-to for creative services.
For their web design and development services, they approach creativity with a strategic mindset, to guarantee engaging visuals that deliver your desired results. Using their team of developers and designers, they create websites that delight and captivate users' attention while also functioning seamlessly.
If you're looking to create a website that incorporates dynamic and engaging visuals that appeal to your target audience, NJI might be the right fit for you.
Previous Clients include: Facebook, World Wildlife Fund, C-Span, PhRMA
Other Services: Branding, Creative Development, Reputation Management, Community Engagement, Digital Marketing, Digital Advertising, UX Design, Video Production, Animation and Motion Graphics, Copywriting, Data Analytics, Event Design and Production
Website: https://www.njimedia.com/
5. Corsiva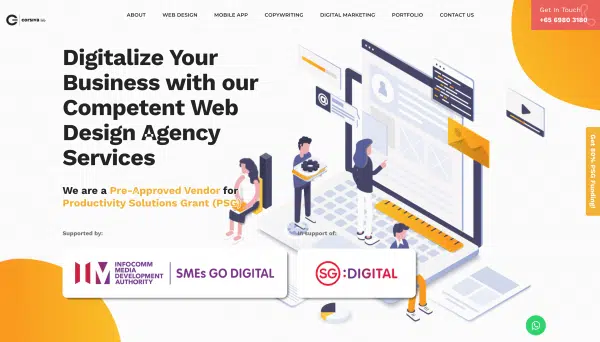 Corsiva Lab is a digital agency that has helped service over 400 clients in their web design and digital marketing efforts. Utilising the latest trends and insights gained from their digital marketing experience, they ensure each client's website stays up to date and modern.
They have a detailed strategy for conceptualising and creating the perfect website for your brand, from the initial stages of understanding your brand strategy to after-market support of maintenance and analytics.
Additionally, they are a pre-approved vendor under IMDA's Productivity Solutions Grant (PSG) which was implemented to help traditional businesses go digital and create e-commerce stores. If you are a successful applicant of this grant, you could receive up to 80% funding on their web development services.
For traditional businesses who have yet to embrace the digital landscape, Corsiva Lab, with their strong portfolio and possibilities of governmental funding, might be the right choice.
Previous Clients include: L'Oreal, The Face Shop, Capitaland, Land Transport Authority
Other Services: Digital Marketing, Copywriting, Branding, Mobile App Development
Website: https://www.corsivalab.com/
6. Edenspiekermann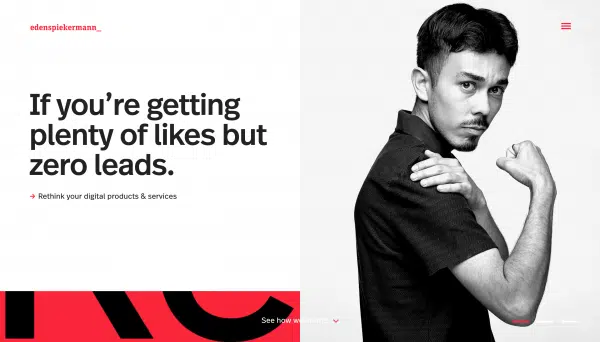 Edenspiekermann is a design agency that understands the need for digitalisation in this day and age. They employ both tech and design to identify their clients' problems and provide effective solutions.
They offer more than simply web design and development; they produce a digital experience for your customers and audience. Web pages designed by them are innovative in their features while also being creatively appealing.
If you're a business who wants to take their website to the next level and feature more than a textbook layout, consider engaging Edenspiekermann to transform your digital presence.
Previous Clients include: Red Bull, The Economist, Inuvia, Faraday Future
Other Services: Mobile App Development, UX Design, Digital Transformation, Brand Experience, Brand Strategy
Website: https://www.edenspiekermann.com/asia
7. OOm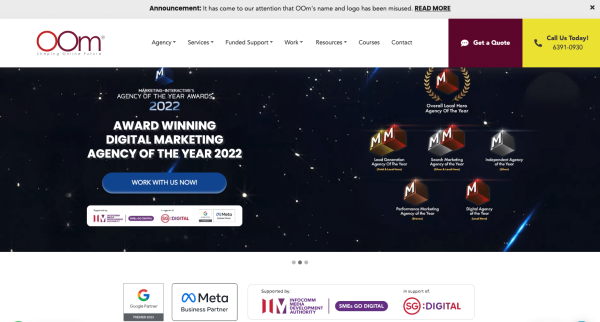 OOm is a one-stop digital marketing agency that offers a wide range of digital marketing services, including website design and web development services in Singapore. They are also a pre-approved PSG (Productivity Solutions Grant) vendor by IMDA that provides e-commerce web development services.
The websites that the agency designs and develops for its clients are both visually stunning and highly functional; optimised for maximum conversion rates. They focus on delivering exceptional user experience and place a strong emphasis on Search Engine Optimisation (SEO) to rank clients' websites on the first page of the search engine results page.
With a portfolio that showcases their ability to deliver custom solutions that meet their clients' needs, OOm has established itself as one of the top agencies in Singapore for website design, web development, and digital solutions.
Previous Clients include: The Lash Chapter, Suntoyo Technology, Climashield, Unicontrols
Other Services: Search Engine Optimization (SEO), Search Engine Marketing (SEM), Social Media Management (SMM), Content Creation
Website: https://www.oom.com.sg/
8. Verz Design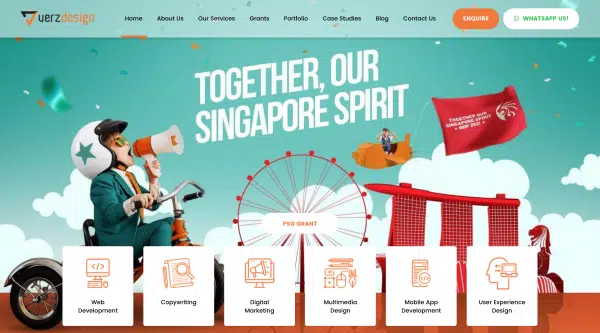 Verz Design, founded in 2009, is a local web design and development agency that offers a myriad of services to supplement that. Hosting a strong work ethic, they employ creative solutions for tech problems.
They understand the first impression a website imposes on your business and as such, ensure that your website is the best representation of who you are as a brand. Besides that, they also offer digital marketing services to boost your brand's digital presence online.
If you're a company who needs a little extra help in their digital marketing and lacks a website that fits your brand image, Verz Design is a capable agency that could help you make the best impressions online.
Previous Clients include: Carl's Jr, Giant, Mediacorp, Pan Pacific
Other Services: Copywriting, SEO, SEM, Social Media Marketing, Digital Advertising, Branding, UI and UX Design, Mobile App Development, Multimedia Design
Website: https://www.verzdesign.com/
9. Webpuppies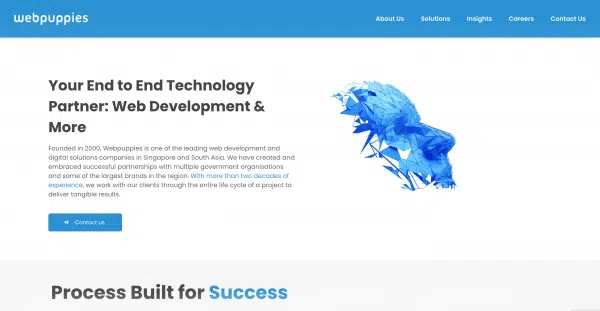 Webpuppies, founded in 2000, is one of Southeast Asia's leading web development companies that provides a highly personalised and customised experience for every client. In-tune with what their clients' wants and needs are, they deliver remarkable results that are widely well-received.
Each website that is developed is optimised for search engines and designed to be user-friendly, leading to satisfaction for both your business and your customers. They also believe that the quality of your website translates to the quality of your services, and they strive to reflect this in the development of all their clients' websites.
Previous Clients include: BreadTalk, Tiger Beer, FoodRepublic, M1
Other Services: Mobile and Web App Development, Software Development, VR Development, System Integration, IT Consulting
Website: https://webpuppies.com.sg/
10. Media Plus Digital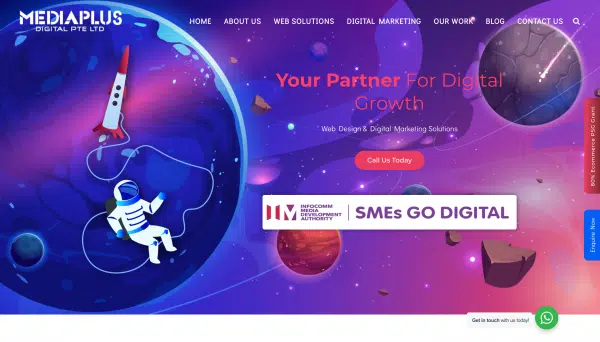 Media Plus Digital, founded in 2011, is a full-service digital marketing agency that specialises in web design and development and has helped over 1,000 clients thrive online. As a results-oriented agency with years of experience, they are able to provide the digital solutions your business needs.
They deliver comprehensive solutions to the problems your brand might be facing online through their thorough audits and strategising. For businesses who have a website and digital marketing plan but aren't seeing the fruits of their labour, Media Plus Digital can add tremendous value and tangible results to both.
Previous Clients include: First Immigrations, The Face Shop, Mary Chia, i-Innova
Other Services: Domain and Hosting,  Website Maintenance, Digital Marketing, SEO, SEM, Social Media Marketing
Website: https://mediaplus.com.sg/
Managing the Agency
While selecting the right web design and development agency is half the battle won, another huge area to look at is successfully managing the agency. While this isn't the only reason, not knowing the subject-matter at hand or having at least a basic understanding of web design and development might result in miscommunication or the desired result not being achieved.
If this seems like a potential blocker for your in-house team and/or yourself, consider getting equipped with the knowledge you'll need in our WSQ Website Creation Course, where you'll learn how to create impressive WordPress websites without writing a single line of code. We also offer an array of other digital marketing courses that are taught in-person in Singapore or online.