How To Build A Strong Social Media Community Management Framework
What is Social Media Community Management?
Social media community management, also called community management, is the act of building a community for a brand and its customers or followers through direct interactions on social media platforms such as Facebook, Instagram,YouTube, LinkedIn, Twitter, Pinterest, and other social networks.
Community management focuses on the aftereffects of content creation on your social media– things like gauging the reactions and responses to a new post or addressing customer complaints constitute effective community management. In essence, community management for brands is all about building and maintaining an authentic relationship with your customers by attending to them and giving them a safe space to actively participate in the social media community you build.
Social media community management is a key necessity in holding a successful and effective social media presence. Although the concept may seem intimidating if you have no prior experience, this guide will break down the process by  giving you a step-by-step look at how to build a strong social media community management framework to take your brand's digital presence to the next level.
How Can Community Management Help Your Business?
An often-neglected segment of social media marketing, community management is a crucial tool used to achieve online success. Effective community management can set you apart from your competitors and solidify your presence as a reliable, communicative and preferable brand. For example, it can allow you and your business to:
Obtain feedback and gather ideas from your customers and audience members through real conversations.
Provide support for audience members, fans, and customers when they need it.
Increase brand and product awareness among your target audience.
Learn about your customers and what they want, expect, and need in terms of content, products, services, and support.
Build one-on-one and one-to-many relationships between audience members and your brand.
Boost customer interactions, conversions, and sales.
Provide value to your customers beyond a product or service.
Now that you have a clearer picture of the impact strong community management can have on your business, let's look at how you can develop your own community management strategy.
How to Build a Community Management Strategy
1. Choose an Appropriate Social Media Platform
First, determine which social media platform will have the best reach for your business– each platform's core users vary greatly, and you should use that knowledge to your advantage. Who are your target demographics?  For a younger audience, such as the Gen Z crowd, consider focusing on channels such as Tik Tok, the widely popular video-sharing social network application, or Snapchat, a multi-media messaging application.
In contrast, LinkedIn is the best choice if your target audience is instead made up of working professionals. Generally, for a broad and diverse range in your target audiences, Facebook and Instagram are often reliable in ensuring a wide reach. Additionally, consider other channels such as Youtube, Pinterest or Twitter, depending on your products, branding and content.
Referring to sites like Statista– which publishes analytics on the demographics on social media– can help you determine which platform is perfect for your business. As seen in one of their reports, 77% of Twitter users in Singapore are male, which could indicate that it is the most appropriate platform if your target audience consists largely of men. Researching and retaining information like this could help strategise your social media efforts and prioritise them accordingly.
If you need some ideas of social media communities you can build, here are some examples:
Forum members on your website (or hosted elsewhere)
Fans of your Facebook Page
Members of your Facebook Group
Followers of your Instagram account
Followers of your Twitter account
Members of your LinkedIn Group
Subscribers to your YouTube channel
Subscribers to your Telegram channel
Members of your Chat Group—WhatsApp, WeChat, Facebook Messenger, LINE, Telegram or others
Subscribers to your email newsletter
Subscribers to your blog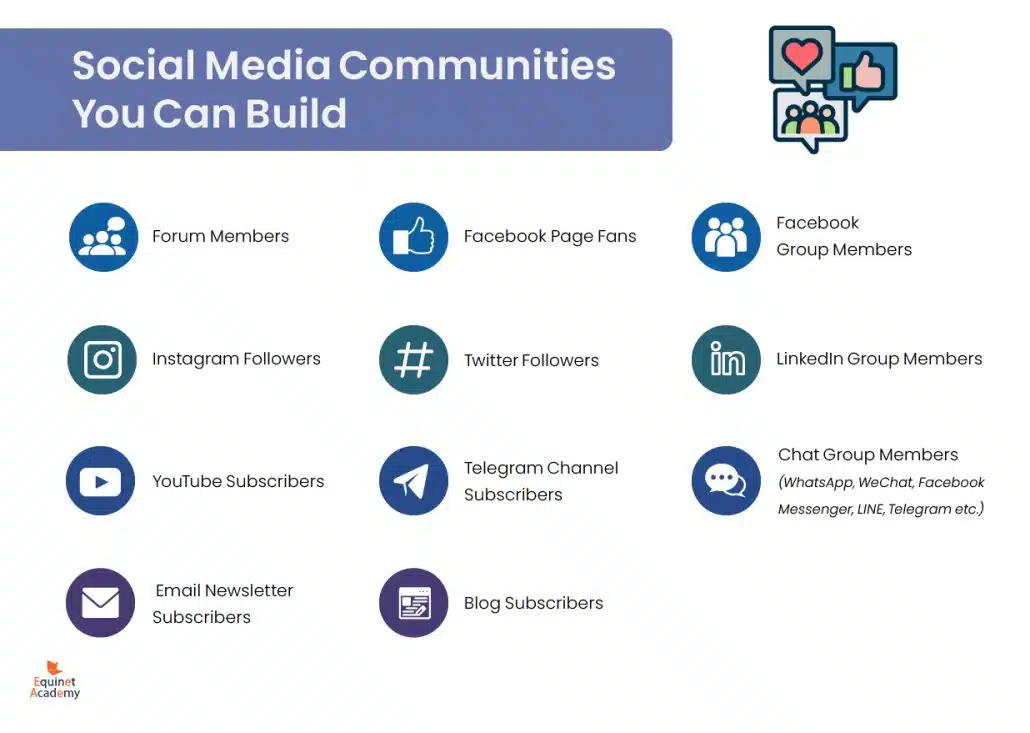 2. Understand Your Audience
As mentioned previously, your audience can vary with each social media platform and it is entirely necessary to research that audience. Learn about their habits, brands they follow and what content compels them to interact. What are their likes and dislikes? What are their wants and needs? Holding this knowledge can help you tailor your content to appeal specifically to them and encourage them to interact with each post, growing your community.
Complement this by also researching your competitors' social media platforms that have established followings and analysing what works and what fails for them. As you will have similar target audiences, that is an avenue you can explore to learn more about what your audience enjoys.
A company that understands their target customers well and uses that to their advantage on social media is McDonald's. They maintain their brand tone, while adapting the content to their demographics. Here are some examples:
McDonald's Australia used the Australian Football League (AFL), Australia's most popular watched and attended sports league, to tap on their customers' desires.
In Singapore, McDonald's uses things like popular festivals to tap on customers' emotions and desires. McDonald's has demonstrated time and time again that while they are an international company with wide reach, they still have their ears to the ground and understand their customers well.
3. Communicate With Your Audience
It might seem direct but one of the easiest ways to understand what your audience wants is to, simply, ask them. By doing so, you receive direct insight into the kind of content that your audience wants to see while also building a reputation as a brand that cares about its customers' opinions.
Additionally, accepting suggestions or feedback and changing your content accordingly can also be a good indication for your followers of a willingness to improve and be better for them. It encourages open communication on both sides which can help strengthen brand loyalty in a more authentic and genuine way. Use tools like the "Poll" feature available on platforms like Instagram, Facebook and Twitter to gather opinions and determine what options are the most popular. Besides that, actions taken can be as simple as reading through and responding to DMs (direct messages) and comments.
Take a look at how McDonald's interacts with their customers on social media. Complaints are attended to promptly and with care and concern.
4. Set Attainable Goals
What would success look like for your brand? Depending on your brand and community strategy, you should choose identifiers of success that work best for your situation. It can mean anything from an increase in followers to a higher engagement rate and ultimately it's up to you to decide what is best for your business.
Common identifiers of success would include a healthy:
Boost in audience members/ increase in followers
Number of conversation participants in a live chat or discussion
Amount of content shared or liked by your followers
Engagement rate (likes, shares, mentions, hashtags, messages, comments)
Increase in brand awareness
Increase in customer satisfaction and retention
Amount of traffic that's directed to your website
Boost in your sales and conversions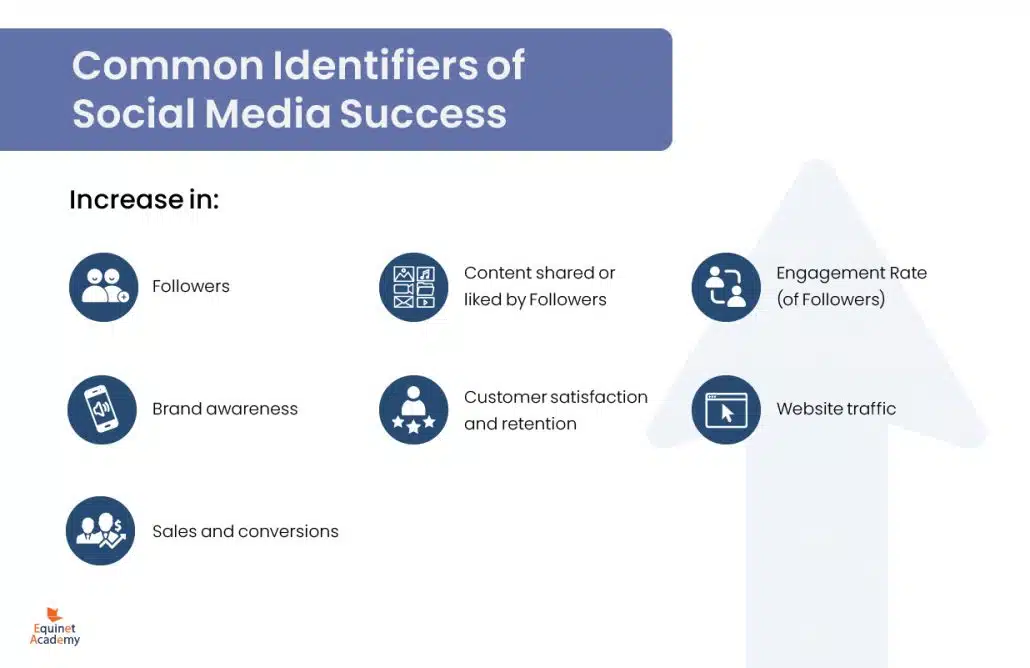 Once you have chosen identifiers for success, you would then need to establish SMART (Specific, Measurable, Attainable, Relevant and Time-Bound) goals. This is important as you would need areas to look to in order to conclude whether your current strategy is effective.
If an area of success for your brand would mean an increase of followers, set a goal number and a timeline to meet this goal based on your current reach and strategy. Have a good mix of short, mid and long-term goals to allow for consistent, actionable steps to be taken.You should utilise social media analytics, which will be discussed in detail later in this article, to track your progress and determine whether you have met your goal.
5. Engage With Your Audience Constantly and Consistently
A consistent content schedule is essential for any social media presence. Your fans should know what to expect from you and when to expect it. Creating a social media calendar (which we discuss here) allows you and your audience to follow a routine — they learn to look for your posts once they become aware of your frequency and content.
To add on to this, it is crucial to reciprocate interactions from followers. If they comment on a post, give a quick 'like' to their comments and, wherever possible, reply with something, even if it is short and simple, to ensure that engagement is two-sided. Be sure to be authentic and address each person as an individual when interacting with your followers– the human element behind your brand will feel trustworthy and personal to your audience. When engagement is kept active, a community thrives.
Equinet Academy does a great job of this on their private alumni LinkedIn Group. More than posting consistently, they engage with their members actively as well. Here are some examples:
Community management definitely takes a lot of work, which is why it's important to measure what works and what doesn't in order to optimise efforts.
6. Measure Your Success
The last step in your framework is to measure your efforts and success. Although numbers are not always reflective of your efforts or the communal spirit you're building for your audience, analytics are a helpful tool in measuring what works for your brand– knowing how to interpret relevant data will allow you to better optimise your strategies. Choosing an appropriate metric for measurement depends on your goals, platforms chosen and the needs of your company.
There are a few different methods of measurement that can be used :
Social Media Listening
Social media listening refers to the process of monitoring your social media platforms for mentions, reviews, specified keywords, and even tracking your competitors' activity. You can then analyse this information and gain a deeper insight on how your strategy is working out. We explored the best tools for social media listening and monitoring here.
Platform Analytics
Some social media platforms, such as Facebook,Instagram and Twitter have an internal analytics tool that breaks down statistics for your account in an easy to understand way. Some of the trackable metrics include follower rates, engagement rates and conversion rates from advertising.
Analytical Tools
If your chosen platform does not include an internal analytics tool, you can turn to tools such as Google Analytics or Sprout Social, which help you track the above-mentioned metrics for each platform. We created a list of the top social media analytics tools for you to use– check it out on your next lunch break.
While that might have been a lot to take in, hopefully this information has given you an idea on how to create a framework for community management on social media. Following that, the next segment will touch on some of the best practices for community management so that you and your brand can make the most of social media marketing.
Five Practices for Successful Community Management
1. Establish Community Guidelines
Firstly, set a list of guidelines for both contributors and participants to follow. Your community is a representation of your brand and it should encapsulate the values and messages your brand holds. Setting guidelines may not be the simplest task, as it can differ on each platform, but thinking about negative situations you would hope to avoid and what you want for your community can help in putting it together.
For your members, you should have expectations of their behaviour, contributions and comments. For example, disallow terms that could be construed as bullying or offensive terms to ensure that your community remains one that is seen as welcoming to all. Post these guidelines somewhere that is accessible to all members and remind members of it whenever it may be necessary.
Here's how Equinet Academy constructed their community guidelines, which can be found on their "About This Group" section on their private LinkedIn group that was spoken about earlier.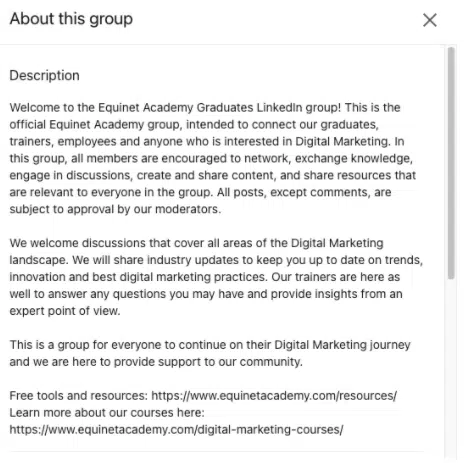 Feel free to borrow the structure of the guidelines for your own use.
When it comes to internal guidelines, you should implement a strategy for handling difficult situations to avoid it from becoming uncontrollable. In cases of negative feedback, an initial response should be provided, one that acknowledges their complaint and offers an apology through community management, while trying to resolve the situation as directed by an appropriate person in the company.
Having community guidelines can simplify interactions and limit any possible controversies or backlash that could hit your brand.
2. Assess Your Community Regularly
Essentially, this means to be aware of everything that is happening within your community and to also make sure that it is running smoothly. Communities, and everything that happens within it, should stay relevant and it is your responsibility to check-in regularly. Keeping an ear to the ground at all times can help with providing proactive responses to any issues that might pop up or could even mean being able to take advantage of any trends that are occurring.
A great example of a brand using social listening to improve their social media presence is Nike. They stay on top of trends like pros– sometimes, even creating their own. In 2018, their 'Dream Crazy' campaign highlighted the achievements of sports stars and went viral.
Of course, like most successful brands they use social listening to respond to customer complaints swiftly.
And not to mention, Nike does a great job of using influencers that are relevant to their community to keep them engaged.
Social listening might seem daunting– always having to stay on top of trends– but in this day and age, it's made easy with the wide range of social media listening tools at your disposal. Here's a list of some of the best social listening tools once again, just in case you missed it before.
By performing social listening and tracking all mentions of your brand across social media, you will have everything necessary to assess the state of your community and how happy or satisfied they are with your brand.
3. Be Authentic and Genuine
The main aim of community management is to create an environment where like-minded customers and fans are welcome to engage and interact and a key method to achieve this is to possess a sense of authenticity. In a survey conducted by the McCarthy Group, millennials, who make up the bulk of social media users, appreciate genuinity and dislike the idea of constantly being sold a product. You and your brand can circumvent this by ensuring your content, voice and behaviour perpetuate authenticity.
As mentioned earlier, interactions with followers, keeping communication open and showing a willingness to change, are all actions you can undertake to help you stand out from competitors and be known as an authentic brand.
Alongside this, being open about social issues could also support your aims. A 2019 report by SproutSocial found that 66% of consumers believed that brands should weigh in on social issues, due to their influence and reach, and that it could spark tangible progress or change. Consumers were more likely to provide support to brands who were open about real issues in the world.
Again, Nike can be looked at for their stellar social media presence in this area. They constantly stay on top of social issues, as can be seen in the following example.
Colin Kaepernick, a now former American Football player, knelt during the American National Anthem during one of his games, to take a stand (no pun intended) for African American civil rights. He received massive backlash for the move, and Nike took the opportunity to feature him in their 'Dream Crazy' ad campaign which included this Emmy-winning advertisement as well.
While many criticised Nike–and even burned their previously bought Nike apparel– many more saw the move as brave, and stood in solidarity with the brand. This in turn caused a boom in Nike's sales.
On a different note, in the same report, it was also found that 9 in 10 consumers would be willing to give a brand a second chance after a bad experience, if the brand was completely transparent about their actions. These examples emphasise the importance of authenticity for brands on social media and how being genuine can lead to a better reputation, larger support and even, higher sales.
4. Encourage Engagement
One of the cornerstones of community management is the interactions and engagement between brands and members. For a community to remain active, engagement has to occur frequently and consistently. Keep your audience up-to-date on what your brand has been up to and find ways to include them in your posts.  Explore different ways to encourage engagement and occasionally employ new methods to avoid stagnance.
Look into gathering user-generated content and incorporating these into your social media platforms as a simple way to encourage the members of your community to interact and create more content while also giving them the chance to feel seen by your brand as more than just a consumer. Posting user-generated content can also make your brand appear more approachable and friendly.
PRISM+ does a great job of this by featuring lots of their customers' set-ups.
Take free-reign of how you want to generate your own user-generated content. The key is to create an ongoing cycle that touches on both being authentic and encouraging engagement between you and your followers.
5. Maintain a Consistent Brand Voice
Maintaining your brand voice across all platforms is one of the most important parts of community management as it is the main aspect that makes your brand recognisable and is crucial to stand out from competitors. If there are multiple individuals working on your social media platforms, make certain that they all understand your brand voice and how to best portray it. When your brand voice differs between platforms, it can confuse followers and lead to a disinterest in your content.
Create a set of definitive characteristics that encompass what your brand stands for and align your brand voice to these characteristics. In other words, social media guidelines, which we discuss how to create in this article. When more than one individual is working on your social media, it gets harder to maintain consistency but having a list of values to refer to can cut down on any misinterpretations.
Social media community management has many moving parts, making it no easy feat to pull off– which is where Community Managers come in. The right Community Manager can work wonders for your social platforms, but not every business needs one. Let's take a look at what a Social Media Community Manager is, the duties of the role, and if hiring one is the right move for your business.
What is a Social Media Community Manager?
A Community Manager is someone who conceptualises and implements a management strategy best suited for your brand, to cultivate a thriving and strong community. They act as the bridge between brand and audience, interacting with customers and fans on behalf of the brand.
You might be thinking, "What's the difference between a Community Manager and a Social Media Manager?" and, although there is some overlap between the two professions, their aims and intentions differ greatly.
Social Media Managers focus mainly on content creation across platforms and determining its reach, whereas Community Managers focus on facilitating relationships between brand and community members and even among members themselves. A Community Manager's aims and strategies go beyond trying to sell a product; they establish and promote a lasting relationship between brand and consumer.
The Duties of a Community Manager
Community Managers, above all, strive to maintain a consistent brand voice and image across all platforms. They may work closely with social media managers and content creators to ensure the same messages are being portrayed or may even be in-charge of creating and scheduling all posts. They handle everything community-related, from customer feedback to following up on giveaway posts.
In essence, they do exactly everything this article has discussed thus far. Here's a non-exhaustive list of their duties:
Maintain the voice of the brand in all posts and interactions.
Ensure all content being shared has a purpose and meets the expectations and needs of followers and the target audience.
Schedule, post, and engage on all social content.
Create, manage, and follow up with all contests, giveaways, and promotions on social media.
Ensure community rules and guidelines are being followed by all community members.
Measure results of all content and work on social media (and make modifications when necessary).
Keep up with industry trends and updates made to the platform at hand.
Know what audience members want and need out of the shared social content.
Create a safe space for followers and members to ask questions, get help, feel supported, share ideas, provide feedback, and solve problems.
Should You Hire a Community Manager?
Successfully managing a community online is a task that requires an enormous amount of time and effort, which is something you might not be able to afford, and requires skills that you may not possess. In cases like this, you can consider hiring a Community Manager, whether it be part-time or full-time, who is able to fully understand your brand and implement a strategy that brings your online community to life. A good Community Manager should generally be:
Digitally-savvy with experience in social media
They should be able to create or, at least, monitor all content posted across your brand's social media.
Empathetic and a good listener
A good Community Manager knows when to be appreciative of or apologetic to members.
Customer-focused
Aware of the needs and wants of your community members, they actively seek out ways to address them.
Passionate about your brand
They should understand your brand voice and messaging and know how to properly convey this online.
Detail-oriented and consistent
Community management requires a certain level of thought and precision, in order to maintain consistency across all platforms.
Up-to-date
They are on top of every trend and know exactly what's going on all over social media.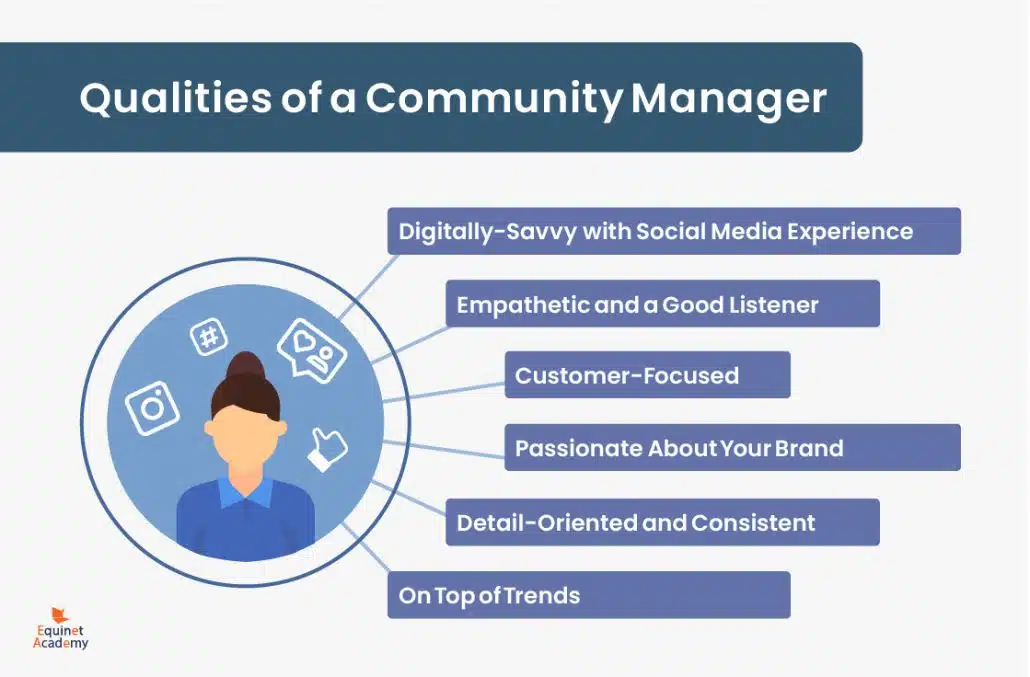 Ending Thoughts
Whether you're a marketer or a business owner, it is essential to understand the importance of community management and how it can give your brand the digital boost it may need.
In this day and age, consumers want more out of their favourite brands than just the products or services they offer. They want a community, one that is open and communicative and encourages all kinds of interactions. They expect authentic and genuine relationships with their favourite brands, without necessarily being sold something. With a successful community management strategy, any brand can achieve this and gain a thriving community of loyal followers who provide lasting support online and offline.
If you're interested to learn more about the extensive world of social media marketing, sign up for our Social Media Marketing Certification Course. In this two-day digital marketing course held in-person in Singapore or virtually, you will receive all the information, concepts and frameworks needed to run any successful social media campaign. Take a look at some of the other digital marketing courses we offer here to develop a well-rounded skill set and, if you complete all six core modules in our Certified Digital Marketing Strategist (CDMS) Programme, be awarded an industry-recognised Certified Digital Marketing Strategist Certificate.