There is one thing that any website needs, and that is content. There is a vast assortment of content types for any website to showcase. The challenge is for us to know when to utilize them. To be effective in employing the various types of content, one must understand the different objectives that you want to attain.
Whether to entertain your audiences by connecting them on an emotive level, or maybe in an informative way to make content more shareable, we must first know the different types of content that we can use. We have managed to compile a comprehensive list for your reference to ensure you can fully leverage on your content for the next project you intend to embark on.
Infographics
An infographic is the presentation of information or data in a visual way. As the image is visually appealing and easily absorbable, an infographic displays a wealth of information. It usually consists of visual representations of charts and graphics that gives an easy-to-understand overview of a topic. With the usage of such engaging visuals, it reaches out to the audiences in a more creative manner. However, the main purpose of an infographic is to help audiences recollect the content better.
This is also a great way of having more shares and potentially it will give you valuable backlinks because the backlink to your infographic can be embedded within it.
Also, it is advisable to keep the designs simple and clean. Too many graphical elements might be too complex and cluttered for users to comprehend.  Having categorisation will ensure users will not be confused. A good usage of this is Equinet Academy's infographic on Digital Marketing Career in Singapore as shown below. It showcases an infographic that summarizes the salaries and career paths in the area of digital marketing.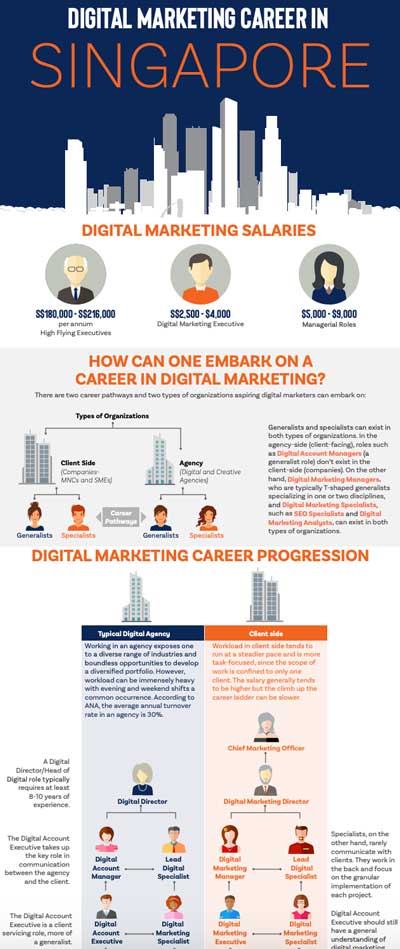 Memes
Memes consist of images, videos or text that have references to popular culture and are designed to be repurposed. Memes allow you to combine images with some interesting catchphrases. It is usually done simplistically highlighting mainly on a simple phrase. Memes are meant to be part of viral marketing and they often invoke humour.
Increasingly, more marketers are using memes to build communities and crafting relatable experiences to their audience. Memes ought to be funny and relatable and your audience can associate with the situation you referred to. The advantage of using memes is that it is an inexpensive content. It helps businesses to get started with relatively low-cost.
Videos
Videos consist of a sequence of images to form a moving picture and it combines with audio to form the most engaging media. It communicates messages succinctly and memorably. Usually, users prefer watching videos than reading text and are more receptive to this format than any other. This is most effective if you are doing both online tutorials and showcasing product content.
Distributing videos best approach is to upload them to YouTube, and ideally embed them in the relevant posts or articles. It's important to note that all content has to offer value and that includes videos as well. To invoke action from users, it's also a best practice to include a "call-to-action" CTA button to guide them to the landing page of your site.
However, understand that producing a good video does not come cheap and it might raise the cost of production. Also, know that the attention span of most people is generally short and a good duration is around two to three minutes long. A good usage that can enhance your digital marketing strategy is Ahref Academy's video as shown below. They produce videos that detail the benefits of blogging.
Long-form Content
Content is king. As cliché as this might sound, this is especially true as it could help in your content marketing efforts and use it to your advantage to generate more traffic. It is advisable to consider crafting long-form content in the form of articles or guides as a way for readers to stay engaged in your site. This is because audiences crave for "meatier" content and offer them genuine value and a rewarding experience.
Long-form content not only improves your site's SERP (Search Engine Results Pages) listing, it appeals to readers too. Information that educates or improves the lives of the readers has the most appealing kind of content. With long-form content, you can afford to have several quality backlinks which can help in Search Engine Optimization. An instance of this is Equinet Academy blog on the benefits of Social Media Marketing.
In addition, if the long-form guide is in a downloadable format like a PDF, it can function as a helpful tool in collecting email addresses from readers.
Ebooks
Writing Ebooks is an excellent way for readers to stay engaged and is a fantastic lead magnet. It appears in the form of a downloadable content normally as a PDF format. Make sure that the eBook offers real solutions and not some fluffy content that might frustrate readers. If it offers real value, it will strengthen your authority in a given field.
There are several stages in crafting out an excellent eBook. Firstly, it is important to have a good topic. Topic like "Digital Marketing Career Handbook" by Equinet Academy is a subject that many aspiring digital marketers would like to read. Next, it is recommended that you have connections with influencers, especially the well-known ones as this will give you instant credibility. This also gives immediate verification of the content that is written and is treated as a trusted source.
Finally, organizing and laying out the content in an orderly and systematic manner is crucial to help readers compartmentalize content. A well-formatted eBook will usually contain elements like listicles/bullets/numberings, usage of infographics or charts, relevant images, spacings and generous usage of headings and to break from the monotony of having too much text.
Case Studies
Having case studies is a fantastic traffic generator for your website. It might sound plain but having case studies done narratively might make it more interesting. As readers are more fascinated in learning how to overcome obstacles, ensure that the case studies are written with solutions at hand. A case study that is detailed in a step-by-step manner and coupled with illustrations are treated as superb high-quality content thereby asserting your thought leadership within your field.
By employing case studies in your web content, the advantage is that it is uniquely yours. No one can share the same experience or have the same idea as you. Conversely, a badly-written case study does not have any actionable content. Readers after reading might not have any clue on how to implement strategies or solutions to actual problems. Ideally, you can use case studies to answer open-ended questions by focusing on the "why's" and "how's" segments of the questions.
A good example of an excellent usage of case studies is Equinet Academy's section that is devoted to just on case studies alone. The case studies are sourced from Equinet Academy's course participants who attended and completed the digital marketing courses.
Blogs
One of the most underrated content types is by blogging. This is considered to be the central part of the content marketing strategy as it contributes to a mixture of content, data statistics, and infographics to meet your audience's needs. If it is posted with a regular cadence, it will help in nurturing leads and even conversions.
There are several types of blogs with the long-form (deep analytical pieces) being the most common. This is also generally recommended as you can get better CPA results and engagements. Moreover, with the long-form articles, you have ample opportunities for internal linking to different areas of a website, thus improving in SEO. However, some bloggers are choosing to write short-form types of blogs as they could be driven by a great idea. Though this type is not common, it is still possible as they have a strong reputation in a certain field and it's a quick and easy way to be heard.
With the creation of a blog, you can capitalize on the opportunity for lead generation by having a clear "call-to-action" CTA command like a button that hyperlinks to the appropriate section of content or downloads. Another great advantage of creating blogs is to leverage on the keywords for SEO. The idea is to bring the most relevant traffic to your site and with proper keyword optimization, it will help your content to be seen. A good example of this is Equinet Academy's section that is devoted to just on blogs. It focuses on Digital Marketing subjects and is written mainly by subject matter experts which command authority on the subjects.
Template & Checklist Downloads
Everybody loves a free download. It is even more appealing if you offer something actionable and useful. Having templates and checklists can save your business by improving efficiency and minimizing mistakes. At Equinet Academy, there is a huge resource on Digital Marketing Templates and checklist that can help to elevate your digital marketing campaigns to the next level.
Another advantage of using a checklist is that it will be easier to pinpoint any potential problems before it becomes worse. It enables you to meet project deadlines and stay organized. Users will appreciate resources like this as it can be utilized repeatedly, and it does not need a lot of time to create one. Ensure that it has a clean and concise organization with the branding placed in a conspicuous position.
White Papers
Whitepapers can be useful and serve as a voice of authority on a particular issue. Usually, it contains in-depth details. Usage of this method is useful if you want to be seen as a thought leader.
Many people create whitepapers for the sake of promoting a certain product or highlight certain issues. Typically, it consists of solutions to specific problems and is an important content type when it comes to selling your products and services. A good example is Blue Fountain Media which releases a white paper on "The Evolution of Consumer Privacy in 2020 and Beyond".
The duration taken to complete a white paper is usually longer as in-depth research needs to be done. After that, whitepapers are usually categorized neatly into the different sections and preferably, a table of contents to navigate to the different sections.
User-Generated Content
User-generated content (UGC) is a form of content created by users rather than businesses. It can be text, videos, images, reviews, or any other form of media. Instagram is a popular social media platform where users create and share content mentioning brands and their experiences with them. A good example is Buffer which is a suite of products to help you build your brand and connect with your customers online.
When consumers see user-generated content, it increases their chances of buying. Therefore, UGC is of great help when it comes to selling online or building brand awareness.
Every business has its own promises and strategies to inspire its prospective customers. As a business, your message might not be that effective or persuasive. This is where you need your audience to say something positive about your brand through USG. When your prospects see your brand message through user-generated content, it drives your prospects to do business with you. Since UGC is created and shared by people who get nothing in return when saying something about your business, it's perceived as more trustworthy and authentic.
How-To-Guides
As the name suggests, how-to-guides help people solve a problem or explain how to perform a certain process. Brands increasingly use how-to-guides to engage their audience and address their issues. People who use the internet to find solutions are familiar with all sorts of guides across social media channels and websites. From the brand perspective, creating how-to-guides is an incredible way to drive quality traffic, social shares and links. If you have a business website or social media presence, creating how-to-guides would help you build authority. A good example of how-to is Seth's blog on how to get traffic for your blog. It is written in a succinct and enumerated manner and it is easily 'scannable' even on a mobile device.
How can your business create effective guides and share them on the internet? It's difficult to create ultimate guides when there is lots of information on a given subject. When it comes to digital channels, people need simple, fast, and valuable information. Regardless of your business nature or industry, you can always create helpful guides to attract your audience and get mailing list subscribers.
Live Video
Live video has been a leading trend that successfully grabs the attention of the business community. Live video is a video that someone broadcasts live to an audience. Major social media platforms like YouTube allow their users to experience live video and interact with their audience of real people. For example, Facebook offers live video features to enable its users to start a live video session for free.
Businesses can't miss this opportunity to have one-on-one communication with their customers and prospects. With the rise of live video, many small businesses use this feature to create virtual shops where they can show their products or talk about their services in real-time. Studies suggest that live streaming will be worth $70.05 billion by 2021. In the past, it was almost impossible for the business community to go live on any platform. As a business, you can use the live video to grow your business. You can use a number of platforms from YouTube to Instagram to set up quick live video.
Live Chats
Live chat is a relatively old concept that came into being when various platforms on the internet offer their users to communicate in real-time. WhatsApp is one of the biggest examples of how people communicate with each other on the go. Businesses often develop and implement chatbots on their websites and social media profiles to provide quick and relevant information to their users. Chatting live with your prospects is a great way to understand their needs and suggest custom solutions. While emails are still an effective way of communicating, live chat allows both users and brands to get things done in a time-efficient way.
Brands can't miss out on live chat features when it comes to delivering impeccable customer service. You have to chat with your prospects to make your presence felt. It's more effective than leaving your visitors to browse your site. Taking advantage of live chat will help you ensure quality customer service and sustainable business success. A good implementation of live chat is Ahref where the customer success team would reply within 20 minutes.
Photo Galleries
In the digital age where people prefer to buy and sell online, visuals play a critical role in displaying products on the internet effectively. A photo gallery is mostly used by business websites to show their products or completed projects. Ecommerce businesses can't sell if they're unable to show their products to users. So, they add images and galleries to their online stores to help their audience take a good look at their products.
Almost every content management system allows users to add, edit and publish images. For example, WordPress offers photo galleries as an incredibly versatile and valuable tool that can be used to ensure your images are properly displayed on your site.
Photo galleries aren't just a way to display generic images that have nothing to do with your business. If you have branded photos, you can display them on your site as a strategy to improve user experience. For example, you can create a gallery to showcase photos from one of your company-hosted events.
Link Pages
One web page of your website can be linked to other internal or external pages to create more effective navigation and user experience. Simply put, a link page is a web page displayed on some sites. The link page may contain a list of links that a website owner finds worthy of mentioning. An example of this is Equinet Academy's Digital Marketing Career Progression page which displays several links to different courses that are being offered, digital marketing salaries and digital marketing job positions.
How do your website visitors benefit from a links page? Many website owners ask this question. Linking your content to some external source like a journal or a study can be valuable to your users. We often find links in a blog or a news story that want the readers to redirect to other sources. SEO specialists often link their pages to other external pages to gain a valuable advantage. You might need to use links for citation at the end of your blog, story or article in order to make your content more authentic.
Client Testimonials
In marketing, a testimonial often refers to a person's written or spoken statement expressing their experience with a product or service. Client testimonials are a form of user-generated content that helps brands establish their authority. As a business, when you start meeting your customers' expectations, you can ask them to write good reviews of your products. You can display your customers' reviews to earn the trust of your prospective customers. Your business website and social media profiles are the best platforms to display client testimonials. Equinet Academy's Facebook reviews allow participants that had attended the courses to post testimonials and reviews. This serves as a very good feedback system.
There is nothing more valuable than social proof in many industries. If you want to use client testimonials to grow your business, start nurturing relationships with your happy customers and then ask them to share their experience of doing business with your company. Once you have authentic client testimonials, showcase them on your homepage where your visitors can see them and develop an interest in your products.
Q & A
'Q & A' is a situation where one or more than one party asks questions and others answer them. It's one of the simplest ways of sharing and conducting an interview with an audience. In most cases, Q & A is an edited transcript of an interview that covers questions and the interviewee's response in written format. While traditional Q&A sessions are used for a diverse range of purposes from educational to entertainment, online marketing uses Q&A techniques to help brands communicate their message. A great way of getting the message sent to the potential customer across clearly is Equinet Academy's use of the FAQ section in the portal. This is useful as it is fashioned in a Question and Answer format where it attempts to answer the most commonly asked questions.
Questions & Answers is also Google My Business's feature that enables Google users to ask questions about any business, and any Google user can answer those questions. Companies can use this feature to amplify their online marketing efforts. SEO specialists, agencies, and small business owners acknowledge the significance of local search results. Google's Q & A feature is both an opportunity and a challenge for local businesses. The purpose of this feature is to help Google users to measure the credibility or reputation of a business.
Guest Posts
Guests Posts is about creating and publishing content on someone else's blog or website. People often publish content on a website as a guest to achieve three major goals: getting exposure back to their website, building backlinks, and building brand authority. If you want to write guest posts to achieve any of these objectives, you need to find the right website that aligns well with your business. Earning high-quality backlinks through guest posting is a great way to establish yourself as one of the industry leaders.
If you are interested in writing an article or a blog on digital marketing, you can start posting on some of these top digital marketing blogs that accept guest posts.
Most people think guest posting is an outdated way of marketing something. In reality, high-quality guest posts are still an effective way of building authority. If you have been writing guest posts but haven't seen any visible results, you need to reevaluate your strategy. You might have been publishing your content on websites that aren't related to your business. So, make sure to find the right guest posting opportunities to achieve the desired results.
Newsletters
Simply put, a newsletter is a publication that is sent out to a list of subscribers. It could be a periodical, an email, or a pamphlet that readers might find interesting or informational. Whether it's an email newsletter or a printed newsletter, it can help you promote your products and services. The ability to build brand equity and strong relationships with consumers makes newsletters an effective marketing tool. While brands use newsletters to keep their audiences updated, newsletter marketing can have a positive impact on your sales. There are many newsletter templates to help you get started and one of them is the ever popular Canva Newsletter Templates which can help expedite in the creation of a newsletter without much design experience.
Most businesses use email newsletters to build long-lasting relationships with their audience. When creating newsletters, make sure to provide your readers with value and helpful information. If your newsletters are nothing but cold sales pitches, they're likely to end up in the junk box. Businesses have been using printed newsletters to get their message across for many years. However, with the rise of digital marketing, businesses now use e-newsletters to deliver their message.
'What to do' and 'what not to do' posts
When it comes to content marketing, there are plenty of "do's and don'ts". 'What to do' and 'what not to do' posts are forms of content that helps readers understand what they should and what they shouldn't in order to solve a problem or perform an action. For example, if you run a commercial cleaning company, you can guide your audience on various cleaning issues through dos-and-don'ts kind of posts. Similarly, if you provide some kind of online coaching to people who want to be successful bloggers, you can write blog posts to explain what blogging practices they should follow and what mistakes they should avoid to be more productive bloggers.
You can use a variety of blog post formats to drive traffic and engage them. To streamline your content marketing efforts, you should use 'what to do' and 'what not to do' kinds of posts and articles. When you follow easy-to-understand content patterns, it makes things easier for your users.
Research & Data
The importance of research and data is growing at a rapid pace. Many industries need to invest in research and information gathering to improve their decision-making process. Data is the building block of many emerging industries. For instance, digital marketing uses real-time data and research to develop and implement results-driven campaigns. Brands rely heavily on their research abilities to find out challenges and opportunities in both traditional and online world.
The ability to generate reliable data makes online marketing platforms reliable. If you run a business website, you can use various tools to find out the number of visitors on your site and how they behave when they visit your site. When you have dependable data, you can then adjust or plan your future strategies. A reliable website that helps you to research and monitor your website traffic is Ahref. You can also assess whether your website has a high bounce rate and needs some conversion rate optimisation applied to it.
Build An App
An increasing number of startups and established companies are trying to experience a competitive edge by building apps. Businesses from all across the globe have started migrating from traditional marketing methods to the mobile realm. It's due to the constantly growing number of mobile and internet users. People love to use apps to perform many day-to-day tasks. If your business can benefit from developing an app, don't hesitate to take the step.
Before you start building an app for your business, make sure to define the objectives. Some businesses don't have to build an app to establish an online presence. It's also important to consider that the desktop internet usage is falling and mobile internet usage is rising like never before. Building an app for your business might be a good idea to stand out from the crowd. If your competitors have already built apps and offer the same solutions, try to build an app that is at least five times better than that of your competitors. Building an app need not be that daunting and you can follow the 12 steps detailed here.
Embedded Tweets
Embedded Tweets is a simple way of bringing your favourite content posts from Twitter to your website content. An embedded tweet includes a variety of media from photos and videos to cards. Instead of taking a screenshot and adding images to your content, you can now embed the tweet by following a quick and simple procedure. Just get a small copy of code from Twitter and paste it on your blog or wherever you want to mention it.
The Twitter for Websites Javascript to transform the code into a full-rendered tweet and an HTML snippet hosted on your web page are two parts of an embedded tweet. The Tweet menu enables you to generate or copy embedded Tweet markup. You can embed any Tweet on your blog or website. However, embed code is not available for Tweets from users who protect their tweets. As mentioned earlier, your embedded tweets include any media content and the Tweet itself.
GIFS
A GIF (graphical Interchange Image) is a lossless format for image files that support both static and animated images. Businesses often use GIFs to make their content more interesting and visually appealing. An increasing number of popular news websites and blogs incorporate GIFs and other forms of visual content to make their content more lively and entertaining.
If we look around on the internet, GIFs are everywhere from social websites like Reddit and Facebook to enterprise websites. Stats reveal that over 100 million GIFs were shared on Twitter alone. Moving forward, your business should also consider using GIFs as an effective marketing technique. A moving picture might be more beneficial for your business than a long-form, text-based article.
Companies often struggle to share authentic and compelling content to build relationships with their prospects and customers. The use of right GIFs can be a perfect strategy for you to attract and connect with your audience.
Content Visualization
Visualization refers to the representation of information in the form of visual content: images, videos, GIFs, infographics, etc. The demand for visual content has increased dramatically over the last few years. Internet users prefer to consume visuals. When compared to text-based content, visuals have a higher chance of conversion and are more effective. The growing need for content visualization drives bloggers, business owners, and marketers to add visuals to their content to make it more consumable. A good example is Volkswagen where most of the Facebook posts are visual stories or short videos.
The purpose of content visualization is to make life easier for users. Most people don't have time to read long web pages, all they need is simple and quick information. Nothing can be more effective and precise than a relevant, high-quality image. Sometimes a complex concept can be made easy with a proper visual representation. Visuals have the power to transform lengthy and complicated data into easily consumable form of content. There are numerous ways you can make your content more visually appealing.
Give Kudos
The word 'kudos' means the honour or praise received for an achievement. In the digital world, expressions like kudos are used to praise something. For example, Linkedin introduced the Kudos feature in 2018. Linkedin users can give kudos to each other to praise them for their professional achievements. A large network of professionals like Linkedin can benefit from these simple yet effective features. All the users have to do is click and give a virtual high-five to someone.
When people get Kudos, they help them get more visitors and connection requests. When you receive a Kudos, it can be seen by connections of the person or organization who gave you Kudos, making it super quick for you to promote your presence across the platform. To get more kudos, you need to share useful, desirable, knowledgeable and shareable content. How many Kudos you get on your posts is a good way of measuring the quality and likeability of your content.
Create useful spreadsheets or docs
Professionals from across industries use productivity tools like spreadsheets and doc files to create, manage, and share information. From creating simple text to drafting complicated charts and graphs, you can perform a variety of tasks on spreadsheets and docs. Google helps internet users create document files and spreadsheets that can be shared all across the internet. A group of people can use a single file to collaborate. These apps run smoothly on desktops and mobile devices. So, creating useful spreadsheets and docs isn't a difficult task anymore.
Web-based doc or sheet files enable you to automatically save data directly to your Google drive rather than saving everything manually. Besides, these tools are free and you can download add-ons to enhance the experience. However, you must learn how to use the app. Google Doc and Sheets offer a broad range of features and functionalities. It wouldn't be difficult for you to operate Google Doc or Sheets if you're familiar with Microsoft Word and Excel.
Images
The human brain processes images at a rapid speed. We have been using different formats and types of images to communicate with each other. Since the text-based information is difficult to comprehend as compared to visuals, images enable people to get their message across without writing or saying anything. There are certain resources like Pixabay or Pexels where you can download and use the stock photos for free.
In digital marketing, brands have to reflect the emotions and needs of their customers. The use of images helps them connect with their prospects and customers at a more emotional level. Your website or any other form of online presence should have images to invoke strong feelings.
Businesses should incorporate images into their content strategy for numerous reasons: memorability, engagement, fast communication, etc. So, make sure to take advantage of branded, high-quality photos and other forms of images to inspire your audience. While you can find millions of free images online, be sure to use images that reflect your brand message.
Podcasts
Podcasts are typically defined as on-demand internet radio talks, a series of audio episodes focused on a particular subject. Users can either listen to podcasts live or download them. A good usage of this is Marketing School with Neil Patel & Eric Siu.
With podcasts, listening to your favourite conversations and exploring new ideas anywhere on the go has become so much easier. Millions of people across the globe listen to on-demand radio to seek information.
Podcasts have turned into an incredible marketing tool over the last few years. A large number of self-employed professionals have been counting on this medium to spread their words quickly and effectively. An increasing number of organizations are also using podcasts to engage their customers in a very open-minded way. You should consider this medium to grow your business online. All you need is great content so that your audience finds your podcasts interesting. Introduce your business to your prospects in a way that drives curiosity and trust.
Create A Chrome Extension
Google Chrome is one of the best internet browsers that enables users to experience a seamless browsing experience. One of the prominent features of chrome is its extensibility. A user can add numerous extensions to improve the browser's functionality. Simply put, a Chrome extension is some Javascript, HTML, and CSS that enable users to add functionality to the browser.
It's possible to create a basic Chrome extension also called Action extension. If you want to incorporate some additional features into your Chrome, just go the extension library and search relevant extensions. For example, if you want to add Grammarly to your Chrome to check your content on the go, just find the Grammarly extension, install it and add it to your browser. Similarly, a large number of programs can be added to Chrome. Evernote, Adblock Plus and Google Drive are some of the most popular extensions. If you love coding and programming, you can try creating your own extension to customize Chrome.
SlideShares
SlideShare is probably the largest platform for people who want to present their content to the global community of internet users. Founded in 2006, SlideShare has been helping people share their knowledge in the form of presentations. You can find over 18 million presentations on a broad assortment of subjects. People from all across the industries create presentations and share them online.
While SlideShare is an incredible source of information for students, marketers and business owners can equally benefit from the program. You can add SlideShare to your marketing strategy. It will not only help you create and share great content with your audience but also drive traffic to your website and boost your SEO results. It's super easy to get started on SlideShare. Owned by Linkedin, SlideShare has been helping brands strengthen their online identity. If you want to sell products or services or want to promote any cause, SlideShare is surely a great platform to generate more leads for your business.
Online Games
An online game is just like a regular video game. The only difference is that online games can be played through the internet. An increasing number of video game lovers now play online games like Minecraft against real-time players. The demand for online gaming is on the rise.
The internet offers a broad range of online games from simple text-based games to games with heavy graphics and functionality. While the popularity of online gaming is increasing, the electronic games industry generates billions of dollars every year.
With millions of internet users playing with each other and buying in-app features, online games are here to stay and flourish. World of Warcraft, PUBG, and Minecraft are some of the most popular online games that engage and entertain millions of game lovers across the planet. You can also find some platforms that offer free online gaming experiences. Top social media platforms like Facebook also enables its users to play a number of online games.
Company News
Company news refers to updates and press releases that businesses want to share with their audience. An example would be Equinet Academy's advisory note on the Corona virus and the precautions that the company is undertaking.
Some business websites come with a 'company news' section where users can find all the latest activities and updates about the business. As a business owner or marketer, you can use it to help your audience in finding interesting updates about your business. It's a good strategy to keep your audience engaged.
For example, if you run an eCommerce business, you can use your company news section to tell your customers about the latest pricing, promotions, policy changes and even industry updates. However, make sure to keep your news section updated and clear. Old news can confuse your readers and can result in making the wrong decisions.
Some businesses use a 'company news' page on their websites to keep their employees and stakeholders informed. Regardless of what others are doing, you should consider sharing relevant updates. If you have recently added something to your production process that improves the quality of your products, let your prospects and customers know about it.
Company Goals And Targets
Every progressive business has a growth strategy that addresses their goals and targets. Start a business by setting goals and targets. Do you have goals for your company? It's never too late to define a mission statement. Successful businesses usually have a clear vision and mission statements that help them stay on track. An example would be Adobe's mission statement "to move the Web forward". This statement shows that Adobe is all about transformation and development through its software.
While goals are about your desired achievements, objectives refer to your strategy on how to achieve your business goals. When setting a direction for your company, make sure to set measurable goals that involve all major aspects of your business: growth, profitability, customer services, etc.
Running a profitable operation is a common business goal which generally means increasing sales and revenue. In order to achieve the goals set, a business has to define certain specific objectives that could be related to lowering production costs or increasing customer base. Some companies have customer service goals that focus on customer satisfaction and minimizing complaints. By having goals, it convinces customers that your business is trustworthy.
Company Performance
Whether you are running a startup or working to scale up your well-established business, it's important to measure company performance. To measure the performance, a business should have clearly defined goals. As a business, it's critical to evaluate what's working for your company and what's not. Since everything is continuously changing from consumer behaviour to business technologies, you need to constantly measure your company performance. A good example is Statista which highlights Amazon's performance by using statistics.
When you plan to measure the overall success of your business, see how much money it is generating. Find ways to assess the flow of money going in and coming out of your business. Is your marketing strategy sound enough to constantly drive new customers? Are your customers satisfied with your products or services? How do you feel about your company and the current progress map? Try to conduct annual performance reviews to measure the overall performance of your business. Most importantly, stay current in your market to compare your growth with that of your competitors.
Timelines
A business operating in a competitive world has to map out timelines for all their major projects from marketing to sales and production. If you are working on a product development project, you must have a timeline that shows past and future expectations. A marketing timeline, for instance, will guide your marketing team on campaigns, projects, events, and sales that will be happening throughout the year.
Timelines can be used to map out important deadlines. When your team is in a position to plan ahead, you are likely to witness well-planned and executed projects. It happens when you set a realistic timeline for all of your major business developments. To make things easier for your teams, keep your timelines simple and easy to follow. Your timelines may include multiple stages to cover everything from start to finish. A simple timeline acts like a foundation on which you build your projects.
Interactive Demos of own products
Demonstration of how your products or services really work can make all the difference. An interactive demo helps your audience understand how your product is built and what kind of problems it can solve. An interactive demo is designed in a way that uses multiple media forms like videos and images of the product following a well-thought-out story.
Since product demos are used to provide an overview of your products or solutions, you need to be very clear about the technical aspects of your products in order to make your demo more interactive and informative. An interactive demo should be prepared in a way that allows the prospects to try the product in some way. In marketing, a product demo can play a key role in determining the success or failure of a product. So, if you're about to launch a new product or service, don't forget to use the power of interactive demos to get your message across.
Free Tools
Smart entrepreneurs or professionals rely heavily on tools. From digital marketing strategy and human resource management to the production process, a company can use a variety of tools to drive productivity and improve the bottom line. The internet offers both paid and free tools to help people accomplish a massive range of tasks. If your marketing budget is low, your team of marketers should use free and relevant tools to improve their planning and execution process.
Your digital marketing strategy, for example, can benefit from various free tools like Trello and Hootsuite. There is a tool for almost every problem digital marketers face. From tracking website traffic to measuring the overall performance of your marketing efforts, your marketing efforts must be guided by tools. Most tools come with both free and paid version. While the paid version unlocks the true potential of a program, free features can provide value and essential guidance.
Paid Tools
Paid tools can be powerful when companies use them in a way that completely transforms their production processes. They empower brands to achieve remarkable growth in a controlled way. For example, SEMrush is a great SEO tool for marketers who want to dominate the search. However, to utilise the full features, you need to go for the SEMrush price plans.
Digital marketing doesn't work without tools. If you run a business and you need to build a sustainable, sound web presence, don't hesitate to invest in paid tools. However, make sure to buy tools that align well with your marketing objectives. If you're looking to improve your SEO rankings, use tools like Moz Pro and SEMrush to rectify your mistakes and get your strategy back on track. Companies looking to streamline their HR affairs should consider investing in paid tools like Zoho to resolve longstanding HR problems. Growth-oriented companies need to keep exploring new productivity tools to amplify their production.
Webinars
A webinar is like web conferencing or a seminar conducted over the internet. It's a short form of web seminar. The goals of a webinar can be anything from educating people to demonstrating something. Webinars can be live or recorded. Adobe, being a software company, has leveraged on using their recorded webinars to promote their products and inspire audiences around the world.
The internet makes it easy for you to also go live or conduct a virtual event. You can use audio and visual communication means to communicate your message. Companies conduct webinars to promote their business by connecting with their audience. While ebooks and downloadable checklists are useful when it comes to sharing free content, a webinar is a different kind of lead magnet that involves a presentation followed by a Q & A session. It's a great way to connect with participants through a visual medium.
Webinars are also used to help drive attendees to sell products. However, if you want to use webinars as a channel to generate leads, don't make sales pitches. A webinar must be about providing valuable information.
Newsjacking
David Meerman Scott coined the term 'newsjacking' which means the process of adding your opinions and thoughts into small news stories. Someone can use newsjacking to make their presence felt. Piggybacking on trending news can be an effective way to grab the attention of your audience and keep them engaged. While Newsjacking requires you to align your business with popular news stories, it can boost your SEO result, allowing you to generate more valuable keywords to rank for. A good example of newsjacking is Singapore's golden boy Joseph Schooling who won gold in the butterfly event at the 2016 Olympics. Changi Airport took the opportunity to leverage on his popularity.
If you're good at breaking information and trending topics into catchy stories, you should try newsjacking to strengthen your online presence. When a story gets viral, a massive number of internet users start searching for keywords in that story. Popular platforms like Google, Facebook, and Twitter also highlight trending stories. To make the most out of a story, you need to get started before the story peaks. Trending stories often come with tough competition. So, you should get in before it is too late.
Personal Opinions
The blog posts a business or person publishes can be divided into two categories: personal opinion-based and discussion-based. Personal opinion is a dominant ingredient when a writer states their minds on a topic. Industry leaders often share opinion-based content to help their audience understand a complex story. It's important that you choose a story or subject that involves some conflicting ideas and then tell your readers what you think about it. It's an effective way to get your readers to respond to your blog posts or articles.
You can also express your opinions on social media like Facebook or LinkedIn. It is a good idea to have users share their thoughts on a certain subject. One of the learners of Equinet Academy (Joan Liew) shared her thoughts on the digital marketing courses that she had taken at the academy.
If your readers and you share similar beliefs and opinions, they will link to your posts when discussing the same subject on other websites. This way, you can use your personal opinion to improve your online presence.
Free Resource
'There ain't no such thing as a free lunch', but there are free resources. A resource is free when you can use it to benefit your business. The internet is a rich source of free information and tools that a business can use to promote itself. As a company, you may consider offering free resources to your audience in order to win their trust or help them solve a problem. For instance, if someone wants to learn digital marketing and your business is about providing marketing knowledge, then your website can be a free resource of information. Another method is that a website can offer free resource downloads in the form of templates and cheat sheets that can help bring your digital marketing campaigns to the next level.
Your readers will surely admire free and valuable information. The success of your online identity largely depends on your ability to guide your audience from point A to point B, while solving their problem in a time-efficient manner. Hemingway, Medium, Grammarly, and Headline Analyzers are some examples of free resources on the internet.
Interactive Content
Interactive content is more than simple, text-based blog posts that offer information in a traditional way. It requires active engagement from readers, more than just reading or watching. Interactive content has been helping brands build better interactions between their business and their audience. Needless to mention that users' attention span is decreasing at an alarming pace. People want quick and simple solutions. Interactivity adds a fun factor to your content making it possible for you to offer enjoyable content. An example of this is Apple AirPods Pro website which showcases interactive elements, like the cross-section of the AirPods.
When you have to hook your website visitors in less than 8 seconds, static web copy or blog posts wouldn't produce the results. Interactive content not only decreases the website bounce rate but also helps marketers sell in a more compelling way. Offering a quick and interesting quiz on your website is a great example of interactive content. Or, maybe you can add a calculator to help your audience calculate the cost of your products or services.
Offline Magazines
Offline magazines or paper-based magazines are still an attractive option for many to consume content. While the internet has completely reshaped the way people read, offline print materials have their own place. An offline magazine has to be printed, distributed and sold by the publisher. In other words, there are three major processes that incur a cost when it comes to offering offline content. On top of that, unsold copies represent a loss. Digital magazines, on the other hand, don't involve paying the commercial mediation of sellers and suppliers.
Offline magazines can be a great way to market your business to local readers, but you can't circulate your magazine on a global level. The internet makes things easier when you don't need to deal with any barrier in order to share your content across the regions and boundaries. If you think you still need to produce offline magazines, make sure to have a well-thought-out strategy.
Online Magazines
The internet is all about digitally consumed content. Online magazines are just one of the myriad ways content is made available for digital consumption. An example would be Magzter which is the world's largest digital magazine newsstand.
Since online magazines are published on the internet, a vast majority of readers can access and read tons of online magazines. People often find it difficult to differentiate between a magazine and a website as both offer content.
One of the key differences between a website and an online magazine is that the latter has a head and tail. A reader can jump from one section to another. While magazines come with a front and back cover, they have an end page, unlike a website. A typical website has a navigation structure and menu; users can often go from part to another. An online magazine offers its readers liner navigation, a clear chronology that helps readers guide through your content. Successful online magazines ensure that readers can enjoy a full-screen experience with relevant and high-quality content.
Pinterest Posts
With billions of pin on Pinterest, the platform is very popular among marketers as they can showcase their business. Pinterest is a popular social media network that empowers its users to discover new interests and visually share by posting videos and images to their own or others' boards. Pinterest is built around the concept of a person's lifestyle. As a Pinterest user, you can share your interests and preferences with others and connect with like-minded people. You can either upload something new from your device or pin something you find on the web through the Pinterest bookmarklet.
To save your pins, you have to create boards from your profile. From a marketing perspective, companies should take advantage of the platform by creating relevant and interesting Pinterest posts. For example, the images of your products or anything that relates to your business in some way or another. A good example of extending your reach by using Pinterest is the travel portal of LonelyPlanet. As it has lots of rich visuals in its Pinterest account, all it needs is just to link back to the respective landing page of the site.
Instagram Posts
An Instagram post is a video or a photo that a user shares on the platform. With billions of active users, Instagram has gained dramatic popularity over the last few years. From individuals to companies and non-profit organizations, Instagram has turned out to be a great platform to promote something in a visually appealing way. If you're looking to gain some traction on the internet, make sure to include Instagram to your marketing strategy. A good example is Oreo leveraging on Instagram to capture playful moments of Oreo cookies.
Instagram also allows companies to create posts using a variety of different tools. A business profile on Instagram can access analytics to create and monitor their efforts. So, start creating Instagram posts to reach your potential customers from all across the globe.
Whether you want to use Facebook or Instagram to promote your business, you need great content that reflects your brand voice and core message. You can even repurpose content if you don't have time to create new posts for your Instagram profile.
Reddit User Creation
The content you share using Reddit profile can help you establish your presence as one of the industry leaders. From memes to news, Reddit offers a diverse range of content. As a social news aggregator, Reddit is a combination of link distributor and discussion platforms. Users create, consume, and curate content. There is a system that measures the quality of content in terms of upvotes and downvotes. The Reddit community mostly defines what's important and what's not. With moderators acting as forum guardians, Reddit is mainly a self-managed platform.
If you want to create an account on Reddit to share or seek information, it takes a few minutes to get registered. You can start submitting to Reddit as soon as your profile is registered. Reading content, posting links, joining discussions, rating content, and finding subreddits are five major things you can do on the platform. It's recommended for companies to add Reddit in their marketing plan.
Maps
Human beings have been using maps to streamline their travelling endeavours. A map is usually defined as the representation of a geographical area on a flat surface. From political boundaries and nearby businesses location, a digital map can communicate plenty of information. For example, Google has developed a highly sophisticated mapping service that provides internet users with detailed geographical information about regions across the globe. While traditional road maps help people find their destinations, aerial and satellite views make it easier for us to understand the dimensions of planet earth.
Globally popular services like Uber use digital maps to offer great ride services. Google maps also offer street views of many sites and cities. As a part of a larger web application, Google Maps is one of the globally used services that assist individuals as well as organizations. A route planner is one of the simple features that help people plan trips from one location to another.
Stories
Storytelling has become a prime marketing tool for many brands. While stories can take a variety of forms from classic stories in literature books to tales in children's storybooks, you can use digital stories to build your brand. When it comes to digital marketing, you might be interested to know that there are different techniques of telling stories. From data-driven storytelling to immersive storytelling, one must be versatile to know the different storytelling trends.
When you integrate storytelling into your content creation or other marketing efforts, it becomes easier to build a deep connection with your audience. Even the ancient men used visual stories to communicate their messages to future generations. We can still see thousands of years old drawings on stones crafted by men to share valuable content. It would be a mistake if your marketing strategy undermines the significance of storytelling.
Points Proven Through Analogies
Analogies and metaphors are great ways to get your messages across. Explaining your point becomes easy and exciting when you use the power of analogies. It's rightly said that the right analogy at the right time can drive people to do business with you. The ability to forward persuasive arguments will help you communicate your message. Developing a highly profitable marketing strategy should revolve around sound and well-targeted arguments.
An analogy is usually defined as a part of your content or speech in which something is explained by comparing it to something else. Complex business ideas can be made simple using analogies. A good example of this is Steve Job's ability to simplify concepts by incorporating analogy.
Your audience will remember your message if you prove your point through effective comparisons. While analogies don't prove anything scientific, they can make someone feel at ease. So, start comparing your products or services with different things in a logical way to simplify your point of view.
Book Reviews
People read customer reviews about a product or service before buying it. Similarly, book reviews help prospective readers understand what their next read is all about. A book review refers to literary criticism in which a book is briefly analyzed or described based on its content, structure, style, story, etc. Your opinion about a book that you have read recently can be counted as a book review. An example of this is the customer reviews of Stephen King's Doctor Sleep novel at Amazon. Usually, potential buyers would read the reviews before considering a purchase on the paperback.
Summary reviews or scholarly reviews are often professionally written opinion pieces that explain a book in a few paragraphs. If you want to learn more about a book before you add it to your list of books to read next, read some good reviews on the internet. A thorough review can range from 500 to 2000 words, maybe longer depending on the nature or complexity of a book. Students are sometimes asked to read a book and then write a review analyzing complex text and reaching an informed perspective.
Product Reviews
In e-commerce, product reviews are posted on online shopping stores to give product users an opportunity to share their experience with a product and rate it based on their satisfaction level. A product with plenty of positive reviews is likely to do well in the future. Other consumers use these reviews as a technique to gauge the quality of a product. Companies often ask their customers to provide honest reviews to help them sell better.
Some of the biggest online stores like Amazon and Alibaba aren't just selling products; their websites are a great source of information about millions of products. Millions of people shop by visiting these websites to seek information in the form of product reviews. If you run an online brand to sell your products or services, make sure to generate as many product reviews as possible to improve your credibility. Honest reviews will make it easier for your prospects to make well-informed decisions. A good example is the Dyson Vacuum reviews. Before a person makes a decision to buy a vacuum cleaner, he/she can check the overall satisfaction rating from the customers that had already purchased and give an honest review. These reviews to a certain extent, hold sway the opinion and the views of the potential buyer.
Micro Blog Posts
A microblog is a brief piece of content created to help readers get quick solutions. It's an effective way of sharing short stories and messages with your online audience to boost engagement. Popular social media networks like Facebook and Instagram are great platforms for microblogging. Rather than writing a long text, you can create short blog posts to solve simple problems that your audience might be facing. A microblog can be short audio, video, or text. The purpose here is to engage customers and keep them informed.
While long-form blog posts have their own significance in online marketing, short posts are an easy-to-read form of content that involves less time spent on the creation process. On the other hand, readers have to spend less time consuming short posts. Another benefit of microblogging is the opportunity for businesses to share content more frequently. Keep posting long-form blog posts to address deep issues, but don't forget to share microblog posts to keep your audience engaged.
Quizzes
Quizzes provide businesses with a great opportunity to evaluate their products and services. It's important for you to know what your customers think about your products and services. Encouraging them to take a moment and answer your simple questions would give your valuable insights into your customer's behaviour and preferences. While analytics tools like Moz and SEMrush generate valuable data showing the overall performance of your online marketing efforts, traditional content sharing tools like quizzes provide real-time information.
If you're not sure which type of content is worth investing in, use quizzes as an integral part of your online marketing strategy. When creating quizzes for your audience, make sure to create attractive titles. Also, select the right type of quiz to produce the best results. Keep things to a minimum so that your audience doesn't have to spend plenty of time understanding your questions. A good use case of quizzes is Equinet Academy's Course Selection Diagnostic Tool. This is a simple 3-questions quiz that will determine the suitable course to cater to the learner's needs.
Vlogs
Vlog, also called a video blog, is a form of blog presented in the form of a video. Bloggers who share their content through videos are called vloggers. A good example of a vlogger is Nuseir Yassin of Nas Daily. He is a vlogger that makes interesting videos about the world. In the videos, he will usually express his opinions on the places he has visited like Singapore.
From Vimeo to Youtube, you can find tons of vlogs on the internet, covering a broad range of subjects. Since the demand for visual content has witnessed an unprecedented rise, marketers and organizations now focus more on visual content, especially video and live streaming. To strengthen the presence of your business online, you can add videos to your website and social media profiles. Video content makes it super easy for your prospects and customers to consume your content.
Some bloggers have started putting emphasis on creating video content. Besides, the equipment required to create videos has become cheaper and innovative. To stand out, you should try vlogs to share content with your audience. For example, you can make a simple video blog showing and explaining about one of your best products.
Screencasts
A screencast is a video recording of a computer screen with audio narration. It's a cost-effective way of creating how-to or instructional videos. Many bloggers and organizations use screencasting to help people solve a problem. For instance, if you want to teach your audience how to use particular software, you can screencast and make several short videos explaining all the technical aspects of your software.
Tutorials, recording presentations, training videos, and video lessons can be created using screencasting tools. Viewers like to consume such content because they can watch it when it's best for them and absorb information at their own pace. While PowerPoint presentations are effective tools to educate people, screencasting is a relatively new medium that presents information in a more convincing and convenient manner. As a business, you can use screencasting to train your employees. For instance, you can use this method to explain to your new employees how to reconnect to the printer. Some good screencasts applications include Camtasia, ScreenFlow and Screencast-O-Matic.
Screenshots
A screenshot or "sc" is a digital image that shows a device display. Most computer and mobile devices come with a screenshot button that you can press to take a picture of your mobile or computer screen. Professionals from across industries take screenshots and share them with their teammates to effectively communicate their message. Taking a screenshot and sharing it with your audience is a time-efficient way of solving a problem, rather than explaining an idea verbally.
Content creators and marketers use screenshots to enrich their blog posts and other forms of content. We often see screenshots embedded into a blog, which tends to simplify a concept. In this instance, I have included a screenshot detailing the intricate relationships of the various media channels for content distribution. This screenshot is embedded in a blog discussing on what is Content Marketing and the importance of it.
Taking screenshots is a relatively simple task as most desktop computers or laptops come with a dedicated button to take screenshots, while mobile devices allow users to take screenshots when they press a specific combination of buttons.
Music Videos
Simply put, a music video is a song with imagery, which is produced for artistic or promotional purposes. Music videos are one of the most popular forms of digitally consumed content. If we look at the music industry, one of their primary jobs is to create music videos for broad audiences. In order to grow their audience base, It is very often for musicians and singers to invest in music videos in order to make their musical efforts a success story.
A couple of decades ago, people were fine with audio music. However, music artists have found that by employing videos, it makes music more 'attractive'. Maybe a song by itself isn't a hit but a good video can make it popular. Besides, the video makes it easy for music lovers to have improved musical experiences. Following the growing popularity of music videos, it wouldn't be unfair to mention that both music and video have become two inseparable forms of media. Depending on your audience, employing music videos might be great for your site.
Personal Bios
The term biography refers to an account of someone's life written by someone else. The word 'bio' is a short form of biography. Personal bios are a great way of telling your story. From your social media profiles to your website, a personal bio can help your audience understand who you are and what you do. From a professional perspective, people have to write short bios covering their professional experience and achievements.
Whether you have to write a bio on your Facebook profile or you want to write a book about your life, be thoughtful. Make sure your life story is presented in a way that the readers enjoy reading it.
Another great idea to instill trust is to have a professional corporate biography. The main goals of a professional biography are to give the reader an accurate sense of who you are and what you do, establish expertise and credibility, and qualify your experience and background. An example might include Dylan Sun the Founder and Director of Training at Equinet Academy.
Aggregation Of Articles
The word 'aggregation' means the formation of various interconnected things into a cluster. In its simplest form, aggregation of articles is the collection of information involving one or more articles. In some cases, you have to aggregate other articles to augment your content while ensuring a broader perspective.
In today's digital age, distributing recent news stories across blogs and news aggregation websites is a smooth process. However, it's important to ensure legitimate information-sharing processes. Since news aggregation can affect the media industry's bottom line, companies can find it difficult to pay journalists who generate genuine reports. Article aggregation is not equivalent to content curation. When you don't have time to browse through content, aggregation can make your life easier.
Article aggregation offers a variety of different voices and styles that can attract a diverse range of people to your original articles. An instance would be the Equinet Academy's Digital Marketing blog articles which showcase different authors and expose the readers to different styles of writing.
Book Summaries
People often find it difficult to differentiate between a book summary and a book review and use these terms interchangeably. Is there any difference between a book review and summary? Yes, a book review attempts at evaluating a book while a summary condenses a book's content. A review can criticize or appreciate a book, a summary is supposed to summarize the entire book into a few pages. Some good book summary templates can be found here.
When you write a summary of a book, it makes you reflect on the information you have retained from the book. Publishers create book summaries to keep their audience informed and up to date regarding their new publications. An ideal book summary will help readers understand what a particular book is all about and how it develops its content. Taking a moment to read the summary of a book will help you decide whether or not you should buy the book to study the subject further.
Giveaways
A giveaway is a marketing tactic used to promote something. When it comes to building brand awareness, giveaway marketing can provide many benefits. There are various sizes and types of giveaways. A good example is Equinet Academy's Digital Marketing Career Handbook. It stands to benefit aspiring digital marketers or even digital marketers themselves as it reveals the ins and outs of the field of digital marketing.
You can design the giveaway based on the nature of your products or services. For instance, a book shop can offer a free bookmark with every purchase. Or, a large giveaway could be a five-day vacation to the Maldives. The quantity or the size of a promotional item largely depends on the purpose and scope of your marketing campaign.
People love to have something for free when buying something. To give your business the boost it needs to make more sales, try running a giveaway. Social media can be used to run such a promotional project. A well-thought-out giveaway can help you achieve multiple business goals from lead generation to gain product exposure.
Illustrations
An illustration is a visual explanation or interpretation of an idea, process, text, or concept created for integration in published media; for example, animations, posters, video games, flyers, etc. An illustrator creates such materials for various purposes ranging from marketing to education. The way modern illustrations are created is entirely different from how people created illustrations fifty years ago as shown in the Shutterstock image below.
A dramatic technological evolution has completely changed the way we design things and made them available for consumption. In the Digital Age, illustrators don't rely entirely on traditional tools like pencils and paper. There is a variety of software like Adobe Photoshop and Illustrator that provide designers with the freedom to use their imagination and skills to create stunning designs. As a business, you need several print collaterals to make your presence is felt. From your business cards and signage to your logo and website, most of your creative assets are created on digital tools.
News Releases
A news release refers to a written statement about a matter of public interest. It is created by or given to the press by a company to communicate something important with the public. News releases or press releases are an integral part of a sound public relations strategy. An example is when ChannelNewsAsia announce and update the number of new cases of Wuhan virus. This is important as the public needs to monitor and stay abreast of the virus spread.
Your company can start creating press releases to report brief information about your product launch, website launch, events, or anything else that might be important for your audience to know. Let's say you have redesigned your website and added some interesting features to it, you can write press releases and let your audience know about this development to earn their attention. The objective is to notify the media about your latest business development in hopes they will spread the word. When it comes to digital marketing, you should include press releases to your marketing plan.
Public Service Announcements/Video Public Service Announcements
Public service announcements (PSA), unlike conventional commercials, are made to educate or inform rather than sell something. The prime focus of making public service announcements is to influence public opinion and raise awareness about certain matters of public interest. Also known as public service ads, a public service announcement can cover issues such as drug addiction, drinking, STDs, drunk driving, diseases, or anything else that might be helpful for the general public. A good example of this is an animated story depicting elderly people staying in England that their main companion is actually television.
Since people prefer to consume content on digital devices like mobile and computers or TV, public service announcements are usually made through a video. Organizations can use various platforms like online media, television, direct mail or print collaterals to get their message across. Most people confuse PSAs with public relations. While PR is traditionally used to promote something, PSAs are meant to educate people. Institutes that make PSAs don't expect any profit or monetary benefits. Digital media makes it possible for organizations to spread PSAs in an efficient and cost-effective way.
Quotes
Great figures say great things that keep inspiring millions of people for ages. "What the mind of man can conceive and believe, the mind of man can achieve" is one of the most popular quotes. There are several other more quotes and you can find them here. Quotes are an incredible way of making your point or explaining something in a more sophisticated and educated manner. From essays to blogs, quotations by famous people enrich your content. Some of the leading blogs feel free to use quotes from top marketing experts to support their arguments.
If you want to make your content more authentic, don't hesitate to use relevant quotes in your blog posts, articles or whatever form of content you create to promote your business. Don't use a quote for the sake of using a quote; use quotes when they fit the context. This way you can turn your simple content into storytelling. Just like visuals and high-quality images, quotes would help you connect with your audience at a more emotional level.
Humorous And Light-Hearted Images And Captions
Images and captions have become an inseparable part of online marketing campaigns. To build a strong web presence, you have to use light-hearted, relevant images with great captions. The use of exciting images that reflect your brand voice will surely inspire your prospects to do business with your company. When we say light-hearted and humorous images, we don't mean irrelevant images that do not convey any meaning at all. Everything you post on your website or social media profiles should develop good chemistry with your branding or business values. At the same time, your visuals should convey the message in an entertaining way. A good example would be this visual that commemorates Star Wars Day. 4th May is the date chosen as it has the pun on the catchphrase "May the Force be with you".
Whether you want to launch a paid advertising campaign or create a stunning Facebook page for your company, you need good images. An image with the right caption not only helps your readers but also assists search engines in understanding what your images are all about. So, don't forget to empower your marketing efforts with great images.
Audio Recordings
Audio recording is the process of creating a soundtrack for various purposes from entertainment to business. An audio production company is supposed to record, design, and edit a draft of audio. How sounds are recorded vary from industries to industries. In the music industry, producers use highly sophisticated and complex recording systems to record and edit music. So far as marketing is concerned, audio production can be divided into categories: voice over services, telephone hold messages, and interactive voice records. Some digital marketers believe audio is the next frontier and has grown increasingly useful for digital marketing.
Telephone hold messages are used in many industries to improve calling experience for waiting callers. You might want to play a short recorded message whenever someone visits your website for the first time, or maybe short audio can help you welcome visitors who want to start a conversation over chat. From radio ads to call centre recordings, audio production helps companies in many ways. You can also use audio recordings to improve customer service.
PDFs
The portable document format (PDF) is one of the most popular file formats used to present documents. Developed in the 1990s by Adobe, PDF format includes images and text formatting in a way that doesn't require an operating system or hardware. When it comes to creating digital documents, security, ease of use and compatibility are some of the prime concerns. The good thing about PDF file format is that it provides users with the security and ease they need to create sensitive documents. A good use case of PDFs being a content type is the digital brochure of Equinet Academy's Certified Digital Marketing Strategist (CDMS). It is convenient as it is downloadable, printable and viewable in different platforms (Win/Mac) and various digital devices.
A PDF file is a read-only document that can't be edited or customized without meeting all legal requirements. You can easily convert your information into PDF files and save them to your company's server. PDF files can be printed and viewed with a freeware. PDF reader can be downloaded to open PDF files in offline mode. Internet browsers like Google Chrome enable its users to open PDF files without any additional tool.
Cost Sheet
A cost sheet is generally described as a report covering all of the costs incurred at different stages of a production process. You can prepare a cost sheet to determine the total cost or expenditures your company has made so far. A cost sheet provides valuable information about your overall performance and production efficiency. Preparing a cost sheet is probably the first recommended step when it comes down to reducing production costs. A business needs to bear overheads while running the operations. You might want to view examples of cost sheets. The purpose of a cost sheet is to represent expenditures in a systematic way. Prime costs, work costs, and production costs are some of the components of cost.
Costs presented in a cost sheet typically include charges for labour costs and the actual material. If your company is engaged in producing goods, preparing cost sheets can provide a number of benefits: study the past figures, decide the selling price, determine per unit cost of a product, etc.
Promoted Posts
Promoted posts can be considered as sponsored content or native ads. Sometimes it's not enough to create and share posts on social media channels. You can promote them through various paid programs. For example, Facebook enables publishers to promote their content to get more exposure for their posts. Businesses have to spend money on Facebook ads to put their content in front of their potential customers.
You can either boost your posts or promote them on Facebook. Before you invest money, create some good content that can drive the audience to check out your posts. When you go for Promoted Posts, it makes sure your posts get seen in the News Feeds. All you have to do is choose the best of your posts and set a budget. Your posts will then be seen by your followers, fans, or friends of your fan based on how you allocate your budget. Many small companies use Promoted Posts on a regular basis.
Disclaimers
A disclaimer is a statement which is published on a website to limit the obligation or liability of the website owner. If you run a business website and offer products or services online, a disclaimer will help you address some of the legal issues associated with the online usage of your site. The complexity and length of a disclaimer depend largely on the nature of content, products, services, and functionality of a website. If a business is of a complex nature or offers complex products, the disclaimer is likely to be a comprehensive statement.
The purpose of publishing such statements on your site is to clarify certain aspects of your online business. Some of your products or services can be misunderstood by your customers. A disclaimer is an opportunity for you to state you're not liable for such misunderstandings. We see disclaimers all over the web; nearly every website uses disclaimer to protect their best interests.
QR Codes
Quick response code or QR code which can be read quickly by a QR reading device or smartphones. They're created to let people take a piece of information from a transitory media and put it in digital devices. Nowadays, we see QR codes everywhere from t-shirts to magazine advert and web pages. It's a good way to transfer information about products and services. The good thing about QR codes is that they can save a considerable amount of data such as a text, a URL, or coupon. Instead of using a hand-held scanner, QR codes can be read by cell phones.
It's a fact that not everybody uses QR codes to obtain information, people who do scan them will surely appreciate your inclination towards technology. When it comes to marketing your business, you should consider using QR codes as an effort to engage and convert your prospects. Tech-savvy users don't like to perform time-consuming activities on the internet. So, QR codes are a good way to inspire your tech-savvy customers.
Plugins
A plugin is a software that is integrated into a program to enhance its functionality. Plugins have become a key part of web browsing, web development, computing, and content management. From watching videos on websites to viewing documents, plugins help internet users perform many tasks properly and smoothly. Most users don't even realize the significance or functions of plugins. As a web browser, plugins help you customize the user experience and make it more relevant as per your unique needs.
Modern web browsers now use add-ons or extensions to offer a customizable web browsing experience. For instance, Google Chrome comes with numerous extensions that users can install to perform various tasks. A good example of a plugin is for the Google Chrome browser,
Tag Assistant. This helps to inspect whether appropriate Google tags like Google Analytics have been installed correctly. So no more delving into the codes to check whether it has been implemented successfully.
Think of a web browsing possibility and you might find a plugin, add-on or extension to materialize that possibility. Plugins are also used in customizing content management systems. WordPress, for instance, offers bloggers and website developers to use various plugins to customize or add a feature.
Associates (and partners)
An associate is a partner or companion in business. The constantly changing dynamics of business have driven organizations to realize the importance of building good relationships with customers and partners. When operating in a competitive environment, most businesses have no option but to acknowledge the value of employees, customers, and other stakeholders. Being a customer-centric business, you have more chances of survival and achieving sustainable growth. It's not all about aligning your vision with your marketing and sales efforts.
You have to study and understand your business partners and include them in your overall business plan. As a business, you need to develop relationships with other businesses to deliver your services to the end-customers. The agencies associated with your business are also your customers that demand due attention. Depending on your market, products and business model, your company might be engaging with dealers, agents, warehousing partners, distribution partners, retailers, franchisees, etc. They are your associates and business partners.
Comments
We live in the digital age where it's so much easier to speak your heart out. Every leading social media network let their users comment on almost everything. The number of comments on your Facebook posts is a good indicator that reflects the popularity of your content. You can view Equinet Academy's Facebook comments to understand the importance of this facet of social media.
From a business perspective, comments or likes on your social media posts can have a direct impact on your sales. An increasing number of people predict the quality of a product by scanning through comments and product reviews a product has generated so far. If you run a blog, you have probably enabled your users to comment and share their thoughts about the content you have offered.
As a blogger, you should pay attention to what your readers are saying in the comment box. It will help you improve your future blog posts. Developing good conversations with your readers is also a good way to build your following and loyal website visitors.
Media Mentions
Simply defined, a mention is when a business is referenced or tagged on the web. In other words, a mention is when a blog or publication uses a brand name. What do people and other companies think about you or your business? An example would be found in the LancerX website that prides itself on the values of freelancing. They commended on Equinet Academy's Google Ads Fundamentals course and mentioned some of the merits of taking the course there.
Media mentions help companies gauge their credibility online. Media mentions involve various online marketing aspects: social media engagement, SEO, PR, brand awareness, etc. If your brand has been tagged on Facebook or linked to, it would improve your organic search value too.
While a good SEO strategy leads to better visibility, media mentions further improve your SEO results. When someone links to your content, it's a signal that your content is helpful and authentic, which eventually leads to better rankings in search results. The process to track your mentions can be complicated if you don't have the right tools. There are paid and free apps that help brands find mentions.
Resource Page
A resource page or a pillar page is a web page that provides useful information about a particular subject. Such pages may include various valuable links and content optimized for specific keywords. A blog post can be a small version of a resource page. For Equinet Academy, there is a section on resources that is dedicated to digital marketers. From Digital Marketing Strategies, downloadable templates, Digital Marketing Guides, various Digital Marketing Tools, to the different Digital Marketing case studies.
To launch successful online marketing campaigns, organizations should know the different types of content and how they can be used to achieve predefined goals. Blog posts and resource pages are often misunderstood when it comes to developing content marketing strategies.
Your website or blog probably has a set of some essential pages no matter your niche. Home, contact us, about us, and blogs are some of the commonly used web pages. However, many businesses and bloggers don't add additional pages to their sites despite their importance. The resource page on your site has the potential to become the most high-converting and visited page. Therefore, consider adding the resource page to your site.
FAQs
FAQs or frequently asked questions is a list of questions on a specific subject. Business websites use a FAQ page to enlist all of the frequently asked questions and answer them to help their customers and prospects learn more about their products or services. A good example of this is Equinet Academy's website FAQ section where it details questions and replies on course-related and funding & payments.
Let's say a business provides financial management services to individuals. Having a FAQ page on the website would make it easy for that business to address common queries.
If your website visitors can't find answers to their questions, they will prefer to visit your competitors' websites. Now, you don't want your hard-earned traffic to leave your website without taking any action. Addressing all of the expected questions of your audience will be a great technique to make your visitors develop an interest in your products and services. Besides, FAQs provide users with the information they need to make an educated decision. Websites can also use a FAQ page to improve their SEO rankings.
Micro Videos
Micro videos are short 6-15 second video clips. They are often described as a short version of video content. Increasingly short attention spans to today's consumer make it necessary for brands to create short and engaging content. If you're finding it difficult to attract and retain the attention of your audience, start creating micro-videos and integrate them across your web presence from paid ads to social media pages. Micro videos are often created and shared on social media platforms like Instagram and Snapchat. An example would be Oreo utilizing micro-videos in their Instagram.
Whether you produce all digital assets in-house or work with a rich media vendor, micro-videos will help feed consumer's growing demand for visual content. How long or short your videos should be might be debatable. Digital marketers express different opinions on the subject. Regardless of the length of your videos, make sure you get your message across without losing the interest of viewers.
Mobile Apps
A mobile app or mobile application is a software developed to run on a mobile device: phone, tablet, or smartwatch. A popular mobile app is Facebook. The mobile app market generates billions of dollars every year. Initially, mobile apps were designed to create simple programs like calendar, alarm, email, etc. However, the growing demand for mobile apps has opened countless opportunities for app developers and businesses. Organizations have now realized the significance of apps in their online marketing strategies. However, if you intend to develop mobile apps for your business, you might have to consider several factors like the platforms of your choice (IOS / Android) or whether it's a hybrid or native app.
A business that has a dedicated mobile app can deliver a personalized user experience. While the app market is growing at a tremendous pace, it's not easy to build successful apps that can have an impact on the market. Thousands of apps are submitted to the app stores every day and most of them fail miserably. If you're planning to turn your ideas into a mobile app, make sure to build something unique, valuable, and interesting. A good business app can give a competitive edge.
Polls
A poll is a process of voting to know what people think about a particular subject. We often see individuals and companies conduct opinion polls on the internet to obtain public opinion. A fun example of this is which Disney characters would win if they fought with each other? For instance, you can run a poll on Instagram and pose a question to your followers with a choice of two responses. Brands frequently use Instagram stories poll to generate valuable information about their products or services.
Consumers want interactive content to make their web experiences more fun and lively. If you find it difficult to engage your audiences using blog posts or web copy, feel free to use polls as a great way of interacting with your prospective customers. It's not on generating insights as polls can help you put your products or services in front of your potential customers. So, leverage the power of social media polls to increase brand awareness through shares and participation. Make polls a valuable part of your digital strategy.
Background Information
As the name suggests, background information is information an individual or organization obtain in order to increase knowledge about a subject. It's often placed right after the attention grabber. For example, in a blog post of 5-6 paragraphs, three to five sentences can be added as background information to make your content more contextual. You can use more sentences to provide your readers with some background information about a subject.
This type of content is mostly used in academic documents such as books and essays. However, you can create background information for your digitally consumed content. For example, if you have a business website, adding background information about your business can help your visitors make educated decisions. Likewise, providing some background will help you create more authentic and compelling blog posts for your business. In a competitive online environment where everybody is looking to grab consumers attention, simple things like providing a short history of your business can help you stand out.
Sponsored Content
When something is sponsored, it means that someone finances and buys time to broadcast something. We often see sponsored content on various social media channels like Facebook. Let's have an example to further elaborate on the concept of being sponsored. A company may have a product or service that best fits the audience you have on your blog or YouTube channel. If you have a considerably healthy following, a company might approach with an offer to sponsor you. In return, you might be asked to promote their products or even videos.
People often use the term 'sponsored content' synonymously with native advertising. Though, the terms might be used interchangeably, sponsored content is merely just one type of native advertising. Individuals and organizations can use sponsored content to maximize their visibility. For example, Facebook sponsored posts is a great way to buy more exposure for your posts. If you want to ensure a broader reach to the number of potential fans or followers on the internet, you might want to pay to get a better reach.
Flyers
A flyer is a form of print marketing collateral that is designed and distributed to market a business or a product. A company can distribute flyers in public places or send soft copies via email to prospects. While a modern business can't undermine the importance of digital marketing, flyers and other offline advertising opportunities are still effective and produce results. An instance is shown here which showcases different design elements of business flyers.
We live in an age where consumers use the internet to seek information or buy/sell products. However, the presence of high tech advertising doesn't decrease the effectiveness of flyers and business cards.
Flyers work. This is the reason why businesses have been using them for many decades. Whether you provide coaching services or sell products online, flyers can be used to promote your business in the local audience. When creating flyers and other marketing material for your business, be sure to create great design and content to get your messages across effectively.
Wikis
A wiki is a database or website developed collaboratively by a group of users. A user can add or edit the content on a wiki to make it more accurate and authentic. Content is added or edited directly from a web browser. A simplified markup language is used to write text or rich-text editor helps users edit the content. HTML coding isn't required to make changes.
Millions of internet users use wiki websites to obtain information on the go. A good example is Wikitravel which showcases information on different countries to travel.
In the presence of wikis, you don't have to go to a library to obtain authentic information on a subject. Many wikis are open to the public: no registration is required to browse the website. However, private wiki systems might ask for user authentication before they read or edit anything.
Popular companies and figures create a page on Wikipedia as a marketing technique to promote themselves. As a result, Wikipedia is a treasure trove of information.
Interviews
An interview generally refers to a structured conversation where one participant or group of participants ask questions and the other party provides answers. In other words, an interview is a one-on-one conversation between an interviewee and interviewer. You can be a part of an interview to achieve various goals. When it comes down to marketing, brands and business leaders use interviews as an effective marketing technique.
If you are running a business and wish to connect with your audience, you can launch a live streaming session and let your audience ask questions about your products and services that you offer. People are usually more open to the concept of interviews. Conducting a survey or a poll can also help you to generate business insights; however, interviews help you connect with your prospects and customers at an emotional level. The use of interviews is one of the tried and tested tools for effective market research. Customer development interviews have gained considerable traction over the last few years.
Comics/Cartoons
Comics and cartoons are fun. When we present our content in the form of comics or cartoons, it becomes entertaining and more engaging. Needless to mention that people have started hating traditional advertising and dull marketing materials. Moving forward, marketers have to add a fun factor to their content in order to develop effective advertising campaigns. This is where entertaining forms of content like comics and cartoons can help businesses convey their message in an exciting way.
The true power of cartoons or comics is the integration of visual and words. When content is presented in a visual form, it produces much better results in terms of conversion and lead generation. The ultimate goal of marketing content is to convey your message and make people take certain actions. However, you need to allocate a budget to create visual content for your brand. You should consider using comics for business communication and marketing purposes.
Digital Events
A digital event is when people get together and not all of the participants are physically present in a shared environment. A good example of this is the digital summit which showcases practical solutions for the digital marketing community. The internet has made it possible for us to conduct virtual events on the web. The importance of digital events has increased following the growing demand for innovative marketing tactics. With live streaming options on various platforms like Facebook and YouTube, it has become even easier to go live and show your events to a broader audience. Live events are also included in marketing plans. Small businesses should use digital events to increase brand awareness.
In today's digital world, everyone goes online to seek solutions. Your business can't miss opportunities like digital event marketing to establish better connections with your prospects. A digital event can be from a virtual meeting to a virtual conference or meetup. By organising digital events, it has a far greater outreach compared to the live events and it enhances engagement amongst attendees.
Competitions
Competition is a situation where two or more parties strive for something that can't be shared. From academic examinations to marketing and technology, people need to deliver their best in order to succeed. From a business standpoint, organizations have to constantly deal with competitions whereby businesses are selling similar products and have to find ways to differentiate themselves.
With the ever growing competition amongst companies, it makes it difficult for startups to achieve sustainable growth. To overcome this competition, a business has to develop and implement result-oriented digital marketing campaigns. Content plays a decisive role when it comes to surviving in a competitive market. Platforms like Gleam can help you run your own competition to help build an engaging and competitive online presence for your business. There are tons of tools that help you understand the intensity of competition and in building better strategies to stand out. It might be impossible for startups to small companies to beat giant competitors, but they can use effective strategies to make their way to the top.
Inspirational Messages
Messages that show spiritual and creative inspiration are called inspirational messages. A relevant quote from an inspirational figure can certainly enhance the power of your content. Most content marketers and advertisers don't realize the significance of inspirational stories. In a competitive digital environment, dull and boring content is of no use. To have your web copy, blog posts, and other forms of content increase conversion and be more persuasive, include some inspiration to your stories.
For instance, you can use popular quotes from industry leaders to enrich your content. Sometimes having statistics or references to a popular study can add inspiration to your content. You can find lots of examples of motivational messages on the internet. However, it's important to find the relevant stories that fit your topic or subject. If you want to entice your readers to visit your website in a bid to find out more interesting content, do apply storytelling techniques in your content.
Literary works
Literary means a piece of work connected with literature. A literary work can be a spoken or written piece. Poetry, creative imagination, fiction, drama, songs or even some journalistic piece of writing can be considered a literary work. The literary work can also represent 'general writing' or 'creative writing'. To know more about creative writing, you can view this website and it shows you about 21 different ways of writing creatively.
If we look at the history of human development, we can't help but admire the role of literature and creative writing. From a digital marketing perspective, creative writing is a great way of creating inspirational stories for your audience. From web copy to paid advertising, creative writing can help you build persuasive online experiences for your business. Many bloggers, influencers and marketers use their creative writing skills to achieve their business goals.
The internet is exploding with dull and useless content. When someone offers creative, out-of-the-box content, people can't help but read and share it. If you want to stand out, give your content a literary touch and make it more interesting for your readers.
Lists
A list is a number of names written digitally or printed one below the other. Writers often present various headlines or names in the form of a list to make things easier for readers. For example, a list of popular marketing blogs will show the marketing websites one below the other. When creating content for your digital marketing campaigns, you should present content in the form of lists wherever appropriate. A good example of this is wikipedia's list of contents so that readers can easily link to the appropriate section with ease.
Modern consumers are time-starved people and they usually skim through a web page to get the necessary information and move on. Very few would like to read complex and lengthy paragraphs on the web. Many websites present content in the form of lists to improve the impact of their content marketing efforts. Great content is often list-driven. The increased use of smartphones to view digital content has led to the popularity of content expressed in a listed format. This is because mobile users can easily browse through content that displays in a succinct and bulleted manner.
Online Events Roundup
One of the most desired aspects of digital marketing is having a high traffic volume on your website. Unfortunately, engaging a large number of your prospects is not exactly straightforward. So, businesses have to attempt a variety of marketing techniques from writing roundup posts to conducting digital events. Online events roundup is about compiling important updates about your online events and presenting it to those who miss your events.
When it comes to content marketing, personalizing content such as your own business stories can help build trust and relationships. A good example is a roundup blog post which is a compilation of expert answers to a question. A good instance of this is having 82 experts sharing their successful blog tips. When done right, roundup posts can be very valuable to readers because it gets consolidated into a single document. These posts will not only drive traffic to your business website but it also enhances your credibility. Besides, events roundup helps feature influencers in your content.
External Product Reviews
Product reviews are a key part of any eCommerce business. External product reviews have the potential to increase your sales exponentially. However, it requires effort and time to get great reviews on your products. You might consider offering incentives to encourage your customers to provide valuable feedback. Organizations that sell great products do not need to solicit for feedback. Satisfied customers would gladly provide positive feedback and reviews about their experiences.
You can find a large list of websites that write reviews about your competitors. You need to source for bloggers who would consider writing a review about your blog, products or services. If you're a blogger, you can ask influencers or other bloggers to read your content and link back to your website. A good example is Heartlandboy's blog that details things that represent value-for-money. In his lifestyle section of the blog, he gave a review on why a person should sign up for Equinet's Academy SEO course.
This practice will help you rank your content higher in Search Engine Results Pages (SERPs). In return, some influencers might request to provide some reciprocation.
In summary
Though content can present itself in many forms, the crux is that it appeals to your audience whether to educate, entertain, persuade or to convert. However, there are many other facets of Digital Marketing to consider. At Equinet Academy, we have a Certified Digital Marketing Strategist (CDMS) that consists of 6 core modules for traditional marketers and aspiring digital marketers to have a more comprehensive understanding and a broader perspective of Digital Marketing. It also consists of an optional Capstone Practicum Project to give you an actionable plan for your next Digital Marketing project.
The core modules include :
https://www.equinetacademy.com/wp-content/uploads/content-types.jpg
479
1280
James Lee
https://www.equinetacademy.com/wp-content/uploads/2016/02/EA-Logo-White.png
James Lee
2020-02-24 18:13:19
2020-09-16 17:55:43
97 Types of Digital Content for Your Next Content Marketing Campaign