A Comprehensive Guide to Hiring a Digital Marketing Agency
Engaging a digital marketing agency can be a big step and a huge investment, with many companies offering packages at eye-watering prices. The market in Singapore is fairly saturated and people are wary of the small agencies that claim to be a one-stop shop for everything. Some of my clients and friends who have worked with agencies even complain that they overpromise and underdeliver.
Others say that agencies maximise their chances of winning by submitting low bids, but after signing the contract, they pressure the clients to "top up" more to gain access to even the basic deliverables. Agencies, on the other hand, complain that clients steal their ideas and make them their own without payment, or credit of acknowledgement.
However, not every digital marketing agency is a bad egg. Agencies who don't just pitch-and-go do exist. They believe in deepening the client relationships and building an ecosystem that incentivises client advocacy and referrals.
So here's the million dollar question: How do I choose the right digital marketing agency to give me the best bang for my buck?
This article aims to empower you to make educated choices when deciding on an agency. There will be That One agency that will give you the best return on investment for your marketing dollars, I assure you. Go forth, and choose!
MAKE FRIENDS WITH GOOGLE
First step: Research.
Find out about the core competencies of each agency, and try to look for an agency that has prior experience in that particular field. It's also good to ask around for word of mouth recommendations, especially from friends or colleagues who have done similar projects.
Always check to see if the digital agency has a working website. A Facebook or Instagram page does not suffice and will not be enough. If you can only find them on Yellow Pages or Greenbook, they are not a digital marketing agency that can keep up with the times.
If their website appears outdated and neglected, carry on with your search. If they can't manage their own digital presence, how can they manage yours?
Any reputable agency will have an updated portfolio with a client list, that features work from their area of expertise. They should have testimonials too.
Check if the agency specialises in your domain, because not all agencies are the same. Some handle large B2B clients and niche industries. Some assist small companies. Others may act as an intermediary between freelancers and client.
Find out how well they know your industry, and if they've had clients from your industry. You'll feel a lot less anxiety about signing the contract if you can see proven results from previous clients within your industry.
Caveats to note
Some say to avoid the agency that has a fixed approach to everything because then all of their work may end up looking similar. However, others think that it just means they deliver consistently. It's up to you to decide.
Even if they don't have recent work in your industry, you can ask them how they will gain the knowledge they need about your company, the field of work, and sales goals. However, watch out for agencies that work only in one industry or field. They might have conflict of interests with your competitors. You should walk away.
If you choose to continue, ask the agency how they plan to work over any issues of conflict of interest. You're paying for a digital agency to gain an edge over the competition. Not to be thrown into the same basket as them. No matter how pure the agency's intentions are, only one can be king.
YOUR DIGITAL MARKETING AGENCY NEEDS TO KNOW WHAT'S UP
Remember the frequent changes Facebook made to their algorithms? In 2016, the social media giant started prioritising live videos in News Feed. Facebook also tweaked their news feed algorithm to predict which posts a user may find "informative", and prioritise such posts in the user's News Feed.
Informative content could relate to a variety of posts based on the individual's likes, reactions, and forms of engagement such as shares and content.
For marketers, this means that they basically need to start providing value-added content that's subtly linked to their brand to get engagement, instead of just pushing out promotions all the time.
Häagen-Dazs has some excellent examples of value added content. All screenshots are taken from Häagen-Dazs Singapore's Facebook page.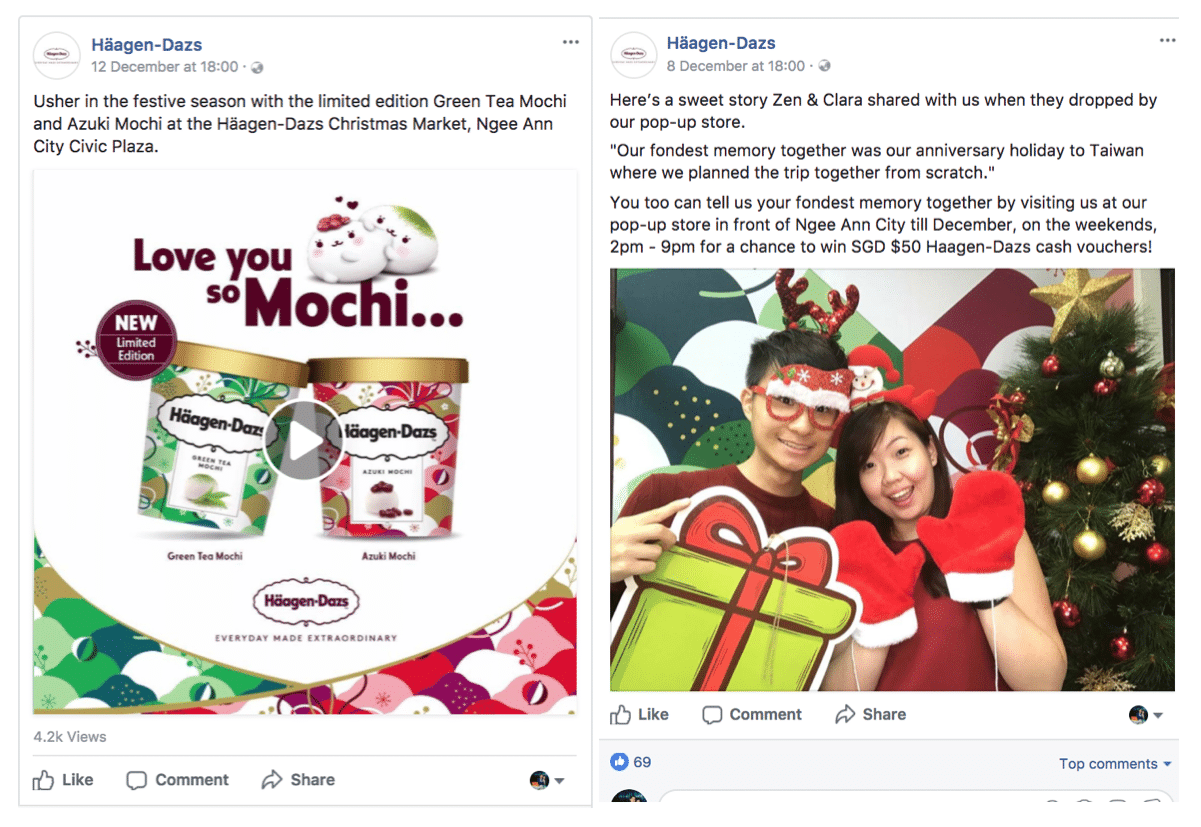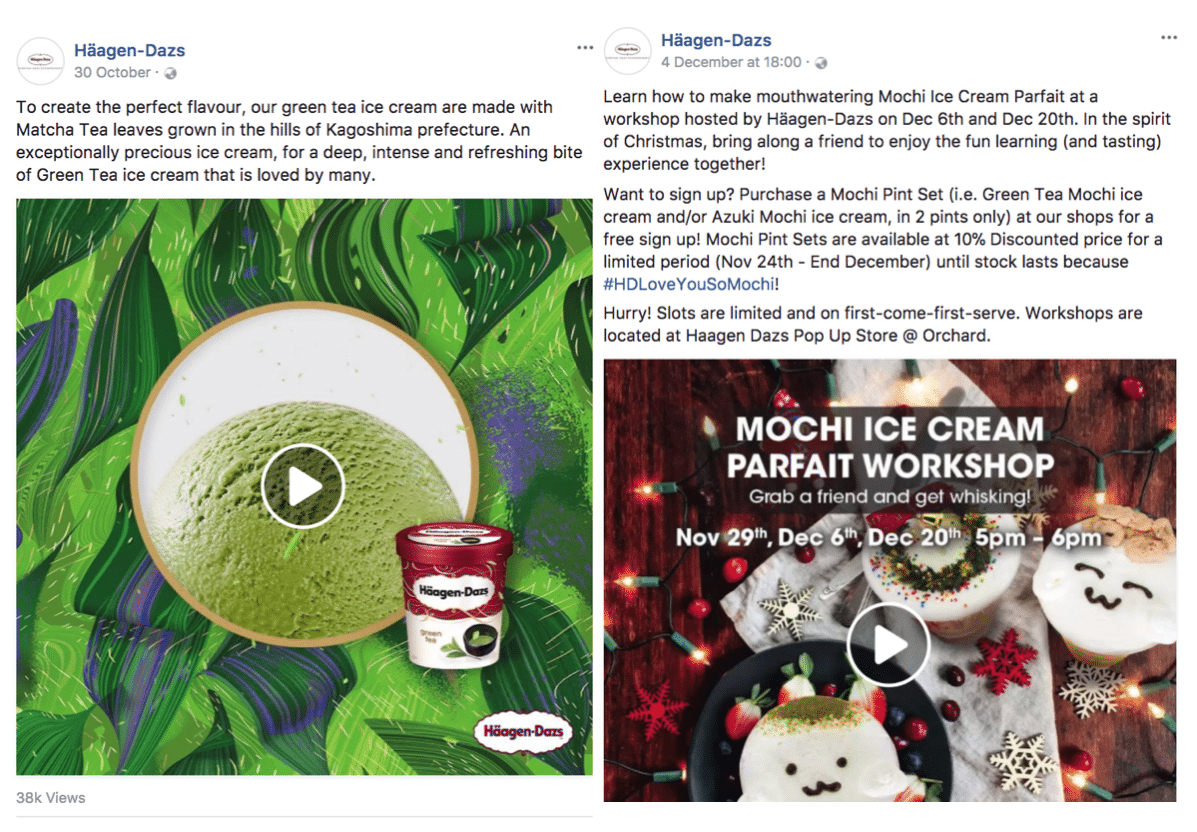 Well taken images, a warm and friendly tone, great copy and storytelling.
In 2017, Facebook also announced another game-changer. They revamped the Reactions on your news feed to weigh more than your Likes. Over the past year, Facebook has learned that any Reaction left on a post is a strong indicator that the user was more interested in that post.
This update meant that if a user selects a Reaction on a post, even an 'Angry' reaction, Facebook will begin showing similar stories in the news feed. So as marketers, they should aim to create content that elicit a Reaction over a Like.
What about the time Instagram transitioned from being all about pretty and filtered pictures, to a huge direct-to-consumer/audience marketplace? There were no special press releases for this change, but a gradual evolution of how Instagramers use the platform.
This change gave birth to a new kind of influencer marketing – one that gives more weight to using an individual's influence to amplify your brand message. This article by Forbes provides an excellent overview of this topic.
It's not just all about social platforms. Artificial intelligence, machine learning, and natural language processing are improving constantly. Screenless SEO is a huge new development, thanks to Alexa, Siri, and other intelligent personal assistants. It is a new SEO tactic based purely on spoken language, which changes the landscape for content marketers. They will now have to re-think how they present content, and write copy in a conversational manner. (source: geektime.com)
Knowing what's up isn't just about keeping abreast of the trends and hot topics. It is also having an eye on the social and cultural changes on each and every platform.
There's a lot to be gained from early movement, and your agency should be there to give you the information to make that right move at the right time.
A GOOD AGENCY IS LIKE A SWISS ARMY KNIFE
This analogy probably has been repeated ad nauseum. But it's true.
For a digital agency to be effective, they need to have fairly broad skills sets. Businesses should work with the agencies that can offer a multi-prong approach that aligns with your goals, issues, and strategies. There's no such thing as a one-size-fits-all solution for every business.
Here are some important 21st century skills to consider when vetting agencies.
Web design
Website hosting
Branding
Digital and inbound marketing
Video, visuals, and graphics
Copywriting
Online PR (Public Relations) and Community Growth
Digital Marketing Analytics
Think that's a lot? Well, okay, maybe you don't need all. But in order for your marketing efforts to be well-rounded, your agency should have a motley blend of marketing professionals working together.
Let's pretend you are expanding your grandfather's carpentry and furniture shop. You engage an agency, looking to revamp the website and come up with a sleek brand identity.
Now, let's check off the boxes. For a website, you'd need someone to code it, whether they're using custom code or templates. You'll also need a decent web user experience (UX) to go with it. So you'll have to get a marketing expert to map out the customer journey. Next, web copy. Not all web developers do web copy. And don't forget the images! You'll most likely have to provide them. Otherwise, the agency might arrange to get in a couple of photographers (who might be freelancers, not in-house) to snap some pretty pictures of sample interiors and furniture. And if you're not into that, the agency might suggest that they get in an interior modeller to create images for you. You'll also require regular content updates and maintenance, so you'll need a content marketing strategy, as well as a SEO guy to push your website visibility. And that's not the end of it!
Get to know who you'll be working with on a regular basis. When you partner an agency, you're gaining new teammates. Make sure these new co-workers are people you'll look forward to collaborating and communicating.
YOUR AGENCY MIGHT OUTSOURCE SOME WORK, AND THAT IS (SOMEWHAT) OKAY.
Let's face it: in business, cost-cutting is necessary. Everyone has bills to pay. Many digital marketing activities such as SEO, community management, analytics report, and content creation require a high level of time commitment. Even web design can be outsourced.
It's not unusual for an agency to save on costs by outsourcing those tasks to freelancers or interns. So a prospective marketing firm might offer web design, but will these designs be outsourced, or will there be a design team in-house?
It's okay to outsource some things. Some agencies have professional freelancers that they work with regularly, rather than the cheapest option randomly plucked from Fiverr, Upwork or Carousell.
HOWEVER, you'd want to ensure that most functions important to the project are created in-house, for consistency. Otherwise, there's the danger that your digital marketing agency is just doing little more than managing others, and is not involved in the creative process.
Walter Lim, Social Media Marketing Trainer at Equinet Academy and Head of CoolerInsights, advises that it is important to check if the agency staff handling your account has experience in the tasks you're paying them to do. Whether it's for web copy, running a digital marketing campaign, or designing new packaging. There are some firms out that that outsource virtually every aspect, from copywriting to analytics reporting. When this happens, employees or freelancers end up working in silos, losing sight of the ultimate goal: to raise the online profile of your brand.
If you're doing a complete rebrand or revamp, it's better (and more reassuring!) to know that there are experienced professionals in-house to review content and ensure that the quality and style remains consistent and aligned to your goals.
MONEY TALKS


The cheapest agency may not be the best. Then again, the most expensive ones aren't necessarily the best either. But one thing's for sure, remember to do your own due diligence (DYODD) ensure that the agency is good at spending your money.
No, not that your agency should splash your dollars around buying ads, buying content, sending out promotional emails for you everywhere, every day. The team you hire should be good at giving you value for money.
Anyone can spend money on advertisements. But creating good content and coming up with a proper strategy can help cut your digital ad spending by up to 50%. Demand for paid advertisements have skyrocketed in the past few years, and is expected to continue climbing.
Gone are the days when digital or online advertising only required a few clicks of the mouse and some educated guesses.
Now you need tracking, reporting, benchmarking to ensure good results. In 2017 Q3, Facebook reported that the average price per ad increased 35%, but will be compensated by more sophisticated ad delivery methods. (source: AdEspresso by Hootsuite)
Your agency should be able to explain to you in a clear manner where they'll be spending your budget on, and why.
RED FLAGS TO LOOK OUT FOR
If you don't look out for the red flags you'll be waving the white flag.
They recommend an all-encompassing social strategy.

99% of the time, your business doesn't have to be deployed across every social media channel. If they can't justify why they chose that channel, it's a huge warning sign
If you run an industrial shipping company, maybe Instagram isn't your best bet. However, if you're looking to do marketing for a bunch of villas in Bali, Instagram is the perfect platform for you to induce some serious beach envy and wanderlust.
If their promise sounded too good to be true, it probably is.

The agency should not make guarantees or blanket statements. Executing an effective strategy takes time, work, and patience.
A good SEO agency can get you on the first page of rankings, or even the first position. But if they claim to guarantee it: RUN. Because it's highly likely that they'll be using black hat tactics that would be harmful to your brand in the long run.
Arbitrary metrics for SEO, such as ranking for keywords but not showing search volume, and not being able to explain how the metrics will convert to leads/business for you.
Likewise, if they're oversimplifying things by focusing on web traffic and avoiding discussion about leads and conversions, you know that they're not a very creative bunch.
Prices are too good to be true.

If they're priced far lower than their competitors for the same services, ask them for their deliverables. Chances are, the deliverables that they've omitted or claim to be optional will turn out to be essentials and be charged at a premium during the project itself.
Billing breakdown is too complicated to understand.

A common complaint is that clients often receive bills they don't understand for projects and initiatives that never seemed to happen. Even before you start the project, the agency should explain in a clear manner and give you a clear breakdown of what they are charging you for and why.
Do try to avoid turning this into an opportunity to haggle or bargain. Think of it as a preview into what you're likely to get when you engage the agency.
CHECK YOURSELF


Last but not least, we have our blind spots. Before you go shopping for an agency, take some time to reflect yourself or with your team about expectations, priorities, problems to solve and (important!) budget.
Set some time aside to read up about Digital Marketing on your own, so that you'll know which questions to ask. This is also to avoid getting swindled by agencies that pitch you the stars and moon but don't deliver.
A good agency will be able to address your concerns eloquently. Both parties should try to be as honest with each other as possible, and also pragmatic about expectations.
Here are some questions and advice for you to think about:
Expectations and agenda

What do you need the agency for? Figure out if it's to make up for manpower crunch, lack of skills, or to solve a problem.
What are the branding guidelines? What about the target audience and objective of engagement? Will you want them to provide post-project support?
Pick a range of figures for a budget you're comfortable with. Check out this article by Ice Cube Marketing for a brief overview of the rates in Singapore.
Meetings and discussion

Do you prefer to hold meetings in-person? How much time are you willing to spend travelling to the agency? Would you be able to hold meetings over the phone or Skype?
You might think that driving 20 minutes to a bi-weekly meeting isn't much, but regular commuting could be an annoyance when you're busy juggling higher priorities.
Project Timeline

Rome wasn't built in a day. Fully-functional websites do not magically sprout up overnight. Your article will not rank at the top of Google just by adding 3 keywords to your page. Your sales team will not be flooded with emails and calls after launching the Facebook Ad the first day.
An e-commerce website takes at least 6 weeks to be built, and that's not counting the improvements you will make on web copy and design. SEO projects often take at least 6 months to see tangible growth. For inbound marketing projects, you probably won't see a return until after 3 to 6 months.
If you suck at delayed gratification, buy advertisements. But even that would take about a week for results.
Responsiveness and Feedback

Some people may ask if the agency will be available on time to answer calls or emails. But what about your own availability to approve designs and content? You are not the only account the agency is handling. To avoid last-minute disappointments, be sure to give the team time to work.
Don't be the client from hell that changes their mind about the font size on the website 5 minutes before website needs to go live.
If you're too busy to approve content and collaborate on projects when needed, maybe consider delegating the bulk of the communication to someone else on your team.
Do you know what you don't know?

Example: If you're engaging an agency to do SEO work for you, having a basic knowledge of the jargons and processes behind the scenes will make it easier for you to communicate your needs or requirements to the agency.
Digital Marketing evolves rapidly, and many consultants themselves sometime struggle to keep up to date. As we all know by now, Google and Facebook's algorithms are perpetually shifting. Consumer tastes and consumption patterns of online content can change significantly in weeks.
An additional bonus: if you understand the topic, the agency won't be able to smoke you. Isn't that incentive enough?
We've only just scratched the surface of what to look out for when shopping for a digital marketing agency. Always remember to do your due diligence online (read to gain more information and find agency recommendations) and offline (ask for recommendations or sign up for a digital marketing course taught in-person in Singapore or online).
Written By: Gwen Tiew
Gwen is the Sales and Marketing Manager at Equinet Academy. She is passionate about content creation and making digital marketing less daunting for small businesses. Connect with her on LinkedIn.