How To Create A Social Media Content Calendar
Wish to take away the guesswork in social media marketing? A well-optimised social media content calendar is a great way to instil discipline in your social media marketing efforts. It helps you visualise the content efforts needed in the coming weeks and months, and can potentially save you lots of time, effort, and heart-aches.
In this article, you will learn all about the art and science of social media content planning as well as some of the industry's best practices in social media calendar building. To guide you along, we will also provide ample examples with a free downloadable social media calendar template in a Google sheet format.
What Is A Social Content Calendar?
A social media content calendar is a publication schedule that helps you to keep track of content deadlines, controls the content planning process, and encourages accountability and collaboration in the social media management team. As a social media campaign strategy tool, content calendars ensure that the different social media content types and schedules are aligned to your various target audiences and their interests.
Allowing you to monitor and keep track of your social media content strategies, your social media marketing calendar helps you to gauge what proportion of your content is used for building awareness, boosting engagements, generating leads, triggering sales or fostering loyalty.
Typically, a well-structured social media content calendar template should contain the following components:
All of your social media channels
Actual content — often in a summarised form
Use of Keywords and hashtags
Call To Actions (CTAs)
Link to assets, e.g. images and videos
Link to published post
Date and time
How To Plan A Social Media Content Calendar That Works?
To successfully plan a social media content calendar that works, you need to organise your content so that you can stay on top of publishing goals and needs.
A reliable social media content calendar makes it simple to plan ahead, make changes as needed, and have a visible pipeline of content at the ready. It helps you to focus on your marketing objective and minimise unnecessary content distractions. The following step-by-step guide should help you in the content planning process.
Step 1: Determine what your social content goals are:
First, you need to establish what your content goals are. Adopt the following guidelines:
Consider what your specific content goals are for each of the post
Categorise them by your objectives: are they for awareness building, engagement and interaction, lead generation, sales, or fostering of loyalty?
Abide by an 80/20 rule — 80% of the posts are written in a benefit-driven or educational manner, while 20% of the posts are sales-oriented and promotional in nature.
Step 2: Prioritise content type and publishing schedule
A key step in planning an effective content calendar is content-type prioritisation. To do so, you need to understand the types of content which best appeals to your audiences.
The prioritisation of content types in your publishing schedule ensures that your content is meaningful and satisfies your specific audience needs. You can also learn what works best for your company or your brand, and avoid wasting time and energy creating content that simply doesn't work for your audience.
The following are some common social media content types to get you started:
Blog articles
Link posts
Infographics
Podcasts
Images
Videos
Live videos
Lead Gen Ads
Step 3: Decide which channels to publish on
After you have decided on the right mix of content types to be posted, your next task is to consider which channels you should publish them on. The good thing about having a fixed  social media schedule is that you can establish a regular routine and rhythm in publishing and sharing your content, as well as to respond to fans who've commented on your posts.
Step 4: How often to post on social media?
Knowing the ideal times and frequencies to post on Twitter, LinkedIn, Facebook and Instagram plays a crucial role in your social media marketing campaign. Often, they can determine the outcome of your average engagement rates (i.e. likes/reactions, shares/retweets, and clicks divided by post reach). The right timing and frequency of posts can also help to optimise traffic to your website (from blog articles) as well as your ability to build an engaged following.
According to data from 300 brands, the following are the most effective times for business-to-business (B2B) brands and business-to-consumer (B2C) to post on each social media channel.
Facebook:
For B2B brands, it is most ideal to post from Tuesday to Thursday, 9 a.m. to 2 p.m. EST.
For B2C brands, post from Monday to Wednesday, 12 p.m. EST.
Twitter:
For B2B brands, post on Monday or Thursday, 9 a.m. to 4 p.m. EST.
For B2C brands, post from Monday to Wednesday, 12 p.m. or 1 p.m.
LinkedIn:
For B2B brands, post on Wednesday, 7:45 a.m., 10:45 a.m., 12:45 p.m., or 5:45 p.m. EST.
For B2C brands, post on Monday or Wednesday, 7:45 a.m., 10:45 a.m., 12:45 p.m., and 5:45 p.m. EST.
Based on a study of an estimated 260,000 posts on Instagram, the subsequent times are determined to be the optimal Instagram posting times for each industry.
Travel & Tourism:
Media & Entertainment:
Tuesday and Thursday, 12 to 3 p.m.
Food & Beverage:
Retail:
Tuesday, Thursday, and Friday, 12 p.m.
Professional Services:
Tuesday, Wednesday, and Friday, 9 a.m. or 10 a.m.
Non-profit:
Tuesday, 10 a.m. or 4 p.m.
Non-retail e-commerce:
Thursday, 4 p.m. or 9 p.m.
Pharma & Healthcare:
Wednesday and Sunday, 9 a.m.
Personal Care:
Thursday and Friday, 1 p.m., 2 p.m., or 3 p.m.
Technology:
Monday and Tuesday, 2 p.m.
Education:
Thursday, 4 p.m. or 5 p.m.
Do keep in mind that these posting times are just suggestions. You should try different posting timings to determine what works best for your brand. It would be best to publish your posts during the timings when your target audiences are most active in order to boost your average engagement rate.
Alternatively, you may wish to refer to the infographics below to gain a clearer understanding of how to plan your social media posting schedule.
Sample social media post schedule for Facebook, Twitter, LinkedIn and Instagram from CoSchedule
Follow Stellar Social Content Calendar Examples
You can emulate what business leaders and top social media brands are doing on their social media channels by following and adapting from their best practices. This includes their content styles, posting frequency, posting schedules, as well as the types of posts which garner the most engagement. You may refer to the following brand examples listed to get a sense of how you can do so.
Diagram depicting the frequency of Whole Foods' content postings across platforms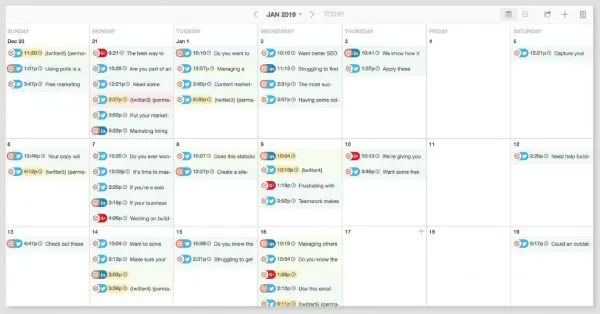 Example of a social media content calendar from Cooler Insights
How to Use Excel To Create a Content Calendar
Excel is a handy tool for social media content organisation as you can customise it according to your priorities and needs. It also comes with many ready-made templates that you can adapt to your needs.
For your benefit, we have created a free downloadable Google sheet content calendar that you can use.
Download Social Media Content Calendar Template
Ending Thoughts
In conclusion, the key to building a successful social media content calendar lies in following these best practices:
Consider what your social media marketing goals are
Plan ahead on the topics and types of content to be posted
Prioritise your content for the different social media channels
Follow optimal posting timings and frequencies
Emulate the best practices of industry leaders and global brands
In addition, always keep in mind to boost your social media's 'social' aspect by monitoring your posts and interacting with your fans.
If you are eager to learn more, sign up for our Social Media Marketing course where you will be well-equipped with the fundamental frameworks, concepts and tools needed to succeed in social media. You can also browse and sign up for the other courses which cover the remaining five core modules in Equinet Academy's Digital Marketing Curriculum.
At Equinet Academy, the remaining five core modules of Digital Marketing include:
At the end of all the six courses, you will be awarded an industry-recognised Certified Digital Marketing Strategist Certificate which will put you in good stead with potential employers and business partners. Please feel free to also browse the wide array of digital marketing courses we offer in-person in Singapore or online.