ABOUT EQUINET ACADEMY
Transforming Marketers for the Digital Economy

Equinet Academy is a WSQ SkillsFuture Singapore (SSG) Approved Training Organisation (ATO), under the InfoComm Technology (ICT) Framework.
Up till today, the full potential of Digital Marketing has yet to be fully realised by many companies. It is therefore our mission to train and equip marketing teams with the necessary skills to maximise returns through a vast range of online marketing channels, so they can stay ahead of the competition.
At Equinet Academy, our team of highly qualified professionals have decades of years of experience in their respective industries, and are dedicated to imparting their knowledge to you. We pride ourselves in delivering quality training, implementing instructional design learning methodologies for effective learning.
Since our inception in early 2013, our courses, events, and workshops have been attended by thousands of individuals, small business owners and representatives from renowned companies such as Fuji Xerox Asia Pacific, Indonesia Stock Exchange, MRCB Land, DHL, NTUC, Singapore Press Holdings, Singtel, IKEA, Singapore Airlines and a number of prestigious academic institutions and government organisations based in Singapore and around Southeast Asia.
What We Do
At Equinet Academy, we deliver Digital Marketing…
Where Equinet Academy Plays a Role in a Marketer's Career Progression Pathway
As marketing grads graduate from tertiary education and progress into marketing job roles, many find it hard to adapt to a realistic, yet uncertain and ever-changing business environment. To compound this turmoil, the syllabus delivered by tertiary institutions lack the depth and currentness required to tackle the ever-evolving landscape of present-day digital marketing channels and platforms.
Even while marketing grads progress to Executive and Managerial roles and gain several years of marketing experience, they continue to face ongoing struggles on the strategic implementation of various marketing campaigns and initiatives. This is partly due to the lack of time and opportunity while on the job to explore, learn and acquire the tremendous amount of knowledge and skills required to develop and implement effective digital marketing strategies.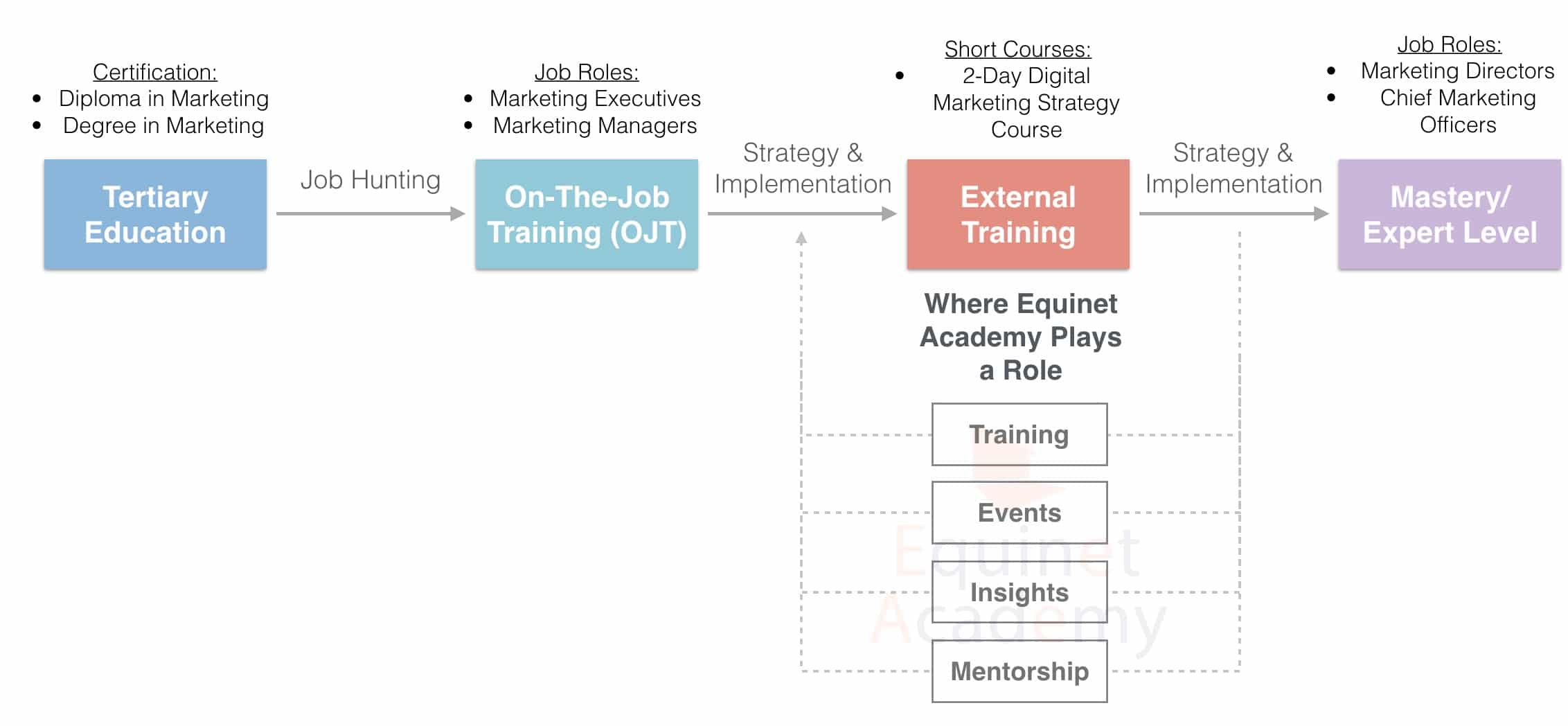 This is where Equinet Academy aims to play a key role in accelerating digital transformation within marketing teams. By hosting knowledge-sharing events, publishing useful insights, running public courses, and mentoring trainees, Equinet aims to provide bite-sized, yet comprehensive and actionable tips and insights that will help marketers achieve their organisational goals in a more cost-efficient and productive manner.
"Enrol at Equinet Academy where meaningful learning and actual transfer of Digital Marketing knowledge takes place."
Our Mission
"To enhance the skills and competencies of marketing personnel in Singapore and Southeast Asia and accelerate the process of digital marketing transformation across all industry sectors, by delivering bite-sized yet comprehensive, short-duration yet outcome-focused training programmes."
Our Vision
"To have every business equipped with competent marketing personnel, improving productivity and innovation and maximising returns across all industry sectors in Singapore and the Southeast Asia region, boosting global economy as a result."
Our Core Values
Excellence: Being the best in all our endeavours and leading by example
Quality: Providing true value to people
Unity: Fostering team spirit and togetherness to achieve greatness
Integrity: Ethicality, morality, and sincerity are our forefront principles
Nimbleness: Being the first, quick in addressing issues, and producing effective solutions
Enjoyment: Making work and learning fun and enjoyable
Transformation: Producing big changes and improvements across all industry and sub-sectors
You May Reach Us Via:
Email Enquiries:
enquiry@equinetacademy.com
Phone:
Administrative Matters: +65 6816 7831 / +65 6816 3016
Sales Enquiries: +65 6745 0745
Main Office & Training Venue:
Equinet Academy
10 Anson Road,
#25-08 International Plaza,
Singapore 079903
Or contact us through our contact form.