5 Things to Check Before Hiring Any SEO Agency
So you've done weeks of research and consultations from various Search Engine Optimisation (SEO) consultants. If you're on your final step to choosing your desired SEO agency, do this 5-step checklist first before submitting your first payment deposit, because it might just make you think twice about signing those papers.
1. Run their proposed list of target keywords on Google Keyword Planner
This happened to one of my past clients whom I had consulted. The SEO company targeted keywords which had little or no search volume. Upon highlighting this issue, incredibly, the SEO consultant was "amazing" enough to tell us not get "fixated on the numbers".
Here's the screenshot of our conversation: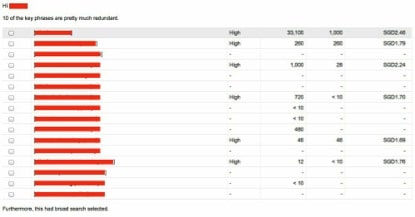 So above, my reply and a screenshot of their proposed list of target keywords on the then Google AdWords Keyword Tool (Now Google Keyword Planner).
And here was their reply on this:
Appreciate your feedback.
Yes, I agree that "Google Keywords Tool" does play an important role in keywords/ key-phrases research, but don't get fixated on numbers. Years of our tech team experiences have shown the current site' content strength to guide through the research. Some keywords/ key-phrases may have very low search volume but will be relevant to your site and industry. 
We provide quality service as our guarantee. If the milestone are not met, we work free for you. 
Moving ahead, setting you apart.
Cheers!
---
Obviously it was a poor argument on their end but my client still went ahead with them. In the end they did not deliver and blamed it on Google's algorithm updates. Way to go.
I highly recommend you conduct thorough keyword research before even looking for an SEO agency. That way you'll be more knowledgeable when you're discussing the deliverables and campaign objectives.
2. Conduct an on-page SEO audit on their past/existing clients

You may use an on-page SEO analysis tool and run one of their past/existing client's sites on it. Still, I'd rather do a manual SEO audit, just because I don't fully trust the accuracy of automated tools.
Some obvious telltale signs you can look out for are checking the title tags and meta descriptions on a couple of pages to ensure they have solid copywriting skills and are not spamming keywords into these areas.
To do this, open up the page on your Chrome browser and right click on a blank section of a page, then click "View source". Search for the "title tags" and "meta description" by clicking "Ctrl+f" for Windows and "Command+f" for Mac and analyze them.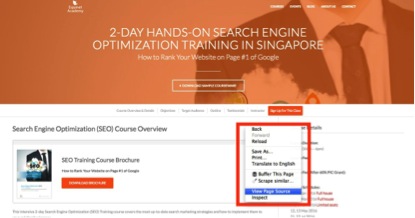 3. Check on the backlink profiles on their past/existing clients
Many SEO consultants promise to earn you white-hat links that abide by Google Webmaster Guidelines. When in actual fact a lot of them resort to Private Blog Networks (PBNs), classified ads, over-optimized anchor text on forum posts, and many more questionable link acquisition techniques.
By running a check on one or more of the backlink profiles of their past/existing clients, you can get a clearer picture on their link building activities. Of course, do note that the results you see may be reflective of a previous SEO agency and not the one you're looking to hire. Therefore you should perform this backlink check on a few clients to check for consistent results.
So what are some recommended white-hat link building techniques? Some of my favourite are:
Link building with local events
We also have a 4-step guide to creating backlinks here.
4. Call up their past/existing clients
What better way to get first hand information than hearing from the horse's mouth?
Ask your SEO agency for a sample SEO report of their past/existing clients. Navigate to their websites and fish out their contact information.
Hopefully you'll be able to get a couple of minutes with the marketing department to gather some feedback that will aid in your decision-making.
5. Read through the contract again thoroughly
There was one SEO agency that stated on the contract, "If client changes content without the permission of [SEO company], [SEO company] has the right to stop all works immediately and nullify this agreement", which was little too extreme in my opinion.
A good SEO agency will work closely together with you to develop and optimize content on your site without resorting to such extreme measures. Check that the contract protects you and the SEO agency to a reasonable extent, or else you might get terribly burned.
One final tip when hiring an SEO firm – know what SEO is all about. If you have a good overview of what SEO is and how to do it right, you'll know exactly what questions to ask during a one-to-one consultation with your SEO consultant and be equipped with the knowledge to spot any tell-tale signs.
If you're still looking for SEO agencies to hire, here are some you can check out:
A great way to understand SEO is by taking a high-quality course, like the ones we offer here at Equinet Academy. We offer a Search Engine Optimisation (SEO) Training Course and an Advanced Search Engine Optimisation (SEO) Certification Course. We also offer an array of digital marketing courses taught in-person in Singapore or online.
Written By: Dylan Sun
Dylan Sun is the Founder of Equinet Academy, a SkillsFuture Singapore WSQ-Accredited Digital Marketing training organisation. Passionate in all aspects of Digital Marketing and SEO, he extends his passion to helping people implement effective digital strategies to their businesses. Follow his blog at Equinet Academy to learn more about Digital Marketing.