Content Marketing. In recent years, this term has been overly used, abused, and confused with other forms of marketing. What exactly is content marketing and why should businesses pay closer attention to it?
This article breaks down the definition of content marketing, showcases examples of content marketing, and highlights the importance of having a content marketing strategy in place. By the end of this article, you will have a clearer picture of what content marketing is and how to start doing content marketing.
What is Content Marketing?
Content marketing is a form of marketing that involves the creation of information (in any content format) and the distribution of the content (via any marketing channel) that shapes a brand's audience's perception of the brand and influences the purchase of a brand's products and services.
The truth is, content marketing "tactics" and "principles" have been applied for centuries. But the term content marketing was only coined in recent years and saw a spike in search interest since 2012, as recorded by Google Trends.

Since then, the term content marketing has been splashed on almost every single online marketing activity imaginable by marketers across various industry sectors. Speaking of term abuse, there have even been cases of unimaginably bold statements made by digital marketing agencies that "content marketing is digital marketing".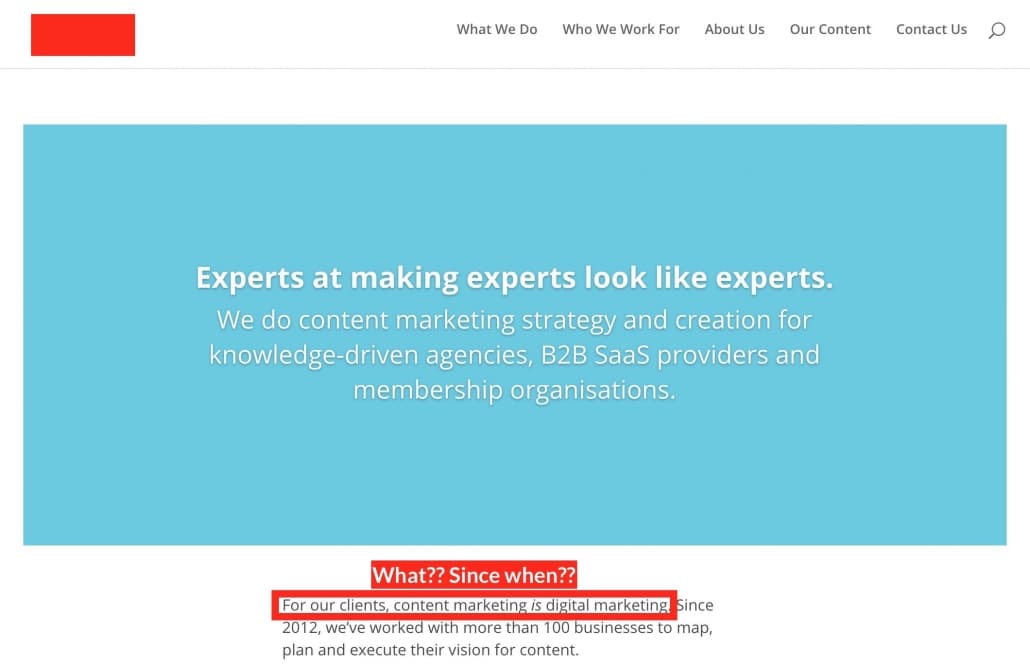 Since content marketing is a tactic of creating and distributing content, then is the activity of advertising an ebook on Facebook classified under content marketing or social media marketing, since Facebook is a social media channel?
In this case, the act of advertising or sharing content on Facebook can be classified under "social media marketing", given that social media marketing is an umbrella term referring to any type of marketing activity on social media channels.
However, it can also be classified under content marketing – if the purpose of creating and distributing the content was to shape the brand's audience's perception of the brand and influence the purchase of the brand's products and services.
There is clearly an overlap and confusion between the usage of the two terms, social media marketing and content marketing. This area is rather grey and to set things straight, it DOESN'T matter. What really matters is that these two strategies, tactics, and processes are integrated. And even if there ARE overlaps, the marketing objectives should all be aligned to the business strategy regardless of the tactics used.
Examples of Content Marketing
What are some marketing activities that constitute content marketing? First, it is important to differentiate pure advertising from content marketing. The focus of content marketing is not to push for the consumer to buy a product, at least not directly. Rather, it takes on a more indirect approach of providing valuable information to consumers throughout their buying journey.
With that ironed out, here are some examples of content marketing:
Planning out an editorial calendar of blogposts (e.g. sharing free tips, tutorials, guides) and implementing search engine optimisation to rank and drive traffic to them.
Doing an interview with the CEO of your company on sharing industry insights and distributing the content on social media channels (Facebook, YouTube, LinkedIn).
Creating a newsletter series (e.g. free course, article series, trends reports), setting up a lead capture form on your website to build your email list, and launching a drip campaign via email marketing
Creating a contest to curate user generated content (e.g. photo of the day for the fashion industry, completed projects of students for the education industry, PinkBike + GoPro Evolution Video Contest) and showcasing the user generated content via the brand's marketing channels (email, social, blog)
Launching a video tutorial series of how-to guides and marketing it via social media, website, and SEO (e.g. Home Depot and Lowe's)
Why and How Content Marketing Benefits Businesses
In APAC, more than half of marketers and agency bosses ranked content marketing as their top priority, according to a global report by NewBase. This doesn't come as a surprise as smartphone penetration rates and the amount of time consumers spend on digital devices continue to rise.
In Singapore, a poll conducted by The Straits Times revealed that Singapore consumers spent an average of 12 hours and 42 minutes a day on their smartphones. While the top online activities engaged by them at least once a day are ranked as follows:
Reading personal e-mails
Online messaging and calling
Social media and networks
Work and business purposes
News and sports updates
Game apps on smartphones and tablets
Another study found that 88 percent of consumers conduct pre-research online before making a purchase.
What do these trends mean for businesses and why is content marketing so essential?
Content marketing generates high, long-term ROI. Content marketing costs 62% less than traditional marketing and generates approximately 3 times more leads than traditional marketing for every dollar spent. – Demand Metric. Content marketing adopters have conversion rates that are nearly 6 times higher than non-adopters. – Aberdeen.
Brands who can provide great value during the consumer's buying stages gain their trust and build a loyal following. People love consuming content and rely on content to aid their buying decisions. B2B companies who engage in blogging efforts received 67% more leads than their competitors, while small businesses who blog experience 126% higher lead growth than their non-blogging counterparts. – Social Media Today. An audience that trusts what you say will choose your brand over your competitors.
Content marketing complements the efforts of other marketing channels. Content marketing helps boost brand awareness and credibility, making it easier to execute PR and outreach campaigns. Content marketing also provides more opportunities for acquiring backlinks from relevant industry sites, which helps boost search engine rankings.
How Should One Start Doing Content Marketing? – The Next Steps
If increasing your ROI while providing value at the same time aligns with the philosophy of your business, you need a content marketing strategy to amplify this.
Using a 5-step process, CREATE: Construct ⇒ Research ⇒ Execute ⇒ Amplify ⇒ Test and Evaluate, our intensive 2-day Content Marketing course will equip you with the knowledge, skills, and tools needed to maximise your content marketing ROI.
---
Like this article? Here are some recommendations for further reading from Equinet Academy's blog.
Dylan Sun is the Founder of Equinet Academy, a SkillsFuture WSQ-Accredited Digital Marketing training organisation. Passionate in all aspects of Digital Marketing and SEO, he extends his passion to helping people implement effective digital strategies to their businesses. Follow his blog at Equinet Academy to learn more about Digital Marketing.
https://www.equinetacademy.com/wp-content/uploads/Content-marketing-search-trends.jpg
722
2100
Dylan Sun
https://www.equinetacademy.com/wp-content/uploads/2016/02/EA-Logo-White.png
Dylan Sun
2018-08-19 17:43:51
2019-02-13 17:03:07
What is Content Marketing? Definition, Benefits, and Examples