What is Content Marketing and Why is It Important? (With Examples)
This article was last updated on 6 August 2019.
Content Marketing. In recent years, this term has been overly used, abused, and confused with other forms of marketing. What exactly is content marketing and why should businesses pay closer attention to it?
This article breaks down the definition of content marketing, showcases examples of content marketing, and highlights the importance of having a content marketing strategy in place. By the end of this article, you will have a clearer picture of what content marketing is and how to start doing content marketing.
What is Content Marketing?
Content marketing is a form of marketing that – involves the creation of information (in any content format) and the distribution of the content (via any marketing channel), intended to shape a brand's audiences' perception of the brand and influence the purchase of products and services.
The truth is, content marketing "tactics" and "principles" have been applied for centuries. In fact, one of the oldest examples of a content marketing campaign launched in November of 1867 was a magazine publication by Hartford Steam Boiler Inspection and Insurance Company providing helpful technical information for operators and equipment owners to manage risks and solve operation problems.
In the recent years, the term content marketing has been splashed on almost every single online marketing activity imaginable by marketers across various industry sectors. Speaking of "term abuse", there have even been cases of unimaginably bold statements made by digital marketing agencies that "content marketing is digital marketing".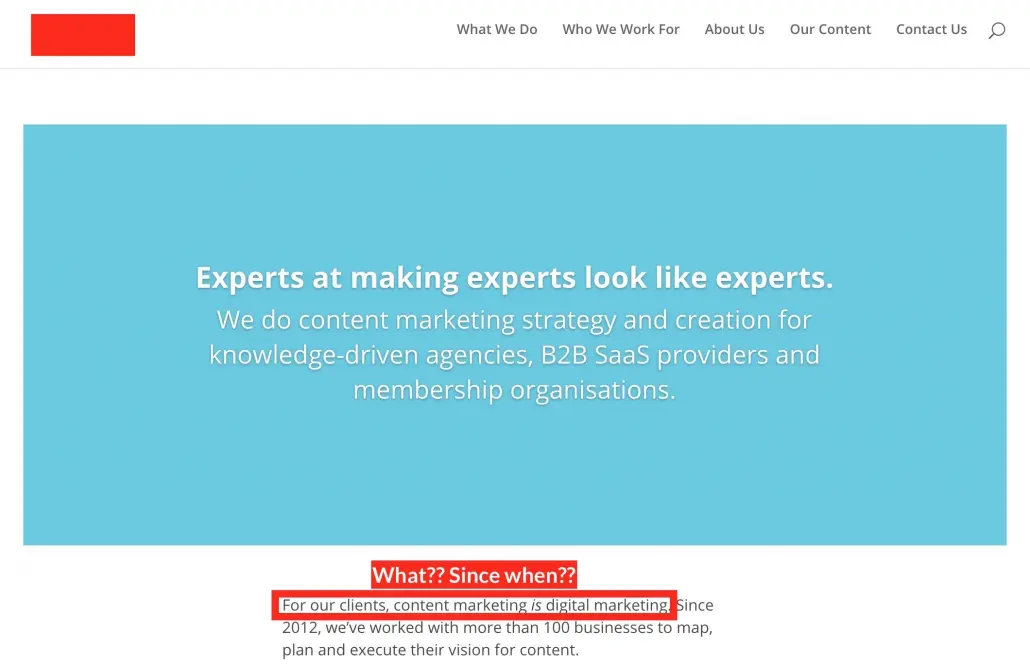 To avoid all confusion on the meaning of the content marketing, it would be best to reference Content Marketing Institute's comprehensive definition:
"Content marketing is a strategic marketing approach focused on creating and distributing valuable, relevant, and consistent content to attract and retain a clearly defined audience — and, ultimately, to drive profitable customer action."
Let's break it down.
Content marketing is a strategic marketing approach – Content marketing is not a channel nor a marketing tactic by itself. Rather, it is a more of an approach or a discipline within the domain of marketing, holistically speaking.
Focused on creating and distributing valuable, relevant, and consistent content – Content marketing is focused on the creation of content that provides immense value to the intended audience, the crafting of content that is relevant to both the business objectives and the target customers' pain points and goals, and developing content that is delivered to the target audience in a timely and consistent manner.
To attract and retain a clearly defined audience – and, ultimately, to drive profitable customer action – This is the marketing objective of content marketing, which not only seeks to acquire newly defined audiences, but also retain them for future marketing campaigns which ultimately, and aims to drive more profits to the business through valuable customer activities.
Why Content Marketing?
In APAC, more than half of marketers and agency bosses ranked content marketing as their top priority, according to a global report by NewBase. This doesn't come as a surprise as smartphone penetration rates and the amount of time consumers spend on digital devices continue to rise.
In Singapore, a poll conducted by The Straits Times revealed that Singapore consumers spent an average of 12 hours and 42 minutes a day on their smartphones. While the top online activities engaged by them at least once a day are ranked as follows:
Reading personal e-mails
Online messaging and calling
Social media and networks
Work and business purposes
News and sports updates
Game apps on smartphones and tablets
People are consuming content on their digital devices at an unprecedented rate. Yet, the average click through rates across all display ad formats and placements is just 0.05%. In fact, you are 475 times more likely to survive a plane crash than to click on an ad according to Solve Media.
There is an impending need for organisations to shift their focus in creating valuable and consumable content instead of dumping all their dollars into advertising spend.
Another study found that 81 percent of consumers conduct pre-research online before making a purchase.
What do these studies mean for businesses and why is content marketing so essential?
Content marketing generates positive ROI in the long term
Content marketing costs 62% less than traditional marketing and generates approximately 3 times more leads than traditional marketing for every dollar spent. – Demand Metric. Content marketing adopters have conversion rates that are nearly 6 times higher than non-adopters. – Aberdeen.
Brands who can provide great value during the consumer's buying stages gain their trust and build a loyal following
People love consuming content and rely on content to aid their buying decisions. B2B companies who engage in blogging efforts received 67% more leads than their competitors, while small businesses who blog experienced 126% higher lead growth than their non-blogging counterparts. – Social Media Today. An audience that trusts what you say will choose your brand over your competitors. This is evident in Demand Gen's Content Preference Report 2016, where 80% of B2B customers consume at least 3 pieces of content before talking to sales.
Content marketing complements the efforts of other sales and marketing channels
Content marketing helps boost lead generation and sales campaigns. A 2017 Content Preferences Survey Report by Demand Gen found that B2B buyers are most likely to share their details in exchange for white papers, webinars, ebooks, and analyst reports.
Content marketing also provides more opportunities for link building, which helps boost organic search engine rankings. Creating and distributing valuable content such as case studies, research papers, and long-form guides are great ways to build backlinks.
Content marketing is trending
Over the past decade, content marketing has made a dramatic impact on the way brands and consumers interact, with customers expecting more authenticity and transparency from brands and more and more B2B and B2C brands committing more of their budgets to content marketing.

Content Marketing Examples
What are some marketing activities that constitute content marketing? First, it is important to differentiate pure advertising from content marketing. The focus of content marketing is not to push for the consumer to buy a product, at least not directly. Rather, it takes on a more indirect approach of providing valuable information to consumers throughout their buying journey.
Examples of Content Marketing Include:
Planning out an editorial calendar of blogposts (e.g. sharing free tips, tutorials, guides) and implementing search engine optimisation to rank and drive traffic to them.
Doing an interview with the CEO of your company on sharing industry insights and distributing the content on social media channels (Facebook, YouTube, LinkedIn).
Creating a newsletter series (e.g. free course, article series, trends reports), setting up a lead capture form on your website to build your email list, and launching a drip campaign via email marketing
Creating a contest to curate user generated content (e.g. photo of the day for the fashion industry, completed projects of students for the education industry, PinkBike + GoPro Evolution Video Contest) and showcasing the user generated content via the brand's marketing channels (email, social, blog)
Launching a video tutorial series of how-to guides and marketing it via social media, website, and SEO (e.g. Home Depot and Lowe's) Check out our list of 120 content types you can use for your next marketing campaign. 
Examples of Types of Content Used in Content Marketing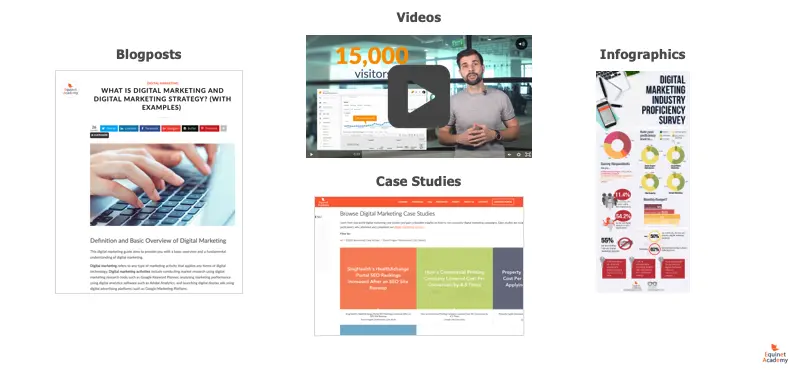 There are dozens of content types used in content marketing ranging from digital to offline:
Blogposts
Infographics
Webinars
Ebooks
White papers
Conferences
Preview seminars
Direct mail
User generated content such as forum posts and reviews on third party sites
How do you determine the most appropriate type of content for your content marketing efforts? The type of content used can vary depending on factors such as what mediums your target audiences are using, what marketing goals you are trying to achieve, and how much budget is available.
For example, if your audience frequents YouTube, starting a YouTube channel and releasing a series of video content would be a great strategy to drive engagement and traffic back to your website. Video is fast becoming a preference for consuming content compared to other content types – 64% of B2B content marketers surveyed reported an increase in usage of live streaming videos and webinars for content marketing.
If your marketing goal is to generate leads, it would make sense to gate content such as white papers, ebooks, and webinars in exchange for your prospect's contact details. If you are on a tight budget, sending EDMs via email may be a better cost-saving alternative than directly mailing printed product catalogues.
You should also look into repurposing your content into various other content formats. It takes much less effort to repurpose a piece of content into a different content format compared to creating a new piece from scratch. For example, a blogpost series can be combined to form an ebook or a SlideShare presentation while a survey report can be transformed into an infographic.
Here's an insane example of the power of repurposing a blogpost into a SlideShare presentation which generated over 2 million views for Eugene Cheng's SlideShare channel.
Examples of Media Channels to Distribute and Promote Content
Once you have created content, the next step would be to distribute and promote the content via owned, earned, paid, and shared media channels.
Owned – Assets you actually own and control entirely
Owned media are assets that your business creates, owns, and controls the distribution of.
Examples of owned media channels include:
Sections within your website

Blog
Resource library
Press
News
Events

Email subscriber list
SMS subscriber list
Online forum
Meetup group
An example of content marketing via owned media would be to write an article and publish it as a blogpost in the blog section of a website, then emailing the blogpost to a list of email subscribers.
Earned – Publicity/advocacy that's free
Earned media is content created/distributed by others that you've earned for free (not paid).
Examples of earned media include:
Ranking your blogpost on top of the organic search engine results pages e.g. Google, Bing, Yahoo!, Baidu
Getting invited to write a guest post to be published on a partner blog and receiving backlinks that will drive up your organic search engine rankings
Getting recommended by a partner in their monthly newsletter
Getting invited to do an interview with an established newspaper
Customers independently writing reviews on third party forums, review websites, and social media profiles recommending your brand
Influencers independently writing positive reviews about your brand on their own blogs and sharing it to their followers
Paid – Paying to promote content
Paid media is the promotion of content fuelled by monetary incentives or transactions.
Examples of paid media include:
Creating a white paper and promoting it via Facebook Sponsored Post and Display ads via Google Display Network
Organising an industry conference, inviting keynote speakers, and delivering branded content in certain segments
Paying a publication to write a sponsored post highlighting the features of your newly launched product
Shared – Co-created content on shared platforms (mainly social media)
Shared media is content produced on shared platforms where both the brand the consumer have influence over the channel. Shared media is mainly fuelled by both social media and content marketing efforts in order to produce the content.
Examples of shared media include:
Posting videos on YouTube and replying to user comments on the video
Publishing status updates on Facebook and interacting with fans who respond to it
Creating a forum thread on Quora and responding to replies by users
How Do Great Brands Do Content Marketing?
Content marketing is such a broad marketing approach that it's easy to get tangled in a web of projects that don't lead back to the main objective. What sets apart great brands from good brands? For one, great brands have a content marketing strategy. They apply models such as the Hub and Spoke and Hero, Hygiene, Hub models. They involve their customers in their content creation strategy.
Most importantly, great brands document their content marketing strategy. This allows them to create and deliver a complete content experience, maximise every piece of content, and focus on content marketing tactics that work.
Let's look at how two of the biggest brands in both B2B and B2C industries achieved god-like status through content marketing.
B2B Content Marketing Example – Hubspot
Achievements:
Traffic rank of #5 in the world
Built an audience of over six million people online
Revenue growth of 0 to $100M in 8 years and 49% growth from 2015 to 2016 ($181.9M to $271M)
How?:
Rank for over 3.4 million organic search keywords
Offer free downloadable guides on main website to generate leads
Drive high quality leads from LinkedIn Sponsored Content, YouTube, Facebook, and Organic Search
Well-planned content funnels to nurture marketing qualified leads into sales qualified leads
B2C Content Marketing Example – BMW
Achievements:
BMW's Instagram has 22.1 million followers till date
#BMW hashtag had been used more than 19 million times in 2017 (the most popular in the automotive industry)
How?:
BMW shares photos taken by enthusiasts and hobby photographers with the community in appreciation of its loyal fans worldwide
BMW uses its Instagram channel to share the BMW brand lifestyle with its followers – through the latest news on upcoming models, glimpses of its own history or looking ahead to the future of mobility. – SGCARMART
How Should One Start Doing Content Marketing? – The Next Steps
We hope this article has helped you to gain a clearer understanding on what content marketing is and how brands of today are executing it. If you are feeling inspired by this article, do note that content marketing is just one of the many digital marketing disciplines you can use. To have a fuller understanding of Digital Marketing, at Equinet Academy we offer a range of digital marketing courses taught in-person in Singapore or online.
Also, if content marketing is one of the priorities of your business growth and expansion plan, you might need to have a content marketing strategy.
Start by:
Written By: Dylan Sun
Dylan Sun is the Founder of Equinet Academy, a SkillsFuture Singapore WSQ-Accredited Digital Marketing training organisation. Passionate in all aspects of Digital Marketing and SEO, he extends his passion to helping people implement effective digital strategies to their businesses. Follow his blog at Equinet Academy to learn more about Digital Marketing.