Navigate to the following FAQ sections:
I am totally new to digital marketing. What is a good course to start and further expand my knowledge and skills in this area?
We recommend starting with our Digital Marketing Strategy course to understand the concept of digital marketing, the features, advantages, and constraints of the various digital marketing channels, and how to develop a digital marketing strategy for your business or organisation.
Following which you may dive deep and specialise in the various digital marketing channels, platforms, or disciplines via the following courses:
Illustration of course progression: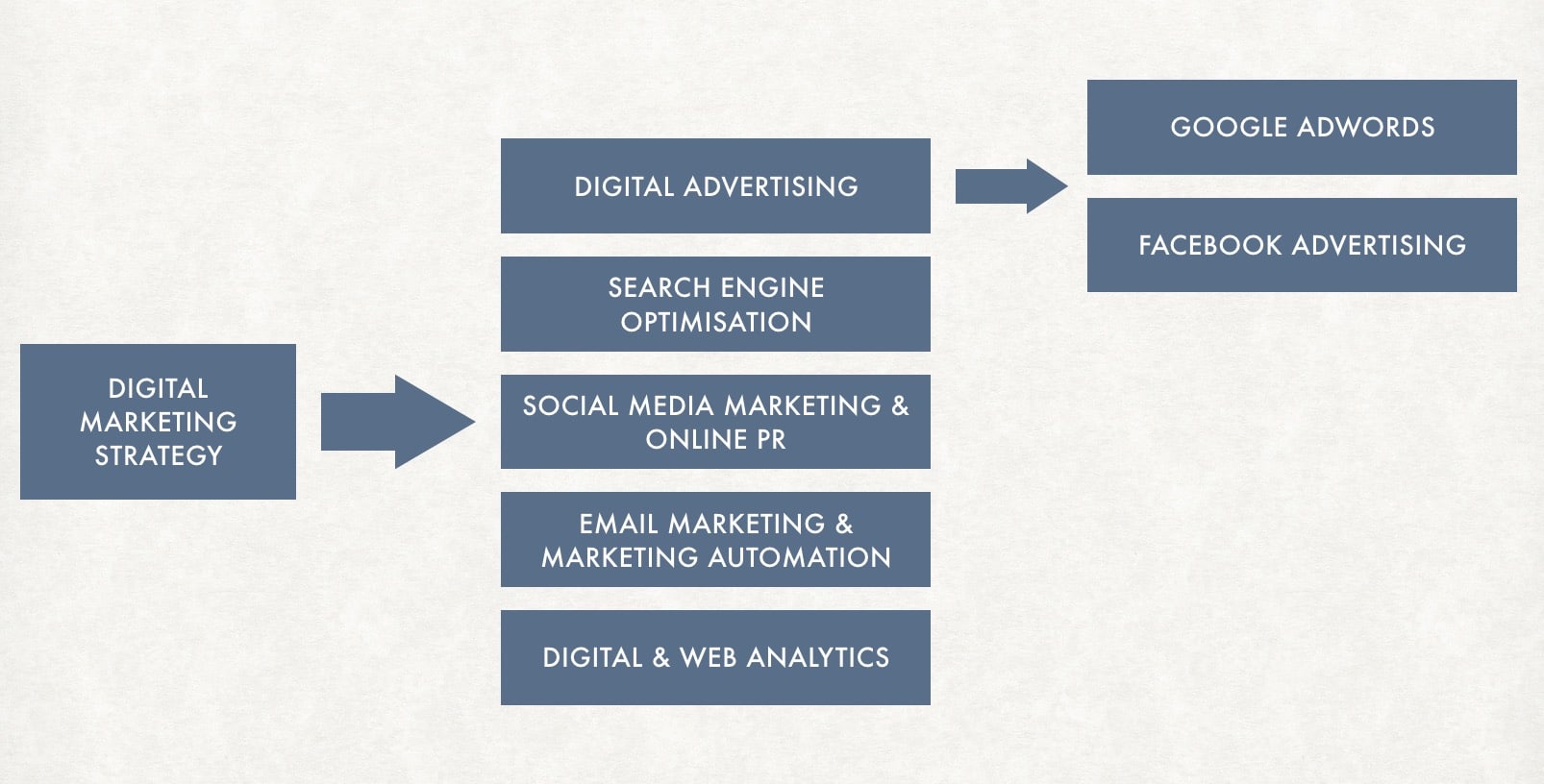 Are the courses purely lecture-based?
No, we apply Gagne's 9 events of instruction in our classroom to enable effective transfer and retention of skills and knowledge.
Gagne 9 Events of Instruction:
Gain attention.
Inform learners of objectives.
Stimulate recall of prior learning.
Present the content.
Provide learning guidance.
Elicit performance.
Provide feedback.
Assess performance.
Enhance retention and transfer to the job.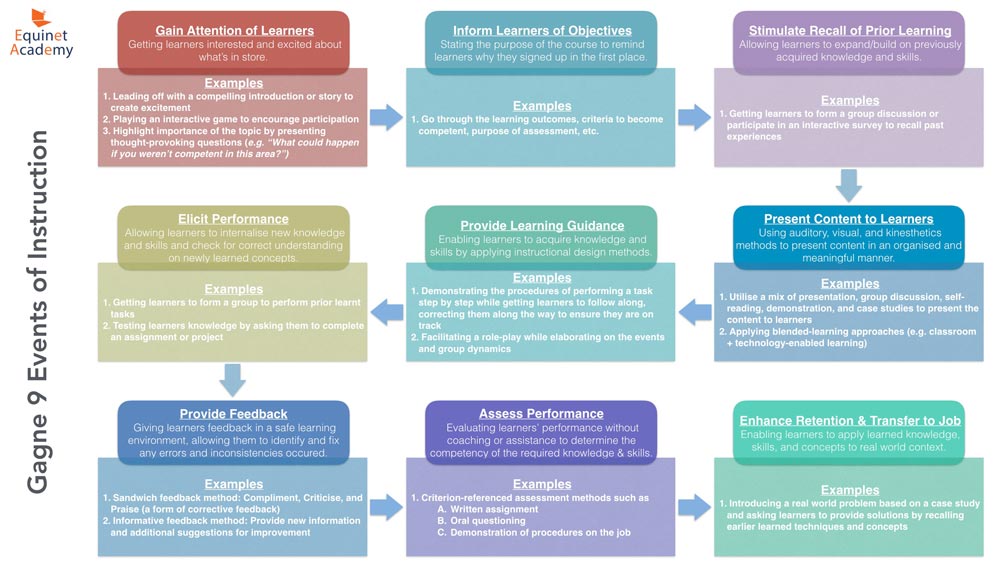 Scholarly articles on Gagne 9 events of instruction.
Furthermore, we apply instructional design methodologies to enhance the transfer of knowledge and learning. Some instructional methods we use include:
Games
Drill & Practice
Didactic Questioning
Demonstration & Modelling
Problem-Solving
Concept Formation
Brainstorming
Discussion
Debate
Peer Coaching
Peer Practice
Roleplay & Reflection
Presentation
Experiments
Case study with Activity Sheet
Lecture
Reading and peer tutoring
Dialogue
Will a certificate be issued after completing the training course?
Yes, a certificate of completion will be issued upon achieving at least 75% attendance. For courses with assessment, a Statement of Attainment (SOA) will be issued by SkillsFuture Singapore upon attaining 'Competent' status.
What is the maximum class size?
The maximum class size is 15 – 20 pax depending on the technical nature of the course.
What does the after-training support include?
You may contact us directly or the trainer for your course via email should you have any questions or run into any issues after the course.
Where are the trainings conducted?
Trainings are conducted at:
Equinet Academy
137 Cecil Street
#10-08 Hengda Building
Singapore 069537
Is lunch provided?
Yes, lunch and light snacks will be provided.
Will there be laptops provided?
Yes. A Windows laptop will be provided to every participant. You may however opt to bring your own laptop.
What are the duration of your courses?
Our courses are 2-day sessions totalling 14-16 hours for each course run.
What if I miss a day of class?
As the curriculum and course flow may have changed, you will be required to re-attend the entire duration of the course at the full fee. At least 75% attendance is required to qualify for the certification of completion.
Where can I find the course schedules?
You may browse the course schedules via the following link:
Do you provide in-house training?
How do I register for a course?
You may register for a course via the following link:
What are the course fees?
Our course fees range from $399 to $990. View course pricing table here.
What funding options are available?
The following funding options are available:
SkillsFuture Credit
Absentee Payroll
SkillsFuture Credit
From January 2016, all Singaporeans aged 25 and above will receive an opening credit of S$500 in their SkillsFuture Credit account. This credit can be used to offset any outstanding course fees for SkillsFuture approved courses.
Example scenario:
You wish to sign up for a course that costs $500. You may use your $500 SkillsFuture Credit to offset the entire fees. Therefore, you do not have to come up with any cash upfront.
If however, the course fee exceeds your SkillsFuture credit, you will need to top up the balance with cash.
2. Absentee Payroll (Illustration Table)
There are two types of courses that are eligible for Absentee Payroll:
Certifiable courses approved by SSG
Non-certifiable courses approved by SSG
For certifiable courses, PMETs may claim up to 80% of basic salary capped at $7.50 per training hour
For non-certifiable courses, PMETs may claim $2 per training hour
Example scenario:
You attend a non-certifiable course with a total duration of 16 training hours. The total amount you can claim is 16hrs x $2 = $32
Please see next sections on how to claim for each funding option.
How can I claim SkillsFuture Credit?
Upon registering for our SkillsFuture-approved courses, we will email you step-by-step instructions on how to claim your SkillsFuture Credit. Here's an example guide.
How to Claim Absentee Payroll
What payment methods are available?
The following payment options are available:
iBanking
Credit Card
PayPal
Cheque
Vendors@GOV
SkillsFuture Credit
What are your refund and cancellation policies?
For cancellation or rescheduling of your registered course, kindly inform us at least 7 working days before the course start date in order to get a refund on the course fees, less credit card/PayPal transaction fees. Kindly note that for cancellations received less than 7 working days, an administrative fee of 20% of the course fee will be charged. Please note that for cancellations received less than 3 working days, 50% of the course fees will be charged. In case of no-show, full fees will be imposed.
Did not find what you were looking for? Please contact us and we will be glad to address any specific questions you may have.