Digital Marketing Analyst
Job Description, Salary, Roles & Responsibilities
Digital Marketing Analyst Job Description
A Digital Marketing Analyst's job is to analyse the company's digital marketing performance and propose actionable strategies to improve digital marketing performance and maximise returns. He/she should possess a data-driven mindset and be skilled at interpreting data and turning it into actionable insights.
If you're looking to embark on a digital marketing career and want to find out what it entails and how you can get started, you'll get a clearer picture reading this article. 
Roles and Responsibilities
Set up a tracking mechanism (e.g. event and conversion tracking) on the website and other digital assets such as mobile apps
Conduct competitor analysis and study market trends to develop digital marketing strategies to achieve specific business objectives
Test, measure, analyze, and optimize the performance of search, social, content to display across conversion funnels to boost customer engagement and conversions, lower cost of customer acquisition, and increase customer life-time value (LTV)
Set up dashboards and develop models for data presentation to head of departments and suggest recommendations for business performance improvement
Work closely with in-house teams and maintain client relationships through scheduling regularly meetings to go through reports and provide actionable insights
Salary Range
$58,200 – Digital Analyst (PayScale)
$60,000 – Marketing Analyst (Glassdoor)
Job Requirements
Google Analytics Individual Qualification (GAIQ)
Degree in Marketing, Statistics, Economics
Experience in statistical models
GTM, Google Analytics, Facebook Analytics, Search Console, Adobe Analytics, and other web analytics platforms
Skills
View the full list of Digital Marketing Skills here.
Technical
Business Writing
Competitive Analysis
Content Marketing
Content Strategy
Conversion Rate Optimization
Customer Relationship Management (CRM) Software
Data Management
Digital Advertising
Digital Marketing Analytics
Digital Marketing Strategy
Display Advertising
Email Marketing Software
Email Strategy
Facebook Marketing
Google Ads
Google Analytics
Google Tag Manager
Integrated Marketing
Instagram Marketing
Keyword Research
LinkedIn Marketing
Market Research
Marketing Analytics
Marketing Automation
Marketing Budget Management
Marketing Campaign Management
Marketing Strategy
Paid Media Advertising
Paid Media Strategy
Pay Per Click (PPC)
Performance Management
Performance Measurement
Programmatic Advertising
Project Management
Proposal Writing
Report Writing
Search Engine Marketing
Search Engine Optimisation
Social Listening
Social Media Advertising
Social Media Analytics
Social Media Marketing
Social Media Optimisation
Stakeholder Engagement and Management
User Experience Design
User Interface Design
Video Marketing
Visual Communication
Web Analytics
Website Optimisation
Youtube Advertising
Youtube Marketing
Generic
Adaptability
Analytical Thinking
Communication (Verbal)
Communication (Written)
Computational Thinking
Creative Thinking
Customer Experience Management
Decision Making
Design Thinking
Digital Literacy
Interpersonal Skills
Lifelong Learning
Logical Thinking
Managing Diversity
Multi-tasking
Organisational Skills
Planning
Problem Solving
Research
Resource Management
Team Coordination
Teamwork
Time Management
Transdisciplinary Thinking
Virtual Collaboration
Visual Thinking
WPLN Level 6 English
Other Digital Marketing Job Roles
Digital Marketing Career Portal Menu
Download the Complete Digital Marketing Career Handbook (PDF Version)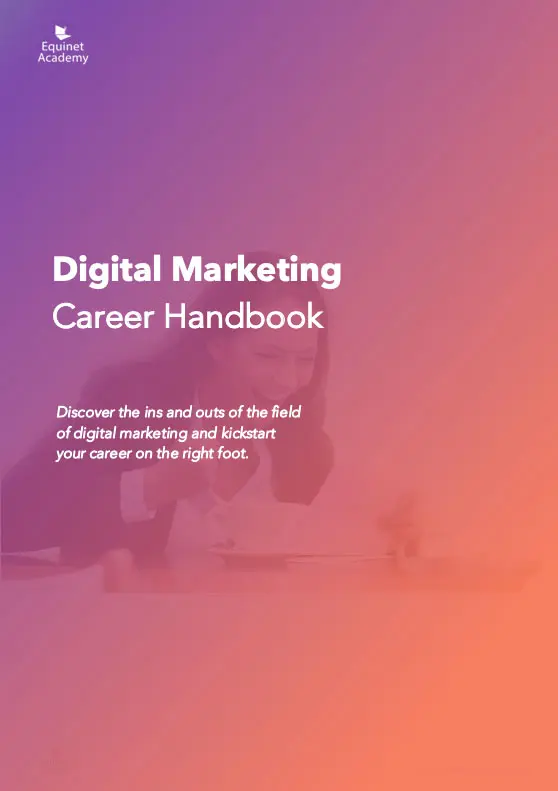 Discover the ins and outs of the field of digital marketing and kickstart your career on the right foot.