A Digital Marketing Career: What it Entails and How to Get Started
With an increasing amount of businesses across a rising number of industries moving their services online (
The Straits Times
), the demand for digital marketing professionals is on a steady rise, and the time has never been better to build a career in digital marketing.
So what does a digital marketer actually do to bring in business for the company? They plan and execute online marketing strategies for the success of a business.
But in order to formulate and implement these strategies, a digital marketer has to perform a broad range of activities, such as Search Engine Optimisation (SEO), Search Engine Marketing (SEM), content marketing, social media marketing, email marketing, google analytics and web management among others.
This article will delve into the roles and responsibilities of a digital marketer and shed light on how you can embark on a career in digital marketing if you wish to. You'll discover:
What a digital marketer does
Digital marketing specialist VS generalist
Digital marketing career paths
Skills required for a digital marketing career
Steps to take to begin a digital marketing career
What does a digital marketer do?
Digital marketers wear multiple hats. They perform a series of online marketing activities in order to create brand awareness, build a customer base and generate revenue on various digital channels.
Some of the key functions performed by digital marketers include:
Setting marketing goals/objectives
Identifying suitable online channels to reach customers
Planning marketing campaigns
Launching marketing campaigns
Analysing data to optimise marketing campaigns
Taking steps to improve ROI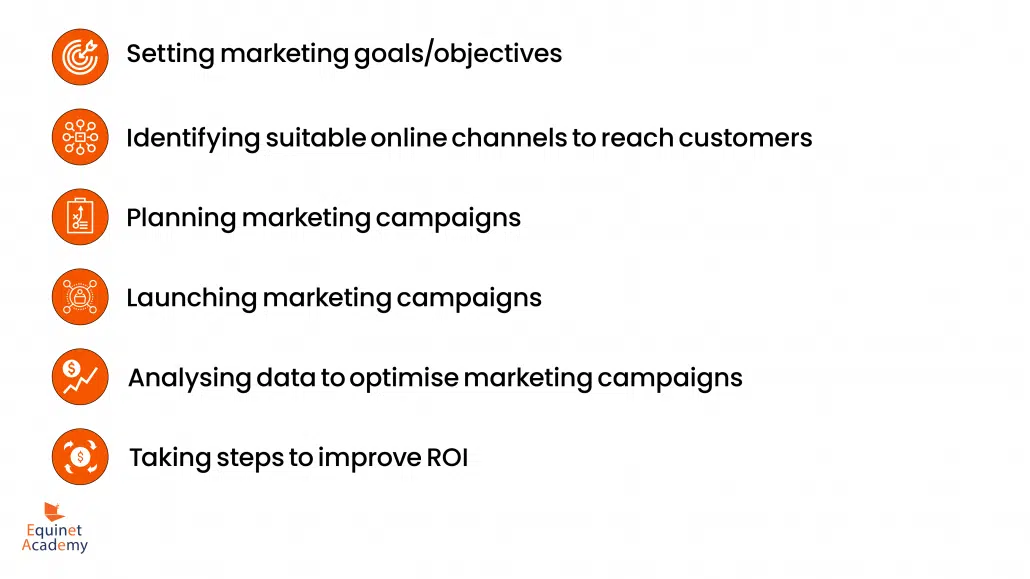 Depending on the specific domain or online channel that the marketer specialises in, a digital marketer can either be a specialist or generalist. For example, if an individual specialises in social media, he or she can become a social media marketing expert who takes the lead in developing business on social media platforms like Facebook, Instagram, YouTube and Linkedin.
Digital marketing specialist vs generalist
A digital marketing career is a huge umbrella that comprises multiple areas of expertise. A digital marketer can either specialise in a single area of expertise or work as a generalist.
If you choose a specialist digital marketing career, you may specialise in a few verticals:
Content Marketing
SEO
Performance Marketing
Digital Advertising
Social Media
Digital Marketing
Specialists have in-depth knowledge of their domain and excel in a specific area. But ultimately, they work towards meeting wider digital marketing goals and share the common purpose of achieving business growth.
Digital marketers in a generalist's role have a top-level view of various digital marketing functions with the main objective of managing marketing campaigns to meet the business goals. Depending on their level of experience, they work in the capacity of Digital Marketing Executive, Manager or Director, and ensure that the company is able to generate maximum revenue through online marketing activities.
The generalists work closely with specialists like content creators, video experts, social media marketers, SEO specialists and google ads experts, to ensure that all the efforts are aligned to macro digital marketing goals.
Whether you pursue a career in digital marketing as a specialist or generalist, it's important that you have a complete understanding of aspects like online channels, target audience, messaging objectives and the final digital marketing target. Only when each member of the digital marketing team is aligned and works in collaboration, will goals be met.
If you're keen in pursuing a career in digital marketing, consider giving this guide a read to understand in-depth the functions of the role you're interested in.
Digital marketing career paths
Now that you understand the routes you can take in a digital marketing career, it's time for an overview of two broad career paths of a digital marketer. Either working in an agency or client-side/brand-side (also known as in-house).
A digital marketing career in an agency
A digital marketing agency serves multiple clients. Depending on the size of the digital agency, the team can be big or small and teams may be divided into multiple roles like SEO specialist, content marketing expert, copywriter, creative designer, paid media expert, google ads specialist or performance marketing expert. Hence, it is possible to work both as a generalist or a specialist in a digital agency.
The main advantages of building a digital marketing career in an agency is the ability to work for multiple clients across various industries. For example, a content marketing expert in an agency might create content simultaneously for a retail client and a financial services client.
The digital marketing career progression in an agency looks something like this:
Digital Marketing Intern
Digital Marketing Executive/Account Executive
Digital Marketing Manager/Account Manager
Digital Marketing Director
A digital marketing career client-side/brand-side (in-house)
A digital marketing career client-side/brand-side (in-house) means working in the digital marketing team of a specific company in any industry– B2B, B2B, SME or MNC. Client-side roles require both specialists and generalists.
The digital marketing career progression client side is not as linear as in an agency. Here, even though job titles may remain, responsibilities and pay might increase exponentially. Client-side roles are generally either junior or senior.
The main advantage of working client-side is to develop a strong and deep understanding of a particular industry, and to build your digital marketing skills specifically for that industry.
However, the digital marketing skills you hone and sharpen client-side are transferable, so fret not if you decide to change industries or verticals. For example, a digital marketer working for an IT service can change industries by joining a Fast-moving consumer goods (FMCG) company, for instance.
If you wish to delve into digital marketing career paths in more detail, consider giving this article a read during your next lunch break.
Now that you better understand the roles and paths available for a digital marketer, let's dive into specific skill sets that you need under your belt in order to have a successful digital marketing career.
Skills required for a digital marketing career
Digital marketers have to wear multiple hats. Becoming proficient in the multiple skills required in a digital marketing role of any capacity will give you an edge and allow you to progress up the corporate ladder much faster.
Let's briefly discuss some of the critical skills that will enhance your digital marketing profile:
Digital Marketing Strategy
A digital marketer should be skilled in designing an end-to-end digital marketing strategy. Whether it is setting marketing objectives and goals, analysing customers and markets, developing and implementing a strategic plan, evaluating success and optimising future campaigns, your adeptness in performing end-to-end digital marketing strategies will add a lot of value to your profile.
Content Marketing
Content is a huge contributor to the success of digital marketing campaigns. A robust content marketing strategy will be able to support SEO, social media marketing, digital ads and brand messaging, thereby allowing your overall digital marketing efforts to generate more traffic. Generating sustainable, engaging content doesn't have to be painful– check out this article for 120 digital content ideas you can begin using right away.
Email marketing
Email marketing is a powerful tool for generating new leads and nurturing those in the pipeline. Being well-versed with automation and understanding the technical features and capabilities of email marketing automation software can help in multiple ways. A solid email marketing strategy not only helps in engaging and converting customers but also retaining them.
Digital Advertising
Planning Google ads, launching campaigns, tracking success through Google Analytics, and optimising campaigns for better performance are key functions performed by digital marketers as part of digital advertising. With these competencies, a digital marketer can help the business in getting the maximum return on advertising cost and generating the ROI.
Social Media Marketing
Through robust social media marketing strategies, marketers can stay at the top of digital marketing. Social media marketing helps in tapping a huge number of customers found on channels like Facebook, Instagram, Linkedin and Youtube. Strategic knowledge of creating a strong social media marketing plan, helps digital marketers in acquiring new customers, building brand awareness and enhancing conversion rates.
SEO and SEM
SEO and SEM are instrumental in ranking web pages at the top of search result pages either through organic means (SEO) or paid means (SEM). With an in-depth knowledge of planning and executing SEO and SEM campaigns, digital marketers can perform keyword analysis, competitor analysis and execute google ads to gain organic and paid traffic to their website. These are powerful tools that every digital marketer must know in order to rank their website higher on search engines and stay ahead of the competition.
Digital Marketing Analytics
A thorough knowledge of the Google Analytics platform helps digital marketers track and measure the effectiveness of digital marketing campaigns. Based on the data captured from Google Analytics, marketers are able to optimise campaigns to maximise their ROI.
Hence, having hands-on experience in setting up marketing campaigns on Google Analytics and having experience optimising campaigns based on data insights derived from Google Analytics are must-have skills for digital marketers.
Soft and Hard Skills
Apart from the above skills that are technical, a digital marketer must demonstrate several other qualities to do well in the role. Some of these include soft and hard skills such as:
Agency Management
Presentation skills
Communication skills
Time management
Ability to Network
Problem-solving skills
Ability to multitask
Organisational Skills
Data Analytics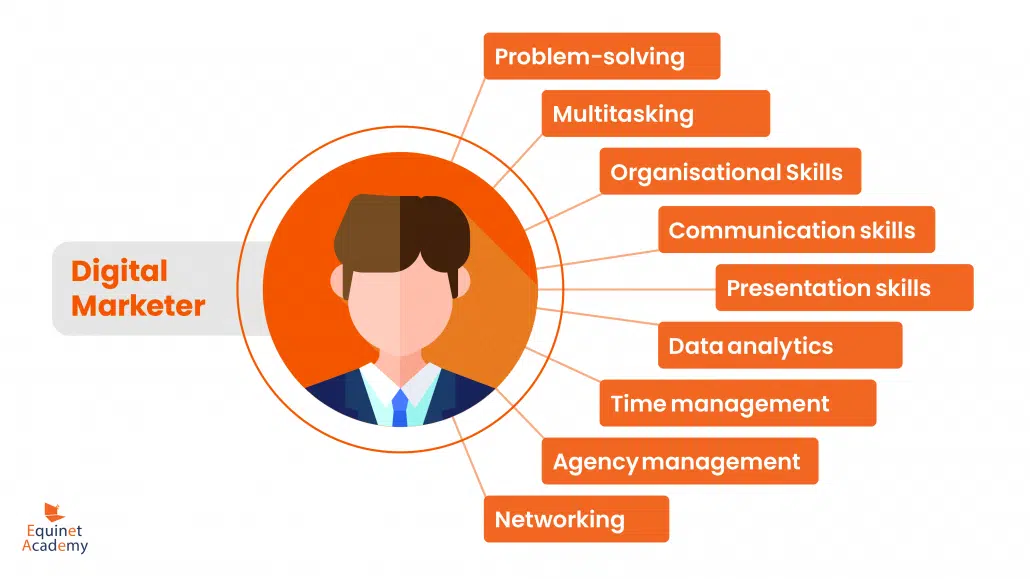 For a much more exhaustive list of digital marketing skills, consider giving this article a read.
Many times, these skills are sharpened or picked up only once you're on the job. This brings us to the steps you can take to begin a digital marketing career.
Steps to take to begin a digital marketing career
Get certified
With the vast array of skills – technical, soft and hard– you're required to possess for a successful digital marketing career, one of the best ways to get ahead is to attend courses, workshops and programmes dedicated to imparting this knowledge to you.
Digital marketing courses are good for both beginners in the field of digital marketing as well as professionals looking to upskill and keep up to date with the latest developments in digital marketing.
But with so many digital marketing courses in Singapore, how should you go about picking the right one for yourself?
How should you select a digital marketing course?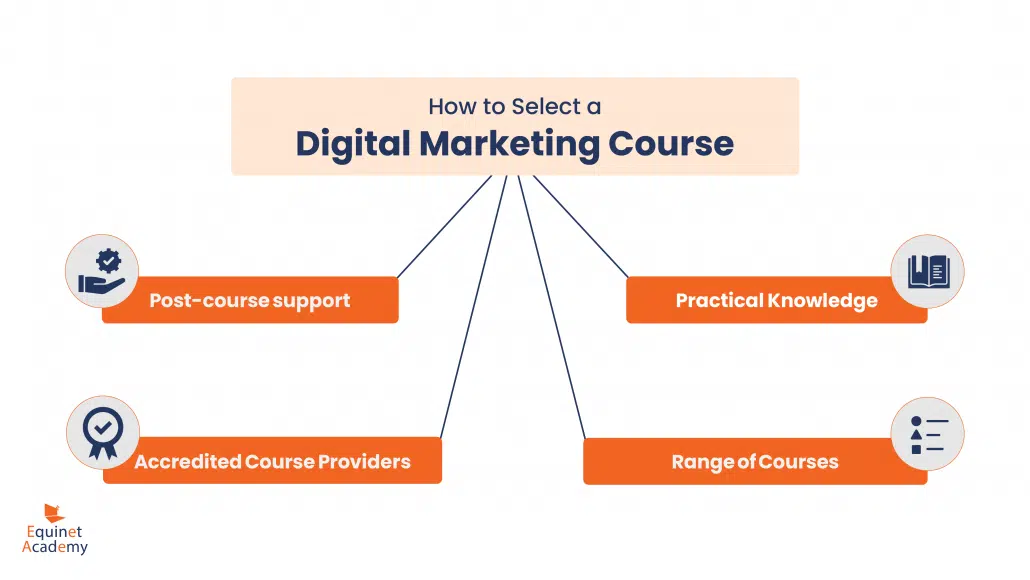 Due to the high demand for digital marketing training, the Internet is full of options for short-term courses in the field. The question is then how to select the best digital marketing course in Singapore that offers recognised certification and hands-on exposure. Some of the few important criteria you can look for while selecting a digital marketing course in Singapore are as follows:
Practical knowledge
The course should offer practical knowledge of digital marketing skills through opportunities to work on tools, applications and real cases. Look for courses that are structured to offer a good blend of conceptual and practical knowledge of digital marketing skills. After completing the course you should have a strong working knowledge of digital marketing channels and tools– which will put you steps ahead in your digital marketing career.
Range of courses
It's important to look for a digital marketing course provider in Singapore with a good range of courses– both foundational and advanced. This would allow you to progress smoothly if you should choose to level up after taking the foundational courses. While foundational courses are recommended for beginners, you'll be surprised– many times seasoned professionals far ahead in their digital marketing career benefit a great deal from refreshers foundational courses provide as well.
Accredited course providers
The number of digital marketing course providers in Singapore is growing day by day. However, it is advisable to select one that has proper recognition from government bodies and has been in the space of digital marketing training for quite some time.
In Singapore, learners are encouraged to attend courses by providers which are accredited by SkillsFuture Singapore and are an Approved Training Organisation (ATO). Apart from this, the course provider should have a proper assessment plan and offer a genuine certificate to all those who complete the course.
Post-course support
Digital marketing is a vast subject and you will need resources and reference materials even after you finish the course. Look for digital marketing course providers in Singapore that offer post-course consultation to clear your doubts and fill in gaps if any. It also helps if the course trainers are seasoned industry professionals who have current, hands-on work experience.
If you're in the market for a digital marketing course in Singapore, feel free to check out our range of courses here. Not sure where to start? Fret not, we have a course selector tool to guide you in the right direction.
Of course, getting certified is only the first step. Many times, digital marketing roles require some level of real-world experience. If you're willing to get your hands dirty, there are opportunities available in the job market today.
Get hands-on experience
One of the best ways to get started in a digital marketing career with no experience is to accept an internship.
This can be done while pursuing a digital marketing course or immediately after completing it, depending on the course duration. An internship offers on-the-job training and the mentorship of experts that will give you confidence as a digital marketer.
As a digital marketing intern, you will get hands-on experience in managing conversations on social media, creating and publishing blogs, performing keyword research, managing content, social media calendars and other day-to-day marketing activities.
Another way to gain exposure is to work freelance– this could mean going on platforms like Fiverr or scouring through job portals to look for freelance opportunities. Don't be afraid to work for a bit less at the start of your digital marketing career– remember, at this point, you're trying to get a couple of projects under your belt in order to eventually secure a full-time role.
Simultaneously, submit your CV to various job portals and be on the lookout for suitable vacancies. If you'd like some tips on how to build a great digital marketing resume, give this article a read. Ensure your LinkedIn profile is updated regularly as well.
Summary
A digital marketing career can be fun and rewarding. Getting started in a digital marketing career is now easier than ever with the abundance of courses available. Remember, picking the right course provider is important, so spend your time researching.
At Equinet Academy, we have digital marketing consultants who will help you choose the right course depending on your background and experience. Feel free to take a look at the range of courses we provide and please don't hesitate to contact us if you need help or advice.