The 6 Steps To Building A Social Media Marketing Framework
Social media is ubiquitous. Look at the screen of the smartphone of the person nearest to you. Chances are that he or she would be perusing a social networking site like Facebook, Instagram, TikTok, LinkedIn or YouTube.
With the surge in use of social media, businesses and companies have started seeing the value of including it in their marketing mix. If used correctly, social media is a great place to increase brand awareness, acquire customers, and get more leads and conversions.
However, it can be challenging developing and executing a social media marketing framework.
One key ingredient of succeeding on social media is to have strategy. Without a strategy, you could be maintaining relevance on social media platforms for the sake of being present. Without understanding your goals and objectives, your target audience, and what they want, you can hardly achieve any results from social media marketing.
Starting out and don't have a social media marketing strategy in place yet? This guide outlines the key steps you need to build an effective and systematic social media marketing plan.
Learn about what social media marketing is in our detailed article here.
Why Do You Need A Social Media-Marketing Framework?
First things first. Why do you need a framework to tie your social media marketing efforts to?
Well, social media marketing is an essential part of any digital marketing strategy. To enjoy success in your social media marketing plans and digital marketing strategy as a whole, you'll need a precise sequence of processes to follow.
A social media marketing framework will also help your business or brand tackle to its marketing goals with a sense of direction. It acts as a guiding light that marketers use to achieve your social media marketing goals.
A successful framework can also help your business to drive online traffic and enjoy a resultant higher return on investment when you supplement it with other paid marketing efforts.
Ready to rock and roll on Facebook, LinkedIn, Instagram, YouTube and other social media channels? Let's dive right into the framework!
Discover
Define
Develop
Deliver
Measure
Manage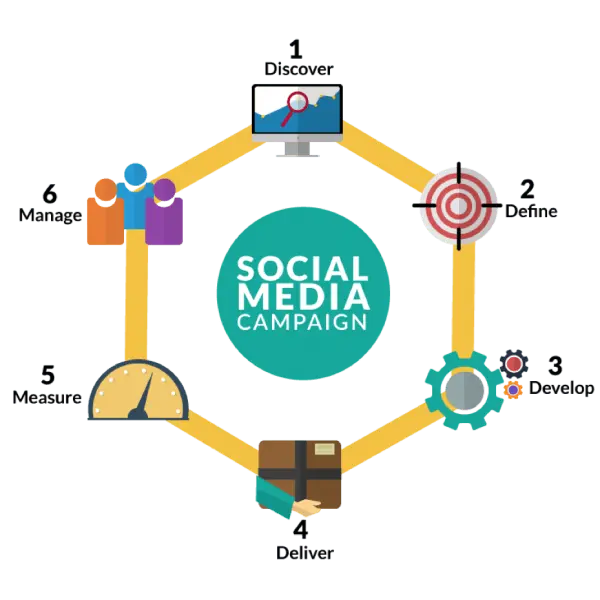 #1 Discover Social Media Channels
Is Instagram the right app to expand your brand? Does your startup need a Facebook account? Should you jump onboard on all social networks to maximise your reach?
Well, with many social media channels available, deciding which one deserves your marketing attention can be difficult. Nonetheless, the first step to establishing an effective social media-marketing framework is finding out the best social media channel for your business. If you are just getting started, this might be challenging.
Contrary to what many people believe, you don't necessarily have to be present on every network. For the majority of businesses, it is more effective to handpick social media platforms that make more sense and are suitable to their brand rather than to spread their efforts everywhere.
That said, below are some of the main social media channels you should consider when building a social media marketing framework.
YouTube
YouTube is the best platform for businesses and brands where producing videos isn't extraordinarily challenging or difficult. It is the best platform to build an online video portfolio, attract subscribers, and to generate organic video views. You can also use YouTube to educate your audience and establish thought leadership.
In general, YouTube is a good platform for B2B and B2C marketing, increasing brand awareness, educating your audience, and generating leads.
Pros
Second largest search engine
Few brands are on YouTube, hence it is easier to stand out
Subscribers can help you to attract a regular YouTube audience
Cons
Producing a video can be expensive
Intrusive ad formats
Should You use YouTube?
If you are in a position to produce high-quality video content that makes the most from the YouTube video formats, this can be a good platform of choice. It also brings a lot of organic opportunities, thanks to its expanded online community and Google search integration. To succeed in the platform, you should create practical and useful videos, which could be in the form of product reviews, how-to videos, tutorials, and more. You should also promote your channel on other social platforms to build a bigger following.
Facebook
Facebook is undoubtedly the most popular social media platform, currently enjoying more than 2.2 billion monthly users. The platform provides a plethora of both organic and paid advertising opportunities, which explains why most B2C marketers prefer the platform. It offers endless engagement opportunities by allowing brands to encourage their followers to share, comment, and like their posts. Marketers can also leverage various posting options, including videos, images and articles linking back to their websites.
Pros
Highly targeted ads
Most popular social media platform
Invaluable insights on campaign performance
Cons
High competition
Difficulty in lead generation
Should you use Facebook?
If you are a B2C business with the primary goals of increasing brand awareness, providing customer service, increasing engagement, leads and conversions, you should consider using Facebook.
What about B2B businesses? Well, from what we've seen thus far, companies seeking to reach out to small businesses and start-ups can gain tremendous leverage by promoting themselves on Facebook. However, not so for those looking to market themselves to corporates and larger firms.
LinkedIn
With over 660 million users, LinkedIn is the world's largest professional social network. LinkedIn is the best platform to post professional resources, company news, job postings, and insightful articles.
One crucial aspect of LinkedIn is its business-minded user-base. People subscribing to the network are ready to discuss business or professional opportunities when the time is right. That aside, LinkedIn has less sophisticated ad targeting options, unlike Facebook.
Pros
Definitive B2B platform
Business-minded users
Ability to reach large companies and professionals (high-value prospects)
Cons
Higher advertising costs
Difficult to do direct selling
Should you use LinkedIn?
You should consider using LinkedIn if you want to connect with decision-makers and executives in your target companies. It provides a good platform to establish your brand as an industry authority by providing in-depth and data-driven content. This space also makes it easy to differentiate your brand from the competition.
Instagram
Instagram was a fast rising social media star some years back – today, it has become the social media giant that everybody is talking about!
Currently, the platform has surpassed 1 billion monthly active users and is growing much faster than Facebook, its parent company. Of the one billion users, more than 70 percent are below the age of 35, making it the best place for brands with content targeting Generation Z and millennials.
Like its parent company, Instagram has highly sophisticated targeting options, allowing marketers to pitch to the most relevant audiences. It is also purely a visual platform, thus a good choice for brands that create highly visual content such as luxury businesses, fashion, food, and travel. Plus, Instagram is known for hosting endless influencers who have wide audiences and reach. 
Pros
Fast-growing user base
High engagement
Great for visual branding
Connections with millennials and generation Z
Cons
Demanding content creation
Less effective for website traffic
Should you use Instagram?
Instagram cannot be compared to Facebook in terms of audience size but is growing quickly. Besides, it is the go-to platform for generation Z and millennials, who are slowly losing interest in Facebook. Whereas Facebook makes a good choice for B2B and B2C brands, Instagram is great for rolling out consumer campaigns for aesthetically focused industries.
Twitter
Is Twitter still a thing? Even with approximately 330 million monthly users, Twitter's audience cannot match Facebook, Instagram or LinkedIn as far as audience size is concerned.
However, it is the perfect platform to reach a highly engaged and content-hungry audience, which makes it an ideal platform to share regularly tweet links to your blog,  YouTube videos, or  website landing pages.
Twitter is best for B2B branding, content promotion, establishing brand awareness, providing customer service, and engaging with thought leaders. However, it does require commitment as you'll need far more tweets per day to get an engaged audience relative to other social networks.
Pros
Highly engaged audience
Organic reach reduces dependability on ads
Good source for traffic
Cons
Short content lifespan – unless you republish
Pricey advertising
Requires a lot of content
Limited analytics
Should you use Twitter?
With organic reach, Twitter is a good platform for B2C and B2B brands looking to capitalise on social media marketing. It is also a good backup plan if the competition on Facebook heats up. Unlike other platforms, you can directly engage with decision-makers, executives, consumer audience, and freelancers.
However, Twitter is full of noise and content clutter, plus the need for higher frequency of content makes it less tenable for overworked social media marketers!
Know where you stand
In assessing which channel works best for your organisation, you will first need to know where you stand in each of your social media channels. Here are three things you can do.
Social media audit
Conduct a comprehensive social media audit to determine how well your social media channels are performing. This will include Key Performance Indicators (KPIs) like the number of fans or followers you have, frequency of updates, and levels of engagement (likes, comments and shares).
Customer Persona Development
You need to understand your target audience. Describe the demographics (age, education, income, etc), psychographics (interests, lifestyles, and attitudes) and online behaviours of your target customers. Zoom in on how they search for content online, and determine what keywords they use.
Competitor Analysis
Identify your competitors and measure how you square against them online. Here, tools like Fanpage Karma or Buzzsumo will be handy as you can track the frequency of your competitor's social media posts, level of engagement, as well as their most shared content.
#2 Define Customers and Marketing Goals
Like other digital marketing strategies, social media marketing works best when you have clearly defined audiences and actionable goals. Therefore, before getting into the details of developing content and deciding on the right activities, you should identify your customer base and set clear and measurable marketing goals. This will not only keep you focused but enable you to track the impact and success of your social media marketing framework.
Set Right Social Media Marketing Goals
Marketing goals come in all sizes and shapes. This makes it necessary to identify some key features that describe good social media marketing goals. Good marketing goals should have the following qualities:
Be SMART – like any other objective goals, your social media-marketing framework goals should be specific, measurable, achievable, relevant, and time-bound.
Be audience-centred – social media channels are human-centric platforms. Therefore, you should work to translate your customer's journey with audience-specific goals.
Be tied to organisational impact – good goals should be tied to the outcome, and not the activity. For instance, how much revenue do you want to increase by next year?
Assigning specific goals to a specific social network is effective as user behaviour differs from one platform to another. For instance, an e-commerce business may use Instagram to build brand awareness, YouTube to educate users on how its products work, and Facebook conversion ads to drive sales.
In general, social media marketing goals may include any of the following:
Drive more traffic to your website
Increase revenue by increasing sales or signups
Increase brand awareness
Generate leads
Build a committed community around your business
Increase influencer mentions
Boost brand engagement
Build Customer Profile or Avatar
Having identified your goals, you should then proceed to identify and describe your target audience. Understanding your audience will make it easier to figure out what, where, and when are you going to share on a specific platform.
For an effective social media marketing framework, you should consider the following target audience groups:
Fans – Building a good relationship with this audience and attracting more brings in the greatest traffic.
Prospects and Leads – this is the second category of audience you should consider growing next. Such "aspirational" audiences are important for your business growth in the next coming years.
Loyalists and Advocates – this is the category of audience that can lift your brand and reach more customers through content sharing.
Having identified your audience, you should then proceed to understand them on a deeper level. The better you know and understand your audience, the better and effective your social media marketing strategy will be. To define your persona, consider the following questions:
What are your audience goals, motivation, questions, and pain points?
What are their demographic characteristics?
What are their lifestyles, traits, values, habits?
Making assumptions about your target audience is dangerous for brands and businesses. To avoid this, leverage the various social media analytics tools that can help your business define your target audience with ease.
Develop a Social Media Content Matrix
Next, consider developing a social media content matrix to track your social media marketing efforts and match them against your marketing goals in the best way possible. This can be through the entire Social Media Marketing Funnel, where different content types and formats are used for different stages of the customer journey.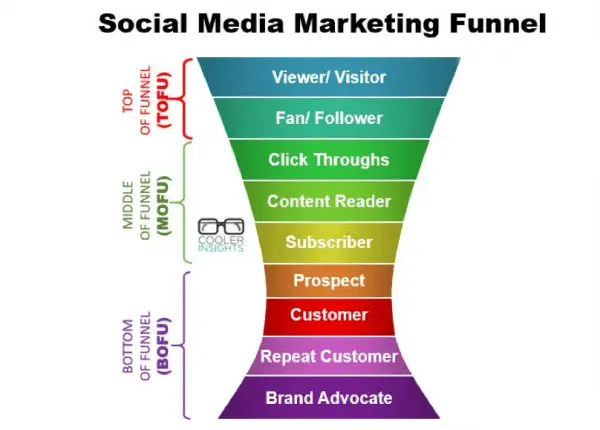 In developing the content matrix, consider what's suitable for your audience at that specific stage of their journey. Here's an example of how it would look at the Awareness stage of social media marketing.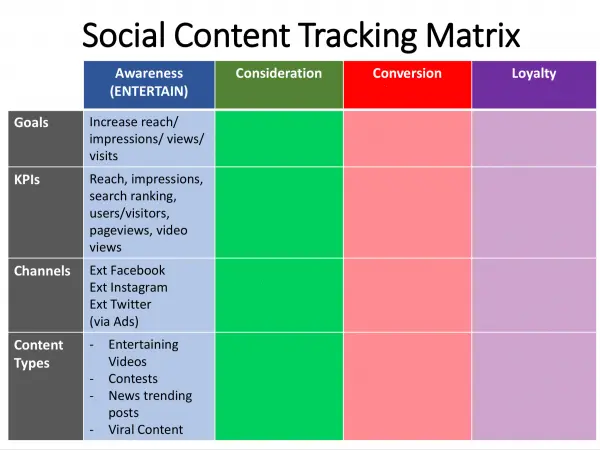 #3 Develop Effective Social Media Content
An effective social media marketing strategy should be centred on producing quality content.
You should have a content plan and an outline of what you will publish across the channels. Based on your brand identity and goals, you should have a good idea of what you want to publish on which social channels.
Organising content in your social media marketing framework is beneficial as it will help you plan and produce content in batches and enables you to measure the success of each content.
With a content marketing strategy, you should ensure that you post content that makes your audience share, care, aware, and convert.
Content that will make your audience care – there are various forms of content that will make your audience care. The general rule is that you shouldn't just interrupt what people are doing, but rather what will interest people. Examples of attention grabbing content include funny content, useful content, inspiring, as well as beautiful content.
Content that will make your audience share – for your users to share content, they should be engaged by your content through emotions. Therefore, you should post content that evokes strong emotions that arouse them to share.
Content that makes your audience aware – one of the primary goals of social media marketing is increasing brand awareness. Brand awareness simply is a collection of unconscious associations in a potential customer's mind.
Content that makes your audience convert – once you've made your audience aware, you should then focus on making them convert. Do this by developing content that provides value to them either in the form of useful content, or attractive incentives and offers.
Best Practice Content Examples
Here are some examples of effective Facebook content that seeks to achieve a few of the goals above.
NAS Daily uses attention-grabbing headlines and provocative visuals to draw viewers into clicking on their videos.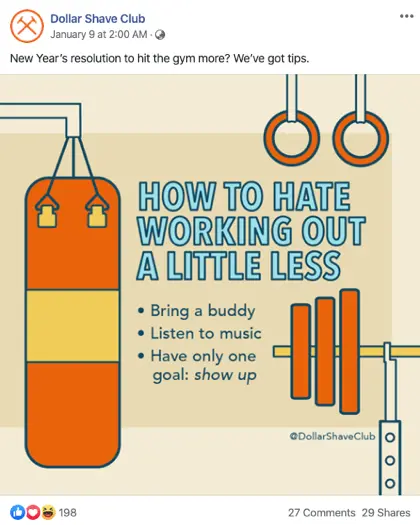 Dollar Shave Club uses attractive illustrations and witty copy to address their fans' pain points and boost engagement.
Note that content creation should be based on the unique characteristics of social media channels. YouTube, for instance, will thrive well on video content. Instagram and Facebook, on the other hand, are more of visual platforms that require the use of images and videos, while LinkedIn performs better with content that helps professionals do better at work and in life.
Viral Storytelling
Everyone wants to go viral, but what exactly makes a post go around? One way is to newsjack, which simply means to inject your story into a breaking news story. Another is by following the 6 STEPPS to virality, which includes factors such as social currency, triggers, and emotion.
However, the most foolproof way to consistently engage your audience is to plan and deliver good quality, highly relevant content. To achieve this, you should consider the best practices for each of the social media platforms like Facebook, Instagram, LinkedIn and YouTube.
#4 Deliver Social Media Results
If your business or brand had already been active on social media, you should audit your current marketing activities and their successes. This will enable you to note low-impact channels and save time and effort in your marketing strategies in the future. You can do this by mapping out various active social media channels in a spreadsheet.
Increasingly, organic reach on most social media platforms – especially those controlled by Facebook – have dropped to abysmal levels. To circumvent this, it is necessary for you to invest some money in social media advertising.
The advantage of advertising on social media channels like Facebook, LinkedIn, or Instagram include the ability to target a well-defined audience as well as to amplify the results of a good performing post. You can also tap on paid advertising on social networks to grow your online community, generate leads, and trigger sales.
Here is one case study of how you can address the pain points of your audience via Facebook ads to generate leads. Here, you'll notice that the ads are timed to coincide with the release of the academic calendar of PSLE, and addresses what parents may be thinking about. It is also specifically targeted at parents of primary school age children.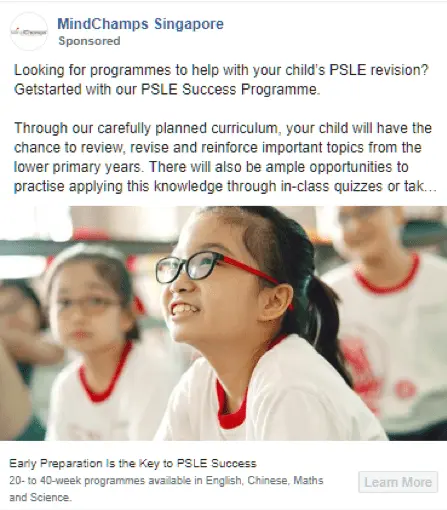 Other than paid advertising, you can also tap on influencers in your niche to share your posts, or interview them in a blog article and then getting them to share it (more in #6 Manage Social Media Community).
#5 Measure Social Media Marketing Results
Measuring your social media marketing results is certainly not easy, especially if you are using multiple channels, but it can certainly be done. The good thing about social media analytics is that most of the social media platform owners have provided easy-to-interpret social media metrics and analytics that you can tap on. You can also take a look at our top-rated social media analytics tools. 
You can measure the success of social media marketing in two methods:
Ongoing analytics: As the name suggests, these track activity over time and are necessary for keeping track of the performance of your social media channel's organic results.
Campaign focused metrics: Campaign focused metrics are those which can help you to identify the effectiveness of targeted social media advertising campaigns on a Cost Per Result basis.
An effective social media-marketing framework should use both methods to analyse results. Some of the performance indicators may include the following:
An increase in the number of followers – the number of followers or friends on your social media platform reflects your brand's popularity. Gaining more fans online helps to increase brand trust and reduce the perceived risks which your potential customers may have.
Reactions, comments and shares on your post – checking through your audience interactions on your post can help you determine what works and what doesn't. With this, you can focus on sharing more of such good performing posts.
Social media reach – this can be evaluated based on the number of people who have seen your posts.
Referral traffic – Google analytics can help you monitor referral traffic from social media platforms using UTM parameters.
The Click Through Rate (CTR) is associated with direct conversions. A higher CTR implies that your campaign is more effective as your ads and posts are able to convince a higher proportion of viewers to click on them to visit your landing page.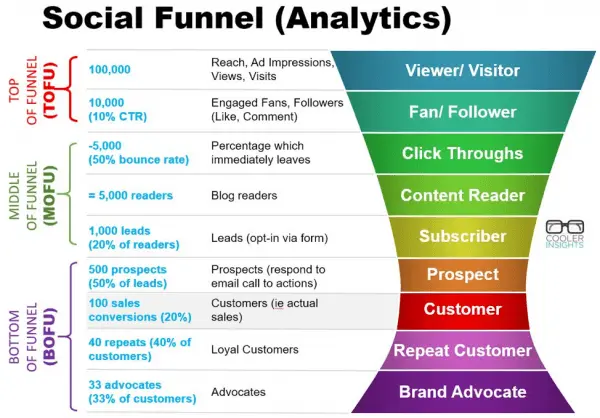 By mapping your social media metrics against your social media marketing funnel, you can better diagnose at which stage your social media marketing strategies or tactics require tweaking. You can use tools like the social media insights (eg Facebook, LinkedIn or Twitter Insights) as well as their Ad Managers to measure and monitor what your respective KPIs at each level is.
#6 Manage Social Media Communities
Developing and sharing high-quality content is very important. However, it is equally essential to have a plan of when and how you will share your content to have maximum impact.
Creating a Social Media Calendar
Therefore, making a social media content calendar is essential as it will account for the time you spent on posting content on your various social networks as well as the time spent interacting with them.
A social media content calendar should have a posting schedule, which are the dates and times at which you publish content on every channel. Before deciding the exact times and dates to post, you should consider the behaviour of your target audience. Some examples to guide you on this include:
Events and Festivals: Sports fans are more active and find content to interact with on social media before, during, and after sports events.
Seasonal Peaks: Those who love to travel are active on social media during weekends when planning for their next trips.
You should also plot your content mix. Ensure that your content reflects the mission you have assigned to each social profile to support your business goals. We have a detailed guide on creating a social media content calendar which can be found here. 
Finally, you should consider amplifying your social media marketing framework. This can be done effectively engaging the right social media influencers. Influencers are social media users established as "brands" with a huge following. Having such people market your products and services increases your brand awareness, enables you to reach a new audience, and increases the credibility of your brand.
A Framework for Managing Communities
A comprehensive community management plan should follow this broad framework: Recruit, Engage, Sustain, and Advocate.
The first step is to recruit the right followers, but before you jump into that, you will need to have some good quality content on your social media platform. Take for example, Whole Foods Market Facebook page, which focused on delivering fresh and wholesome recipe ideas to their fans.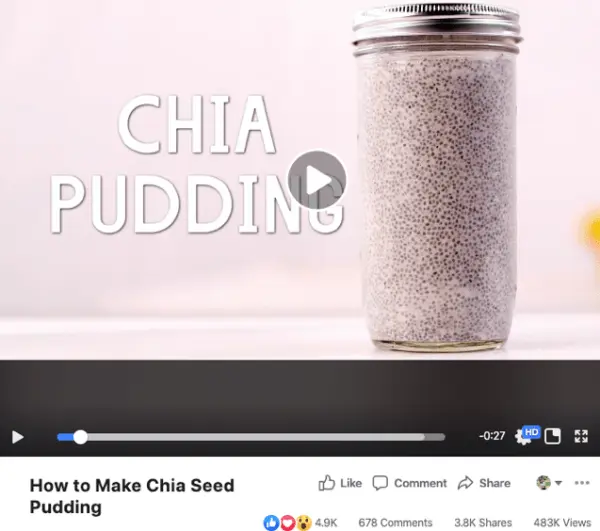 The next steps are to engage and sustain. To do this well, you will need to establish clear community guidelines in order to build a culture of mutual respect, trust and authenticity. It is also good practice to listen to your customer's needs and wants, and to make them the centre of your engagement efforts, not your brand. Some ideas here include sharing customer stories and testimonials, and rewarding them regularly.
The final step is to achieve advocacy. You can begin to do this by noticing who your most loyal fans are and acknowledging them by reaching out to thank them, or asking them for their views and advice on how to enhance your page or platform offerings. From time to time, you can even use a sweetener to encourage your fans to spread the word about your community, but do this sparingly. We go more in-depth into community management in this article. 
You can also consider working with influencers as part of your advocacy strategy in social media marketing. There are several ways to work with them depending on their "celebrity" status – macro-influencers often require payment while micro-influencers may be willing to participate in return for some in-kind benefits like merchandise or lifestyle experiences.
The Bottom Line
Social media marketing is a constantly evolving and revolving digital marketing strategy.
New networks constantly emerge. Algorithms shift as social media owners seek to maximise profitability and increase users' time spent. Significant shifts in demographics and user interfaces may also result.
While the content types may change, the core principles of crafting an effective social media marketing framework and strategy do not vary that much. Having said that, you should refer to the framework often, and not be afraid to make changes that will make it reflect your new goals, plans, and use of tools.
If you are working as a team, ensure that you inform your team members if you update your social strategy. It is through this that you can work together to make the most from your social media accounts.
---
Ready To Learn More? Sign Up For Our Social Media Marketing Course!
What we have touched on above is just the icing on the cake.
In our two-day social media marketing course, we cover a detailed six-step process focusing on the most important social networks you need to know. You will be equipped with the hands-on knowledge and valuable tools to strengthen both your skills and knowledge of social media marketing. We have to be mindful that Social Media Marketing is just one of the Digital Marketing channels. At Equinet Academy, we cover all the 6 Core Modules of Digital Marketing that include :
The completion of these modules will lead the learners to attain a Certified Digital Marketing Strategist Certificate. We also offer an array of digital marketing courses taught in-person in Singapore or online.