A Winning 6-Step Social Media Marketing Strategy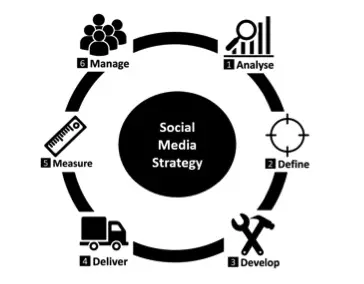 Are you hiring an intern to manage your company's social media channels?
Or outsourcing social media marketing to the cheapest vendor you can find?
Perhaps that's why social media marketing isn't generating that ROI which your company hungers for.
Like other aspects of your business, you need to be strategic and systematic in how you develop and deploy social media as a marketing strategy. Just having a Facebook page or Twitter account alone and sharing photos from your office party wouldn't do.
This is where my six-step process for social media marketing comes in.
Equating Social Media Strategy with a Continuous Cycle
One of the first things you need to understand about social media marketing is that it is a journey rather than a destination.
The most successful social media marketers in the world knows this. This is why they are relentless in continuing to push out great content, share interesting information with their communities, and refine their social advertising strategy with ever targeted messages.
Unlike traditional marketing efforts on television, newspapers or radio, social media activities need to stretch beyond campaigns to include daily and weekly practices. It is a continuous learning cycle of constant analysis, measurement and refinement.
To guide you along, consider using my 6-step social media strategy (below) as a guiding post for your own efforts.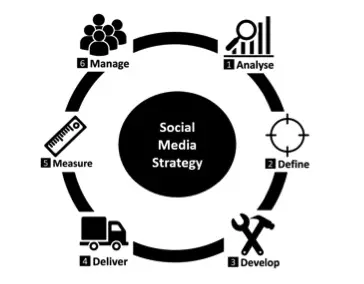 #1 Analyse – Know Where You Stand
The first step in social media marketing involves understanding where you currently stand.
By now, virtually every small or large brand would have some social media and online presence. However, few of them would know how successful they've been, who they seek to serve, or how they compare with other players in the market.
There are three things you need to do here:
a) Company Social Media Audit
Conduct a comprehensive social media audit to determine how well (or badly) your social media channels like your Facebook page are performing. This would look at Key Performance Indicators (KPIs) like the number of fans or followers you have, frequency of updates, levels of engagement (likes, comments and shares), and number of referrals made to your website.
(As you'd imagine, this may involve getting to know our good friend Google Analytics. Here's a wonderful guide to Google Analytics for beginners from the lovely folks at Moz.)
b) Customer Persona Development
You need to understand who you wish to target. Describe the demographics (age, education, income, etc), psychographics (interests, lifestyles, and attitudes) and online behaviours of your target customers. Zoom in on how they search for content online, and determine what keywords they use.
(You can learn more at The ABCs of Building a Customer Profile.)
c) Competitor Analysis
Identify which brands your company competes against, and measure how you square against them online. Using tools like Fanpage Karma or Buzzsumo, you can track the frequency of your competitor's social media posts, engagement of each posts, as well as their most shared content.
#2 Define – Zoom In On Objectives
Next, you need to establish what your goals and objectives for social media are, as well as how your customers search for, locate, engage with and transact with you.
a) Marketing Problem, Objectives and Metrics
With the analysis you have done earlier, you can identify where your current gaps, establish social media marketing goals and objectives, and layer on with suitable metrics to determine success. There are normally three main types of objectives and KPIs here:
Awareness:

Total number of views, impressions (served through ads), reach, and visitors
Engagement: Likes, comments, shares, and retweets
Conversion: No of sign-ups, eBooks downloaded, and purchases
Check out our article on the Top 12 Social Media KPIs.
b) Map to Digital Marketing Funnel
Part of defining also involves zooming on your customer journey and where they "land" on your website. You need to understand the role which social media plays in attracting visitors, generating leads and converting them to become your customers.
#3 Develop – Contagious Content and Sticky Communities
Now that you know where you're going, you need to determine how you can trigger social sharing amongst your targeted communities.
a) Making Your Content "Contagious"
According to Joshua Berger, author of the best-selling book "Contagious", there are 6 STEPPS to triggering virality and sharing:
Social Currency: Remarkable facts or news, game mechanics, and making people feel like insiders.
Triggers: Specific days, seasons, phrases, or contexts of use.
Emotion: High arousal emotions like awe, excitement and amusement (or even anger).
Public: Creating a monkey see monkey do effect.
Practical Value: Offering listicles, tips, guides, and FAQs that help your customers.
Stories: Using the power of storytelling.
b) Community Management Tactics
If content is king, community must be queen.
Here, you need to craft out your social media community management tactics to recruit online members, engage them, sustain your communities, and develop advocacy amongst your members.
We go more in-depth into what community management is and how to build a framework in this guide.
#4 Deliver – Monetise through Promotions and Ads
Once you've accomplished some social sharing through contagious content and built supportive communities of raving fans, you need to start monetising. There are two main ways to do so.
a) Create Social Promotions and Lead Magnets
These are promotional mechanics like contests, freebies and discounts which are aimed at triggering participation, sign-ups and even purchase.
b) Social Media Advertising and Influencer Marketing
To get the word out there, you may wish to invest in native advertising channels like Facebook Ads, sponsored posts, or influencer marketing activities.
A hot tip here is to ensure that whatever forms of advertising you do is trackable and measurable. This could include embedding a trackable URL, using tools like Google's URL Builder.
#5 Measure – Track Success and Social Media ROI
You cannot manage what you do not measure. With superior analytics embedded into all things social, there really is no excuse for you not to know what your ROI is.
a) Know Your Metrics
Remember the social media KPIs which we have established earlier? Beyond these indicators, you may wish to also assess the effectiveness of your advertising investments using metrics like Cost Per Thousand (CPM), Cost Per Click (CPC), and Click Through Rate (CTR).
b) Calculate Social Media ROI
To evaluate what your social media ROI is, you need to know a few things:
The costs of running your social channels
Conversion rates for each social channel
The value of each conversion (for example 10,000 web visitors could translate to 100 eBooks downloaded, out of which 50 of those downloaders become your customers)
The estimated spend of each customer (you can use your Customer Lifetime Value (CLV) as a gauge)
You can read more about social media marketing ROI in my comprehensive post here.
#6 Manage – Keeping Your House in Order
Finally, you need to manage and sustain your social media marketing activities by incorporating the right resources, policies and procedures to keep things running smoothly. There are four key areas to consider here:
a) Social Media Manpower
Create the right organisational structure and ensure that you've got adequate human resources to do the necessary. This covers jobs like social media strategy, content strategist, creative/art director, community manager, and digital analytics.
b) Social Media Budgets
Ensure that you've got the right budgets allocated to social media marketing each year, and for each campaign. This would be especially interesting to your CEO and your CFO! Thankfully you already worked out your Social Media ROI and can stand up to scrutiny.
c) Social Media Policies
Are there guidelines for your employees on how they should use social media? What about your Facebook fans? Consider crafting them to minimise ambiguity in managing your social media channels.
d) Social Public Relations
Last, but certainly not least, you need to consider what you should do to continually cultivate influencers, manage "haters" and expand your earned media.
An Agile Learning Approach To Social Media Marketing
Together with content marketing, Search Engine Optimisation (SEO) and Pay Per Click (PPC) advertising, social media marketing is one of the pillars of the digital marketing world.
By using a systematic, cyclical and step-by-step process, you are better able to target your customers, track the success of your campaigns, and train your social media team to determine what works and what doesn't. This "lean" approach enforces learning and ensure that you could improve your social media strategy and tactics with each campaign that you launch.
Master all the six steps of social media marketing strategy in my 2-day  social media course today. Done in partnership with Equinet Academy, this rigorous two-day training course will equip you with practical hands-on experience in social media marketing. Equinet Academy also offers an array of digital marketing courses taught in-person in Singapore or online.
Are there other ways to optimise your social media marketing? I'd love to hear them.