6 Free and Paid Social Media Analytics Tools
If you're new to social media marketing, we recommend taking a look at our guide which provides a detailed insight into the topic. 
Any business that uses social media among its online tools needs to be sure it's also using analytics to measure the effectiveness of those tools.
Analytics will help your business identify relevant data, and analyse and interpret that data. Such analysis and interpretation will allow you to make data-driven decisions about your business and its campaigns, rather than stumbling in the darkness without such valuable information.
Marketing without data is like driving with your eyes closed.
In evaluating the social media data of your business, a good analytics tool will help answer the key questions of your social media efforts:
Who (for instance, demographic information on who is engaging with your posts);
What (for instance, what are people saying about your business on social media);
Where (for instance, where are you getting the best results from your social media campaigns);
When (for instance, when is the best time to post);
Why (for instance, why are people engaging with your posts);
How (for instance, how are you best reaching customers);
How does a business-owner go about finding the answers to those questions? With analytics tools. So let's take at our top picks in analytics tools, free and otherwise, to enable your business to make effective decisions and improve your performance on social media.
Here are 6 social media analytics tools :
Google Analytics
CoSchedule
Hootsuite
Cyfe
Snaplytics
Hashtagify
1. Google Analytics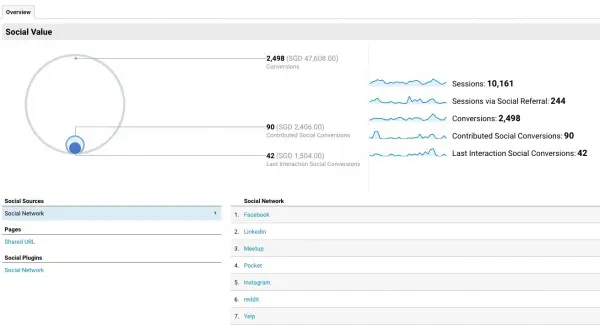 We can't talk about analytics without talking about Google Analytics, and it's our top choice because it's powerful and free. Most people think of Google Analytics as a tool to analyse website performance, but it also holds a lot of information about social media.
Using Google Analytics, you can tell how a user is interacting with your site, with details like pages-per-session and average session duration. The Social Pages report will tell you which pages on your site get the most attention with social media traffic.
Here are some other examples of what Google Analytics can tell you about social media:
What social media platform is bringing the highest number of visitors to your website, by displaying sources of social media traffic.
Goals Completion information, which allows you to assign goals for your social media posts, and then analyse the completion of those goals.
Number of conversions from your social media posts.
Number of assisted social media conversions.
With all that data available, and the right price (free), it's no wonder it's Number One.
2. CoSchedule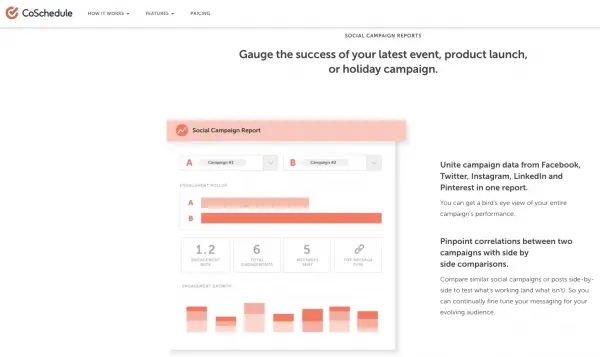 We like CoSchedule for its in-depth post analysis that can be a benefit to all types and sizes of business. This tool analyses the performance of social media posts to recommend improvements.
For instance, CoSchedule will analyse your social media data and let you know the best day and best time to post, as well as the best type of content to post. It will also provide information on:
Engagement with your social media posts.
The performance of a campaign across multiple platforms.
The performance of your business across various social media channels.
How many times a link has been shared.
An analysis of your top 100 posts.
CoSchedule has a free 30-day trial and then various pricing plans depending on whether the plan is for an individual, a business or an agency, and the size of the business.
3. Hootsuite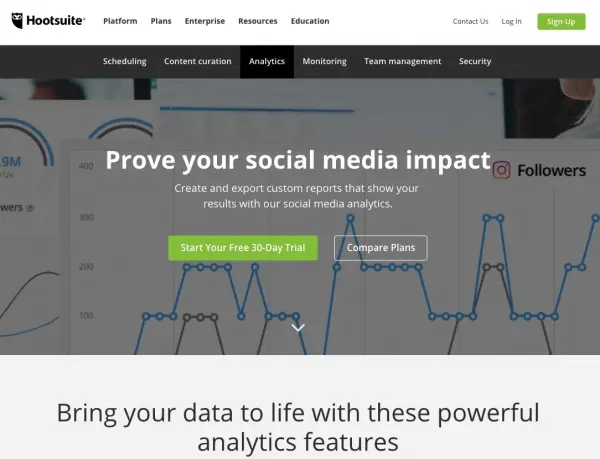 We would be remiss if we discussed social media analytics and didn't have Hootsuite on the list. Hootsuite is one of the most established analytics services around, and it supports over 30 social media platforms.
Hootsuite provides a central dashboard view for every social media platform, and gives you basic information like number of followers, traffic and growth rates. It then digs into more granular information such as demographics of followers and geography.
It will filter results in a variety of ways, such as by location, keywords or hashtags, and gives you a snapshot of what's being said about your brand, for instance, or your industry.
Hootsuite will also measure the impact of a campaign including measurement of conversions by social media platform and return on investment between owned and paid media.
It offers a free 30-day trial and then has a variety of price ranges, again depending on the business and its size.
4. Cyfe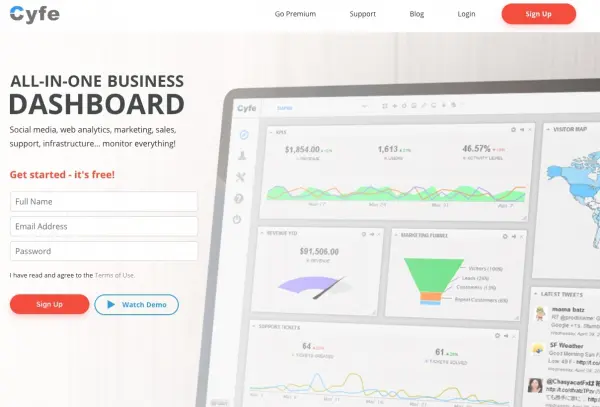 Cyfe is another powerful analytics tools that you can try out for free. This business dashboard syncs data from a wide number of marketing tools. It has multiple integrations and dashboards that cover advertising, monitoring, emails, Search Engine Optimisation, sales and web analytics, as well as social media analytics.
For social media, Cyfe will give you real-time data on how your brand is doing across 15+ platforms, including Facebook Ads and Facebook Pages, Instagram, Twitter Ads and Twitter, LinkedIn Ads and LinkedIn, YouTube, Google+, Pinterest, and Vimeo, to name a few. It also measures the return on investment of your social efforts.
Cyfe will give you statistics like followers and engagement, while also monitoring things like top performing posts. Cyfe also provides a great view of your social media analytics with dashboards that allow easy reporting and sharing on the performance of your business on social media.
5. Snaplytics
There are also choices for platform-specific analytics. If you want to focus on a specific platform or two, there are those analytics tools that are expert at providing information specific to certain platforms.
For instance, Snaplytics has analytics specifically for Snapchat and Instagram only. This tool can build a library of a customer's historical content and their engagement with your business. It also allows you to find top performing posts so you can create similar content, and provides a benchmark figure to allow you to compare results with your industry overall.
Snaplytics also provides quarterly reports, blogs and videos to help business maximise their effectiveness. Pricing plans vary but businesses can test a marketing campaign free for 14 days.
6. Hashtagify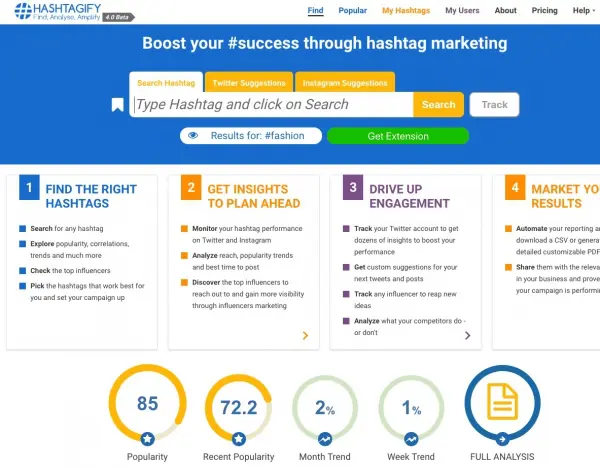 The use of hashtags has been proven to boost the performance of advertisements and reduce the cost-per-click, while also providing cross-platform integration (for instance, across Twitter, Instagram and Facebook). Analytics on hashtag performance might be important to your company, and if so, Hashtagify is for your business.
Hashtagify provides a variety of information on hashtag criteria, such as overall popularity, trends by the week and month, the languages used, and more. Using the results generated, your business may get inspiration from a successful existing campaign, or test the distinct nature of your campaign.
Hashtagify has a free search tool to allow for hashtag research, but for more in-depth data, there are monthly plans.
Bonus
Check out another social media tool, Hipsocial, if you're looking for a tool that can help measure and track your social media analytics, and be able to add unlimited projects for multiple clients at a low cost.
Final Thoughts
It's not easy to navigate the world of data analytics, so it's great to have powerful tools at your fingertips to give your business the insight it needs to improve its performance on social media.
We have made our top six picks with a view to giving you some options depending on your business, its size, the social platforms you use and your budget.
Some of your decisions around a tool to use may depend on the platform or platforms your business uses. For instance, if you're focused only on Snapchat, check out our Number 5 pick, Snaplytics. But if your business uses a variety of social media platforms, Number 3 Hootsuite may be your best option.
If you want more than social media reporting, Cyfe might be a great option for your business. And if you want power at no cost, Google Analytics is a top choice.
What's important is that you choose a tool that gives you the information you need to make great business decisions.
If you're interested in learning all about digital marketing, take a look at our two-day social media marketing course where we cover a detailed six-step process focusing on the most important social networks you need to know. You will be equipped with hands-on knowledge and valuable tools to strengthen both your skills and knowledge of social media marketing. Also at Equinet Academy, we have a Certified Digital Marketing Strategist (CDMS) Programme that  dives into different facets of Digital Marketing. These include :
---
Further reading: