How to Create A Social Media Marketing Plan
As the saying goes, "Fail to plan and you plan to fail". In this hyper-competitive world of social media marketing, you need a road map and a compass to guide your campaigns. This is where social media marketing planning comes into play.
Contrary to popular belief, social media marketing is more than just creating content to advertise your products online. When utilised properly, you can reap the benefits such as building stronger relationships with your customers, and gaining deeper insights into your customer's needs and wants. (You can read more to discover the various benefits of social media marketing.)
To take your social media marketing campaigns to the next level so that you can stand apart from your competitors, you need a detailed and systematic social media marketing plan to keep track of your marketing goals, align your resources to the right channels and campaigns, and ensure success.
How to Set Social Media Marketing Goals?
Before crafting a social media marketing plan, you need to determine what you are using social media for. What are the goals that your brand hopes to achieve? How do you determine success? Social media objectives should be aligned with your business goal, such as increasing brand awareness, attracting leads, triggering sales, strengthening engagement, or gaining website traffic.
Key Performance Indicators (KPIs) and metrics also play an important role at this stage. The social media goals are dependent on the KPIs that are chosen. You should always tie your KPIs to the goal you want to achieve.
You can read this article to learn more about how to set effective social media KPIs.
Keep in mind that to create an effective social media marketing plan, it is necessary to understand your priorities and areas of focus. Hence having proper goals are necessary to keep you on track.
Defining Your Audiences
When crafting a social media marketing plan, your first task is to narrow down who your target audiences (AKA customer personas) are. This helps you to identify the appropriate types of content to be used, the best tones and styles, as well as the types of messages that can address their specific concerns. For instance, consider using humour and funny content like memes when reaching out to the younger generation.
Always do sufficient research and craft your target audience based on the data collected. Here are 5 ways to gain insights about your customers.
1. Gather input from your sales team
The sales team usually has the most insight as they are always engaging with your customers in the field. Consult with the sales team to understand your customer's pain points and to learn what they do when they are online.
Use this opportunity to also identify suitable content types that will catch their attention. These are valuable insights that will come in handy when brainstorming for new content. This does require you to provide a set of questionnaires that your sales colleagues can use when they meet their customers, so that the right data can be captured.
2. Study competitors
To stay ahead of the competition, it is important to audit your competitors' social media channels. Here are some factors you can look into:
What tone of voice does your competitor use?
Who are the people interacting with their social media posts?
Which social media channels are they active on?
What is their content mix in terms of brand marketing versus direct marketing posts?
How often do they post on social media
What are the types of posts which perform best
3. Survey Customers or Conduct Focus Groups
Another way to gather information is to approach your customers directly. Conduct surveys or focus group sessions to discover their demographic information such as their age, gender, occupation, housing types, income, and location.
It is also necessary to find out what their motivations, challenges, and goals are in life. The information gleaned will give you a deeper understanding of your customers, allowing you to uncover their underlying needs.
An advantage of conducting surveys or focus groups is that they help you to probe more deeply on the concerns of potential customers before you launch your campaigns on social media.
4. Search Facebook/LinkedIn groups or Forums
Not all customers are comfortable in taking surveys, especially if it involves providing personal information. A good alternative is to join the community that they are in.
Online communities are formed by users with common areas of interest. By joining them, you will discover insights about the trendiest topics or concerns they might have. This provides ideas on crafting new and relevant content.
The other benefit of participating actively in an online community is that you can build your brand amongst like-minded individuals.
For instance, NTUC FairPrice might join cooking or health food communities to understand their potential customer concerns. By listening and engaging in conversations, educational content can be crafted to educate customers on how to identify the freshness of fruits and vegetables, or what recipes would be of interest to those who cook.
Build a Buyer Persona
We want to target the right audience to prevent wasting of resources and efforts. Hence, it is essential to go one step further and develop a buyer persona.
Personas are fictional representations of your audience that gives you an overview of their unique characteristics. They give you a better understanding of your audience and helps you to curate content and messages that are more appealing and relevant to your target audience.
Consider the following factors when crafting the personas:
Demographics — Age, Gender, Education, Occupation, etc.
Psychographics — Their lifestyles, interests, beliefs, and behaviours
Product Use Cases — Map out how and when your products/services would come into their lives
Keywords and Topics — Content topics that would resonate with them on social media
You can download our e-book to gain a deeper understanding of buyer personas:
https://www.equinetacademy.com/resource/how-to-develop-buyer-personas-ebook/
Defining Your Customer Buying Journey
Apart from knowing their likes and dislikes, it is also important to be able to see things from their point of view. To achieve that, get into the buyer's perspective and analyse the before, during and after-purchase experiences they may have with the brand. This is called the customer buying journey.
On social media channels, these experiences are often related to their interactions with your brand across the entire buying process — from awareness, interest, research and purchase to post-purchase. Customers utilise social media more as a discovery channel rather than a search related channel. Thus, your goal on social media channels to grab their attention and pique their interest (and recognition) of your brand, while cultivating brand trust.
The customer journey marketing funnel allows you to develop a seamless and immersive experience across different channels, devices, and more. This will help you with your customer engagement and interaction — hopefully converting your most ardent customers and supporters into advocates who will bring in more buyers through spreading positive word of mouth.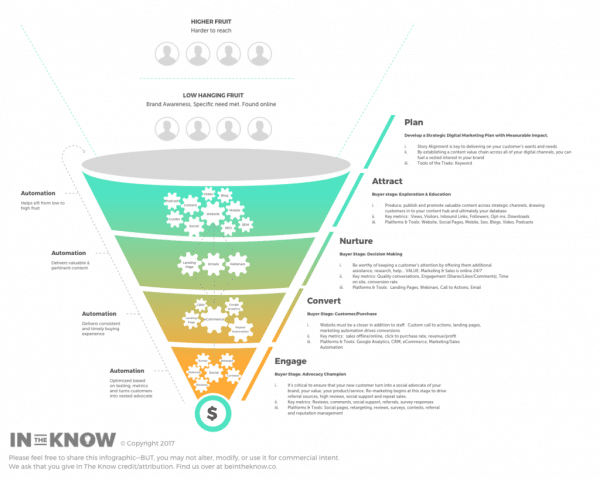 Customer Journey Marketing Funnel (rocket source)
Steps to creating a customer journey map
Plan
With the knowledge of your buyer personas, the ability to understand your product-market-fit should be based on your ideal buyer behaviours and motivations. It also helps in identifying the "WHY" factor, which is the core reason for your business' existence. Understanding these factors helps to better align your brand's story to the marketing message targeted at your specific audience's needs and wants.
Attract
The attraction stage requires brainstorming and curating value-adding content to be pushed out all strategic channels. It's more than just updating your company's blog. Content needs to be creative and unique enough to draw customers in, and be considered across your entire range of social media channels.
Nurture
Once your brand is made known to these ideal buyers, assist them by providing solutions and ideas. This is also the stage when buyers are more curious about the brand, thus it is important to be there for them. It is useful to also consider educational and beneficial content that specifically addresses customer needs.
Convert users to customers
This is the main step that conversions happen. Make sure that the buying experience for a customer is seamless and easy. Include call-to-actions, focus on high-performing websites and landing pages, and streamline the buying process to make it easy to cart out. Often this process is outside of social media platforms, and on your websites, landing pages, events or physical sales channels.
Turn customers into advocates
Advocates will be willing to help the brand to get the word out due to their satisfying buying experience with them. Thus, it is important to emphasize a good buying and after-sales experience, converting them into advocates that provide free referrals.
You can read more about creating an effective customer journey map here along with examples and a free template.
Developing Social Media Content
A good set of social media content helps to attract users' attention. This helps in increasing the chances of conversion, turning users into customers, or even advocates. Therefore, it is in the vested interest of businesses to conduct research and consider the best practices for the different social media marketing channels before creating the content. Additionally, look into planning and creating a social media content calendar.
Best practices for Facebook posts and ads
Curating fresh content ideas

Eg. Interviewing industry experts instead of product-focused content
Learn and make good use of Facebook advertisement campaigns

Eg. Creating an advertisement using an existing post to fully utilise social proof such as the likes and comments

Using videos

These content types have been proven to be the most effective of all the different content formats, and can be used to attract attention, stimulate engagement, and trigger conversion
Best practices for Instagram
Pay attention to your bio 

Tell your brand story with just 150 characters and an appealing logo
Attract Instagram users by using lesser words to convey big ideas
Experiment with different post types 

Instead of promotional and product-focused posts, try having other valuable content. For instance, Coursera's Instagram is filled with testimonials and motivational quotes to encourage people to keep learning. They also give weekly tips regarding the career and learning industry.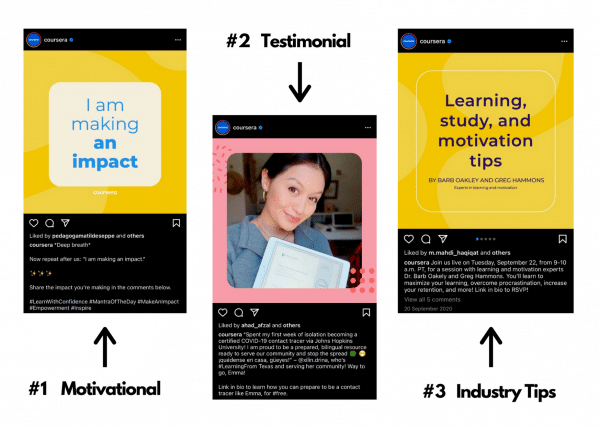 Example of different content types by Coursera
Play with editing tools and stickers especially on Instagram Stories

Make full use of these tools to make your brand as fun and engaging as possible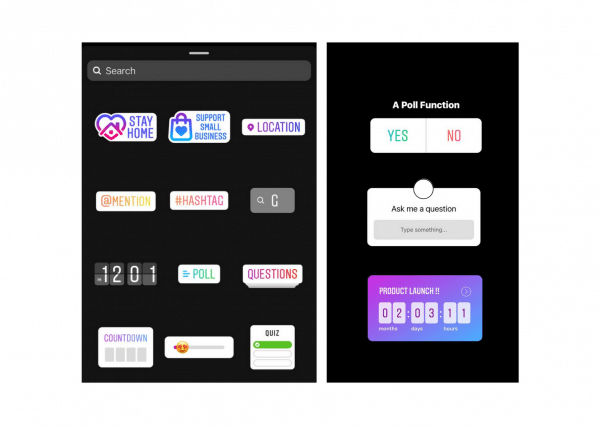 Different editing tools and stickers on Instagram Story
You can read here for more Instagram best practices observed in 2020.
Best practices for LinkedIn
Understand the algorithm of LinkedIn

Eg. The "Golden Hour" of any LinkedIn post is within the first hour upon posting. LinkedIn measures the engagement within that hour to see if the content is worthy of appearing on other viewers' feeds.
Craft LinkedIn-friendly stories

Consider how to craft text content that has a human story relevant to your specific professional context
Optimising YouTube channel and videos for better search and social traction
Optimise your metadata

Metadata is information that defines the subject of video content. For instance, the video title, descriptions, and tags
Along with good content, detailed metadata helps to push up your ranking on both Youtube and Google, boosting the reachability to relevant audience
Title your video

Think from a user's perspective and craft our titles that people would usually search for
Include keywords that people usually search for
Craft a good video description

Provide a URL that links to your website for users that are keen to learn more about the brand (also help drive traffic to the website)
Be as detailed as possible in your description and make it informative with several call-to-actions
Remember to include keywords once again
Zappos' youtube video on "5 Ways To Cuff Your Jeans!" demonstrates the following points of a good title, detailed metadata, and description.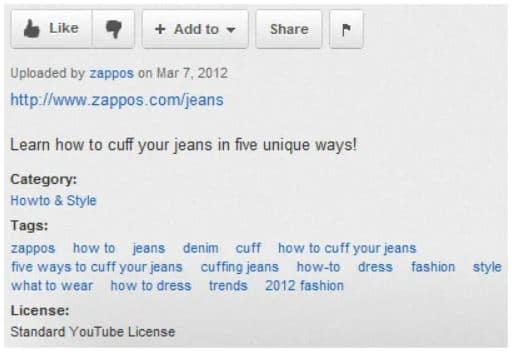 Example of metadata by Zappos

You can read more optimisation tips to create more traffic to your Youtube channel.
Measuring the success of your social media plan
As mentioned earlier, tying your KPIs and metrics to your social media marketing goal is crucial  as it helps you to interpret and understand the advertising ROI and the overall performance of your social media marketing plan.
Though it can be challenging to translate social media metrics on your own, you can consider learning about the different  social media analytics tools and platforms to interpret how well your campaigns are doing. Here are some examples of tools that you can use:
Facebook Insights
Facebook Ad Manager
LinkedIn Insights
Instagram Analytics
Google Analytics
BuzzSumo
Google Alerts
There are hundreds of possible metrics out there to optimise, however not all are equally important. Metrics are fully dependent on your goals, and they usually fall under one of the 3 main categories:
Awareness Metrics
They help to indicate the number of current and potential audiences. Some key metrics that fall under this category are:
Post reach 

It describes the number of people who saw a certain post on your page

No. of impressions

The number of times your posts appeared to people, regardless of whether any action was taken

Pageviews

A pageview is when a page is loaded (or reloaded). It describes the total number of pages viewed.

Unique visitors 

The number of individuals who clicked to your site. It still counts as one user even if that individual were to visit your site multiple times on the same device or browser
Engagement Metrics
These metrics demonstrate how audiences are interacting with your content. Some key metrics that fall under this category are:
Average engagement rate

The percentage of your total audience that has engaged with your content

Click-through rate (CTR)

The number of clicks on your link/post/advertisement, divided by the number of impressions

Bounce rate

The percentage of visitors who clicked away immediately from your site after loading the page

Time spent on site

The total amount of time a user spent surfing on your website
Conversion Metrics
Helps to demonstrate the effectiveness of your social engagement. Some key metrics that fall under this category are:
No. of downloads 

The number of people who took action upon seeing your post/advertisement

Cost per lead

Determine how much does it cost to secure a lead

Cost per sale 

Describes how much it cost to attain a sale

Revenue earned

The total amount of revenue you earned from this initiative (before subtracting your expenses)
For your convenience, here is a full list of social media metrics for you to consider when crafting your goals.
Managing social media communities
A social media community consists of all the people who came in contact with your brand be it directly, or indirectly. The bigger your social media communities are, the more important it is to optimise community management. Community management is the process of building and enhancing relationships with the audience through online interaction.
With a proper community management plan, you can grasp onto opportunities such as:
Easing and managing customer complaints
Converting fans to customers, and customers to loyalists
Gathering accurate and reliable product feedback
Providing a personal touch for your brand
For instance, Wendy's added a little humour to showcase the fun and interesting side of them in response to a Tweet from their customer.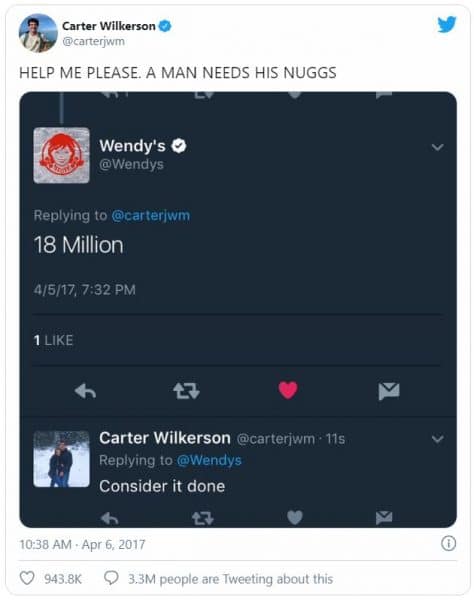 Example of a humorous way to engage online communities 
This simple tweet garnered 3.3M retweets as of today, which brought a positive impact on Wendy's reputation online. Here are some other tips on building a community management plan:
Layout your key objectives and priorities
Tune in and find out where your target audience is at
Craft a content plan that your audience can relate to and value
Build an email database to deepen engagement with your community
Find opportunities to connect with them in real life (Eg. Events/conferences)
Check out our in-depth guide: How to Build a Strong Social Media Community Management Framework.
Ending Thoughts
Optimising social media marketing is not just about posting content regularly or sharing viral content.
It requires a careful process with a structured and organised plan. With this plan, it will help to garner brand awareness, trigger engagements, attract leads, and consequently convert fans into paying customers.
With the knowledge of creating your social media marketing plan, you might be eager to learn more about the other aspects of social media marketing. Equinet Academy offers a comprehensive social media marketing course led by an industry expert to guide you on how to develop, deliver, measure, and manage your social media channels.
If you are looking for a more advanced course, we also offer an Advanced Social Media Marketing course that will cover expert-level strategies and tactics derived from real-world case studies. On top of that, you will also learn how to manage your brand's social media function and develop your own social media SOPs.
Also, if you would like to learn and keep up with the latest digital marketing trends, Equinet Academy covers all 6 Core Modules of Digital Marketing that include:
With the completion of these modules, it will lead the learners to attain a Certified Digital Marketing Strategist Certificate. Please feel free to also browse the complete array of digital marketing courses we provide in-person in Singapore or online.