Digital Marketing Career Progression
Understand the career pathways a Digital Marketer can progress towards.
Introduction to Digital Marketing Career
Digital marketing is an umbrella term that describes any form of marketing activity incorporating any aspect of digital technology. Examples of activities performed by digital marketers include increasing a website's visibility on the search engine results pages (SEO), creating and distributing engaging content through social media platforms (Social Media Marketing), and running digital ads across the web and mobile (Digital Advertising).
Unlike traditional marketing, digital marketing is primarily data driven. Key decisions are made following careful data analysis of historical campaign performance and conducting marketing experiments such as A/B tests.
There is a surge in demand for Digital Marketing jobs. Whether you want to make a career progression in digital marketing or want to switch to this field, our Digital Marketing Career Resources can offer some good insights to give you a head start.
Why Get Into Digital Marketing
Digital marketing is a fun and exciting, yet challenging and competitive field. There is always so much to learn and experiment, since trends shift, and new technologies emerge at breakneck speeds. In a market with more job seekers than there are digital marketing job positions available however, one has to be equipped with the right skill sets and be willing to work very hard to progress far in this field.
Experienced digital marketers are highly sought after and are able to apply for positions across different industry sectors with ease. However, there seems to be a lack of skilled digital marketers attributable to the rapid evolution in digital technology according to Upwork.
As Roy Wee, Digital Director at Raffles Medical Group highlighted, "One should aim to cross over to different industries throughout his/her career while still seeking roles in digital marketing. A digital marketing professional working in the health sector for more than a decade may find it harder to secure a digital marketing role in a different industry compared to another who had transited across three different industries over the same period."
A career in digital marketing can be a lucrative one with high flying executives earning over S$180,000 to S$216,000 per annum. Digital marketing salaries start from S$2,500 – $4,000 as a Digital Marketing Executive and can rise to $5,000 – $9,000 for managerial roles.
The State of Marketing in Singapore
As cheesy as it sounds, digital marketing is the future.
Owing to the expeditious adoption of the smartphone and increased screen time on digital devices and social media platforms, consumer shopping behaviour has metamorphosed at an unprecedented rate.
More than 9,100 stores closing in 2019 are only a symptom of a larger, staggering predicament. Senior traditional marketers who had graduated over two decades ago are realising a huge skills gap in digital marketing yet are ill-equipped to lead digital marketing transformation within their organisations.
Competency-based training is one of the viable solutions.
SkillsFuture Singapore (SSG) together with the Infocomm Media Development Authority (IMDA) launched the Technical Skills and Competencies for the Skills Framework for Infocomm Technology. Equinet Academy is one of SSG's Approved Training Providers (ATOs) conducting certifiable digital marketing courses under this framework.
How Can One Embark on a Career in Digital Marketing
There are two digital marketing career paths and two types of organizations aspiring digital marketers can embark on:
Career pathways
Generalist
Specialist
Types of organizations
Client-side (Companies – MNCs and SMEs)
Agency (Digital and Creative Agencies)
Generalists and specialists can exist in both types of organizations. In the agency-side (client-facing), roles such as Digital Account Managers (a generalist role) don't exist in the client-side (companies). On the other hand, Digital Marketing Managers, who are typically T-shaped generalists specializing in one or two disciplines, and Digital Marketing Specialists, such as SEO Specialists and Digital Marketing Analysts, can exist in both types of organizations.
It is highly recommended to start out applying for a digital marketing internship in a reputable digital agency or global brand to gain a good head start. But even getting hired as an intern can be difficult these days as companies have limited resources allocated for training new hires from ground zero.
Dhawal Shah, Co-founder of full-service digital agency 2Stallions, highlighted, "Candidates who catch my eye are typically those who have attempted to build up their portfolios through actual practice, whether it's SEO for a personal blog or managing digital advertising campaigns for friends or family."
Take your first step to a career in Digital Marketing – For more in-depth information, check out Equinet's Digital Marketing Career Resources
Digital Marketing Career Progression
In digital agencies, digital marketing teams are divided into specialist roles (e.g. Performance Marketing Specialists, SEO Specialists, Ad Operations Managers, Digital Media Planners, Social Media Specialist, Marketing Automation Specialists, Content Marketing Specialists, Digital Marketing Analysts) and client-facing roles (e.g. Digital Account Executives/Managers). In smaller agencies, employees usually take on multiple roles (i.e. Account Management and Execution).
The typical career progression of a digital marketer in a digital agency goes like this:
Digital Marketing Intern
Digital Account Executive ⇔ Digital Marketing Specialist
Digital Account Manager ⇔ Lead Specialist
Digital Director
Interns don't get paid a lot, typically making S$800 to slightly over S$1,000 a month. The job contract term typically spans between 1 to 3 months and even lasting 6 months in some cases, during which interns are expected to assist multiple teams working on everything from content writing to landing page creation and setting up digital ad campaigns. There is a steep learning curve and the job scope is demanding. However, this is an accelerated learning path where one can acquire a wide range of digital marketing skills in a short time.
Interns can then progress to Digital Account Executives or various Digital Marketing Specialist roles. The Digital Account Executive is a client servicing role, more of a generalist. Depending on the size of the agency, he/she may or may not need to get hands-on with platforms. However, a Digital Account Executive should still have a general understanding of digital marketing channels and disciplines.
The Digital Account Executive takes up the key role in communication between the agency and the client. He/she relays the client's request and expectation to the digital marketing specialists, who are in charge of campaign execution.
Specialists, on the other hand, rarely communicate with clients. They work in the back and focus on the granular implementation of each project. Here's an analogy: in the health sector, you have the general practitioners and medical specialists (e.g. Cardiologists, Neurologists, Surgeons, etc.).
A Digital Marketing Specialist will require at least a year of experience within a specific discipline. The job scope is technical in nature and requires deep subject matter expertise in each respective field.
Within a couple of years, Digital Account Executives get promoted to Digital Account Managers and Digital Marketing Specialists progress to take on lead roles, managing a team of junior specialists. A Digital Director/Head of Digital role typically requires at least 8-10 years of experience.
Over at the client side, the digital marketing career progression generally looks something like this:
Digital Marketing Intern
Digital Marketing Executive ⇔ Specialist
Digital Marketing Manager ⇔ Lead Specialist
Digital Marketing Director
Chief Marketing Officer
Check out our Digital Marketing Career Resources to find your dream job.
Assistant and senior roles may exist in between job titles. E.g. Assistant Manager, Digital Marketing. Depending on multiple factors ranging from individual performance to job hopping and company policies, it may take anywhere between 2 – 8 years to promote from an Executive to a Manager and 3 – 7 years from a Manager to a Director.
Which Path Will You Take?
The career progression and job scope of a digital marketer can vary quite a bit between agency and client side.
Working in an agency exposes one to a diverse range of industries and boundless opportunities to develop a diversified portfolio. However, workload can be immensely heavy with evening and weekend shifts a common occurrence. According to ANA, the average annual turnover rate in an agency is 30%.
Workload in client side tends to run at a steadier pace and is more task-focused, since the scope of work is confined to only one client. The salary generally tends to be higher but the climb up the career ladder can be slower.
On the bright side, even though digital agency employees generally earn less than their client-side counterparts, career progression tends to be faster with ample opportunities for new skills acquisition and networking.
Digital agency employees hopping over to client side after a couple of years isn't uncommon, especially since the pay increase can be relatively significant compared to staying on in the same agency. Lin Xuanbin, Senior Digital Marketing Manager at Experian observed that the pay increase typically ranges from 10 – 20% after working 1 – 2 years in a digital agency and jumping over to the client side. He also noted that the pay increase may vary for senior positions and that he had even witnessed pay dips from senior digital agency employees crossing over to the client side.
And of course, there's the prospect of going independent. With the skills gained over years of practice, many experienced digital marketers have gone on to start their own digital agencies, offer digital marketing services on a freelance basis, and even starting their own companies while leading the reins as Head of Marketing.
If you want to take a further look at some other aspects of a digital marketing career, such as some of the skills required and concrete steps you can take to start a digital marketing career, consider giving this article a read.
Digital Marketing Career Portal Menu
Download the Complete Digital Marketing Career Handbook (PDF Version)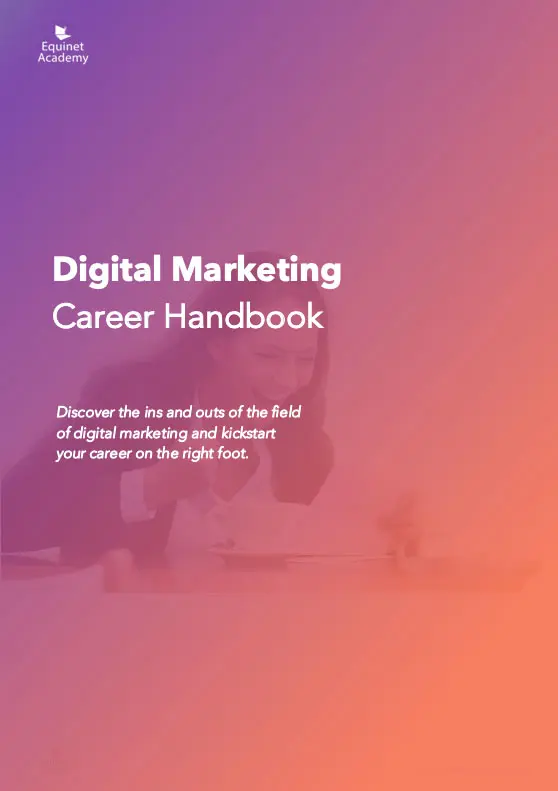 Discover the ins and outs of the field of digital marketing and kickstart your career on the right foot.