Imagine you run a fast food joint in a shopping mall and you're paying $5000/month in rent. The foot traffic is good. But you're located at a blindspot, so you're barely breaking even. If this goes on month after month, you'll probably need to close down.
One day, the mall announces to all tenants that they are offering "free" rent to limited food joints at a high traffic location, provided they prove that they are able to attract more shoppers.
The mall puts a few candidates, including you, at the entrance of the mall. Since your fast food is so delicious and you provide free food sampling, it attracts long queues and this in turn attracts passersby to walk into the mall.
After a short trial period, the mall rewards you with that spot, rent free! That's right. $0/month for a high foot traffic location because your food is so darn good. It's a win-win – you get thousands of foot traffic per month at no cost because the shopping mall is able to attract more shoppers.
Google works in similar ways.
What Exactly is SEO and How Does it Work?
SEO or Search Engine Optimisation is the practice of increasing a website's visibility on the organic search engine results pages.
Every time you perform a search on Google, Google returns two types of search results – The paid search results, and the organic search results.
But first, how does Google return over 29 million results for one search query? How do they even discover the billions of webpages on the internet? One of the ways Google achieves this is by sending out robots a.k.a. search engine spiders to crawl the web. When a search engine spider crawls a webpage, it downloads the content and stores it in Google's indexes (huge gigantic servers that store and retrieve data).
So, before you can even rank anything on Google, the first thing you obviously need is a website.
Similar to the shopping mall example earlier, as there are thousands of other websites out there trying to rank their webpages on Google as well, Google has to decide which webpages deserve to rank on the top.
Google achieves this through creating and implementing algorithms to sort the rubbish from the ones that actually provide value to the searcher. These algorithms make up to over 200 ranking factors that are taken into consideration.
We don't know exactly what every ranking factor is and the relative importance of each. But what we do know is that in general, pages that rank highly on Google display the following traits:
Relevant to the search intent – Has to answer the question or search query
Provide useful information to the searcher – Content is better than most pages that talk about the same thing
Target keywords are included on the page – In the SEO meta tags, text body, and images
Original and unique – Not plagiarised or duplicated
Strong off-page signals – Has authoritative websites linking to it
Why is SEO Important?
SEO is important for the following reasons:
Inbound marketing channels like SEO have a higher conversion rates than outbound channels – 3.82% compared to 2.98% (paid), according to a report by Marketo
SEO has 20 times more traffic opportunity than PPC
Ranking high on Google builds trust and credibility
Organic web traffic is free
Long term benefits – consistent traffic and conversions
SEO can help you maximise your customer touch points, increasing the chances of sales – it takes 6 to 8 touch points to generate a viable sales lead.
In Singapore, Google has over 90% of marketshare among other popular search engines such as Bing and Yahoo!. As such, we will be focusing on Google SEO in this article.
To achieve top rankings for your target search terms, an SEO practitioner needs to be well-versed in the following disciplines:
Keyword research
On-page SEO
Off-page SEO
Local SEO
International SEO
Keyword Research
Keywords, sometimes referred to as search terms, search queries, and key phrases, are the foundation of Search Engine Optimisation. Take away this element and search engines become redundant.
Keyword research is the process of selecting keywords based on market research (e.g. using a keyword research tool such as Google Keyword Planner, analysing existing keyword data via a web analytics software) to optimise a website's search engine rankings for.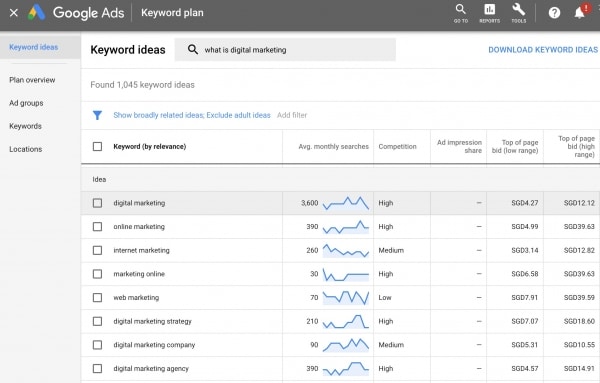 Once you have chosen your target keywords (i.e. built your keyword list), the next step is to populate your website with the selected keywords.
Further reading:
How to Do Keyword Research in 4 Steps
4 Pro Keyword Research and Analysis Tips
On-Page SEO
On-page SEO refers to the practice of optimising a website and its individual webpages to improve its search engine rankings. It can be further divided into two parts:
Non-technical on-page SEO
Technical on-page SEO
Some activities of non-technical on-page SEO include inserting keywords into editorial copy, tailoring content to satisfy the intent of the searcher, and organising website content architecture in a silo-ed fashion to deliver a good user experience (in terms of navigating around your website).
For technical on-page SEO, some of the activities include modifying webpage meta tags (e.g. title tags, meta description, and rel canonical tags), developing mobile-friendly pages with AMP content, implementing SEO-related markups (e.g. Schema.org markup, rel=nofollow, and rel alternate hreflang), and dealing with duplicate content (e.g. rel canonical tags, redirect, and noindex).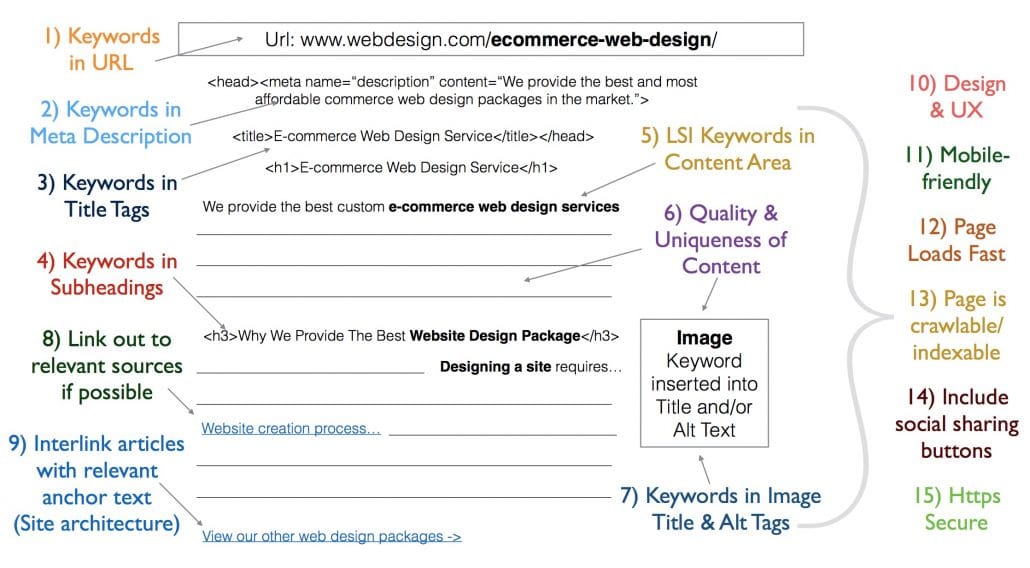 Basically, both technical and non-technical on-page SEO aim to make a website search engine friendly, which increases the chances of it ranking higher on the Search Engine Results Pages (SERPs).
Further reading:
On-Page SEO – Keyword Optimisation Guide
Off-Page SEO
Off-page SEO refers to techniques and activities carried out externally from the website to improve its search engine ranking position. Some of the activities include:
Content marketing
Online PR for brand exposure
Earning brand mentions
Building an online community (e.g. on social media platforms, blogs, and forums)
Garnering reviews
Local citation building
All the above off-page activities come down to establishing an online brand presence, which boost brand recall and build backlinks to a website. And we all know that backlinks play a major role in influencing a website's search engine rankings.
Further reading:
How to Build Links to Your Website – A 4-Step Link Building Strategy
Local SEO
Local SEO refers to the practice of boosting the visibility of a local brick and mortar business's listing on the local search results.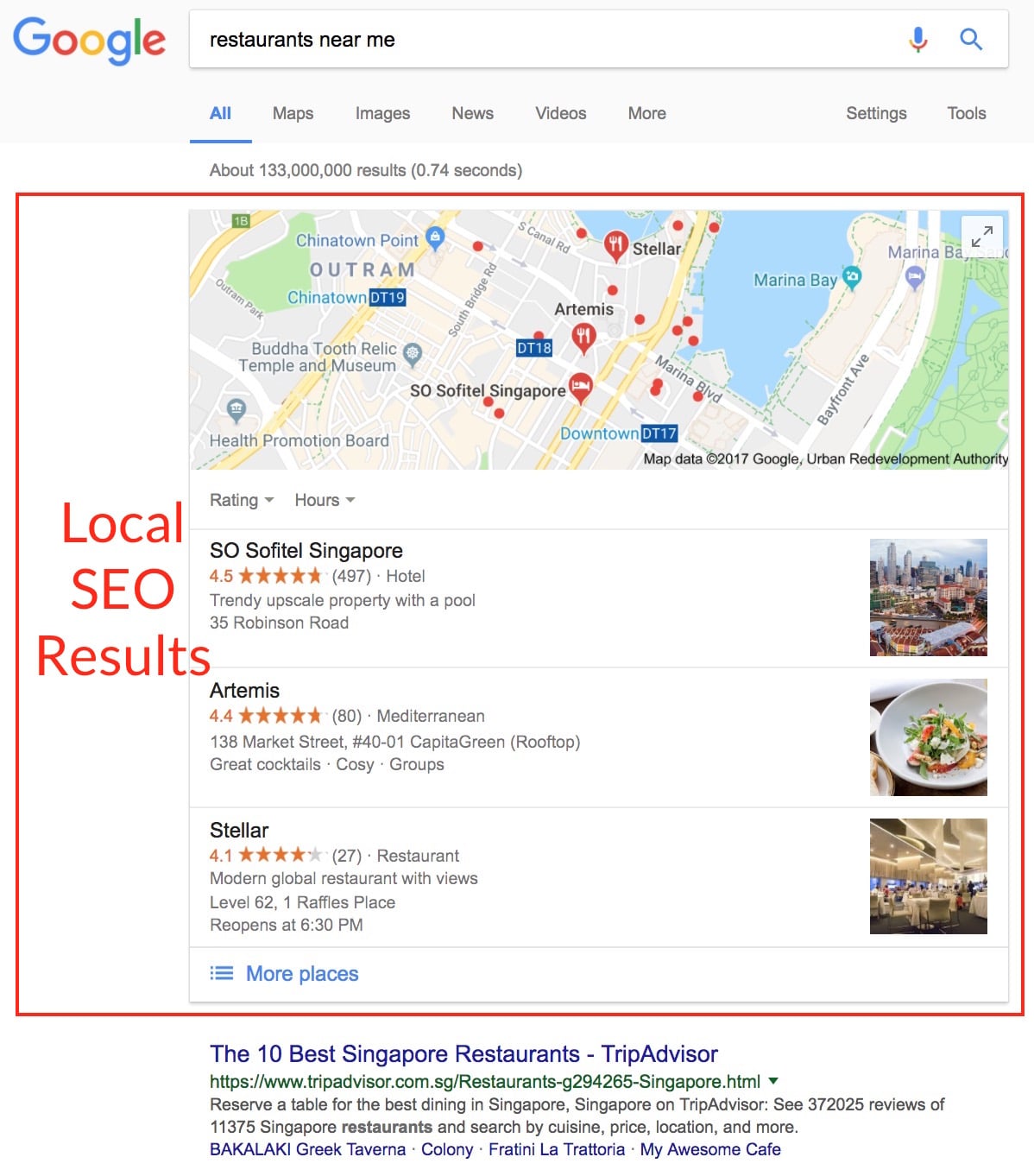 Some of the techniques used to increase the visibility of local businesses with physical locations on Google include:
Local citation building: Submitting your company details (business name, address, phone number) to local business directories.
Garnering reviews: Getting your customers to leave reviews on your Google MyBusiness page.
Local link building: Acquiring backlinks from local websites (e.g. getting websites, journalists, and local influencers/bloggers to hyperlink to your website)
International SEO
International SEO refers to the practice of optimising a website to increase its global presence on international search engine domains.
It involves segregating content by language and currency (if applicable), based on various target audiences, into different country code top level domains (CCTLDs), subdomains, or sub directories.
For example, an online fashion retailer e.g. www.fashionxyz.com may want to expand its international search presence to Australia and Japan. It creates two new websites on the CCTLD domains www.fashionxyz.com.au and www.fashionxyz.jp and tailors its content to the local languages of both countries. This helps Google and other search engines to rank the correct version of the website in the right country.
Summary
Search Engine Optimisation or SEO can be a tedious process and requires someone (and sometimes a team) with a diverse set of skills which includes but not limited to:
Web development knowledge – for technical on-page SEO implementation
Good content writing and copywriting skills – With the rapid advance of search engine algorithms and natural language processing, there is no room for poor quality content to rank on top
Excellent online PR skills and content marketing skills – to build off-page SEO signals such as link building
Good project management skills – SEO is highly competitive and requires someone who can get **** done
If you found this post helpful, you may also find the following resources helpful in furthering your SEO knowledge.
Further Reading:
A-Z Glossary of SEO Terms and Definitions
SEO Tutorial Step-By-Step Guide
Sign up for a course:
WSQ Search Engine Optimisation (SEO) Certification Course
Dylan Sun is the Founder of Equinet Academy, a SkillsFuture WSQ-Accredited Digital Marketing training organisation. Passionate in all aspects of Digital Marketing and SEO, he extends his passion to helping people implement effective digital strategies to their businesses. Follow his blog at Equinet Academy to learn more about Digital Marketing.
https://www.equinetacademy.com/wp-content/uploads/SEO-Earned-Media.jpg
1210
1392
Dylan Sun
https://www.equinetacademy.com/wp-content/uploads/2016/02/EA-Logo-White.png
Dylan Sun
2017-12-15 04:53:08
2019-04-30 09:33:22
What is SEO Marketing and How It Works?