How to Conduct Keyword Research for SEO (A 4-Step Process)
In this article, we will cover what is keyword research, how to conduct it, and how to develop a keyword research document to inform your content strategy and website architecture.
What is Keyword Research?
Keyword research is finding out what search terms your potential customers are using on search engines, so that you can optimise your website better with the data. It is usually conducted using keyword research tools such as Google Keyword Planner, Keywordtool.io, Ahrefs Keyword Explorer, and Semrush.
Why is Keyword Research Important?
Keyword research is an essential part of the Search Engine Optimisation (SEO) process. It provides you with insight on what problems your customers could be facing and what solutions they could be looking for. This can help you to:
Curate useful content that hasn't yet existed on your website: By conducting keyword research, you'll discover exactly what questions your consumers are asking. The next step would be to understand the searchers' intents and create relevant content that will provide the best answers/solution to each question/query.
Keyword-optimise existing content: Knowing what keywords your potential customers are using can help you better optimise your content for them and for the search engines (e.g. by including the keywords in your title tags, URL, meta description, copy, and image alt tags.)
Restructure your website architecture: Prior to keyword research, you may have grouped too many unrelated keywords on one page, confusing search engines about the main topic of the page, resulting in subpar rankings. Keyword research can help you group the right keywords into relevant silos i.e. create new pages for new groups of keywords. This enables search engines to understand the main topic of your page better and results in higher rankings.
How to Conduct Keyword Research?
Here's a 4-step keyword research process we can adopt to conduct keyword research. By the end of this process, you should be able to produce a keyword research sheet.
The four steps in the above process are:
Brainstorm
Build
Organise
Prioritise
Step 1: Brainstorm
First step, identify your personas by:
Brainstorming with your team: Setting up a meeting with your team to brainstorm and list down all possible personas.
Conducting keyword research: Using keyword research tools such as Google Keyword Planner to identify personas. We have a list of the top 10 keyword research tools here.
Analysing existing customer enquiries & profiles: Looking through your past customer enquiries and existing customer profiles to help you identify personas.
Conducting market survey: Investing in paid market research data, conducting surveys with 3rd party and existing customers, visiting forums and attending community events where your potential customers hang out.
Then, pen down any keywords you think your customers may search with on Google.
It can be as simple as this example, e.g. a car rental company.

Once you have a substantive list of seed keywords, you can build on/expand your list of keywords in step 2.
Step 2: Build
To expand/build on your keyword list, dump your seed keywords into at least two of the following keyword research tools:
Keywordtool.io does a great job on building on keyword ideas.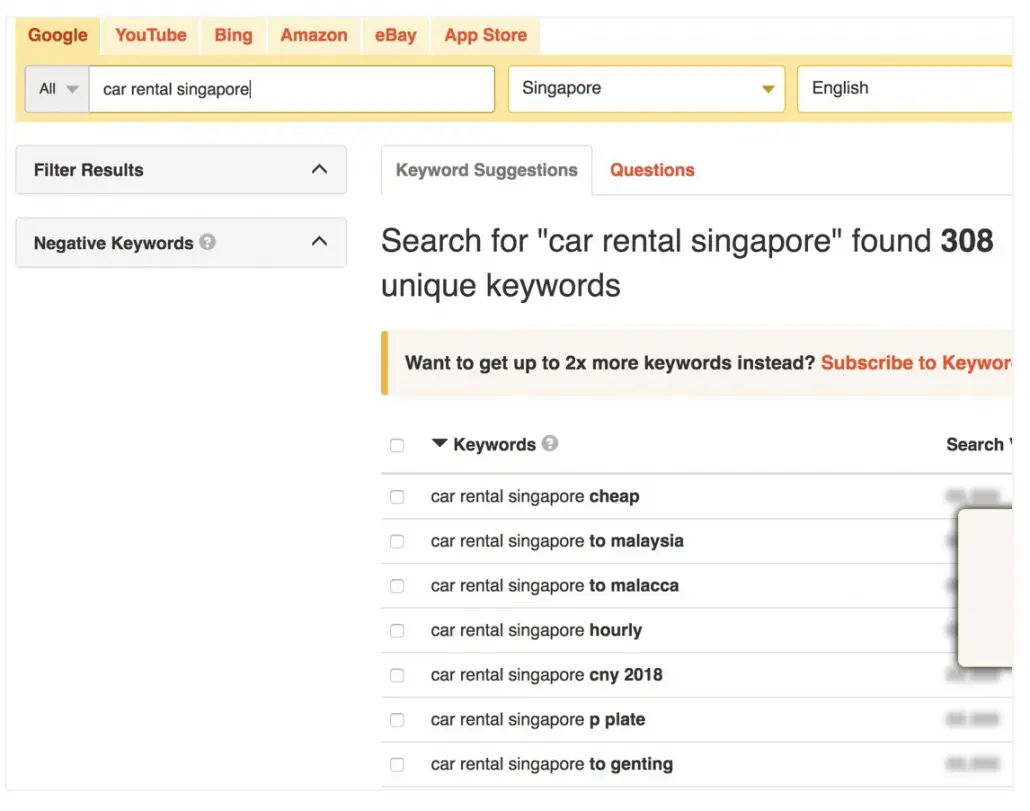 Using the car rental company example, you may have gathered groups of keywords that don't fit on a single webpage. For example, your list may look a little messy initially, like this:
car rental Singapore
car rental company Singapore
cheap car rental Singapore
cheap car rental
luxury car rental
daily car rental
monthly car rental
car leasing
car leasing Singapore
lease a car in Singapore
where to rent a car in Singapore
how much does it cost to rent a car in Singapore
car rental costs in Singapore
car rental requirements
what are the requirements to rent a car in Singapore
Putting all of the above keywords on the same page can kill your rankings for specific search queries i.e. long tail keywords such as "where to rent a car in Singapore", as Google may get confused about the topical relevancy of your page in relation to your target search queries. You may however get to rank that page for more generic keywords such as "car rental Singapore". Therefore, if you want to rank for a higher volume of keywords, you need to organise your keywords and pages into silos in step 3.
Step 3: Organise
Again, with the car rental company example, we can organise the above keywords with relevant webpages and determine an SEO title for each set of keywords. The SEO title is the text that appears in the headlines of Google's search engine results.

In the keywords column on the above below, we've grouped the keywords in relevancy to the SEO titles.
In simple terms, the keywords column represents the questions (search intent), and the SEO Titles column represents the answer (web page). The key is to rank a page for as many relevant keywords as possible.

In the first row, both keywords have the same intent, in that the consumer wants to find a list of car rental companies. It is still pretty unclear what his exact intentions are as they are still pretty generic. Therefore, the homepage would be a good starting point.
In the second row, the consumer's main concern is the affordability of the car rentals. Therefore, Allstar Cars has curated a list of its cheapest cars into a category page.
In the third row, it would be too much of a hassle to create two different pages (i.e. one for daily car rental and one for monthly car rental), especially since the daily and monthly rental rates are also easier for a visitor to view on a single page. Therefore, ranking the same page for both keywords not only reduces time and cost, but also provides a good user experience.
In the last row, the intent of the question is to find out or calculate the total cost of renting a car in Singapore. A consumer may be looking for details such as road toll charges, parking costs, insurance, etc. He may not be ready to rent a car yet. Therefore, an informative article (i.e. How much will it cost you to rent a car in Singapore) would be a better search result.
Step 4: Prioritise
Now that we have an organised keyword list with each keyword group mapped to related content, which keywords should we prioritise ranking for?
To make a decision on which keywords to prioritise rankings first, we need to look at the following factors:
Searcher intent: How likely is the searcher to make a purchase based on his or her search query
Keyword difficulty: How competitive a keyword is (i.e. how hard is it to rank a given keyword)
Search volume: How many people are searching for a given keyword (i.e. how "popular" a keyword is)
Searcher Intent
Different keywords have different intent. Not all keywords have buying intent. It is important to segment the keywords based on the searcher intent. Here are a few common intents:
I want to go (e.g. Search term: Car rental companies in City Hall)
I want to buy (e.g. Search term: Rent a car in Singapore)
I want to know (e.g. Search term: What are the costs of renting a car in Singapore)
For the search term "Rent a car in Singapore", the intent to purchase is relatively high. And we can select transactional or product-focused content to rank for keywords like these.
For the search term "What are the costs of renting a car in Singapore", a searcher may not be interested to rent a car yet, and is looking for information on renting a car before making a decision. Therefore, an informative article would be a better page to rank for this keyword.
If we had to prioritise which keywords to rank first, we would focus our SEO efforts (i.e. link building and off-page SEO activities) on high purchase intent keywords.
Keyword Difficulty
It can take months or even years to rank for highly competitive keywords. Therefore, keyword difficulty can be a factor of consideration as to whether you should prioritise ranking a given keyword.
There isn't a foolproof way of calculating exactly how difficult it is to rank for a given keyword (if there was, it wouldn't be 100% accurate anyway since Google wouldn't divulge exactly how their ranking algorithms are developed). We can therefore only rely on estimates calculated using tools such as Ahref's Keyword Difficulty Tool. Though it's a paid tool, you can conveniently derive a keyword difficulty score, providing you with insight on how difficult it might be to rank for a particular keyword.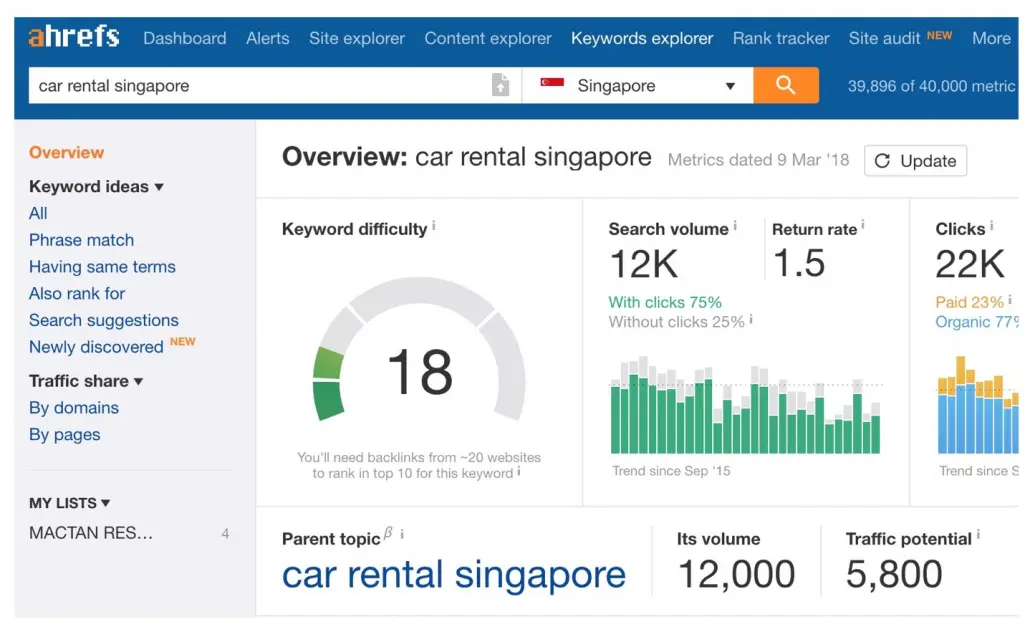 Other ways to determine keyword difficulty would be to examine whether the competition have thoroughly optimised their pages for a given set of keywords. If you discovered a long tail keyword that no one has optimised for, it shouldn't be too difficult to rank for it. A straightforward example would be brand names e.g. Allstar Cars.
In the following example, the keywords "car rental Singapore aljunied" has no competitors optimising their SEO title for the keywords:
Although the search volume is less than 10 every month, it can still drive high quality traffic and conversions.
Search Volume
If the above two factors are equal, then search volume would be the deciding factor which keywords should have priority in ranking. We can check the search volume of a keyword on Google with Google Keyword Planner.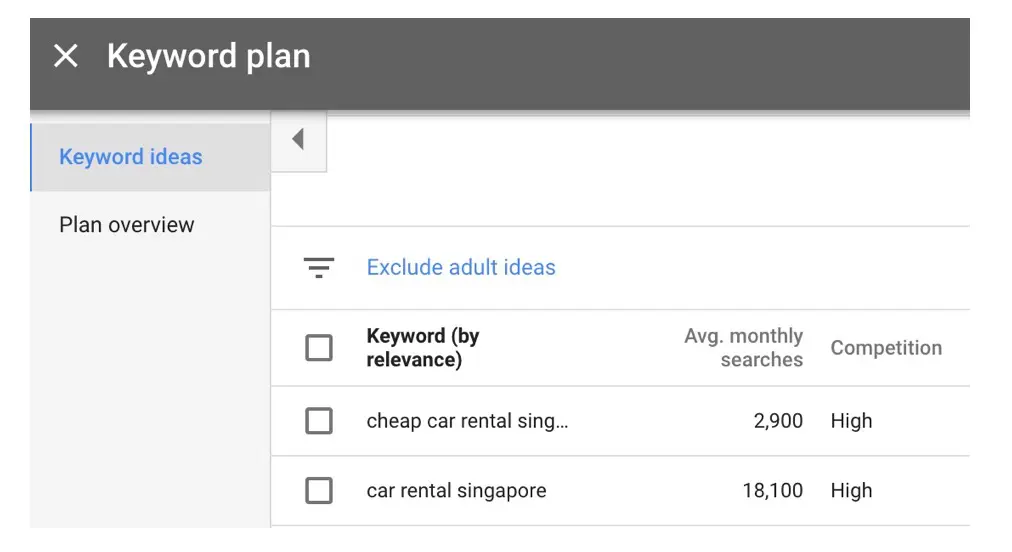 As you can see, car rental Singapore has a higher search volume than cheap car rental singapore. If cheap car rental singapore were as competitive as car rental Singapore, we would then prioritise ranking for the higher search volume keyword which would be car rental Singapore.
Summary of Keyword Research
Keyword research can be a tedious process and take weeks or even months to execute. But it creates a strong foundation for your on-page SEO activities and can provide insights on customer intent and behaviour. The 4-step keyword research process streamlines your keyword research activity and enables you to perform effective and efficient keyword research.
We cover more in-depth keyword research techniques in our 2-day Search Engine Optimisation course. Get hands-on and sign up to learn how to rank your website on top of Google. All the best!
Equinet Academy also offers an array of digital marketing courses taught in-person in Singapore or online.
Written By: Dylan Sun
Dylan Sun is the Founder of Equinet Academy, a SkillsFuture Singapore WSQ-Accredited Digital Marketing training organisation. Passionate in all aspects of Digital Marketing and SEO, he extends his passion to helping people implement effective digital strategies to their businesses. Follow his blog at Equinet Academy to learn more about Digital Marketing.