How to Create a Social Media Marketing Strategy
Does your social media marketing strategy need an update? Consider giving your social media marketing efforts a boost — by implementing these advanced social media marketing strategies.
Staying stagnant is no longer an option in today's fast-moving social media world. From perpetual updates in social network algorithms and increasing online competition, to constant changes in consumer preferences, there is never a dull moment in your life as a social media marketer!
To help you along, here's a framework you can apply — the ACE-ING framework:
| | |
| --- | --- |
| 1. | Analyse Your Current Social Media Situation |
| 2. | Create or Curate Your Content |
| 3. | Execute Your Social Media Strategy |
| 4. | Infer and Navigate with Data |
| 5. | Set up a Governance System |
In this comprehensive social media strategy guide, we will shed light on the latest trends in social media, as well as evergreen principles for your marketing efforts on Facebook, Instagram, LinkedIn, YouTube, TikTok or any other social channel.
Why You Need To Update Your Social Media Marketing Strategy
Here are six compelling reasons to adjust your social media strategies from time to time:
| | |
| --- | --- |
| 1. | To Keep up with Algorithm Changes |
| 2. | To Build Deeper Customer Relationships  |
| 3. | To Improve Return-on-Investment (ROI)  |
| 4. | To Drive the Right Traffic to your Website |
| 5. | To Outshine the Competition |
| 6. | To Keep up with Social Media Trends |
1. To Keep up with Algorithm Changes
Social media platforms sort posts in a users' feed based on relevancy instead of publish time by using algorithms. This prioritises which content a user sees in their feed first by the likelihood that they'll actually want to see it.
The most popular social networks like Facebook, Instagram, LinkedIn, TikTok, and YouTube will continually tweak their algorithms, in order to keep users fully engaged on their platforms.
Paying attention to these updates will give you a clear idea of the types of content that won't be automatically filtered out from user feeds. You can then shift your focus to creating social media content that is more likely to be seen and shared.
2. To Build Deeper Customer Relationships
A one-size-fits-all approach will not work across Facebook, Instagram, LinkedIn, TikTok, YouTube, or other social networks. This is because social media platforms are used very differently by different audience profiles.
For example, the main audience on Facebook is largely made up of Millennials while Tik Tok is generally populated by Gen Z. If you were to use the same tone of voice, slang, and references across both platforms, there would be a disconnect between you and your audience. As such, it is entirely necessary to understand your audience according to the platform so that you can appeal to them correctly.
To succeed across multiple social media channels — by attracting attention, encouraging engagement, triggering conversions, and building customer loyalty — you will need to adjust your strategy and create content that is tailored to each platform.
3. To Improve Return-on-Investment (ROI)
Spending money on sponsored posts with unsatisfactory results? It's definitely time to rethink your social media marketing strategy!
Consider if you are using the right data to inform your social media strategy. Are you measuring your reach, engagement, conversions, and customer lifetime value? Have you compared your paid campaigns against each other? Making even a small change to your social media strategy, such as increasing your social media monitoring efforts, may improve your bottom line.
4. To Drive the Right Traffic to your Website
If you have repurposed your traditional ads into an online format — but see relatively few website conversions — you should rethink your strategy. To convince someone to take an action on social media, you will have to come across as credible and authentic. You will also need to warm up your audiences sufficiently such that brand affection and trust is built.
5. To Outshine the Competition
With an endless stream of businesses promoting themselves on social media, with some undoubtedly within your niche, you need to learn how to stand out from the crowd and amass a large following.
Is a close competitor doing well on social media? Pay attention to what works for them, and try to beat them at their own game! You can also learn from brands that are not from your industry, and tweak their strategies for your own purposes.
6. To Keep up with Social Media Trends
Don't be afraid to try something outside of your comfort zone, such as "live" video, or even simply animating your graphics. If you spot a new feature on a social media platform, experiment with it! Algorithms tend to reward content creators for being first adopters, and you could soon see a boost in your reach.
Now that we've covered why you should update your strategy, let's look at the details of the ACE-ING framework.
1.

A

nalyse Your Current Social Media Situation
To kick off your comprehensive social media strategy analysis, here's what you should take stock of:
1.1 Evaluate Your Current Strategy
Is your current social media marketing strategy still working well for your brand? Here are some questions to ask:
Do you need to set new social media goals? For instance, should you still focus on increasing engagement and leads, or switch to conversion goals such as sales.
Is your branding consistent and effective across social media platforms? Do you need to update your profile image, or craft a new background story that will resonate better with audiences?
1.2 Assess Your Audience
How well do you really know your audience?
You can better understand your followers by looking at their demographics and digital consumption statistics, such as whether they've accessed your pages using a mobile device, or if they're using an iPhone or Android device. From your follower insights on different platforms, you will even be able to determine which is the best day, or time of day, to post your content.
Next, examine your engagement rates across social media platforms to see which posts — and content types — your followers have responded better to, for each platform. Look out for patterns; for instance, you might notice that your user-generated content has led to more interactions, or that you have received more likes for how-to posts.
Finally, study your existing conversion rates, to see which social media platforms are driving more traffic to your site, or bringing in more sales. If you find that Instagram is significantly driving sales for your brand, you could decide to dedicate more resources to Instagram, while reducing your investment in other social media channels.
1.3 Study Your Competitors
To stay ahead of the competition, you should study your rivals closely.
First, identify which social media platforms your competitors are on, and observe how they are using these platforms. What are their strongest and weakest platforms?
If they are targeting the same audiences as you, it may be useful to evaluate their posts and ads, to see which content gets a better response in terms of reactions, comments, and shares. In fact, save your competitors' best-performing posts, and draw inspiration from these successful posts to brainstorm ideas for your own content.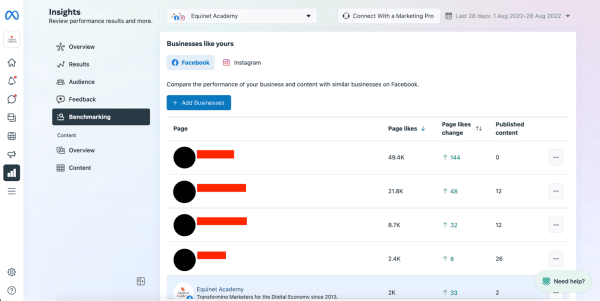 You should also benchmark your social media performance against your closest competitors, so that you will have a good idea of where you stand.
Finally, think about what you can do differently, or even better, than your competitors, in order to stand out. At the same time, if they are offering something that you are not, you can decide whether it is worthwhile to fill this gap.
1.4 Use the Right Social Media Tools
There are many social media tools out there to help marketers create content and track the effectiveness of campaigns. These tools make your job easier — start using them, if you are not already doing so:
Social media design tools

Canva and Animoto can help you to quickly create eye-catching static and animated graphics, as well as videos.

Social listening and monitoring tools

Tools like Sprout Social, for example, tap into online conversations, in order to gather data on what people like or dislike, who people like or dislike, and why. 

Social media analytical tools

These help you to track the effectiveness of your social media campaigns, measure your return on investment (ROI), and compare your social media performance against your competitors. Examples of these tools would include Hubspot and

Buzzsumo

. 
With social media design tools, you can easily make your content more visually appealing to your audiences, so that your brand message will be well received.
Social listening and monitoring tools, on the other hand, help you to better engage your audience, gain insights on how you can improve your products or services, avoid or pre-empt online crises, and find out how your competitors are being viewed by their customers.
Finally, social media analytics ensures that you make logical, data-driven decisions for your brand.
1.5 Recent Trends in Social Media Marketing
To stay abreast of social media trends, be a keen observer and study the content types that work best on the different platforms. For example:
Testimonial reviews on Facebook and LinkedIn can raise your brand's credibility, build social proof, and boost conversions.
Live streaming on Facebook and Instagram, for events, tutorials, or "live" sales,  have proven to be extremely effective for reaching and connecting with fans.
User-generated content, or UGC, helps to turn your followers into brand ambassadors; click here for examples of how international brands are getting creative with UGC.
Trending topics are always an opportunity to carry out newsjacking or trendjacking. For instance, one of 2021's hottest trends was Netflix's global hit Squid Game, which saw digital marketers coming out in full force to indulge in creative play. Click here for some examples from Singapore.
In addition, being the first to experiment with new social media features could pay off for your brand.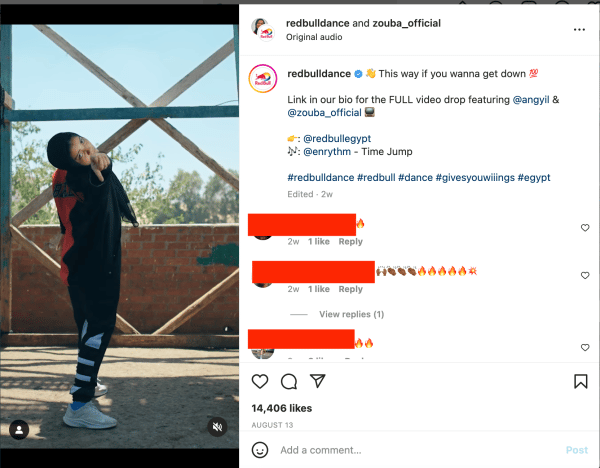 When Instagram launched its Reels, short and digestible videos, feature in 2020, Red Bull was one of the first big brands to begin creating Reels content.
The result? Red Bull dramatically expanded its global reach, with its Reels clips featuring sports stunts attracting millions of views.
2. Create or Curate Your Content
How can you ensure a steady stream of quality social media content for your brand? Here are some ways to do this:
Assess your current content on each social media platform. What is your best performing content, and how long can you continue to produce similar content? What are your content gaps? Does your content sufficiently address your customers' pain points?
Brainstorm content ideas with your team as well as your followers to gather different perspectives. For inspiration, bookmark this list of 120 types of digital content that you can use in your next content marketing campaign.
Are there insights from social listening that you can use for content generation? Brand sentiment, competitor performance, and industry trends can point you in the right direction.
Identify the themes, topics, or campaign ideas that you feel are worthwhile to focus on, and develop content around these.
Map out your retargeting strategy — consider the best ways to show the right ad with the right messages to your warm audience on social media, be they visitors to your website, viewers of your online videos, or fans who liked and engaged on your social media pages and accounts.
At the same time, you should also establish a monitoring system to capitalise on trending topics, such as popular hashtags and pop culture phenomena, which provide fodder for content that can appeal to a wide audience.
For best results, use a differentiated approach to tailor content for your audiences on different platforms.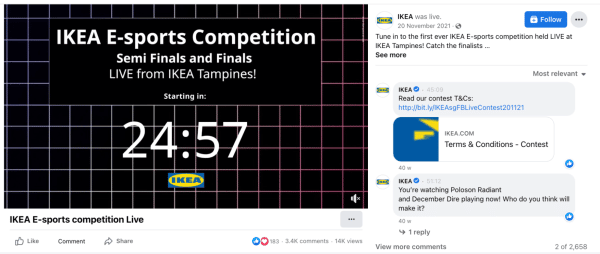 A good example to follow is IKEA Singapore, which did exactly this when they launched their Gaming range of furniture. They hosted a "live" E-sports competition on Facebook, featured user-generated content from a gaming influencer on their Instagram account, and created DIY assembly videos on their YouTube channel.
3.

E

xecute Your Social Media Strategy
With your social media strategy analysis complete, and your content ideas in hand, it is time to put your plan into motion. Here's how:
Establish a social media content calendar: Keep everything organised from the get-go with a social media calendar, where you list what you are posting, on which channel, and when.
Be mindful of best practices: Avoid clickbait content, and steer clear of anything offensive or potentially controversial — unless this aligns with your brand values. You should also understand the nuances of each social media platform. For instance, one can use up to 30 hashtags on Instagram, but utilising a long list of hashtags can also make your brand appear spammy.
Experiment with going live: Consider ways to tap into live streaming on Facebook and Instagram to boost your engagement and conversions. If you intend to go "live," remember to pre-promote your "live" session, and use the "Event" feature to ensure that reminders are sent to participants before your session begins.
Grow your social media influence: Tried-and-tested ways to do this include reciprocating when someone follows your brand account, consistently offering attractive and valuable content, increasing credibility by featuring customer reviews or testimonials, and boosting social proof with user-generated content and collaborations with social media influencers.Infer and Navigate with Data
4. Infer and Navigate with Data
Measuring and tracking your social media performance will help you to make sound decisions about your social media strategy.
To do this well, you should be familiar with your social media key performance indicators (KPIs). These are metrics that provide quantifiable insights on your social media performance on Facebook, LinkedIn, Instagram, YouTube, TikTok, and other social networks.
As a social media marketer, you should focus most on your metrics that measure brand awareness, consideration, conversion, and brand loyalty.
4.1 Brand Awareness Indicators
To measure brand awareness, consider these KPIs:
Number of impressions:

"Impressions" refers to the number of times a social media post shows up in someone's news feed, right column, story, message, or other placements.

Users do not need to engage with a post for it to be counted as an impression, and a user can experience multiple impressions of a single post.

Having your content viewed multiple times by people will increase your brand awareness, and might potentially get your audience to take action.

Number of fans/followers

Knowing the number of people who followed or "liked" your brand on social media lets you gauge the influence of your social media channel. However, do note that having plenty of followers or fans is not useful if they are not engaging with your brand.

Web traffic

To assess the success of your social media campaigns, you will need to know the amount of traffic driven to your website from each campaign. This indicates the interest levels of users in finding out more about your company.

If your campaigns have generated low web traffic, you should proceed to tweak and finetune your creatives, offers, and calls to action.

For a detailed web traffic report, use Google Analytics, which will help you to identify which social media platforms send the most visitors to your website.
 4.2 Consideration Indicators (Engagement)
Engagement refers to audience interactions such as reactions, comments, shares, and clicks, from which you can gauge how well you have connected with your audiences. These are some metrics that you can use to measure your social media engagement levels:
| | |
| --- | --- |
| Number of likes or reactions | This tells you whether your content is being viewed in a positive light. More than likes, reactions indicate that your content has resonated with your audiences. |
| Number of clicks | Clicking on a link or button is a fundamental aspect of an engagement. A person who clicks on website or social media links is indicating an interest in the content that is being displayed, and those who click on links are more likely to convert. |
| Number of comments | The more relevant your content is to your followers, the more comments your post will receive. Responding to positive comments helps to foster bonds with your customers. Negative comments can be useful too, as they could help you to address your audience's pain points. |
4.3 Conversion Indicators (Leads, Sales)
At the end of the day, a huge following on your various social media platforms means little if your fans do not purchase your products or services. Therefore, what ultimately matters to a brand are conversions, as these affect a business's bottom line. Here are some conversion KPIs to note:
Sales Revenue

How many of your brand's conversions have been due to social media?

 

Knowing this gives you an idea of the value of your social media channels, and lets you confirm if your investment in social media has resulted in real revenue and profits.

Leads Generated

Apart from actual sales, lead generation is also an important aspect of digital marketing, as you need a consistent supply of new leads in order to generate new revenue.

Lead Conversion Rate

This measures the percentage of leads that are converted into sales. For example, if an e-commerce site gets 100 leads in a month and manages to sell 10 T-shirts (a conversion event), its conversion rate for the month would be 10%.
4.4 Loyalty and Advocacy Indicators
Beyond sales, you need to also measure the stickiness of your customers in terms of their loyalty to your brand, as well as their willingness to talk about your brand to their social networks:
Customer Lifetime Value

This measures the total revenue a business can expect from a customer, and is a good indicator of customer loyalty to your brand.

Number of shares or retweets

If your audience finds your social media posts useful, they may share these posts on their own feeds. This will bring your engagement to the next level, as sharing allows your brand to reach the social networks of your audience, thus expanding your influence.

Number of social mentions

Top-of-mind-awareness (TOMA) is a way to gauge your brand's influence. For instance, if you were asked to name a soft drink, you would likely think of Coke or Pepsi first.

 

By investing in social listening tools, you can better understand how customers perceive your brand, products, or services.
5. Set Up a Social Media Governance System
To ensure that your social media marketing efforts are sustained over the long term, you will need to establish the right budgets, job scopes, content procedures and processes, as well as templates for your team to follow.
5.1 Set a Social Media Budget
Your social media budget should cater for the following:
Manpower: You may need a small team to generate content and run your social media platforms.
Advertising fees: To ensure that your content is seen by more social media users, you will need to run paid campaigns.
Social media tools: You will need these tools to track and monitor your social media performance.
Agency fees (optional): If you have a bigger budget, or plan to run integrated campaigns combining multiple digital and non-digital channels, you may need to engage an agency to help you execute these campaigns.
5.2 Establish Social Media Marketing Roles
To set up the right social media job roles, think about the range of job responsibilities required to run your gamut of platforms.
Consider the different roles that your social media team will be performing, for example in content creation, online advertising, community management, design, or monitoring of analytics.
Calculate the number of people that you will need to fulfil the different roles.
Define the job scope of each role, and how they relate to one another, so that your team can align and work together to achieve your brand's goals.
5.3 Create Systematic Workflows
Having workflows in place makes your expectations clear, and allows your social media team to standardise the quality of their work. It also helps to improve their overall productivity and efficiency. Here are some basic workflows to set up:
Establish templates for social media design and copywriting.
Determine the workflow for developing your content calendar, as well as how approvals are sought for your posts, videos, and stories.
5.4 Manage Social Media Crises
A digital crisis for your brand can spread like wildfire, making it impossible to control and severely impacting your brand's reputation. You would want to guard against this, especially if your brand is a larger player in the market.
To do this, you should set up Standard Operating Procedures (SOPs) for your team to
Monitor online conversations and brand mentions.
Determine the level and severity of a digital brand crisis.
Respond to different crisis situations.
Your social media crisis plan could include the following:
A digital crisis FAQ
A checklist on what to do during a digital crisis
How to manage social media posts during a digital crisis, such as what to respond to, who to respond to, and the ideal response time
After any digital crisis, you should carry out a post-mortem process to assess the impact on your brand and the effectiveness of your responses. Using the insights gained, you can then update your social media crisis plan.
5.5 Prepare a Social Media Brief for Agencies
A social media brief spells out the purpose, goals, and deliverables for the agencies that you're hiring — having a clear brief will make sure that you and your appointed agency are on the same page.
Your social media brief should state the following:
| | |
| --- | --- |
| Campaign objectives | The purpose of the project, timelines, and broad expectations or goals. |
| Target audience | These include primary and secondary target audiences, with information on demographics (age, education, and income), psychographics (interests, lifestyles, and attitudes), geographics, and digital behaviours. |
| Competitors | Have a list of your closest competitors, and highlight how your brand can be differentiated from them. |
| Key deliverables | This is a list of the content that needs to be created for the campaign. |
| Performance metrics | State what metrics you will use to assess the performance of the campaign. |
| Technical specifications | This is where you indicate if there is technical work needed for the campaign, such as for social media security or web development. |
Conclusion
With this advanced social media strategy guide, you are now able to:
Analyse the relevance and effectiveness of your current social media strategy, and make the necessary adjustments
Create and Curate your social media content
Execute your updated social media strategy
Infer and Navigate with social media KPIs to gauge the success of your updated strategy
Establish a Governance system, with processes, procedures, and templates for your social media team to use
Remember: change is the only constant in the social media world, and the key to success is to remain adaptable and open to new ways of reaching out to your audiences.
Keep Learning
If you want to create a fully-fleshed out social media strategy, consider signing up for our Social Media Marketing Course. Over two days, you will be guided by an industry professional on the ins-and-outs of social media.
We also hold a Certified Digital Marketing Strategist (CDMS) Programme which covers the following six modules:
The completion of these modules will lead the learners to attain a Certified Digital Marketing Strategist Certificate. All of these courses are WSQ accredited and available for up to 70% subsidy.