The Top 12 Social Media KPIs To Use In Your Marketing Campaigns
Social media Key Performance Indicators (KPIs) are critical in ensuring the success of your social media marketing campaigns. They provide invaluable insights to your company or brand's social media performance on Facebook, LinkedIn, Instagram, YouTube, Twitter, Pinterest or any other social networks.
But how do you know which social media KPIs to focus on, and what do these metrics tell you?
In this article, you will learn what social media KPIs are, what performance areas they measure, and how you can use them to transform your social media marketing efforts. Each of the KPIs come complete with relevant examples to make it easier for you to visualise how they are used.
What are Social Media KPIs?
Social media KPIs are values that measure the performance of your social media marketing (SMM) campaigns. The results derived from these different indicators are crucial for marketing teams to evaluate their social media-based performance across their entire social media funnel—from awareness to consideration, conversion and loyalty.
However, there are a few priorities that a marketer like you need to focus on to achieve greater success with your social media marketing. These are centred on three key focal areas:
Reach: The total number of people who have seen your ad, post, video, or story.
Engagement: How often your target audience engages and interacts with your content.
Conversions: How many people have completed your desired goals—be it lead generation, sales or others.
Focal Area—Reach
Can you catch the attention of your audiences? Is your online brand visible to them? In making your presence felt, you need to make your content noticed by your audiences. This helps to reflect your message's efficacy. There are several KPIs under the Reach category you might want to consider in Social media marketing.
1. Number of Impressions
Impressions is the number of times a post shows up in someone's news feed, right column, story, message, or other placements. A viewer does not need to engage with the social media post for it to be counted as an impression.
A person can experience multiple impressions of a single piece of content. A Facebook post, for instance, could appear in the user's news feed and appear again when a friend shares the publisher's post. If both posts appear in the feed, then that is treated as two impressions for the same post. Thus, the frequency of the post will be two.
Having your content seen multiple times by people will increase your brand awareness and might potentially get your audience to take action. Take note of the marketing rule of seven which states that a prospective buyer may need to hear or see a marketing message at least seven times before taking action.
Most major social media platforms allow you to view the number of impressions as shown.
2. Number of People Reached
Knowing the number of people who followed or "liked" your brand on social media provides a good gauge of the influence of your social media channel. They could be friends or followers with a specific interest in your content. However, do note that having lots of followers or fans will be useless if they are not engaging with your brand.
You can view the number of people reached in Facebook as shown below:
3. Web Traffic
To assess the success of your social media campaigns, you will need to know the amount of traffic driven to your website from the various campaigns. It is indicative of the interest level shown by the customers as they find out more about your company. If the campaigns have generated low web traffic, then tweaking and fine-tuning of your creatives, offers, and calls to action may be required to improve clicks to your website.
You can use Google Analytics to give you a detailed report on the traffic. It helps to identify which social media platforms send the most visitors to the site and the ones that need more attention.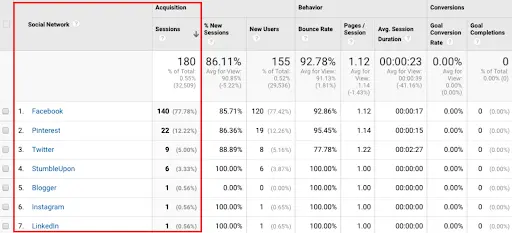 4. Share of Voice (SOV)
As brand awareness of your company or product brands start to grow, more people will be talking about your company. Share of Voice measures the amount of the conversation a brand owns with the target audience compared to its competitors. There are several tactics to inspire brand chatter from people in the industry:
Build a Proactive Social Media Calendar
You can start by implementing a Social media content calendar that outlines all of the planned content for the month. Schedule content that has to be published on specific dates like special holidays. The content could be curated from your site or you can create them from scratch. The purpose is for your audience to hear from you. Check out our how-to guide on creating a social media content calendar.
Engage with Your Audiences
Social media allows you to directly engage and interact with your target audiences. Consumers expect a quick response to the problems and pain-points they have encountered. A brand that is highly responsive to consumers' requests will enjoy greater brand likability—more people will talk positively about the brand on their social channels.
HOT TIP: Do you know that  45% of consumers will post a brand's positive interaction with them if it manages to address their complaints on social media?
Create Share-Worthy Content
One of the best methods of increasing your brand's share of voice is to generate share-worthy content. By sharing tips and interesting content about the industry, people will start to take notice and seek more of the brand's content and share it with others. These actions will help to strengthen your thought leadership in the subject. To help you get started, here's our list of 120 content types you can utilise for your next social media campaign.
Encourage Conversations in Social Media
Triggering conversations within the various social media platforms about the brand increases your brand mentions and share of voice. You should also encourage your customers to communicate with you via social media platforms—sending and responding to a message is faster and more efficient than replying to an email.
Measuring SOV for Social Media
To calculate SOV for the specific Social Media platform, divide a target metric that represents the brand by the total in the market or industry. Finally, multiply that number by 100 to get the percentage of market share for that particular metric.
Your brand metric / Total market metric x 100
For example, if there are 500 mentions of three brands that you are tracking, and 133 of those mentions belong to your brand, then your SOV is 26.6%.
Focal Area—Engagement
Audience interactions like reactions, comments, shares and clicks are useful in measuring the effectiveness of your social media marketing campaign, and the engagements which it can generate. Marketers have to find creative ways for consumers to connect with their brand and interact with the content—the more frequent the interactions, the higher the likelihood of purchase.
Here are some of the metrics that you can use to measure engagement levels.
5. Number of Reactions / Likes
Posted something interesting or intriguing? Chances are that you will be able to get more reactions and likes from your audience. Acquiring reactions from your customers indicates that your content has value and authority.  The more likes a post has, the better its engagement levels with prospects or customers. This also sends a strong signal that the product or brand is being perceived in a more positive light.
6. Number of Clicks
Clicking on a link or button is a fundamental aspect of an engagement. A person who clicks on the website or social media links displays an interest in the content that is displayed. This assists in cultivating qualified leads as link clicks are generally more likely to convert.
However, do note that the bounce rate needs to be taken into consideration as a high bounce rate could mean that the landing pages are not appealing to consumers or that the web pages load too slowly.
7. Number of Comments
Brands need to generate relevant content to ignite conversations among customers. The more relevant your content is to the customers, the more comments your post will receive.
Conversational content helps to foster bonds with customers and create loyalty amongst your followers. However, do not be daunted by negative comments as these could help you to address the audience's pain points. Just remember to respond to these comments if they are genuine complaints from customers.
To improve the number of comments, you can:
express a strong opinion on social media on a current topic
engage users with emotions
share content or articles that get people thinking
Encourage engagements and conversations by posing questions or sharing opinions rather than posting links to external content.
8. Number of Shares or Retweets
If your target audience finds your social media posts useful, they may start sharing those posts on social media. This will bring engagement to the next level as sharing allows your brand to reach the social networks of your audiences. Very often, people share things that they have experienced themselves.
The act of sharing also signals a strong desire to recommend your brand to their sphere of influence and indicates the confidence level they have in your brand. Because of this, having shares on social media is indicative of the quality and relevance of your posts.
Here are some tactics you can use for your content to get more shares, reach and engagement on social media:
Tactics to Increase Content Shareability
Appropriate post type
One of the success factors in getting people engaged is on how the content is being presented. A good way to do so is to phrase your posts as questions. Doing so helps to prompt your followers to respond with their thoughts and answers.
Do also consider making your content more visual, by adding graphics (infographics) or animating it (video). Visual content is vital on social media as it immediately grabs your audience's attention, provides entertainment (and edutainment) value, and improves shareability.
Posting at the Right Time
To rise above the noise and have your audience's attention on your social media posts, it is crucial for us to know the ideal times of the day to post. It differs for different social media platforms however.
A good suggestion to determine the best times to post is to study the insights of the respective social media platforms to know when your audiences are the most active.
Keep It Short and Simple (KISS)
Many users utilise social media platforms to socialise and not to read long articles. Though the content posted might be beneficial to the users, having lengthy captions and status posts may not give the content due justice if you are targeting for increased shares. Hence, aim for snackable bite-sized content.
Employ Contests and Offers to Encourage Shares
Having innovative ways of engaging your audiences for your brand, like having social media contests and offers, will spur greater interest and generate more shares among the consumers. To encourage fans to share your brand's content, the rules of the content can also be changed to facilitate sharing.
9. Number of Social Mentions
If you are to name a soft drink now, chances are that you will be thinking of Coke or Pepsi. Top-of-mind-awareness (TOMA) correlates with your brand preference and will also influence the number of mentions of your brand or product.
By investing in effective social listening tools, you are better able to analyse and respond to conversations about your brand on social media. This is a useful gauge to understand how your customers perceive your company or product. Take a look at our top tools for social media listening and monitoring.
Do keep track of your social mentions as they reflect your online brand reputation. Doing so also ensures that you are able to address your customer's needs and pain-points by responding to them.
To increase positive social brand mentions, you might want to attempt these few techniques:
Tap the Preferred Content Formats of Different Social Media Platforms
Different social media platforms target different audience personas. Users who are active on Instagram prefer posts to be expressed in images and videos, whereas LinkedIn users are more likely to expect thought-leadership articles, slides or text content.
Engage Your Audiences
Social media users expect interactions with the brand and would enjoy a much better experience if your brand responded to their queries. Acknowledging your consumers' concerns by responding to their comments on your posts, or a simple "thank you" reply goes a long way.
Use High Quality and Relevant Imagery
Create relevant, and if possible captivating imagery to increase the interest of your social media fans and followers. Many businesses may hire professional photographers to take product shots and capture their brand story. Should that be infeasible, consider investing in relevant stock photographs and video footages.
Be Funny
Do integrate humour in your posts wherever possible as it triggers positive emotional and psychological responses from your followers. This also helps to build brand affection, a vital step in the conversion.
Focal Area—Conversions
Out of the three focal areas, many brands would prioritise conversion metrics as a gauge to measure the success of a social media campaign. After all, it is one thing to have a huge following on the various social media platforms, and another if none of your fans visits your website to purchase your products or services. So for marketers, they need to look beyond the likes and shares and focus on the work that affects the bottom line.
10. Sales Revenue
All companies who venture into the various social media platforms need to be certain that the effort spent working with social media results in real revenue and profits. Measuring the number of conversions that comes to your website from social media gives you an idea of the value of your social media channels. You will also get a better idea of the effort and planning you need to put into your social media channel to make that investment worthwhile.
There are, however, effective methods you can implement in social media to drive sales revenue. This includes:
Working with Social Media Influencers
A novel idea you can start implementing is to utilise the power of social media influencers if you attempt to make more sales through social media. You can have them tell a unique and engaging story about the brand or give honest reviews about the product they are reviewing. When doing so, make sure that you use UTM parameters or unique coupon codes to track their effectiveness in driving conversions to your page.
Use Customer Testimonials to Reduce Fear
Instead of relying on paid influencers, the best advocates of the brand can be existing customers. As they are already existing users, they can become effective brand advocates to promote the products or services in exchange for freebies and discounts. The trust level for existing users are usually higher than an influencer, as more people will believe in the experiences of a user as opposed to a paid individual.
Invest in Social Media Advertisements
A surefire way of getting your brand noticed is by investing in advertisements to leverage on the various social media platforms which have potentially millions of users. This ensures higher visibility for the brand you are promoting. It also helps to further improve the chances of a sale as you can target a directly relevant audience.
11. Lead Generation
For a lot of businesses, lead generation is an important aspect of digital marketing as you need a consistent supply of new leads in order to generate revenue.
To generate leads, consider putting up a form for prospects to sign up for a newsletter, download an eBook or enrol in a webinar. The contacts that are extracted from a lead generation form (via an FB lead generation ad) or lead generation opt-ins from LinkedIn are treated as non-revenue conversions.
12. Lead Conversion Rate
Lead conversion rate measures the number of leads that are converted into sales. In essence, it indicates how many of the leads end up buying something from you.
The formula for calculating the lead conversion rate is as follows:
(Leads converted to Sales/Total Leads) x 100.
So if an e-commerce site gets 100 leads in a certain month and manages to sell 10 T-shirts (conversion event), the conversion rate would then be 10%.
However, your conversion rate is not everything. In managing social media campaigns, there might be instances where the conversion rate might be higher for certain products but it might have a higher cost per conversion. Thus, you need to consider the ROI for each conversion and determine if the cost of getting that conversion is worth the eventual revenue that you can get.
To boost your social media conversion rate, you might attempt to:
Implement a Seamless Experience between Landing-pages and Social Media
To outshine the competitors, you need to provide a smooth and seamless customer experience from social media platforms like Facebook to your respective landing pages. It should follow the principles of ease of navigation and with minimal interruption.
An instance of this is the brand Bose, where it presents an intuitive and interactive landing page that is customised for customers on-the-go.
Having a website that is mobile-friendly enhances the virtual shopping experience when most e-commerce transactions happen on smartphones and other mobile devices. A way to test whether your website is mobile-friendly is by using the Google Mobile-Friendly Test.
Integrating Videos in Social Media Promotions
Video-centric posts and ads tend to do better than static images or pure text content when it comes to conversions. Contrary to a common misconception, creating videos doesn't need to be expensive—there are many low-cost video producing tools that you can use online.
Include Compelling Calls to Action
Implement small tweaks to your social media captions on your posts or text overlays to potentially increase your social media conversion rate.
You may also wish to differentiate your brand from others in an overcrowded market by infusing your unique brand's personality behind the promotions.
Consistency in Branding
As prospects and leads move through from social media platforms like Instagram to the actual landing pages, the user interface and creative elements such as tone, imagery and colour schemes need to be consistent as the customers approach towards the point of purchase. Anything else will be disorienting.
Having a consistent thematic colour scheme and creative elements could make a difference between having successful conversions or bouncing out of the campaigns altogether.
Ending Thoughts
As a marketer or business owner, you will need to ensure that you capture the right social media KPIs and metrics to generate success. To implement social media marketing strategies successfully, there are two stages you need to consider:
Determine the type of Marketing Objective of a certain business model. Learn more on the four types of marketing objective of Awareness, Interests, Leads and Sales.
Start aligning your KPIs and Metrics with the associated digital Marketing Objectives. This is an effective way of determining the health of a business – by accurately and efficiently managing the agreed-upon targets and goals.
Effective social media marketing isn't just about growing the most fans on Facebook, LinkedIn, Instagram, or Twitter. Rather, it is a methodical and disciplined approach to setting the right social media marketing goals, creating the right social media marketing campaigns, and tracking and analysing your various social media KPIs. By doing so, not only are you able to grow your brand influence, but it will help to improve your conversions and sales over the long haul.
If you want to improve your approach to social media marketing as well as get a better grasp on its ins-and-outs, you might want to consider taking our social media marketing course. While you're at it, consider giving our wide array of digital marketing courses held in-person in Singapore or online a look as well.