Update as of 7 Feb 2020: Singapore raises DORSCON level to Orange
In the wake of the COVID-19 outbreak, Equinet Academy has taken steps to mitigate the spread of the virus here at our training centre. Business will resume as usual. However, precautionary steps will be put in place with the support of both Equinet employees and learners: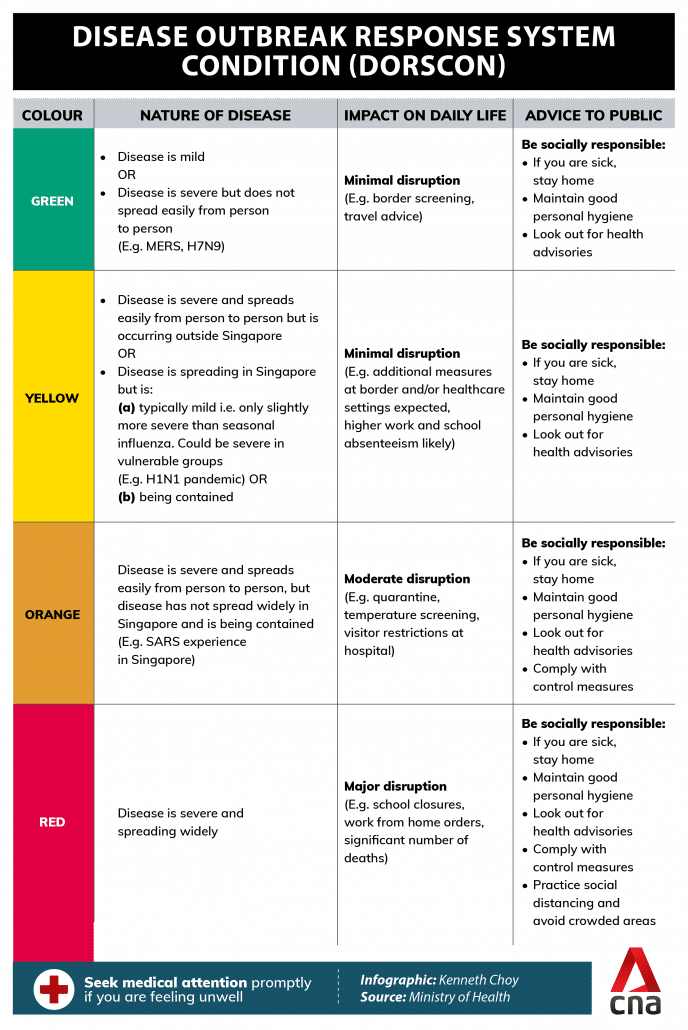 Since the official announcement on the new DORSCON status, Equinet's management team has stepped up on the precautionary measures and tightened the procedures in efforts to avoid disruption and provide a safe and comfortable learning environment for our learners and employees.
This includes, regularly disinfecting surface areas learners frequently come into contact with i.e. tables, markers, whiteboards at least twice a day.
Clarifications On Misinformation by MOH
7 Feb 2020: There has been a message circulating of a death in Singapore due to the 2019 Novel Coronavirus. This is false. As of 2pm, 7 Feb, there are no deaths due to the 2019-nCoV in Singapore.
7 Feb 2020: A fake screengrab of a CNA tweet was circulated widely on social media saying that all schools including polytechnics and universities are to close next Monday (10 Feb) due to the ongoing novel coronavirus outbreak. This is untrue. The image, which is being circulated on messaging app WhatsApp, appears to have been a doctored screengrab of another tweet sent out by CNA. Click here for clarification from CNA.
MOH advises members of the public to not speculate and/or spread unfounded rumours. Click here for past clarifications.
In-house safety measures for trainer and trainees
Declaration of Travel History
Attendees are to declare while signing in if they have visited Mainland China within the past 14 days.
Students who have been to Mainland China in the past 14 days will be asked to return home to rest. Their seat will be rescheduled to a later date.
Regular and Thorough Disinfection of Training Premises
Regular disinfection of surface areas within classrooms learners frequently come into contact with i.e. tables, markers, whiteboards at least twice a day (once during lunch break).
Regular disinfection of premises including pantry area and door handles.
Temperature Check
All attendees including trainer will have their temperature inspected at the reception hall before lesson.

Students with a fever will immediately be asked to return home to rest. Their seat will be rescheduled to a later date.

Colour coded stickers will be issued to all attendees. Stickers are to be pasted on upper shirt/dress at all times. If misplaced, student should proceed to the front desk to obtain a replacement sticker.

Blue stickers will indicate that the student is generally well with no symptoms of flu (runny nose, stuffy nose, cough etc)
Yellow stickers will indicate that the student should wear a surgical mask at all times. Attendees with yellow stickers will also need to have their temperature taken again after lunch.

Before class starts, Trainer should inform attendees to check each other to ensure that everyone has a sticker on their shirts
Emphasis should be placed that trainees may proceed to the registration counter at any time to have to their temperature taken if they are feeling unwell.
Face Masks
Attendees who are feeling unwell may proceed to the front desk to request for a surgical mask/N95 mask (depending on availability). The student will be issued a yellow sticker and will be required to don the mask during training.
Hand Sanitiser Dispenser
All attendees are encouraged to regularly use the hand sanitisers located at the reception hall and pantry area, especially before eating.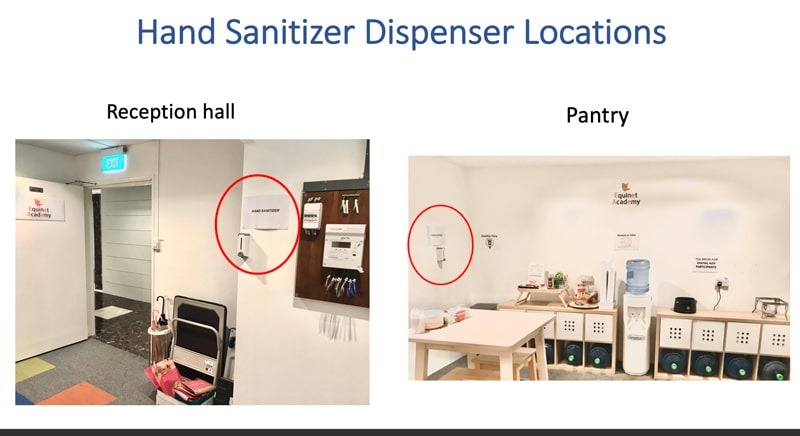 Enhanced Rescheduling Policy
To do our part to contain the outbreak, attendees are allowed to reschedule at any time if they are feeling unwell.
Update from Ministry of Health
Recent travellers from Hubei province with higher risks has and will be quarantined by the government, as stated here on the website of the Ministry of Health (MOH):
Recent Travellers From Hubei already in Singapore:
1. As the Taskforce announced yesterday, the Ministry of Health (MOH) is contacting all recent travellers from Hubei province who are in Singapore. MOH estimates that about 2,000 such persons have arrived here in the last two weeks, of whom roughly 1,000 are on short-term visas.
2. MOH will assess who among this group are at higher risk and will place them under quarantine.
– Singapore Citizens, Permanent Residents and foreigners on long-term visas will be quarantined at home or other suitable facilities.
– Those on short-term visas will be housed at Government Quarantine Facilities.
Masks necessary only for those with respiratory symptoms, stresses chief of Singapore's infectious diseases centre
https://www.straitstimes.com/singapore/wuhan-virus-mask-necessary-only-for-those-with-respiratory-symptoms-stresses-chief-of
Advisory on wearing masks
If you've been travelling, monitor your health closely for two weeks upon return to Singapore and seek medical attention promptly if you feel unwell. You should inform your doctor of your travel history.
If you have a fever or respiratory symptoms (e.g. cough, shortness of breath), you should wear a mask and call the clinic ahead of the visit.
Wearing of masks
Here are 5 essential steps to wearing a mask the right way.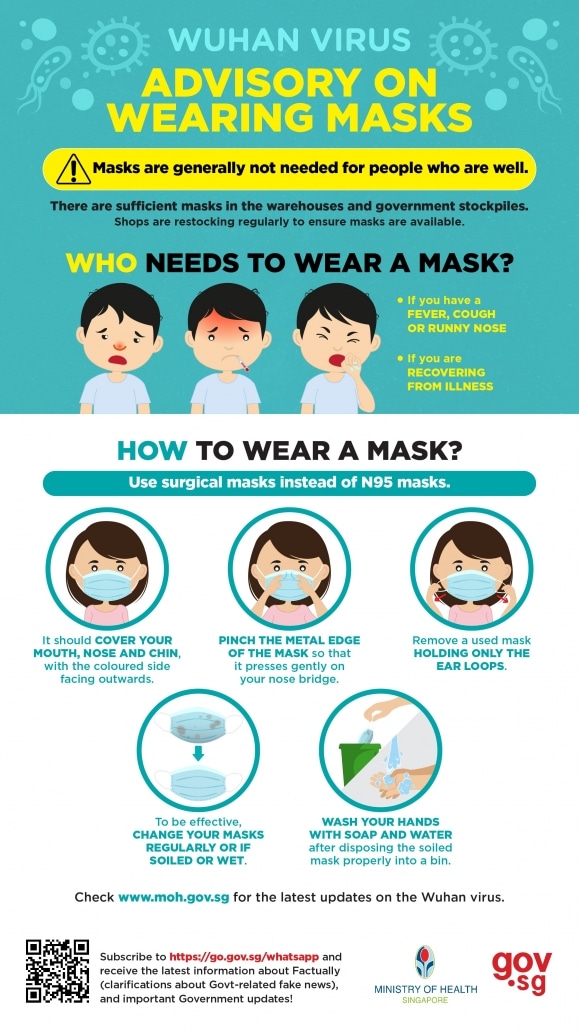 Source: https://www.gov.sg/article/health-travel-advisory-on-the-novel-coronavirus-in-china
Together we can fight this. Let us all stay strong, stay vigilant, and stay safe.
https://www.equinetacademy.com/wp-content/uploads/Advisory-on-Masks-ENG-min-scaled.jpg
2560
1440
equinet
https://www.equinetacademy.com/wp-content/uploads/2016/02/EA-Logo-White.png
equinet
2020-01-29 16:36:03
2020-02-17 15:53:27
Advisory Note on COVID-19 Virus: Precautions and Steps Taken by Equinet