9 Proven Small Business Digital Marketing Strategies that Achieve Results
5 billion. That's how many people use the internet today, according to Statista. The digital revolution has opened up a rich vein of opportunity for business owners in terms of reach. And small businesses are looking to leverage ways to bring in business without breaking the bank.
Make no mistake: Facebook Ads and targeted Google Ads pull their weight, but small businesses can grab their fair market share even in the big leagues. This is where small businesses have to wear their innovative hats, implementing small business digital marketing tactics to win today's customers.
Small business owners must understand that having a great product/service is not enough — you must spin a good yarn about your products to attract serious prospects, leads, or customers.
Your audience uses digital channels to discover brands, seek solutions, and make purchases. Digital marketing unlocks this pathway to reach and meet them right at the point of their need and convenience as they use it.
To help you stack up pretty well against major conglomerates, let this guide be your compass. We've reeled out nine time-tested, tried-and-true digital marketing tactics that help your business pull off exceptional numbers in the marketing department:
Is Digital Marketing Important for Small Businesses Today?
Every business, no matter its size, needs some form of marketing. Your ideal customer is a unique person living somewhere on the face of the earth and thriving on the wings of technology-driven change.
And in today's digital world, the question of whether digital marketing is worth the fuss for small businesses is almost rhetorical. For one, digital marketing is one of the most effective and efficient ways to reach your target audience.
It's also very cost-effective since you can reach a large number of people with a relatively small budget. With so many different platforms and strategies to choose from — whether it's the old chestnut of email marketing, content marketing, SEO, or even influencer marketing, you can tailor your digital marketing campaign to target your ideal customers.
In short, digital marketing is essential for small businesses today. If you're not using it to reach your target audience — the majority of whom are digital-friendly — chances are that you're leaving money on the table. Here are a few effective tips that you can exploit for the good of your business.
9 Effective Small Business Digital Marketing Tactics
1. Organically grow your social media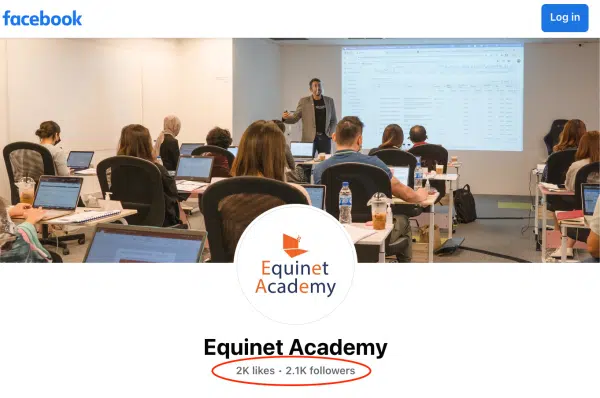 Your social media is your online representation of your business. In a world that is increasingly digital, it is the only interaction some people may make with your business. You need to give it your A-game! A small business owner, like a war general, needs to prioritise the battlefield of social media until it is conquered and exploited. How can this be done?
The Importance of Social Media for Businesses
This SproutSocial research found that an overwhelming 68% of consumers agree that social media is a viable tool for interacting with businesses and brands. Due to the significance of social media in contemporary human socialisation, a lack of social media presence would translate into a lack of trust in a service or product.
The Benefits of an Organic Approach to Social Media
It's advisable to start out organically on social media at the initial stage of your business. Paid promotions are great, but an organic approach would elicit a sense of belonging among followers.
Social media followers and customers feel like a part of the journey of watching you unfold before their very eyes. Don't deny them that feeling, or deny your business the customer loyalty that comes from your audience having that sense of belonging.
Also, where you start out organically, your business can reallocate the spend that would've gone to ads as extra disposable capital.
The Power of Consistency in Social Media Strategy
Another effective social media strategy for small businesses is consistency. When you consistently post innovative and out-of-the-box contents that mirror consumer preferences, you are in for ROI. Also, consistency translates into maintaining a uniform brand identity and user experience across all social media channels.
The intricacies of each social media channel might require a switch in approach, for instance, a tweet may require a more light-hearted approach than a LinkedIn post. However, there should be consistency across all channels.
Utilizing Engagement Tracking Tools for Effective Social Media Strategy
A great social media strategy requires engagement tracking tools to be deemed fully effective. Statistics on the engagement of customers to shared posts gives you, the business owner, an insight into what the market preferences are.
Customers' responses help in drafting effective social media content calendars, which help you become more intentional about what to post, when to post and when not to post.
The Importance of Engaging with Fans on Social Media
Lastly, engage with fans! The greatest superstars sign autographs and make public appearances for a reason. Your customers feel a stronger sense of association when you leave a comment under their posts, subscribe to their channels, and provide feedback to them. That way, they feel heard and appreciated.
2. Engage in Search Engine Optimisation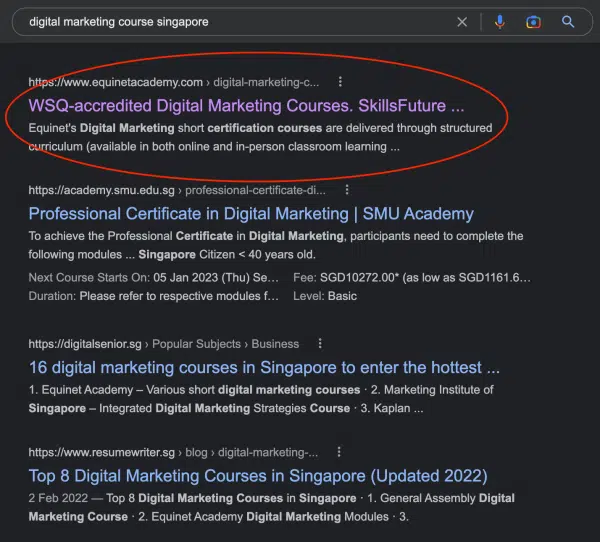 The visibility of your business is best enhanced by Search Engine Optimisation (SEO). SEO is a series of strategies that help create better visibility on search result pages of search engines, specifically to appear as the first result or on the first page of results.
How does SEO work? The average consumer looks for what they want by going online and starting their search using search engines like Google. Google may return up to 29 million results for one search query, which is a lot. As such, it's difficult for small businesses to be visible by default, irrespective of how dedicated their online marketing strategies are.
This is where the importance of SEO comes in. Google discovers billions of pages on the internet by sending out robots to search web pages. When these robots access a webpage, the page's content is downloaded and stored in Google's indexes. To gain visibility amidst an infinite number of webpages, a small business should harness keyword research, on-page SEO, off-page SEO, and SEO analytics.
The Importance of Keyword Research and On-Page SEO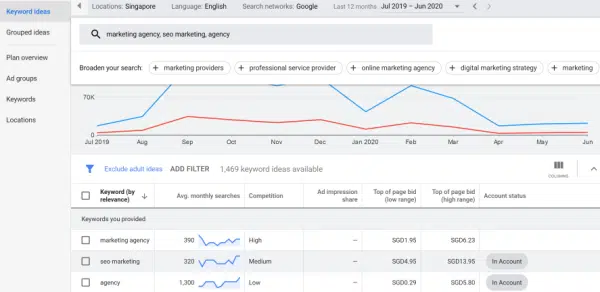 Firstly, SEO is powered by keyword research tools that help a small business detect the words and phrases a target audience often uses when searching for information on products that the business provides. Secondly, on-page SEO should include keywords relevant to your target audience on your web pages.
For instance, this post on digital marketing tips for small businesses may be populated with terms such as "small business digital marketing," "online marketing strategies for small business," and "marketing plan for small business."
Other significant aspects of on-page SEO include tailoring the content specifically towards what most consumers search for; ensuring a great user experience; and a great UI/UX experience for users free from technical errors, a website that loads quickly.
Off-Page SEO Techniques for Building Brand Awareness
For Off-Page SEO, it's crucial to build more offline brand awareness. When you get other websites to mention your brand and hyperlink back to your website (also known as backlink building), it makes users more likely to trust your brand and for search engines to rank it highly on the search results pages.
Utilizing SEO Analytics to Monitor and Improve Website Performance
SEO Analytics is the final phase, where you monitor the position of your website amongst the host of other websites and web pages which offer similar content and then focus on improving your positions.
3. Create shareable content
Content is the soul of digital marketing. The best designs are irrelevant if there is nothing substantial at the core. A small business should prioritise actual value and relevance. Relevance is the balance between what you know and what your customer's interests or preferences are.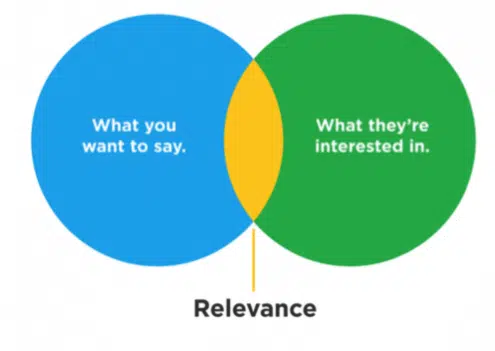 If you are a service provider, it is a borderline between what you have and what they need. A careful dissection of the data from your engagement tracking tool gives you insight into customer preferences.
To gain market share, your product/services should cater to specific consumer needs in unique ways. The same goes for digital marketing.
Content creation answers any queries your customers may have, thus helping them achieve success with your product or service when they do convert. How do you achieve this?
Easy. Remember these four rules of content creation: Story, Practical, Emotions, and Competition.
Story
Small businesses should focus on telling a story. Stories are compelling, relatable, and a potent trigger of engagement, as humans are inevitably drawn to a good story.
Using data from questionnaires and consumer interviews, create content that speaks to the situation of most consumers. Stop them dead in their tracks and catch their attention. Everyone wants to be part of a good story. So give them one.
Practical
Focus on making content that offers actual, actionable information of real value to potential consumers. Content pieces like 'how-to' guides, "5 tips for…" are great for engagement as people are more likely to share content that helped them and can potentially help others in their network.
Emotions
Digital marketing and content creation should be tailored toward striking an emotional chord or connection with consumers.
Competition
A content analysis of your competition to identify how you can make it even better puts your business ahead of the curve.
Look at what does and does not work for them. While you shouldn't copy their content outright, it's a good starting point and you can learn to adapt for your own content strategy.
4. Demonstrate thought leadership
Customers long to connect in real time to interact and make direct inquiries about a product or a service. A small business can seize the moment and set up webinars, Clubhouse sessions, Twitter spaces which help position the business as accessible and credible.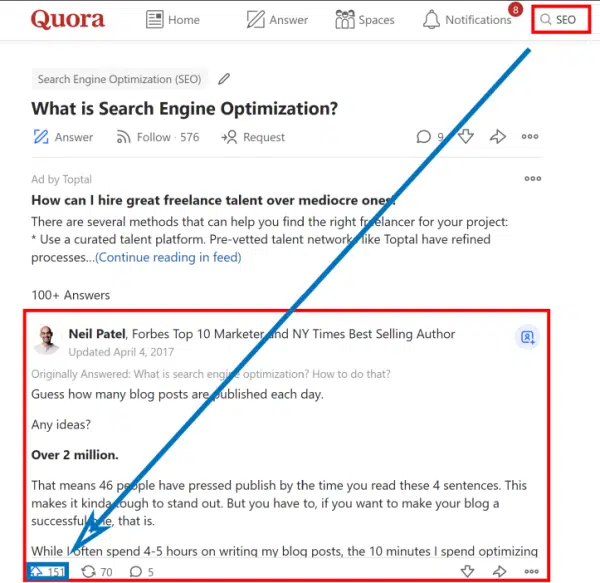 The goal of real-time online conversations is to build valuable relationships and make targeted sales. Reddit and Quora are ideal platforms for thought leadership on topics ranging from technology, politics, business, fashion, music to geography.
Create an active channel and influence opinions transmitted on these platforms by directly engaging, giving valuable advice, and helping users solve issues surrounding the product you offer.
Doing this creates a valuable opportunity to influence their perception about your brand in a positive way, impart knowledge to your community, and create a deeper connection with your customers.
5. Leverage the art of social proof, peer psychology, and herd influence
Social proof is vital. The digital age has created closer proximity between individuals and their desires. Hence, it's become complicated for small businesses nowadays looking to ensure that a potential client chooses them over competitors.
This is where social proof comes in. Deals are easier to close, and potential customers are easier to convert when the product or service is shown to be effective.
Nowadays, potential customers require validation before they commit to a product or a service. Going by this comprehensive study by the Frontiers in Psychology, telling customers that 77 per cent of their neighbours were actively using fans to save energy was more convincing than telling them that saving energy was a socially responsible thing to do.

Further, a user's experience can make or mar the reputation of a small business. Potential customers are easily influenced by the opinion and preferences of other people. It's not rocket science that online reviews are more effective than sales pitches. As such, creating content comprising testimonials and customer stories to influence peer psychology is a good strategy.
6. Optimise your website for both mobile and desktop marketing
Understanding the difference between desktop and mobile interfaces is key to ensuring that marketing achieves its objective. Although both desktop and mobile interfaces possess basic similarities, an efficient digital marketing strategy should clearly take stock of the varying peculiarities and harness them to its advantage.
Both are significant for business growth and should be harnessed for one purpose — CONVERSION. But how does traffic translate into sales? For mobile devices such as phones, tabs, and iPads; a small business should ensure that its website is easily accessible, mobile-first, and can be navigated without any friction or user confusion.
For desktop, on the other hand, the priority should be placed on giving consumers a great user experience. For the sake of engagement, you should keep track of data from website usage and what web pages pull in the most traffic to iterate your strategy. Here, the key is not to make users stay longer periods on the website but to ensure they take the desired action.
7. Nurture and Build Email Targets
A front-burner consideration for your digital marketing will be to create a sense of community around your product. Consumers love to be a part of a collective, even hermits want reassurances that there is a community of hermits out there.
It's good practice to explore the lifestyle choices of your consumers and forge a culture around their peculiarities. Culture is the foundation of any community, and email marketing and newsletters remain a fantastic way to nurture an online community.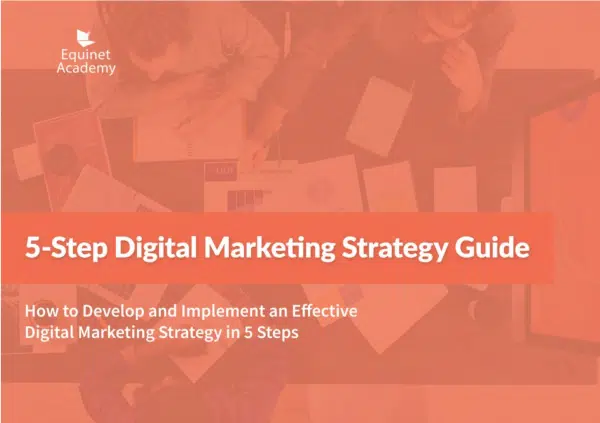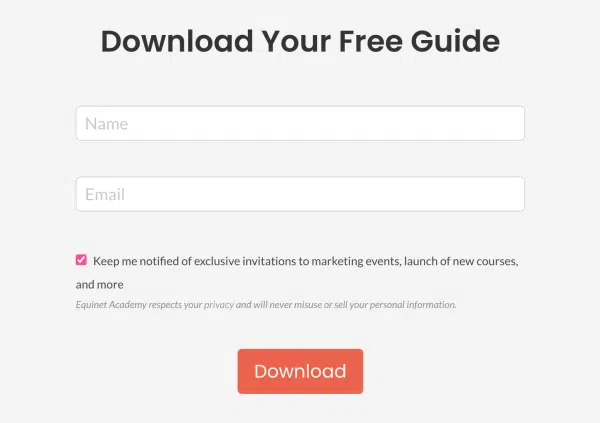 Further, in exchange for a subscription from customers, you can provide content that is of value and is not accessible to the general public.
Plus, a simple interface for signing up would help secure more respondents. A complicated setup might discourage interested persons so a simple email opt-in at the end of each article/blog is advisable.
Email marketing is one of the most cost-effective marketing tools. At next to nothing, you can achieve a direct and consistent link with your customer base while keeping them abreast of your latest offerings.
According to this McKinsey study, emails are 40 times more effective in acquiring new customers when compared to platforms such as Facebook and Twitter combined. Additionally, email marketing has an average ROI of $36 for every $1 spent, making it the most lucrative digital marketing channel.
8. Have a conversion-focused web-design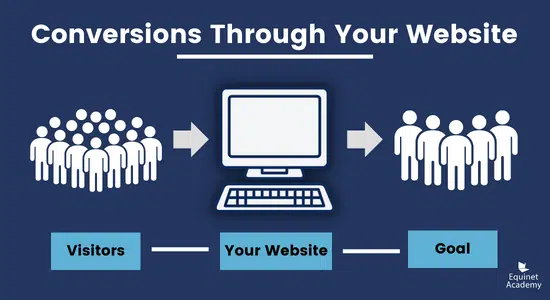 The likes, reposts, comments, and all forms of social engagements are good indications of a successful marketing campaign. However, they are not the end-result of a successful marketing campaign – conversion is.
Every small business should understand the difference between target audience and customers. The priority of a successful campaign is converting your audience into consumers, and how is that done?
A small business should adopt an intentional User Interface (UI) and User Experience (UX) for its website. Studies reveal that UX design returns almost $100 for every $1 invested. Website users cannot stand the rigour of complicated website layouts.
A focus on simplicity and ease of access is key to turning visitors into clients. Easy navigation, consumer-friendly colours, texts, and fonts are ingredients for a good conversion rate. Most importantly, always input the "call-to-action" or "buy" button/link in a space on the webpage that is easily reachable by a user's fingers or cursor.
For any marketing-related publication, either via website or email, a good conversion-focused UI/UX would prove helpful in setting you apart from your pool of competitors and getting prospective customers to buy.
9. Utilise the power of A/B Split Tests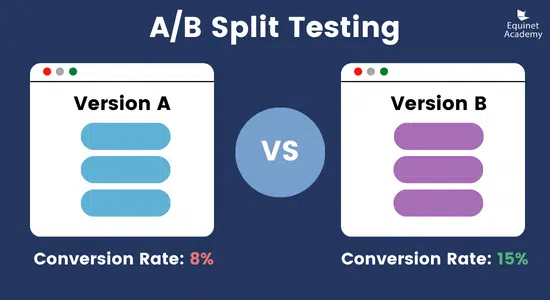 A/B Split testing is a technique where you can gauge the performance of two or more versions of digital marketing pieces to highlight consumer preferences. The two versions may have distinct fonts, headlines, call to action, designs or any other feature that might influence the site's conversion rate.
One cardinal rule of marketing is to know your audience. To ensure you're not adopting a spray-and-pray approach to your marketing, you need a clearly defined audience identified by market research.
A small business would find periodic consumer studies and market questionnaires helpful in grasping the psychology and behavioural patterns of consumers/clients.
The digital age has made the average consumer base more diverse than it used to be. The internet, unlike traditional marketplaces, peddles products right on the screen of potential consumers and in their comfort zones. The A/B steps keep you more responsive to the consumer's unspoken desires.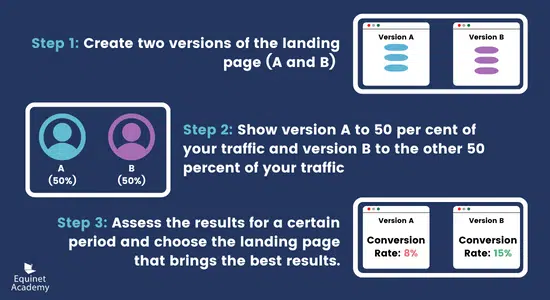 The basic steps for A/B Split tests are as follows:
Create two versions of the landing page (A and B)
Show version A to 50 per cent of your traffic and version B to the other 50 percent of your traffic
Objectively assess the results for a certain period and then proceed with the landing page that resonates best with consumers.
Having A/B split tests remove the guesswork from the choices of having digital marketing campaigns. They help improve content engagement as a small business can make informed decisions for future content and campaign. There is an improvement in conversion rate and a reduction in bounce rates as visitors are kept longer when they interact with content that resonates with them more.
Wrap Up
Competition in today's business landscape has become increasingly fierce. Statista estimates that in 2021, the world was home to about 332.99 million small and medium-sized enterprises. This implies that not only two are playing this game, but close to one-third of a billion small businesses are hoping to capture attention.
As widely adopted as digital marketing may seem, not many small businesses are equipped to harness it fully. However, once they can implement these time-tested hacks we've shared in this post, digital marketing success becomes well within reach.
Want to dig deeper? We host a wide range of digital marketing courses, including Digital Marketing Strategy, here in Singapore.
We also hold a Certified Digital Marketing Strategist (CDMS) Programme, which covers the following six modules:
Upon completing these modules, you'll be awarded the Certified Digital Marketing Strategist Certificate. These courses are WSQ accredited and available for up to 70% subsidy.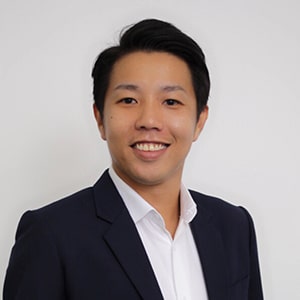 Written By: Kwok Zhong Li
Zhong Li is the founder of Mikangle, a digital transformation company that focuses on advisory, training, and investment. He is also the Co-founder and now Advisor of Finty, an online financial marketplace that was acquired by an Australian firm, 15 months after the company was launched.