Why is SEO Marketing Important For Your Business?
If you are bringing your brick and mortar store online or planning to launch an eCommerce store, having a marketing strategy in place would increase your chances of success. Today, many businesses evolving by ramping up their digital presence.
The introduction of easy-to-use eCommerce platforms such as Shopify, Magento, Woocommerce, combined with the power of social media and the advancement of search engine technology have only made going digital the most obvious option for any businesses looking for a competitive edge.
In this article, let's take a look at organic Search Engine Optimisation (SEO) and discuss the benefits of it.
Ads are a rather costly way to increase website traffic and sales. However, with the help of SEO, you can leverage, grow, and multiply your online business all without splashing your budget on ads.
Need more convincing to focus on SEO marketing for your business?
Here are 5 top reasons why you need SEO marketing for your business in 2019 and beyond.
1) Saves costs on ads, both physical and digital
2) Long-term sustainability
3) Increase your sales and revenue
4) Customers come to you instead of you going to them
5) Boost your online presence
Reason 1: Saves costs on ads, both physical and digital
Did you know that Facebook made more than $40 billion in revenue in 2017, and about 89 percent of that came from digital advertisements?
That signifies two things. One, there's a lot more competitors bidding on this auction-based ads platform. Two, the costs of running effective ads are climbing.
In this case, you do not always get what you pay for. You will need to carefully segment and target your audiences to better optimise your ad budget, otherwise your cost per acquisition will go up significantly and lower your profit margin. Take a look at our breakdown on how much Facebook ads really cost here.
More Competition on Digital Ads Platforms
How Facebook ads – like most ads platforms work – is by an auction-based bidding system. The highest bidder is the winner. On Facebook ads manager, you are able to put an ads budget on how much you're willing to pay (in a day or lifetime of the campaign).
Facebook ads became much less effective starting from the 2nd quarter of 2017 where the advent of the eCommerce spearheaded by Amazon's CEO, Jeff Bezos, caused a spike uptrend of eCommerce sites popping up left and right.
These sites then use advertising platforms such as Facebook, Instagram and Google Ads which in turn causes massive amounts of competition leading up to 2019 this year.
Since advertising platforms are mostly auction-based, it depends on the budget that you have to spend and because of this smaller-scaled business owners aren't able to compete with big companies' exorbitant marketing budgets.
Thus, smaller-scaled owners compete with a ton of other small-scaled owners, making advertising much less effective than the years before 2017.
Physical Ads Remain Just As Expensive
Outdoor, print, and guerrilla marketing and physical advertising aren't cheap either – I'm talking about 5-figure costs for a static ad.
The estimated cost to put up wall scapes at four locations for one month would be around $39,000. As for having your ads on train stations, cost ranges from $54,500 to $61,500 per month depending on which station it's displayed at. These prices are in 2017 to 2018, and following the trend of ads cost, costs will only increase in the future.
Comparing paid ads (digital and physical) with SEO, the latter wins in terms of cost for sure.
Reason 2: Long-term sustainability
Short-term strategy is not a bad thing compared to long-term strategy. It is important to have both of them so that you can sustain your business presently and in the future.
SEO is great for long-term strategy and ensuring sustainability because when you've built your website's SEO well, traffic will still come in even when you don't do anything for that day or two. Compared to ads, there's a constant need for output to have input.
The bottom line of every business is the to get more sales with a cost-effective marketing strategy. Relying on paid ads alone is unwise because competition is getting greater. With an SEO strategy and efforts in operation, you have another channel of website traffic without needing to compete with companies of bigger budgets or pay to get your brand seen.
For example, when you search for 'gym clothes for sale singapore', you'll see some organic search results (picture on left), and paid ads search results (picture on right).
The example on the left shows up on the first page on Google for free whereas the example on the right paid for those spots.
The left one gets website traffic for free whereas the right one pays for every click it gets. Even if someone doesn't actually buy something from the site, they have to pay for that click.
Clearly, getting free organic traffic is better than paying for it.
Reason 3: Increase your sales and revenue
Based on a Smart Insights report, 2.5% is an average conversion rate. Therefore, it is relatively safe to assume that for every 1000 additional visitors you receive, thanks to your SEO strategy, 25-30 new customers may emerge. Return on Investment (ROI) here would be exceedingly great.
51% of all website traffic comes from organic search according to Bright Edge. By improving your SEO, it'll mean more traffic to your website. Based on the stats above, more traffic means more sales likely to occur.
Reason 4: Customers come to you instead of you going to them
Ads are literally digital versions of salespeople who approach you near the train stations. You feel disturbed, interrupted, and most of the time – you ignore them.
It is worlds apart as compared to you choosing to go into a boutique or picking up the phone to call in air-conditioning servicing.
The state of mind the consumer would be in when he/she searches for something, your website shows up on Google, and they voluntarily click on it is the key difference here.
According to Think with Google, 39% of purchases made were influenced by a relevant Google search.
It is much easier to convert people who are searching for you instead of you trying to search and sell to them. Remember, people don't like to be sold to but they like to buy things.
Reason 5: Boost your online presence
Good online presence simply means that you can be found for the things you want to be found for.
In a study done by HubSpot in 2018, they found out that 61% of marketers say improving SEO and growing their organic presence is their top inbound marketing priority.
For example, you're a business owner of a Muay Thai Gym in Singapore. You want people who are entering search terms such as Muay Thai Training; Muay Thai Gym in Singapore; Martial Arts Singapore to find you.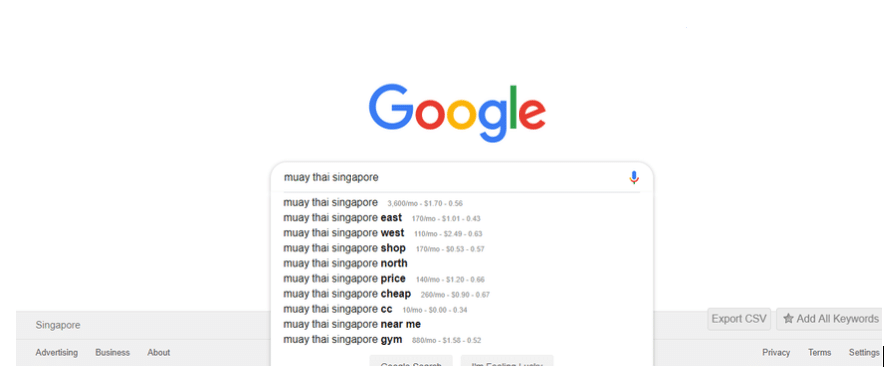 Optimising your website's SEO can help you build a strong presence online for such relevant searches on top of other marketing efforts. Improving your online presence would not be dependent on a sole platform or stream.
Combine SEO, paid ads, social media, and interacting with targeted communities can help your eCommerce business be more known in our big, big internet world.
Conclusion
In summary, SEO marketing can help your business to saves cost on ads, both physical and digital, help your business be sustainable in the long-term, increase your sales and revenue, bring customers to you instead of you going to them, and boost your online presence.
With these five reasons, I'm sure that you're excited and ready to start working on your SEO. If you would like to learn exactly how you can get started, check out Equinet Academy's WSQ SEO course here. We also have the full suite of digital marketing certification courses taught in-person in Singapore or online that cover the fundamentals of Digital Marketing to equip you with the necessary skills to launch a digital marketing campaign. It includes :
These fundamental courses will help in applying actionable strategies for your future digital campaigns. Ultimately, the completion of the 6 core modules will lead up to a Certified Digital Marketing Strategist (CDMS).
Written By: Jamie Cheng
Jamie is the Co-Founder of Digital Alpha Agency where they specialise in helping health and fitness businesses grow with strategic digital marketing solutions. She enjoys hitting the gym and exercising on a daily basis.