29 Content Marketing Tools to Optimise Your Content Marketing Efforts
Focusing on the creation and distribution of content that is beneficial, pertinent, and consistent, Content Marketing strives to captivate and retain an audience that is clearly defined to ultimately drive profitable customer action.
However, before one shares useful and engaging content with their consumers, a concrete content marketing strategy that comes with 6 key phases — Planning, Creation, Production, Publishing, Distribution, and Measurement must first be established.
From tools such as Evernote to help organise the information required to brainstorm for new content in the planning phase, to the execution of marketing campaigns with Hootsuite as part of the distribution phase, here are 29 content marketing tools to optimise your efforts and ease the establishment process of your content marketing strategy.
New to Content Marketing? Check out our guide here.
Phase 1: Planning
As the foundation stage of every content creation process, the planning phase involves one's understanding of the brand challenge, knowing the target audience at the back of their hand, mapping out the brand experience journey, understanding market truths, and drawing insights that may provide answers to the brand challenge.
Insights could be gathered through platforms such as Google News Alert, Google Trends, and news aggregator applications like Feedly which draws in a vast variety of the most popular content genres as well as the latest trending topics. Tools such as Text Optimizer and Keyword Surfer could also be used to amplify one's library of keywords that are high in volume and is contextually relevant. Take a look at our list of the best keyword research tools.
After gathering insights from the aforementioned platforms and tools, the four following tools – Trello, Funnelytics, Evernote, and BuzzSumo could then be used to execute the planning phase of one's content marketing strategy where content goals, mission statements, the buyer persona, content job functions, and content funnels should be established.
Designed to ease organisation and boost productivity, Trello eases the process of scheduling content writing, posting, as well as sharing of content briefs.
Apart from that, its user-friendly and simple interface design also enables you to effortlessly oversee a series of projects through the creation of project-specific boards. With the boards created, you'll be able to keep track of your tasks and assignments, delegate work, and monitor your team's progress to ensure that deadlines are met.
Last but not least, this collaboration tool also allows team members to leave messages and share content to ensure that everyone is on the same page.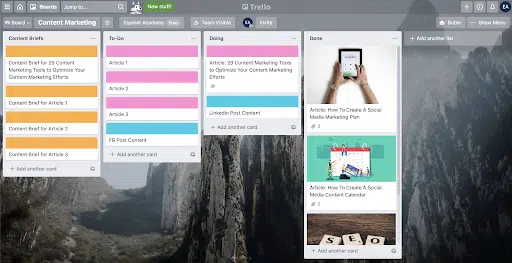 Example of a board created using trello.com.
If you are looking for an uncomplicated funnel mapping tool that can efficiently and effectively plan your content funnels, marketing funnels, sales funnels, or the buyer's journey, Funnelytics would be a great tool to utilise.
Deemed as one of the top funnel mapping tools in the market today, Funnelytics possesses a wide variety of readily available premium templates and even allows you to create and save your very own so you can continue to reuse a funnel design without having to create it again from scratch. Its 'drag and drop' feature also enables you to conveniently design your funnels.
This tool would be of added value to your business as it helps you to visualise and provide an understanding of the gaps in your funnels which can be possibly rectified before moving on to the later phases in your content marketing strategy.

A funnel created using funnelytics.io.
When creators brainstorm and gather ideas for new content – articles, pictures, websites, or PDFs – they would need an easily accessible platform like Evernote to organise and store all the newly collected information so that they can access it whenever needed.
Serving as a personal library and second brain for many, not only does this tool help you to collate and manage the information you need to brainstorm for future content but also enables you to create to-do lists and set reminders to ensure that projects are kept within the timeline.
Besides, Evernote also facilitates team collaborations so you readily share your notes, thoughts and ideas gathered with your team anytime, anywhere, and on any device.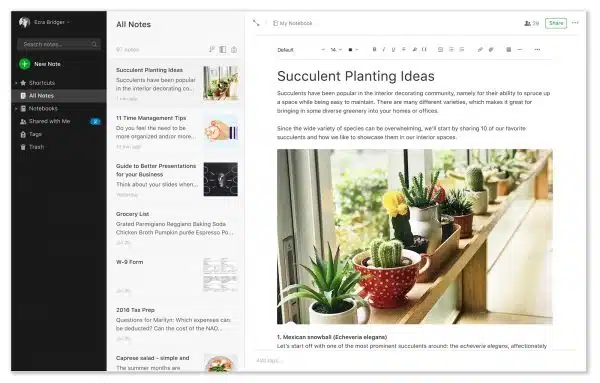 The interface of Evernote. Source via Evernote Help & Learning.
Finally, we have BuzzSumo – a multifunctional content marketing research tool that helps marketers to explore some of the best performing content through insights and metrics like social shares and backlinks gathered from billions of articles and posts on social media.
Through these insights, you will be able to find out what content type best corresponds with your target consumers and thereafter plan for contents in similar formats. Aside from that, BuzzSumo also houses millions of influencer profiles where you can scout for suitable leaders or influencers in your industry and plan for an outreach from there to discuss potential collaboration in the future.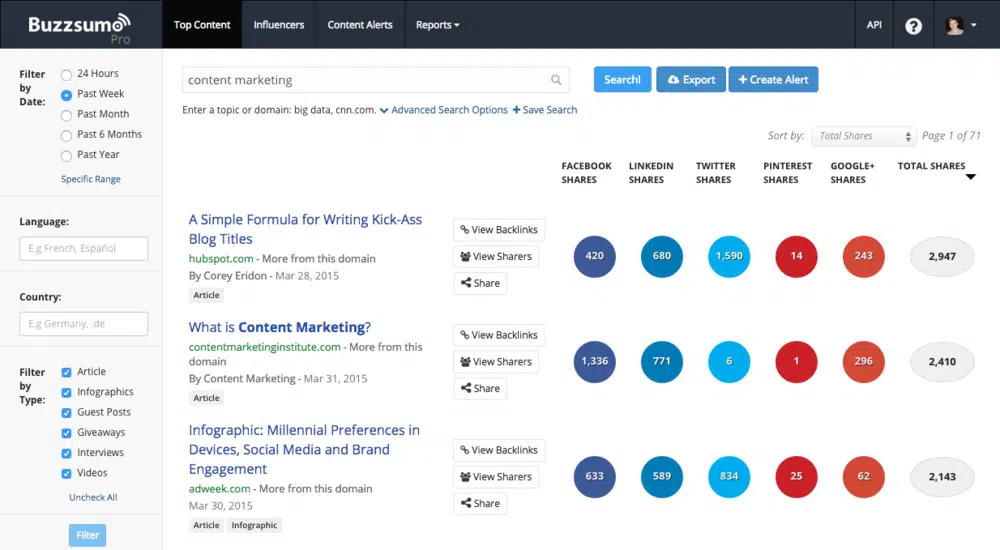 The interface of BuzzSumo. Source via Setup.
Phase 2: Creative
Following the planning phase would be the creative phase which is also the most exciting stage of the content marketing process. This phase would be where one ideate and brainstorms about the brand story to connect with their potential and target consumers while achieving business goals.
In the ideation stage of a creative idea, consumers should always be the main focus and three questions should be borne in the mind of the ideator – "Why would it grab their attention?", "Why should they care?", and "Why should they share?".
In your free time, you can explore forums such as Quora and Reddit for trending topics, Google Trends for evergreen and popular subject matters, as well as platforms like Udemy and Amazon Books to discover popular courses to find out what topics are in demand.  Additionally, you can explore the concept of "Trendjacking" which we explain in detail here.
To go in-depth on what your target consumers are searching for on search engines, you can utilise the following tools mentioned below – AnswerThePublic and Ubersuggest.
Leveraging on autocomplete data from search engines like Google, AnswerThePublic delivers a list of questions that consumers are asking about in a cloud-based format similar to a mind map by simply keying in a keyword and choosing a country of choice.
For example, if you search for 'Cameras', this search listening tool would show you the questions that have been searched for on Google in the format of who, what, where, when, why, and how as well as prepositions and comparisons. With the questions and insights from AnswerThePublic, you can then proceed to create content that answers the questions of your target consumers.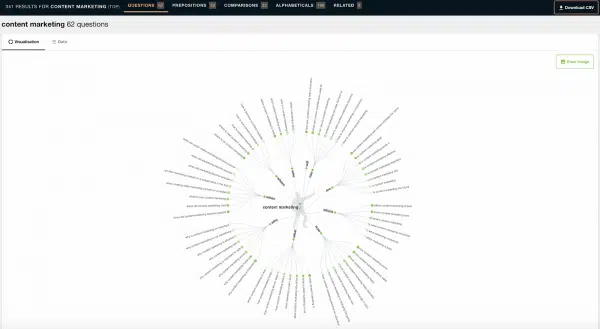 Questions displayed in a cloud-based mind map on answerthepublic.com.
Encompassed with a keyword research feature as part of this comprehensive SEO tool, Ubersuggest derives its extensive list of keyword ideas from Google Suggest and Google Ads and is usually accompanied by their keyword's search volume and level of competition which you will then be able to use to optimise your content for relevant search results.
Aside from that, Ubersuggest also has a content ideas segment where you can analyse pieces of high-performing content for any given keyword and thereafter create content that is targeted at the right audience.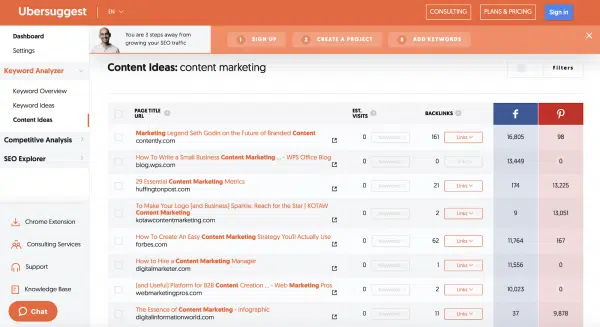 The content ideas segment in Ubersuggest. A screengrab of neilpatel.com/ubersuggest/.
Phase 3: Production
After brainstorming for content ideas in the creative phase, the third phase – and the most crucial – would be the production phase as the strength of your strategic solution would be highly reliant on the quality of your execution.
In this phase, you should determine what your main content type is and how you can repurpose and reformat your past and present content before using the list of tools mentioned below to produce your content.
When you run out of content or headline ideas, the Portent Title Maker would be a great tool to boost your brainstorming process as it generates a wide range of blog post titles that tend to be catchy and distinctive so if you have been writing content that has been more serious lately, the titles generated from Portent might help to re-ignite your creativity and imagination.
To generate a title, you can simply key in a keyword or topic in the search bar provided and the tool would do the rest of the thinking for you. If the headline generated isn't what you are searching for, you can conveniently click on 'See Another Title' to continue generating new headlines till you find something you favour.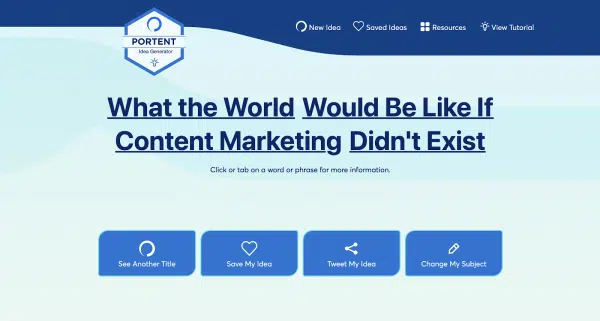 Example of a headline generated on the subject of content marketing from portent.com/tools/title-maker/.
Once you come up with a headline that best fits your content, you can then use the CoSchedule Headline Analyzer to gauge how well your headline scores based on factors like the length, sentiment, and clarity of the headlines.
All you have to do is to key in a headline you've come up with and allow the software to run a thorough analysis before it provides you with actionable recommendations to work on, hence enabling you to further improve on the headlines with an end goal of enticing consumers to engage with your content.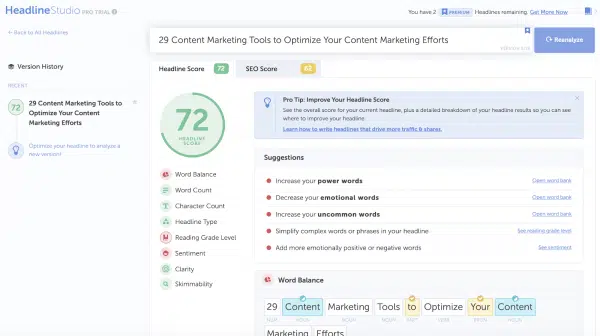 Example of a headline analysed by CoSchedule's Headline Analyzer on coschedule.com/headline-analyzer.
A perfect tool for consumers who deal with marketing and content management, Airstory not only helps you to save multimedia, notes, images, and quotes but also allows you to easily export them onto writing platforms like Microsoft Word and Google Docs as well as cloud-based storage platforms like Google Drive.
Similar to Trello, you can create project-specific boards with multiple card groups dedicated to different aspects of the project which you can then export into individual documents. For example, if you want to export a group of cards specifically for an article on social media, you can click on the 'Covert group to document' button and export only that particular group of cards and all of the resources you require to write the article.
The interface of Airstory. Source via Medium.
Visualising content tends to take up a considerable amount of time but with Canva's free and extensive range of contemporary pre-built templates, you will be able to speed up the designing process while creating content pieces that your audience would enjoy.
Moreover, this free-to-use content creation tool also has several layouts for you to choose from, so you wouldn't have to go through the hassle of resizing your content to fit the dimensions of the platforms that you will be publishing your content pieces on.
For instance, the layout for a Facebook Post would be sized according to the dimensions of Facebook and the layout for a poster would be sized according to an actual physical poster. This helps one to save the time and effort needed to correct the dimensions of the content before sending it for publishing.
Without a doubt, Canva would be a wonderful tool to create an array of high-quality content marketing visuals such as images for your blog cover, social media posts, and infographics.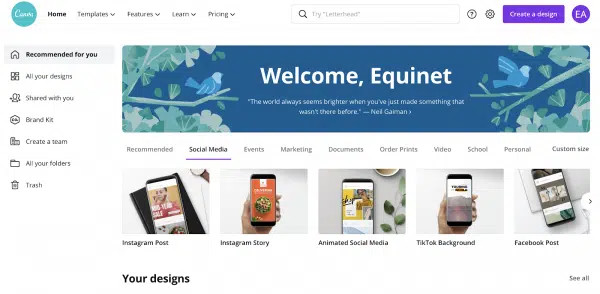 Example of Canva's interface taken from canva.com.
Familiar to many, Grammarly would be an ideal proofreading tool for content marketers, bloggers, as well as business professionals as this tool not only streamlines one's writing but also analyses their texts to identify spelling, punctuation, as well as grammatical errors before being published onto the relevant platforms.
Conveniently, Grammarly can be used as an application on your web or desktop, as well as a browser extension where proofreading could be done on sites such as Google Docs, LinkedIn, Gmail, WordPress, Whatsapp, and more.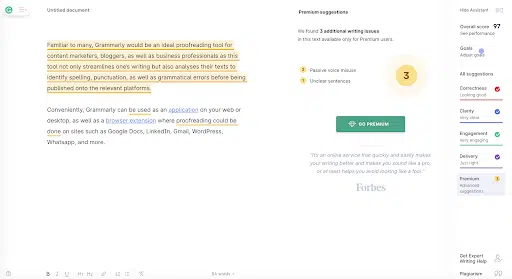 Example of Grammarly analysing a paragraph taken from app.grammarly.com.
Offering contemporary and professionally taken stock images and videos, Pexels is a multimedia repository that doesn't require you to accredit and pay the creators for the content used although it is highly encouraged.
With its broad spectrum of casual to professional images, you will be able to find a picture that best suits your needs and if you need the images to be in a certain orientation, size, or colour, you can simply filter them accordingly on the site. Their explore feature also enables you to filter your searches in categories and subcategories.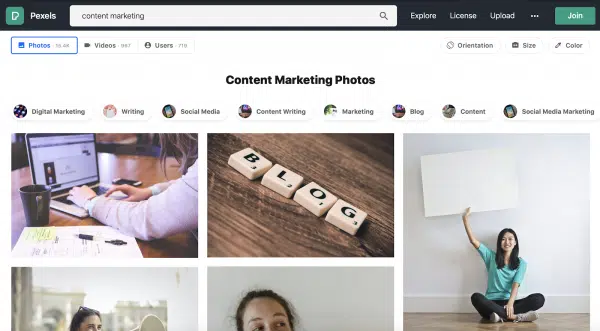 The interface of Pexels taken from pexels.com.
Identical to Pexels, Unsplash also features an array of complimentary, non-copyrighted and high-resolution images which are offered by a community of photographers where attribution is not required but highly encouraged.
Unsplash would be a great platform to explore if you are looking for a blog post cover or an image to pair with your social media post as this image library offers over a million curated photos for you to choose from.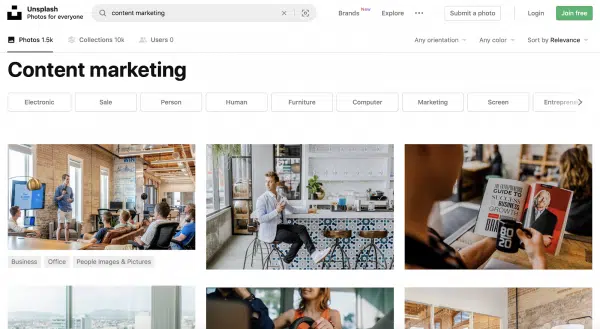 The interface of Unsplash taken from unsplash.com.
Uncomplicated and free-to-use, Loom is a video messaging tool that allows users to send their messages across in an effective and efficient manner through the creation, editing, and sharing of videos.
This tool can be especially beneficial to individuals who regularly conduct and share technical demonstrations as users can record their screen, face, and voice concurrently and thereafter share their creations through a simple link without having to go through the arduous process of video exporting and uploading. You can record a video message on Loom while showing your face, voice, and screen concurrently.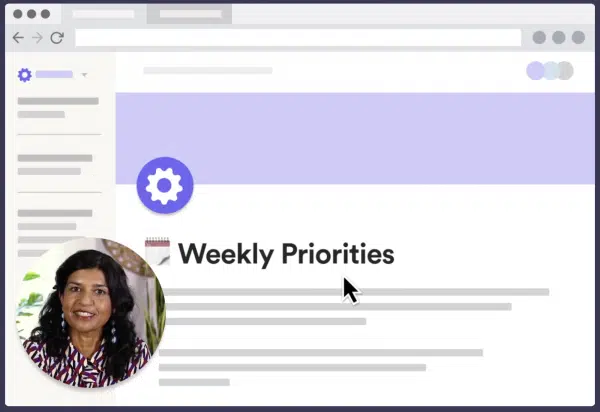 Source via loom.com.
Last but not least, you can review all your text contents through the Hemingway Editor which serves and guides you on your writing just like how a personal writing coach would.
This tool places great emphasis on content readability as not only does it evaluate and grade your content for its clarity, but also points out sentences that may appear to be too lengthy and complicated for a user to read.
To create content that is compelling and high in engagement, content readability would play a big part as consumers are more likely to react to your content if it's easily understandable and readable.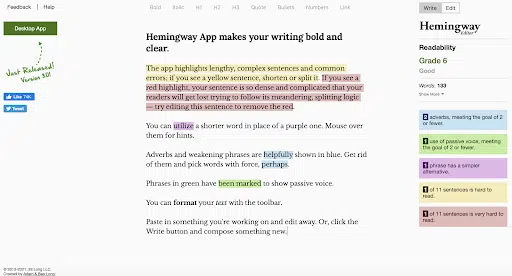 Example of Hemingway Editor's interface sourced from hemingwayapp.com.
Phase 4: Publishing
Once the content is created and reviewed in the production phase, you should manage and schedule them on your content calendars to prepare for publishing across all digital and social channels at optimal hours to achieve maximum impression, outreach, and impact on your consumers. If you're new to this, don't forget to check out our article on How to Create a Social Media Calendar.
Tools like Loomly, Sprout Social, and WordPress are great tools to support and manage your content publishing process.
Integrated with social media giants like Facebook, Twitter, Instagram, and LinkedIn, Loomly is beyond just a content management platform to oversee and schedule your content for posting as this user-friendly tool also shares tips, ideas, as well as inspirations to support one's ideation process for new content.
Additionally, you can also effectively coordinate your posting schedule through the form of content calendars which makes it easy and straightforward for users who are new to social media marketing to manage. Loomly also supports team collaboration with an approval workflow in which team members can submit their creations, receive comments, and flag them for approval.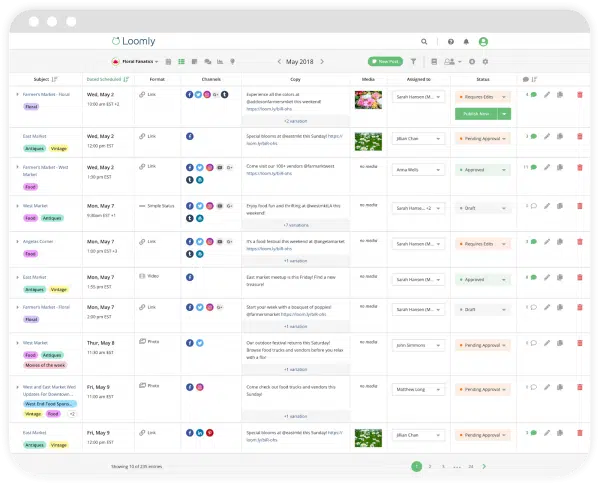 A content calendar on Loomly in list view to schedule your social media posts. Source via Loomly.
Publishing content at an optimal hour would be crucial if one aims to achieve engagement with their audiences.
Through a comprehensive social media marketing tool like Sprout Social, you wouldn't have to worry about posting your content at the wrong hours as you can simply evaluate your social media data using one of the tools, 'Optimal Send Times', to automatically publish your content on social media at hours where audiences are highly engaged.
Sprout Social is also equipped with visual publishing calendars which you can view while managing your posts, campaigns, social platforms, as well as prepare your posts to be scheduled automatically for subsequent posting.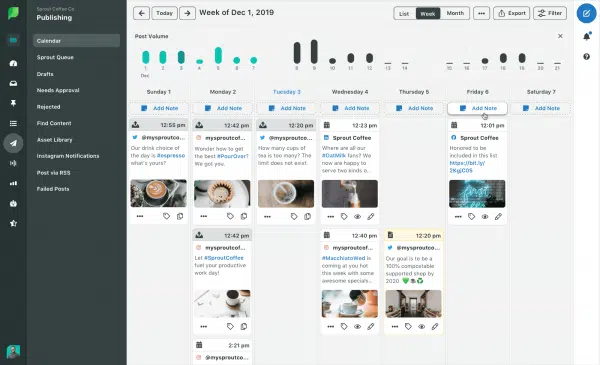 A content calendar on Sprout Social to schedule your social media posts. Source via Sprout Social.
Arguably one of the most impressive open-source CMS in the world, almost 40% of all websites on the internet is powered by WordPress as of 2021 (Gelbmann, 2021).
Indeed, WordPress is highly popular amongst bloggers as they can use the platform to conveniently compose and publish their content with the choice of either self-hosting their site, or on the platform where mobile-friendly themes are available for them to build their site. One can even experiment with the layouts and design of their site as WordPress not only offers advanced templates but also plugins for one's different business needs.
The best part of this CMS would be the fact that every account comes with free support and maintenance which gives the user a peace of mind when using the platform.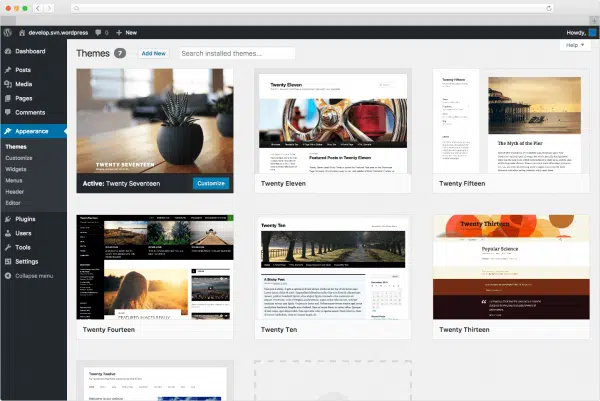 Mobile-friendly themes on WordPress. Source via WordPress.
Phase 5: Distribution
Following the publishing phase would be the distribution phase which is also one of the key phases as it's important to know where one's audiences are so that content can reach them via the channels that they usually engage with.
Some platforms to assist you with outreach would include Hootsuite, Outbrain, BuzzStream, MailChimp, and Facebook Ads.
Allowing one to manage all their social media platforms through an intuitive dashboard, Hootsuite mainly helps marketers to carry out their social marketing campaigns on social media platforms while keeping track of their brand and product mentions using social intelligence to have a gauge of how well their campaign is doing.
This social media marketing and management dashboard yield detailed insights on the performance of your posts which makes it an added value to your social media content strategy. You will also be able to discover what your audience prefers to see from you as well as the hours when they are the most active so you can plan to engage with them at the right timings.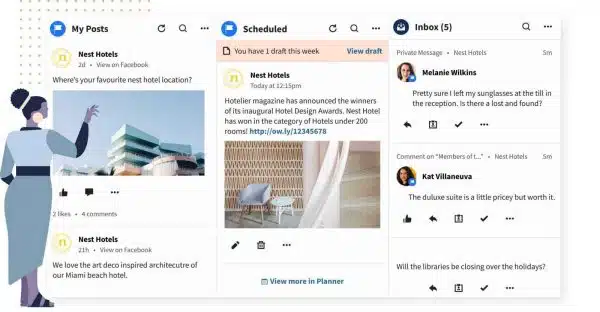 An example of Hootsuite's dashboard. Source via Hootsuite.
Designed to propel awareness and boost engagements amongst customers, Outbrain not only allows you to share your content with popular publishers including BuzzFeed, CNN, Time, and The Washington Post but also generates 275 billion content recommendations monthly to netizens and situates your content across thousands of websites.
Through this content syndication network's reach estimator feature, you will also be provided with an approximated number of people who would come across your promotion.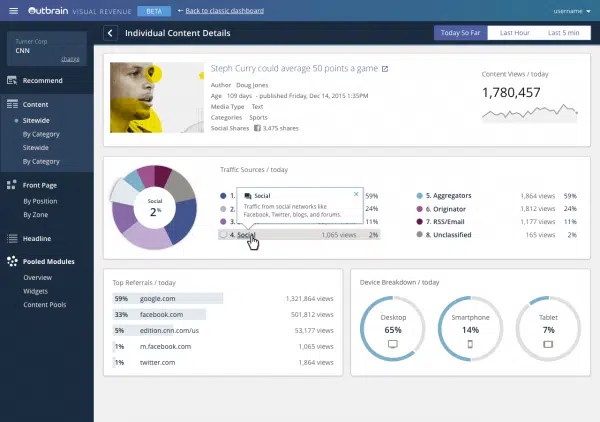 Find out how many people came across your promotion. Source via Outbrain.
BuzzStream is a platform for you to research potential and suitable influencers to work with, source for their email address, and thereafter send them an outreach to build relationships and ask for backlinks. You can even automate your follow-ups and track the performance of the outreaches.
Apart from the discovery tool on BuzzStream which makes the process to source for your industry's influencers a breeze, this platform even offers a Google Chrome extension called the BuzzMarker where you can add sites, links, and the profiles of people into your BuzzStream account without having to leave the webpage you are on.
You can also organise your outreaches based on projects and tags as well as assigning team members to handle specific influencers.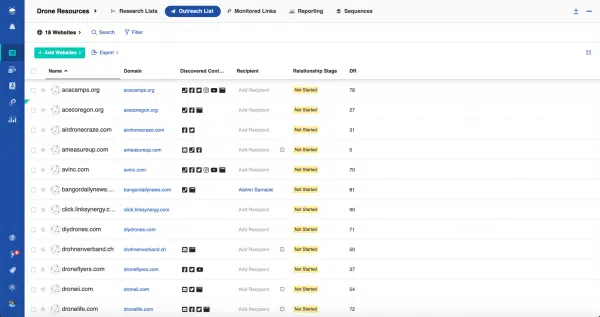 An outreach list in BuzzStream. Source via BuzzStream.
Deemed as an all-in-one email automation solution, Mailchimp possesses all the resources you require to collect and manage emails.
This integrated marketing platform enables the creation of information collection sign-up forms where one would be able to find out what their customers are interested in, and use the information collected to segment them based on their interests to make the sending of targeted emails more efficient.
One of the key benefits of using MailChimp would be the fact that it automates emails based on set triggers through their behavioural targeting feature. For instance, you can expect emails that are crucial in your buyer's journey — welcome emails, order confirmations and abandoned cart reminders — to be automatically sent out when triggered.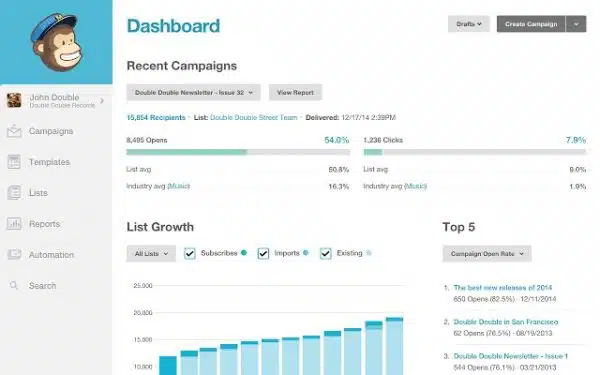 Dashboard to oversee your recent campaigns in MailChimp. Source via Google Workspace.
According to WebFX, Facebook Ads is one of the most favourable platforms to advertise on as this social media giant has a massive database of more than 2 billion users for businesses to potentially advertise their brand and products to, which levels the reach and visibility that one can achieve through the platform. Evidently, over 3 million businesses are currently advertising on Facebook Ads.
With ad formats ranging from banner ads to sponsored posts, Facebook allows advertisers to target their campaigns based on a target audience's location, demographics, interest, connections, and behaviour where they would match a user's activity on the platform with relevant ads.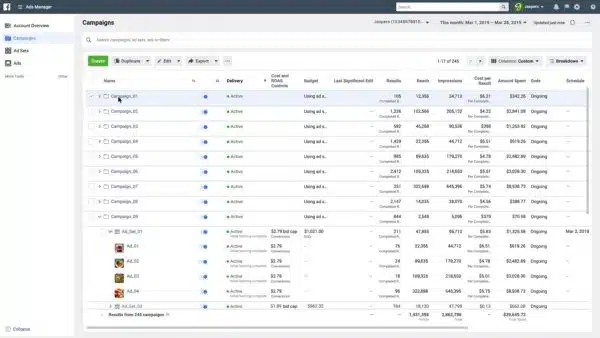 An example of the Facebook Ad Manager. Source via Marketing Land.
Phase 6: Measurement
The final phase of your content marketing strategy should include the measurement phase where you will be looking at actionable metrics and not just vanity metrics. With tools like Social Blade, Hubspot, Google Analytics, SEMRush, Ahrefs, and SimilarWeb, you will be able to use the insights gathered to further optimise your content marketing strategy.
Using Social Blade, you can compare your social media statistics with your competitors and ultimately utilise the data collected from the various platforms like YouTube and Instagram to revise your marketing strategy and remain ahead of competition. For your convenience, Social Blade has a progress graph feature where you can track and compare both your competitor's and your progress at a glance.
Marketers who are required to enhance a business's video marketing strategy or content creators who are seeking to grow their channels can utilise Social Blade's analytics to monitor trends while analysing what their core rivals are publishing. They can also use this tool to identify the key social media influencers and reach out to them for a collaboration.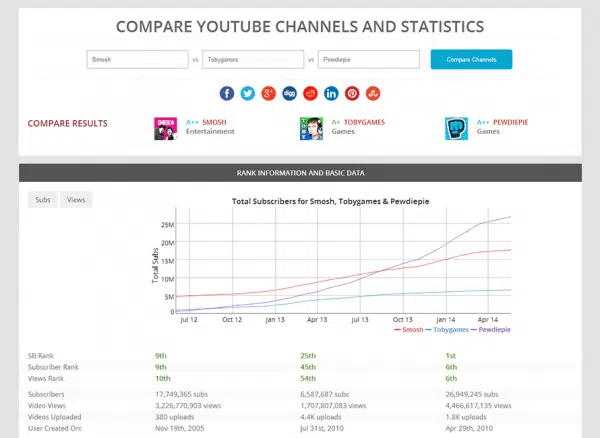 Compare your social media statistics with your competitors. Source via Social Blade.
Best for small, medium and large enterprises, Hubspot allows businesses to track the Return of Interest (ROI) of their marketing efforts, manage their content creation process, as well as have an overview of their sales pipeline so that content strategies can be further improved for one to achieve their marketing goals.
Likewise, you can also track the interaction that your audiences have with your website, social media platforms, and emails. With the insights collected, you can then better understand which platform generates more leads so that you can utilise it to scale up your accomplishment.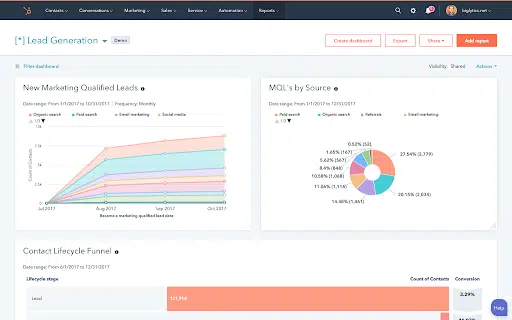 Track the ROI of your marketing efforts with Hubspot. Source via Hubspot.
One of the most widely used and recognised online web analytics tool, Google Analytics is free-to-use and also provides marketers with an all-inclusive reporting and website data analysis system which includes website content, a customer's engagement behaviour with ads, as well as social tools across all the devices. In this case, website managers would benefit by understanding what works best for their website and fine-tune their content strategies accordingly.
Google Analytics may require some time to pick up and master but once you get the hang of it, it would be a powerful tool that not only helps you to track goals, your webpage statistics, audience data, but also behavioural events like scroll depth which shows you how far your website visitors are scrolling.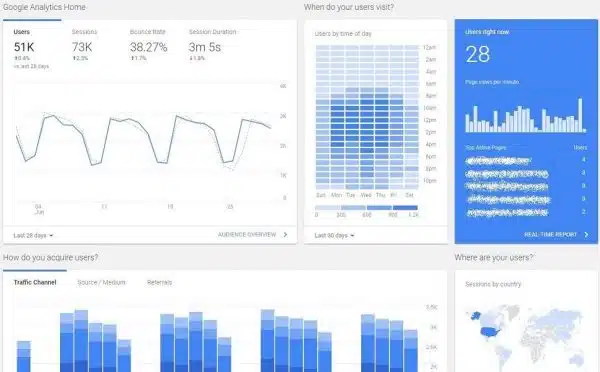 Google Analytics's home page displays the data of a website in real-time. Source via Pinterest.
As an all-in-one marketing toolkit that has solutions for e-commerces and enterprises, SEMrush provides an assortment of services for SEO, Paid Traffic, Social Media, Content and Public Relations, as well as Market Research which allows business owners to focus on issues that are more crucial like the business's marketing strategies.
On the contrary, marketers can employ this tool for researching, content auditing, distribution, and content performance measurement. Furthermore, they can make use of the data that is provided to make swift decisions and ensure an effective business.
SEMRush is also a great tool for you to identify the traffic shares and trends of industry leaders and indirect competitors with its Market Explorer feature and you can also use this marketing toolkit to schedule your social media posts and track their effectiveness.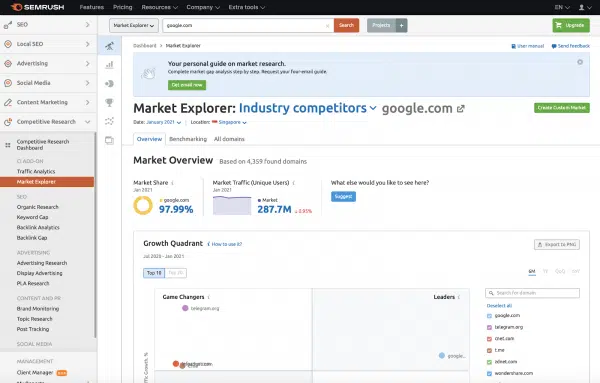 The market explorer feature in SEMRush taken from semrush.com
Perfect for SEO audits, Ahrefs not only provides insights on how you can enhance your website to rank better on search engines but also contains amazing features and tools that help to analyse for broken site links and spam links; This comprehensive SEO tool is made up of a site explorer, keyword explorer, site auditor, rank tracker, and content explorer.
Also, a feature within Ahrefs called 'top pages' makes analysing a website's most valuable pages more convenient while another feature called 'content gap' allows users to find out why their competitors are ranking for a particular metric.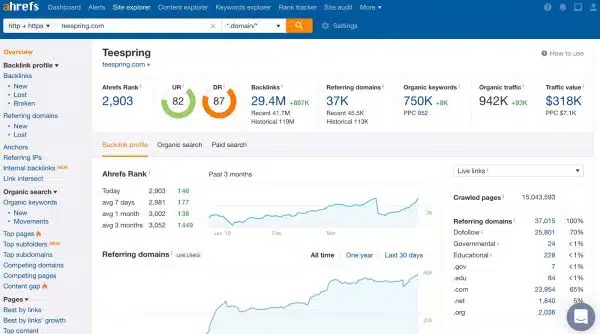 An example of Ahref's interface. Source via Ahrefs.
Finally, we have Similar Web, a website traffic intelligence that provides you with a thorough analysis of your rival website's activities that ranges from visits, traffic analysis, referrals which shows the specific websites that drove traffic to your competitors, as well as keywords that are helping your competitors to be positioned in a higher rank on popular search engines like Google.
On Similar Web, you can even evaluate and learn how to maximise your market share and consumer's buying journey which would be beneficial for those who desire to be market leaders who stay ahead of trends and competitors.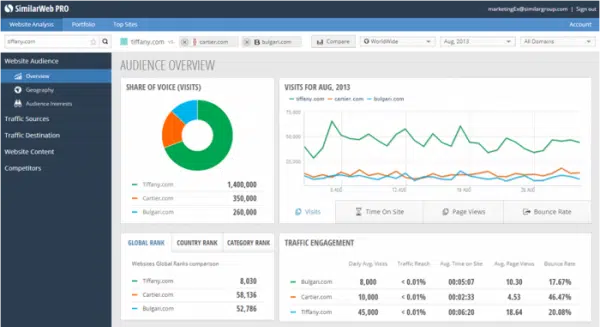 Ending Thoughts
In a nutshell, establishing a concrete content marketing strategy would require one to cover the six key phases — Planning, Creative, Production, Publishing, Distribution, and Measurement. Apart from that, you should keep in mind not to rush into selecting the relevant tools to support your content marketing strategy creation process and instead spend some time exploring them before choosing one that best suits the needs of your business.
All in all, we hope that this article has provided you with insights on the six key phases as well as a better understanding of the tools mentioned.
Ready to Get Hands-On? Sign Up For Our WSQ Content Marketing Strategy (CMS) Course
If you are keen to learn how to develop a content marketing strategy with the six important phases mentioned through hands-on learning, you can check out our WSQ Content Marketing Strategy (CMS) course.
Our Content Marketing Strategy Course straddles both the art and science of content marketing and is designed to help you to better analyse your customers and competitors, embrace emerging trends in digital content creation, choose the right channels for promoting content, and measure the success of your content marketing efforts.
If you're interested in learning other disciplines within the digital marketing stratosphere, we have a wide range of digital marketing courses taught in-person in Singapore or online for you to choose from.