Why You Need an Integrated SEO Marketing Strategy
A Search Engine Optimisation (SEO) strategy is a blueprint or master plan to
achieve top organic search engine rankings and visibility for a brand.
As this is an intermediate to advanced level article, we recommend reading this beginner SEO guide first if you're relatively new to SEO.
To achieve optimal results in the long term, an SEO strategy should also be integrated with, and complement other channel marketing strategies, particularly content marketing, search engine marketing (SEM), social media marketing, Online PR, and digital advertising.
In this article, we will break down why and how an SEO strategy should be integrated with other channel marketing strategies.
Why and How an SEO Strategy Should Be Integrated with Other Digital Marketing Channel Strategies
It is common to think that the main objective of a successful search engine optimisation campaign is to achieve high rankings for a carefully selected group of keywords. But is it really the case anymore? As search engine algorithms constantly evolve, ranking number one for every keyword you target is becoming a seemingly impossible task. On a side note, if an SEO agency promises/guarantees you number one rankings, there's a high chance they might engage in search engine spam techniques which can do more harm than good, so veer far away.
Your objectives and tactics in your SEO strategy should align with other channel marketing strategies' objectives and tactics.
The key to a successful integrated SEO strategy is to understand what a successful SEO campaign can bring to the table and how to effectively integrate various channel marketing strategies (such as content marketing, social media marketing, and digital advertising) to achieve common objectives (e.g. increasing brand awareness, engagement, and sales).
For example, the benefits a well-executed SEO campaign can reap for an electronics retailer include:
Increase in brand awareness – by ranking for top of the funnel keywords searched by your target audience. Examples of top of the funnel keywords for an electronics retailer include more generic search terms such as "electronic products" and "electronics stores".
Increase in engagement (e.g. traffic and time spent on site) – by ranking for relevant search terms potential customers may use along their buying journey and making sure the content that ranks actually influences their buying decision.
Increase in sales – by ranking for bottom of the funnel keywords where potential customers are more ready to commit to a purchase such as "buy ssd drive for macbook pro" and "cheap ram ddr4 16gb".
As you may have already noticed, the above objectives are very similar to almost any general marketing strategy. How then, are you supposed to integrate other channel marketing strategies with your SEO strategy?
First, you need to understand what an integrated marketing means. Here's an excellent definition taken from thedma.org – Integrated Marketing is an approach to creating a unified and seamless experience for consumers to interact with the brand/enterprise; it attempts to meld all aspects of marketing communication such as advertising, sales promotion, public relations, direct marketing, and social media, through their respective mix of tactics, methods, channels, media, and activities, so that all work together as a unified force. It is a process designed to ensure that all messaging and communications strategies are consistent across all channels and are centered on the customer.
Second, if you're attempting to meld the various aspects of marketing communication into a unified force, you need to be proficient in or at least sufficiently familiar with the pillars, tactics, and benefits and constraints of other channel marketing strategies. In other words, you need to be a T-shaped marketer.
Let's say you want to increase brand awareness through content marketing. A well-executed, standalone, content promotion campaign such as getting influencers to review your products and link to your website will achieve that objective. Speaking about unified force, the backlinks acquired from the influencer's blog or website will also increase your keyword (SEO) rankings.
Adding to this point, in order to rank and stay on top of the search engines in the long term, you need a constant influx of backlinks. And to achieve that, you need a robust content marketing strategy, one that will consistently earn you natural backlinks.
Example of an Integrated SEO Marketing Strategy
Here's an example of how an integrated SEO and content marketing strategy produced a well-thought-out and well-crafted content piece that generated thousands of backlinks for Moz and positioned them as the authority of their industry.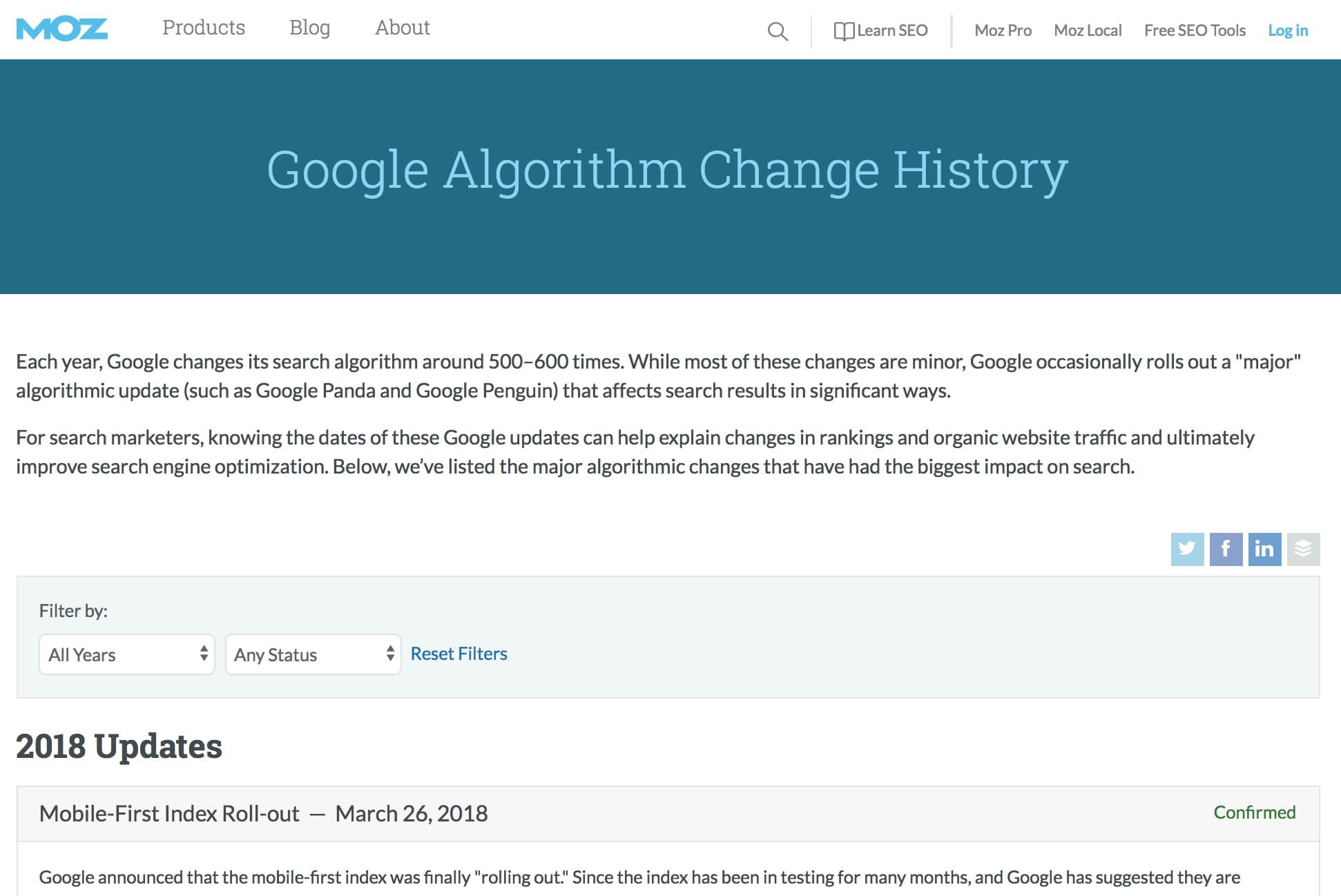 Moz knew the search term "google algorithm change history" was a popular search term that would bring a good amount of regular traffic and wanted to capitalise on that. They also knew it was going to be a content piece that SEO bloggers would likely link to in the long run, as it would be an incredibly challenging task to maintain its freshness, much less to create and organise the entire timeline of Google algorithm changes.
After a good initial content marketing campaign boost and some basic SEO on-page keyword optimisation, the page initially gained backlinks from 514 websites. But it was enough to rank it on the 1st page of Google. And as SEO bloggers wrote SEO content that talked about google algorithm changes, they Googled for sources like this and eventually linked to Moz's.
Using Ahrefs's Site Explorer tool, we can see that over the past 5 years, it has generated backlinks from over 5000 referring domains! Not only did the tremendous link equity to the Moz domain boost its overall keyword rankings and increased brand awareness, engagement, and sales, it also helped position Moz as the authority in the SEO industry.
Conclusion
At Equinet Academy, we integrate SEO into every other channel marketing strategy where possible. The reason why we're so invested in SEO is due to the positive results the organic search channel has brought us over the years.
As you can see in our Google Analytics Multi-Channel Funnels report above, the organic search channel contributed to 34.76% of assisted conversions and 37.42% of direct conversions. That's more than one-third of all sales, leads, and engagements.
In conclusion, if you do your best to integrate SEO across your various channel marketing strategies, you will gradually see a consistent growth in traffic, engagement, and leads.
If you're interested in learning more about SEO, we offer two courses on the discipline – Search Engine Optimisation (SEO) Training Course and Advanced Search Engine Optimisation (SEO) Certification Course.
Feel free to also browse our array of digital marketing courses taught in-person in Singapore or online.
---
If you learned something new from this post, here are some recommendations from us for additional reading:
Written By: Dylan Sun
Dylan Sun is the Founder of Equinet Academy, a SkillsFuture Singapore WSQ-Accredited Digital Marketing training organisation. Passionate in all aspects of Digital Marketing and SEO, he extends his passion to helping people implement effective digital strategies to their businesses. Follow his blog at Equinet Academy to learn more about Digital Marketing.