What Does a Digital Marketing Agency Do?
Digital marketing is a vast, and often confusing, world. A huge playing factor in a business' success, many owners understand the necessity of implementing digital marketing. However, for many business owners, small or large, it can be an entirely new challenge to tackle and may even seem impossible at times.
This is where digital marketing agencies come into play. While the term might not be completely foreign to you, you may be asking, what exactly is a digital marketing agency?
In this article, we will give you the rundown on digital marketing agencies; who they are, what they do, and especially, how they can help you and your business flourish.
If you want to engage with agencies for digital marketing-related services, check out our Top 10 Lists:
What is a Digital Marketing Agency?
A digital marketing agency is a business whose main purpose is to market its clients' businesses, products and services in a rapidly evolving digital world. Digital Marketing Agencies have to be innovative and in touch with the latest industry updates and use industry best practices to leverage the tools, strategies and tactics at their disposal to have their services exceed clients' expectations and deliver results in a measurable and timely manner.
What to Expect from a Digital Marketing Agency
There are a variety of digital marketing agencies out there, but regardless of the type of agency you approach and the digital marketing services you engage, any decent agency needs to understand your business goals and what you require from your marketing efforts.
In return, you need to be open about what you want from them, be clear about how they expect to be paid and decide if hiring their services will give you your desired return on investment (ROI).
Overview of Digital Marketing Service Providers
The digital marketing service provider landscape is vast — there are full-service digital marketing agencies, specialised digital marketing agencies, digital agencies, digital marketing consultants, and digital marketing freelancers. Let's briefly look into the different digital marketing services providers out there.
A Full-Service Digital Marketing Agency
Full-service digital marketing agencies are generally a one-stop shop for digital marketing services. They are made up of many departments that focus on one digital marketing service each, thus allowing the agency to provide holistic digital marketing strategies for their clients.
Specialised Digital Marketing Agency
Specialised agencies, or niche agencies as they are sometimes called, are digital marketing agencies that focus solely on one area of digital marketing. Examples of these are specialised agencies that only do Search Engine Marketing or specialised agencies that focus solely on Website Design.
Digital Agency
Digital Agencies are agencies that focus on the development of digital products, such as mobile apps or website development. In general, a digital agency provides clients with strategies, creative designs and technical development for screen-based products and services.
Digital Marketing Consultant
A digital marketing consultant is a professional who is hired by businesses to assess the effectiveness of their current paid and organic digital marketing strategies and provide solutions to optimise and perhaps even revamp the strategies in place. They also help to develop, implement and monitor the results sometimes.
Their expertise is sometimes used to help in-house marketing teams improve, help businesses in their dealings with external digital marketing agencies or sometimes check on a freelancer's digital marketing efforts and offer advice. It should also be noted that digital marketing consulting services are offered in some full-service and specialised agencies as well.
Digital Marketing Freelancer
Digital Marketing Freelancers are individuals who provide digital marketing services. Some of them work alone, while others have small teams or other freelancers they use to outsource certain aspects of the job. Most Digital Marketing Freelancers specialise in a niche and rarely handle full-service digital marketing campaigns.
Overview of Digital Marketing Services
When it comes to digital marketing services available in the market today, there are plenty. This article will briefly discuss 21 services in particular. For a more in-depth look at these services, this article would help.
1. SEO Services
SEO stands for 'Search Engine Optimisation' and it involves the optimisation of online content to rank high on search engines for specific keywords. This in turn increases the quantity and quality of website traffic and brand awareness.
2. Content Marketing Services
Content marketing services involve the creation and strategic distribution of high quality content on a consistent basis for the purpose of attracting and acquiring a target audience to eventually turn them into paying customers.
3. Social Media Marketing Services
Social media marketing services involve the use of social media platforms such as Facebook, YouTube, Instagram, LinkedIn, TikTok etc. to connect with target audiences in order to increase sales, drive traffic and build brands.
4. Email Marketing Services
Email marketing services involve the creation of personalised and targeted messages that are sent out via email to either new or existing customers to get them to perform a variety of actions that can include visiting a site or making a purchase among others.
5. Digital Advertising Services
Digital advertising services involve any kind of communication over paid channels to promote and advertise a company's services, products and/or brand using the various digital channels, platforms and resources available.
6. Digital Marketing Strategy Consultation Services
Digital marketing strategy consultation services involve the planning, development, implementation, monitoring and optimisation of a business' organic and paid digital marketing strategies.
7. Digital Marketing Analytics Services
Digital marketing analytics services involve the use of tools to analyse and report on the digital marketing data collected via all the digital channels a business utilises. The most common digital marketing analytics tool used today is Google Analytics.
8. Web Design Services
Web design services involve the development of a business' website's graphic design, logo design, web hosting, flash design, multimedia presentation, video content and promotion of the website by making it user-friendly.
9. Web Development Services
Web development services focus on the non-design aspects of website building. These services involve the writing of code and markup in order to optimise the website to exist on the internet or intranet.
10. Mobile App Development Services
Mobile app development services involve delivering a complete functional solution in the creation of mobile applications – from deciding how they will serve wider business needs to the user interface design (UI) and user experience design (UX) of the app to testing the mobile app, deployment of the app or publication of the app on an online market like the App Store or Google Play Store.
11. Creative Design Services/ Graphic Design Services
Graphic design services involve the utilisation of visual configurations to convey ideas and solve issues via the strategic use of lettering, typeface, colours, form, and images etc.
12. E-Commerce Marketing Services
E-commerce stores are online shops that sell, buy (or both) goods and/or services. These stores many times don't have a brick-and-mortar outlet and operate solely on the internet. With the emergence of these online stores, their needs are often niche, hence the need for specific digital marketing services that cater to such stores. E-commerce marketing agencies can be either full-service or specialised, and they strategically use technology, creative solutions and marketing to help e-commerce stores achieve their goals.
13. Branding Services
Branding involves the creation of a business' identity. Branding services include logo design, creating style guides, social media branding, developing a brand's voice, positioning the brand strategically and crafting a brand's message. These efforts can be put forth to build a brand's identity from scratch or to rebrand an already established business.
14. UI/UX Services
User interface (UI) services involve the development and design of all digital touchpoints that a user has to engage with in the course of using a product or service digitally. This includes lights, touchscreens, sounds, screens and keyboards.User experience design (UX) services are carried out by design teams who strategically integrate a business' product into an online marketplace through using intelligent design elements to craft a solid brand identity while having practical functionality, ensuring the product has an optimal experience for its users.The main difference between UI and UX is that UI is the entire ecosystem of digital touchpoints that a user has to interact with, i.e. the technical aspects, while UX deals with what the user takes away after interacting with the digital product or service, i.e. how the user would feel etc.
15. Video Services
Video services provided by a marketing agency might include anything from storyboarding/conceptualisation to production (filming) and even post-production (editing).
16. Performance Marketing Services
Performance marketing services are special compared to other marketing services in that the client only pays if their desired goal is reached – a sale, click or lead etc. Performance marketing services include online marketing and advertising campaigns that are targeted to a client's needs. It also includes measuring the results of the campaign(s) to measure if the desired results have been achieved.
17. Marketing Automation Services
Marketing automation services involve the use of software to: help identify potential users, move the users down a company's marketing funnel and identify important information to optimise marketing tactics. By automating these processes through the use of software, it helps marketing teams free-up their time to focus on other areas such as overall strategy etc.
18. Conversion Rate Optimisation Services
Conversion rate optimisation services involve the tweaking of the multiple factors that go into causing visitors to perform a 'goal action' on a website. The ultimate aim of conversion rate optimisation is to increase the percentage of website visitors who are performing 'goal actions' on the site – buying a product or service, adding items to their e-cart or clicking a link etc.
19. Content Creation Services
Content creation services are wide-spanning; they involve creating content for websites, landing pages, display ads, social media and email marketing just to name a few. While elements like tone and design may vary, at the end of the day, the content created needs to be aligned with business goals, digital strategy, the brand's persona and customer's persona.
20. Landing Page Creation
Landing page creation services include creating the actual landing page using the information provided by clients (colours to use, overall design goals etc.), making revisions along the way and optimising the page and its various elements to achieve the best results.
21. Copywriting
Anything you see on the web usually has copy (i.e. words)–– from websites, to ads to blog posts. Copywriting services, put simply, are using the necessary skills to create anything that involves copy.
Which Digital Marketing Service Provider Should You Choose?
When it comes to choosing the right service provider, there are a number of factors to consider:
Business objectives: Are the agencies able to understand and align to your objectives?
Marketing budget: Are you able to hire one or multiple agencies?
Manpower skills and management resources: Is your in-house team able to effectively communicate and manage the campaign deliverables?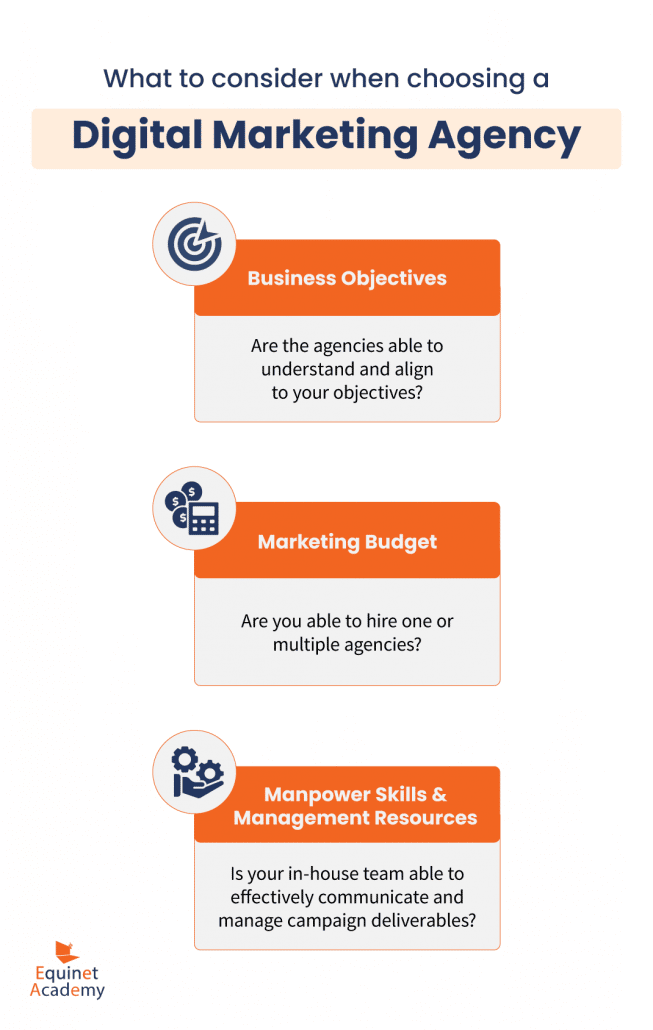 Conclusion
There are countless digital marketing agencies out there and hiring the right digital marketing agency may not be the easiest decision to make.
Without background knowledge on the world of digital marketing, it can be easy to get burned by your chosen agency. Equipping yourself with the necessary skills and familiarising yourself with the landscape can steer you in the right direction in hiring the perfect digital agency for you and your brand.
If this resonates with you, take a look at Equinet Academy's wide range of digital marketing courses held in-person in Singapore, or online. Additionally, we have a pathway to become a Certified Digital Marketing Strategist to gain all the skills and knowledge needed to be a competent and successful digital marketer.