How to Define Digital Marketing Objectives and KPIs for your Business
In today's digital world, companies have realised the importance of growing their online presence. To achieve that, many have outsourced their digital marketing strategies to digital agencies in a bid to tap into the skills and experiences of digital marketing specialists.
In order to implement digital marketing strategies successfully, it is crucial for businesses to start with a Digital Marketing Objective and Key Performance Indicators (KPIs) from the onset. With the formulation of business and marketing goals, companies will then be able to determine if they are headed in the right direction.
What are Digital Marketing Objectives, KPIs, and Metrics?
A digital marketing objective is considered more broad-based than a KPI, for example – Sales. A KPI on the other hand is more specific and follows the SMART principle, for example – to increase sales by 10% by the end of this month. Many marketers use both terms (Objectives and KPIs) interchangeably.
What is a SMART KPI?
One way to evaluate the relevance of a performance indicator is to use the SMART criteria. It is an acronym and it represents Specific, Measurable, Attainable, Relevant, Time-bound.
Specific
Goal setting has to be specific to ensure that it is easy to communicate and comprehend during team discussions.
Measurable
By having a measurable goal, it allows you to review whether that goal has been reached.
Attainable
It is crucial to set a reasonable and realistic target in order not to get demoralised when you fail to achieve it.
Relevant
To have an impact on the overall performance of an organization, your goal should align with your business objectives.
Time-bound
Goal setting has to be time-constrained, to install a sense of urgency and motivation to achieve the goal.
Metrics are values used by marketers to measure and track the performances of their campaigns. However, it is important to differentiate them from vanity metrics. Vanity metrics are measurable data that look great on paper but do not necessarily make an impact when it comes to fulfilling the campaign objectives. Some examples of metrics include:
Registered accounts – A software as a service company can have 10,000 registered accounts, but only 100 active monthly users.
Pageviews – If it is a landing page for an ebook download, having 100,000 pageviews will not be relevant if there are only 10 downloads.
Number of page likes/follows – The total number of followers a brand has may not be indicative of its success, especially if sales conversion rates are low.
Types of Digital Marketing Objectives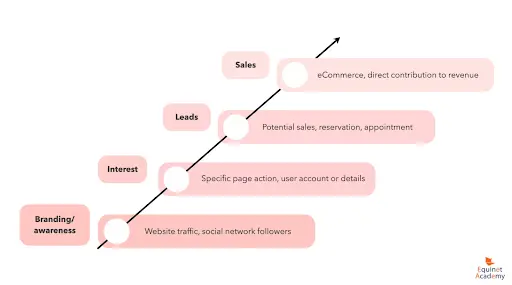 Diagram depicting the 4 different types of Marketing Objectives
Referring to the diagram above, Marketing Objectives can be categorized into the 4 types: Awareness, Interests, Leads and Sales.
Awareness
Building awareness for a brand requires consistent marketing. Customers are more likely to purchase from brands they are more familiar with. Establishing brand awareness is valuable when promoting a company's products, especially in the early stages of a business.
A good example is Tim Hortons awareness campaign to promote its Dark Roast. This involved driving around the city of Toronto and offering Canadians a place to cozy up with a warm drink in the winter. During the bus ride, people were able to sip on the cups of coffee, relax, and give testimonials on the new dark coffee drink.
Interests
It is important to produce content that appeals to your website visitors if you want them to spend a longer time and stay engaged. The more relevant, interesting, beneficial your content is, the more interest your website visitors will show.
There are various ways website visitors show their interest such as, signing for an account, registering for a free email newsletter, or finding the address of the store location.
Leads
Leads can be viewed as the stage before the completion or transaction of the sale. However, the type of leads may vary for different companies and industries.
For a restaurant, the leads could be reservations made online or through phone booking, whereas for an interior designer, the leads could be contact form enquiries.
Sales
Businesses with an e-commerce platform can define online purchases as a sales objective. Sales are the proceeds a company generates from selling products and services. It contributes directly to the revenue of the business.
With the type of objectives defined, a business then needs to align the goals with the relevant KPIs.
Importance of Aligning KPIs and Metrics With Marketing Objectives
To measure business performances more effectively, the marketing team needs to ensure that the marketing objectives of the company have to be aligned with relevant KPIs and the right metrics. This is an effective way to gauge the health of a business – by accurately and efficiently managing the agreed-upon targets and goals.
A negative example of this would be setting social media post likes as KPIs for a sales objective, as achieving likes would not directly benefit the company in terms of revenue.

Diagram depicting the relationship of Objectives, KPIs and Metrics
Referring to the diagram above, Marketing Objective can be seen as setting a clear course for the team members of the company to follow.
A KPI is an alignment value to the objectives set. It helps in tracking the progress in achieving a specific goal. As for the Metrics, it is considered a performance value that directly impacts KPI.
From the relationship represented, we can derive the 3 marketing objective models, specifically; Traffic, Leads and Sales models.
Traffic Model
Diagram depicting the various constituents of the Traffic Model
In the above example, assuming a company sets its Marketing Objective as website traffic (sessions) and is targeting 10,000 website visits per month. The KPIs are split into both paid and non-paid sessions. Paid sessions are when your users click through to the website via paid ads.
By utilizing web analytics, a company can use historical data from the previous year to know how many non-paid sessions the business has. Hence, by leveraging on the data derived, it is possible to forecast the number of paid sessions that are needed to attain the desired Marketing Objective.
Consider Drop-Offs
There are times when website visitors do not act according to expectations. You set out for the visitors to complete a certain desired action but they might not complete the intended visitor's journey of the website. This causes a drop-off in the user's actions.
As a result, the marketer needs to have an effective strategy to generate more clicks to compensate for the drop-off rate. For example, if the marketer is looking for 100 paid sessions, with an estimation of 20% drop off rate, there will be a need of 125 clicks.
By having different paid initiatives like Google or Facebook advertisements, it will help to achieve the required additional clicks. However, if the marketer aims to target more non-paid sessions, then there is a need to focus on areas relating to search engine optimization (SEO) or partnerships with other websites through acquiring referring hyperlinks (backlinks) from them.
Leads Model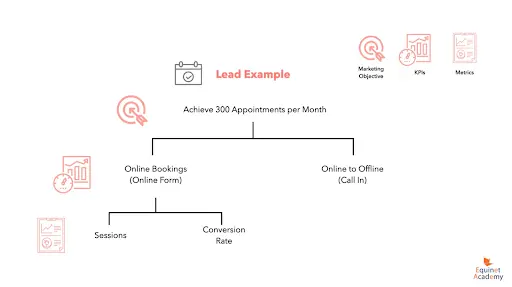 Diagram depicting the various constituents of the Leads Model
Taking an example of an air-con servicing business, the KPIs can be subdivided into both online bookings and Online to offline. An online booking is usually leads coming from a website through an enquiry form, whereas some prospects would prefer calling in for more immediate attention.
It is necessary to verify whether the calls-in are leads generated by digital marketing efforts. If it is an existing customer, then it will be disregarded as an online lead.
The Leads from the online bookings are subdivided into 2 metrics; sessions and conversion rate. Sessions, which are also known as web traffic, is a common way to measure online business effectiveness at attracting an audience. More sessions will also directly impact the number of enquiries made through calls.
As for the conversion rate, it is the percentage of visitors coming to your website or landing page that converts. It could be in the form of:
Making a purchase
Submitting a form
Engaging with your online chat
Signing up for a subscription
Download items like eBook, software trial or mobile app
Sales Model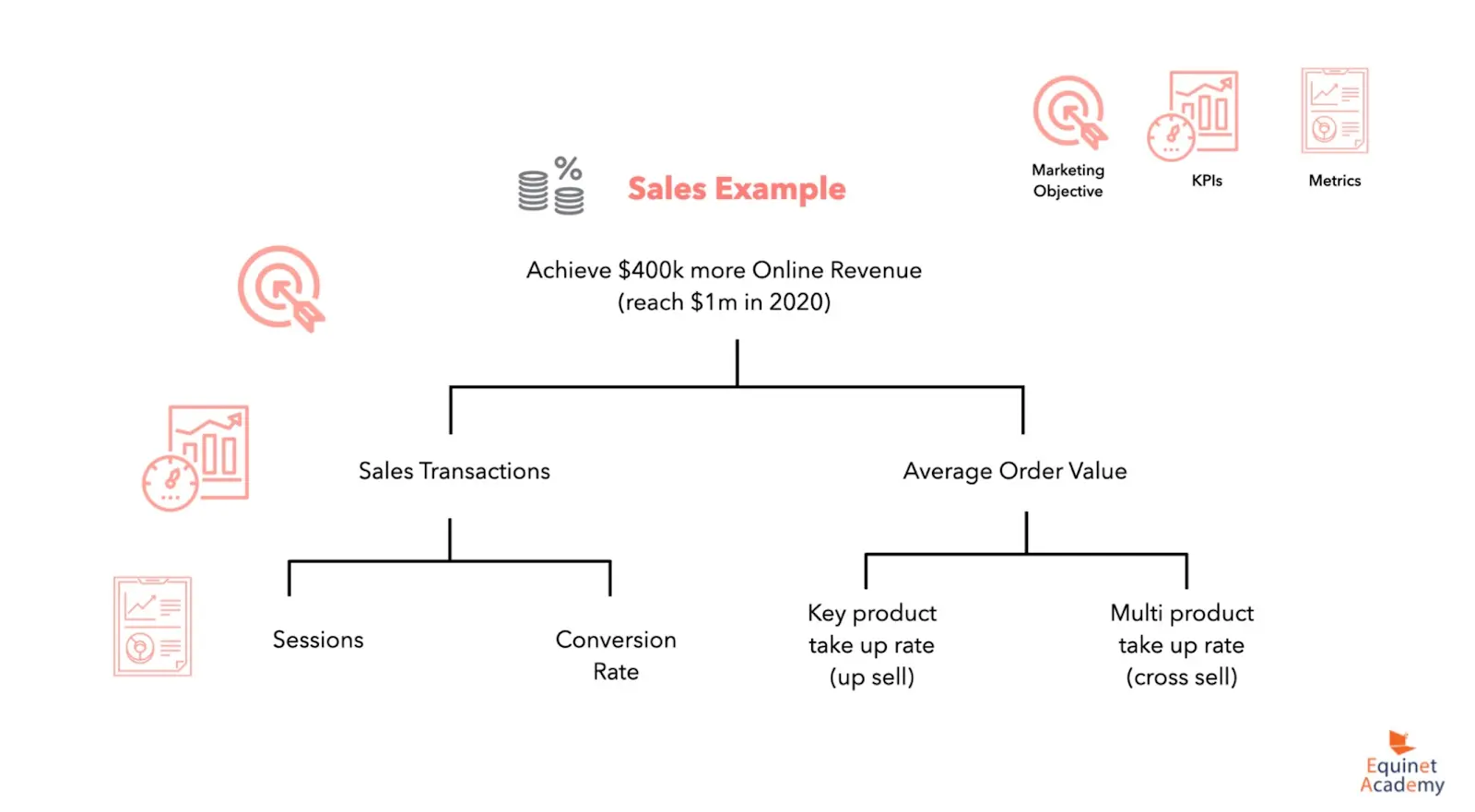 Diagram depicting the various constituents of the Sales Model
Many businesses tend to base their marketing objectives on revenue. Referring to the diagram above, the multiplication of both Sales transactions and Average order value (AOV) will directly contribute to the marketing objective of achieving $1 million in 2020. AOV is especially important in e-commerce enterprises.
What is Average Order Value and how is it calculated?
Average Order Value is the average amount spent by customers on making online purchases. It is calculated by dividing the total revenue generated in a specified period by the total number of customer orders. For example, if an e-commerce retailer generated revenue of $100,000 in Feb 2019 with a total number of 1,000 purchase orders, the AOV for Feb 2019 would be $100. The formula as shown:
AOV = Total Revenue / Number of Orders Taken
Making Sound Judgements through Customer's Insights
Imagine a case scenario of an online clothing shop that retails 4 blouses each priced at $15, $20, $25 and $30. After factoring in the sales revenue and number of orders, the AOV works out to be $22. You can deduce that:
The sale of the lesser-priced blouses represents the major portion of the revenue.
Most of the online customers are not buying more than 1 blouse in a single order.
Techniques to Improve the AOV
To encourage online customers to purchase more than 1 item in a single transaction, you can implement these techniques as outlined below to improve the AOV.
Upselling
Upselling encourages customers to purchase a more expensive item. An example would be a customer going to a hotel's website to book a standard room. However, he may have chanced upon a good promotion and went ahead to book a higher-end suite instead.
Cross-selling
Cross-selling is a method used to encourage customers to add products that are complementary to the originally purchased item. Going by the same example, right before the customer completes the hotel booking; he may have seen an amazing deal on a spa package and added it to the transaction as well.
Ending Thoughts
Ultimately, if a business has a clear understanding of what their objectives are, it will be possible to align them to the relevant KPIs and metrics. This will not only let you know how your efforts are paying off but how you can further improve on them in the long term. If you want to read more on different KPIs for digital marketing, take a look at our Top 12 KPI lists for both Search Engine Optimisation (SEO) and Social Media. 
Learn how to research, craft, implement and evaluate a digital marketing plan. Gain a comprehensive overview of the most current digital marketing strategies, frameworks, and methodologies practiced by digital marketing industry experts via a 2-day interactive Digital Marketing Strategy Course. Takeaway a toolkit of templates, checklists, cheatsheets, and e-guides to assist in the development and implementation of an effective digital marketing strategy.
Feel free to also browse the wide array of digital marketing courses we offer in-person in Singapore or online.