Digital Marketing Strategy for eCommerce Online Stores
With the retail apocalypse seeing big brands such as Forever 21, Crabtree and Evelyn shutting down stores globally, one can only pin the leading cause to the rising trend in eCommerce.
In Singapore, eCommerce revenue is expected to amount to $7.29 billion by the end of 2022 (Statista). A study conducted by Visa found that 1 in 4 Singaporeans shop online at least twice a week, with the most frequent shoppers in the age group of between 25 to 44. This can be attributed to the rise in smartphone adoption and the increased confidence in mobile eCommerce.
With more screen time on digital devices and increased confidence in secure payment gateway providers, it is becoming ever more important for businesses to develop eCommerce digital marketing strategies to reach and engage digital consumers at the right moments.
What is a Digital Marketing Strategy and Why is it Important to Have One?
A digital marketing strategy is a blueprint detailing the specific digital marketing channel tactics and action plans required to achieve the set objectives and key performance indicators for a business.
Parts of a digital marketing plan include:
Analysis of performance of various digital marketing campaigns
Market research and competitive analysis
Defining digital marketing objectives, KPIs, and metrics
Specific digital marketing channel plans (SEO/SEM, Social Media, Content Marketing, Display Advertising, Email)
Digital marketing analytics and optimisation plan
Without a documented digital marketing strategy, marketers would be prone to implementing digital marketing campaigns that fall short of achieving objectives, akin to firing bullets in the dark.
It is easy to get carried away and launching trending marketing campaigns such as influencer marketing, video marketing, and programmatic advertising with little understanding of how these will impact return on investment. This often results in overspending of marketing budgets and underachieving set KPIs.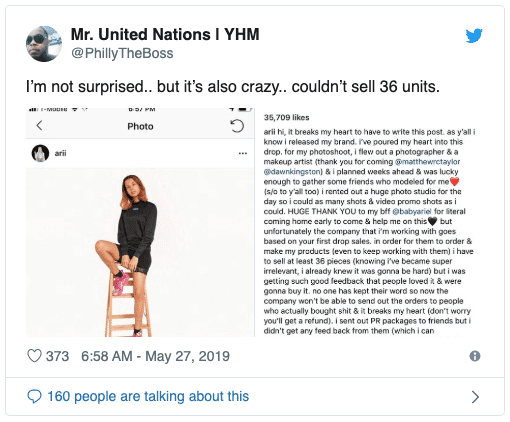 Take for example Instagrammar @Arii who reportedly failed to sell 36 T-shirts to her huge fanbase of 2.6 million followers.
Digital Marketing Channel Strategies for eCommerce Online Stores
Before discussing the following digital marketing channel-specific strategies, it is paramount to first highlight the importance of having a robust eCommerce website. Having a website that is effective in converting visitors into paying customers is one of the first steps eCommerce business owners should take note of if they want to see good returns on marketing spend.
A poor-converting website can be destructive to an entire marketing campaign, especially since the cost of acquiring a customer can get very expensive in competitive markets. If a website has a conversion rate of 1% (i.e. 1 in 100 visitors make a purchase of $100), the cost of acquiring one visitor (CPA) cannot exceed $1.00 (i.e. $100 ÷ 100 visitors). Doubling the conversion rate to 2% would enable an increase in CPA to $2.00. In competitive markets, it is common to expect a minimum cost per click of $1.50 to $2.00, which in this scenario is dangerously close to turning a marketing campaign unprofitable.
Chomel, a leading fashion and accessories retailer in Singapore, is a good example of a conversion-optimized eCommerce website.
The main navigation menu is well-organized into main product categories with drop-down menus for the sub-product categories, enabling the user to get a clear sense of all products offered at a glance.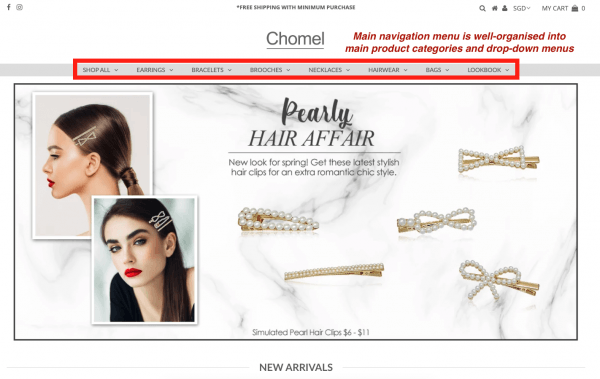 The shipping information and rates are transparent as well, clearly stating the shipping rates of DHL Express for orders above and below $100 – $150. Building trust and displaying transparency are important factors that drive conversions.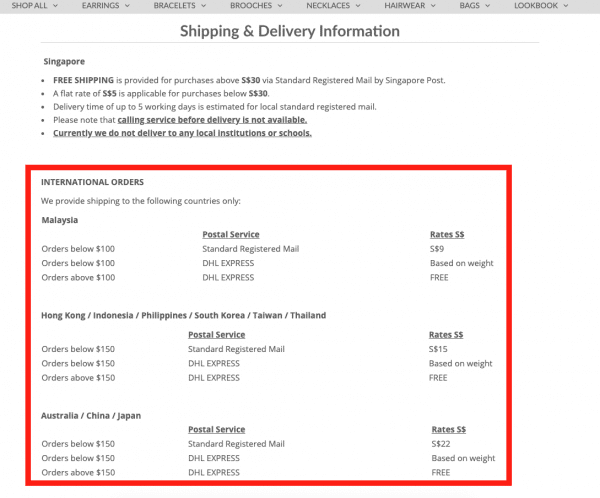 Items that have been sold out are marked and made obvious to encourage a sense of urgency.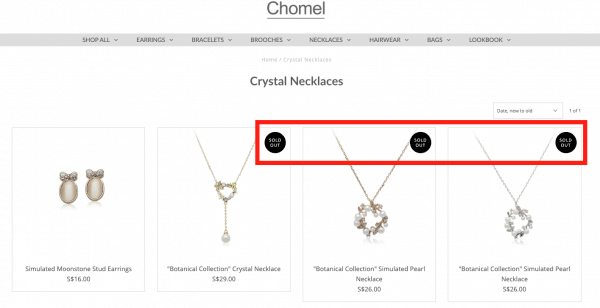 The checkout page includes a link to the refund policy, privacy policy, and terms of service pages. The site is also HTTPS secure to protect user data.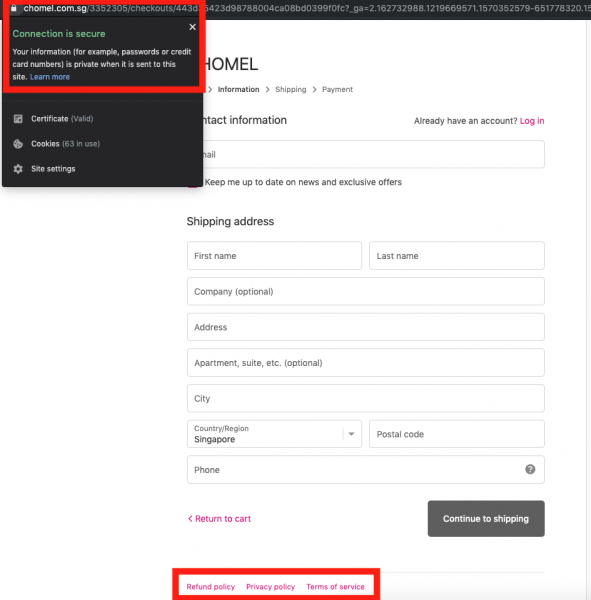 Once the website is optimised for conversions, only then should marketers implement the following digital marketing strategies.
Search Engine Optimisation
Googling the search term "buy diamond ring online" brings up the paid and organic search engine results pages with Bluenile.com ranking number one on the organic search results.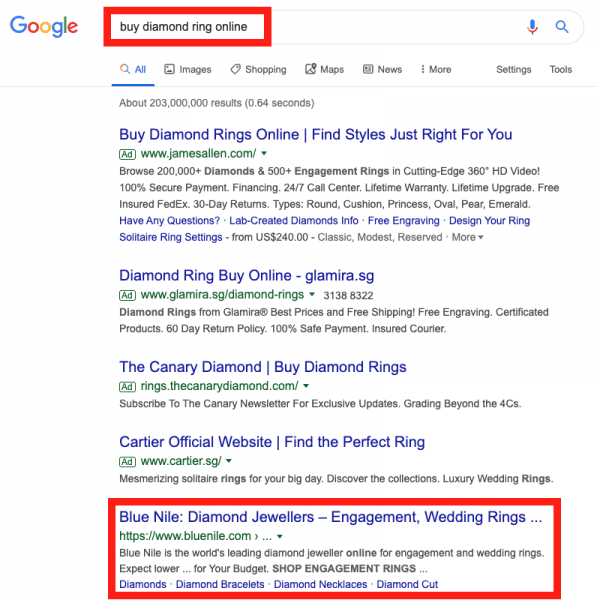 Organic search is one of the highest ROI channels of digital marketing, at 49% compared to paid search, email, and social media.
To rank on top of Google in the long term, an eCommerce website needs to have the following attributes:
Good on-page optimisation (keyword-optimised, eCommerce structured data markup, optimal page loading speeds, mobile-friendliness, and more)
Sufficient off-page SEO signals (A decent number of quality and relevant backlinks)
E.A.T. or expertise, authoritativeness, and trustworthiness
Good on-page optimisation
Blue Nile has all its pages well optimised in terms of inserting their target keyword search terms into the <title> tags of the page. It is ranking well even for the search term "womens diamond rings" as the <title> tag matches the search term.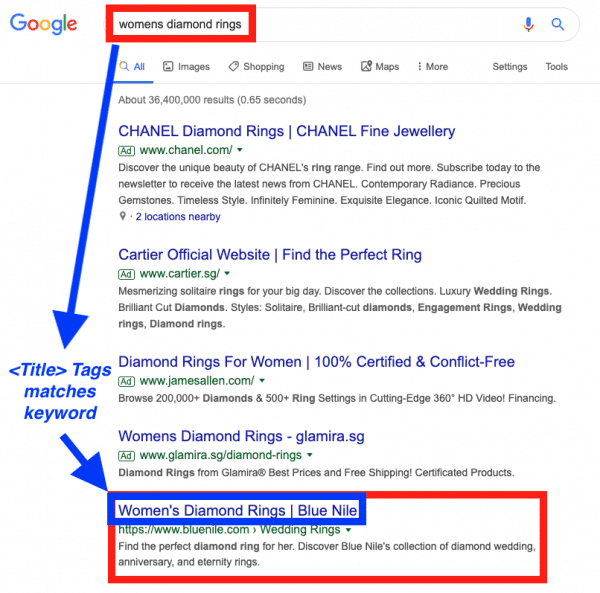 Sufficient off-page SEO signals
Blue Nile has over 7000 different websites linking to it according to Ahrefs SEO tool.

Backlinks help to signal authority and trust to Google and is correlated to increased visibility of a website on the Google search results pages.
E.A.T.
eCommerce websites need to display trust signals such as refund policies, trust seals such as the BBB, contact details, transparency of shipping rates (no hidden charges), HTTPS, and many more to gain trust and rank well on Google.
For more information on E.A.T., check out Google's Search Quality Evaluator Guidelines.
Digital Advertising
Some of the channels eCommerce online stores can start advertising on are:
Paid search (SEM)
Google Display Network (Display Advertising)
Google Shopping Ads
To start advertising on paid search, the Google Display Network, and Google Shopping Ads, sign up for an account with Google Ads.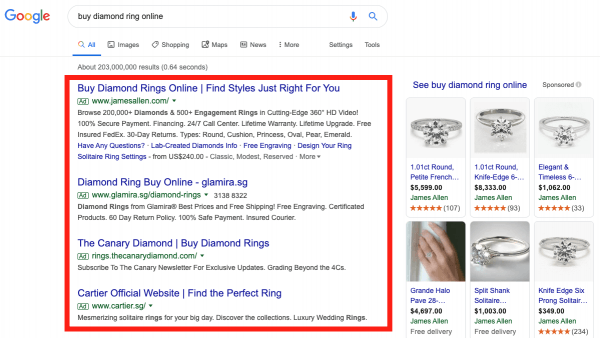 Paid search is one of the fastest ways to see results. However, marketers should watch their budgets as it can get very costly in competitive markets.
Using a free tool like Ubersuggest can provide an estimate cost of every click (CPC).

Based on the data provided, it can cost a whopping $8.19 just for a click on a paid search ad!
On the Google Display Network, however, it typically costs significantly less than paid search, at an estimate of $0.50 to $2.00 per click.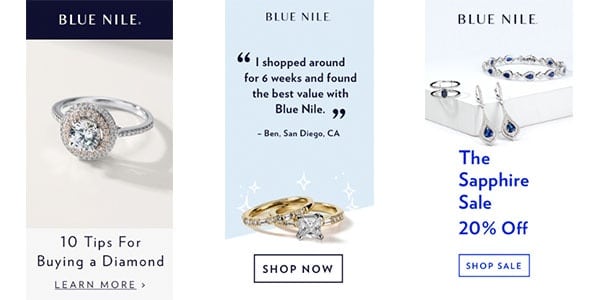 Marketers can launch various display ads targeting audiences at different buying phases. For example, if a website visitor left the site at the checkout page without purchasing the sapphire, Blue Nile can retarget the visitor with a display ad offering 20% off the purchase price using retargeting features within Google Ads.
Marketers can also target audiences who have recently been shopping for jewellery with Google Ads' In-Market Audiences targeting selection. 
Check out our Guide to Digital Advertising for a more in-depth exploration. 
Social Media Marketing
Social media marketing is mainly used by marketers to build awareness and engagement with existing and potential customers, while periodically launching promotions now and then.
Blue Nile uses Facebook, Instagram, and Pinterest to inspire followers, celebrate occasions and seasons, and promote their products.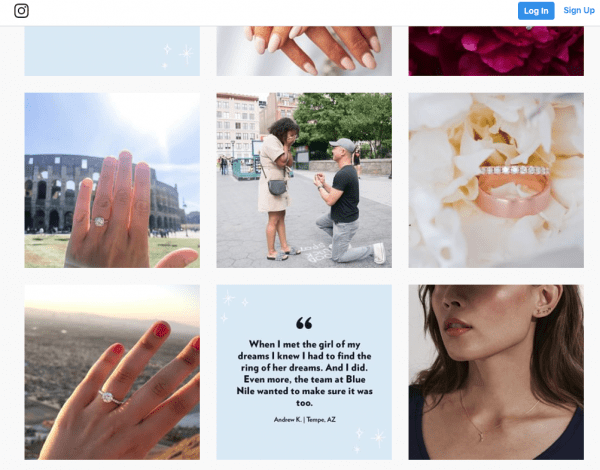 Rather than just promoting rings after rings, Blue Nile's Instagram feed is updated regularly with a variety of inspiring and beautifully taken photos, touching the emotions of their followers and at the same time portraying their jewellery in a romantic light.
Blue Nile also periodically launches Facebook Ads to advertise promotional discounts.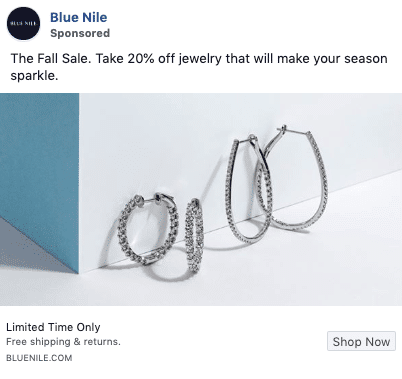 And responds to fan comments on Instagram.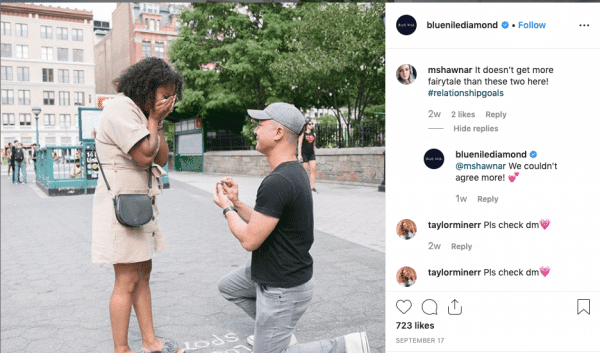 Email Marketing Automation
Email is a great way to build engagement with existing subscribers, upsell and cross-sell different products, and encourage loyalty.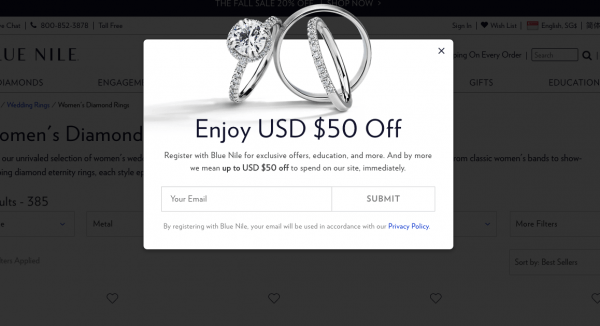 Upon signing up for the Blue Nile's newsletter, an automation email would automatically be sent to the recipient's email address.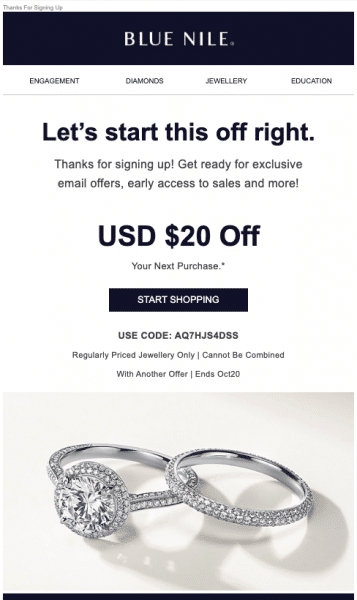 Email is a great (owned media) channel to invest in compared to social media (shared media) as the business has full control over the email list. Unlike social media platforms such as Facebook which restricts the organic reach to push businesses to advertise more, email marketing has been around for the longest time and is here to stay. Learn the ins and outs of email marketing here. 
Key takeaways
What may work for one online store may not always work for another. The important takeaway is to always test different digital marketing channels and measure results, then optimize for the best returns.
Having a website that is effective in converting visitors into paying customers is one of the first steps eCommerce business owners should take note of if they want to see good returns on marketing spend.
If you're struggling with hiring an in-house web designer, you may want to outsource the project to established agencies that offer e-commerce web design services.
Check out the following agencies:
Interested to learn more
At Equinet Academy, we offer 6 core modules of Digital Marketing to prepare you for the implementation of digital strategies. By completing these 6 modules, you will then become a full-fledged Certified Digital Marketing Strategist. Find out more on the Certified Digital Marketing (CDMS) Programme.
Do also check out our array of digital marketing courses taught in-person in Singapore or online.
Written By: Dylan Sun
Dylan Sun is the Founder of Equinet Academy, a SkillsFuture Singapore WSQ-Accredited Digital Marketing training organisation. Passionate in all aspects of Digital Marketing and SEO, he extends his passion to helping people implement effective digital strategies to their businesses. Follow his blog at Equinet Academy to learn more about Digital Marketing.