10 Questions to Ask Your SEO Consultant and Mistakes to Avoid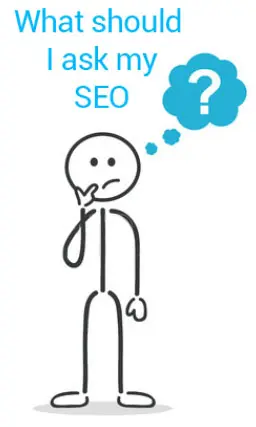 When it comes to a complex marketing medium like SEO, it is important to do your research beforehand – by asking the right questions. Think of it as a job interview. You won't want the wrong people on your marketing team when your goals are to increase profits.
Here are 7 questions to interview your SEO agency before hiring them.
What link building strategies do you use?
When it comes to link building, there isn't any one size fits all. A local service-based business and an e-commerce business might require different approaches to building links. Check out the following link building guides:
Link building strategies for small businesses
Be wary if your SEO consultant only mentions forum postings, blog comments, directory submissions, and article directory submissions.
In my experience, these companies engage in spam submissions such as auto commenting with randomly stuffed anchor text keywords on random blogs and submission of sites to poor quality directories which may harm your rankings in the long run.
Who are some of your clients?
Depending on the agency, they may not be able to divulge client details due to confidential agreements between both parties, etc. But you should be able to get at least one or two references and conduct your own SEO audit on them.
If you notice anything amiss, especially pages that are over-stuffed with high-query search terms and questionable backlinks (e.g. over-optimised anchor text backlinks), run the other way.
Do you abide by search engine webmaster guidelines?
Google and Bing frequently update their search engine algorithms. Google updates their algorithms approximately 500 to 600 times a year. These algorithms are aimed at taking down webmasters that engage in black-hat SEO.
If your SEO provider flouts any of the webmaster guidelines, your site may lose rankings or in the worst case scenario disappear completely from the search engine results pages. Be sure to check whether they adhere to Google & Bing's webmaster guidelines.
How frequent will you keep me updated?
How frequent your SEO company updates you may determine how frequent they are actually working on your campaign.
Typically you should get updates at least 2 times a month on activities such as review and approval of new content and receive detailed monthly SEO reports on ranking positions, links acquired, and more.
How do you measure your success?
Though rankings are important, the ultimate goal in SEO is to increase business profits. Therefore, ranking for the right keywords will get you the right traffic and conversions.
Ask to see samples of their reports, articles, and webpages that they have optimised. Make sure to check for the quality of the content, as many SEO companies write shallow articles that are stuffed full of keywords.
How long have you been established?
Be sure to check how long they have been established. There are many new SEO companies who claim that they have been established for many years. However upon checking their business profiles, they were not even registered for more than a year.
Ask how big their in-house team is, and what work (content writing, link building, social media marketing, on-page SEO) they outsource, if any. Some SEO companies are only reseller of larger SEO companies, and you'll be paying a marked-up price for the same set of services.
Will you keep me in the loop of all the changes you will be making to my site?
Some SEOs may change the meaning of your content in the process of optimising your pages. It is important to stay in the loop of any changes they are making on your site.
For example, you may find your cake decorating tutorial keyword-optimized, or rather stuffed with keywords, as such "This cake decorating tutorial will show how to decorate a cake. In this cake decorating tutorial, how to decorate a cake in 10 steps is as follows. First step on how to decorate a cake…" 
Also ensure you read through and approve any content they will be adding to your site so as to keep your brand message consistent.
Avoid These Mistakes
Be wary of spam emails from so-called SEO experts such as the following
"Hi google.com,
We noticed your site isn't ranking well for your target keyword search terms as we had difficulty finding you on the search engines…"
My advice would be to mark these emails as spam as most of them aren't reliable.
Hiring SEOs that guarantee rankings in a short amount of time
Unethical SEO techniques such as posting articles with over-optimised anchor text on poor quality article directories (i.e. article directories that are heavily spammed and are likely to get devalued by Google) may boost your rankings in a short amount of time, but the losses in the long run may be devastating.
Targets long-tail obscure keyword phrases that wouldn't require much effort to rank anyway
Be wary of SEO consultants who try to rank you for overly long tail keywords such as [where to buy smoothshower shampoo in Tampines] or any other keywords that you would easily rank anyway such as your brand name.
Not understanding what you are getting from your SEO provider
Every business has different sets of goals, target audiences, and different approaches to link building.
Be sure to request for a break down and time frame of each activity such as:
How often will content be generated and how many per month
How many links will be acquired per month and how quality are the links
Is on-page SEO ongoing or a one-time thing
What will you require access to, and how often will you access it? (e.g. website backadmin, Google Webmaster Tools, Google Analytics, etc.)
Regardless of which SEO agency or digital marketing agency you wish to hire, you should have basic knowledge on the topic of SEO. If you haven't already, read our Beginners Guide to SEO, or consider taking our Search Engine Optimisation (SEO) Training Course. We also offer an array of other digital marketing courses, taught in-house in Singapore or online.
If you're looking for agencies to hire, here are 3 SEO agencies in Singapore that you can check out:
Happy Hiring!
Written By: Dylan Sun
Dylan Sun is the Founder of Equinet Academy, a SkillsFuture Singapore WSQ-Accredited Digital Marketing training organisation. Passionate in all aspects of Digital Marketing and SEO, he extends his passion to helping people implement effective digital strategies to their businesses. Follow his blog at Equinet Academy to learn more about Digital Marketing.