13 Useful SEO Tools That Are Completely Free
Doing SEO for a website isn't as easy as "writing an article and praying that Google picks it up".
Instead, a lot goes on behind the scenes to help content rank on search engine results pages (i.e. SERPs).
For example, this involves keyword research, structuring your content in a certain way, getting backlinks, etc.
However, if you had to pay to do all these, you may end up burning a big hole in your pocket.
Fortunately, you can find many online tools offering these features for free.
That's right – zero dollars. Zilch. Nada.
In this article, I'll be discussing 13 useful SEO tools that are completely free. Whether you're new to SEO or a seasoned digital marketer, chances are you'll find some of these free SEO tools handy for supplementing your SEO practices.
Let's dive in!
Optimisation of WordPress website
By itself, the WordPress content management system already allows for the building of SEO-friendly websites. But you can take your WordPress website's SEO to the next level by installing Yoast SEO.

Yoast is jam-packed with features for WordPress SEO, such as:
Writing of custom titles and meta descriptions for webpages
Customising of titles, descriptions and featured images for Facebook posts and tweets of your webpages
Generating and updating of XML sitemaps to help search engines find, crawl and index your webpages
Analysing the readability of your content
Yoast has over 5 million active installations as of writing, which only proves the popularity of this plugin.
A close contender to Yoast SEO is All in One SEO Pack.

It offers pretty much the same features as Yoast, and there are constant debates over which is the better WordPress SEO plugin.
Having used both, I like All in One's cleaner interface and ability to toggle certain features on/off as and when you need them.
And unlike Yoast, All in One allows you to bulk edit SEO titles and meta descriptions from your Posts/Pages page.
However, All in One doesn't offer Yoast's content readability analysis or breadcrumbs navigation features.
That said, both plugins do a good job of optimising your site, and I would say which you use doesn't matter that much. Just choose one and stick with it.
Keyword research
Google Keyword Planner is located within the Google Ads platform, and generates keyword ideas based on your target keyword(s).
It shows the monthly search traffic estimates for all these keywords and how much people are bidding to advertise on them.
With these insights, you'll be able to gauge the popularity and competitiveness of keywords that you intend to rank for.

You can also use your chosen keywords to run ad campaigns within the Google Ads platform. If you want to learn how, Equinet Academy is a great place to do so! Read my review of Equinet Academy's Google Ads Fundamentals course for more info.
Backlink checker
Check which websites are pointing to your website, or conduct an analysis of your competitors' backlinks, using the free version of Ahrefs' Backlink Checker.
For any provided URL or domain (including subdomains), Ahrefs' Backlink Checker will return an overview of:
That URL or domain's URL rating and domain rating
The number of backlinks that URL or domain has obtained
The number of domains referring to that URL or domain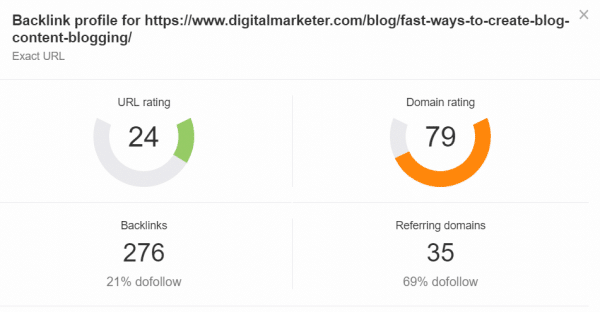 You can also drill down into the details of that URL or domain's top 100 backlinks, top 5 anchor texts and – for domains only – top 5 pages with backlinks.
SERP competitor analysis
The MozBar Chrome extension allows you to check the Domain Authority and Page Authority of webpages currently ranking for certain keywords. This is useful for assessing how easy or difficult it might be for you to rank for those keywords yourself.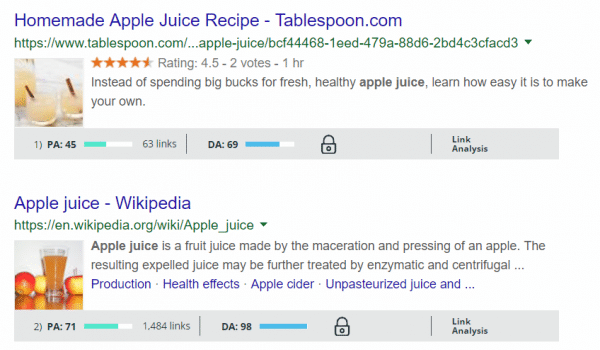 Click on "Link Analysis" for deeper analysis of these pages' competitiveness in Moz's Link Explorer. For example, you can view their backlinks and the number of keywords that they rank for in Google.
To use MozBar, you'll need to sign up for a free Moz Community account. There is also a cap of 10 free uses of Link Explorer every month.
Content readability checker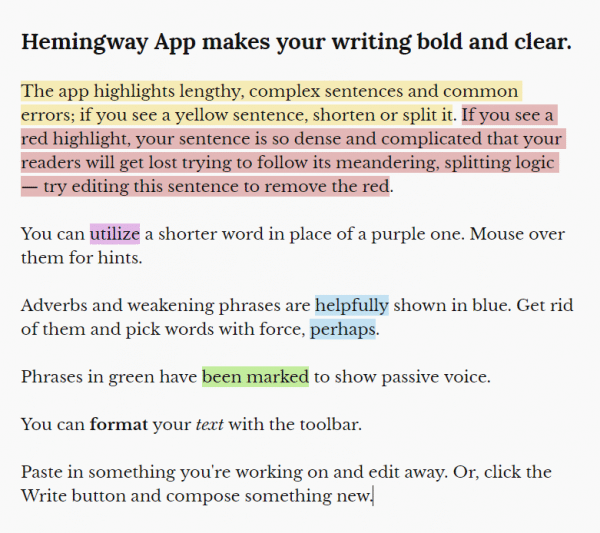 Having article content that is scannable and easily understood will keep users reading your content for longer. This helps increase engagement with your content and reduce your bounce rate, among other benefits.
To check the readability of your content, try pasting it into the Hemingway Editor. It highlights issues in your writing and recommends improvements.
For example, you may need to shorten sentences that are too long, or simplify your wording.
Hemingway Editor doesn't spot spelling or grammar mistakes however, so you'll need to use different tools for that. (Try Grammarly or Microsoft Word's built-in spell-check features, for example.)
SERP snippet simulator
With SERPsim, you can preview how your articles' SERP snippets will look like in the Google SERPs. Previews for both desktop and mobile devices are available.
This is handy for checking whether your article titles and meta descriptions fit within the Google snippet container.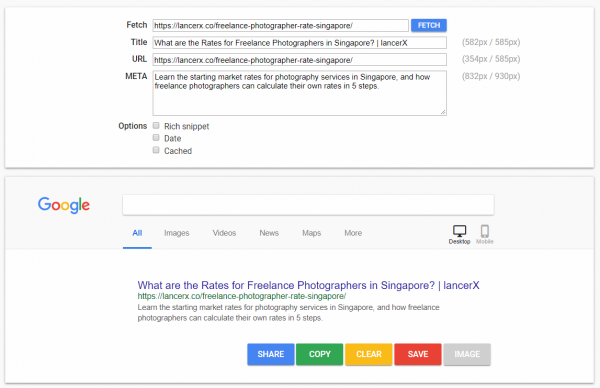 Compared to other SERP snippet simulators, I prefer SERPsim as it presents the container limits in pixels instead of characters.
This allows for more accurate optimisation of your SERP snippets, given how Google uses pixel widths instead of character counts to determine how much of your descriptions to show.
On-page SEO analysis
8. BrowSEO
BrowSEO breaks down your webpage contents according to how Google understands it, ignoring all fancy stylings that your webpage might have.
From here, you'll be able to check whether Google is reading your webpage in the way you intended.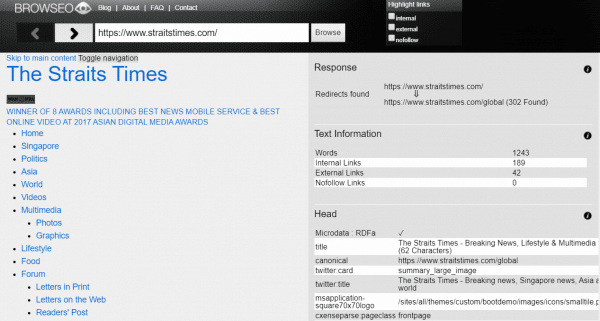 For example, BrowSEO will flag out:
Heading tags
Website redirects
The number of internal, external and nofollowed links in the webpage
It also provides a preview of the webpage's SERP snippet so you can check if your title and description fits within the container limits. (And if they don't, use SERPsim to correct that – see the previous point.)
Testing validity of structured data
After adding structured data to your website, you can check if it's correctly implemented using Google's Structured Data Testing Tool.
To do so, simply paste your webpage URL or code snippet into the tool.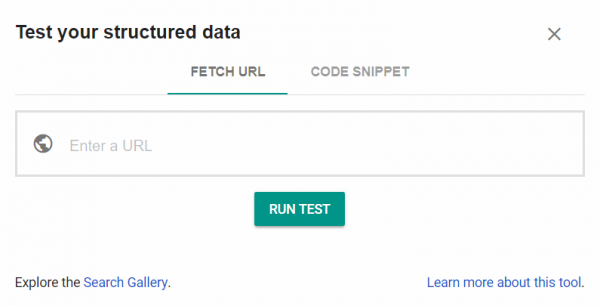 The Structured Data Testing Tool then returns a list of the structured data it has found. Any errors will be highlighted in red and accompanied by short explanations on the errors.
Note: this tool simply detects all the structured data present in a webpage or code snippet. To check whether such structured data can generate rich results in the Google SERPs, use Google's Rich Results Test tool.
Monitoring your website's visibility in Google search results
Google Search Console is a powerful tool for keeping tabs on your website's visibility in the Google SERPs.

With Google Search Console, you can:
Submit new (or updated) webpages for indexing by Google
Track your average SERP positions and clickthrough rates for various keywords
See which websites are linking to you
Monitor your website's useability on mobile devices
Be alerted to detected security issues on your website, and more.
If you use Google Analytics to track your website traffic, Search Console will also feed data on how you acquire traffic to your Analytics reports. This allows for even more detailed traffic analysis in Analytics!
Keyword rank tracking
To check your webpages' Google SERP rankings, you could manually Google your target keywords and look for your webpages in the SERPs.
Or, you could let SerpRobot do that for you.
Just key in your domain or webpage and up to 5 keywords that you want to check your rankings for.
SerpRobot will then return the URLs of your domain that are ranking for those keywords (if any) plus their SERP positions.

With this tool, you can also:
Check your SERP rankings for localised Google searches (e.g. google.com.sg or google.com)
Compare your rankings against your competitors'
Instead of SerpRobot, you can also use the FatRank Chrome extension to check a webpage's SERP rankings. The difference is that FatRank can only check rankings one page and one keyword at a time.
First, visit the webpage to be checked in your Chrome browser. This webpage can be either your own or your competitors'.
Then, activate FatRank and type in the keyword that you want to check the webpage's SERP ranking for.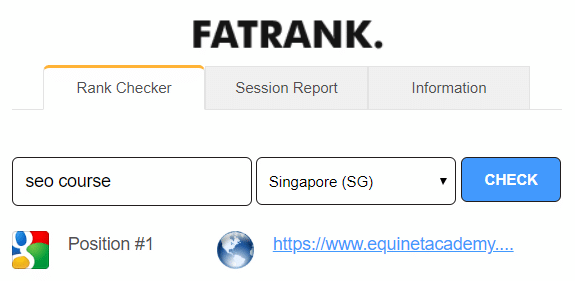 If you're checking multiple SERP rankings for a single webpage in one session, FatRank also allows you to export your findings into a CSV file for further analysis. SerpRobot doesn't offer this feature.
Broken link checker
Broken links are bad for user experience and SEO. Use BrokenLinkCheck to scan your website for broken links so you can fix them ASAP.
Its free version scans up to 3,000 webpages (no URL limits per page), which should be sufficient for small to medium-sized websites.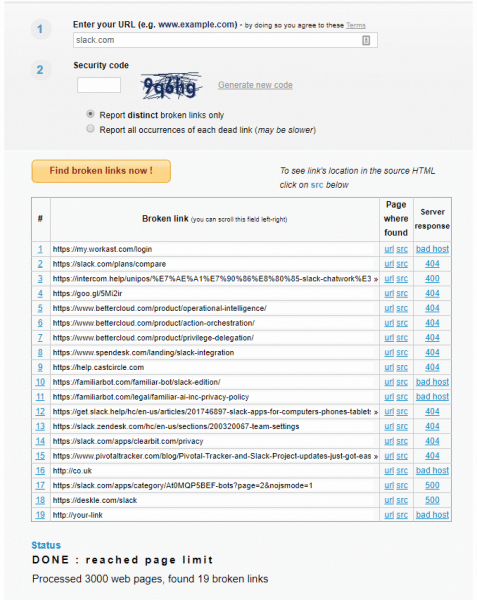 Apart from telling you which webpages the broken links can be found on, BrokenLinkCheck also provides the source code for such links.
This will help you find the links' anchor texts much quicker, because you don't have to manually skim through webpages to find them yourself.
Final thoughts
So, whoever said that doing SEO involves breaking the bank?
There are a ton of free SEO tools out there, each of them covering one or more aspects of doing SEO for a website.
Try them out to see how they can help your content rank better, and bring in more organic traffic for you!
What free SEO tools do you use? Leave a comment!
---
Related: