200+ Digital Marketing Tools, Software, and Platforms [An Extensive List]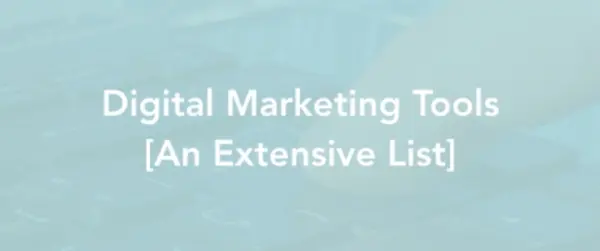 Whether you're running a social media marketing, email marketing, or any digital marketing campaign, it's always handy to have a couple of ready-to-use tools in your arsenal.
This extensive list includes more than two hundred digital marketing tools, software, and platforms that can boost your productivity and marketing ROI.
We're constantly adding new tools to this list. If you have digital marketing tools to suggest, drop us a comment below.
Categories range from search engine optimisation, digital analytics, to social media, marketing automation, and many more.
Filter by:
Name of Tool
Short Description
Category

AB Tasty
AB Tasty is a comprehensive conversion optimisation platform where you can test unlimited scenarios and features based on varied criteria and business indicators like conversion rate and turnover generated to optimise the user experience for your website. Its graphic editor requires no programming knowledge and its advanced analysis feature even lets you personalise messages for each user.
Conversion Rate Optimisation
Act-on (Email Marketing)
Create, segment, and clean your email lists from one simple location with unlimited segmentation based on user attributes and behaviour. Then send targeted, tailored messages to your ideal prospects and loyal customers.
Email Marketing
Act-on (Marketing Automation)
Convert more leads and reach the right buyers with Act-On, the adaptive marketing platform that offers a range of automation tools to communicate with customers in a smarter way, understand their behaviour and preferences, create and optimise social media campaigns, create high-converting messaging, manage and score leads, and interpret data into actionable insights.
Marketing Automation
ActiveCampaign (Email Marketing)
Active Campaign allows you to send broadcast, triggered, targeted, autoresponder, scheduled, and funnelled emails to your customers.
Email Marketing
ActiveCampaign (Marketing Automation)
Deliver the perfect message at the perfect time to your customers with ActiveCampaign. The platform's marketing and sales automation features allow creation of intelligence-driven follow-up sequences and ensure efficient collaboration between different functions. Insights from customers can then be used to send effective mails and SMSs, created using the platform's design tools. Over 150 app integrations offer extended functionality.
Marketing Automation
ActiveTrail (Email Marketing
Create professional, handsomely designed newsletters and email campaigns- within minutes with ActiveTrail's email marketing software! Reach your audience, engage them and build a long-lasting relationship.
Email Marketing
ActiveTrail (Marketing Automation
ActiveTrail is an automated communications platform that lets you create professional landing pages, collect critical customer feedback through online surveys, and design and send emails and text messages to leads and customers. It also includes automation tools to build visual customer journeys and reporting tools to track campaign performance along with numerous native third-party apps.
Marketing Automation
Ad Text Generator
WordStream's Ad Text Generator guides you to create effective ads in just a few minutes. It ensures your ads include all important PPC components and follow best practices, helps identify top keywords, shares trends of your past ads so you know what works best, and even gives a preview of how the final ad looks on Google SERP.
Digital Advertising
Adobe Advertising Cloud (Formerly Adobe Media Optimizer)
Adobe Advertising Cloud is a programmatic advertising solution that assists marketers in identifying the optimal mix of search, social, display, and video ads. Its range of features help simplify your media plan execution by personalising your dynamic creative for your high-value audiences either as a standalone solution or through its integration with Adobe Analytics and Adobe Audience Manager.
Digital Advertising
Adobe Analytics
Adobe Analytics strengthens your digital marketing strategy by using AI, machine learning, and predictive analysis to examine cross-channel data on metrics like customer behaviour, content effectiveness, and user engagement. It directs your marketing spend better through customer attribution, anomaly detection, and cohort analysis. The platform's highlight is its ability to collect and process data from nearly every source possible.
Digital Analytics
Adobe Spark
Adobe Spark is a free storytelling application, also available on mobile. It has an extensive library of stock images and icons. This is also a great tool for brands who post on multiple social media channels, as it allows for quick auto-sizing. You can also upload your own branding such as logo and colours.
Content Marketing
Adroll
AdRoll is an e-commerce growth platform that helps you understand shopper behaviour, make perfect recommendations, and unlock unprecedented sales growth using its AI and core technology. Its arsenal of attribution tools provide you actionable insights that can be used to create custom shopper experiences through its integration with most popular e-commerce stores, marketing platforms, and reporting tools.
Digital Advertising
Adwords Bid Tool
WordStream's AdWords Bid Tool is an integrated keyword management system letting you manage keywords and Google AdWords from one interface, find the most relevant keywords and segment them into narrowly focused groups, create ads that drive qualified traffic, monitor campaign progress, and do a lot else to ensure that your money is always spent on effective ads.
Digital Advertising
AdwordsRobot
AdwordsRobot focuses on three areas of effective AdWords marketing for web shops. It helps attract new visitors through Google Shopping, Dynamic Search Ads, Shopping Cards for YouTube, and mid-tail and long-tail campaigns. It gets back shopping cart abandoners and existing customers through RLSA, Customer Match, and other remarketing strategies. Finally, it enhances campaign profitability through negative keywords, bid management, and other methods.
Digital Advertising
Agency Analytics (SEO)
Agency Analytics is a marketing and reporting platform that helps agencies monitor all clients' marketing campaigns from one place. It is 100% brand-able and comes with built-in essential SEO tools like rank tracker, site auditor, backlink monitor, and competition analyser that allow you to improve your clients' rankings; integrations with over 30 platforms; automated reports; and a custom dashboard.
Search Engine Optimisation
Agency Analytics (Social Media Analytics)
Agency Analytics allows you to analyse engagement across all your social channels with metrics like clicks, comments and shares. Use this information to understand which channels perform best or pinpoint areas that need improvement.
Social Media
Agora Pulse
Agorapulse lets you manage your top social media platform accounts from one place. You can make posts for different accounts, tweak them for the specific platform, handle the messages, track current trends, discover user-generated content, moderate comments, collaborate with teams, assign roles, delegate tasks, analyse and export your social media stats, improve your content strategy, and do so much more.
Social Media
Ahrefs
Ahrefs is a suite of tools for making content marketing more productive. It discovers the keywords and backlink strategies used by your competition; finds the strongest backlink opportunities in your niche; gets relevant keyword ideas; discovers the most popular content on any topic; tracks your and the competition's search rankings; monitors online mentions; and helps remove SEO issues.
Search Engine Optimisation
AMZ Tracker
AMZ Tracker uses a mix of offensive and defensive tactics to ensure high rankings for its users. While keyword tracking, conversion rate optimisation, and competitor analysis help you reach top rankings, alerts on negative reviews and listing hijacking attempts allow you to defend your strong position. An added benefit is access the exclusive Vipon marketplace with millions of monthly shoppers.
Search Engine Optimisation
Answerthepublic (SEO)
AnswerThePublic is a free keyword research tool that provides a hint of people's motivations and emotions behind their search queries. Type in a keyword, and it gives you a visualisation of the questions and phrases people are using when searching for that keyword. This information can help understand your audience better, hone your content, and make smarter use of SEO.
Search Engine Optimisation
Anyleads
Anyleads is a suite of products meant to help you drive traffic and generate leads. With the Prospecting tool, you can find and verify emails, send automated drip campaigns, and generate sales. Content Creator makes it easy to build a content strategy and create unique content. The B2B Exchange increases your visibility and virality with a community of influencers.
Email Marketing
Atomic Ally
Make your marketing content more impactful with actionable insights from AtomicAlly, the content intelligence platform that helps create personalised marketing communications, driving more leads and ensuring customer loyalty. Its AI-driven analysis scores your content on different criteria, letting you streamline your efforts and design everything you publish for maximum user engagement.
Content Marketing
Audiense (formerly SocialBro)
Audiense offers two products to aid your marketing strategy. Audiense Insights helps identify and understand your audience using different filter options, which allows you to adapt your targeting and improve content relevance. Audiense Connect is a Twitter marketing platform that offers custom chatbots for communication, community analysis and management, advanced monitoring, competitor comparison, and many other features.
Social Media
Authority Labs
AuthorityLabs automates your SEO monitoring through daily rank checking of added domains and keywords. You can track results at city or postal code level, add domains to be tracked for different countries and languages, and also track competitor domains. Plus, you can give team members and clients their own login and configure your account to reflect your branding.
Search Engine Optimisation
AuthoritySpy
AuthoritySpy is an influencer research tool that helps find thousands of influencers based on a search term, discover top blogs with a large following for any industry, rank influencers on different criteria, establish contact with chosen influencers, and manage communication and projects with each. Other useful features include language, region, or company specific searches and discovery of guest post opportunities.
Social Media
AWeber
AWeber is a feature-rich email marketing platform that makes every stage of your email marketing more productive. Use eye-catching forms to collect email addresses, tag subscribers based on their interest areas, build great-looking emails using its customizable templates, send targeted, personalized communication, and track your campaign using detailed analytics. AWeber also seamlessly integrates with over 400 other apps and services.
Email Marketing
BabbleHub
BabbleHub makes you a social media marketing master by letting you connect multiple Twitter, Facebook, and LinkedIn accounts; providing a dedicated content writer who creates content based on your business needs; scheduling your posts; making your content more engaging with its visual composer; and providing you advanced monitoring tools to gauge audience sentiment, competitor performance, brand mentions, and much more.
Social Media
BannerSnack
Create professional-looking banners in no time with the online tool Bannersnack, which offers a range of features like a drag-and-drop editor, high quality web fonts, and an extensive library of stock photos and clipart. Your creations can be stored in the cloud or exported as HTML5, JPEG, PNG, GIF, or MP4 files and used with all major ad networks.
Digital Advertising
Beam Us Up
Beam Us Up is a site crawler SEO audit tool that helps discover and fix SEO problems really fast. It saves you valuable time with its built-in smart filters to find the most common SEO errors like duplicate pages and by directly exporting all data and filter sets to Excel or Google Drive instead of making you do it manually.
Search Engine Optimisation
BenchMark
Benchmark Email makes email marketing powerful with a simple editor that can create beautiful and responsive campaigns, automation tools that save time and ensure the right recipients get the right messages, effective signup forms that expand your audience, and real-time reports that help track performance. It also offers more than 300 integrations to maximise your workflow.
Email Marketing
Bombbomb
BombBomb is a cloud-based video messaging platform, integrated with Gmail, Outlook, Salesforce, and 50+ other integration partners. Features include webcam and/or screen recording, video upload portal, real-time tracking and analytics, canned text and video responses, a WYSIWYG drag-and-drop email composer, scored contact database, lead capture forms, video drip campaigns, custom landing pages, mobile app, and much more.
Email Marketing
Brand24
Discover what people are saying about your brand in real-time with Brand24, which helps identify people with the most social influence, segment mentions into sentiment-based categories, collaborate with your team to respond to comments, search the social web for trends, and compare your social mentions against competitors. Brand24 is also available as a smartphone app and comes with Slack integration.
Social Media
Brandverity
Protect your branded keywords from trademark infringements and your affiliate channel from unauthorised ads with the paid search monitoring tool BrandVerity. It provides actionable violation reports by analysing thousands of SERPs globally, makes it easy to take action with features like bulk takedown requests and pre-populated email templates, and offers PPC compliance experts who help with setup and implementation.
Digital Advertising
BrightLocal
BrightLocal is an all-in-one reporting platform that lets you view all your local SEO data in a customised dashboard; helps you build a 5-star reputation for your business; lets you monitor your organic, mobile, and local search rankings; finds and cleans up existing local citations and pinpoints those you are missing; generates professional local search audits; and offers much more.
Search Engine Optimisation
BROWSEO
When search engines visit a page, they see it as pure HTML. Browseo is a web app that allows you to view any webpage without distractions caused by styles and highlights SEO-relevant parts of a page. By toggling different options like number of links and Meta information, you can also determine the page's relevance from the perspective of search engines.
Search Engine Optimisation
Buffer
With Buffer, you can manage all your social media accounts from one location, add content to your queue with its browser extensions and mobile apps, schedule posts for your preferred times, review your analytics to see how your posts are performing and create reports for managers and clients, and multiple team members and set access levels for each of them.
Social Media
Buzzstream (Content Marketing)
BuzzStream makes your content promotion more efficient by helping research and pitch to influencers, discover and manage their contact information, share the database with your team, and, ultimately, build links that drive inbound marketing. One of its top highlights is the Chrome extension that lets you extract contact information directly from any website.
Content Marketing
Buzzstream (Digital PR)
BuzzStream allows you to conduct outreach to bloggers and journalists with a full view of your conversation history, notes, tweets, emails, their recent posts, social details, and more with ease. Use it to also track your work with bloggers and journalists, along with all the placements you've earned.
Digital PR
Buzzstream (SEO)
Speed up the backlink opportunities research process. Easily navigate link building prospect lists, add contacts to your SEO link building campaign, and automatically gather website and social metrics – so you can spend more time acquiring backlinks and less time in spreadsheets. Finally, keep your link development projects on track – and see where every campaign's at with a Buzzstream's SEO toolkit.
Search Engine Optimisation
Buzzsumo
Give a boost to your content marketing campaign and keep a tab on your competition with the research and monitoring tool Buzzsumo. It measures quantitative metrics across millions of pieces of content to give you deep insights into what is being shared on the web and why, and who the influencers are for any topic.
Content Marketing
Cakemail
Cakemail is an email marketing tool geared toward small businesses. Its smart templates and design tools help create professional emails in no time so that you can focus on your messaging. This is coupled with its advanced contact management system that provides you insights, helps maintain contact lists, and allows you to deliver the right message to the right people.
Email Marketing
Campaigner
Upgrade your email marketing with Campaigner, a platform that lets you create great looking and personalised emails and send them based on data and event-driven triggers, helps create workflows customised to buyer journeys, offers cutting-edge delivery intelligence and human oversight for unmatched deliverability, facilitates purchase behaviour prediction, and allows integration with many popular third-party apps.
Email Marketing
CanIRank
CanIRank is a DIY SEO software that uses AI to provide specific action recommendation rather than just data to help you understand how to get your pages to rank, make changes with the biggest impact, and discover new ranking opportunities. Its many features can be used for keyword research, SERP analysis, rank tracking, SEO competitive analysis, and SEO progress reports.
Search Engine Optimisation
Canva
Canva is an immensely user-friendly design platform using which anyone can create professional-looking graphic designs. Thanks to a simple drag-and-drop editor and a repository of over 1 million images, graphics, and fonts, churning out template-based or custom-designed elegant documents becomes effortless. Canva also allows design projects in teams of up to 50 and provides advanced analytics as some extra benefits.
Content Marketing
ChartBeat (Content Marketing)
ChartBeat helps you tell a powerful story about your content, who reads it, and what's possible. See how your audience connects with your content in real time, assess KPIs over the long term, and grasp how your videos capture viewer attention.
Content Marketing
ChartBeat (Digital Analytics)
Take the guess work out of your content marketing campaign with ChartBeat, an analytics platform that lets you track the who, how, and where of the audience connecting with your content in real time, allows testing of different elements like headlines to optimise engagement, and gets you highly actionable insights and reports on a regular basis.
Digital Analytics
Check My Links
When creating or editing a web page with many links, it becomes difficult to check if every link works fine. Simplify this process with Check My Links, a Chrome extension that crawls through your webpage and looks for broken links automatically. It checks every single link within seconds and highlights the ones that need fixing.
Search Engine Optimisation
Chrome DevTools
Chrome Dev Tools is Google Chrome's in-built suite of web developer tools that lets you diagnose page issues and edit pages right from the browser, helping you build better websites much faster than usual. Its neatly arranged panels make it simple even for inexperienced developers to address important SEO page aspects like responsiveness, page loading and runtime, CSS elements, and network activity.
Search Engine Optimisation
Citation Labs' Broken Link Finder
Citation Labs' Broken Link Finder is a powerful way to find dead pages on the internet in relation to any keyword. Along with a long list of dead pages on that topic, it also allows you to export the list and associated contacts and tells you if there are other dead pages on those domains. Great for link building outreach campaigns.
Search Engine Optimisation
Citation Labs' Link Prospector
Amplify your content reach by discovering hundreds of linking opportunities through Citation Labs' Link Prospector. Type in your keyword and choose a report type that suits your needs the best from sixteen options like links pages, journalists, forums, etc. Within seconds you have a long list of linking opportunities in your hands. Export the list, start sending those outreach emails.
Search Engine Optimisation
Clickable
The tough task of social media performance measurement is simplified by Clickable, which uses a proprietary methodology to consolidate data from a variety of sources and convert it into valuable intelligence on social ROI. You can customise your own KPIs and visualisations, play around with the data, perform deep analysis effortlessly, and connect to real-time bidding ad exchanges and platforms.
Digital Advertising
Clicktale
Discover the story behind user behaviour and decision-making with Clicktale, which tracks every user action inside a website or app. Clicktale's suite of visual reports and team of dedicated consultants help pinpoint areas of examination and identify opportunities to enhance customer experience. Further clarity comes from its integration with over 50 analytics, optimisation, Voice of Customer, and chat tools.
Digital Analytics
CloudApp
Make communication with your team or customers a lot more impressive with the video and image sharing platform CloudApp. This easy-to-use tool lets you record and share videos, GIFs, images, and screenshots along with annotations in no time. You get shareable links to the uploaded content and can even set any link to expire within a specific period.
Content Marketing
CognitiveSEO
CognitiveSEO is a complete software suite that flags all possible SEO issues on your site and provides recommendations to fix them. Its tool help complete tasks like a comprehensive site audit, analysis of on-page and off-page factors that influence Google rankings, keywords research and rank tracking, backlink analysis, content optimisation, Google Penalty prevention and recovery, social visibility, and much more.
Search Engine Optimisation
Constant Contact
Constant Contact is an email marketing platform that not only allows you to effortlessly create professional-looking communications using its best-in-class editing tools but also supports your email marketing campaigns with proven high deliverability, robust analytics and tracking, social media integration, and advanced marketing tools such as A/B testing, email automation, click segmentation, and more.
Email Marketing
Contentbird
Contentbird is a platform that guides you through the entire process of content marketing. Its data-driven processes help you with designing your content strategy; use research, competition analysis, content pipeline, and AI to help create high ROI content; and finally help with organic marketing of the content and detailed analysis of the campaign to ensure continued social media presence.
Content Marketing
ConvertKit
ConvertKit makes email marketing super easy by helping you effortlessly build email lists, manage leads through tagging and segmentation, create marketing funnels through simple visual automation, and create personalised, professional-looking emails using its intuitive design tool. It also includes integrations with over 80 services like Gravity Forms, Shopify, and WooCommerce for extra functionality.
Email Marketing
CORA
Cora is a suite of tools that measure 540+ on- and off-page SEO factors. It's got a host of features that allow you to disable factors you are not interested in, localise results to specific cities, customise reports, and search in different countries and languages. Cora also uses integration with Ahrefs, SEMRush, and DomDetailer for off page and API data.
Search Engine Optimisation
CoSchedule
CoSchedule is a marketing project management platform that allows efficient planning through a marketing calendar, lets you create weekly schedules for the entire team and get real-time updates, helps make cross-team conversation more effective, and allows you to bring your entire promotional workflow into one centralised location. CoSchedule is integrated with common content management, social media, and email marketing platforms.
Content Marketing
CPC ROI Calculator
The CPC ROI Calculator is one of several handy tools offered by SEOBook.com, a leading SEO website. The calculator is a simple, but extremely useful, way to calculate your expected ROI from a campaign if you know your monthly clicks, average CPC, conversion rate, and average profit per conversion. Vary the numbers and play around with different scenarios.
Digital Advertising
Crazy Egg
Crazy Egg is a conversion optimisation tool that lets you see how your visitors engage with your website. Using features like heat maps, scroll maps, and A/B testing you can quickly try out new ideas and fix those that need tweaks for better lead conversion. Crazy Egg works really well with Google Tag Manager.
Digital Analytics
Crowdbabble
Crowdbabble is a social media analytics tool that lets you manage all your social media activities and add collaborators from one dashboard. It also helps you understand your audience and keep tab on competition through customisable and automatic reports. The time saved and the insights gathered can then be used to engage with your audience better and attract more followers.
Social Media
Crowdbooster
Improve the probability of success of your crowdfunding campaign with CrowdBooster, which helps you reach out to a much wider audience through targeted posting on Instagram and Pinterest and press releases to thousands of media outlets, premium sites, and journalists. Once your campaign is funded, it also helps find a global partner to ensure a hassle-free experience for your backers.
Digital PR
Crowdfire
Crowdfire simplifies social media marketing by helping you manage all your social accounts from one place, discover and schedule content based on your audience's areas of interest, publish content from your own blogs and sites in a beautiful manner, tailor posts for every social network, and share articles on social media directly through Chrome.
Social Media
Curata
Curata is a power-packed content marketing platform backed by a self-learning engine that helps you discover the best content on topics of your choice, organise it, and publish and promote it. Its strategy, production, and analysis modules analyse the content's marketing and sales impact and help build a streamlined content production process.
Content Marketing
Cyfe
Add power to your business decisions by eliminating the need to log into multiple services with Cyfe, the all-in-one business dashboard. You can connect your website, blog, email, social media accounts and even pull sales, marketing, finance, and project management data from over 70 popular services using its many custom widgets and prepare customised reports through data mashup
Digital Analytics
Databox
Databox gives you a comprehensive view of your performance by allowing you to pull all your KPIs from tools like Salesforce, HubSpot, and Google AdWords to one dashboard. You can build your own dashboard using the DIY designer, set measurable goals and track progress, get timely performance alerts and recommendations, and combine data from different sources to calculate important KPIs.
Digital Analytics
Datanyze
Datanyze is an easy-to-use Google Chrome Extension that allows access to B2B contact information, such as email addresses, direct dial phone numbers and company details, from LinkedIn.
Digital PR
Decibel
Decibel is a digital experience intelligence platform that uses machine learning to measure audience behaviour. Its Digital Experience Score (DXS) ranks by significance the issues affecting your users, allowing you to focus resources on the most relevant problems. Its suite of diagnostic tools let you investigate and solve problems quickly and its many integrations make your entire MarTech stack smarter.
Digital Analytics
DIBZ
Dibz simplifies the process of link building and influencer opportunity research by allowing you to search, sort, filter, and cherry-pick the prospects you like the most. A built-in spam algorithm saves you time by removing many inferior prospects based on seventeen custom metrics. Dibz also allows you to import/export your prospect lists and do multilingual research.
Search Engine Optimisation
disavow.it
The Disavow tool in Google Search Console allows websites to discount the value of an inbound link and prevent link-based penalties. disavow.it helps you quickly compile or clean a Disavow file to make it ready to upload to Google Search Console and apply the Disavow file to a list of URLs to see which would or would not be disavowed.
Search Engine Optimisation
Display Ad Builder
Google's Display Ad Builder is one of the simplest tools around to create professional-looking image ads for free and with little effort. Once you select this option in AdWords, you just need to choose from hundreds of templates; customise the colours, fonts, and layouts; use any of your images if you want to, and you are done.
Digital Advertising
Domain Hunter Plus
Domain Hunter Plus is a Chrome extension that crawls through all the links on the page you are on, puts up a list of all broken links, gives the number of links coming into that page, and tells you if the domain is available. If you want to purchase any of the domains, it links you directly to GoDaddy.
Search Engine Optimisation
Drip
Drip is an e-commerce CRM that lets you understand and communicate with your customers better through features like comprehensive tracking, hyper-segmentation, visual workflow building, and robust email marketing automation. It also packs in extra features like more than 150 native integrations with services like Shopify, WooCommerce, and Stripe, best-in-class mail deliverability, and powerful testing tools.
Marketing Automation
DrumUp (Content Marketing
DrumUp mines through tons of content across the web in real time, and uses sophisticated algorithms to recommend fresh stories most relevant to your audience.
Content Marketing
DrumUp (Social Media Marketing
DrumUp is a social media content discovery and scheduling app that works with multiple accounts on Twitter, Facebook, and LinkedIn. Find engaging and relevant stories, schedule content sharing for your followers, add your own blog feed, and make use of the app's content library and hashtag suggestions, all to cut your social media management time by up to 90%.
Social Media
E-goi
E-goi is a multichannel marketing solution that automates and integrates e-mail, mobile, web, voice, and social media campaigns into a single online system, making it a breeze to grow leads and automate customer life cycle. Key features include list management, easy-to-use editor, analysis and optimisation tools, and integrations with hundreds of third-party tools.
Marketing Automation
eClincher
eClincher makers social media marketing easy by allowing management of all accounts from one platform. Publish and schedule posts or manage live conversations from you dashboard, monitor keywords and hashtags across different social media networks, use keywords to discover relevant content for posting from millions of sources, and make use of customised reports on key social media metrics.
Social Media
Eloqua
Eloqua is a marketing automation platform from Oracle that packs in advanced tools for targeting and segmentation, lead and campaign management, and marketing measurement to help you deliver personalised campaigns for your audiences across multiple channels. It also includes many helpful features like an intuitive interface, interactive dashboards, high degree of personalisation, WeChat integration, and detailed customer journey mapping.
Marketing Automation
Emma
Emma is an email marketing platform that offers many powerful automation and personalisation features to ensure the right communication reaches the right customer at the right time. It also makes your email marketing more efficient with hundreds of integrations with services like Zapier and Shopify and collaboration tools such as an approvals dashboard and asset and template.
Email Marketing
Ethnio
User Experience
Everypost
Everypost is a social media marketing tool that lets you curate visual content from different sources and publish across your social media accounts, customise each post according to your audience, collaborate with teams and manage roles and permissions, scheduling your posts for optimal audience reach, and analyse your social media performance in detail.
Social Media
Falcon.io
Falcon is a social media marketing platform that helps you create eye-catching paid and organic posts and manage channels, teams, workflows, and campaigns across different accounts and platforms; understand your audience with social listening and engage with them through a single social inbox;; track your content performance; power campaigns with more accessible data; and merge social data with your CRM.
Social Media
Fanpage Karma
Boost your social media marketing with Fanpage Karma, the all-round tool that analyses your and the competition's pages to point out trends and identify posts that really work, provides detailed reports on social media profiles, lets you manage your conversations with customers across platforms from one dashboard, and simplifies composing, planning, archiving, and posting of content.
Social Media
Fat Rank
FATRANK is a highly reliable user-friendly tool for checking and tracking keyword rankings across multiple websites in the Google search engine. The app version allows you to add multiple websites or unlimited keywords and track your ranking positions in any country. The Chrome extension lets you instantly check the rank in any Google country for the website you are at.
Search Engine Optimisation
Flashissue
If you use Gmail, you can't do without Flashissue, the marketing tool that lets you design stunning newsletters with its easy-to-use drag-and-drop editor, helps build and manage subscriber lists, and provides insightful reports on readers and their areas of interest. Sending bulk emails or collaborating with team members is a breeze with Flashissue.
Email Marketing
Flipboard
Flipboard is a content aggregator application that collects content from a variety of sources like social media feeds, news sites, blogs, and photo sharing sites and presents it to the user in an elegant magazine format. Users can save stories of interest to create their own magazines that can be easily shared with other readers.
Content Marketing
Followerwonk
Followerwonk is an analytics tool for Twitter, helping you find more about your followers like their locations and their tweeting times. It helps you search Twitter bios to connect with anyone, compare accounts to find overlapping followers and target new influencers, match your activities to gains and losses in followers, and use different tactics to hone your social graph.
Social Media
Forecheck
Forecheck is a super fast SEO crawler that analyses your website in minutes to give you critical data on redirects, links, duplicate content, and more. It enables better monitoring and control by speeding up processes and helping avoid expensive errors. You can opt for standard SEO analysis or get customised reports and use Forecheck in your browser or as an app.
Search Engine Optimisation
Formisimo
Get your forms to do more for you with the form analytics expert Formisimo. This tool analyses form-related user behaviour on more than 50 metrics to discover reasons behind issues like form abandonment, providing deep insights that help you improve the conversion rate of your website. Despite all the power it packs, Formisimo boasts of a super fast, code-free installation.
Conversion Rate Optimisation
Free Broken Link Checker
The Free Broken Link Checker does not just check your blogs and websites for dead links and tell you which ones are broken but also gives you the exact location of the stale reference in the HTML code. This time-saving tool can validate both internal and external URLs and also report the error codes for all bad URLs.
Search Engine Optimisation
Freshmail
Add power to your email marketing with FreshMail, the innovative system that makes it easy to design and customise beautiful newsletters that get attention and results, provides powerful tools to automate different types of communication with subscribers, gathers insights into the behaviour of your customers, and offers handy tools like inbox inspector and spam test to ensure high open rates.
Email Marketing
Friends+Me
Friends+Me makes social media content posting easy by allowing you to schedule your posts, edit drafts to make them look perfect, and save content from anywhere using the browser extension. You can also schedule bulk posts with one click, track you posts success, invite co-workers and friends for collaboration, cross-promote content easily, and switch between the desktop and mobile apps.
Social Media
Funnelytics
Funnelytics makes funnel mapping easy and fun, letting you bring your funnel ideas to life with the click of a button. Map elements like landing pages, sales pages, ads, and more; use the simple drag-and-drop interface and six core templates to create your own funnels effortlessly; and export all your funnels in PNG format to share with team and clients.
Digital Marketing
Geckoboard
Geckoboard works on the principle that the same dashboard does not work for every team member. It allows you to tailor TV dashboards for every department by pulling in metrics from 60+ code-free integrations or creating your own through spreadsheets and its datasets API, and then selecting, assembling, and displaying only those KPIs that matter to the specific department.
Digital Analytics
Georanker
GeoRanker provides a number of useful tools for local SEO, including the citation finder and local rank tracker to help plan your PPC strategies; multiple APIs that can be used for comprehensive SEO data; and powerful features like competitor intelligence, white label reporting, keyword prospecting, and custom data mining, all to ensure accuracy, speed, and simplicity in your marketing efforts.
Search Engine Optimisation
Getresponse (Email Marketing)
GetResponse is an all-in-one marketing platform that lets you create and manage high-quality emails and landing pages without any coding, develop leads and nurture existing customers through webinars, and manage leads and customers through its CRM system. It also includes many advanced analytical and marketing automation tools to ensure further profit maximisation.
Email Marketing
Getresponse (Marketing Automation)
Create automation events based on user behaviours, take actions based on selected conditions that you've chosen, and apply filters to increase the impact and add sharp targeting to your actions with Getresponse's Marketing Automation tool.
Marketing Automation
GIMP
The GNU Image Manipulation Program is a graphics editing software that can be used for tasks like image editing or retouching, image format conversion, free-form drawing, and more. Being free and open-source, it is an efficient alternative to expensive image-editing suites. An uncluttered interface and a light footprint, neither of which affect its power, are some of its other highlights.
Content Marketing
Google Analytics
Google Analytics, a part of the Google Marketing Platform brand, tracks and reports website traffic. It helps you review your online campaigns by tracking goals like sales, lead generation, and views of a specific page. Other useful features include identification of poorly performing pages, custom visitor segmentation, sales activity tracking, and real time analytics of current visitors.
Digital Analytics
Google Analytics 360 Suite
Understand how customers interact with your website and app through actionable insights from the Google Analytics 360 Suite. With a variety of reporting tools to share insights across your organization, sophisticated modelling capabilities, innovative data visualisation, and integration with a host of other Google solutions like Ads and AdSense, it helps you deliver the most relevant experiences to your customers.
Digital Analytics
Google Search Console
Google Search Console offers many tools to measure your site's search traffic and performance, fix issues through timely alerts, and make your site rank high in Google Search results. You can optimise your content with search analytics, review your index coverage to ensure Google has the freshest view of your site, and understand how Google Search sees your pages.
Search Engine Optimisation
Google Trends
Ensure your content always reflects what people are talking about right now with Google Trends, an easy-to-use tool that helps you discover topics of high user interest according to world region, sub-region, and time. Useful features like trends with the highest searches and sharing of long-term reports can further improve how you design your own content.
Digital Analytics
GoSquared
Make smarter marketing decisions and increase your website's conversion with the suite of products from GoSquared. Its analytics feature gives you real-time information on every visitor to your site; the live chat feature helps engage with visitors in a targeted manner; and the customer hub is a CRM where you can maintain a unified profile for every lead and customer
Digital Analytics
Grin.co
Grin is the one-stop solution you need to manage all your influencer relationships. Discover top influencers, automate outreach and follow-up, activate campaigns, track and compare campaign ROI, manage influencer payments, and do a lot else using this efficient CRM. Grin makes everything even more convenient through its one-click integration with tools like Slack, Shopify, and WooCommerce. Learn more about GRIN on their website.
Social Media
GroupHigh
GroupHigh is an influencer research tool that claims to be the world's largest blogger database, which allows you to find the most relevant blogs based on different criteria. GroupHigh also helps you discover quality social media influencers in any niche, automate website and content research, and analyse post engagement and sharing rates to learn which influencers are really working out.
Social Media
GTMetrix
GTMetrix analyzes your webpage load speed and provides insights like load time, size, and total number of requests to help you make loading much faster. You can schedule it to monitor your pages periodically, set condition-based triggers, test loading from different regions, video capture the loading process, and simulate loading on different devices and screen resolutions.
Search Engine Optimisation
Hatchbuck
Hatchbuck is a CRM and marketing software that helps you manage leads and customers in an organised manner, automates your marketing using email marketing and automation tools like drip campaigns and autoresponders, provides smart insights into your sales and marketing data by tracking contacts, deals, and campaigns, and plugs into your favourite tools through its Zapier integration.
Marketing Automation
Headline Analyzer
The Headline Analyzer from CoSchedule helps you write headlines that drive traffic, shares, and search results. Enter your existing headline for a ranking based on word balance, grammar, readability, and overall structure. It also does length and sentiment analysis and shows the words the audience is most likely to read and the headline's look in Google search and email subjects.
Content Marketing
HEADMaster SEO
HEADMaster SEO is a bulk URL checker tool that quickly checks status code, redirect details, response time, response headers, and HTTP header fields for URL lists of any size. You can export the results to CSV or analyse them in real-time. To lower bandwidth consumption, you can even pick and choose the specific information you are interested in.
Search Engine Optimisation
Hootsuite
Hootsuite allows you to achieve more with social media by making content curation a breeze through tagging, searching, and usage stats; scheduling your posts across different accounts to keep your social presence active 24/7; reporting comprehensively on your campaign performance; and allowing you to filter social conversations by keyword, hashtag, and location to let you hear what people are saying.
Social Media
Hotjar
Hotjar is a conversion optimisation platform that combines behaviour analysis through heat maps and recordings with user feedback through polls and surveys to give marketers, product managers, and UX designers all the insights they need to enhance customer experience. Its easy-to-use interface and integration with platforms like WooCommerce, Weebly, and Shopify make it a breeze to use.
Conversion Rate Optimisation
Hreflang Tags Generator Tool
The hreflang attribute tells Google about the language used on a specific page so your page is served to the people searching in that language. The Hreflang Tags Generator, one of several free tools from Sistrix, helps you create your hreflang link-attribute markup for your multi-language website. You just need to keep the bi-directional nature of the links in mind.
Search Engine Optimisation
Hunter.io
Hunter.io helps find all the email addresses for a specific organization domain. It not only scores high on reliability and range but also has handy features that filter personal and generic addresses, get the most common address format used in the organization, find address based on name, provide public sources for verification, and save profiles for synchronisation with your CRM.
Search Engine Optimisation
Iconosquare
Iconosquare is an analytics and social media management tool for Instagram and Facebook. You can use it for insights on content performance and audience engagement, management of multiple profiles from one dashboard, automated reporting that's easy to share, competitor tracking and monitoring, and planning, scheduling, and automatic posting of content with location and account tagging to increase engagement.
Social Media
iContact
iContact makes email marketing more productive with its drag-and-drop editor for designing attractive emails, autoresponders for scheduling automated messages, list management tools to build and manage subscribers, spam check for reviewing your emails to ensure deliverability, analytical tools to track performance of emails and make data-driven decisions, and social media features to schedule messages on Facebook, Twitter, and LinkedIn.
Email Marketing
IFTTT
IFTTT is a free platform that connects your apps and devices using a wide range of applets, allowing combinations of services like tweeting Instagram images as native Twitter photos, receiving email with updates from Weather Underground, adding songs from YouTube videos to Spotify, using Alexa to call any device, and many other innovative functions you hadn't thought possible.
Social Media
Ignition One
Maximise the potential of your customer data with IgnitionOne, an intelligence platform that helps understand historical and real time customer behaviour across channels and devices using its proprietary algorithms. Its solutions arm you with on-demand insights into customers' products of interest, level of engagement, and intent, helping you deliver personalised and consistent messaging to ensure much better conversion across channels.
Digital Analytics
Ignition One
Maximise the potential of your customer data with IgnitionOne, an intelligence platform that helps understand historical and real time customer behaviour across channels and devices using its proprietary algorithms. Its solutions arm you with on-demand insights into customers' products of interest, level of engagement, and intent, helping you deliver personalised and consistent messaging to ensure much better conversion across channels.
Digital Analytics
iMailCampaign
iMailCampaign allows marketing teams to combine multi-channel campaigns with strategy. With automated tools to conduct high level
prospect-nurturing with personalised content within emails, you will be
able to drive deep relationships with your prospects and convert them
into delightful, long-term customers. Save precious time and money with
IMC, find all the marketing efficiency and resources you need.
Marketing Automation
Improvely
Improvely helps you track conversion and detect fraud by identifying the source of every signup and sale; monitoring every click for signs of suspicious activity and monitoring you to potential click fraud; creating an activity profile for your most valuable real customers so you can find more of them; and offering other useful features like team logins and custom-branded reports.
Digital Analytics
Infogr.am
A simple, effective, and intuitive tool for creating infographics to present your content and data neatly, making data fun to read. The drag and drop builder works seamlessly and Infogram allows for linking or importing data from sources such as spreadsheets. Templates include interactive and static graphs, charts, reports, and maps.
Content Marketing
Infusionsoft
Infusionsoft by Keap is an all-in-one CRM and marketing automation platform for small businesses. Capture and organise leads and client information, set tasks and reminders, build customised marketing workflows to automatically trigger email sequences, streamline and standardise your sales process, set up a shopping cart or order form on your website, all to save time and improve overall productivity.
Marketing Automation
Inspectlet
Go beyond what your visitors want to why they want it with Inspectlet, a platform that helps understand visitor mindset through session recordings and heatmaps, provides powerful filtering and funnel analysis tools, lets you track where potential conversions get lost and tag sessions and users, and offers smooth integrations with top apps like React, Ember, and Backbone.
Digital Analytics
Instagram for Business
Instagram for Business is an offering from Instagram to help brands achieve better audience engagement and higher sales on the platform. Its features include those that allow you to understand what your audience is passionate about, tell your story using unique creative tools and immersive formats that inspire action, and connect with new customers while strengthening relationships with existing ones.
Social Media
Instapage
Instapage is a power-packed landing page platform that lets you effortlessly create, manage, and update hundreds of landing pages in minutes; implement advanced page functions with a single click; use heat maps and A/B tests to understand visitor behaviour; employ real-time conversion analytics to compare page performance; and collaborate with your team with the built-in visual tool.
Landing Page
Iridion
Make your conversion optimisation more efficient with Iridion, the one-stop solution to generate ideas and hypotheses, prioritise them based on tested frameworks, and manage all the experiments and data for future action. Iridion also allows you to effortlessly involve the entire organization in the testing process, and integrates with testing tools like Adobe Analytics and Google Optimise.
Conversion Rate Optimisation
JustReachOut
JustReachOut enhances your PR outreach through its three-stage process. First, its team of outreach strategists works with you to plan your PR strategy and create relevant content. Then, its PR software shortlists the most relevant journalists and bloggers. Finally, the team helps you send out targeted email, track pitch activity, and optimise PR angles based on journalists' engagement.
Digital PR
Kapost
One of the greatest challenges in marketing in the digital age is to ensure the entire organization's teams, tools, and channels are synchronised, and content doesn't get wasted, duplicated, or lost. Kapost, through its many collaborative and analytical tools, addresses these issues and helps you deliver the right content to the right customer at the right time.
Content Marketing
Keep-alive validation SEO Tool
Persistent connection with a server is the key to keeping your page load times low and doing well in SEO. Once you type in a URL, the Keep-alive Validation SEO Tool quickly checks if your website supports Persistent Connection in a few seconds. If your server doesn't use a Persistent Connection, the tool also tells you how to enable it.
Search Engine Optimisation
Kenshoo
Kenshoo leverages its machine-learning algorithms and cutting-edge AI to provide marketing insights across digital channels like Google, Bing, Facebook, Amazon, Baidu, and more, ensuring better engagement of customers and discovery of new opportunities. Its unique access to rich data is also useful for companies to plan and activate campaigns at scale and make better marketing decisions.
Digital Advertising
Keyhole
Keyhole is an online monitoring platform that helps discover critical information like social media conversation and sentiment related to your brand and competitors, current trends, real-time engagement data of events, and campaign performance data across different metrics. It also lets you easily gauge the impact of influencers on your brand and connects with the most relevant influencers in your industry.
Social Media
Keys4Up
The idea behind Keys4Up is to automate semantic related keyword research to make your content marketing more efficient. This simple tool minimises the time spent on finding correlations between words by suggesting words and phrases contextually related to your typed in keyword. It also allows easy export to CSV and multiple searches to refine results.
Search Engine Optimisation
Keyworddit
Keyworddit is a free keyword research tool that extracts keywords from subreddits specified by you. It also gives the monthly search volume and the link to the Google search for each of these keywords, helping you discover some low competition keywords and providing a starter set of keywords if you want to use other research tools.
Search Engine Optimisation
Keywords Everywhere
Keywords Everywhere is a free extension for Chrome and Firefox that saves the time spent researching and comparing keywords on multiple platforms. It seamlessly appends search volume, CPC, and competition data onto the interface of your favourite keyword research tool, letting you see all relevant information in real time while using Google Search, Google Analytics, or any other supported site.
Search Engine Optimisation
Keywordtool.io
Keyword Tool helps you discover thousands of long-tail keywords on any topic by automatically generating Google's search suggestions for the Google domain and language of your choice. The free version gets you 750+ keywords in a few seconds, but check out the Pro version for added features like additional keyword suggestions, competition analysis, and keyword search volume and CPC.
Search Engine Optimisation
Kissmetrics (Digital Analytics)
Kissmetrics is a customer engagement automation platform that helps you develop a deep understanding of customer behaviour and drive much better engagement, conversion, and retention. With its behavioural analytics, segmentation, and email campaign automation, you can uniquely engage every single customer from leads to advocates. It goes beyond basic reporting to provide you solutions that truly enable understanding customer engagement.
Digital Analytics
Kissmetrics (Marketing Automation)
Kissmetrics allows you to automate and deliver precise and behaviour-based email campaigns to target the right customer segments with relevant emails at the right time.
Marketing Automation
Klear
Empower your social media presence with the influencer marketing platform Klear, which helps you identify, analyse, and manage the most relevant influencers in your field of interest and allows easy monitoring of campaign performance on Instagram, Facebook, and Twitter. Klear's strengths include the largest available database of influencers, unmatched depth of data, and an easy-to-use discovery and management platform.
Social Media
KWFinder
KWFinder is a user-friendly keyword research tool that provides real-time SEO difficulty to help find profitable keywords, reveals hundreds of low SEO difficulty long tail keywords, allows narrowing down keyword search by city and language, and gets search volume even for close variant keywords. All of this results in truly relevant keywords for your niche, which you can rank for.
Search Engine Optimisation
Landscape by Sprout
If you find having to optimise your images for different social networks a waste of time, Landscape by Sprout is the perfect tool for you. Just upload your image, select the social networks you are interested in, and crop the image accordingly within seconds, leaving you plenty of time to actually engage with your customers.
Social Media
Later
Later is an Instagram marketing platform that lets you plan and schedule your posts with features like the visual content calendar and auto publish; import and manage content from different sources and for multiple accounts; collect and repost high quality user generated content; optimise and analyse your posting behaviour; and drive traffic and track sales with its Linkin.bio integration.
Social Media
Leadformly
Improve your conversion rates, reduce customer acquisition costs, and create a positive ripple effect throughout your marketing campaign by using Leadformly's intelligent and interactive lead capturing forms. Its features like conditional logic, intelligent validation, intuitive form building, and bucket segmentation are all geared to achieve one goal–ensuring that your leads get the right message at the right time.
Landing Page

LeadGen App
LeadGen App is a lead capture form-builder tool for digital marketers. It helps marketers build custom lead form and test them for best conversion rates. LeadGen App works via form embed code that works on all major landing page and website editor platforms and via direct link sharing as well. The forms can be integrated to marketing software like your CRM and email campaign tools.
Landing Page
LeadPages
Leadpages converts clicks into customers with high-converting landing pages and lead generation campaigns. You can publish unlimited landing pages using its code-free drag-and-drop editor, instantly launch Facebook and Instagram ads, A/B test your landing pages to increase conversions, and integrate with your favourite online marketing apps to add leads to email lists and trigger follow-up workflows.
Landing Page
Likeable Hub
Likeable Hub makes social media management incredibly easy by providing you with thousands of content ideas and news posts; helping you generate leads and referrals with your Likeable Hub site; letting you manage your reputation with streamlined social listening; amplifying your reach; saving time with its scheduling features; and offering detailed analytics to measure your growth.
Social Media
LinkMiner
LinkMiner is an easy-to-use backlink checker from Mangools that finds out the most powerful backlinks used by your competitors so you can hone your strategy, previews the website containing the backlink removing the need to open new tabs, saves URLs with strongest backlink potential, and helps you focus on specific types of backlinks using easy-to-set-up filters.
Search Engine Optimisation
Linkody
Linkody makes the time-taking chore of tracking the status of your backlinks quick and easy by automatically letting you know when you lose or gain links. It also gives you insights on competitors' link building strategies, helps you analyse your link profile with tons of metrics, and lets you identify and disavow bad links.
Search Engine Optimisation
Lipperhey (previously Linkstant)
You can use more than 200 SEO features in the free package from Lipperhey to analyse your website on technical, SEO, and popularity metrics; track your keyword rankings and those of your competitors; rewrite titles and descriptions for higher ranking by using its keyword suggestions; understand how your visitors arrive at your site; and do a lot else.
Search Engine Optimisation
Lithium
The Lithium engagement platform enables brands to manage multiple digital touchpoints and drive smarter decisions through data. Its set of solutions covers social media management, which helps manage your entire social strategy from a single platform; social analytics, which captures millions of interactions to provide deep insights; and online communities, which focuses social conversation on your brand.
Social Media
Lithium
The Lithium engagement platform enables brands to manage multiple digital touchpoints and drive smarter decisions through data. Its set of solutions covers social media management, which helps manage your entire social strategy from a single platform; social analytics, which captures millions of interactions to provide deep insights; and online communities, which focuses social conversation on your brand.
Social Media
Litmus
Litmus is an email creation and analytics platform that allows you to create better emails faster. You can utilise integrations with popular email platforms to speed production and reduce errors, perform an automated check to catch errors and scan loading time, identify and remove potential issues that might keep your email from getting delivered, and maximise ROI with advanced analytics.
Email Marketing
Localytics
Localytics helps you go beyond superficial personalisation to better understand your customers and deliver experiences that truly matter. Use the platform's analytics and attribution tools to understand how your users use your app; send richer, more compelling messages that deliver results; and use tools like A/B testing and uninstall tracking to make adjustments that maximise the ROI from your app.
Digital Analytics
Long Tail Pro
Long Tail Pro helps you find less competitive long tail keywords to drive high-converting online traffic for any niche. Just enter the seed keywords and choose the language and country to get hundreds of suggestions. You can also run keyword and competitor analyses, determine keyword profitability with rank value, and stay on top of your rankings with the Rank Tracker.
Search Engine Optimisation
Loop11
Loop11 facilitates usability testing for websites and apps with its customer-friendly test builder that can be used to assign user tasks and objectives or ask usability questions. It helps source the right test participants and provides useful quantitative post-test insights including clickstreams, videos, heatmaps, and more. Integration with top prototyping tools and multi-language and multi-device support are other key features.
User Experience
LuckyOrange (Conversion Rate Optimisation)
Lucky Orange's Conversion Funnels tool lets you quickly see where people abandon a process on your website such as "checking out" or "creating an account". Clicking on a funnel step will instantly filter your recordings to those visitors that abandoned the funnel at that particular step.
Conversion Rate Optimisation
LuckyOrange (Digital Analytics)
A vast majority of visitors to your site never turn into customers. Lucky Orange helps you figure out why using video recordings, live chat, heat maps, polls, analytics, and more. It also gives you ideas on how to improve conversion rates. Segmentation of its interactive heat maps and real time attribution per user are some of its unique features.
Digital Analytics
Lumen5
Lumen5 makes social video creation effortless by using its AI system to summarise any blog post or RSS feed entered by you with relevant and matching videos, photos, and music; offering millions of free media files to choose from to help you create captivating videos; and personalising every video with your brand colour, watermark, typeface, and a call-to-action.
Social Media
Mad Mimi
Mad Mimi aims to make email marketing simple to use without losing its effectiveness. It complements its streamlined design process that makes it effortless to create eye-catching emails with easy subscriber list management, high deliverability, real time campaign tracking, choice of add-ons like drip campaigns and webforms, and integration with services like SurveyMonkey and Salesforce.
Email Marketing
Magento Business Intelligence Pro (formerly RJMetrics)
Magento Business Intelligence Pro is an analytics platform that harnesses the power of all your databases through its prebuilt integrations and flexible API. Collect the data in its hosted data warehouse, use its powerful tools to model the data, organise multiple dashboards, build a variety of reports, manage team access, and do a lot else to make smarter data-driven decisions.
Digital Analytics
Mailchimp (Email Marketing)
Keep your audience engaged with Mailchimp's email marketing campaign builder. Easy to use and packed full of features, whether you're welcoming new subscribers or sending personalised product recommendations, you can do it in just a few clicks.
Email Marketing
Mailchimp (Marketing Automation)
MailChimp is a marketing platform that offers a bunch of tools to help small businesses grow. Create emails, ads, landing pages, and more with its design tools. Integrate with over 300 tools to create better campaigns. Use automations to get more and better output for less effort. Make use of optimisation tools to understand your customer and improve your marketing.
Marketing Automation
Mailerlite
Remove the complexity of email marketing with MailerLite's easy-to-use yet powerful features. Bring your unique personality to its drag-and-drop email builder, build sophisticated campaigns with its email automation tools, turn subscribers into customers with responsive landing pages, and customise beautiful pop-ups to target your website visitors. To further enhance your workflows and leverage customer data, use its many integrations.
Email Marketing
Mailjet
Mailjet, as its name suggests, is an email service provider with proven high standards of deliverability, for fast-moving teams. Improve your marketing and transactional emails or text messages through its user segmentation and A/B testing features, track your communication for performance monitoring, and collaborate with your team effortlessly in real-time to design the most effective email
Email Marketing
Mailshake
Mailshake is an easy-to-use email marketing solution that makes sending cold emails more efficient through proven templates, personalization tools, automated suggestions, and automatic and scheduled follow-ups. Other key features include an intuitive user interface, the flexibility to respond based on recipient behavior, and Zapier integration. Extra power comes from detailed analytics like campaign performance tracking and A/B testing.
Email Marketing
Majestic
Majestic is one of the world's largest link index database, providing SEO professionals, entrepreneurs, media analysts, and developers the information required to create effective content. Apart from a site explorer, its other important features include backlink history checking and discovery of relevant keywords along with search score for a URL. Availability of API allows linking of raw data with other apps.
Search Engine Optimisation
MarketMuse
MarketMuse is a suite of powerful tools for content marketing. These tools help you discover the best opportunities to optimise content, provide data-driven insights for creating content that gets high search rankings, analyse the competitive landscape, discover the questions your audience wants answers to, and determine internal links to improve search rankings.
Content Marketing
Marketo
Convert marketing into a revenue driver from a cost center with the Marketo Engagement Platform, a marketing automation and sales effectiveness software that lets you track the ROI and understand the influence of marketing campaigns, observe leads through the buying process, segment the audience, and do a lot more. Its recent acquisition by Adobe provides it with several extra
Marketing Automation
Matomo (Conversion Rate Optimisation)
A/B test anything and test anywhere to increase your sales, conversions, page views and more with Matomo's A/B testing tool.
Conversion Rate Optimisation
Matomo (Digital Analytics)
Matomo is a powerful open-source web analytics platform available with cloud and on-promise hosting options. It helps you obtain detailed insights with features like heat maps, session recordings, and form analytics; provides real time updates on visitor behaviour; and lets you optimise your website using A/B tests. It claims unmatched accuracy, 100% data ownership, and full privacy compliance as top advantages.
Digital Analytics
MavSocial
MavSocial is a social media management tool that allows you to manage, schedule, and publish content on multiple social media networks from one location. You can view all replies and messages in one inbox, track industry trends, monitor real-time data to understand your social media performance, collaborate with others, and discover relevant content and publish it after editing.
Social Media
MeetEdgar
MeetEdgar takes away all effort from social media posting by helping you build a library by pulling in content from varied sources like RSS feeds and YouTube videos, writing your posts for you, scheduling posts based on categories, resharing content, shortening and tracking links, providing A/B testing of messages, and reporting your social media stats on a weekly basis.
Social Media
Meltwater
Meltwater is a media intelligence platform that tracks news, social media, forums, and blogs, and even print media through partnerships to help clients analyse media coverage using qualitative and quantitative metrics. A vast widget library helps visualise media coverage and report on ROI of PR efforts. Additionally, it facilitates sending out customised newsletters and helps engage with journalists and influencers.
Digital Analytics
Mention
Mention is an easy-to-use and highly effective media monitoring tool using which you can create alerts for your company and its products or your competitors. It tracks one-billion-plus sources across social media, forums, blogs, and other sections of the web to find the most relevant mentions and updates you in real time with detailed automated reports and custom insights.
Social Media
Mixpanel
Mixpanel is a user analytics platform that utilises machine learning to help you understand how users engage with your products, experiences, and campaigns across their full journey. By uncovering trends and trying out different approaches, every member of your team, including non-technical personnel, can make data-driven decisions to increase customer conversion, engagement, and retention.
Digital Analytics
Mobile-Friendly Test
Mobile-Friendly Test is a tool developed by Google that allows you to test how easily a visitor can use your page on a mobile device. Just enter a page URL to see how your page scores and make improvements from the suggestions provided.
Search Engine Optimisation
Monitor Backlinks
Monitor Backlinks is a keyword and backlink monitoring tool that helps build great links, create relationships with influencers, recover lost links, track keyword rankings over time, reverse engineer competitors' keyword and backlink strategies, fight negative SEO using the disavow tool, and simplifies the management of all backlink data from one place.
Search Engine Optimisation
MonsterInsights
MonsterInsights is a WordPress plugin that doesn't just connect your site to Google Analytics with one click but also helps you make sense of the mass of data you get on Google. Optimise your site with valuable information like the sites they come from, the keywords they use, the topics they are interested in, and their age and gender profile.
Digital Analytics
Moonsearch
Moonsearch is the quickest way to collect detailed information on any website, including external links, organic keywords, Google PageRank, Alexa rank, number of visitors, IP address, location, and provider. Its geotracking lets you determine the site's popularity in different parts of the world, while another set of tools allows calculation of value and revenue of your competitors' sites.
Search Engine Optimisation
Mouseflow
Mouseflow helps you figure out how your visitors use your site by replaying their sessions in entirety or filtered to find specific pain points. Tools like heat maps, A/B tests, and direct feedback surveys also help identify specific elements of your funnel or form that frustrate users. Extra utility comes from its smooth integration with existing platforms.
Conversion Rate Optimisation
Moz
Moz is an all-in-one SEO toolset that includes Moz Analytics for tracking how your SEO, link building, social, content, and brand marketing efforts impact your site and Moz Research Tools to analyse your competitors' efforts, discover issues affecting your marketing performance, and find new outreach opportunities. It also packs in a wealth of resources for learning SEO and inbound marketing.
Search Engine Optimisation
Muck Rack
Muck Rack is a multi-purpose PR-management tool that allows you to pitch article ideas to relevant journalists, track what different media outlets are writing about, and, if you are a content creator, discover how often and in what manner your content is shared online. You can also export presentation-ready reports on how your PR campaign affects key business metrics.
Digital PR
Netpeak Software
Netpeak Software offers two desktop products, Netpeak Spider, a tool for fast and comprehensive audit of any website, and Netpeak Checker, a tool for bulk URL analysis and comparison of websites. You can use these tools to evaluate a website's quality for link building, analyse competitors' promotion strategy, do an in-depth SEO analysis, and complete many other critical SEO tasks.
Search Engine Optimisation
NinjaOutreach
NinjaOutreach is a blogger outreach CRM system that allows prospecting, relationship management, and analytics and reporting. With a simple keyword search, you can find online influencers in your niche, see valuable data about them, connect with them through email and social media, and partner with them to promote your brand to their audience.
Social Media
NUVI
NUVI provides intelligent, intuitive, real-time social listening to sharpen your marketing strategies. Its stunning visualisations combined with industry-leading social data let you identify and analyse audience feedback; it helps you discover legitimate influencers in your niche and engage productively with them; and its crisis management features offer real-time alerts to manage issues before they become critical.
Social Media
Odoo Adspike
Odoo AdSpike uses a series of smart algorithms to analyse your Google AdWords campaigns and suggest automated actions to make them much more efficient, allowing you to significantly increase the number of clicks you get per lead while staying within your budget. Its features include benchmarking of AdWords performance, budget control, different quality tests, and strategies to optimise PPC.
Digital Advertising
Oktopost
Oktopost is a B2B social media management platform that seamlessly pushes social media data to your marketing automation software so you can improve the way you nurture, score, and attribute leads. It can integrate with marketing platforms like Marketo, eloqua, Salesforce, and Zapier to help you build a data-driven social media strategy and encourage employees to post more relevant content.
Social Media
Omnisend
Omnisend adds to the standard email marketing platform features by providing actionable data on customer behaviour and campaign performance that can be used to segment the audience and send relevant and highly targeted messages across multiple channels to provide your customers a unified, personalised experience. Its powerful features are optimised for e-commerce, letting you connect with your favourite platform.
Marketing Automation
Oncrawl
Ontraport is a CRM and marketing automation software that lets you create high-converting campaign maps using its visual campaign builder or pre-designed pages and emails; provides unparalleled visual reporting on your real-time performance to provide you clarity on your campaign's strong and weak points; and powers your data-based decision-making with its groundbreaking Projection Mode.
Marketing Automation
Ontraport
OnCrawl is a data-driven SEO crawler and log analyser that helps you create an SEO strategy with confidence by delivering a unique fingerprint of every part of your website. Actionable insights provided by OnCrawl include information on your site's crawlability and indexability, orphan pages, internal linking structure, content quality, crawl budget management, duplicate content, load time, and much more.
Search Engine Optimisation
Open SEO Stats(Formerly: PageRank Status)
Open SEO Stats, formerly known as PageRank Status, is a Chrome extension that provides quick access to the Alexa Rank, Compete Rank, and Quantcast Rank of the webpage you are on. You also get information related to Geo IP location, Whois, backlinks, indexed pages, cached pages, socials, site security, Meta elements, and a lot more.
Search Engine Optimisation
Openlinkprofiler
The free link research tool OpenLinkProfiler helps you get a detailed overview of the link profile of any website. Just type in the domain name and get an immediate link analysis. You can sort the links by influence score, industry, TLD, and many other criteria; download 1000 links per website; and get email notifications when new links are discovered.
Search Engine Optimisation
Optimizely
Optimizely X is a digital experience optimisation tool that allows your entire team—from product developers to marketers—to experiment with different features for an enhanced customer experience. Its evidence-based results help you offer better recommendations and targeted content to your customers across different digital platforms and devices, thus, driving up the value.
Conversion Rate Optimisation
OptinMonster
OptinMonster is a power-packed conversion optimization tool that helps you grow leads and increase revenue using personalised messages based on user behaviour. Once you try out its many high-converting templates, targeting features, 500+ marketing integrations, unlimited A/B split tests, and detailed conversion analytics, you'll be wondering how your digital marketing had managed without it till now.
Conversion Rate Optimisation
Oracle Maxymiser
If you want to ensure that your carefully designed websites and mobile apps are optimised for delivering the best customer experience, try out Oracle Maxymiser's advanced testing and personalisation solutions. Its range of tests–right from simple A/B to complex multivariate–give you robust insights to improve your audience-segment discovery and predictive personalisation.
Conversion Rate Optimisation
Owler
Find detailed and often difficult to find information like key activities, employee strength, turnover, funding history, competitive analysis, press releases, and much more for any company using Owler, the crowdsourced repository of global business data. Members can also follow, track, and research companies in real time and set up customised notifications.
Digital Analytics
Pagemodo
Pagemodo makes Facebook advertising easy for everyone with an intuitive design studio to create a customised business page; custom tabs, contact forms, contests, and sweepstakes to generate leads and convert them into customers; handy tools to find content, market sales and events, and schedule posts in a few minutes; and several other features for targeting, analysis, and optimisation.
Social Media
PageSpeed Insights
PageSpeed Insights is a tool developed by Google that analyses the content of a web page, then generates suggestions to make that page faster.
Search Engine Optimisation
Panguin Tool
If staying up-to-date with Google algorithm updates seems difficult, check out Panguin, a free SEO tool that provides you with detailed interactive timelines for all major Google algorithm updates once you log in with your Google Analytics ID. A number of features in the tool make it easy to investigate if you have been impacted by any updates.
Search Engine Optimisation
Paper.li
Paper.li is a fast, efficient, seamless, and inexpensive tool for content aggregation and distribution. It helps individuals or businesses build a following on social networks by letting them share relevant content effortlessly and consistently. Extra features like MailChimp integration to facilitate lead generation and responsive themes to customise the look of your paper add to its utility.
Content Marketing
Piktochart
Piktochart is fairly user-friendly, and the platform provides an extensive library of graphic elements such as arrows, icons, vectors. They also offer beautiful infographic templates where you only need to make minor adjustments and input data fairly quickly. Able with integrate with Survey Monkey and Google Docs.
Content Marketing
Pingdom
Pingdom monitors critical webpage aspects like loading speed, uptime, and user registration and login flows to provide you insights into the performance and availability of your site. With reliable alerting, actionable intelligence, and easy to understand reports to identify the root cause of performance issues, you can ensure optimal end-consumer experience through consistently smooth website interactions.
Digital Analytics
Pitchbox
Hone your influencer outreach strategy with Pitchbox, a tool that integrates with top SEO providers to help you discover the most authoritative publishers, allows customisable and personalised communication with identified targets, and gives you detailed analytics to optimise efficiency. The result is more effective link building and much better content marketing for you and your clients.
Content Marketing
Portents SERP Preview Tool
When working on SEO, content marketers spend time on complex aspects but often miss a basic point—checking how their webpage will look in Google's search listings. You can get this done quickly now with Portent's Google SERP Preview Tool, which shows you exactly how your title tag, meta description, URL, and rich snippets will appear in searches.
Search Engine Optimisation
Post Planner
Get more engagement, clicks, and sales from Facebook and Twitter with Post Planner, which uses its recommendation engine to identify top-performing web content for you, helps you post content at optimal times, and allows you to streamline your publishing across multiple social channels with bulk uploading or queuing up of high-performance content for recycling.
Social Media
Powtoon
Powtoon is a video creation platform that allows you to create studio-quality HD live and animation videos and presentations using its huge library of templates, scenes, video clips, soundtracks, and characters or your own uploaded media. Ease of use, screen sharing, collaboration tools, and offline presentation are some of its other highlights.
Content Marketing
ProofSource
Provesource is a social proof tool that displays recent customer behaviour live on your website to act as a powerful conversion trigger in the buying journey. It is easy to set up and navigate, and features include custom branding, absolute URLs, Google Analytics data export.
Conversion Rate Optimisation
PTEngine
When generating traffic to your site or app is so difficult, why not ensure that the existing traffic gets converted better? Ptengine lets you do just that by helping you understand user behaviour through analytics and heat maps, improve your marketing funnel, and test different campaigns for maximum results, all ensuring that gaps in customer engagement get filled.
Digital Analytics
Putsmail
PutsMail is a standalone, free tool from Litmus meant to help email designers perform quick tests of their campaigns. It solves the common issue of cross-platform testing when sending HTML emails by asking you to enter your email and showing you previews of how it will appear to the recipient on different platforms like Outlook, Gmail, iPhone, and Apple Mail.
Email Marketing
Pyramid Analytics
Pyramid Analytics is a highly cost-effective enterprise-grade analytics operating system that can work across browsers, devices, data technologies, and environments and be used for single-user self-service analytics or company-wide centralised deployment. It helps you get past data silos by utilising all data sources and applying machine learning to explore business problems and share insights across the enterprise.
Digital Analytics
QuestionDB
Get great content ideas beyond the keywords that Google releases data for with QuestionDB, a comprehensive database of questions asked by people on different topics. The database assesses relevance not just by the keyword itself but also based on the site the query was posted on, thus, giving you a clear idea of people's needs, problems, and interests.
Search Engine Optimisation
Reach Mail
ReachMail is a cloud-based email marketing solution that packs in a range of features for everyone from a small business owner to a multinational firm marketer. Features like the drag and drop message builder, advanced editor, multiple brand and user support, advanced DKIM/DMRC support, detailed analytics and testing, and Litmus reviews ensure your email marketing runs efficiently.
Email Marketing
Responsive Design Checker
With more than half of the internet traffic on mobile devices these days, you never know where your website's visitor is coming from. Make your web design truly responsive with the Responsive Design Checker, a free tool from Media Genesis that shows you how your web pages look on laptops, tablets, and mobiles of different screen sizes.
Search Engine Optimisation
Retargeter
ReTargeter is a pioneer in providing advanced retargeting solutions, serving highly targeted ads and helping drive traffic to your website. Its ready to deploy range of products allow you to show ads to users in different creative ways and, with its expansive network, on billions of websites, ensuring the users re-engage with your business even after leaving initially.
Digital Advertising
Rival IQ
Make smarter social media decisions with Rival IQ, a suite of tools that provide insightful analytics on the audience impact of your social media efforts; valuable information on competitor performance allowing you to react quickly, imitate successful posts, or secure additional budget to keep pace; and content ideas based on audience trends to enhance your online presence.
Social Media
Rmoov
rmoov helps you manage your website's backlink removal problems easily. It can extract contact information from a list of URLs and simplify correspondence related to unnatural link warnings. With rmoov, you can pause and edit campaigns, add notes to domains, submit requests, auto-generate Disavow Reports, download complete summary reports and share with the Webspam team, and lodge your reconsideration request.
Search Engine Optimisation
Robots.txt Generator
Robots.txt files, if used strategically, guide search engine bots to crawl your site the way you want them to, improving your search rankings. The handy Robots.txt Generator from SEOBook saves you time and effort by generating accurate robots.txt files based on the bots you want to communicate with and the files or directories you want access allowed or disallowed to.
Search Engine Optimisation
SalesForce
Salesforce, the world's top CRM platform, helps you automate tasks, manage leads and contacts, anticipate customer wants, and, thus, make smarter business decisions for improved sales. Its one-platform-multiple-cloud system can be accessed from any device or OS allowing for seamless team collaboration and customer interaction. Its Marketing Cloud allows you to deliver cross-channel personalised experiences at every step of the customer lifecycle with B2C journey management.
Marketing Automation
Scoop.it
Scoop.it is a multi-channel content publishing platform that offers efficient and impactful curation and sharing of content on topics of your choice. Develop leads through regular engagement, track emerging stories in your areas of interest, become a thought leader, and share content across channels, all through an easy-to-manage interface that is integrated with WordPress and other Content Management Systems.
Content Marketing
Screaming Frog
Screaming Frog is a digital marketing agency that uses a blend of data, technology, and creativity to help businesses with SEO and paid search campaigns, social media and content marketing, analytics and conversion rate optimisation, and a lot more. It also offers SEO Spider, the powerful site crawler that gathers on-site data to help make informed SEO decisions.
Search Engine Optimisation
Search Ads 360
Search Ads 360 is a marketing platform offered by Google to marketers to efficiently manage large search campaigns across multiple engines and channels. With features like management of multiple accounts from one interface, real time executive reporting, automated and customisable bidding strategies, ad copy testing, and labelling, it allows you to consolidate your workflow and improve the efficacy of your marketing campaigns.
Digital Advertising
Search Analytics for Sheets
Search Analytics for Sheets is a Google Sheets add-on that lets you retrieve data and create automatic backups from Google Search Console into Google Sheets. This way, you can get information about rankings, queries, landing pages, clicks and much more into a spreadsheet and then group and filter the data in ways that aren't possible with the standard web frontend.
Search Engine Optimisation
SECockpit
SECockpit is a superfast tool to help you find keywords with the highest level of traffic, lowest competition, and highest potential earnings. It goes beyond Google AdWords to find you the most relevant keyword variations in your niche and can be used with different filters for even better results. SECockpit is available through your browser or as an app.
Search Engine Optimisation
Seed Keywords
Seed Keywords is a free tool that brings the power of crowdsourcing to keyword research. You have to create a simple scenario and share the generated URL with friends on social media. Your friends type in the queries they will search for in relation to that scenario, and you automatically get a growing list of keywords that people actually use.
Search Engine Optimisation
Semrush (Digital Advertising)
SEMrush gives you access to valuable data on your competitors' PPC marketing activities, their budgets, their best keywords, their most profitable ad copies, and their AdWords and Bing Ads usage trends. Use SEMrush Competitive Intelligence and achieve maximum ROI from your PPC campaigns.
Digital Advertising
Semrush (Search Engine Optimisation)
To excel in the super-competitive content marketing ecosystem, SEMrush offers a bunch of SEO power features that help conduct effective keyword research, track the competition's keyword strategy, run an SEO audit of your blog, identify backlinking opportunities, find monetising opportunities before the competition, and more. All its features can be run easily from one dashboard, making it super-efficient and easy-to-use.
Search Engine Optimisation
Sendible
Sendible is a social media management tool for agencies. You can manage all your client activities from a centralised hub, go through social messages from multiple profiles in a single filterable stream, utilise the content recommendation engine, collaborate more efficiently with your team, and analyse social media campaign performance easily through ready to present reports.
Social Media
Sendloop
Sendloop offers enterprise level email marketing features at prices that small businesses appreciate. Create beautiful and high-converting emails in minutes, import contacts and manage subscriber lists effortlessly, boost email open rates, track conversion and campaign ROI, make use of 1000+ integrations, and benefit from the experience of its dedicated email marketing team if you require assistance.
Email Marketing
Sendy
Sendy is a self hosted email newsletter application that lets you send trackable emails via Amazon SES, making it possible to send authenticated bulk emails at an insanely low price without sacrificing deliverability. You get tons of other features, including list and subscriber management, list segmentation, autoresponders, white labeled client accounts, detailed campaign reporting as well as several third-party integrations.
Email Marketing
SentiOne
SentiOne is a social listening platform that lets you track your mentions across social media, blogs, forums, and other sources; filter this information for insightful audience sentiment and competitor analysis; engage productively with the audience and control your brand reputation; and use advanced social media analytics to measure the effectiveness of your online activities and uncover new product development ideas.
Social Media
SEO Hero
SEO has moved beyond optimising web pages for keywords to relevance of content because Google's algorithm relies on semantic connections to show search results. SEO Hero helps with this by finding every single concept, entity, and N-Gram related to your topic, allowing you to create great content strategies, build relevant hubs, and drive more targeted traffic to your site.
Search Engine Optimisation
SEO Monitor
SEOmonitor is a platform that delivers insightful and reliable reports by making the most out of the available data. It meticulously analyses every keyword, topic, and ranking; gives you a reliable SEO performance metric by studying rank changes, search volume, and seasonality of keywords; detects every change in your SEO timeline; and helps translate goals into easily understandable business KPIs.
Search Engine Optimisation
SEO Tools for Excel
The SeoTools for Excel add-in gets you access to over 100 marketing functions, including those for on-page and off-page SEO analysis like verifying if your pages are correctly set up and fetching PageRanks of multiple URLs. Other features include Google Analytics and Majestic integrations, an easy-to-use XML format to build your own connectors, and an in-built Spider for page crawling.
Search Engine Optimisation
SEO Web Page Analyzer
SEO Web Page Analyzer is a web and iOS based SEO audit tool that breaks down the structure and content of your web page and assesses the build and content quality from an accessibility, usability, and search engine point of view. Based on the analyzer's pass, fail, or further action response for each section, you can fix any issues quickly.
Search Engine Optimisation
Seobility
Seobility is an online toolset for SEO optimisation. It helps with on-site audit through its crawler, tracks daily keyword rankings on different search engines and country or city levels, monitors SEO backlinks, spies on your competitors to find ideas for link building, analyses the top-ranked content on Google and optimises your pages for topical relevance, and suggests other optimisation tricks.
Search Engine Optimisation
SEOQuake
SEOquake is an SEO audit tool that lets you analyse any webpage through your browser within seconds. It's useful for checking your webpage's SEO health in real time, fixing any optimisation issues, and getting details behind internal and external links. You can also compare multiple domains for a variety of SEO parameters and export the results into a customisable report.
Search Engine Optimisation
SERProbot
SERPRobot is a free online tool for finding your website's Google search ranking instantly. Just type in your region, domain name, and the keywords you want to search for. Within seconds, the SERPRobot lets you know if any of your pages rank in the top 100 and what the top ten pages ranking for those keywords are.
Search Engine Optimisation
Serpstat
Serpstat is an all-in-one SEO platform that packs in a bunch of features like positions tracking, backlink analysis, keywords research, site audit, and competitor research. You can use these for important functions like removing errors from your website, getting insights on search questions, finding pages that attract the most links, SERP research with advanced analytics, and much more.
Search Engine Optimisation
Similarweb
SimilarWeb is a website analytics platform that lets you make smarter sales, marketing, and investing decisions by analysing competitor strategy, audience behaviour, emerging trends, and partnership opportunities and offering you detailed insights on any website and app. Its Chrome extension is ideal for collecting key information like traffic and keywords for any website within seconds.
Digital Analytics
Simpli.fi
Simpli.fi is a programmatic marketing platform specialising in localised ad targeting and content, providing better performance than platforms that use pre-packaged segments for national-level targeting. A leader in the field, it helps provide deep insights on its clients' dynamic audiences for continued marketing improvements and makes it easy to deliver performance on high volumes of localised campaigns.
Digital Advertising
Sisense
Sisense is a business intelligence software that helps make sense of all your complex data by letting you easily clean and combine your messy data coming from different sources, use interactive visual analytics to explore the data and instantly get the answers you need, and use dashboards and reporting in innovative ways to deliver insights in a useful manner.
Digital Analytics
Siteliner
Siteliner is a free service that lets you explore your website, revealing key issues like duplicate content and broken links that affect your site's quality and search engine rankings. Apart from identifying the pages that are most prominent for search engines, it also crawls through your site to provide a standard XML sitemap as well as a detailed Siteliner report.
Search Engine Optimisation
Sizmek
Sizmek's AI-driven decisioning engine helps identify powerful insights from data across the key dimensions of campaigns, consumers, context, creative, and cost, letting you optimise every channel easily and create individualised branded experiences for your customers. Being the largest independent buy-side advertising platform, it lets you capture data across your entire media plan and enjoy a full-holistic view across every screen.
Digital Advertising
Smush Image Compression and Optimisation
Smush is a popular WordPress image optimisation plugin that lets you resize, optimise, and compress images without affecting image quality. Its features include automated optimisation; compatibility with multisite use, different file types, and many popular media library plugins; ability to smush images located outside your media library; and the new incorrect size detection.
Search Engine Optimisation
Email Octopus
EmailOctopus uses Amazon's Simple Email Service to make your email marketing more economical, without compromising on deliverability. You can use it to create beautiful campaigns using its rich set of email templates; use in-depth data on open, click, bounce, and unsubscribe rates to optimise your marketing; and utilise its powerful automation features to create time-based on-boarding and drip sequences.
Email Marketing
Social Blade
Social Blade tracks user statistics for YouTube, Twitch, Instagram, and Twitter, allowing access to its public database that provides you with global analytics for any account and helps understand subscriber growth trends. It also helps you grow your own channels through step-by-step guidance from experts, data based on your targeted queries, and several other features.
Social Media
Social Hub
SocialHub provides a simplified interface to let you create and schedule Facebook posts and ads with just a few clicks. Its Content Planner makes it easy to devise a content strategy; the collaborative calendar allows working with your team in real time; existing ad-sets make creation of ads a breeze; and the actionable data helps improve audience engagement.
Social Media
Social Oomph
Social Oomph boosts your social media productivity by allowing you to connect multiple social media accounts, schedule posts, track keywords, save and reuse drafts, view social media mentions, submit social updates using email, integrate blog and social media updates, drip-feed social accounts, delegate account management, collaborate with teams and set authorizations, and do much more to save time and effort.
Social Media
Social Pilot
Social Pilot is a simple and cost-effective social media management tool for teams and agencies. It allows you to manage multiple Facebook pages, reply to comments, and schedule posts from one dashboard. It also makes it easy to discover and publish curated content, collaborate with teams, manage clients, and make data-driven social media marketing decisions.
Social Media
Social Rank
SocialRank helps you understand your Twitter and Instagram audience by allowing you to sort them based on criteria like most valuable, most engaged, most followed, and so on; filter them using keywords, hashtags, number of followers, geographic location, and other metrics; and take actions like direct messaging, exporting to CSV or PDF, building lists of leads, and much more.
Social Media
Socialbaker
Socialbakers is an AI-powered omni-channel audience analysis platform that helps you learn what your audience wants to see, manage your social media performance across multiple accounts and optimise your budget, monitor conversations around your brand to discover your brand advocates, and provide on-point customer care across platforms and report on your performance in seconds.
Social Media
SocialBee
SocialBee automates your social media posting by helping your categorise and schedule your content for a great content mix, makes discovery of relevant content easy, offers a concierge service to put together content manually, tracks your results with customisable UTM settings, helps grow and engage your audience through innovative ways, and lets you retarget them across the web.
Social Media
Socialflow
SocialFlow helps increase distribution of owned and earned content across social media platforms through analysis of real-time data. You can release posts for optimised timing, relevance, and audience; identify best performing posts to amplify with advertising and integrate with platform-specific ad vehicles; analyse user responses; and develop new advertising strategies to extend your reach beyond existing audiences.
Social Media
Spredfast
Spredfast unlocks the potential of social media to strengthen your brand by helping you get the right people's attention through its sophisticated planning, insights, and workflow capabilities; build customer loyalty with every interaction; organise and translate data to prove business value and drive marketing activities; and control all your social accounts to better understand your audience.
Social Media
Sprinklr
The Sprinklr Social Cloud help you with a unified approach to social media management, letting you unify publishing, engaging, and reporting across 25+ social channels, drive cross-team collaboration, monitor your brand mentions, track the key trends affecting your industry based on real-time and historical conversations; and reduce brand risk through automation and customisable workflows that ensure consistent customer satisfaction.
Social Media
Sprout Social
Sprout Social helps businesses put consumers at the center of their social media strategy by providing access to rich social data and analytics that drive decision-making; improving monitoring and engagement efforts with a unified inbox for all social media networks; aiding in effortless planning, creation, and management of content; and offering handy collaboration and automation features.
Social Media
SpyFu
Keep an eye on your competitors with SpyFu, the intelligence tool that uses just the domain names to provide information on their profitable keywords, organic rank, Google ad variations, and more. Typing in a keyword gets you the domains that buy it and rank for it and other useful data, ensuring your PPC campaign stays ahead of the game.
Digital Advertising
SpyFu Kombat
SoyFy Kombat helps you sharpen your SEO strategy by identifying keywords that will deliver the right audience and those that are dead ends. By comparing your domain with those of two competitors, it finds keywords that they rank for and the ones you should be focusing on, making sure that you always target the most relevant, valuable keywords.
Search Engine Optimisation
Structured Data Markup Helper
Google's Structured Data Markup Helper lets you mark up elements on your web page to make it easier for Google to understand your page's data and present it in more attractive ways in Google Search. It also allows you to change your HTML-formatted email's template so that Gmail can present the data to the receiver in new and useful ways.
Search Engine Optimisation
SurveyMonkey
Whether you are an individual researcher or an organization, SurveyMonkey is the online platform you need to create customised surveys. You can use your own questions or benefit from the platform's question bank and templates to create the survey that meets your specific requirements. Apart from intuitive design features, it also offers integration with tools like MailChimp and Zapier.
Digital Analytics
Tagboard
Tagboard transforms real-time content from top social media channels into impactful displays for your live broadcast, venue screens, web, and mobile platforms. Tagboard uses hashtags to quickly pull user generated content, which you can filter through easily to select the best posts and then create engaging experiences that compliment your branded social content across multiple touch-points.
Social Media
Tailwind
Tailwind is a marketing platform for Instagram and Pinterest with shortcuts for tasks like bulk image upload, multi-board pinning, pin looping, and hashtag lists. It schedules your posts for maximum audience engagement, helps monitor social media conversations, and allows posting of content from a single workflow. Its browser extension also lets you create posts from any site with one click.
Social Media
Talk Walker
TalkWalker is a social listening platform that helps you analyse brand mentions across 10 social networks, 150 million websites, and 180+ languages. It also incorporates visual listening to identify brand logos, alerts you to combat potential issues on time, spots emerging trends using the power of AI, and allows you to build better relationships with customers and influencers.
Social Media
ToutApp
ToutApp is a sales communication management tool that lets you build your sales pipeline, share best performing sales assets to build a streamlined playbook, get visibility into all aspects of the sales process for more accurate forecasting, send high deliverability emails, and automate parts of the sales process. It even integrates fully with Salesforce and other major CRMs.
Email Marketing
Traackr
Traackr adds power to your influencer marketing by providing access to the largest influencer discovery engine from which you can identify the top names based on brand impact and audience insights; offering efficiency with one central database, common workflows, and data-driven influencer vetting; and allowing better understanding of the impact of the influencer program through detailed analytics.
Social Media
Trellian Keyword Discovery
Find search terms that grow your online business with KeywordDiscovery from Trellian, an advanced keyword research tool that draws from a database of 36 billion search queries from many different search engines to aid you in keyword research, discovery of industry keywords, spelling mistake research, tracking seasonal search trends, finding related keywords, KEI analysis, and keyword density analysis.
Search Engine Optimisation
Trendspottr
Transform social media noise into actionable easy signals with TrendSpottr, the freemium service that predicts emerging trends, viral content and key influencers from the social web in real time. Its predictive tools can help you with more effective content marketing, optimised media planning, quicker influencer targeting, smarter market research, and timely threat anticipation. It includes a free widget for visual representation of trends.
Social Media
Tube Buddy
TubeBuddy is a free Chrome extension that integrates directly into YouTube, helping you run your channel with ease. It has a wide range of features for bulk processing, video SEO, promotion, and data and research. Plus, you save time with many productivity tools that allow you to filter comments, publish to Facebook, quickly edit videos, and do a lot more.
Social Media
Tweepi
Tweepi brings the power of artificial intelligence to Twitter marketing, helping you grow the number of your followers. Tweepi monitors Twitter to find the best tweets and users to engage with based on your areas of interest, which helps you get noticed and add more followers in a shorter period, allowing you to focus on content.
Social Media
Tweetdeck
TweetDeck is a dashboard application for management of Twitter accounts. Users can send and receive tweets, schedule for later delivery, view profiles, and manage the customisable columns to display the timeline, mentions, direct messages, lists, trends, favourites, hashtags, or all tweets by a single user. It also uses Twitter's automatic URL shortening feature to cut down the length of links.
Social Media
Uberflip
Uberflip is a content experience platform that lets you gather relevant content from a variety of text-based and video sources, organize it, and then distribute it to your customers in a highly personalized manner through different channels, thus, ensuring better engagement and more efficient lead generation. The ability to build personalized experiences for individual prospects is the platform's key highlight.
Content Marketing
Ubersuggest
Ubersuggest is a powerful SEO tool that provides insights on strategies that your competition uses in SEO, content marketing, and social media; helps discover popular organic keyword phrases; suggests hundreds of keywords along with volume, competition, and seasonal trends for each keyword; and also helps identify backlink opportunities on your web pages.
Search Engine Optimisation
Unbounce
Unbounce is a conversion optimisation platform that lets you build, publish, and test landing pages that ensure your leads don't abandon your site too early. Hundreds of mobile-responsive templates, integration with over 900 apps like Zapier and MailChimp, built-in A/B testing, and option to create targeted stickybars and popups are just some of the ways it ensures enhanced lead conversion.
Conversion Rate Optimisation
Upcity
UpCity makes the process of finding the right professional to partner your digital marketing project error-free. You can search for professionals from a curated list based on specialisation and location; research verified reviews and feedback on key metrics like quality, timeliness, and reliability; and contact trusted digital marketing professionals in a fraction of the time you would spend otherwise.
Digital Marketing
UsabilityHub
Take the guesswork out of design decisions with the help of UsabilityHub's 100k+ participant panel from which you can select the right set of users to validate your interface, iconography, landing pages, messaging, or pretty much any product features. UsabilityHub is fast, easy, affordable, and comprehensive in the types of testing it offers you to optimise your conversion rates.
User Experience
User Testing
Product managers, UX designers, and marketers all need accurate customer feedback to design their offering and acquire more customers. UserTesting's on-demand, global, and diverse panel gets you the right user segment for fast, actionable insights that can be shared in video-based formats across the organization. Its Insights Hub also lets you benefit from quality historical customer feedback.
User Experience
Vertical Response
VerticalResponse is an email marketing platform for creating, sending, and tracking successful campaigns. You can design responsive and attractive emails in no time to perfectly reflect your brand, automate send timings, direct your visitors to custom landing pages, monitor your campaign's performance on metrics like open rates, clicks, devices, and locations, and easily design and distribute surveys for actionable insights.
Email Marketing
VidIQ
vidIQ is a suite of tools to help unleash your brand's video marketing potential. Maximise your organic reach by increasing your library of tags by several times and discovering new content opportunities; build brand awareness and improve recall through influencer partnerships and organic audience development; and gain unparalleled insights on user engagement, campaign performance, competition, and a lot more.
Social Media
Visage
Say goodbye to embarrassing inconsistent design templates with the web-based design tool Visage, which ensures uniformity across all reports, presentations, infographics, and blog posts that are prepared by different company stakeholders. You can create the basic templates collaboratively with editing restrictions set by role, get help from Visage's designers, and connect to data sources for dynamic updates to your graphics.
Content Marketing
Visual Website Optimizer (VWO)
VWO is an all-in-one optimisation suite that offers you insightful research on your competitive position and user experience through critical tests like heat maps and scroll maps, and then helps with ideation, design, and implementation of A/B and other optimisation tests. Its multi-specialist team, many third-party integrations, and robust infrastructure are all geared towards perfecting your customer targeting
Conversion Rate Optimisation
Visual.ly
Visual.ly is a data visualisation and infographics community platform that offers a team of designers, writers, animators, and developers to create content based on your specific needs. Its online workspace allows easy communication and process streamlining, and the creative rights of the resulting high-impact content stay with you. Extra benefits include a comprehensive library and easy sharing on social networks.
Content Marketing
Web CEO
WebCEO offers a set of SEO tools to find relevant keywords, track site visibility, build links, and more. Its team platform offers even more features including a dashboard to manage all SEO campaigns and fifteen tools for keyword research and tracking, SEO audits, social media analysis, link building, and competitor research, as well as team collaboration and self-branded report creation.
Search Engine Optimisation
WebEngage
WebEngage is a multi-channel marketing automation tool that helps you segment your customers and leads through actionable insights, allowing you to engage them in a personalised manner using the most relevant channel, including email, SMS, in-app notification, on-site surveys, and more. A highlight is its innovative Journey Designer that lets you visually map different user experience scenarios across communication channels.
Marketing Automation
Website Penalty Indicator
The frequent changes in Google's search algorithm can end up impacting your search results in different ways. With the Website Penalty Indicator, you just need to type in a domain name, and it gives you the dates of major Google updates and helps explain changes in rankings and organic website traffic as a result of these updates.
Search Engine Optimisation
Where Goes?
WhereGoes takes a URL and shows you the entire path of redirects and meta-refreshes that lead to the final destination. It lets you troubleshoot links and perform competitive intelligence in a way that wasn't possible before, letting you diagnose complex link problems, find the source of online ads, and see which third parties are tracking a given URL.
Search Engine Optimisation
Whitespark
Whitespark fast-tracks your success in local search with its tools that get you relevant key citations your competitors have, fix inconsistencies in existing citations, help grow your online reviews and testimonials, accurately track your search engine rankings on Google and Bing in any city, and provide a customised plan to improve your SEO performance and online visibility.
Search Engine Optimisation
Wincher
Wincher helps you keep a tab on how the ranking of your important keywords changes on a daily basis. It saves your and your competition's daily search engine rankings, alerts you when important changes take place, allows grouping of keywords for a better overview, and makes it easy to get customised reports or share your rankings via social media.
Search Engine Optimisation
Wishpond
Wishpond is an all-in-one marketing suite for businesses of all sizes. The single platform offers powerful lead management, email automation, landing page and pop-up builders, a friendly and continuously updated resource database to keep users up-to-date with the latest trends in marketing -- and more. Also handy are a number of third-party integrations with the most popular names on the market, including Salesforce, Shopify, Highrise, Insightly, MailChimp, GetResponse, AWeber, Salesforce IQ, Base CRM, and many other apps.
Marketing Automation
Wondersear.ch
Known for its clean design and speed, Wondersearch is a free keyword tool that collects terms semantically related to a root keyword with the help of Google's data relationships. Apart from listing terms based on "people also ask," "people also search for," and "related queries," it also gives search volume, CPC, and competition data for all listings.
Search Engine Optimisation
Woobox
If you want to generate a social media buzz around your company, brand, product, or service, the social promotion tool Woobox can be of immense use. With Woobox, you can easily create contests, sweepstakes, coupons, and more, and serve them up on the network of your choice. Plus, you can track detailed traffic metrics from your campaign dashboard.
Content Marketing
Woopra
Woopra is a customer journey analytics solution that uses its own proprietary tracking technology and more than 50 one-click integrations with partners like Salesforce and Marketo to collect data points from the entire customer lifecycle. This comprehensive behavioural history is analysed for insights that bridge departmental gaps and help you understand, engage, and retain your customers through personalised experiences.
Digital Analytics
Woorank
WooRank is an SEO checker and audit tool that generates in-depth analysis to find ways to improve your online visibility, social media, and much more. Find out what keywords your competitors use to rank higher; track SERPs and monthly search volume to improve your SEO performance; and conduct a site crawl to remove website issue and optimise your site.
Search Engine Optimisation
WordPress.org
WordPress.org is one of the most widely-used open-source content management system for creating websites, landing pages, and blogs on the web.
Landing Page
Wordstream Free Keyword Tools
WordStream Free Keyword Tool helps you discover hundreds of relevant keywords tailored to your industry and country. You get each keyword with actionable information like a competition score, estimated CPC, and a proprietary Opportunity Score. Additional tools from WordStream include the Negative Keyword Tool to find irrelevant costly keywords and the Keyword Grouper to sort related keywords into clusters.
Digital Advertising
Wordtracker
Google's Keyword Planner and similar keyword research tools are designed for AdWords and not SEO, so they give metrics only for paid search. If you are focused on keyword research for SEO, check out Wordtracker, which optimises your pages to outrank competition with features like SEO competition metrics, SERP comparison, lateral search, Amazon and YouTube keywords, and negative keyword search.
Search Engine Optimisation
Wyng
Customer loyalty is all about building a community of people that can engage regularly with your brand. Wyng (formerly Offerpop) makes it easy to source and moderate user-generated content and deliver it in the form of micro experiences like quizzes, polls, contests, games, and more. Real-time metrics behind each micro experience help you identify the content that delivers the best results.
Content Marketing
Yesware
Yesware is an email productivity software for Gmail, Outlook, and Office 365 inboxes that helps users send smarter, faster emails through tracking analytics and time-saving tools that scale personalised messaging. Yesware has the capability to sync engagement data to Salesforce, eliminating the need for manual email and calendar event logging, so users can spend more time on what matters.
Email Marketing
Yoast SEO
Yoast is a WordPress SEO plugin that eliminates the need for hiring an SEO expert with features like keyword optimisation, page previews, readability and duplicate content check, content insights, and internal linking suggestions. It also ensures all the technical stuff is taken care of in the background and your content is always optimised for the latest Google algorithm updates.
Search Engine Optimisation
Yorocket
YoRocket is a WordPress plugin for improving your site's click-through-rate. It scores your blog post titles and provides suggestions on improving them to get more clicks from Google searchers. It also allows you to easily test two titles against one another to see which one gets the most traffic. YoRocket works perfectly with Yoast, which takes care of your SEO.
Search Engine Optimisation
Zapier
Zapier brings the magic of automation to more than a thousand of the most popular apps like Gmail, Google Sheets, Slack, Facebook Pages, Asana, and many others by allowing you to link them with a few clicks, share data, and create workflows called Zaps. Zapier also comes in many built-in apps that create powerful workflows without using separate services.
Digital Marketing
Zoho
Zoho is a CRM on steroids, with 40+ integrated apps to automate business processes for every department and many advanced features like lead scoring, business process mapping, and sandbox. Its AI-powered sales assistant provides advanced interpretations, solutions, and predictions for salespeople. Its multichannel support makes it the most tightly integrated CRM on the market.
Email Marketing
Digital Marketing is an incredibly diverse field and with that comes an equally diverse range of tools to match.
While there is no shortage of tools for every niche, it can be quite exhausting wading through so much information and trying to determine if a tool can fulfil what you need.
We will continue updating this page regularly with new tools and links to reviews so be sure to bookmark and check back from time to time! We also cover some of these tools hands-on in our digital marketing courses taught in-person in Singapore or online. 
Frankly, there is no end to this list because there are new tools being launched every day. Do bookmark this page and check back regularly as we will be adding new tools every now and then.
If we have missed out on your favourite tool, drop a comment below and we'll add it in!