Top 12 SEO KPIs You Need to Track
Implementing search engine optimisation (SEO) campaigns increase a website's online presence and visibility. However, it is crucial to assess the well-being of your campaigns, and doing so requires a thorough understanding of the key performance indicators (KPI) that are related to SEO.
In this guide, we go through 12 important SEO KPIs and how to set and achieve them.
What are Search Engine Optimisation (SEO) KPIs?
SEO KPIs (Key Performance Indicators) are SMART goals set by marketing teams to gauge their search engine optimisation campaign performance.
An example of an SEO KPI would be for businesses to evaluate the performance of their SEO campaigns. it is essential to track and measure the results of their SEO KPIs over time.
Armed with insights, marketing teams will then be able to make the necessary adjustments and achieve their goals.
Marketing Objectives and KPIs
To accurately measure SEO success, a business needs to identify specific marketing objectives.
Marketing objectives should map to KPIs to demonstrate SEO campaign activities (keyword research, link-building) and steer in the direction of achieving business goals. However, do note that marketing objectives are considered to be more broad-based (increase sales) as compared to KPIs which utilises the SMART principle (e.g. increase sales by 10% within the next three months).
12 Important SEO KPIs to track
1. Organic Traffic
It measures the number of visitors coming to the website from Google's organic search results (unpaid search results). For any digital marketer, this is one of the most important metrics to consider, as its growth indicates a growing number of people are viewing and visiting the website over a given period of time.
Working with Google Analytics allows a marketing team to easily compare and analyse organic traffic to other channels like social media or paid options.
There are a few factors that can increase organic traffic to a website. It can be attributed to an increase in brand awareness resulting in more searches for a particular brand name or product i.e. brand searches. It can also mean that the SEO titles are written in a more compelling manner and meta descriptions have compelling calls-to-action.
2. Organic Search Rankings
Many businesses view the organic search rankings of their website as an important KPI as it directly correlates with SEO success. Having a higher ranking in organic search positions also fulfils other related objectives such as acquiring more traffic, leads, and conversions.
Keyword Ranking Position Tracking
It is important to track the ranking positions for the right keywords as it demonstrates evidence that SEO efforts are paying off well. If you're looking for how to conduct keyword research, check out our list of the 10 best keyword research tools.
A website's brand keywords will naturally rank high. An example of a brand keyword for Adidas would be "Adidas running shoes".
Long-tail keywords tend to be easier to rank higher compared to short-tail keywords.
A targeted long-tail keyword might include key phrases that are longer & more specific. An example of a long-tail keyword would be "Buy breathable running socks" instead of "buy socks" (short-tail keyword).
To monitor ranking positions for your target keywords, you can consider using tools like Ahrefs. The reports will provide data on the current positions of certain keywords and how they are changing over time.
3. Search Visibility
The Search Visibility metric is calculated as a percentage, based on click-through rates which are influenced by how high a website's pages are ranking on the organic search results pages.
Generally speaking, it is an indicator of how prominent a website is on the organic search results pages. The higher the visibility, the more potential traffic and brand awareness a website gets.
There are techniques you can take note of in improving search visibility.
Target more long-tail keywords
As discussed previously, long-tail searches require greater specificity and signal greater intent as compared to shorter keywords.
Shorter keywords tend to have a high keyword difficulty score (more competitive) and thus result in lower chances of ranking.
Ensure the website is mobile-friendly
Google Search may significantly downgrade the ranking of a site that is not mobile-friendly. Fortunately, many website developers depend on Google's "Mobile-friendly Test" tool to ascertain whether the site is optimised for mobile devices.
Improve on the title and description tags
This may result in an increase in organic click-through rates (CTRs). The boost in CTR will ultimately improve in search engine visibility. When writing titles, have a format that addresses a person's pain-points or to educate the readers without sounding like clickbait.
Build backlinks from relevant sites
They are links from one website to a page on another website. Search engines consider backlinks as "votes" for a specific page. However, it does not make sense if the backlinks are derived from sources that are irrelevant to the content. Also, it will be more advantageous to have backlinks that come from trusted and authoritative websites as it is seen as vouching for the website.
Internal Links
Unlike external links which link out to pages on other domains, internal links are hyperlinks that point to pages within the same domain. Internal links when used strategically can transfer page authority (also known as PageRank) to other pages in the website.
Using tools like Ahrefs, you can easily locate pages with high link authority as shown.
You can use a free tool like Google Search Console to track changes in the visibility of the site within a given period of time and establish whether the project is developing in the right direction.
4. Backlinks & Referring Domains
A backlink is a link created when one website links to another. A referring domain on the other hand refers to the domain name of a website linking to another domain.
For example, if a website receives 10 links from 1 website, its report will show 10 backlinks and 1 referring domain. If a website receives 1 link each from 10 different websites, its report will show 10 backlinks and 10 referring domains.
Backlinks and referring domains are important to SEO, since websites that have a greater volume of backlinks from trusted and high-quality websites tend to perform better in organic search.
A few things to note in order to obtain high-quality backlinks:
Publish content strategically
Providing useful content and understanding the different types of content that performs best in different situations is important before you can expect backlinks from external sources.
With a sound content marketing strategy, you can deploy a multitude of content types like the usage of visuals (infographics), listicles, research data, in-depth guides, and videos to acquire high-quality links. Ultimately, leveraging on this strategy will benefit the users.
Use email outreach
Very often, marketers in a bid to establish relationships with related businesses to acquire backlinks or to pitch guest postings, use email to connect with contacts. Email is still very relevant today and for contacts to take notice of the emails sent, you might want to take heed of a few pointers.
Personalise the email sent to the recipient.
Benefit the email recipients by providing solutions rather than being direct in the request
To get a higher response rate, identify the best time to send the email.
Be active in online communities
To have people knowing you, you need to establish a presence on various online platforms that have your profile linking back to your website. Question and answering community platforms like Quora and Reddit are great places where you can participate and share solutions to pain points and thought-leadership articles. This will naturally build goodwill and trust with the public.
Optimise the website
A good website will usually entail good user experiences and user-friendly design. These elements are critical for SEO as the audiences will dwell longer in the website signalling an interest in the site's content.
In addition, having a quick loading time would also increase the positive experiences of audiences coming to your website.
Also, since smartphones and tablets make up more than 61% of internet traffic, do ensure that the website is responsive to account for the diversity of the devices people use to access the content online.
When acquiring backlinks, ensure that the links from websites are relevant and topically similar to your site. If your business is into retailing medical devices and is getting thousands of backlinks from a website that sells concert tickets, Google will treat these as spammy links and may even penalize you.
Furthermore, having a greater number of referring domains matters as search engines analyze both total backlinks and the various sites linking back. An example illustrating that is a website having 1,000 backlinks from 500 websites is much better than 3000 backlinks from 5 websites.
To track backlinks, you can use tools like Ahrefs to view websites linking to you, where specifically they are linking on your site and the domain rating of these referring domains.
5. Organic Click Through Rate (CTR)
This is another important SEO KPI every digital marketer should be keeping track of.
Organic CTR is the ratio of clicks on the link to the total number of users who viewed the search results. A high CTR will translate to more page visits. In contrast, a low CTR may signal to the search robots a website isn't relevant to what a user is searching for, which may result in lower rankings over time.
Take note that CTR is relative to the average ranking position of a website. A website that is ranked lower i.e. position 10 will have a much lower CTR than a website ranking on position 3.
These are some best practices you can adopt to increase organic CTR:
Use Brackets In Your Title Tag
By utilising brackets in headlines and titles, it will help to dramatically increase clicks by as much as 40%. This is because it functions like a content sneak preview and because audiences know what they are expecting, they are more likely to click on it.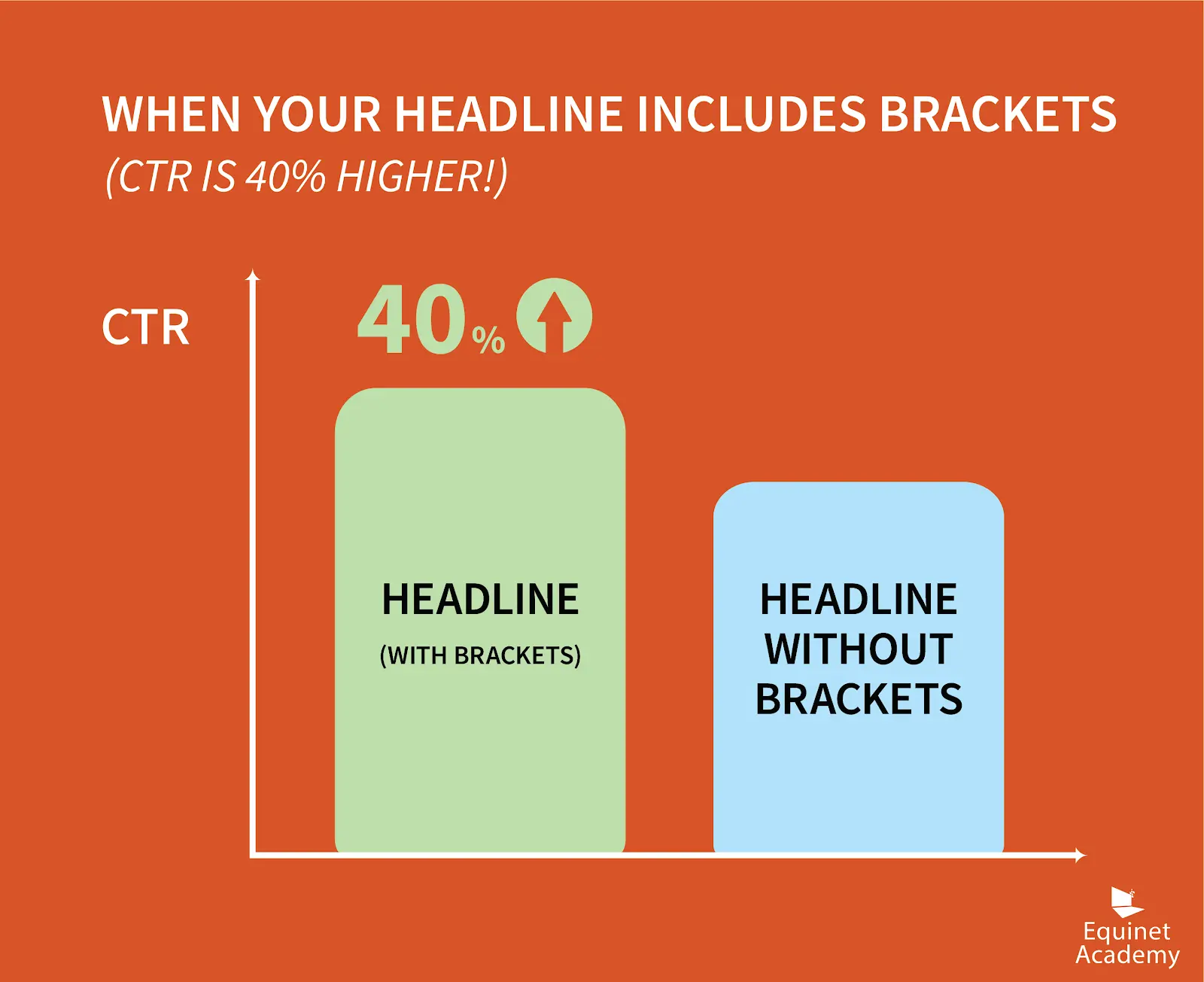 Statistics by HubSpot depicting headlines with brackets outperform those without brackets
Include Numbers In Your Title or Headers
Whenever possible, incorporating numbers will help audiences focus on the importance of the title or headers.
Shorter and more Meaningful URLs
Having a more descriptive URL might appeal to more people coming to your site as the page's URL may give an indication to what the page is about. A short but meaningful URLs like https://www.equinetacademy.com/what-is-seo/ clearly describe the page's topic and intent as contrasted with https://website.com/category511/data-561/.
Optimise the Meta Description
Many web developers tend to ignore the importance of meta description of a webpage in relation to the title tag. People usually find themselves overwhelmed by the number of search results in Google. To help them decide on which is the most suitable link for their queries, having meta descriptions that grab the visitors' attention is important.
Start crafting out descriptions that give readers a preview of what to expect in the article or site. However, be mindful of the character limit of approximately 150-170 characters for descriptions.
Put the Current Year In the Title and Description
It is more beneficial to the website viewers if the article header highlights the current year "2020" in the title tag. This would mean that the information of the article is current and updated.
When it comes to monitoring click-through rates for your website, using Google Search Console allows you to analyse and track the performance of the pages.
6. Branded Traffic and Search Volume
Branded traffic comes from users who searched for the terms that contain the company name. This type of traffic usually results in the highest conversion rates as the audiences are already familiar with the branded keywords, For example, "Pandora," "Pandora Ring," "Pandora Jewellery."
In digital marketing, this is a valuable KPI as users who come to your website using branded queries are the most loyal since they are already familiar with the brand. Usually, they would visit the website with a specific purpose.
However, you can combine SEO tactics with branding efforts to increase branded traffic.
Identify and use branded keywords
To rank keywords, you might want to include both branded and generic keywords together to establish an online presence. A branded keyword contains a search query that includes the name of your brand. By adding these keywords into your content, your target users will be reminded of your brand.
Be mindful of the fact that the more branded searches are made regarding the business, the higher the website will rank organically. Examples of branded keywords are "Apple", "Apple reviews" or "iPhone pricing".
Use local SEO
Users with a high commercial intent will use Google to search for the brand's location proximity. Therefore, it is imperative for businesses to optimise all local business listings that are shown on Google. This is to ensure web traffic is redirected to the site from Google directories and Maps.
Build the brand's authority
A great way to ramp up the brand's authority is to publish content that addresses the concerns and pain-points of the target audience. it essentially positions you as a trusted thought-leader in the industry.
Also, as discussed previously, having a greater outreach by contributing content and ideas to online communities (Quora, Reddit) demonstrates credibility in the specific field.
When it comes to tracking the branded traffic over a given period of time, you can consider using the free Google Search Console.
Search volume of keywords is an important factor in SEO analysis. It measures the total number of searches that are performed through search engines, over a given period of time. It is a foundational element in SEO strategy. To target the most profitable keywords, SEO strategists need to know the number of people searching for a particular set of key search terms.
With Google Keyword Planner, you can retrieve estimated keyword traffic for free.
7. Bounce Rate
Bounce rate is defined as the percentage of site visitors who bounced from the website without taking any action, such as clicking on a link, filling out a form, or making a purchase. Many webmasters pay close attention to bounce rate as an overall indication of a site's appeal, and would like to reduce this number as much as they can.
Usually, a high bounce rate indicates that the site (or specific pages on the site) has issues with content, user experience, page layout or even copywriting. Bounce rates also vary across website types. To view the expected bounce rates for the different types, check out the infographic below.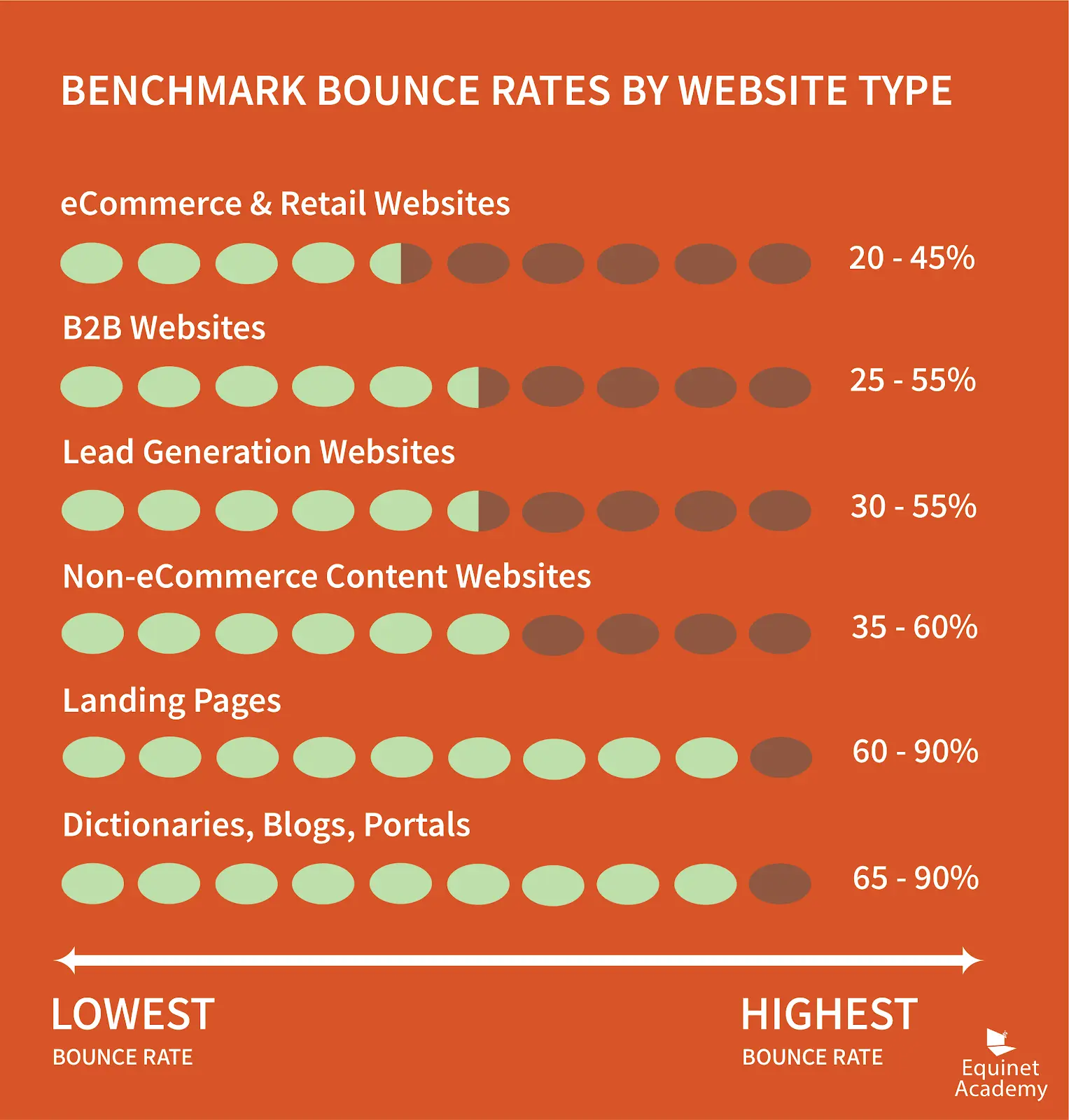 Data is from Customedialabs
However, there are recommendations to mitigate the bounce rates and make the pages of the website "stickier". It includes:
Embed Videos on the site
By incorporating videos on the website, it gives visitors more incentive to dwell longer. This is because people are highly visual creatures, and prefer to consume information in a more graphical and animated form. However, for videos to be effective, the duration needs to be relatively short as some may shy away from the time investment needed to watch a longer clip.
Fast Loading Speed
One of the worst problems a web visitor faces is the slow loading time of a website. This degrades the user experience of visitors using the site. Interestingly, website visitors tend to care more about the speed of loading than all the bells and whistles a website may have. A study by Google on 11 million landing pages found that slow loading speed correlates with a higher bounce rate. This is illustrated in the diagram below.
Add Internal Links to Your Page
Establishing internal linking within the site naturally increases pageviews as it sends people to the other pages on the site. When someone visits another page on the site, it is no longer considered as a bounce. The main purpose of establishing links is to help users easily navigate to useful content on the site.
Make Content Easy-to-read and 'scannable'
Website visitors would not enjoy the experience of having to read an immense, intimidating wall of text on a website or a blog. Though it might be informative, there are some ways to make it more readable.
Implement white spaces
It is important to have ample spaces around the content as it does not feel 'congested' and it's easier for our eyes to process the information.
Make paragraphs 'skimmable' (short paragraphs)
This makes the content more accessible as it allows the reader to scan the content quickly in 'groups' to identify points that are most relevant to their needs.
Utilise Section subheadings
Use subheaders to break up the content into discrete sections. This makes it easy for people to focus on the headings, and if it interests them, then they will read the following paragraphs.
To help monitor the pages' bounce rate, we can employ the use of Google Analytics which is a free tool that collects the sessions where a visitor only visits one page and divides it by all the sessions.
8. Average Session Duration
Bounce rate can be a helpful metric, but it does not determine whether the pages are successful or not. Metrics like average session duration spent on a website can often mean more to SEO analysts as it deals with the duration of the users staying on the website once they have clicked through to the landing page.
This is also a useful metric to measure the user engagements on the website. The goal of every marketer is to increase the average session duration spent on a website. These tips include:
Embed Videos on the site
As mentioned previously, incorporating videos allows website content to be presented more dynamically resulting in an increase of average session duration.
Intersperse Text with Images
Having high-quality images among the content will be more engaging and break from the monotony of having too much text.
Ensure the Interface Is User-Friendly
If the website's User Experience (UX) is too complex and has unnecessary graphics or Call-To-Actions (CTAs), the chances of user abandonment might be high as visitors might be confused by the messaging.
Format Content for the Ease of Reading
As discussed previously, usage of proper formatting like employing the usage of subheadings, short paragraphs, white spaces all help to make reading easier for the website visitors.
Build a Library of Related Topics
Many businesses have blogs that are treated as a group of disorganised posts that span a wide range of topics. They are usually arranged in a disconnected manner and visitors may come to a certain article from Google and find one that is relevant. After reading that article, the visitors would then leave and miss the chance of exploring the other areas of the website.
To counter that, businesses might want to implement a hub-and-spoke model that identifies a relevant high-level topic, and then spans out articles on the related topics. This will extend the dwelling time of website visitors as you have enough related information for visitors to stay engaged.
To monitor the average session duration data of a website, again we can use Google Analytics where it displays a wealth of information relating to website traffic.
9. Pages Per Session (PPS)
This is a metric that measures on average the number of pages a user visits during a session. It includes repeated views of a single page. The values derived are crucial to many businesses as it denotes the value/quality of the site and how users navigate through it.
Having a high value to PPS is indicative of a website's architecture depth. If it is a one-page website, then one page per session is expected. However, if it is an e-commerce site where users view multiple products and go through a multi-step checkout process, you would expect to see a higher PPS.
There is also a myriad of reasons why some websites have a low PPS value. It might indicate that the content is not interesting enough for people to seek out other content on the website. It could also mean the website navigation is confusing and this results in users leaving the website out of frustration.
This is one of the basic metrics to track in Google Analytics and every digital marketer's goal is to keep users engaged, nurture their interest, and get them to take the next step.
10. Domain Authority (DA)
Domain Authority (DA) measures the 'trust' factor related to the domain and is a determinant on the effectiveness of link-building efforts. DA is Influenced by the number of links to the domain and the authority of those ranks. An example would be websites with a .edu / .gov domain as it typically carries more authority than a .com or .net domain. This is because they are usually official websites, and would never link out to any spammy sites.
It translates to the higher the DA, the more likely the site would rank high on search engines. There are best practices that you can employ to increase the DA rating score. This includes:
Increase the dwell time of the website
As discussed previously, brands can incorporate snazzy videos/infographics to capture the attention of website visitors. Website designers might want to improve the navigational UX of the website to have a more frictionless journey experienced by the website visitors.
Site speed is always a perennial concern with many website visitors as a longer loading time will lead to a degradation of UX. Also, delight the customer experience (CX) by offering free eBooks or relevant templates. This would benefit the visitors and give them a headstart in achieving their purposes of coming to the website.
Remove toxic backlinks
Toxic backlinks are backlinks that harm your website's SEO. For example, it could be links that are received from link schemes (any links intended to manipulate PageRank) or links from gaming sites.
Be smart about external linking
Having backlinks play an important role in improving a site's domain authority.
However, do be careful in giving away too many links to others from the site without actually acquiring new backlinks. Be smart in referencing other sites as it must be mutually beneficial.
Ahrefs has a feature that displays the strength of a target website's total backlink profile and is known as Domain Rating (DR). DR is measured on a scale from 0 to 100, with the latter being the highest rating.
11. Traffic Value
Traffic value is viewed as an overall monetary value for the organic traffic of the website. It is the equivalent monthly cost of traffic from all keywords that the target website/URL ranks for if paid via PPC instead of ranking organically.
There are benefits in monitoring the traffic value:
Indicates the value of rankings
As website traffic and rankings are dependent on clicks, it also represents the value of the site's rankings. This enables businesses to view the cost of a drop in traffic if competitors outperform the domain or due to a Google update.
Emphasises the importance of SEO to stakeholders
It helps to persuade stakeholders of the significance of having SEO, particularly in displaying the amount of money the company would need to invest in Google Ads to maintain the level of organic traffic.
Better prioritisation of pages
It allows us to be more effective in allocating resources and prioritising parts of the website that have a higher traffic value.
To assess the organic traffic value of the website, you can consider using Ahrefs. This gives a sense of how much money the target website/URL has saved in terms of ranking for keywords organically, instead of buying paid traffic.
12. Organic Search Conversions
Most SEO analysts would  be interested to know the percentage of organic traffic that converts into leads, as a high organic visit-to-lead conversion rate is a hallmark of a successful SEO campaign.
According to Marketingsherpa, the overall average percentage of organic traffic that should be converting into leads is about 16%, though it might differ for different industries.
There are several factors that can influence the average organic traffic conversion of a website. This includes :
Location on the Search Engine Results Page (SERP)
As potential customers search for products or solutions, whether they manage to find the site depends on the page where it appears in the search engine results.
According to the Research from Smart Insights, most searchers have a greater tendency to focus their search on specific keywords on the first few pages.
The Industry that you are in
There are certain industries that see a lower average conversion rate. For example, products or services that have a long sales cycle may see lower conversions from organic traffic. If it is targeted to a very niche market, or have very high price points, it will similarly suffer from low organic conversions too.
Quality of content
To increase the organic conversion rates, ensure that the website has the right content which addresses the targeted audiences' questions and pain-points. This will aid and guide them through their own, specific buyer's journey.
Number of website pages
By having more pages in a website, it increases the likelihood of being found via organic search. As a blog post is treated as a website page, if blogging is done regularly, this can translate into exponential growth for the site's internet footprint.
To assess the search conversions of the website, you can consider using Google Analytics. This gives sense of the rate of conversions attributed to organic traffic. However, make sure you are comparing periods that make sense to compare. For example, if your business has seasonal sales swings, you would want to compare year-over-year results (i.e. last year and this year's Christmas period).
Ending Thoughts
With the knowledge of  SEO KPIs, it functions as a guide to formulate effective SEO strategies and helps to create a strong vision of success for any upcoming SEO campaigns. Tools like Google Analytics and Google Search Console support businesses in the SEO auditing process and serve as an indicator in fulfilling the SEO objectives.
By utilising these tools, this will result in enabling marketers to develop on the strengths and fix any defects on the website. 
If you'd like to delve deeper into the world of SEO and become proficient in this important digital marketing discipline, feel free to enrol into our Search Engine Optimisation Course. We also offer an array of other digital marketing courses taught in-person in Singapore or online, for anyone looking to level up their digital marketing skills.