The 4 Most Important Social Media Goals and Objectives
Social media has come a long way from the days of social networking sites MySpace and Friendster. What was once a platform to build a virtual community of friends has developed into a vital business tool – one that must not be underestimated by marketers and business owners alike.
Used correctly, social media is a great way to generate loyal customers and users. However, before you pick up a new device from your toolbox, you have to know exactly what you want to use it for. This is where social media marketing goals come in.
What are Social Media Marketing Goals?
Social media marketing goals are the definitive aims for your overall social media strategy. By having a goal in mind, you are able to set the objectives needed to reach this goal and the KPIs you can track. In other words, goals help you to develop measurable targets that can be quantified and translated into specific actions.
While that may sound simple, according to Sprout Social Index: Empower and Elevate, nearly half of marketers say that aligning their social media campaigns with company goals is their top struggle. However, while understandable, this does not have to be the case.
In another survey conducted by Sprout Social, the majority of marketers surveyed cited increasing brand awareness and lead generation as the main goal for their social media campaigns. These achievements are critical to a business' success, so with proper goal setting, marketing goals can align themselves perfectly with the goals of the business.
Why Set Social Media Goals?
Social media pages of businesses operate differently from personal pages that the majority of us have. While you may not plan a stream of content months in advance for your personal Facebook page, planning is essential for a business page.
If you'd like to learn more about the ins and outs of planning a content calendar for your business page, check out our article on How to Create a Social Media Content Calendar.
Business pages benefit from social media goals for three main reasons:
Provides clarity for your digital marketing efforts – To have an effective social media marketing plan, you must first know what you are planning for. It is vital to understand your aim, your priorities, and areas of focus. Goals operate like flag posts, ensuring you remain on the right track in what can be months or even years-long social media management.
Keeps you and your team accountable – By defining goals, you will be able to map out the precise steps and actions that must be taken to achieve those goals. When you have those recorded down, you will be able to ensure that everyone involved continues to work towards those shared goals.
Goals guide your budget – It is easy to get caught up in the excitement of social media, and that may sometimes cause businesses to spend more than what they are comfortable with – especially when they are new to social media promotion. By establishing goals prior, this will help you to decide a definitive budget and where exactly you'll distribute these funds in your social media strategy.
A clear and concise plan with proper steps can impact an individual's performance for the better, so the question is not "why do I need a social media goal plan" – it is "why not".
Different Types of Social Media Goals and How to Achieve Them
Before you can set your social media goals, you must first understand your customer's buying journey. This will help you to develop a seamless experience across all channels for your customers. When used correctly, you will be able to attract customers, engage with them, and potentially convert them into advocates for your brand over time.
By mapping the buying journey over your social media marketing funnel, you will be able to plan the specific social media objectives that will help you achieve your overall goal.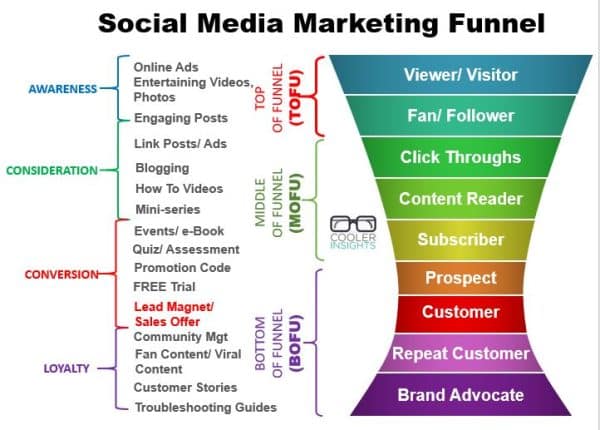 If you're still struggling to establish goals for your social media strategy, here are some of the most important goals that can help you get started.
1. Awareness Goals
While some businesses might be quick to only talk about the latest product offerings or services they provide, they will still struggle if social media users do not know, and therefore might not trust, your brand.
When planning your awareness campaign, your objectives will primarily include increasing:
Your page's reach
Your search ranking
Views on your page's videos
The number of fans/likes/subscribers
The first step you need to do is to break through the content clutter that fills the different social media channels. A great way to do that is with entertaining, or even edutaining, content.
To help you achieve your awareness goals, you can consider creating:
Ads that promote your brand
Entertaining videos that introduces your brand to audiences
Trend-jacking or newsjacking current content and themes that are in the spotlight
You can measure your awareness campaign goals with the following KPIs:
Reach Per Post
CPM
Cost Per View
Visitors Per Month
Fan Growth Rate Per Month
2. Consideration Goals
Once you have introduced your brand and gotten the attention of users, the second stage is to educate them. By doing so, you increase brand trust and likability – therefore boosting brand engagement on your page.
When planning your consideration campaign, your objectives will primarily include increasing:
The amount of clicks on your posts
The duration of views on your videos
The amount comments on your posts
The amount of shares on your posts
Do remember that education and learning can be a lengthy process, so plan ahead by producing a regular schedule of helpful content. To help you achieve your consideration goals, you can consider creating:
Blog articles
How-to videos
Mini-series
You can keep track of your consideration campaign with the following KPIs:
Engagement Rate Per Post
Reactions Per Post
Comments Per Post
Shares Per Post
Watch Time for Videos
3. Conversion Goals
Now that users are familiar with your brand and display a certain level of trust, you will want to enchant these users to become part of your inner circle of members by providing highly valuable content.
When planning your conversion campaign, your objectives will primarily include increasing:
The number of fans/likes/subscribers
The number of downloads
The number of sign-ups
The number of enquiries
The number of event attendees
Overall sales
This type of content goes deeper than content used during the consideration stage. This is a valuable way to show users what your company has to offer, and give them a sneak peek into what being a fully fledged customer would be like. To help you achieve your conversion goals, you can consider creating:
 eBooks and Guides
Tools, Templates, and Checklists
Webinars and Workshops
Events
Promo Codes
Free Trial Offers
You can keep track of your conversion campaign with the following KPIs:
Leads Per Month
Subscribers Per Month
Event Attendees
Sales Per Month
Revenue
4. Loyalty Goals
Now that you have a base of users-turned-customers, you will want to build brand loyalty and advocacy. In order to do this, you need to showcase care and provide value to your customers. By doing so, you will enact a sense of community for your customers – enabling you to enlist them as advocates or evangelists for your brand.
When planning your loyalty campaign, your objectives will primarily include increasing:
The amount of shares
The amount of fans/likes/subscribers
The value per customer
The amount of positive reviews
The amount of user generated content
To help you achieve the goal of loyalty, you can consider using these types of content or strategies:
Customer Testimonials
Customers Reviews
Content created in partnership with customers
Share user generated content
A strategic community management plan
Keep track of your loyalty campaign with the following KPIs:
Number of 5 Star Reviews
 Shares Per Post
Customer Referrals Per Month
Customer Lifetime Value
While it may not seem easy at first, creating a clear set of social media marketing goals and KPIs is one of the best things you can do for your brand and business. If you'd like to learn more about social media KPIs, read our article on Setting Social Media KPIs.
Conclusion
The social media landscape moves ever so quickly, so no matter your broader social media marketing objectives, planning ahead is essential. By doing so, you will be able to align your social media strategy with the big picture and fully take advantage of the value of new media.
With the knowledge of creating your social media goals, you might be eager to learn more about the other aspects of social media marketing. Equinet Academy offers a comprehensive social media marketing course led by an industry expert to guide you on how to develop, deliver, measure, and manage your social media channels.
Also, if you would like to learn and keep up with the latest digital marketing trends, Equinet Academy covers all 6 Core Modules of Digital Marketing that include:
With the completion of these modules, it will lead the learners to attain a Certified Digital Marketing Strategist Certificate. Please feel free to also browse the complete array of digital marketing courses we provide in-person in Singapore or online.