How to Start Marketing on Facebook
Facebook, the world's biggest social media platform, has become an essential in any social media strategy. The platform has made it incredibly straightforward for businesses to utilise it as a marketing tool and there are many aspects to it that can help your business succeed online.
As with social media marketing, using Facebook gives brands a way to directly interact and engage with fans. For audiences, a business hosting a Facebook page allows them to keep up-to-date on content, promotions, and new products. It also simplifies the research process for users who are in the Consideration stage and actively comparing brands against each other.
On Facebook, your main aim is always to appeal to your audience. Above all else, your audience is what helps your brand's presence grow and your Facebook marketing strategy should be created with them in mind.
That being said, there are a number of basic tasks you need to undertake when marketing on Facebook which can often become overwhelming. To address the possible confusion that comes with getting started on Facebook, we have created a handy guide of the best practices you should undertake, to succeed on the world's biggest social media platform.
Facebook Page
1. Create Your Page
The first step is to create a Facebook Page for your business. To create a page, you will need a Facebook profile. You can use your personal Facebook profile or create a profile for your business.
| | |
| --- | --- |
| 1. | Log in with your profile |
| 2. | Click on the Pages tab at the top of the page |
| 3. | Click Create a New Page |
| 4. | Fill out all the information required |
When adding information about your business, ensure that your page has the following details:
Description: A short description on who you are and what you do.
Contact information: If a customer has questions or concerns, they can use this information, such as an email address or phone number, to contact you.
Address (if applicable): If you have a physical store, include an address so customers know where to visit.
Operating hours: As with a location, include your operating hours so customers know when to make a visit.
About and Story: A longer description about what your business is; you can include elements such as your founding date, mission, successes.
Call-To-Action (CTA) button: A button at the top of your business page that allows users to fulfil a desired action.
Next, you need to add a profile picture and cover photo. Adding a profile picture and cover photo to your Facebook Business page is completely necessary. A notable profile photo builds brand recognition because it is shown with every post, comment, or reply that you make.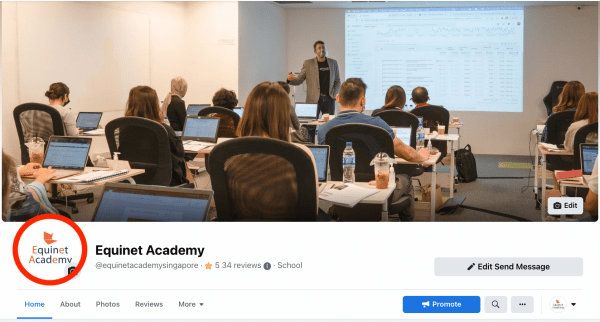 Use a photo that best represents your brand. It is typically advised to use your logo for your profile pictures as it is something that you want to be associated with your brand and will lead to immediate brand recognition.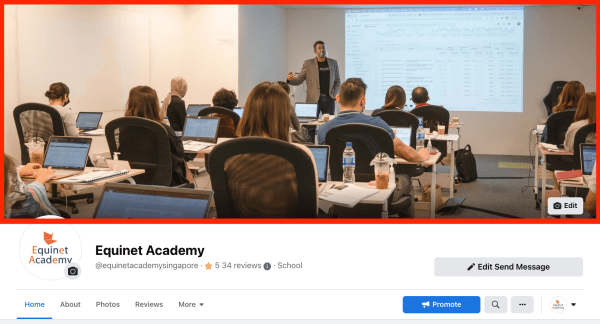 As for cover photos, there is more leeway to be creative in your imagery, especially due to its landscape orientation. Include elements that are associated with your business, such as brand colours or characters, to assist in brand recognition.
2. Customise Tabs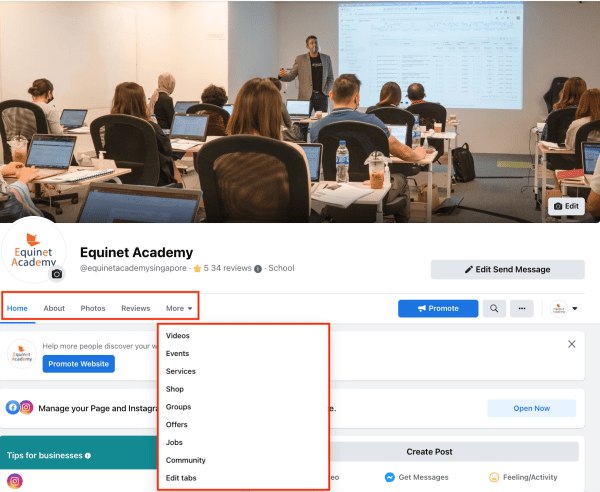 Depending on the category chosen for your page, it will have different default tabs at the top of the page that highlight sections of your page. Facebook provides templates with default buttons and tabs for you to choose from.
Tabs can also be customised, allowing you to select what content you would like to be highlighted on your page. This enables a customised user experience and journey within your page, making it seamless for anyone who visits your page. If you want to learn how to customise tabs, Facebook has a tutorial here.
Essentially, ensure that you are displaying content that users would be most likely to view in order to achieve your specific goals. For example, if your goal is to increase sales, there is a Shop tab that displays all product offerings that can be included on your page.
3. Post Content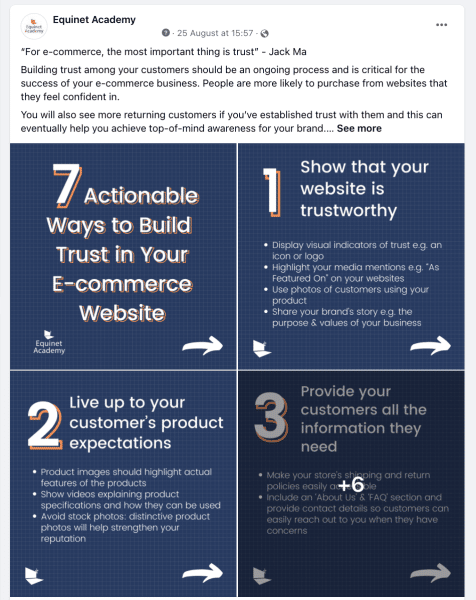 There is a variety of content that can be posted on your Facebook page, from text posts to links. It is generally recommended to utilise more than one type, to provide diversity.
Here are some best practices for posting content on a Facebook Business page:
Use high-quality content. For you to stand out and attract users, your posts should be highly creative, relevant and well-made. Avoid using blurry or low-quality visuals as that could be perceived as low-effort.
Keep in line with your brand guidelines. Use elements that can be immediately associated with your brand to continuously attract users who are interested in your content.
Make posts actionable. Add different actionable tactics to encourage your audience to engage with your content. For example, you could post an external link to a blogpost hosted on your website or ask them to share their opinions on a topic in the comment section. By trying different tactics, you can gauge what works well with your audience.
Use optimal image sizes:
Profile Picture: 400 x 400 px
Business Page Cover Photo: 1200 x 674 px
Event Cover Photo: 1920 x 1005 px
Group Cover Photo: 1920 x 1005 px
Photo Post: 1200 x 630 px
Story Post: 1200 x 445 px

4. Content Schedule

The next step would be to create a social media calendar which is a schedule of your planned posts. Having a calendar helps to plan out your content for the upcoming month, keep track of all content that is published, and even compare the results from posting on specific days.

Social media calendars are flexible and can be customised to fit your marketing strategy and objectives. However, it may help you to use a template to get started and then subsequently tweak your calendar to what you feel works best.

If you want to learn more about creating a content calendar, check out our guide here.

5. Engage

Engaging with your audience is necessary in building an online presence and gaining success as a Facebook page. Engagement helps with building brand recognition and trust as well as improving the customer journey.

One small step to take is to read and reply to all messages and comments in a timely manner, especially if it pertains to questions or concerns. Set aside time every day to go through messages and comments to ensure nothing is missed out and ignored.

When you engage with your audience and foster a sense of trust and loyalty, this is what's known as community management. You build and nurture a community among your audience to gain a loyal and strong following.

For an in-depth look into how to carry out community management, check out our article: How To Build A Strong Social Media Community Management Framework.

6. Monitor Performance and Competitors

When you have started publishing posts, an important task to remember is to monitor its success. There are various metrics that can be measured, such as the number of likes, comments or shares a post has received. Typically, the higher the rate of engagement, the better a post has performed.

When you monitor your page and its posts, you can optimise your content and schedule to reach and appeal to the most users and receive a higher rate of engagement.

While there are many tools available to help track these metrics, we would recommend using Facebook Business Suite. It is available free for all business pages and contains analytics of your performance under the "Insights" section. It covers metrics such as page likes, post likes, comments, shares, among many others.

Alongside this, you also need to monitor your competitors. Determine who your main competitors are and follow their Facebook pages to conduct a simple analysis. Examine what does and doesn't work for them; what type of posts consistently perform well or what fails to engage their audience. You can apply this information to your own page but avoid copying them entirely. Find a way to incorporate what works for them onto your own page and avoid making the same mistakes as them.

A simple way to keep track of your competitors is through the Benchmarking tab under Facebook insights. Here, you can add competitors and view simple breakdowns of their performance, in terms of page likes, changes in page likes, and the amount of content they published within a specific time period.

Additionally, it is imperative to keep up-to-date with the latest news regarding your competitors as it can be helpful in navigating and adjusting your strategy. For example, if a competitor is holding a storewide sale, you may be able to hold one yourself and include competitive prices and discounts.

Facebook Advertising: Best Practices for Running an Ads Campaign

While Facebook has made their advertising process seamless and easy-to-use, it may still be overwhelming to run your first ad campaign. Here's some of the best practices you should consider when running an ads campaign.

Utilise Video Ads

Videos are the best performing content type on Facebook and that applies to ads as well. Utilise videos wherever possible in your planned advertising campaign as you'll have a higher chance of success in achieving your objectives.

Create Image Ads with Minimal Text

Image text refers to any words that may be present on your visual itself, discounting any text from the caption or message in the ad. Ads that contain a high percentage of image text can be construed as cluttered or messy.

Facebook generally recommends using less text on image ads, as they've found that images with less than 20% text perform better. Although they have removed a previous rule disallowing images with more than 20% text, it is still recommended to adhere to this rule.

Use High-resolution Visuals

Always use high-resolution images and videos to avoid blurry, pixelated, and unclear visuals. Otherwise, your ads may appear unappealing and unprofessional to users.

Here are the recommended resolutions for the different types of ads:

Facebook Feed: 1080 x 1350 pixels
Facebook Right Column: 1200 x 1200 pixels
Facebook Instant Articles: 1200 x 1200 pixels
Facebook Marketplace: 1200 x 1200 pixels
Facebook Stories: 1080 x 1920 pixels
All Facebook Video ads: at least 1080 x 1080 pixels
Use Simple But Attention-grabbing Text
With millions of ads running on Facebook every day, you have to ensure yours is able to stand out amongst the crowd and appeals to anyone who sees it.
Most importantly, use words that can grab users' attention. If you're running an ad campaign for a sale or major promotion, for example, be sure to emphasise it and start off your copy by featuring the sale.
When creating copy for your ads, the first line is especially important. After the main visual, the first line of text is the next thing users will see and, if it doesn't hold their attention, they will simply scroll away.
Avoid using language that may not appeal to the average user — keep it simple and easy to understand.
Have a Clear CTA Button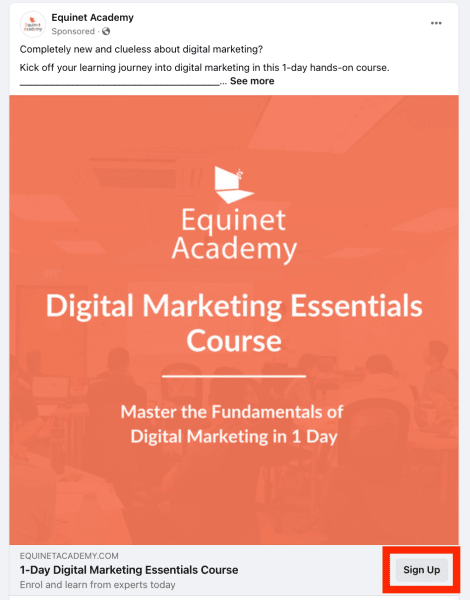 In every ad you create, include a clear and easily actionable CTA button that will encourage users to engage with it. Try experimenting with different CTA buttons and, from there, you will have definitive measurements for what works best.
Analyse and Optimise Ads
Once you have started running ad campaigns, it is important to continuously analyse its effectiveness while it is still running. If your ads are not keeping up with expectations and bringing you closer to achieving your goals, you would need to adjust them accordingly
As an example, if you find your Cost-Per-Click (CPC) has increased exponentially, adjust your CTA to be more compelling or change your ad creatives to be more appealing.
Additionally, be sure to try A/B testing, which runs the same ad to two different audiences, and optimise future campaigns based on the data that you receive.
Monitor your Competitors' Ads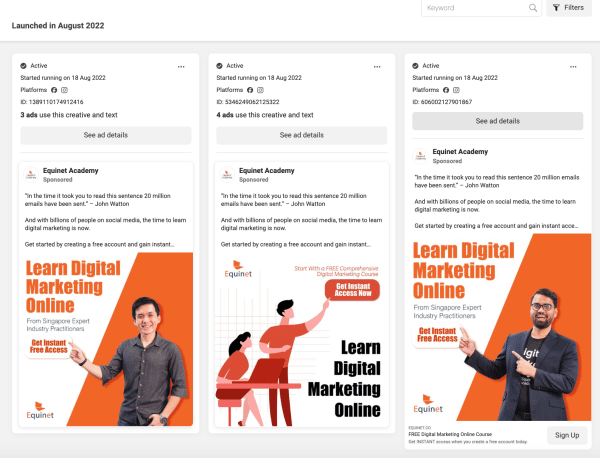 All Facebook business pages have a section entitled "Page Transparency". In here, you can find their Ad Library which shows any and all ads that have been run by said page. Use this feature to monitor your competitors' ads. Determine whether these ads have worked for them and if anything implemented in their campaigns can be utilised on your own.
While you should always refrain from outright copying competitors', monitoring their ads allows you to include elements from theirs that have seemingly been successful for them.
Growing Your Online Presence
1. Use Keywords and Relevant Categories
If you're familiar with search engine optimisation (SEO), you may already know the importance keywords have on digital marketing. For search engines like Google, they rely on keywords to bring the most relevant and accurate search results for users. This also applies for social media platforms such as Facebook.
When you include relevant keywords that users search for, you can increase the likelihood of your page being the first or first few results.
Conduct keyword research and you can find keywords that are relevant to your business to use throughout your Facebook page. When done correctly, you can boost your chances of being the first result when a user is searching for something related to your business.
Additionally, including information such as your address, if you have a physical store, can also increase your visibility in search results.
2. Promote your Page
Although increasing and tracking your page likes and follows may seem like a vanity metric, amassing a higher number of likes and follows results in more effective data analytics and insights which aid in optimising your content. As such, it is important to promote your page wherever possible.
Include links to your Facebook Page on other social media pages or on your website. This encourages users who chance upon your other accounts or website to engage with you on Facebook for more content.
You can also consider promoting your page in relevant Groups on Facebook. Groups are niche communities of users who share the same or similar interests and hobbies, where they interact with one another. Find groups related to your industry and promote your page there.
Through physical or digital communication, give gentle but consistent reminders to existing customers to follow your Facebook page, to receive more information on your business such as new products, sales, promotions or general news.
3. Reviews
Encourage customers to leave positive reviews of your company on your Facebook page. Implore them to detail any and all good experiences they may have had with your products or services.
When you host good reviews on your page, you build a certain level of trust and genuinity which could assist in securing new followers and conversions.
4. Update Regularly
Posting on your Facebook page regularly is one of the best ways to keep users interested and engaged with your posts. You should always avoid going too long without posting as users can become disinterested in your content, leading to a decline in followers.
Alongside posting, it is also important to remember to consistently engage with users. Reply to their comments, address their concerns or respond to direct messages. Being attentive shows your activeness in serving your audience.
5. Be Authentic
With social media, users appreciate brands who are more humanised and down-to-earth rather than just a company trying to sell something.
Be authentic in your content and offer them more than just what your business is selling. Be polite and thoughtful in all interactions — positive or negative — which is a small step towards building a meaningful and trusting relationship.
6. Use FB Live
Facebook Live, the platform's live streaming tool, is a great way to directly interact with fans in real time. Utilising Facebook Live also widens your presence as Facebook recommends Lives to various users on the platform, even those who do not currently follow you.
Key Takeaways
While this list isn't exhaustive, it is a good starting point when beginning Facebook Marketing and implementing your first strategy. Follow these best practices while running your page and optimise along the way.
To sum up, ensure that your Facebook page is detailed and extensive in terms of business information and key visuals like a profile picture and cover photo. When it comes to creating content for your Facebook page, be engaging and encourage users to interact with your posts. You can increase the chances of this by ensuring posts are high-quality, actionable, and in line with your brand guidelines.
Once you have begun creating content, you need to consistently monitor your page and audience so that you can adjust your content to be optimised and appeal to them more. Additionally, monitor your competitors' Facebook pages so that you can have a better understanding of what does and doesn't work with your audience.
If you want to master Facebook Marketing, check out our 2-day Facebook Marketing and Advertising course for an in-depth look into utilising the platform for your business.
We also hold a Certified Digital Marketing Strategist (CDMS) Programme which covers the following six modules:
The completion of these modules will lead the learners to attain a Certified Digital Marketing Strategist Certificate. All of these courses are WSQ accredited and available for up to 70% subsidy.