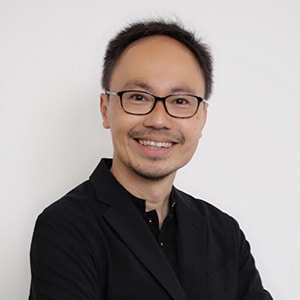 Founder of the content marketing agency Cooler Insights, Walter has 27 years of senior management experience in online and offline marketing, public relations, campaign and events marketing, and strategic planning. 
Director and Chief Content Strategist at Cooler Insights, he is a juror for the Mumbrella Asia Awards 2017, 2018 and 2019 and appointed a judge for the Singapore Blog Awards for 5 years. A council member of the Media Literacy Council appointed by the Minister of Communications and Information (led by IMDA Singapore), Walter also spoke at multiple conferences on topics such as branding, public relations, and social media marketing.
A digital marketing strategist, Walter specialises in brand storytelling, content marketing, social media, PR, and online campaign management. A prolific blogger, his articles have been published on Outbrain, Social Media Today, Startup Nation, Duct Tape Marketing, Tweak Your Biz, Pole Position Marketing, The Right Fit, Spin Sucks (PR influencer Gini Dietrich), Tech In Asia, e27, and Yahoo! News, and he has been featured on The Straits Times, TODAY, CNA938, Money 89.3 FM, and Power 98.
Founder of Cooler Insights, his team helped more than 70 companies and trained over 4,600 individuals in the areas of content marketing, social media, and branding. His clients include MNCs, public listed companies, government agencies and SMEs. They include Pan Pacific Hotel Group, Hwacheon Asia, Brother, Rabobank, NTUC First Campus, Coca-Cola, Citibank, Jurong Point, Gleneagles Penang, Ministry of Communications and  Information (MCI), Ministry of Culture, Community & Youth (MCCY), Housing and Development Board (HDB), People's Association, Mount Elizabeth Medical Centre, Eagle Brand, MoolahSense, Kaplan, Shaws Preschools, Best Electricity, and many others.
An ACTA-certified trainer and a former NHB scholar, Walter regularly conducts both public and in-house workshops on social media marketing, content marketing, brand storytelling and social media psychology. He was also invited to speak at Google and Facebook.
"Its evident through the notes, course materials and quizes that Walter is a dedicated professional who is gracious to share his knowledge to the best of his ability. I appreciate the effort he puts in to answering all our questions and guiding us whenever we were in doubt."
Vicky Sim
"Walter is very clear and patient in his explanation of concepts. He supports and illustrates these with very appropriate examples. I like the design and structure of the course which is well-supported with very organised materials. Walter must have put in a lot of thoughts in designing these and I find them very useful as a reference after the class. Thank you, Walter. It has been an enriching and thought-provoking learning journey for me."
Phoa Hua Huee, Helen
"Walter's engaging and humourous teaching style will keep you "glued-in" to the content of the course. The hands-on approach helps to balance the theoretical and practical aspects of Social Media Marketing."
Bryant Tang
"I am very impressed by the delivery and quality of the online lessons conducted by Walter Lim at Equinet Academy. Walter is very knowledgeable and he is very generous in sharing with his students his wide experience in digital marketing. I believe anyone who interacts with him will benefit a great deal from his passion for social marketing and his willingness to share."
Tan Pey, Vivian
"Walter is very knowledgeable and is able to share his experiences as well. Good pace of training and very approachable. Great smile and he helps lighten the mood to make it more fun and enjoyable."
Adrian Teo
Learn Digital Marketing From The Best
Get yourself certified, apply actionable digital marketing strategies at work and see results.