15 Types of Social Media Content That Work (With Examples)
Why Create Content?
Creating content for your social media is a key element in designing an effective digital marketing strategy. Social media content can be anything from gifs, videos, images, text posts, to blog articles as long as it is relevant and aligned with the interests, pain points, and goals of your audience.
Having a good content plan can help you build coordinated content that is balanced, purposeful, and consistent to your brand. A good content plan starts with setting SMART goals, identifying your target audience, and identifying the best channel to distribute the content.
Good content can build trust in your audience, making your page the go-to destination for entertainment, education, and inspiration which eventually leads to higher revenue for your business.
 15 Different Types of Social Media Content to Create
A good content strategy might require you to use a variety of content to be effective and keep your audience engaged, depending on the social network platform. Here are 15 different types of social media content examples to get you started.
1. Articles, blog posts, guides
Articles, blog posts, or guides are written with a more comprehensive view of the company's expertise and knowledge. Exhibiting your expertise in a specific topic can help build credibility and increase customer trust.
With the variety of content out there vying for your target audience, you must create blog content that is entertaining, educative, and of help to your audience. While it might be difficult and time-consuming to generate, it is often worth it in the long term.
This type of content is best suited for social networking platforms like Facebook and Linkedin due to their generous word limits. However, you can share the post links on other platforms to increase visibility.
2. Thought-leadership content
Thought-leadership content refers to sharing your thoughts on a topic or issue related to your industry. This content can be created by an expert or someone with significant experience in that industry and who has content creation skills like an employee in the company.
Thought-leadership content can help build your brand as a thought leader in that industry. By providing your unique perspectives and utilising your resources, you can include your point of view and demonstrate your knowledge of the topic to create credibility, trust, and loyalty from your audience.
A piece of content that encompasses these characteristics is an excellent strategy to reinforce yourself as an authoritative source of information to your audience.
When creating thought-leadership content, always pay attention to details like your tone, fact-checking, and language. This content can be from your unique experiences in the industry, unique data that your business gives you access to, research or insights from your company, personal anecdotes, or future predictions.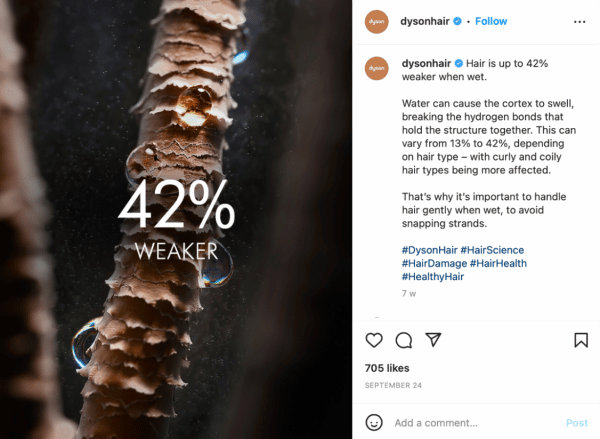 @dysonhair shares an interesting fact about hair.
3. Electronic books
E-books are valuable when you want to put together long educational content that might give a poor user experience for the readers to scroll endlessly on a post. These are more in-depth content than blogs, allowing your company to demonstrate its industry expertise and provide readers with invaluable content.
Due to the in-depth content in E-books, users can gain comprehensive knowledge they wouldn't be able to get in a brief social media post. However, it is important to note that the length of E-books may put off some of your audience.
For this reason, you must first do an excellent job convincing them to take the time to read yours. A good way to do this is to ensure that your E-book has a great user experience – including visuals and making it easy to swipe on a mobile device will make it more accessible and improve readability.
4. Curated content
Curated content is content you share from other brands on your social media platform. This could be a link to relevant articles or trusted websites, a collection of quoted advice from experts in the industry, or simply sharing someone else's post.
This type of content is helpful when you have insufficient time to make an original post but still wish to add value to your audience. Content curation is also a great opportunity to show your audience that you keep up with the trends in your niche.
You should always use credible sources when posting curated content to minimise the risk of spreading misinformation. You must also ensure you're not losing your audience to another brand.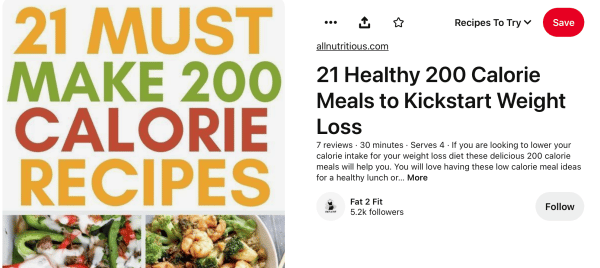 Many Pinterest posts are centred around useful curated content.
5. Good images
Images help increase your customers' engagement as they are captivating and can easily capture your audience's attention. Up to 65% of people tend to be visual since visual content is more easily understandable. Using images will help ensure your audience sees your post and comprehends the message.
Platforms that mainly use images have stiff competition; therefore, always try to use high-quality captivating and original pictures.
Image-sharing platforms like Instagram and Pinterest mainly support visual content, but you can also use your images to support text on platforms like LinkedIn and Twitter.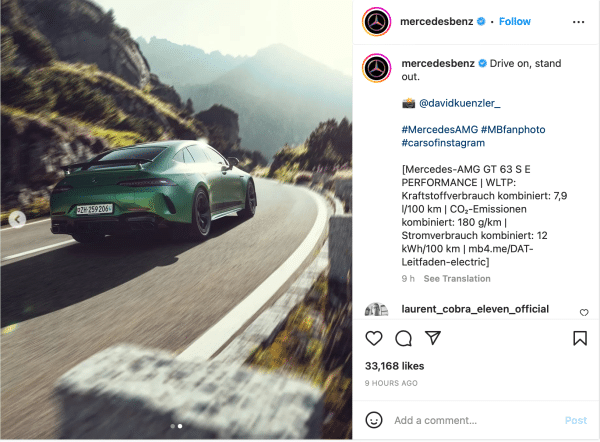 Striking photos are compelling for social media users.
6. Videos
Videos are a great type of social media content to use on social media due to their versatility. You can use video content for education, product demonstrations, behind-the-scenes tours, and so much more. In 2022, videos are the most engaging type of social media content, with video-first platforms like TikTok gaining more popularity day by day.
Even formerly non-video social platforms like Facebook, Instagram and LinkedIn currently prioritise videos on users' feeds. If you have the resources, invest in video production to take advantage of the current video boom.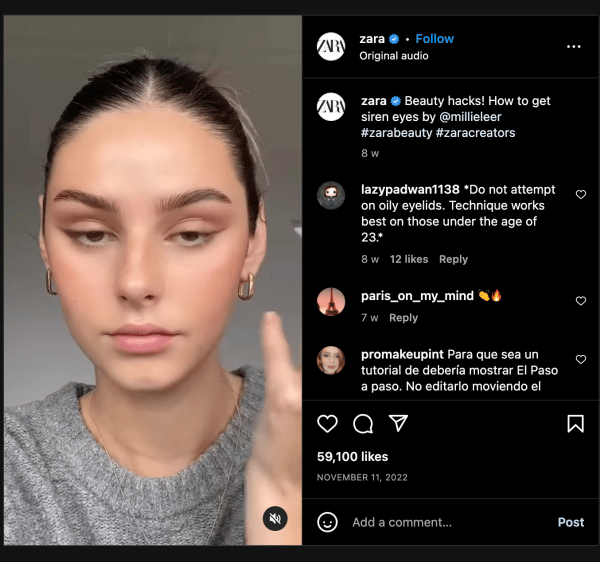 Zara uses a reel to showcase a new makeup product line on Instagram, a formerly photo sharing app.
7. Video stories
Video stories are short videos that appear on social media feeds and disappear in 24 hours. You can use them to keep users updated on current events, limited-time offers, promotions, and give behind-the-scenes glimpses of you or your business. Due to their temporary nature, video stories appeal to audiences due to the fear of missing out.
Video stories do not require high-quality production, making them easy to produce. However, due to the short life expectancy, you need to be consistent with your posts to keep your followers updated and intrigued. Many platforms have created a feature for video stories, but the best options are Instagram, Facebook and Snapchat.
8. Live Streaming videos
Many marketers are investing more in live streaming because it engages viewers more authentically than any other type of social media content. Live streaming can expand the viewership of an event as it creates an opportunity to reach audiences that might not be able to physically attend events like product launches, shows, and sales.
You must be well prepared when planning a live stream by ensuring you have the right equipment, a good internet connection, and no interruptions.
Live content is popular on social media platforms like Facebook Live, Instagram Live, TikTok Live, Linkedin, Vimeo, and periscope.
9. Infographics
This type of content puts information into visual images that are more digestible and easily understood. Infographics make boring content more appealing, making people more likely to engage compared to plain text posts.
Infographic visuals often use colourful charts, graphs, or illustrations to catch the viewer's eye. You can also use a well-done infographic on your website to boost your SEO ranking. This is because infographics are very shareable and linkable, which also helps to build backlinks to your content.
While social media links do not directly affect SEO, they can help increase traffic, leading to more shares, likes, backlinks and engagement. These are social signals that can influence your SEO rankings.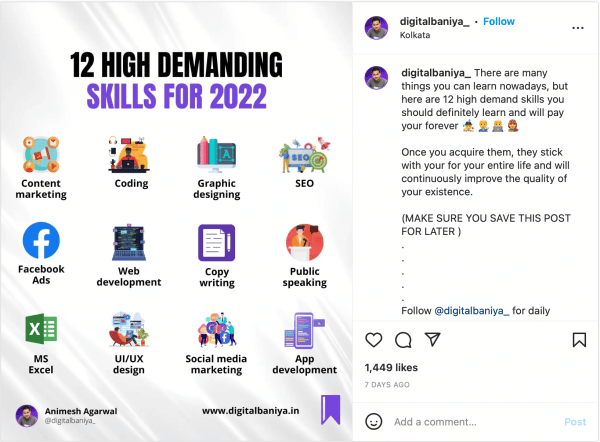 Infographics are a great to capture your audience's attention
10. Testimonials and Reviews
Testimonials and reviews can significantly impact your business because most customers read the reviews on your product before making a purchase. These reviews help instil trust in your audience and give you credibility as they act as social proof of how good your product is.
Find reviews of people that liked your product and share them with your audience. Reviews or testimonials can be in the form of a picture, video, or text, depending on the social media platforms you are using. You can add a photo or video of the reviewer along with the review to add credibility to your post.
Facebook is vital for reviews as it has an inbuilt star rating system for business pages, which often signals to users whether to trust your brand or not.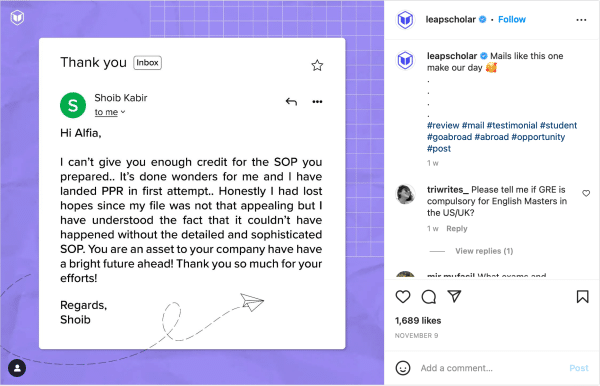 Use your social media to share what your happy customers think about your product. 
11. Announcements
Announcements are the type of content you can use to inform your audience about some of the noteworthy things happening in the company. For example, if you are launching new products, have upcoming events, live streams or business-related announcements. Announcements keep your audience in the loop, which helps strengthen the sense of community around your brand.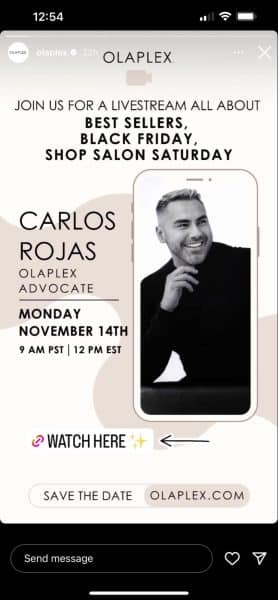 @olaplex uses their Instagram stories to announce a live stream event.
Plan your announcements carefully by giving little teasers that can lead up to the big news to gain some traction before the live date. Ensure that the announcement is timed perfectly, not too late but still early enough.
All social media platforms are excellent for announcements. In fact, you should post them on your pages to ensure no one misses the big news.
12. Contests and competitions
You can run contests and competitions on social media to encourage your audience to engage with your page in exchange for a prize. Contests and competitions can help expand your brand awareness due to the shares, retweets, likes, and tags they generate.
Ideally, the prize for the contest should be something from your business, but it can also include other goodies like vacation trips or gadgets. Keep the contest interesting by having a good balance of contest difficulty and fun.
You can use this type of content on any social media platform, and it is especially common on platforms like Facebook and Instagram. However, if you would like to utilise more professional platforms like LinkedIn, you can tweak your content and competition to suit the style of the platform.
13. Holidays
Having holiday-themed content can be very valuable as it has emotional appeal. Use familiar concepts, themes, and holiday traditions in your posts to connect with your audience's current mood.
The holiday season at the end of the year is especially crucial to most brands. During this time, use heartwarming content that may even be shareable. If possible, include a call to action.
Holidays may have stiff competition, especially the major ones like Christmas. Therefore, you must create content that is not only fun but also valuable for your audience. You can include some emotional content to connect with your audience, for example, something that shows gratitude for family and friends but also suggests gifting something from your product line.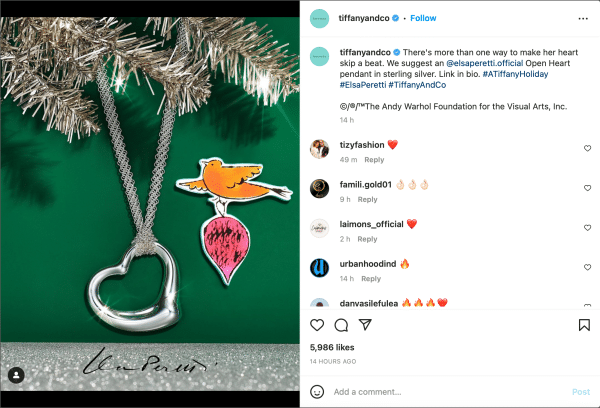 Suggesting gift ideas for your audience is one of the easiest ways to incorporate holiday-themed content into your feed
14. Brand/influencer collaborations
Social media influencers sway their followers' decisions due to their connection with them and their knowledge or expertise on a subject. Influencers have loyal followings of people ranging from a few hundred (nano) to millions (celebrities).
Experiment with influencer collaborations by working with influential personalities in your niche. You may choose a one-time collaboration or establish an ongoing partnership with content creators that aligns with your brand voice.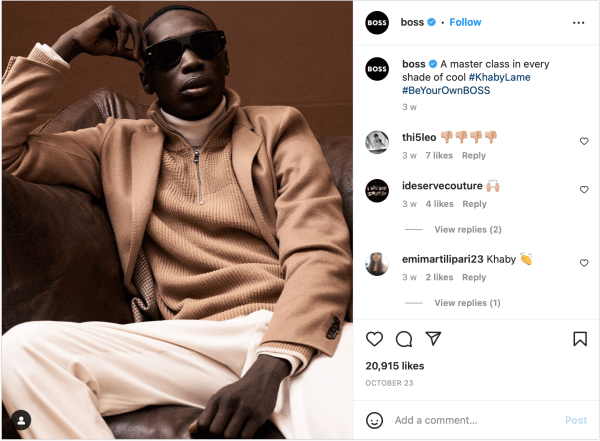 Apparel brand Hugo Boss shares an image of their collaboration with Tik Tok star Khaby Lame.
15. Case studies
A case study is a long review that shows what a business has achieved by illustrating how the company's services have helped clients achieve results in a particular situation. This type of content increases credibility and trust for a company as it shows what you can do for your potential customers.
When making a case study, ensure to include visual elements like images and infographics to increase engagement. To maximise their effectiveness, you should incorporate specific figures and results, but only with permission from your past clients. This type of content is essential in the B2B sector and is, therefore, best to use on platforms like LinkedIn.
8 Types of Social Media Posts or Content Your Business Should Avoid
While regularly posting social media content can increase engagement and boost sales for your business, some types of content may have the opposite effect. Here are 8 types of social media posts or content to avoid:
1. Negative Posts about Customers or Clients
No matter how tempted you might be to retort at an angry customer, do not engage. View it as an opportunity to negotiate with them and improve your communication with your audience. Be sure to always respond in a way that aims to salvage the relationship.
Doing this might enable you to turn the situation around and convert a dissatisfied client into a satisfied and happy one. They may even become lifelong fans if you can meet each other halfway.
2. Irrelevant Viral Content
Limit viral content to funny and interesting posts yet relevant to your audience. Do not post content just because it is viral. Posting irrelevant viral content might lead to losing followers if they see little value in following your page. Take extra precautions by researching the viral content to be sure you don't post content that offends your audience.
3. Political or Religious posts
Posting political or religious posts puts you at risk of offending and losing your audience, as they all have different viewpoints on a matter. It is okay to share such content if it supports your brand message, but you must be aware that such content alienates potential customers that don't share your beliefs.
Ensure you have full knowledge of the dangers when you share your thoughts on such matters.
4. Content that isn't Proofread or Edited
Social media might seem like a free platform, but posting content with errors might be perceived as amateurish and lacking professionalism. Always ensure your content is well-crafted and edited with no grammatical mistakes or typos.
5. Overtly Promotional Content
Although you should use social media content to boost sales for your products, creating content that focuses too much on promoting your brand may cause your followers to lose interest.
Most of your social media content should aim to inform and entertain your audience to build influence and a good connection. Trying to hard sell your audience before having a relationship with them will cause you to lose your audience quickly.
6. Content Inconsistent with your Branding
Branding is crucial in creating a unique identity for products and the company. It helps customers to identify a brand and its services and distinguishes it from competitors. Using content that doesn't align with your brand's message, tone, or style breaks the link customers have with your brand and can result in a loss of trust.
7. Misleading Content
While social media content should be captivating with attention-grabbing headlines, ensure that your claims are truthful and backed up by evidence. This should apply to posts about your products and those of your competitors. Besides that, you should also thoroughly research any information or opinions you're putting out.
8. Unattributed Content
As seen above, some types of social media content are not original. While it's allowed to find and share content that is not your own, you must credit the source of that information. Citing your source shows responsibility and trustworthiness and protects you from accusations of plagiarism.
Conclusion
There is no doubt that creating social media content should be in every business or brand's playbook. However, to keep your audience happy, you must share a variety of fun but also useful and valuable content on your social media pages.
To consistently do this, follow the different techniques we discussed above, and you will have enough content for your audience for a while. Remember also to avoid the eight types of content mentioned above. This way, you will be able to keep building on your relationship with your audience and cultivate customer loyalty.
If you want to learn more about social media marketing content writing, sign up for the WSQ Social Media Marketing course.
We also host a wide range of digital marketing courses, including Digital Marketing Strategy here in Singapore and a Advanced Certificate in Digital Marketing Programme, which covers the following five modules:
Learners who complete these modules will be awarded a Advanced Certificate in Digital Marketing. Our courses are WSQ-accredited, and eligible learners can receive up to 90% subsidy.