How to Create Winning Social Media Campaigns
It's easy to think of today's social media marketing landscape as the Wild West, where unpredictability is the name of the game, and rules are made to be broken.
Yet — as any seasoned digital marketer knows — a successful social media campaign has little to do with chance or luck. In fact, there is a playbook for creating effective social media campaigns, which we will be happy to share with you in this article.
What is a Social Media Campaign?
By definition, a social media campaign is a set of coordinated activities with a specific purpose—to achieve a business goal. Typically, business goals include:
Brand awareness (actionable metrics include follower count, reach, shares, and mentions)
Social media interaction (actionable metrics include follows, likes, shares, and reviews)
Conversion (turning a social media user into a paying customer)
Loyalty and advocacy (getting social media fans to share and spread your message across their social networks)
Social media campaigns can involve one or more social media platforms, where outcomes are tracked and measured. Here are some platforms that brands commonly use:
Facebook
Instagram
YouTube
Twitter
LinkedIn
TikTok
In short, social media campaigns are the equivalent of a caffeine shot—they can generate a buzz for your brand that helps to boost either name recognition or sales revenue – or sometimes, both.
10 Social Media Campaign Best Practices
Ready to run your first—or next—social media campaign? We have some ideas to help you get started on the right foot.
1. Post Offers
The easiest way to generate excitement on your social media accounts is to run a promotion for your products or services—this is often an effective way to reel in new customers, or entice existing customers to make a repeat purchase.
2. Run a Contest
Healthy competition is a good thing, and a contest held on social media is a great way to generate excitement, interest, and virality for your campaign. You can run contests such as selfie contests, "best comment" contests, storytelling contests, "spot-the-difference" contests, "guess-the-number" contests, or anything that gets your customers playing along with you for a prize. The key is to get and keep your social media followers engaged.
3. Showcase Positive  Customer Reviews
If a customer shares a story, photo, or video featuring your product on social media, it's cause for celebration! This is known as "user-generated content" or UGC, and customers usually perceive such content as being authentic and trustworthy—all the better if the story involves emotions or a situation that they can relate to.
In fact, you can regard customers as your treasured brand ambassadors, who can demonstrate to others how your products or services contribute to better living.
Customers need validation too, so remember to "like" any posts involving your brand, and where relevant, seek permission to share these posts on your social media channels. This helps to create what is known as "social proof" for your brand, where there is "evidence" to prove that your brand is useful to others.
At the end of the day, a good customer story can help humanize your brand and help you connect with your followers– so always encourage the sharing of one and share them when you get them.
4. Benefit-Led Product Launches
In order to effectively introduce a new product or service, resist the urge to overload your customers with information. Instead, focus on highlighting the problems that can be solved, and how your customers' lives can be improved through your new product or service.
By ensuring that your messaging is benefit-led as opposed to feature-led, there is a higher chance that your new product or service will be seen, used, and discussed by your audience.
5. Have Strong CTAs
To increase engagement through your social media posts, invite your social media followers to carry out specific actions such as leaving a comment, signing up for more information, or subscribing to your newsletter. These are known as "calls-to-action" or CTAs, and they can help to gently nudge your customers into deepening their relationship with your brand.
6. Seek Opinions
Polls are an easy yet powerful way to find out what your social media audience thinks and to get them engaging with your brand. You can ask questions relating to your product or service to discover what your customers really want—you may be surprised.
Many social media apps like LinkedIn, Facebook, and Instagram (Stories) are now equipped with poll features. Common options include asking your followers to click on the most appropriate choice, move a slider (usually to indicate the intensity of one's feelings), or type an answer into a suggestion bar.
7. Offer a Behind-The-Scenes Peek
What is the inspiration behind your brand? Who are the people that keep things running smoothly, and what does their typical day look like? Where and how are your products made? There is a human-interest value to such stories, and they can make your brand come alive for your customers.
8. Choose the Right Influencers
Influencer marketing has had its ups and downs, but the fact remains that credible social media influencers can still help to build social proof for your brand.
But first, do you know which social media influencers are most relevant to your brand? If not, you can use marketing research tools—such as Awario, BuzzStream, BuzzSumo, and NinjaOutreach—to track down relevant influencers for any topic or niche community. As part of your campaign efforts, you can reach out to these influencers and engage them to share stories about your brand through giveaways or sponsored content.
9. Go "Live" to Teach or Sell
Compared to static blog and social media posts, live streams are much more interactive, because your social media followers can watch and respond to you in real time. If it is relevant for your product or service, do consider going "live" with a Q&A session to offer expert advice. You could also interview a personality that your audience is interested in, or host a "live" giveaway.
10. Utilise Hashtags
If you have a brand presence on social media platforms like Instagram, Tiktok, and Twitter, don't hesitate to use hashtags as part of your social media campaign strategy.
A catchy hashtag that encapsulates your brand's identity is something that your customers will be proud to use in their social media posts. You can also add hashtags in your social media posts to join trending conversations, or incorporate popular hashtags to increase your social media reach.
Four Reasons Social Media Campaigns Succeed
Not every social media campaign will be a viral hit, but the truth is that you don't need millions of views for your campaign to be considered a "success."
What you do need, however, is a social media campaign that is able to further your business goals. Here's what effective social media campaigns have in common:
1. They Reach The Right Audiences
Did you know that the most popular social media platforms serve audiences with vastly different profiles?
The Facebook demographic is considered mature, and its largest user segments consist of users aged 25 to 54.
Instagram users are generally younger—71% are below 35 years—and more likely to be female. TikTok has a similarly young demographic.
LinkedIn attracts career-minded individuals who seek networking and learning opportunities. These tend to be PMETs—professionals, managers, executives, and technicians—as well as senior management staff.
YouTube users are more varied; the platform attracts children, teens, adults, and the elderly.
This is why you should never use a one-size-fits-all approach for your social media campaigns. Instead, pick the right platform for your campaign and tailor your message accordingly.
For instance, if you want to reach under-25s, pick a platform such as Instagram, and use emojis in your posts for greater appeal and relatability. If you are targeting people in their 50s, you will have a better chance of reaching them via Facebook or YouTube.
Although you should adjust your messaging for different target groups, do ensure consistency with your brand elements—such as brand colours or logo placement—to reinforce your brand's identity.
2. They Keep it Real
You don't need a celebrity endorsement to elevate your social media campaign—an ordinary person with a compelling story can be just as effective.
Think about how you can tell a slice-of-life story featuring your brand, in order to convince your audience that they too can be part of a meaningful experience by using your product or service. Feel free to let your creative juices flow, but be careful not to deviate from your established brand identity, as that will confuse and alienate your followers.
3. They are Visually Appealing
Visuals are far more attention-grabbing than text, so an image or video will naturally draw more eyeballs to your social media posts than text alone. But not just any visual will do—make the effort to produce unique and memorable visuals, which are not only more interesting to look at, but will also generate more responses and social shares.
4. They are Values-Driven
People love to support businesses with a heart, so let your audience know what you care about. If it is relevant to your brand, speak up about social issues and your efforts to make a positive difference in the world. Social media campaigns that appeal to our desire to do good—and our emotions—are more likely to stimulate engagement, and less likely to be easily forgotten.
Six Reasons Social Media Campaigns Fail
Don't want to run a campaign that barely causes a ripple? Here are some pitfalls to avoid:
1. Not Having a Clear Social Media Marketing Plan
As the adage goes: when one fails to plan, one plans to fail. If you set out to post on your social media channels without defining your goals and designing a strategy, your social media campaigns will be much less likely to achieve business goals.
2. Not Knowing Your Audience
By clearly defining your target audience, you can focus on reaching out to existing and potential customers through the most appropriate channels. Having a clearly defined target audience will allow you to reach out to people who are more likely to be interested in your product or service, and you'll be less likely to miss out on potential customers.
3. Not Having a Two-Way Conversation
Feel like you are talking to the wall when you post on social media? Chances are, your followers have tuned out your updates, if the algorithms haven't done it for them. You should certainly post, and post often, but in a way that manages to interest and engage your followers.
Remember: don't be promotional, be social. Two-way conversations between your brand and its social media followers would serve to strengthen engagements and improve your branding efforts.
4. Fixating on Price-Driven Promotions
If your social media campaigns only push discounts and offers, this will lead to an eventual erosion of your brand value.
The result? You will cultivate and retain buyers who are bargain hunters, but alienate valuable customers who are willing to pay for quality.
5. Not Putting Analytics to Use
Data is everywhere, and it would be a shame if you didn't use it for your brand. Without a good data monitoring system, you will not be able to track your campaign performances, and make timely adjustments for better outcomes.
6. Believing that All Social Media Platforms are Equal
Every social media platform has its strengths and weaknesses, and is used in different ways. Some brands adopt a one-size-fits-all approach to their social media campaigns—for example, posting the same images with the same copy on both Facebook and Instagram. This fails to capitalise on each platform's unique features and audience appeal, and will lead to lacklustre campaign results.
Great Social Media Campaigns: 3 Case Studies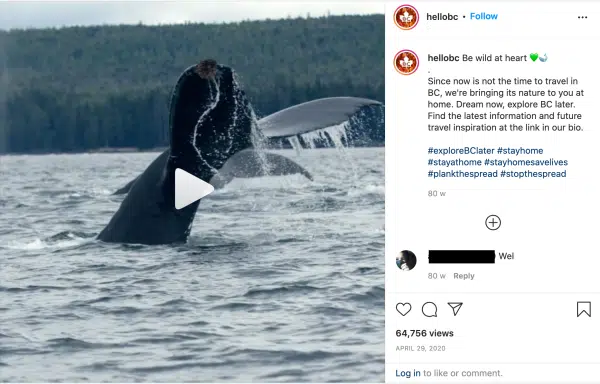 Problem:
With Covid-19 border closures in 2020, air travel saw its worst year in aviation history, and tourism took a hard hit everywhere.
Solution:
Destination BC—the official tourism organisation for British Columbia, Canada—launched its #ExploreBCLater social media campaign on Instagram, Facebook, and Twitter to share images and videos of BC attractions, and encourage users to do the same. The message was clear: Be socially responsible and stay home for now, but visit BC when travel resumes.
Result:
As a testament to the campaign's effectiveness, one of the campaign's Instagram videos has garnered over 64,000 views, and the #ExploreBCLater hashtag has been used over 9,500 times across Instagram, Facebook, and Twitter.
User-generated content played a big part in the success of this campaign, and it would have particularly appealed to travel influencers as a way to showcase past trips during a time of inactivity.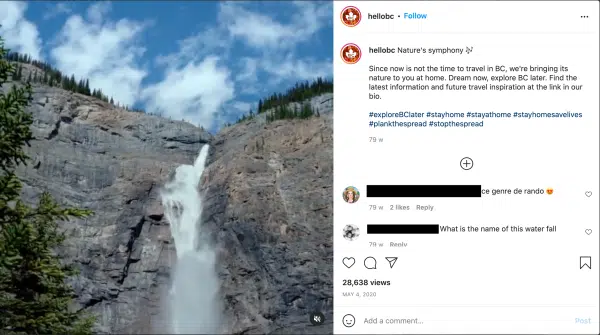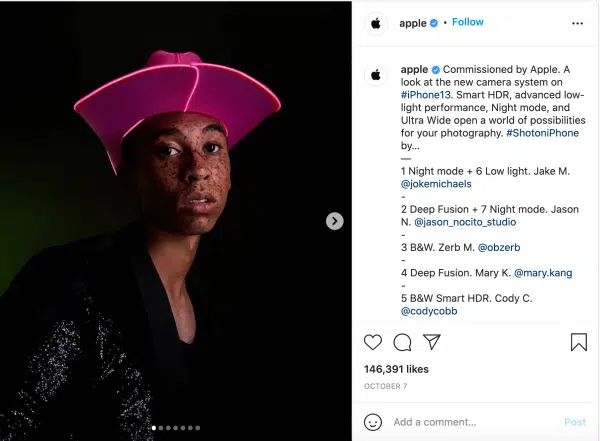 Problem:
Getting users to see the endless range of possibilities when you shoot an image or video with an iPhone.
Solution:
Apple kicked off its campaign by creating original content shot on its smartphones, but—as with anything involving Apple—it didn't take long for social media users to catch on and pitch in.
Result:
To date, the #shotoniphone hashtag has amassed over 22 million posts on Instagram, so the numbers speak for themselves. This is a prime example of social proof in action, where users do the work of convincing others that a product is worth trying. In this way, users feel valued and engaged, and spreading the word becomes a collective effort with a snowball effect for a brand.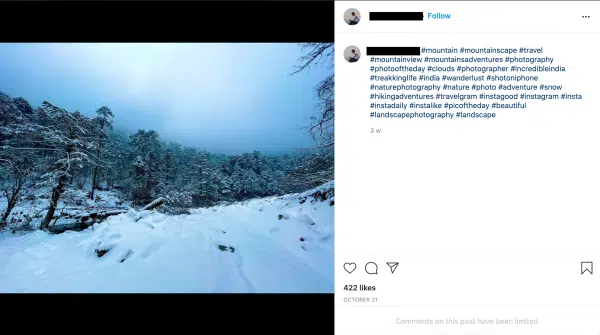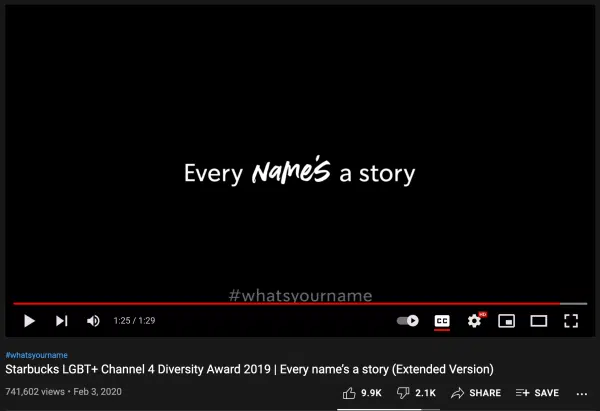 Problem:
Starbucks has received negative publicity over racist and discriminatory incidents, and needs to rehabilitate its image.
Solution:
Starbucks UK teamed up with Mermaids, an organisation that supports gender-diverse youth, for the #WhatsYourName campaign. Publicity included a 90-second commercial, which was inspired by the real-life experiences of people who were transitioning, and had used Starbucks stores to try out a new name without judgement.
On social media, Starbucks UK encouraged customers to use the #WhatsYourName hashtag together with photos of their "mermaid tail" cookie, a new product launched to raise funds for Mermaids.
Result:
Brands may be hesitant to take a stand on hot-button issues, but you can see how Starbucks UK discovered a niche use for their stores, and created something that both tugged at heartstrings and demonstrated their commitment to inclusivity. As a bonus, they also won the Diversity in Advertising Award by Channel 4.
With such a campaign, you will certainly lose followers who disagree with your values, but you will also gain new supporters who share your vision of what the world should look like—and those are the customers you will want to keep.
Food for Thought
Every digital marketer dreams of executing a successful social media campaign.
While there is no guarantee that any social media campaign will take off, there are ways to ensure that you can reach out to the right people and hold their interest, and also some surefire ways to ensure a campaign flops.
As long as you follow the best practices outlined above, you will increase your chances of executing a successful social media campaign to gain recognition, expand your reach, and boost your conversion rates.
If you're looking for more tips on running successful social media campaigns and a more hands-on approach, we cover that in our WSQ Social Media Marketing (SMM)  course, among other facets of social media marketing. Feel free to browse our course page or get in touch with us to find out more about this course today.