What is Digital Advertising? (With Examples)
Did you know that by 2026, the global digital advertising and marketing market is predicted to reach $786.2 billion?
Connectivity is causing the world to expand dramatically. This noteworthy advancement speaks volumes about the pace at which we enter the tech era. How people live, unwind, shop, and even operate businesses will exponentially change.
Users' longer and stronger online presence will be one of the most significant transitions — creating opportunities for companies and marketers to outperform the competition. These opportunities make digital advertising and digital ads the most crucial component of any digital marketing strategy.
What is Digital Advertising?
Digital advertising, as opposed to traditional advertising, is any marketing done through online mediums. It includes text, audio, video, email advertising, influencer promotion, online stories, and other formats.
Digital ads include, but are not limited to, display ads, video ads, paid search, mobile and social ads. This advertising can cover all stages of the marketing funnel — from awareness to engagement.
Not only are digital ads made and sold differently, but the metrics used to measure their performance, and primary objectives also differ from traditional advertising. Let's first understand why advertising is necessary before further exploring the differences between the two.
Why is Advertising Important?
While advertising has been around for decades, it has drastically evolved. With widespread internet advertising offering numerous platforms, it has become an essential tool to raise awareness and boost conversions.
1. It is a powerful way to reach a large audience and penetrate new audience segments that have not heard of your brand before.
2. You can showcase your value proposition quickly, which helps to differentiate your brand from competitors, creating a need for your products or services.
3. The money spent on advertising campaigns helps create engagement with consumers and develop a stronger brand presence to retain your existing customers.
4. You can use digital advertising platforms to target specific customer groups with custom-tailored messages, increasing chances of conversion.
Types of Advertising
With the transition of advertising platforms, the types of advertising available have also evolved. Here are some of the most common types of advertising:
1. Print advertising is printed advertisements commonly seen in magazines and newspapers.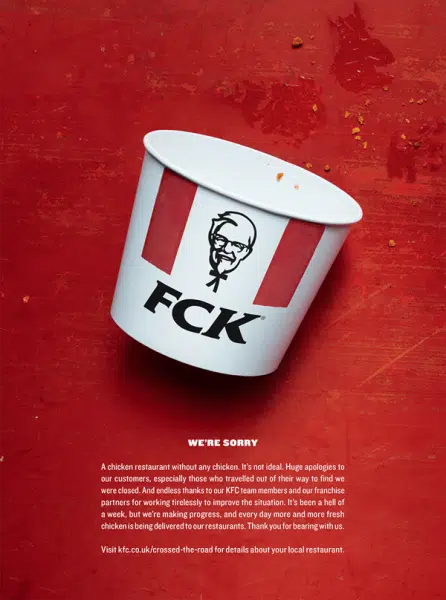 Source: HubSpot
2. Broadcast advertising is ads broadcasted on air, such as television or radio.
3. Digital or online advertising refers to advertisements on digital channels such as social media platforms, search ads, display ads, video ads, mobile ads and more.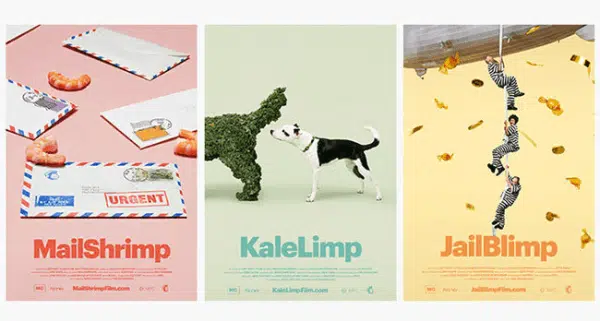 Source: DAN Institute
3. Out-of-home advertising is outdoor advertising, such as billboards, subway ads, bus stops, buses and more.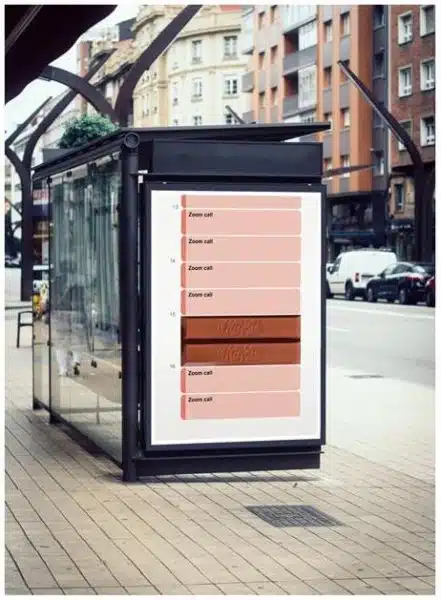 Image credit: Sam Hennig
4. In-store advertising is any form of advertising inside the store, such as banners, standees, point-of-sale displays, window displays and more.
Digital Advertising vs Traditional Advertising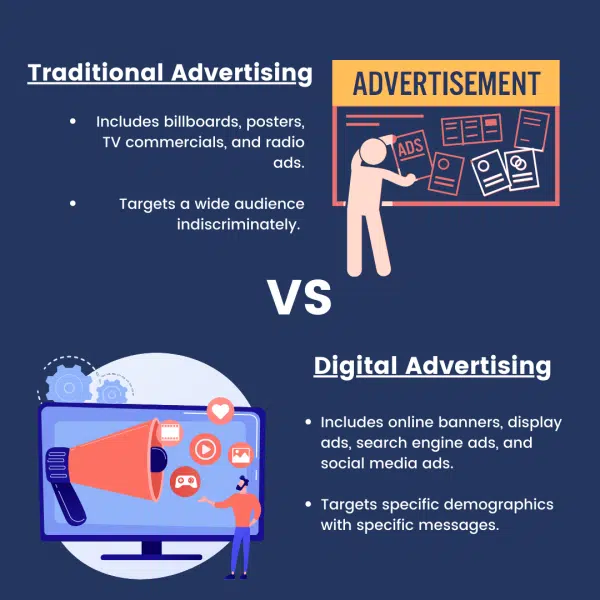 Traditional advertising has been around since the invention of the printing press. However, the audiences for traditional advertising are often broad and varied due to its indiscriminate visibility. That is why many businesses are moving away from the old, and instead, advertising on digital spaces has become common practice in the present tech world.
Let's look at the comparison between Digital Advertising and Traditional Advertising.
| | | |
| --- | --- | --- |
| Basis | Digital Advertising | Traditional Advertising |
| Medium | Reaching a wider audience with the help of digital ads, social media, direct mail, and online platforms is easier with digital advertising. Also able to target specific set of audiences based on criterias like demographics, interests, job, and more. | Reaching your local audience is more accessible with mediums such as newspapers, flyers, TV commercials, or the radio. However, audiences are broad and not targeted. |
| Implementation | Easy to implement for users | Difficult to implement as there are many levels of approval needed by third parties |
| Retention | Numerous ads from numerous businesses make it hard for prospects to form a brand image | Print ads help build a brand image as the retention rate is higher |
| Engagement | High | Low |
| Costing | Lower than traditional mediums | Higher than digital mediums |
| Risk Associate | More reach, which reduces the risks | No guarantee of the reach, as a result of which the risk is higher |
| Metrics to measure | Digital ad results can be tracked and measured | It is difficult to track the effectiveness of a traditional advertisement |
Pros & Cons of Digital Advertising
The world is advancing fast. Most aspects of our lives are finding their way into the digital world, and it's no surprise that digital marketing channels receive 72% of the total marketing budget. Consistent growth in internet users has broadened the scope of digital advertising, bringing many benefits. Some of the pros of online advertising include:
1. Multi-Channel Targeting: Unlike traditional advertising, which only uses a limited number of mediums, digital advertising allows advertisers to reach potential customers through various channels. Businesses can reach a wider audience at the convenience of their home thanks to several options, including paid advertising, social media, video promotion, email marketing, and numerous others.
2. Inexpensive: Advertising through traditional mediums requires not only more effort but also more money. Digital advertising, on the other hand, is relatively inexpensive. It is generally less expensive to share online ads with a global audience than to set up flyers in a single city.
3. Real-time change: Once a TV ad, newspaper ad, flyer, or other traditional medium is seen by the public, you, as the owner, lose ownership of it. Therefore, correcting errors or mistakes in the message you've put out is impossible. Making real-time changes is very convenient with digital advertising. It enables you to make corrections and modify your target audience or message's direction in response to real-time feedback.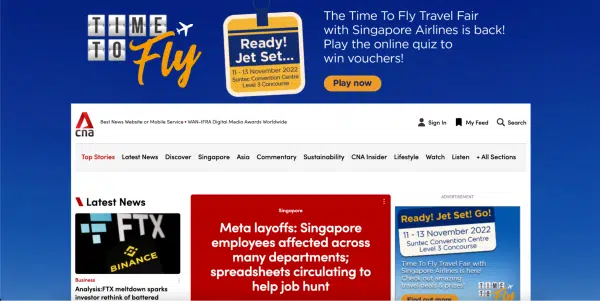 4. Information in-depth about the goods or services: Advertising aims to raise awareness, after which users become curious and have questions. They will begin to gain interest if they receive answers to their questions immediately. With digital ads, you can divert your audience to your specific websites or landing pages, inform your customers, and generate sales.
Statistics state 93% of people refer to online reviews before making the final purchase. So the advantages of online advertising are more influential than the disadvantages. However, there are also challenges involved in digital advertising.
5. Competition: Studies report that digital marketing spending increased by 14% between 2020 and 2021. The competition is rapidly rising as more and more companies enter the digital space. Every day, there is a lot of online advertising, making it difficult to cut through the noise.Consider this; once you've finished watching your videos on YouTube, how many advertisements do you recall? Often, only one or two. Getting customers' attention among the numerous other brands they encounter daily can be challenging.
6. Expertise: A growing number of businesses fail to reap any benefits from online marketing due to increased competition. Although it may seem simple, effective digital advertising requires a deep understanding of strategy to target the right audience.
7. Algorithm changes daily: Close to every month, we hear about a change in the many algorithms used across the web. These constant updates and changes make it difficult for online marketers to keep up with the algorithms, increasing the likelihood of inefficiency in their ad placement or strategy.
8. Unreachable to a target audience: While digital advertising has a broad reach, it might not reach specific audiences, such as older people or those who live in remote areas. Digital advertising might not be the best for your company if your business model depends on those audiences or if it operates primarily offline.
Advertising goals to keep in mind
Now that you've arrived here, you're probably considering digital advertising for your company. However, it is critical to have clear objectives before deciding on or planning any advertising campaign. Having specific goals will help you navigate your way.
Some of the essential goals you should consider are:
1. Brand Awareness: Developing brand awareness requires a trustworthy reputation and ongoing communication with your target audience. This can be accomplished through content marketing, social media, public relations, organic content, influencer marketing, or tailored ads based on the user's platform.
As having a recognisable brand leads to increased sales and market share, brand awareness is one of the most important goals to achieve with online advertising. To get the best results, you must have a SMART goal. Quantify your goals and add details that will help you focus your efforts.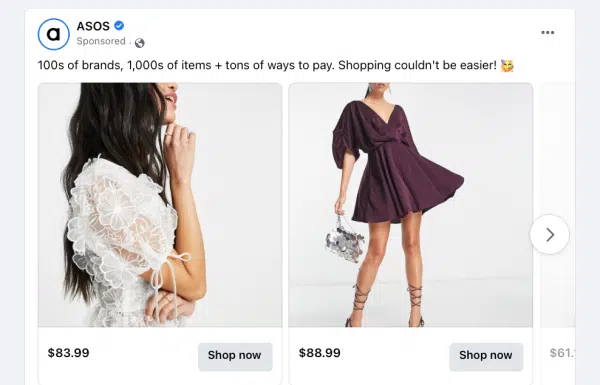 2. Increasing leads and clients: The type of leads may vary depending on your business or industry, but leads are generally the stage before becoming a client. For most companies, growing a company through increasing clients and leads ranks highly, and your digital marketing plan – SEO, landing page optimisation, content marketing and other aspects – should reflect that.
3. Conversion rates: According to research, only 22% of businesses are satisfied with their conversion rates. Despite being cost-effective, digital advertising can have a high cost. Research, analysis, expertise, planning, and execution necessitate well-planned strategies.
As a result, you must ensure that it helps you achieve your desired goal. PPC and SEM can be measured in terms of sales or leads generated when used as conversion channels. Setting up goal tracking in Analytics allows you to get conversion reports for your traffic sources, campaigns, keywords, landing pages, locations, and more.
4. Engagement: Online engagement increases brand loyalty. Loyal users, particularly on social media, are an asset that provides long-term returns. Keep track of likes, shares, and comments, and engage with your audience personally. Online engagement will also assist you in locating data about your active and passive users, allowing you to forecast numbers such as sales.
Digital Advertising Best Practices
To get the best of your advertising, you must adhere to some digital advertising best practices.
1. Understand your customers: Before even beginning the marketing campaign, it is critical to understand your target audience thoroughly. You should tailor your campaign goal to the audience you plan to reach. One recommendation is to create a Buyers Persona — a fictionalised character that embodies all the traits of your ideal customer.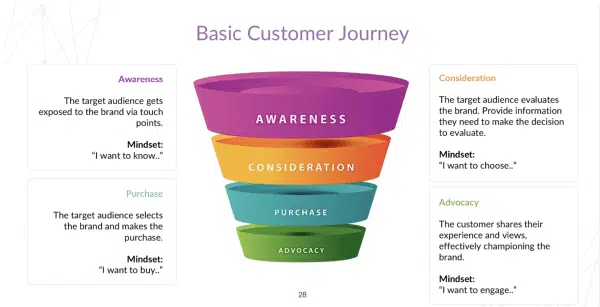 2. Have a marketing funnel: You can increase your return on investment by designing your marketing plan according to the different stages of your customer journey funnel. For instance, a consumer ready to make a purchase from your brand would not find awareness-centric ads relevant. Here is an example of an ad targeted to customers at the purchase stage.
3. 'Content' Marketing: You must invest in content of all forms, including blog posts, articles, whitepapers, and others with relevant keywords and optimised for SEO.
4. Multi-channel Marketing: Advertisement across multiple platforms helps create effective touchpoints between you and your potential customers. Studies state that customers who interacted with three or more channels purchased 250% more frequently than in case of one or two channels. 
5. Update your data: Data updates regularly increase the reach, impression, and purchase of digital ads. For example, if your email addresses are no longer valid, your email marketing efforts will be futile.
Conclusion
Digital advertising is often a complex but highly successful tool for promoting your business online. Although it has disadvantages, the pros outweigh the cons, especially in this digital transformation movement. With highly specified targeting capabilities and cost-efficiency, it is a must-do for businesses, large or small.
If you haven't already, consider trying out digital advertising to take your business to the next level.
However, if you need to learn more before putting your knowledge to practice, we host a wide range of digital marketing courses, including Digital Advertising, here in Singapore.
We also hold a Certified Digital Marketing Strategist (CDMS) Programme, which covers the following six modules:
Learners who complete these modules will be awarded a Certified Digital Marketing Strategist certificate. Our courses are WSQ-accredited, and eligible learners can receive up to 70% subsidy.
Written By: Shaun Lee
Shaun comes from a rich background of B2B sales, social media marketing, demand generation, marketing operations and marketing strategy. Playing a key role in previous marketing agencies, Shaun had the opportunity to consult top brands like Grab, Oracle, Microsoft, Salesforce, NUS (and more) with their online marketing & go-to market strategy. With his vast experience in the industry, he is a trainer for the Digital Advertising, LinkedIn Sales & Marketing, and Website Optimisation (Conversion Rate Optimisation) courses here at Equinet Academy.