Strategic Approaches to Content Marketing
A Marketing that is "Always On"
In this day and age, where brands are vying to emerge as the consumers' first choice during the decision-making moment, it is crucial for one to keep consumers constantly engaged by creating consistent and engaging content. This is also known as the "always-on" marketing approach.
By putting in conscious and consistent effort in generating new and engaging content, it ensures that the brand is stipulated in the minds of their target audience and as a result, their customers would be encouraged to purchase while able to have their needs met at any given moment.
New to content marketing? Read our rundown on what it is and why it's important here.
Importance of "Always On" Marketing
Why is the "always on" marketing approach imperative?
Following the rise of social media, businesses are expected to enhance their community management as 80% of the patrons expect companies to acknowledge and interact with their social media posts within a day. If one limits marketing to only during "regular" business hours, it may cause them to forego on opportunities to acquire new business.
Hence, by using the "always on" marketing approach, it elevates customer relationship-building and stronger bonds will be created.
To kickstart your "always on" marketing approach, you must first implement the strategic approaches to content creation through the following content marketing models:
Hero, Hub, Hygiene
Hub and Spoke
Create, Curate and Repurpose
Let's take a closer look at each of the content models.
Youtube Strategy for Content Marketing
Designed by Google for YouTube publishers, the Hero, Hub, Hygiene content marketing model not only is a holistic video strategy that helps the publishers to ensure that their tactics satisfy the need for creative brand building and fundamental content. It also highlights the importance of consistency as well as content series creation to promote customer retention.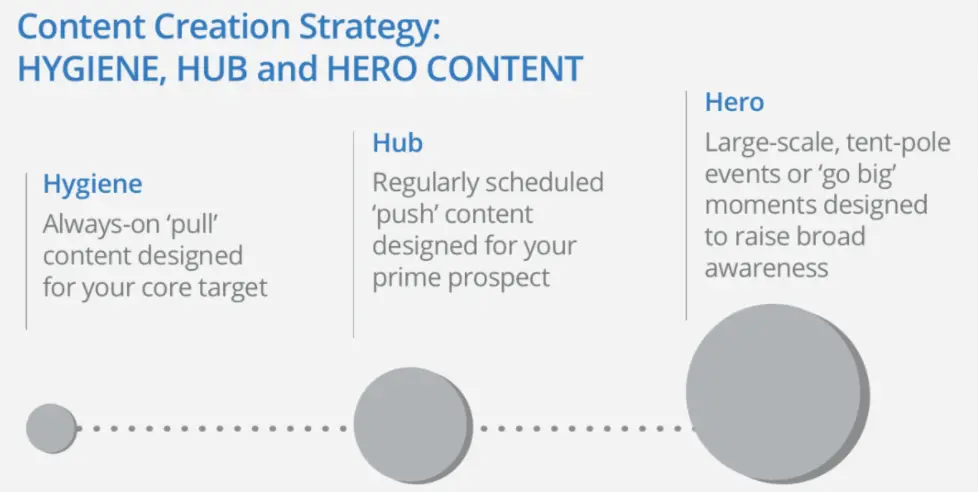 Image from 'The YouTube Creator Playbook for Brands'
There are 3 basic objectives that can be met by the Hero, Hub, Hygiene content marketing framework.
Hero content drives brand awareness and reaches out to the mass audience.
Hub content places emphasis on the brand message for discussion, community building, and promotes customer retention.
Hygiene content ensures that when consumers search for a piece of information that the brand is able to provide, it is readily available.
Approach: Hero, Hub, Hygiene explained
Hero
Let's say your brand is launching a new product or event and needs to reach out to a crowd. This is where you can engage hero content into your strategy as it helps in heightening awareness through extensive events or programs to reach the mainstream.
Done on an average of once to twice a year through emotional storytelling to entertain and inspire viewers, hero content generally needs a considerable amount of time and financial investment to execute.
Even though it may lead to an outstanding rate of return, it also possesses a high degree of risk as success isn't guaranteed.
Hub
With the intention to drive brand awareness and engagement with the community to keep audiences coming back, hub content should be updated frequently and are ought to encourage viewers to  "subscribe – like – follow".
As compared to hero content, it generally costs lower to publish hub content as they often come in the form of blogs, collaborations, testimonials, and trendjacking i.e. topical content marketing.
When creating and distributing this content, it is important to make use of mediums or channels that serve as the best fit for your brand. For example, if your brand delivers services that are visual and experimental, it would be great for you to use videos and content that is visually appealing as an alternative to a written piece of content.
Hygiene
Specifically created surrounding the core interests of relevance to the target audience and to captivate viewers who search for key terms relating to the brand, hygiene content ensures that your brand remains visible in organic searches for a precise keyword as well as long-tail phrases.
Defined as "search phrases with longer word count", an example of long-tail keywords would be "buying silk fitted bedsheets" instead of "buying bedsheets".
By educating consumers through hygiene content, your brand would be perceived as a thought leader and those content could simply come in tutorials, tips and tricks, self-help articles, and many more.
If one does it right, hygiene content usually rewards with the highest return on investment from content marketing.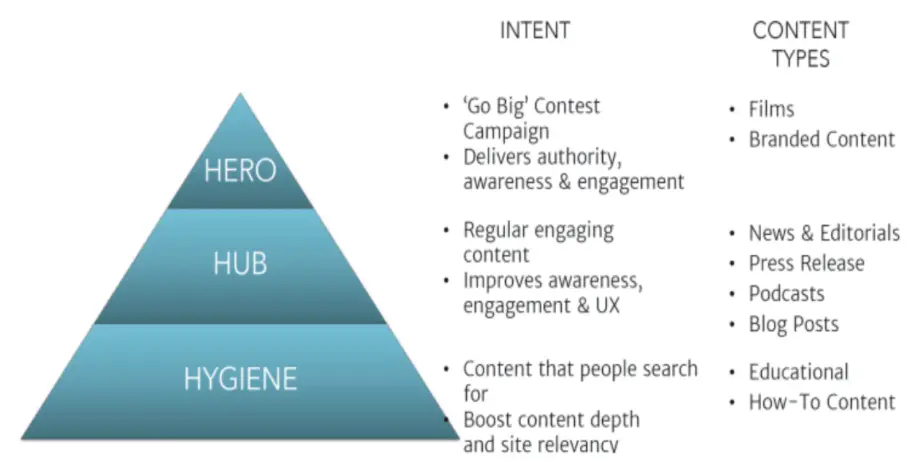 This infographic summarises the different content-types used for the different intents.
Case Studies: Volvo
Hero Content
Volvo created the video to showcase the directional stability and precision of the world-first technology, Volvo Dynamic Steering, which makes the Volvo FM easier to drive.
In the video, Jean Claude Van Damme could be seen performing splits between a pair of Volvo juggernauts and the video has garnered over 99 million views on YouTube as of 2020 and was extremely successful at getting people into watching videos that sell trucks. This undoubtedly makes 'The Epic Split' the hero content of Volvo.
https://www.youtube.com/watch?v=M7FIvfx5J10 
Video of "The Epic Split" by Volvo
Hub Content
To sustain the interest following 'The Epic Split', a series called "Welcome to My Cab" was created and it highlights customised Volvo trucks and its owners who are living in it.
https://www.youtube.com/watch?v=ejFveb5vfTo 
An episode of "Welcome to My Cab" by Volvo
Hygiene Content
Hygiene content can include creating educational content by simply showcasing a series of explainer videos around specific product features.
Another series by Volvo, "What's your story?", was created in collaboration with its customers, and the series highlights safety tips and productivity.
An episode of "What's your story?" by Volvo
Case Studies: OnePlus
Hero Content
As a standard hero campaign, this video was created to introduce the OnePlus 3 and it's targeted at a large audience with the simple intention of launching the smartphone.
Video of the OnePlus 3 by OnePlus
Hub Content
Several pop-up events are held at key cities and OnePlus then records the events regularly and publishes them on their YouTube channel.
Video of the OnePlus3 Pop-up Event in Berlin by OnePlus
To heighten their core hero proposition, comparison content was also created. In the video, the OnePlus 3 was compared to the Samsung Galaxy S7 to showcase one of the key features of OnePlus 3, the Dash Charge.
OnePlus 3 vs. Samsung Galaxy S7 video by OnePlus
Hygiene Content
Another suggested hygiene content can be unboxing and 'how-to' videos.
Following the launch of the OnePlus3, the search term "oneplus 3 unboxing" became extremely popular. In order to help the consumers in the decision-making process of purchasing the phone, OnePlus incorporated the hygiene factor by releasing an official unboxing of the OnePlus 3.
OnePlus 3 official unboxing video by OnePlus
OnePlus also answered the various "how-to" questions that will arise after the phone is bought.
"How to: Claim an invite" as part of the "How to" series by OnePlus
Case Studies: Red Bull
Hero Content
The hero content of Red Bull would definitely be their Project Stratos where they sent Felix Baumgartner, an Austrian skydiver to free fall from the edge of space.
The live-streamed event not only garnered over 36 million views that brought Red Bull thousands of new subscribers in just slightly over one year. It also set the world record for the highest free fall jump in 2012.
Video of 'Project Stratos' by Red Bull
Hub Content
Red Bull released a series of behind the scenes and training videos of Felix Baumgartner and other than enabling viewers to learn more about the man behind the parachute, it was also effective in terms of sustaining the interest leading to the official Project Stratos jump.
Video of 'The man behind the parachute' by Red Bull
Hygiene Content
The statistics from the jump was presented in a smart CGI video where it shows a clearer view of how the jump was conducted.
Video of 'Red Bull Stratos CGI' by Red Bull
Approach: Hub & Spoke Content model
While the Hero, Hub, Hygiene approach places emphasis on the consistency and content series creation to promote customer retention, the Hub & Spoke content model focuses on creating valuable information to keep the audience engaged, generate leads, and eventually get conversions in the long run.
When you plan and strategise a comprehensive guideline to publishing content, it enables the projection and planning of substantial content which varies in formats that are then referred to and promoted in other ancillary content. This is where you can then apply the hub-spoke-model to your content strategy.
As derived from an article written by Mike Lieberman, this is how the hub-spoke-model works.
Content Hub
Sitting behind a lead capture form are topics that are rich in depth and of a high degree of excellence as the content is acquired from persona pain points, key topics, and target keywords. The content hub may also potentially come in the form of a webinar, e-book, or tip sheet.
Primary Content Spokes
With the purpose to direct traffic to the hub where the key content sits while addressing the sub-topics and related keywords, primary content spokes potentially comes in the form of emails, blogs, and videos.
Secondary Content Spokes
Secondary content spokes commonly come in the form of social media posts and are designed to direct traffic to primary spokes through a promotion plan.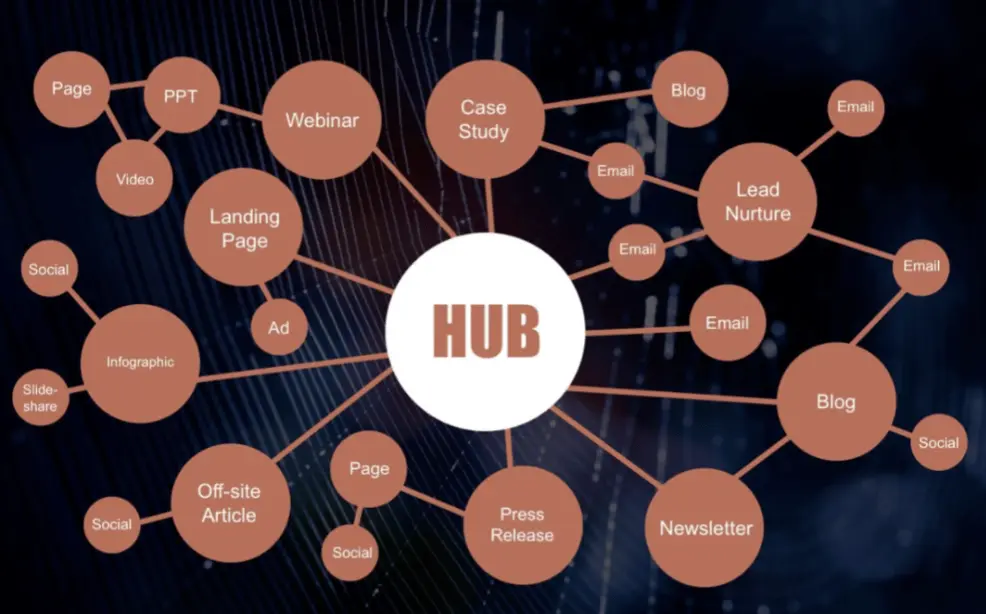 Image from verticalmeasures.com
Promote a Hub & Spoke content strategy
Planning and Creating Articles
In the process of planning and creating, one must ensure that the spoke articles are individual pieces of an exhaustive topic and that each of them has an enthralling and expressive title as well as a comprehensible idea and writing style.
A call-to-action that brings readers to a landing page that offers a lead magnet should also be included at the end of each article as brands would then be able to obtain the reader's email address via the lead magnet.
Strategy for Well-Established Businesses
Other than being able to establish an understanding and gain insights about a customers' problems through the experience of working with them, it's also easier for businesses to discover topics as they have existing information of the clients on hand.
Helps to find the right keywords for content creation
It's important to conduct keyword research for your hub and spoke structure as it brings the focal point to keywords that are distinct to your topics. Also, since the hub can be disseminated into spokes, the keywords in the blogs would be influenced by the keywords determined at the level of the hub.
For example, if your hub covers keywords and topics like "content planning", "content strategising" and "content marketing", it would be great if three individual blog articles are written surrounding each keyword.
Lead Magnets in the Hub & Spoke Content
Remember seeing a pop-up widget that says, "To continue reading, please enter your email" or "Enter your email to download our free template/e-book/checklist"?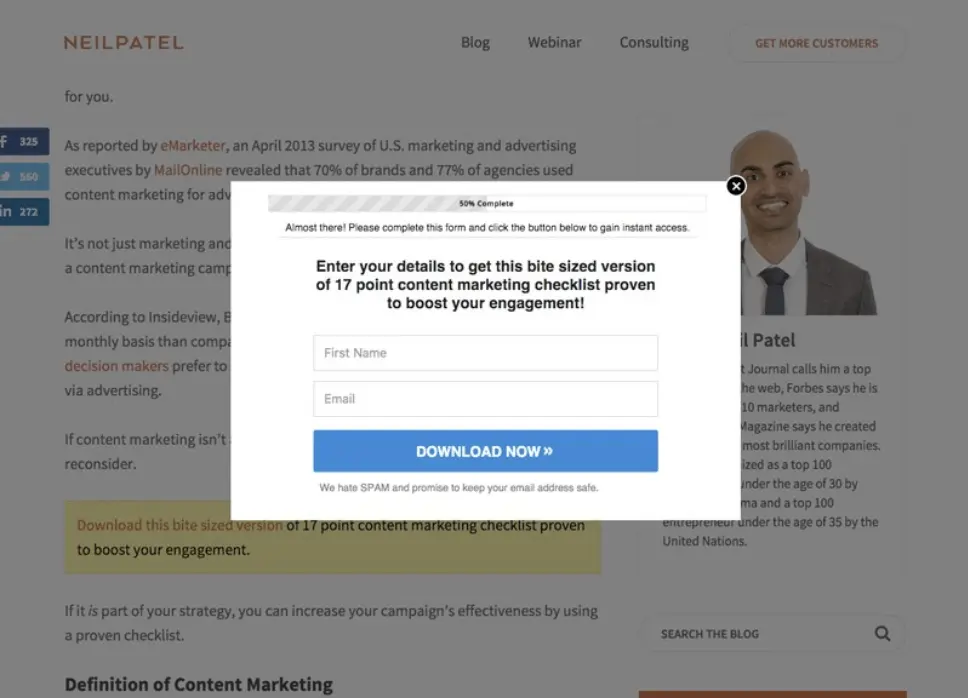 An example of a Lead Magnet via neilpatel.com
This is known as a lead magnet and other than the 'popup' widget mentioned earlier, tools for lead magnets also include slide-out boxes, content upgrades, and website overlays.
The reason why the readers' email addresses are so easily obtainable is due to the beneficial content provided and these leads can then be cultivated with content to be sent to their inboxes.
Hub & Spoke Landing Page
As the content estate that holds the utmost importance in the entire strategy, the hub page should be designed in such a way that it eases browsing and navigation since the purpose of the page is to serve as a resource centre.
It also includes links to spoke articles as well as outside sources and tools that provide support to the topic.
Marketing Funnel for Hub & Spoke Strategy
At the top of the marketing funnel usually sits the Hub and Spoke content and businesses generally aim to own potential customers so that relationships with them can be nurtured and developed over time.
However, to target the leads that would more likely make a purchase, one may require smart automation as well as email marketing tools.
Promote the Hub & Spoke Content
Other than reaching out to influencers to get them to share your content with their followers and benefitting from the association with their trusted brand, you may also help to answer any queries at forums like Quora, Reddit, or social media groups as a form of content promotion.
One can also immediately gauge how effective the content hub is through the engagements from paid ads like Google or Facebook ads.
Leveraging on Hub & Spoke Content
In a Hub and Spoke content, the spoke content is the one that brings the hub content back to life and extends forward to develop, market, and distribute new content. Hub content, on the other hand, is only required to be refreshed once in a while as they are usually considered as 'evergreen' content. (Huber, 2018).
The spoke content can be repurposed into a series of blog posts, tweets, Facebook posts, infographics, and more.
Case Studies: Pepsi Pulse
Launched with the intention of associating the brand with pop culture and music, the Pepsi Pulse is a content hub that shares the pop culture stories of entertainers and it engages the audience by asking fun questions as well as sharing social media posts from Pepsi and their fans.
The content hub makes a brilliant pop-culture source for younger users as it includes photos, text articles, and a Youtube connection is also established to the hub.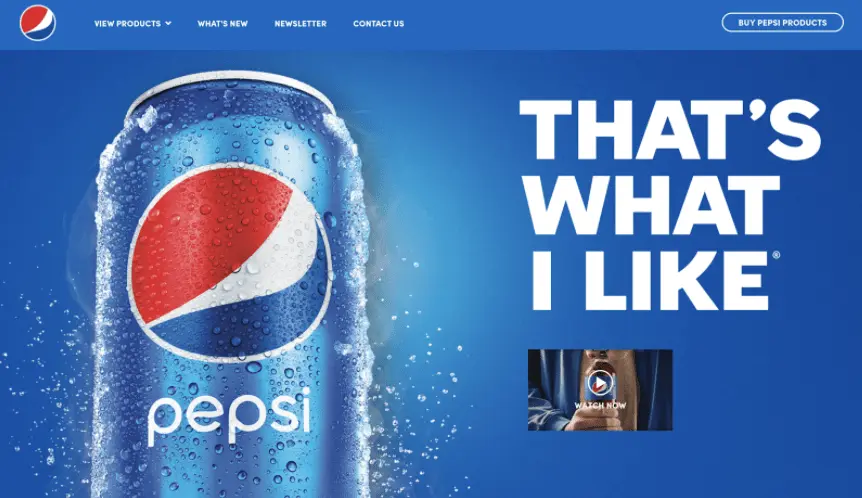 Screengrab of pepsi.com
Case Studies: Four Seasons Magazine
Comparable to a luxury magazine, the Four Seasons Magazine is published through multiple platforms and covers engaging topics of food, style, travel, destination suggestions, and many more.
Placed in every guest room to enhance the in-room experience, the large-format magazine with premium editorial and graphic talent directs readers to the online version for even more location-specific content.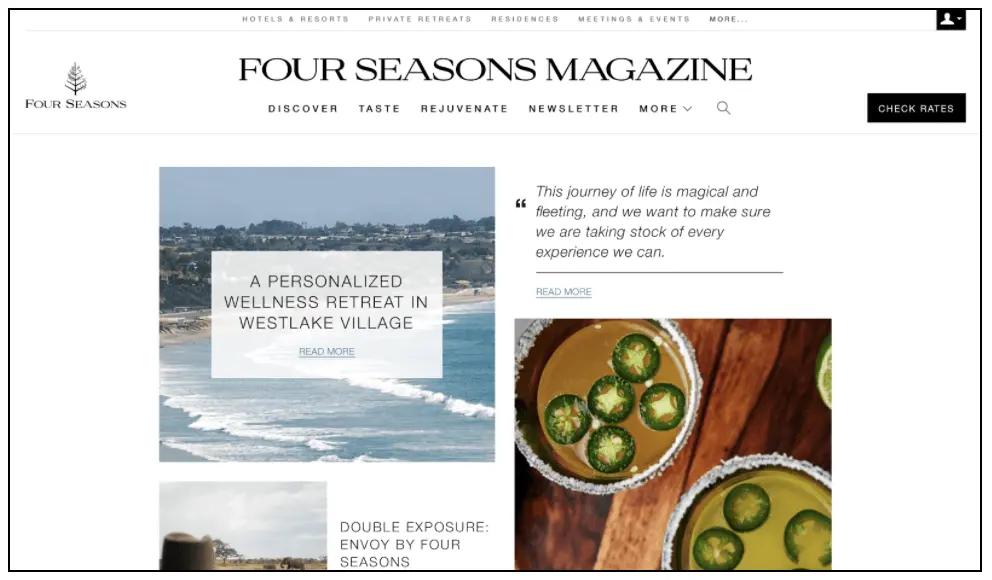 Screengrab of https://www.fourseasons.com/magazine/
Approach: Create, Curate, and Repurpose
With the aforementioned approaches in mind, there is also another approach to content creation and that is the Create, Curate, and Repurpose content model.
As the demand for content rises, it's important for brands to constantly put out fresh and consistent content which requires time, creativity, and money even if that means no guarantees as to whether the content created would be well received by the audience.
Putting out fresh content may be important but being able to make use of curation and repurposing to extract value from content is the easiest way to save time, money, and creativity. This is where you can apply this content model into your content marketing strategy.
Same Same but Different
A very typical way to repurpose content is to modify an existing piece and serve it to a different audience and you can do so by simply replacing the examples in a blog post of a certain industry name and then add specific examples for the other industry.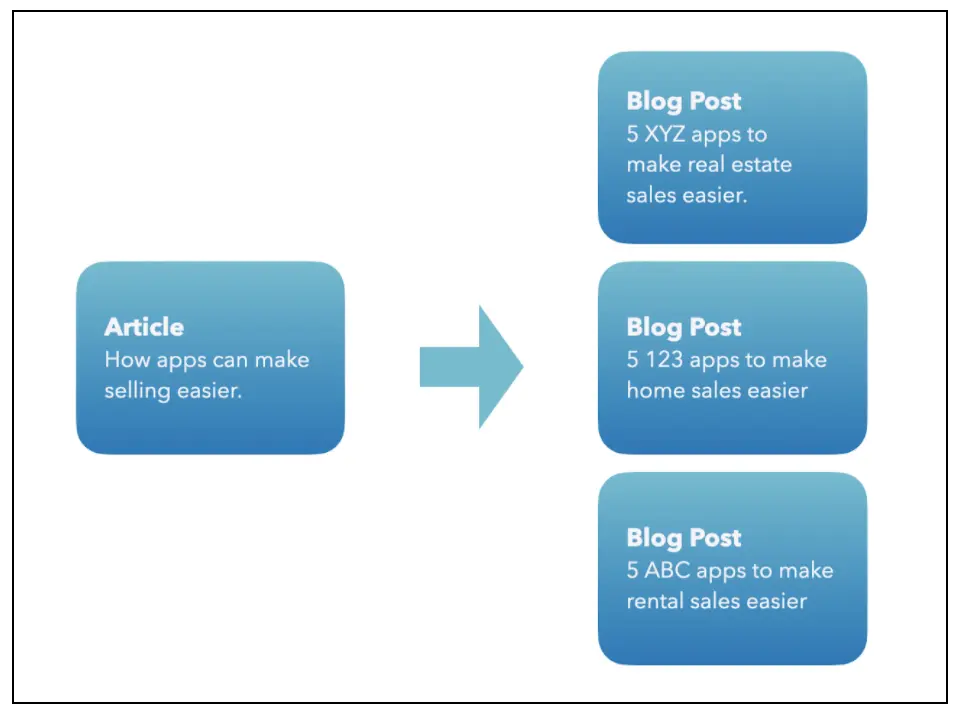 A brilliant way of repurposing content
Repurposing Content
Repurposing content allows one's brand to satisfy different audiences. For instance, the same piece of information can come in different media formats like White Paper and an article series with a few supporting infographics, webinars, or a short video series.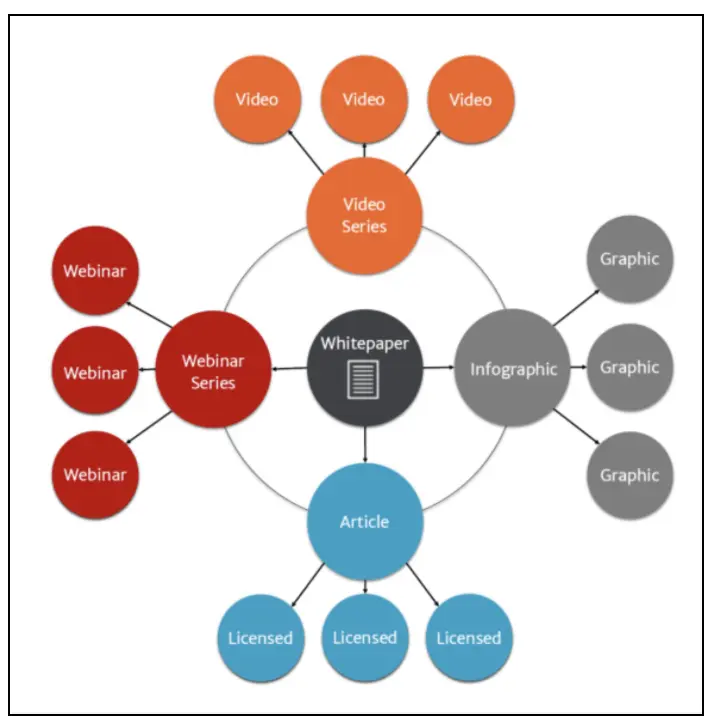 Same information but expressed in different media formats
Modular Content Repurposing
Under the modular content repurposing, a series of distinct content pieces are created with the idea of extracting parts to create something fresh.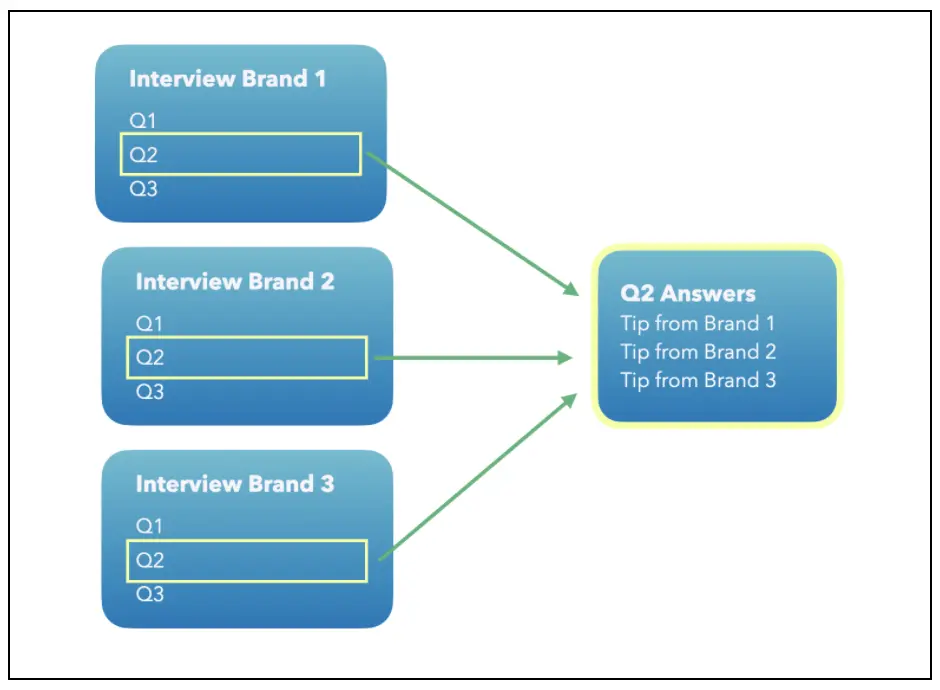 Extracting the best parts of the content pieces to create something new
A few examples of how you can extract parts from contents to create something new includes soliciting for tactics and tips from industry thought leaders through interviews and then consolidate them into a new article, inserting the most outstanding comment on your blog into the company newsletter and lastly, collating quotes into infographics or Slideshare decks.
Curating Own Content
Content curation can begin by searching for the most popular content through the internet or search traffic and social media analytics reports. You can expand on these content instead of using new and groundless content ideas.
Next, keyword research can be done for terms with the most relevance to your content and you can kick start by taking the high performing and converting pages and conduct a ranking audit. By conducting the audit, you will be able to gauge their position on the relevant search engine results pages (SERP) and the terms that contribute to the best rankings.
Finally, to have an impression of the relative informational needs that are not filled by your direct competitors or alternative content sources that are vying for the attention of your audience, evaluation of competitive opportunities can be done. This would ensure differentiation from your competitors by making the content shared, unique, and valuable.
Strategy of Content Repurposing
A strategy of content repurposing would be focusing 80% of your time creating evergreen content and 20% on trending content.
Evergreen content is content that would still be of relevance and use to the target audience in the long run and they can be split into other content types namely infographics, videos, memes, blogs, and more.
These content can then be republished and distributed across all Owned, Shared, Earned, and Paid (OSEP) Channels (Link to Principles of Content Marketing > Distribute Across OSEP channels).
Owned Media: Websites and Brochures
Shared Media: Facebook, Twitter, LinkedIn
Earned Media: Fans Comments & Reviews, Press Release
Paid Media: Facebook Ads, Google Ads
Benefits of Content Repurposing
You've learned how to repurpose content but what exactly are the benefits of content repurposing?
First and foremost, not only is it easy to scale and extend the reach of a piece of content to new audiences across the Owned, Shared, Earned and Paid (OSEP) Channels, it also increases the lifespan of the content instead of having to scan for new content constantly.
Next, content repurposing also improves on the organic search visibility and increases backlinks and reduces overall production time while spreading out the cost.
Lastly, following the 'Marketing Rule of 7' where a consumer needs to "hear" about the brand at least 7 times before they will purchase the product or service, content repurposing benefits you by reinforcing your brand's awareness and message. (Link to Principles of Content Marketing > Clear ROI Attribution)
Case Studies: Crazy Rich Asians
Starting out as a bestselling novel by Kevin Kwan, the story about the lives of incredibly wealthy Chinese families was then adapted into a movie a few years later where a mix of both American- and British-Asian actors was cast to be a part of the blockbuster.
Leveraging on the popularity of Crazy Rich Asians, the audience's reactions to the film in various cities across the United States were featured in a Tweet Review Map Video as part of a campaign by DMM and Warner Bros. to show that the movie was the talk of the town. They also wanted to highlight the status of the movie in Rotten Tomatoes.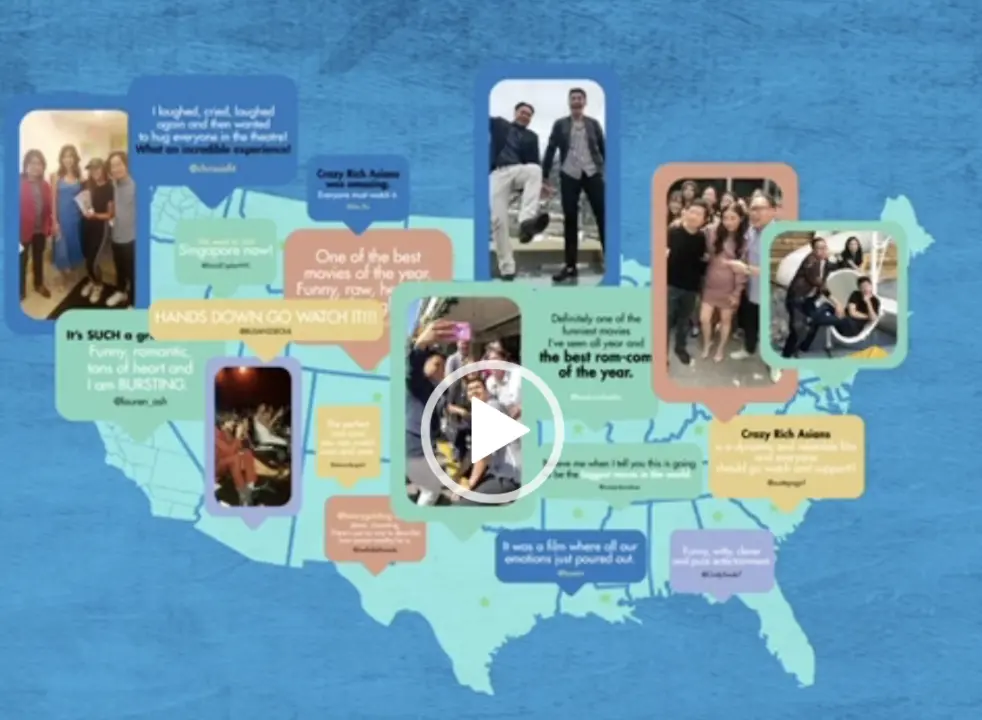 Screenshot of The Tweet Review Map Video by https://digitalmediamanagement.com/work/crazy-rich-asians/
As part of the collaboration between DMM and Warner Bros., the virality of the movie was intensified through a series of activities involving the cast like capturing live social content with them and posting the content live, producing a filmed Q&A session with the cast and getting them to interact with one another from thousands of miles away through an Instagram live.
Ending Thoughts
You may have already incorporated these strategic approaches into your content marketing and even if you haven't, it's still not too late to experience the rewards that come with these approaches.
The "Hero, Hub, Hygiene" content marketing model may not guarantee success on its own, but do take note that you should still have a grasp of this approach to draw viewers and turn them into a community.
On the other hand, by providing exceptional value through the "Hub & Spoke Content" approach, you'll soon be attracting and converting visitors and then be rewarded with fans in the long run.
Finally, don't get too caught up in mulling over creating new content when you can use the "Create, Curate, and Repurpose" approach to repurpose all the great content that was already created.
Having covered the three strategic approaches to content marketing which each has its own individuality and merits, we hope that you now have a further understanding of each of the approaches.
Ready To Learn More? Sign Up For Our Content Marketing Strategy Course!
What we've just touched on is part of something bigger.
Our Content Marketing Strategy course covers the six important phases of developing a Content Marketing Strategy and straddles both the art and science of content marketing.
This course is designed to help you better analyse your customers and competitors, embrace emerging trends in digital content creation, choose the right channels for promoting content, and measure the success of your content marketing efforts.
Interested to learn more than just Content Marketing Strategy?
At Equinet Academy, we cover all the 6 Core Modules of Digital Marketing that include:
The completion of these modules will lead learners to attain a Certified Digital Marketing Strategist Certificate. Please feel free to also browse our wide array of digital marketing courses taught in-person in Singapore or online as well. 
Written By: Tom Goh
Tom is a native Digital and Content Strategist with 20 years of experience across Tech, Banking, and Digital Advertising and Media verticals. He is also the lead trainer for Equinet Academy's Content Marketing Strategy and Advanced Content Marketing Strategy course. In his spare time, Tom is actively in the start-up scenes providing pro bono advice to budding entrepreneurs.