5 Best Practices for Copywriting on Social Media (With Examples)
Social media is an undeniable force when it comes to digital marketing. With approximately 4.74 billion people currently being
active social media users
worldwide — more than half of the world's population — social media has turned into a prominent tool for marketing and promoting your business.
There are many facets to social media marketing but arguably the most important is copywriting. Copy is what draws users in, gets them to follow, and convinces them to purchase from your business.
This article explains the importance of social copywriting and the best practices one should adhere to, to fully reap its benefits.
Social Media as a Powerful Marketing Tool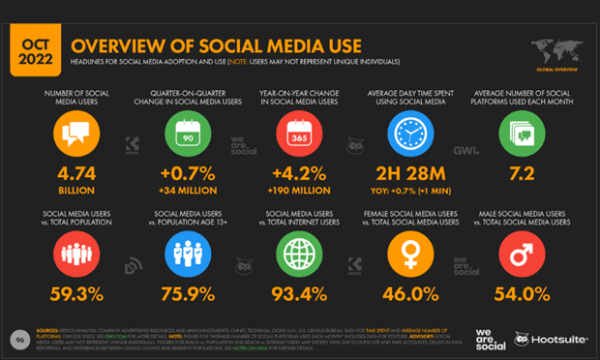 According to Statista, the average person spends 2.5 hours daily scrolling through their social media, breathing in the content that their Facebook, Twitter, Instagram, and other social platforms feed them.
With such an advantageous marketing opportunity, businesses need to leverage the power of social media in order to maximise their potential.
There are many reasons why social media is such an efficient marketing tool:
It allows a direct connection with customers.
It builds a two-way relationship with users by allowing quick interaction.
Provides a vast reach as billions of users are now potential customers.
It is inexpensive as compared to traditional promotional tools like TV advertisements or billboards.
Constantly and consistently reminds consumers of a brand's products and offerings.
Social media also provides rich data on users, such as interests and demographics, which is incredibly beneficial for targeting the right user segment. You can also improve your product from the feedback, understand the common concerns of users, and design an overall better customer experience.
You can use these platforms to display your positive points and set yourself apart from the rest of the competition. With strong enough copywriting, you can even easily persuade users to subscribe to a course, buy a product, or even just follow your accounts.
What is Social Media Copywriting?
While you may have heard the word 'copywriting' dozens of times, you may be struggling with what it really entails.
To put it simply, copywriting refers to persuasive writing that aims to market a business, product, or service. The "copy" contains a message that compels intended persons to perform a desired action, such as visiting a website or purchasing a product.
Social media copywriting, however, is specifically referring to writing on social media platforms that helps convert prospects into buyers, followers, or subscribers.
Crafting engaging copy is crucial in gaining the attention of users online. A simple post could spread awareness, arouse curiosity, and lead the way to a solution to their problems.
Social media heavily stresses pictures, videos, and graphic content. It has also introduced more short and interactive mediums like YouTube Shorts and Facebook reels. However, this existence of graphics and videos does not undermine the importance of engaging copy.
Copywriting is of paramount value and has become more challenging because of high competition. There is a plethora of content available online, thanks to the prevalence of social media especially. This is exactly why you need to ensure your copy is compelling enough to get users to stay focused on you and not your competitors.
5 Best Practices for Copywriting on Social Media
With 59% of the world population using various social media platforms, the online world has become a tightly crowded place. For businesses with no experience on social media, it can prove difficult to grab the attention of your target audience and build a lasting relationship with them.
The only way to build a loyal and lasting audience is to create meaningful and engaging content that convinces them to stay. This is where copywriting for social media comes into play.
Effective copywriting social media posts puts the right message across to the audience and increases visibility. Every brand tries multiple strategies to reach users and grab their attention to gain benefits. Social media copywriting needs proper strategies and techniques, like the frequency of posts, the content on each platform, the target audience, and more.
If you are a marketing executive and want to do better on the job, read through until the end to learn some of the best practices that can help you achieve personal and professional objectives.
Here are the 5 best practices for social media copywriting:
Tailor content to each social media platform.
Use easily digestible language.
Target a segmented audience.
Have compelling and interesting CTAs.
1. Tailor Content to Each Social Media Platform.
Every social media platform has a different audience and ways of communication. You must write a different copy on all platforms to attract people. In other words, one-size-fits-all is not the norm when it comes to social media.
There are countless social media platforms out there with the most popular including Facebook, Twitter, Instagram, Youtube, TikTok, and Linkedin. If you're familiar with any of these platforms, you would understand how vastly different each platform is and how much the audiences vary. As such, there is a strong need to tailor the content according to the chosen medium to better resonate with audiences.
Facebook, for example, leads the race with 2.958 billion monthly active users. Its vast reach reflects the connectivity of this platform because it offers much more than it originally did. Nowadays, users can browse the platform to buy and sell items, watch entertaining videos, find like minded individuals through Groups, among many other features.
One feature of Facebook that stands out from platforms like Twitter or Instagram is its character limit. Facebook can be a fairly effective platform for shorter blog content because its character limit is 63,206 characters. Here, you can craft a compelling narrative that hooks readers and draws them to perform desired actions.
Instagram, however, is a typically visual-centric app with a caption character limit of 2,200 characters; writing long paragraphs won't work on users.
Use catchy captions and hashtags to get your message across instead and you'll find audiences engaging at higher rates. Start off with an attention-grabbing hook that will entice users to find out what exactly you want to tell them.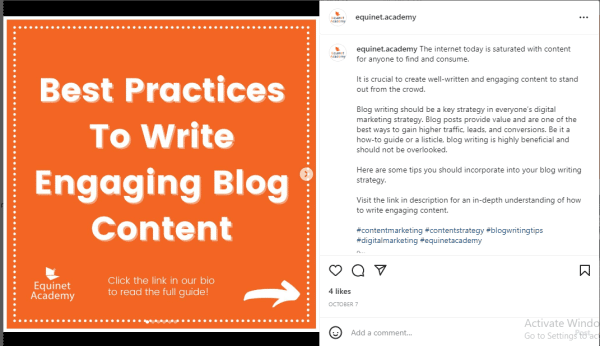 Copywriting example for Instagram
Likewise, Twitter is mainly used for the latest trends and world news. Witty tweets and staying up to date on trending topics work well on Twitter as it is a fast-paced platform where reacting quickly and frequently posting matters.
At the same time, you should also understand the target audience of each platform. Each social media platform has a primary audience, like Twitter's primary audience is aged between 25-34, which would fall under Millennials. Likewise, Facebook's primary target audience is aged between 35-44, older Millennials. Tiktok, Instagram, and Snapchat's primary audience tend to fall under Gen-Z.
When the target audience is different, the material posted on the platform should also be different according to the audience's liking. Gen-Z is not a fan of Facebook. If you are selling an item targeting Gen-Z, it's better to post on TikTok, Instagram, and Snapchat rather than on Facebook or Twitter.
Select your platform according to the target segment and create your copy according to them. Every platform has a different strategy, and adapting to that effectively can bring you closer to your goals.
2. Write Succinct Copy
Copywriting for social media is an entirely different world from article or blog writing. The goal of social copywriting is to grab the limited attention spans of digital natives. You must provide all the information quickly to make a connection and keep their interest. To achieve that, you must write succinct copy.
Crafting concise copy is, of course, not the simplest task but it's crucial to remember that long text on social media posts are often scrolled past. Keep the copy short and clear to get your idea across and maintain the attention of social media users.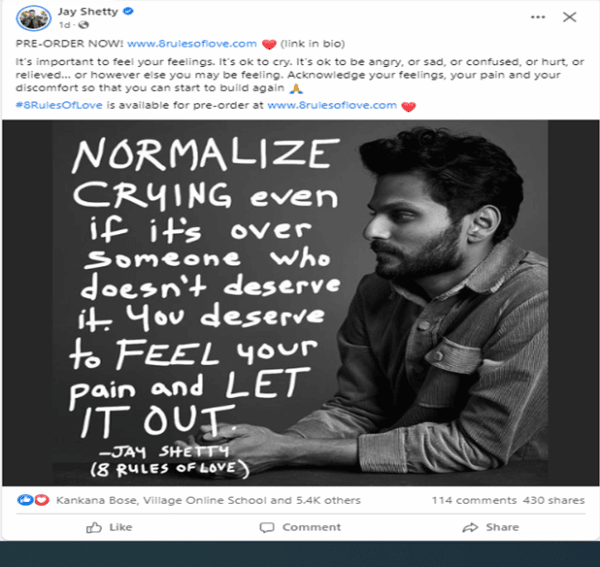 Copywriting example on Facebook
In the above post, this author is trying to sell his book on Facebook. In only three lines and a few emojis, he has clearly communicated what he wants the user to do. His use of emotive language also arouses your interest, leading you to wanting to read on and potentially buy his book. That is the power of succinct copywriting on social media.
In this fast-moving era, people are busy and, to add to that, there is a never ending stream of content available online. However, you can effectively grab their attention if your copy is clear and concise enough.
Here are five quick tips for writing succinct copy:
Avoid using wordy phrases, passive voices, and unnecessary adverbs because it diminishes your authority.
Write in a confident and compelling tone. Balancing the right knowledge and charm leads to an engaging and compelling social media post.
On social media, emojis, images, and hashtags add personality to your writing and keeps it casual for your audience.
Write a compelling and attention-grabbing hook. After visuals, the next thing users will see is your caption so, ensure that the first thing they read will convince them to read on.
Include a clear call-to-action. You should always have an aim in crafting your copy — whether it's to like the post, follow your page, or buy your product, you need to tell users what you want them to do.
3. Use Easily Digestible Language
Users on social media aren't on platforms specifically to gain knowledge. Many are there for entertainment purposes and, as such, your content shouldn't make them feel alienated by using complicated jargon.
Your copy should, above all, be easy to understand. Refrain from using expert-level terms and writing in an overly formal manner. As mentioned previously, the copy should also be kept short, so that your readers' attention does not wane.
Even if your aim is to educate, revise your writing so that even the most complex concept is easy to understand. Short sentences and easy vocabulary can make your blog engaging and interesting. The average person will scroll on to other posts if they don't understand your post.
Besides using industry-specific speak, a mistake some copywriters make is showcasing an extensive vocabulary. While using uncommon and unique words may be helpful in certain situations, including them on social media posts can often alienate users when they don't fully comprehend it. Therefore, writing easily digestible words will expand the reach of your post immensely.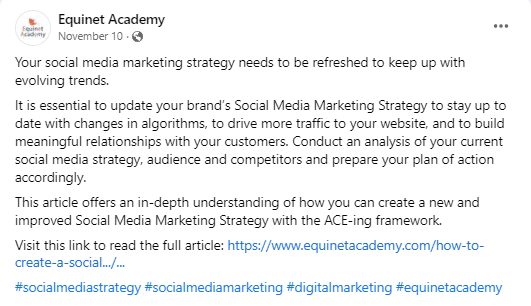 Example of social copy with easy vocabulary
4. Target a Segmented Audience
A single post can't appeal to Baby Boomers, Millennials, and Gen-Z at the same time because these three age groups can and will vary greatly. Therefore, categorising segments of your audience will help you develop targeted posts that resonate with them on a personal level.
Segmenting an audience means dividing it into highly specific groups based on various factors such as age, location, interests, occupation, or income group.
Segmenting is of paramount value because when you know the characteristics of your audience and their interest, you can draft a copy that connects to their preferences. Segmenting is especially crucial when creating targeted ads — when you know who you're selling to, that makes it easier to grab their attention and encourage them to proceed further.
One helpful way to segment your audience is through creating a customer persona; a fictionalised character that embodies all the traits of your ideal customer. A customer persona typically includes factors such as demographics, job, income group, and interests.
When you have a fully realised customer persona, every piece of copy you write is written as though it was for them alone. By doing this, you ensure that your copy is targeted towards who you want to respond to your efforts.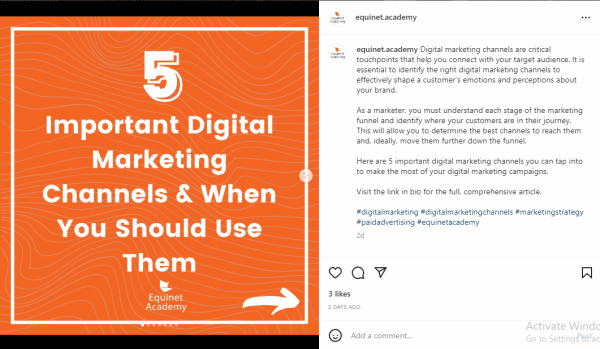 Example of targeted social copy
The above example of an Instagram post targets digital marketers who want to improve their digital campaigns and connect with their customers.
5. Have Compelling and Interesting CTAs
A strong and compelling Call-to-Action, CTA, is necessary at the end of your social copy in order for users to undertake your desired action. No matter how striking and witty your copy is, without a CTA, you will leave the reader perplexed about the next step to take.
With every post you create, there is an aim you want to achieve. It could be anything from visiting a web page or subscribing to a service. You need to tell them clearly and concisely what exactly to do next so that you can convert these prospects into users.
While your CTA could be something as simple as "Order Now" or "Add to Cart", it is also important to ensure your CTA is convincing so that users could not possibly resist clicking.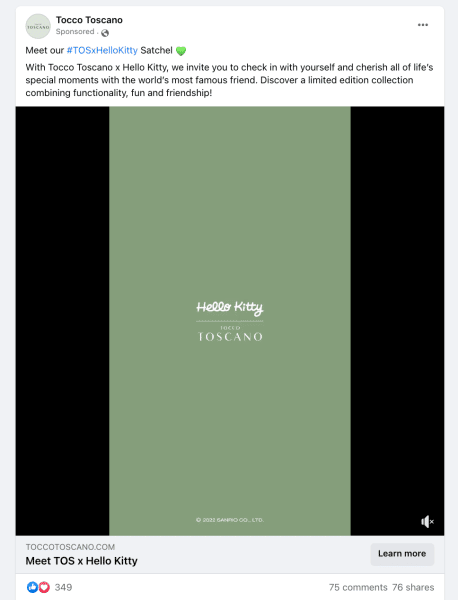 Let's take a look at this example from fashion brand Tocco Toscano. Their caption is short, at only 270 characters, and their CTA is straight to the point while still using language that can appeal to its audience, such as "discover", "functionality", and "fun". This can pique a readers' interest, prompting them to click through the link and
Due to the rapid activity on social media, the attention spans of Millennials and Gen Z are relatively short, at 12 and 8 seconds respectively. So, while your copy should always not be too lengthy, you should also ensure your CTA is quick and to the point.
While it may seem challenging at first, a good CTA is simply an extension of good copywriting. So, flex those creative muscles and convince your audience to take action.
Conclusion
Social media is an incredible tool for marketing your business online. This powerful medium offers endless possibilities for growth but only if you carry it out effectively.
Good copywriting can be what makes or breaks your social media marketing efforts so follow these five best practices and watch your performance soar.
If you still find yourself struggling with perfecting the art of copywriting, sign up for our WSQ Copywriting and Content Writing course today. This 2-day course covers the essentials and everything you need to know about effective copywriting.
We also offer a Certified Digital Marketing Strategist programme for digital marketers that will help them become professional digital marketers. The CDMS Programme covers the following six modules:
The completion of these modules will lead the learners to attain a Certified Digital Marketing Strategist Certificate, bringing you one step closer to achieving your digital marketing goals.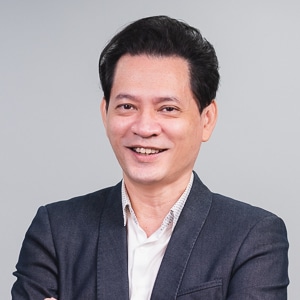 Written By: Chris Minjoot
Chris is a senior Marketing & Communications professional with over 28 years' experience as both an in-house practitioner and as a consultant servicing clients from a wide range of industries. He possesses the unique combination of strategic, creative, technical and writing skills critical for today's integrated marketing needs. Chris is currently also the lead trainer for the Copywriting and Content Writing Course here at Equinet Academy.