17 Actionable Tips on How to Write an Engaging Blogpost
Creating blog posts is one of the best ways to increase traffic, brand awareness, conversions, and authority in your industry. Longform content is not only more SEO-friendly, but it is also more useful to your audience, especially when they are seeking out information or solutions to their problems.
Hosting a blog on your website has become the norm in content marketing, and is often considered a necessity. However, if you're new to writing blog posts, or are not getting the  results you want from your posts so far, this checklist might be useful in getting you on track.
In this checklist, you will find 17 actionable best practices to follow when creating blog posts.
1. Relevant and Valuable Topics
Keyword Research
If you're familiar with Search Engine Optimisation (SEO), it's likely you're familiar with keyword research.
Keyword research is the process of finding out what search terms your target audience is using on search engines, so that you can optimise your website better with the data. It is usually conducted using keyword research tools such as Google Keyword Planner, Keywordtool.io, Ahrefs Keyword Explorer, and Semrush.
At the same time, conducting keyword research can help you create highly relevant and valuable topics for your target audience.
With the help of keyword research, you can generate topics of interest within your target audience by looking at what they're searching for. When you discover new keywords that are relevant to your business or industry, you can then build content pillars that provide value and expand on them from there.
Creating blog post topics using keywords with a good search volume will help in driving traffic to your site while also offering something of value to your audience.
Use Tools

Another good way to check what people are looking for is to look at the "People also ask" feature in Google to discover more relevant topic ideas to include. This function shows what else is most searched for in relation to a search already made
Some great tools you can use to further generate topic ideas include AnswerThePublic and Ubersuggest. These tools generate related searches that are often made by users which you can then create content around — increasing your relevance and quality.
2. Evergreen Content
Evergreen content is essentially content that will always remain relevant; regardless of time passed. Typically, evergreen content covers topics that are constantly and regularly being searched for and not based on current trends.
It is always good practice to include evergreen content in your blog as it can consistently bring traffic to your website. All you need to do is update your content every now and again to update certain references or data, but the bulk of the article would remain unchanged.

An example of this would be how-to guides, interviews with subject matter experts, and articles offering tips and tricks, as there will always be users searching for detailed explanations or instructions on a certain topic.
3. Detailed Outline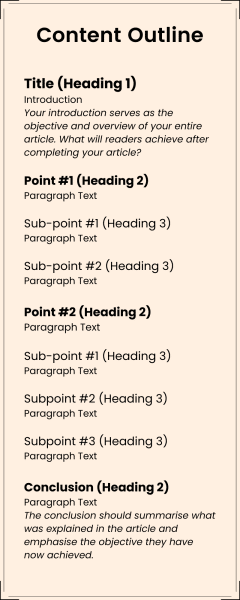 Before you start writing, be sure to create an outline of your proposed article. Having an outline can help you gauge the structure, flow, and ease-of-reading for your audience. Additionally, it helps you to stay on track when writing and avoids disorganisation or going off-topic.
While an outline can be created however you deem fit, based on the content involved, it may be good practice to follow a generic outline, such as the one pictured above, to have a foundational structure to all of your blog posts.
4. Keyword Optimisation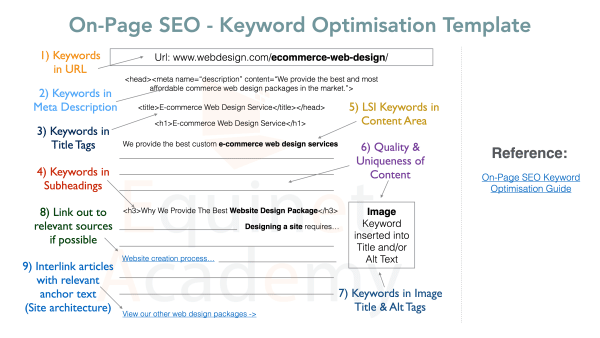 After basing your content topics on the keyword research you would have conducted, it is important to include those related keywords throughout your article to improve your chances of ranking higher on the Search Engine Results Page (SERP).
Ranking within the first page of Google could exponentially increase your website's traffic, leads, and conversions, among many other metrics. As such, we recommend including your relevant keywords in the body text of your post, as well as the headings, subheadings, URL, metadata, and even image names.
5. Visuals
Utilise visual content within your blog posts. Whether it's an image, graph, table or infographics, visuals help readers take a break from the monotony of text and lets them absorb the information they just read.
Infographics in particular also contain extensive information that is presented in a bite-sized and easily digestible manner which make it a great and interesting way to display summaries or lengthy information.
6. Longform Copy
While longform content like blog posts generally perform well, it is important to ensure your content contains at least 1,500 words. When your content is longer, it provides more information for your readers and also provides more opportunities for backlinks. Try your best to write longform blog posts that remain on-topic and are relevant.
7. Subheadings
Subheadings help to break up your blog post copy into an organised and structured manner that informs your reader about what exactly will be discussed in your post. This also helps improve user experience when consuming your content, leading to an increase in time spent on your website.
Alongside this, subheadings are important for SEO, as it helps search engines scan and index your work clearly. When relevant keywords are used in subheadings, it can help increase your rankings on the SERP.
8. Short Paragraphs
When writing, always ensure that your paragraphs are kept to a maximum of three to four lines. Anything longer would make your paragraphs too long and you would lose the interest of your readers. The key is to always keep them engaged. Sometimes, a paragraph can even be as short as a sentence.
9. Use Bullet Points
Along the same lines as the previous point, your blog posts should be easily readable for users. As such, consider using bullet points to break up information and make them easily digestible. This also allows for your audience to skim your content easily and retain information faster.
10. Categorise
With every blog post you create, be sure to categorise it accordingly. When you categorise posts by topic, author, or type, there is an ease of access for readers to find more of your posts while adding organisation and structure to your blog.
This is also a factor for improved user experience while browsing your site. It will help users to navigate your site easily.
11. Author Biography

While your content may be extensive and jam-packed with knowledge, what's as important to your readers is who wrote it. Trusted sources such as industry professionals and experts are what individuals look for when searching for information or solutions. Having credible authors will help your organisation move closer towards being an authoritative source of information in your industry.
Authoritative Authorship
It is important to have credible authors write your blog posts, especially in certain industries, such as finance, and healthcare. These posts are considered "your money or your life" (YMYL) posts by Google, which means that the information provided in these posts can directly affect someone's financial situation, health, happiness or safety.
Getting experts to write your posts on such topics would not only tell Google your content is trustworthy and help increase the authority of your blog, but it would also tell your readers that they can trust your content, making it a win-win for everyone.
12. Clear Call-to-Action
What do you want users to do after reading your content? Whether it's to follow your brand on social media, purchase a product, or engage your services, state it clearly without sounding as though you're pushing for sales. Find a way to weave it seamlessly into your content and appeal to readers to fulfil your desired actions.
13. Eye-Catching Headline
When it comes to blog posts, the first thing readers take note of are, of course,  the headlines. As such, it is necessary to include headlines that are sure to grab a reader's attention.
Headlines should always be keyword-optimised, to increase your chances of being relevant and appearing higher on the SERP. At the same time, avoid using clickbait and ensure that your headlines truly reflect the content written.
14. Internal and External Links
Be sure to include links to other pages within your website or to external sources. Internal linking helps to send more traffic to various sections of your website, while external linking helps to build relationships with other websites, thereby improving your chances of gaining backlinks.
15. Proofread and Edit
Always read through your work once finished to check on grammar, punctuation, and spelling. A tip when doing this is to read out loud, which helps in making sure your writing flows and doesn't sound off.
Information and sources should be double-checked as well, as anything stated as fact should be backed up by reputable sources. Readers appreciate high-quality work, and as such, you should always strive to create blog posts that are well-written, informative, comprehensive, and authoritative.
16. Posting Schedule
It is crucial to post regularly on your blog. When you are consistent in your posting, it could encourage readers to keep coming back to your website to gain more information and knowledge.
There's also a flipside to this — while going too long without posting can prove detrimental, posting too regularly could also deter readers and affect traffic due to content fatigue. We would recommend publishing a new blog post at least once a week.
That being said, it depends on the size of your business and the industry you are in. Find out what works best for you and stick to that.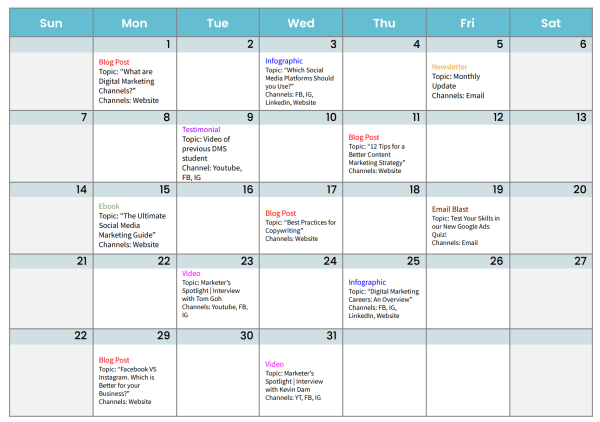 One of the best ways to stay consistent in your posting schedule is to create a content calendar and stick to it. Check out our Guide to Creating a Content Calendar to learn how.
17. Analyse and Optimise
As with any piece of content, you have to analyse a blog post's effectiveness in achieving its desired goal. With every published blog post, evaluate and analyse its performance and, with this information, you can learn what does or does not work for your blog.
Pick out your best and worst performing posts and compare them; what makes the well-performing blog posts stand out and what do the poor-performing posts lack? Take advantage of this knowledge and tailor your content to be in a similar vein as your best blog posts.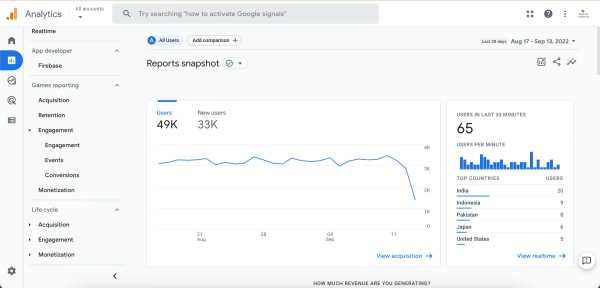 Utilise tools like Google Analytics to keep track of your website and content's performance. A free tool, Google Analytics tracks all traffic on your website and uses that data to provide insights on your performance. 
Reports they provide include metrics such as "Page Visitors" and "Time Spent on Page" which can help you gain a deeper understanding of how well your content is performing. 
If you would like to learn more about how Google Analytics can help your optimise your website, check out our Digital Marketing Analytics Course. 
Key Takeaways
While this checklist is not exhaustive, it is a good launching pad for you to start from. All blog posts aren't going to have the same goals, but the principles behind crafting effective ones that get readers taking desired actions are the same.
Keep Learning
If you want to master all things blogging, check out our Copywriting and Content Writing course where you will be guided by an industry expert on how to craft compelling, engaging content.
We also hold a Certified Digital Marketing Strategist (CDMS) Programme which covers the following six modules:
The completion of these modules will lead the learners to attain a Certified Digital Marketing Strategist Certificate. All of these courses are WSQ accredited and available for up to 70% subsidy.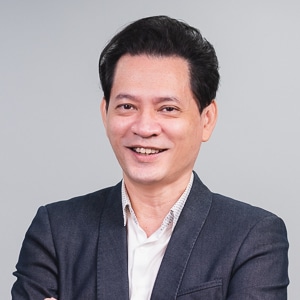 Written By: Chris Minjoot
Chris is a senior Marketing & Communications professional with over 28 years' experience as both an in-house practitioner and as a consultant servicing clients from a wide range of industries. He possesses the unique combination of strategic, creative, technical and writing skills critical for today's integrated marketing needs. Chris is currently also the lead trainer for the Copywriting and Content Writing Course here at Equinet Academy.