How to Create a Great Facebook Business Page (2022)
Facebook, the world's biggest social media platform, has become a crucial tool for businesses to expand their marketing efforts and build substantial awareness around their brand. There are millions of businesses already using Facebook to market their products and services and it is definitely a necessary tool in this day and age. The platform has implemented many features over the years that help businesses promote themselves.
The most basic feature is the Facebook Business page feature which allows any brand or company to create a page where users can receive information, content, and interact with the brand. However, there are many aspects within a Facebook Business Page that may be confusing to navigate if you lack the relevant experience.
There are various ways to go about sustaining a successful Facebook page but there are a few basic requirements that all pages should follow. In this checklist, we go through all the basics that you need for your Facebook Business page to thrive.
Steps to Creating a Successful Facebook Business Page
| | |
| --- | --- |
| Step 1 | Have a clear, high-quality, and visually enticing profile and cover photo. |
| Step 2 | Ensure that your Facebook page has all information filled out, including items such as a description, contact information, and a relevant CTA button. |
| Step 3 | Utilise the tabs feature on your Facebook page to provide as much information as needed to your audience or to ease the process of them following your desired actions. |
| Step 4 | Create a vanity URL and a username to simplify the process of users trying to find your page. |
| Step 5 | Know who your audience is so that you can create content that appeals best to them and create a lasting relationship between you and them. |
| Step 6 | Constantly engage with your audience. Remember to consistently reply to comments and messages as soon as possible, to show that you are a brand that is attentive and trustworthy. |
| Step 7 | Attempt to run an advertising campaign on Facebook to broaden your audience and customer base. |
Create your page
Firstly, you will need to have created a Facebook Page for your business. If you already have a page, you can check this off the list. Otherwise, to create a page, you will need a Facebook profile, either a personal Facebook profile or one created for your business. Personal information will not appear on the page unless you share it.
Log in with your personal or business profile
Click on the Pages tab at the top right of the page
Click Create a New Page
Fill out all the information required
Add all relevant information about your business
Users who chance upon your page, whether by accident or on purpose, will be looking for as much information on your business as possible. Pages with complete information will appear more legitimate and will also prove to be useful to followers and possible customers. Ensure that your page has the following details:
Description: A short description on who you are and what you do.
Contact information: Details such as an email address or phone number so that users may contact you if they have any questions or concerns.

Address (if applicable): If you have a physical store that you want customers to visit, include your exact location.

Operating hours: As with a location, include your operating hours so customers know when to make a visit or contact you.

About and Story: A longer description about what your business is; you can include elements such as your founding date, mission, successes.
Call-To-Action (CTA) button: A button at the top of your business page that allows users to fulfil your desired action. Facebook provides many CTA options to choose from, which is entirely dependent on your chosen marketing objectives. For example, if one of your objectives is to increase website traffic, you can include a CTA button to redirect users to your website.
Add a Profile Picture & Cover Photo
Adding a profile picture and cover photo is critical to any Facebook Business page. A notable profile photo builds brand recognition because it is shown with every post, comment, or reply that you make. Use a photo that best represents your brand. It is typically advised to use your logo as it is something that you want to be associated with your brand and will lead to immediate brand recognition.
Cover photos, on the other hand, enable you to be more creative visually due to its size. With an optimal size of 1200 x 674 pixels, its landscape orientation allows for more to be permanently (until you change it) shown on a business page.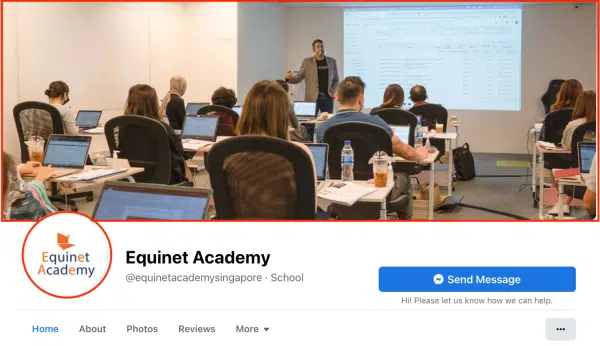 Create a Vanity URL and Username
Vanity URLs are a unique and personalised link that can be created for every Facebook page. Having a vanity URL provides a straightforward route for users to visit your page, as opposed to having to search for your business.
Usernames are usually a shorter variation of your business/page name which allows for quicker and easier search for users. Keep usernames short and easy to remember but avoid diverting too much from your official name.
Customise Tabs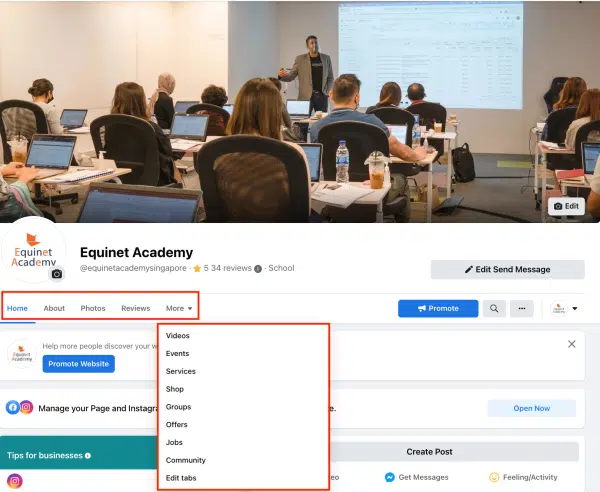 Depending on the category chosen for your page, it will have different default tabs at the top of the page that highlight sections of your page. Facebook provides templates with default buttons and tabs for you to choose from.
Tabs can also be customised, allowing you to select what content you would like to be highlighted on your page. This enables a customised user experience and journey within your page, making it seamless for anyone who visits your page. If you want to learn how to customise tabs, Facebook has a tutorial here.
Essentially, ensure that you are displaying content that users would be most likely to view in order to achieve your specific goals. For example, if your goal is to increase sales, there is a Shop tab that displays all product offerings that can be included on your page.
Post Content
There are many different types of content that can be posted on your Facebook page, from text posts to links. It would be recommended to host a variety of content on your page to avoid your audience growing bored of your posts. While posting may seem straightforward, there are a few things to remember when creating content.
Best practices for content on FB page
High-quality content. There is an endless stream of content available on Facebook and for you to stand out and attract users, your posts should be highly creative, relevant, and well-made.
Keep in line with your brand guidelines. Use elements that can be immediately associated with your brand to continuously attract users who are interested in your content. Using consistent copy and images also helps your brand maintain a certain level of professionalism, while communicating to your audience that you're authentic.
Make posts actionable. Add different actionable tactics to encourage your audience to engage with your content. For example, you could post an external link to a blogpost hosted on your website or ask them to share their opinions on a topic in the comment section. By trying different tactics, you can gauge what works well with your audience.
Use optimal image sizes:

Profile Picture: 400 x 400 px
Business Page Cover Photo: 1200 x 674 px
Event Cover Photo: 1920 x 1005 px
Group Cover Photo: 1920 x 1005 px
Photo Post: 1200 x 630 px
Story Post: 1200 x 445 px
Needless to be said, avoid using blurry or low-quality visuals as that could be perceived as low-effort.
Content Schedule
Once you start posting content on Facebook, it can quickly become overwhelming. The next step would be to create a social media calendar which is basically a schedule of your planned posts. Having a calendar helps to plan out your content for the upcoming month, keep track of all content that is published, and even compare the results from posting on specific days.
Social media calendars are flexible and can be customised to fit your marketing strategy and objectives. However, it may help you to use a template to get started and then subsequently tweak your calendar to what you feel works best.
Engage
Engaging with your audience is necessary in building an online presence and gaining success for your Facebook page. Engagement helps with building brand recognition and trust as well as improving the customer journey. Read and reply to all messages and comments in a timely manner, especially if it pertains to questions or concerns. Set aside time every day to go through messages and comments to ensure nothing is missed out and ignored.
Monitor
When you have started publishing posts, an important task to remember is to monitor their success. There are various metrics that can be measured, such as the number of likes, comments or shares a post has received. Typically, the higher the rate of engagement, the better a post has performed. When you monitor your page and its posts, you can optimise your content and schedule it to reach and appeal to the most users and receive a higher rate of engagement.
While there are many tools available to help track these metrics, we would recommend using Facebook Business Suite. It is available free for all business pages and contains analytics under the "Insights" section. It covers metrics such as page likes, post likes, comments, and shares, among many others.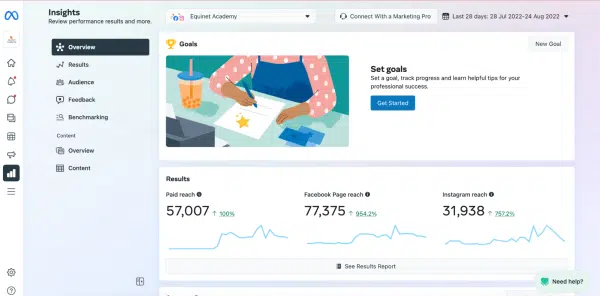 Within the Insights section, you can find tabs that focus on particular areas of your page.
The Results Tab: This section details the total reach of your Facebook page, including a comparison to  previous periods of time. You can hover over the graph to view the daily metrics of specific days.
The Audience Tab: This tab breaks down two audience sets: your current audience, i.e. the users who like your page, and your potential audience. Your audiences are broken down by their demographics so that you can accurately tailor content to your audience.
The Feedback Tab: This section is where you can see the average score when people rate their experience with your business. The score ranges from 1-5, 1 being "poor" and 5 being "great". You will also be able to see the number of responses you've received.
The Benchmarking Tab: This is where you can add your competitors' Facebook pages so that you can compare your performance against theirs. This section details their likes, changes in likes, and the amount of content they have posted within a specified time period.
The Content Overview Tab: Here, you can find an overview of your content's performance for posts and stories  on both Facebook and Instagram. It details the overall reach and engagement you have received for both content types on each platform.
The Content Tab: This tab provides the performance for specific posts you have published on your page. Here, you can view the reach and engagement for each post on your page.
Track Competitors
Find out who your main competitors are, if you have yet to, and follow their Facebook pages to conduct a simple analysis. Find out what does and doesn't work for them; what do they post that performs well or what fails to engage their audience. You can apply this information to your own page but, of course, refrain from copying them entirely. Find a way to incorporate what works for them onto your own page.
You can also use Facebook's Benchmarking tool to compare the performance of your business and content with similar business pages.
All you have to do is add your competitor's Facebook page and you'll be able to get an overview of their page's performance. This serves as a good point of reference for your own page. Additionally, it is imperative to keep up-to-date with the latest news regarding your competitors as it can be helpful in navigating and adjusting your strategy. For example, if a competitor is holding a storewide sale, you may be able to hold one yourself and include competitive prices and discounts.
Know your Audience
When you run a Facebook page and create posts, you do so to appeal to your audience. As such, you have to know who your audience is and what they would want. While it may seem difficult to appease all of your followers, it's possible to create content that can appeal to the majority demographics who follow your page. Using the aforementioned "Insights" section in Facebook Business Suite, you can view the demographics of your following and determine what group makes up the bulk of your audience. With this, you can then craft content specifically for them.
The key is to know who your target customer persona is and appeal to them. A straightforward method of gaining information on your audience is to utilise the Polls feature on Facebook. You can ask your audience questions that are directly about them and their preferences. For example, you could hold a Poll asking, "What content would you like to see more of on our page?" with options like "Videos", "Infographics", "Product Information". This is an easy and straightforward method in figuring out what your audience wants.
Run an Advertising Campaign
One of the main reasons marketers use Facebook as a marketing platform is their seamless, easily-navigated, and cost-efficient advertising services. Running an advertising campaign on the world's biggest social media platform can widen a brand's exposure to users, generate worthy leads, and increase sales.
Advertising on Facebook can also be highly targeted, as your target audiences can be customised and very specific. This allows your ads to be shown only to users who would be more likely to purchase your products or engage in your services.
Key Takeaways
In summary, while Facebook business pages can greatly increase your marketing efforts, there is a lot that goes into making it a successful one. Facebook pages are an essential part in your customer's journey and as such, it should be easy to navigate and contain all the necessary information.
While this list is not exhaustive, it is a great foundation in ensuring your Facebook page is running well. It is recommended that you follow these best practices when you first get started, and you can expand on this once you have become more familiar with the platform.
Want to Learn More?
At Equinet Academy, we host a wide range of digital marketing courses, including both Social Media Marketing and Facebook Marketing and Advertising. We also hold a Certified Digital Marketing Strategist (CDMS) Programme which covers the following six modules:
The completion of these modules will lead the learners to attain a Certified Digital Marketing Strategist Certificate.