10 Winning Ways To Use Instagram Stories (Like an Influencer)
If you're new to social media marketing, we recommend taking a look at our guide first which provides a detailed insight into the topic.
Why Instagram?
Instagram is one of the fastest growing social networks in the world.
It is based on photos and videos rather than words. Although Instagram likes hashtags, likes, and comments, you won't see a lot of text heavy updates or link sharing. Instead, they let the photos and videos do the talking.
Instagram allows you to show the creative aspects of your brand
Instagram is great for businesses with a strong visual and aesthetic element such as the following:

Food – Restaurants, cafes, bakeries, and home cooks
Fashion
Travel
Photography
Bridal and Wedding services
Lifestyle
Arts and handicrafts
Fitness and health
Theme parks and museums

Instagram is mobile native, and hence designed for a smartphone audience
Instagram has one of the youngest audience groups
Instagram Stories allow your users to walk through your updates quickly
Most Engaging Platform for Brands
Comparatively speaking, Instagram is the most engaging social platform relative to Facebook, YouTube, LinkedIn, Pinterest or Twitter. In fact, the difference can be quite significant as shown by the chart below from Forrester Research: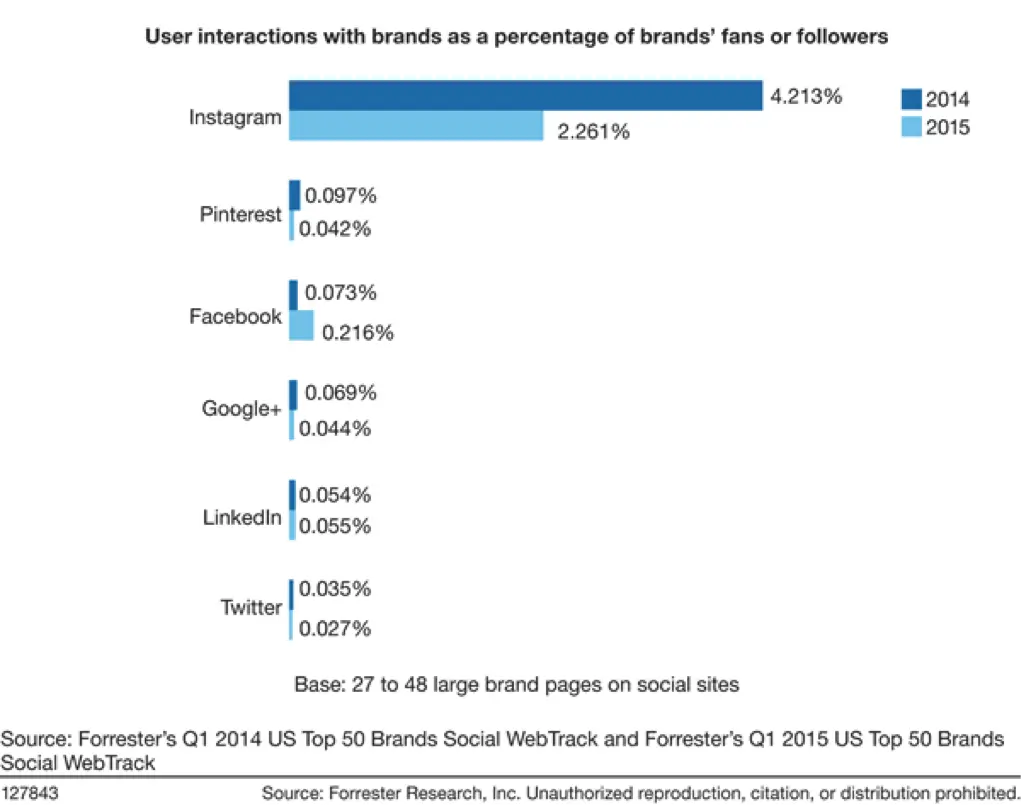 Creating an Instagram profile
First and foremost, you need to create a branded Instagram profile. Fortunately, this can be quickly and easily done.
To start an Instagram account, you need the following:
A nice profile photo, perhaps a logo of your company or equivalent photo which conveys your brand personality.
A short description for your bio which does not exceed 150 characters. Consider using emoticons if they are appropriate.
A link to your website. This should be updated regularly depending on what you are promoting.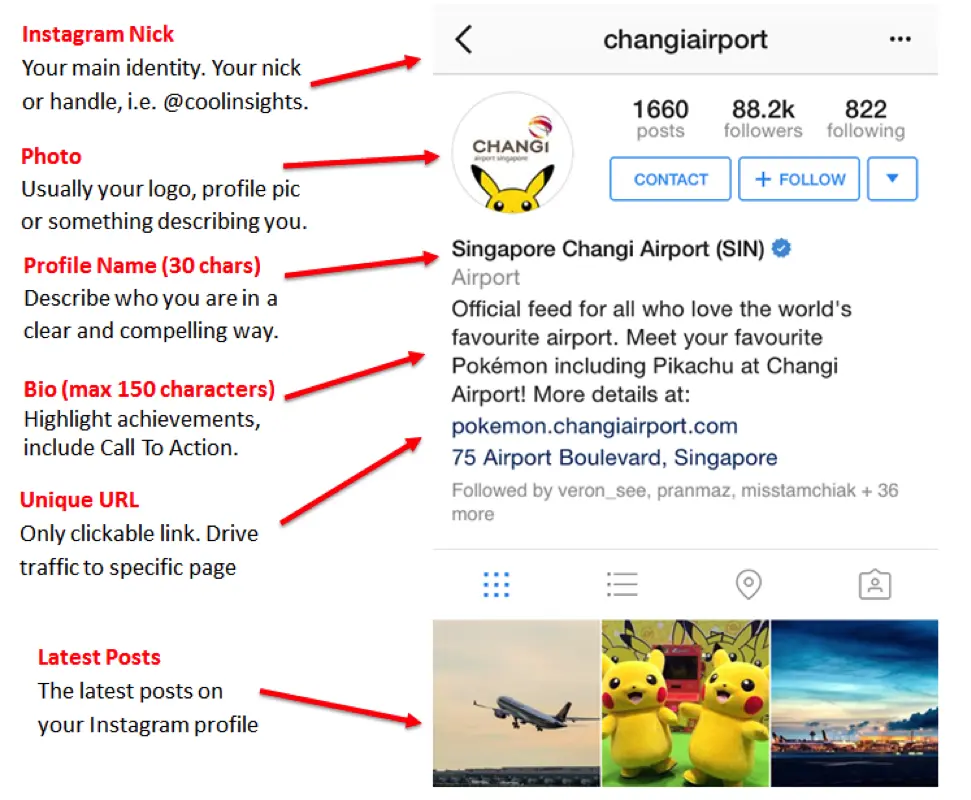 Setting Up Instagram Business Account
Unlike a personal Instagram account, an Instagram Business Account has the following benefits:
It allows you to gain access to your Instagram analytics (ie Instagram Insights)
Your customers can contact you via email or to call you
You can advertise your posts directly from Instagram
Here's how a Business Account looks like.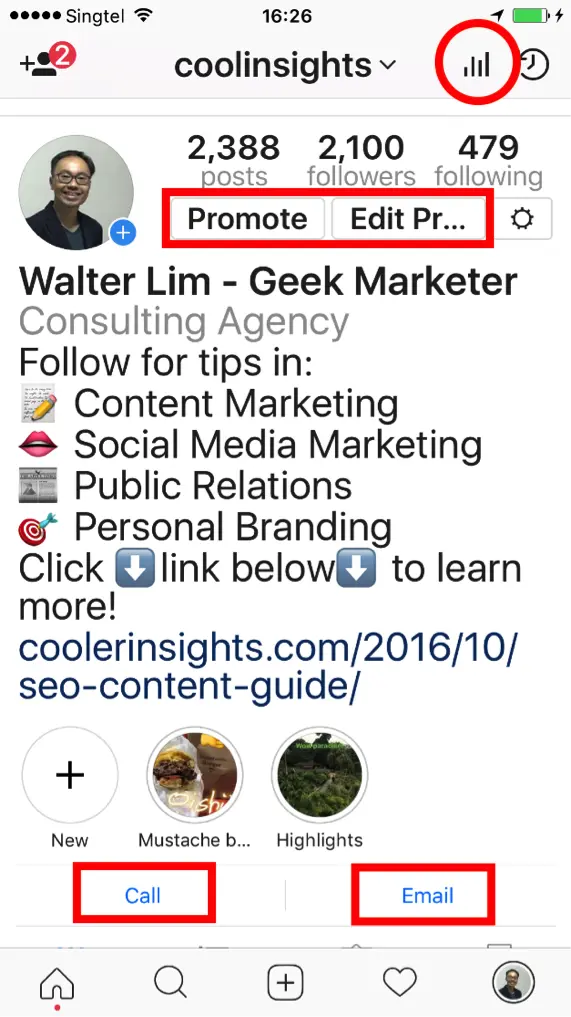 To set it up, you'll need to have an Instagram account, which we assume most people would have. Once you've set it up, do the following:
Go to your profile and tap .
Tap Switch to Business Profile.
Select the Facebook Page you'd like to associate with your Business Profile on Instagram with. (Ensure that you've already connected your Facebook Page to your Instagram account earlier.)
Make sure your profile is set to Public. Private accounts can't switch to Business Accounts.
On the Set Up Your Business Profile page, review your business's contact information, make any changes and tap Done.
Using Instagram Stories
Instagram has a Stories feature (emulating Snapchat stories) which allows users to share little bite-sized images and videos throughout the day. You can add a sequence of photos or videos to illustrate your story and customise it.
On your home screen, tap the Your Story button at the top left section.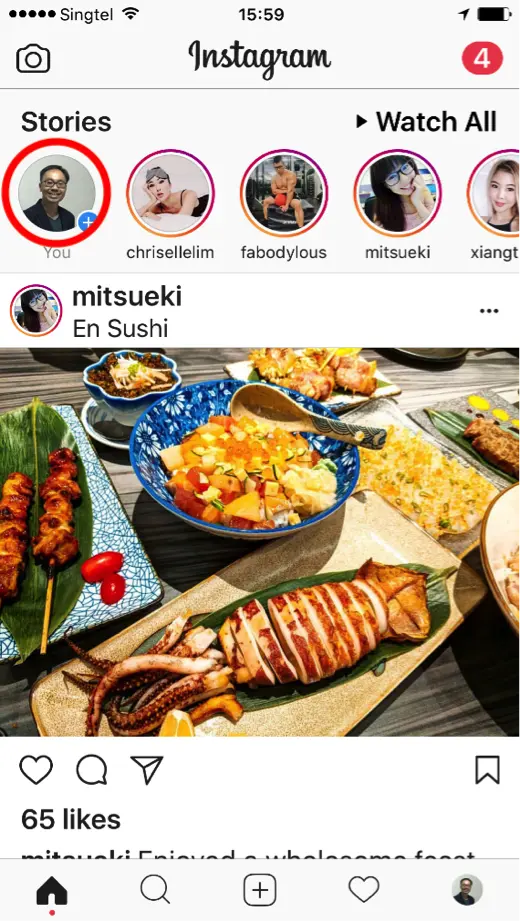 Take a photo by tapping the round button at the bottom, or take a video by holding down the button for up to 10 seconds.
If you look at the bottom, you'll see a couple of unique ways to record your story:

TYPE: allows you to type text with different coloured backgrounds>
LIVE: allows you to share a live video with your audience, like Facebook Live
NORMAL: the normal recording or photo taking function
BOOMERANG: the highly popular effect like a GIF
FOCUS: allows you to focus on a person's face
DRAMATIC: allows you to add dramatic melody with a central feature
SUPERZOOM: Zoom in and out of a central image
REVERSE: Allows you to take video in reverse
HANDS-FREE: Take a video without pressing continuously
Filters (the smiling icon): Include all your favourite zany face filters here!

Enhance your photo or video with the following:

Add a sticker: Tap the square button with smiley face. These include your location, temperature, time, a GIF, @Mentions, #Hashtags, a Poll, and numerous others!
Add a doodle: Tap the paintbrush and write or draw!
Add text: Tap the Aa button
Mute/Unmute volume: Tap the sound icon

Save the photo/video or add to your story or click the button to share your story or with specific users
Tap Send at the bottom of the screen.
10 Winning Ways To Use Instagram Stories (Like an Influencer)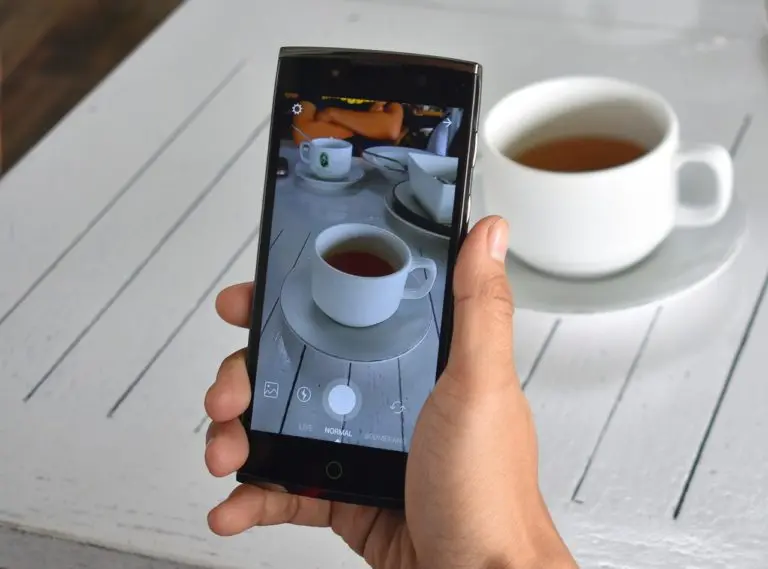 Wish to use Instagram Stories to market your brand? Unsure what you should be sharing "live" on Instagram Stories?
In this article, we will be giving you a brief introduction to what Instagram Stories is, and suggest how you can use it to promote your brand just like how influencers do.
First pioneered by Snapchat, and now available on Instagram, Facebook and even WhatsApp, real-time visual storytelling is one of the newest craze rocking the social media world.
Popular with teenagers and youths around the world, it allows users to shoot short video clips and photos, incorporate music, text and other visuals effects, and upload them to a "Stories" stream on social media. This gets continually updated as more and more "live" content is added throughout the day.
Unlike regular Facebook or Instagram posts, posts on your Stories feed expires after 24 hours. Each "story" (or chapter of your story) can only be a maximum of 15 seconds.
While you can now save Instagram Stories as Highlights and have them automatically archived for later consumption, the ephemeral nature of such visual content makes them more authentic and spontaneous than other social media content formats.
Why Instagram Stories Rock
Despite arriving relatively late to the scene, Instagram Stories has supplanted Snapchat by leaps and bounds.
There are now over 300 million daily active users on Instagram Stories versus Snapchat's 178 million users, and this number is set to grow as youths migrate to this channel.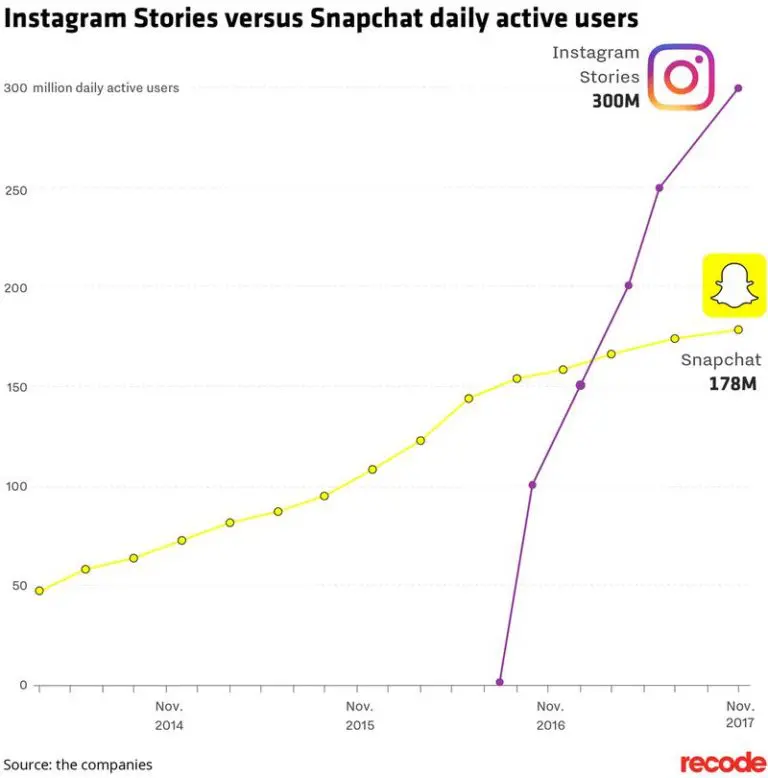 Courtesy of >The Verge
With an estimated 800 million monthly active users on Instagram, it looks likely that Stories will only grow in the years ahead. While similar "Stories" offerings are available on Facebook and WhatsApp, they tend to be far less popular than Instagram.
By using Instagram Stories, your brand enjoy the following benefits:
Higher brand awareness and visibility due to the prominent placement of the Stories feed on Instagram
Greater customer engagement due to the highly interactive nature of Stories
Better event and product promotion as these can be piped into your Stories feed
Ability to provide a more "real-time" feel to your marketing efforts
As content marketing innovators, social media influencers have flocked to Instagram Stories like bees to honey.
Many Instagram influencers have honed the art and science of shooting short videos and photos, and layering on fun filters, text, and emojis to near perfection. By doing so, they are able to engage and entertain their fans, who live vicariously through their accounts.
Let us look at some of the ways they have done so, and copy these tactics for your own Instagram accounts.
#1 Promote Location
If your business has locations for events (like a hotel, golf club, resort, or concert hall), you can use Instagram Stories to drive your fans to specific venues. This can be done easily by tagging the location using the GPS location feature and using the right #hashtags.
Here's an example below from @weddingsutra, where you can see both the location geo-tagged as well as the hashtag (which is searchable.) To learn how you can do so, read this article here.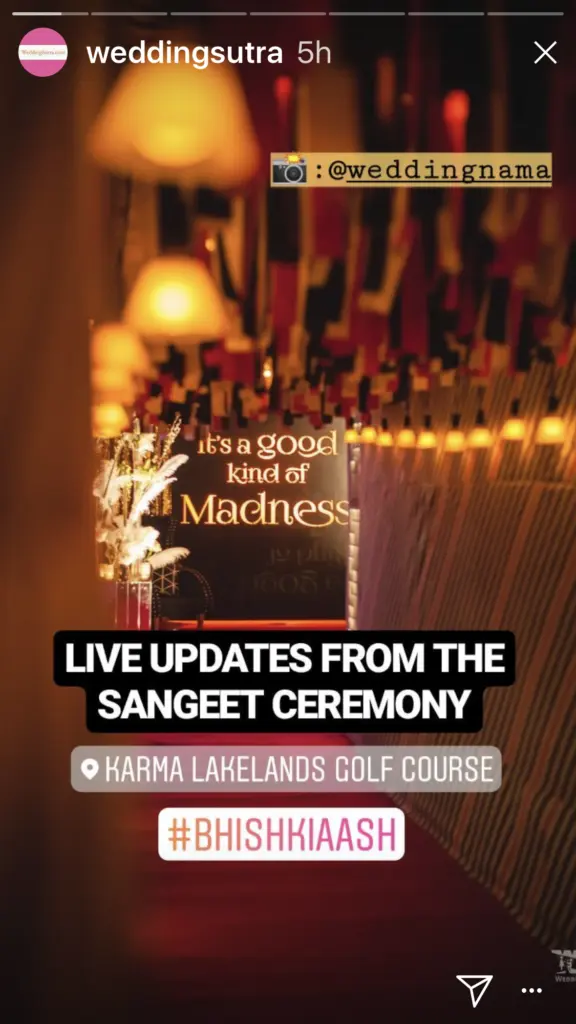 #2 Drive Traffic to Instagram Post
Given the way Instagram Stories are made, you could get carried away scrolling from one story feed to another story feed. To drive your story viewers back to your Instagram posts, simply point them back there, like how @travel_inhershoes does so here.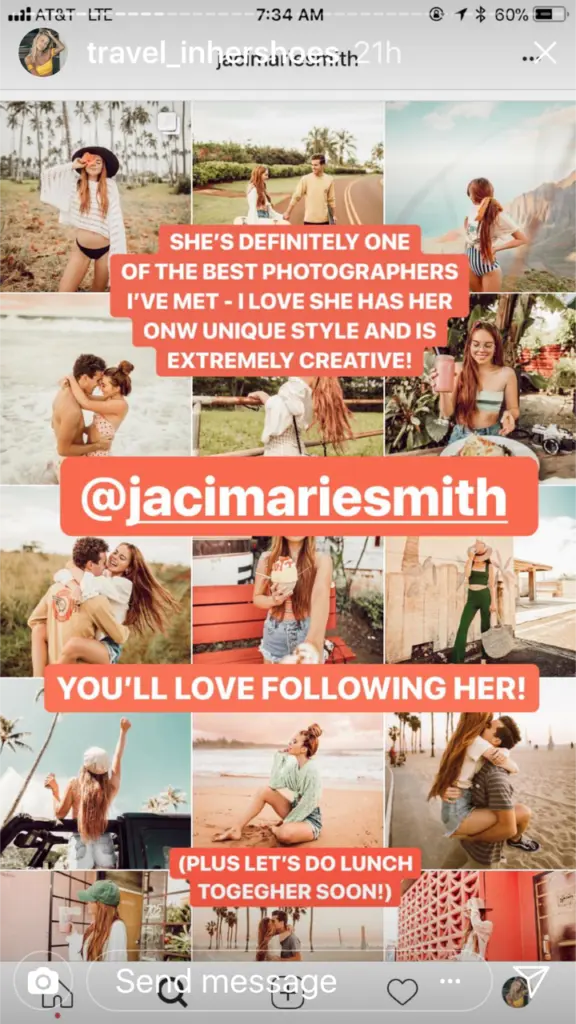 #3 Go Behind The Scenes
As a visual storytelling channel par excellence, Instagram Stories is ideal for social media storytellers to show how things are made. This can include anything from…
Interviewing artists to find out what inspired them…
Showcasing how a new dish is made by a chef…
Following the journey of a product from raw materials to factory to finished product…
Or shooting the back-stage action of a performer/ CEO/ speaker before she dashes into the limelight.
Here's an example from local food blogger Dr Leslie Tay of ieatishootipost, showing how a new dish by a well-known chef is cooked.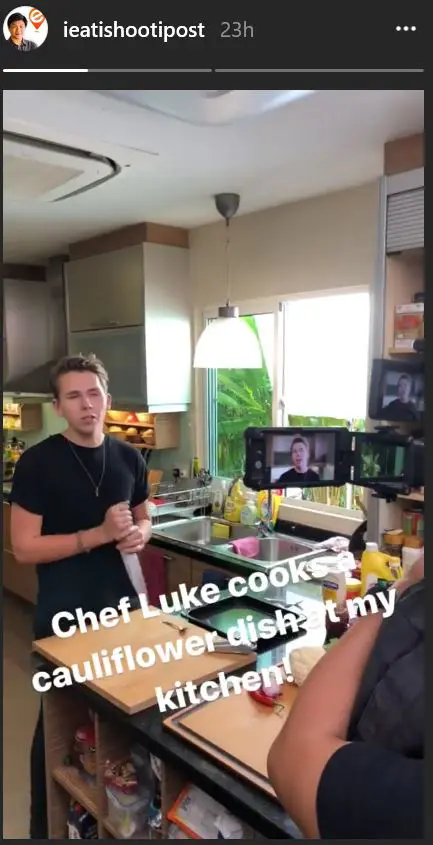 #4 Promote Blog or YouTube Video
Wish to drive more traffic to your latest blog post or YouTube video on your channel? You can now do so with Instagram Stories.
Unlike your regular Instagram post which does not allow you to place a clickable link (the only one you can do is on your bio, or if you advertise), Instagram Stories allows users to embed links to a resource outside of Instagram.
(Note that you can only access this feature if you have at least 10,000 followers on Instagram.)
To do so, just follow the steps here, ie:
Click on the "Link" button on the top
Enter and paste the URL you wish to drive traffic to
Add a Call To Action (CTA) on your story, with instructions to "Swipe up"
Here's an example from uber health and fitness Instagrammer The Betty Rocker showing you how its done.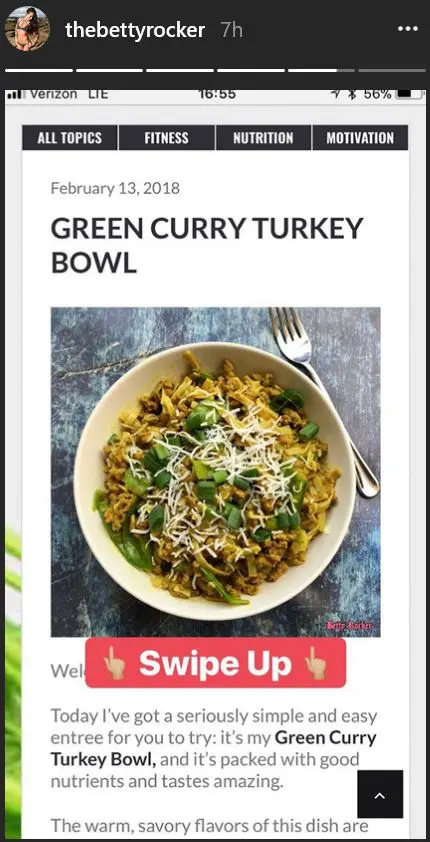 #5 Give a Shoutout to Fans, Friends and Brands
Like all things Instagrammy, Stories allows you to tag your friends, fans, brands and anybody else you wish to give good karma to.
To do so, just follow these steps from Instagram:
Tap  in the top left of your screen or swipe right from anywhere in Feed
Take a photo or video, then tap
Type @ followed immediately by their username, then select the person you'd like to mention
Here's an example from Aggie Lal, where she oozes with lots of love for a photographer she met. What a great way to give back!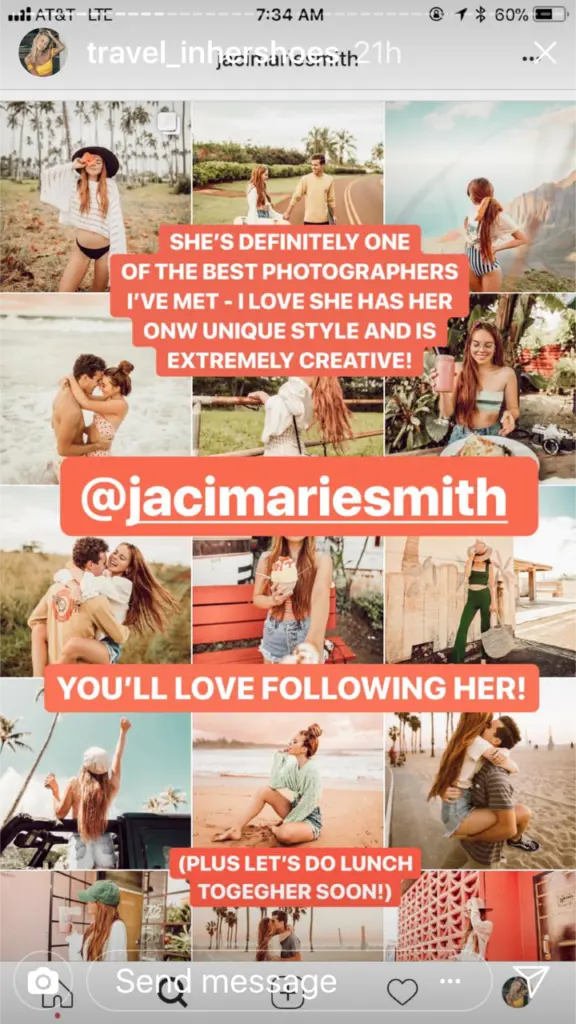 If you're attending an event sponsored or hosted by a brand, you can also tag them in your post, like how fashion influencer Chriselle Lim does so here. By the way, she has an amazing Instagram account (with over 1 M followers) which you should follow to how its done.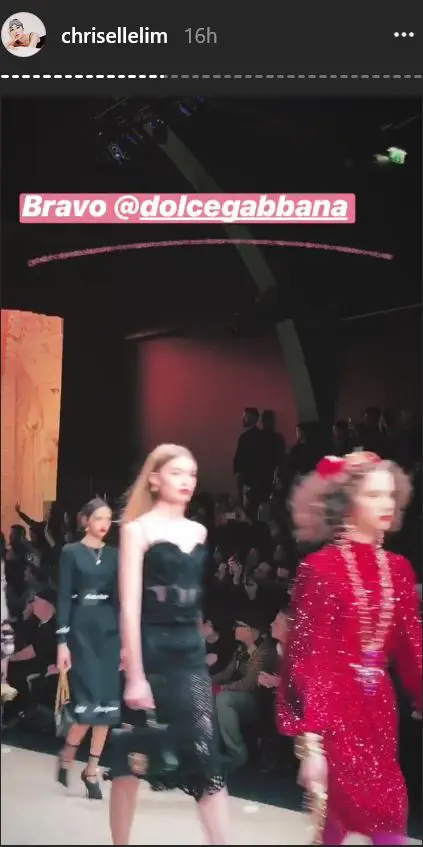 #6 Do a Product Demo
If you've got a new product or service that you've launched, you can use Instagram Stories to "teach" your fans how to use them. Or just to whet their appetites, like how @foodnetwork does so here. Do remember to add those nifty visual effects on your text.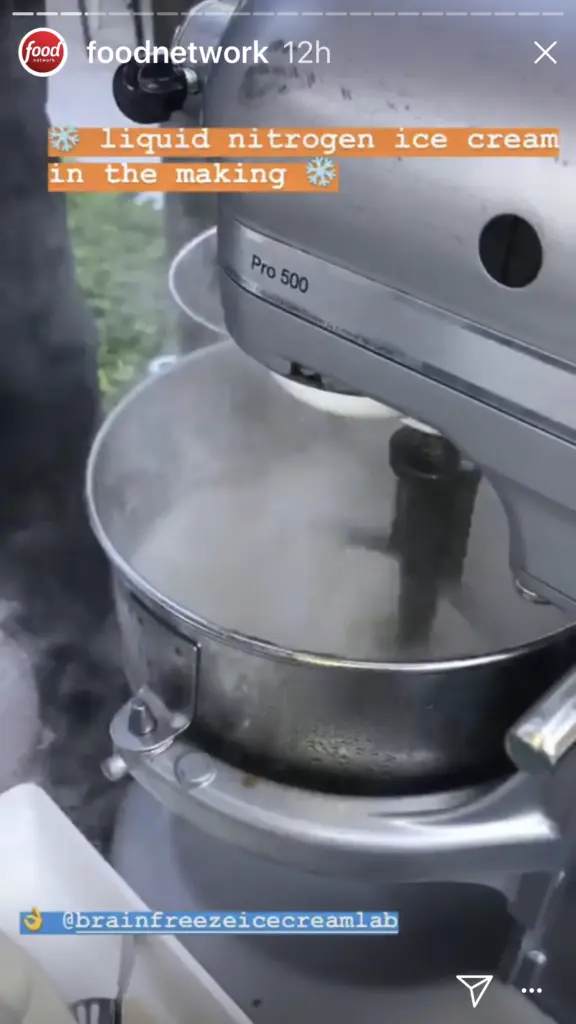 #7 Run a Contest
Contests are a useful tool to drive greater engagement and interest. On Instagram Story, you can do so using a series of images with text overlays (just tap on the button) to write down the contest rules.
Unlike other channels, you need to keep your instructions short and simple given that you've only got a few seconds to communicate your post. A good way to do so is to include a link to more detailed contest instruction (see #4 above), and include them there.
Here's how @natgeotravel did theirs.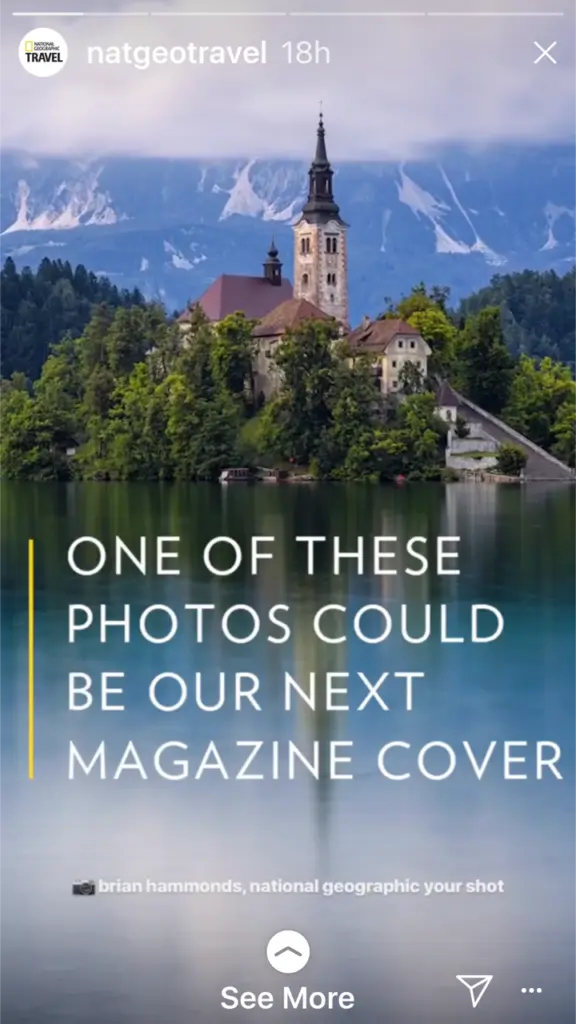 #8 Do Live Event Coverage
If you're running an event, it makes a lot of sense to cover it "live" on Instagram Stories.
To do so successfully, it'll be good to get one of your colleagues savvy with the art of vertical videos to shoot highlights throughout the event, tag the right places, and include a nifty caption. Like food influencer James of Food Feels here.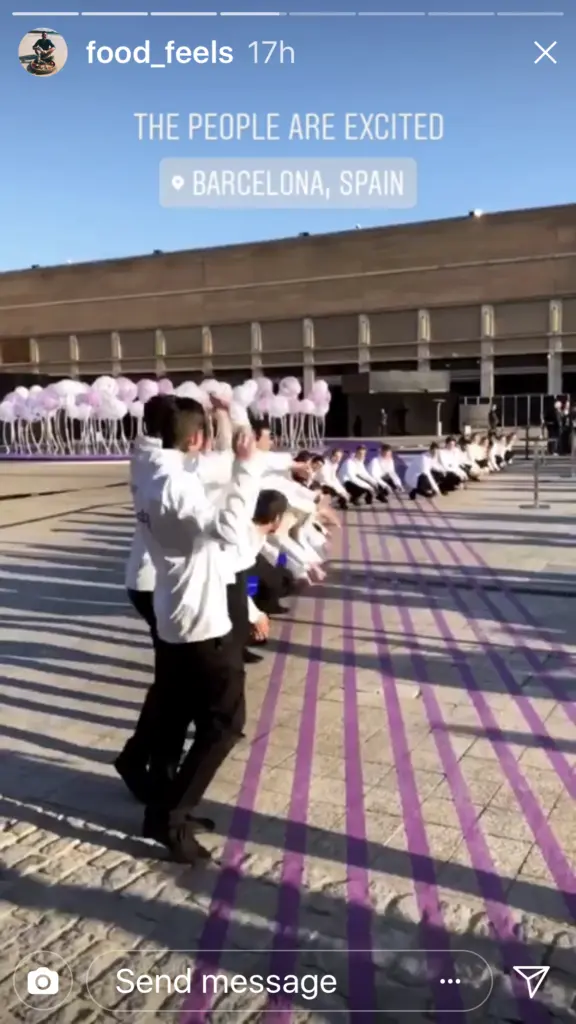 (PS – for added drama and whimsy, use the Boomerang app by Instagram to do a back and forth action. You can tap it at the bottom of your Instagram story interface.)
#9 Answer Fan Questions
If your company has an expert, celebrity CEO, chef, or any renown personality, you can use Instagram Stories to do some simple Q&As.
Remember that each "chapter" in your Instagram Story has a maximum of 15 seconds. Hence, you need to be really short and sharp.
Alternatively, you can push your fans to longer Q&A sections on YouTube, and use Instagram Story as a trailer, like what Mongabong did here.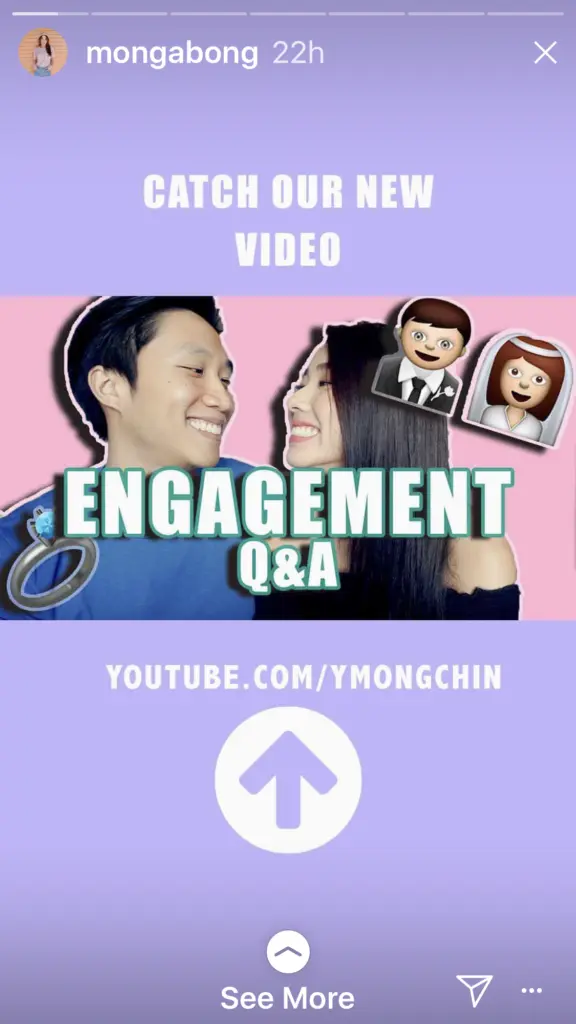 #10 Share Snackable Tips
Finally, if you are a thought leader (versus an influencer, haha), you can use Instagram Stories to offer useful tips and tactics.
Once again, do be mindful of the 15 second per section limit, and consider laying on some text to your short video so that you can make the best use of its multimedia capabilities.
Here's an example from The Instagram Expert, featuring one of my favourite thought leader Marie Forleo.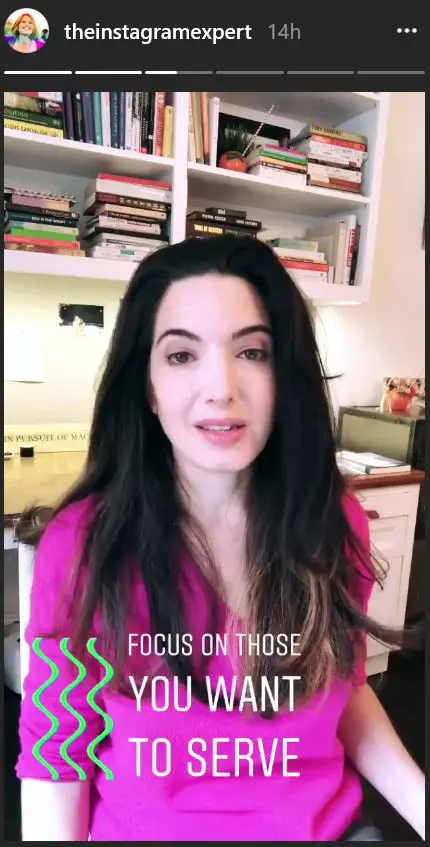 BONUS: Show Your Creativity
Before we go, do note that Instagram Stories really works well if you add a dash of fun, spontaneity, and humour in your posts.
Yes, this also applies to brands and companies using their "official" Instagram account. CoolerInsights conducted a survey together with Equinet Academy to assess the industry proficiency knowledge in Digital Marketing and its disciplines such as Social Media Marketing and Content Marketing, head on over to this link to check the results out.
There are tonnes of "How To" videos on YouTube which you can watch on creating Instagram Stories that sizzle and rock. At the end of the day, however, it is useful to have a "house style" so that there is some consistency in your visual storytelling efforts.
What are your experiences like in using Instagram Stories? What other tips would you offer?
Pros and Cons of Instagram
| | |
| --- | --- |
| Pros of Instagram | Cons of Instagram |
| Instagram is great for visually attractive businesses and products | You cannot easily share a post on Instagram |
| Good for businesses that are better at "showing not telling", eg Florists, fitness gyms | May not reach B2B clients or older demographic groups |
| Good for reaching out to youths, teenagers and youth adults | Not very effective in generating clicks to website |
| One of the fastest growing social networks | Images and videos have to be uploaded using a mobile device or specialised apps (like Hootsuite) |
| Mobile-first platform makes it attractive | Limited room for long form content |
| Easy to connect to others with Hashtags | Difficult for conversion or lead generation |
| Location tagging is useful | |
| Can respond in real time | |
| Effective for generating brand awareness and visibility | |
| Most engaging platform in terms of likes and comments | |
If you'd like to study the art of social media marketing beyond the lovely world of Instagram, we run a couple of social media marketing courses right here at Equinet Academy – Social Media Marketing Course & Advanced Social Media Management Course. We also have an array of digital marketing courses taught in-person in Singapore or online, that go beyond the scope of just social media marketing.