Latest COVID-19 Precautionary Measures Taken by Equinet
*Updated on 4 Feb 2021*
In response to the latest measures from MOH, Equinet Academy would like to provide reference to the circular sent by SkillsFuture Singapore, that SSG-supported training providers can continue to run classes of not more than 40 learners (Equinet's class sizes range from 12 – 24 pax adhering to the 1 metre spacing), but should ensure safe distancing of at least 1 metre apart during the conduct of training, on top of all other measures in place (temperature taking, contact tracing records, travel declaration).
Safe Distancing (More Safety Measures)
In view of the evolving COVID-19 cases globally, Equinet Academy will put in place precautionary measures for the safety and well-being of our attendees.
Classrooms will be restructured to follow the advisory rolled out by MOH on 26 Mar 2020 regarding safe distancing. In addition, individual hand sanitizers will be available at each table.
The usual group seating will now be converted to individual table setting, with a 1-metre safe distance. This applies to the pantry as well. Based on the current classroom sizes at Equinet, a capacity limit of 12 – 24 learners will be imposed depending on the size of the classroom.
Mandatory Temperature Taking and Declaration
Attendee will not be allowed to participate the class if he/she has any of the following:
Fever (37.5°C or more)
If attendee has been in contact with confirm case(s) within the past 14 days
Has flu-like symptoms (eg. running nose, short throat, shortness of breath and coughing)
Travelled to outside of Singapore within the past 14 days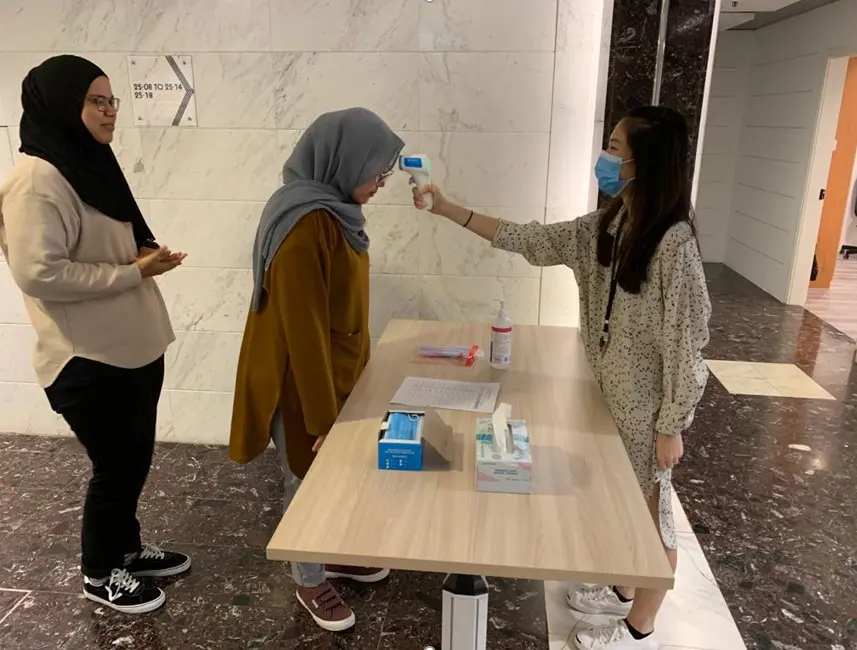 Temperature taking and travel declaration station located outside of the training centre. 
Regular and Thorough Disinfection of Training Premises
Regular disinfection of surface areas within classrooms learners frequently come into contact with i.e. tables, markers, whiteboards at least twice a day (once during lunch break).
Regular disinfection of premises including pantry area and door handles.
Temperature Check
All attendees including trainer will have their temperature inspected before entering the premises

Students with a fever (≥ 37.5°C) will be asked to seek medical attention. Their seats will be rescheduled to a later date.

Stickers will be issued to all attendees who have cleared the temperature taking. Stickers are to be pasted on upper shirt/dress at all times. If misplaced, student should proceed to the front desk to obtain a replacement sticker.
Before class starts, Trainer should inform attendees to check each other to ensure that everyone has a sticker on their shirts
Face Masks
Attendees who may require face mask, can request from the front desk.
Additional Measures
More temperature screening, masks supply, and sanitiser stations
Supplying of bottled water to avoid potential cross contamination of water dispensers
Individual packaging of food for tea breaks
Increased spacing (at least 1 metre) between classroom tables
Trainees to be reminded not to have physical contact e.g. handshakes with one another