In-person Classes to Continue as COVID-19 Measures Tighten
Dear Trainees,
In view of the recent announcements from the government regarding tighter gathering restrictions, we would like to inform you that our in-person classes will proceed as planned at our training centre until further notice or due to unforeseen circumstances.
Despite the continuation of in-person classes, we highly recommend trainees select e-learning classes as the preferred learning mode. The safety of our participants is our utmost priority, and we are actively working on taking precautionary measures to prevent the spread of Covid-19.
It is mandatory to check in when you enter the premises and to have your temperature taken before the course starts. Face masks are to be always worn strictly and the 1-metre safe distancing rule will be heavily emphasised.
Regarding the mandate about not being able to dine in, please note that you will be allowed to bring food back to our training centre for lunch but please ensure that the safe distancing rule is adhered to.
Trainees will be eating at their own desk, and their desks will not be shared with any other trainee for the duration of the course. Disinfecting of tables will take place daily, and the pantry will be disinfected at least twice daily.
If you are feeling unwell or experiencing any of the COVID-19 symptoms, please do not hesitate to contact us to reschedule your course and we will be more than willing to assist.
You may view the course schedules of both in-person and online-based classroom learning here.
Additional Safety Measures for in-person classroom training:
Upon entry
When signing in at the reception, trainees will be required to:
Scan the SafeEntry QR code / Check-in via SafeEntry Gateway
Have your temperature taken
Safe Distancing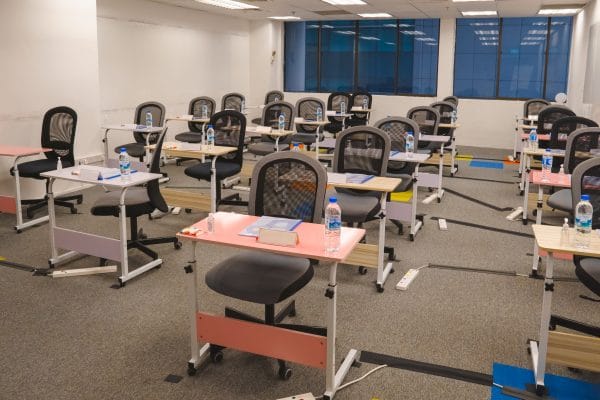 Desks will be segregated with a minimum of one metre spacing (measured by table legs).
Group activities will be conducted via online tools (e.g. google docs).
Drinks and snacks will still be available, but trainees should return to their desks to consume them. Trainees should avoid intermingling at the pantry area.
Hygiene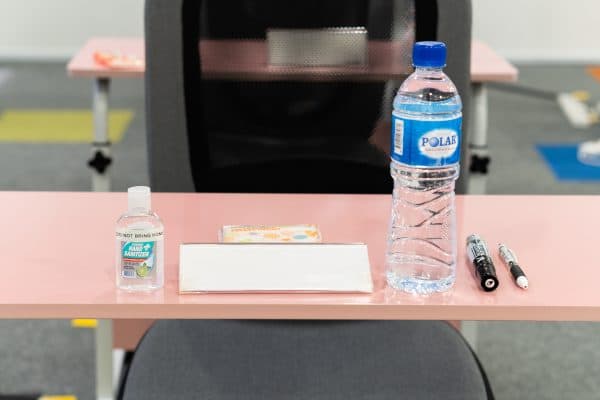 Classrooms and common use areas (e.g pantry, reception area) will be disinfected daily using NEA recommended disinfectant solutions. Disinfecting of tables will take place daily, and the pantry area will be disinfected at least twice daily.
Hand sanitizers will be made available at all desks and common areas.
In line with MOH guidelines, face masks are to be worn at all times except when consuming food or drinks. Please note that face shields cannot be used to replace face masks.
Trainees may obtain single-use face masks at the front desk if a replacement is required.
Meals
Bottled water will be provided.
Food can be consumed in the classroom, at own desks where safe distancing measures are in place.
Tea breaks will be packed in individual servings and served to trainees.
Details of Online-based Classroom Learning Mode:

The e-learning classes are conducted over Zoom while the in-person course is delivered in a traditional classroom setting. Both learning modes essentially offer the same experience in terms of the course contents, size, duration and learning outcomes. Trainees opting to sign up for e-learning courses may refer to the Online-Based Classroom Learner Guide.
We hope to seek your cooperation during this time and thank you for your continued support.
Warm Regards,
Equinet Academy