Digital Marketing Interview Questions
Understand the career pathways a Digital Marketer can progress towards.
228 Digital Marketing Interview Questions and Expert Tips
Getting into a digital marketing role is getting tougher these days as not only are there limited positions, but the breadth and depth of knowledge and skills required of a digital marketer is astoundingly extensive – from having an overall understanding of customer experience and sales, to technical SEO, copywriting, and knowing how to interpret reports across various digital marketing analytics platforms. If you're looking to embark on a digital marketing career and want to find out what it entails and how you can get started, you'll get a clearer picture reading this article. 
Companies are increasing their efforts to train and equip existing marketing employees on the ever-expanding plateau of digital platforms, terminologies, and strategies, and new hires are expected to possess this set of skills (in digital marketing).
To create this guide, we interviewed recruiters from over 50 companies and digital agencies who shared common interview questions and how best to tackle some of these questions.
How to Prepare for a Digital Marketing Interview
So, you've sent in your resume and have been invited for a face to face job interview. You're wondering how it would go and what you need to prepare. Well, it's really quite similar to how you would prepare for any job interview, with a few exceptions.
Just like any job interview, you need to:
Research thoroughly on the company's mission, products and services, customers, and competitors. (Don't go asking what the company does!)
Look and dress presentably
Be punctual/arrive ahead of time
Additionally, the hiring company or digital agency may ask you to write an article, ad copy, or promotional message to review your copywriting and language abilities. It would be handy to prepare samples of past work i.e. a portfolio (e.g. websites developed, creative designs, strategic plans, blog posts, presentation decks) to showcase them during the interview. Attending a digital marketing certification course and completing a capstone project can boost your portfolio and increase your chances of getting hired.
With that, there still lies a host of questions that you won't be able to prepare for, as you (the interviewee) will need to draw from your experience in order to convince the interviewer that you are the right person for the job.
Digital Marketing Job Interview Questions
Digital Marketing Intern Interview Questions
Doing a digital marketing internship in a multinational corporation or digital agency can propel your career forward in leaps and bounds. It provides you with the opportunity to hands-on with various digital platforms and work in a fast-paced environment where a digital-first mindset, attention to detail, and good planning and organizational skills are a necessity.
Here are some possible interview questions you might get asked for a digital marketing intern position:
What do you already know about digital marketing?
From a scale of 1 to 10, how would you rate your knowledge in digital marketing?
Why do you want to get into digital marketing?
What excites you when it comes to digital marketing?
What books about marketing have you read?
What marketing-related websites do you frequent?
Do you know anything about SEO, SEM, Social Media Marketing, Digital PR, Digital Marketing Analytics, Google Ads, Facebook Advertising, Google Tag Manager, or any other digital marketing related discipline or channels?
What do you know about our company?
What is it about our company that interests you?
Who are our main customers?
How would you market this product or service?
Have you worked in a fast-paced environment?
Can you multitask?
Do you like to write?
Do you have an eye for design?
What areas of your studies can you apply to marketing?
What do you hope to get out of this internship?
What would you like to learn most about digital marketing?
Where do you see yourself in the next 1-3 years?
Where do you see yourself in 5 years?
Expert Tips
The interviewer's intention behind the questions is to figure out whether you are serious in getting into and staying in this fast-paced and ever changing industry. It takes real grit to get things done in an efficient and proper manner, all while trying to learn on the job and constantly upgrade yourself on skills you thought you knew but messed up along the way.
By asking whether you've read anything about digital marketing at all and what excites you about digital marketing will reveal whether you have an eye for curiosity and research, which are important traits in this industry.
Your best response then is to reply how much you love marketing and name a couple of industry-leading marketing websites you frequent. This has to stem from being genuinely passionate about marketing and actually reading up on digital marketing.
Above all, you should thoroughly research what the company does and who their customers and competitors are, so that in the event the interviewer asks you to propose marketing initiatives, you will be well prepared.
Prior to the interview, the interviewer may also ask you to send in some written or design works to assess whether you can help out with some of these day-to-day tasks.
Having marketing communications certifications and taking additional digital marketing courses will demonstrate your commitment to this field and save the company time and money sending you for additional training, increasing your chances of securing your internship.
Digital Marketing Executive Interview Questions
Although this is an entry-level job position, many companies require at least 1 to 2 years of experience across various digital marketing channels and platforms. Therefore, many of the questions that will be asked will be relatively similar to the Digital Marketing Specialists (e.g. Content Marketing, SEO, Digital Advertising, Social Media Marketing, Digital Marketing Analytics) questions further below.
Hence, for this position, we will go through questions that determine the suitability of the candidate in terms of character traits and mindset that are essential for a digital marketer:
Describe your research process and thought processes when researching on a particular topic for the tasks of writing an article, developing a strategy, or implementing a tactic.
What does our company do, who are our customers, and who are our competitors?
How do you stay abreast of the latest trends and new technologies in this fast-changing industry?
Describe how you manage multiple projects and stay on track to meet the desired timelines.
Proofread this article and tell me what mistakes you spot.
Analyze this creative display ad for this brand and tell me what is "off" about it.
Here's a set of tasks, important details of each task, and timelines to be met. How would you plan and organize the order of each task?
Tell me about an unforgettable problem at your workplace that you solved. How did you go about solving it?
Analyze the results of this A/B testing experiment and propose an improvement plan.
Tell me about a time you had a disagreement with a member or members on your team. How did you approach the situation and resolve it in the end?
Expert Tips
As a Digital Marketing Executive, you are expected to embody a myriad of skills such as multi-tasking and project management, a keen eye for detail, an analytical mindset, and many others.
When you're asked to elaborate your research process, the interviewer is trying to get a clearer picture on your thought process as to how thorough you conduct your research and the accuracy of your fact finding. This is an important trait as big budgets are spent on the creation and promotion of quality content, and poor quality and sloppy implementation can tarnish the brand's reputation. Cite academic research papers and websites such as the Washington University in St. Louis on a 6-step research process.
Having initiative to do the necessary yet unobvious tasks is another highly sought after trait. Conduct research on the company's brand and mission, customers, and competitors before the interview and propose digital marketing strategies during the interview to highlight this trait.
For smaller companies, there isn't a luxury for creative design and copywriting teams. Consequently, Digital Marketing Executives are also expected to take on some of the creative design and copywriting such as creating dynamic display ads on Google Ads and writing Facebook posts and email updates. Showcasing some of your best creative and written work should seal the deal here.
The daily grind will include managing multiple projects, ensuring timelines are kept in check, and solving problems such as partner disagreements, poor return on ad spend, and many more unexpected issues that may arise out of nowhere.
What the interviewer wants to hear from you is how you deal with these tasks and cope with the daily grind. Citing an actual case of a problem you solved in your previous workplace and going into the details of how you approached the situation will be a closer.
Excellent communication skills are also required since you may be required to work with the internal team and external agencies to develop and implement the strategies. How you present yourself and how well you carry the conversation will make this trait evident.
To top it off, you also need hands-on experience on various digital marketing tools (e.g. Google Analytics, Search Console, Buffer) and platforms (e.g. Google Ads, Facebook Ads, Marketing Automation software, WordPress).
Digital Marketing Manager and Director Interview Questions
These are managerial/lead roles and will require a high degree of management and leadership experience, as well as comprehensive knowledge and hands-on experience across a variety of digital marketing disciplines, channels, and platforms.
Possible questions during an interview include:
Tell me about your career up to this point.
Why did you switch to marketing? (If the previous roles weren't all marketing-related)
Tell me about a successful marketing campaign.

What strategies and tactics did you implement for the marketing campaign?
How did you assess the performance and impact of the marketing campaign?
Was there anything you could have improved?

Tell me about an unsuccessful marketing campaign.

Why do you think it did not perform as well as expected?
What did you learn from it?
What would you do differently in the future?

If you had $100k budget, how would you spend it?
How would you increase the revenue of our current product sales?
How would you structure your team and why?
Have you encountered a situation where you had very different ideas, values and beliefs from the rest of the team?

How did you manage the situation?
What was the outcome?

Have you ever encountered a case of insubordination and how did you handle it?
You have been put in charge of running a branding campaign, describe the process from campaign development to implementation.
Given a target revenue of $1 million in product sales, describe how you would develop a marketing strategy to achieve this KPI.
Rate your knowledge of each digital marketing channel discipline (social media marketing, digital marketing analytics, search engine optimization, etc.) on a scale of 1 – 10
Expert Tips
Similar to other managerial positions, exceptional leadership, teamwork, organizational, planning, and problem-solving skills are required.
When telling the story of your career, be as detailed as you can. For example, instead of saying:
"I started out as a one-man team and built it up into a 5-man team."
Put it somewhere along these lines:
"The company I previously worked for formed a new department and put me in charge of growing it. From a one-man team, I sourced for reliable digital agencies to offload some of the work and grew revenue by 500% in the first year. With the increased capital, I managed to take some of the projects in-house and hired and trained a competent digital marketing team. Despite some disagreements with the management and team, I managed to convince them to adopt my proposed initiative. As a result, our five-man team achieved 30% of the company's overall profit in the last year attributed to digital channels alone."
The interviewer will try to probe for any signs of over exaggeration as it is easy to take credit for certain achievements which could have been the result of team effort or initiatives from other departments. Going into the details make your recounts more trustworthy and earn you bonus points.
Budget planning is another key skill interviewers look for. If the interviewer asks you how you would spend a $100k budget to achieve $1million in revenue, don't give a canned answer like "we should spend it all on digital channels because the reach is wider and everyone is online".
Instead, provide a more methodical approach and recommend testing a small percentage of the budget on traditional vs digital channels over a short period to see which one is more effective in order to make better informed budget allocations. Share the various formulas and frameworks such as the "Aligning Business Objectives to Digital KPIs and Metrics Exercise" covered in our digital marketing strategy course to determine the budget for each campaign and as previously emphasized – go into the details.
Additionally, you will need to display distinguished leadership and organizational management skills. When asked how you would structure your digital marketing teams, explain in detail why you chose the structure and elaborate how it can help achieve specific objectives.
Digital Marketing Specialists Interview Questions
Depending on the industry and focus of the job scope, the interviewer may ask questions that are very specific to a particular discipline or channel.
Some industries don't invest in certain channels while others do. For example, F&B businesses tend not to focus on SEM while financial institutions invest a lot in SEM/SEO.
Regardless, specialists roles such as the SEO Specialist, Content Strategist, and Digital Marketing Analyst have been created to provide specialized expertise to support general marketing teams.
Content Marketing-related Interview Questions
Content marketing can get really fuzzy, especially when there is no strategy or governance in place and content is being created and distributed with no clear direction or purpose. Content strategists are in charge of piecing the jigsaw puzzle pieces together to paint a clear and complete picture for the rest of the marketing team to align towards.
If you're applying for a role that lists content marketing strategy as a required skill set, prepare for these questions:
How do you research your customer personas?
Do you document your customer personas?
How do you ensure editorial publishing timelines are met?
Tell me about a situation when a particular content piece you thought would be well received by the audience turned out negative instead and how did you manage it?
What are some content marketing models you apply?
What workflows do you use for content curation?
What is your content production workflow for various content types and formats (e.g. blog posts, videos, whitepapers, ebooks, infographics, etc.)?
What is your content ideation process like?
Describe the processes you use for content repurposing.
What are some content tools you use?
What are some content manage systems you have experience with? (e.g. WordPress, Joomla, Drupal)
How do you track and measure content marketing ROI?
How would you structure your content team and why?
What is your favourite content marketing mission statement?
Given a budget of $X amount, how would you spend it on content marketing?
How do you ensure your content is consistent with your brand?
Read these 3 headlines and tell me which one is best for our brand and why?
Which owned, earned, paid, and shared channels do you usually distribute your content to?
How do you determine your content distribution channels?
When do you decide to outsource or take your content marketing in-house?
What criteria and guidelines do you adhere to to select the best content marketing agency?
What are some key elements for a content to become shareable?
What content maturity models do you use?
What content governance models do you use?
What is your content strategy process?
Do you document your content marketing strategy?
Expert Tips
Content marketers need to have excellent creativity, attention to detail, a strong command in English, and planning and project management skills among many other skill sets. The interviewer will want to see that you embody these skills and are able to apply it to the job function.
For example, when asked what content marketing models you apply, you can mention the hub hero hygiene and hub and spoke models. But of course, you would need to have experience implementing the models in order to demonstrate your competency.
The ability to measure content marketing ROI, allocate your budgets strategically, document your content strategy, and carry out the entire content marketing process are highly sought-after skills.
If you are able to share from experience how you saw through the entire content marketing strategy process such as our 6-step content marketing strategy from our Content Marketing Strategy course (from content ideation to production, publishing, promotion, measurement, and governance), the deal will be sealed.
Search Engine Optimization-related Interview Questions
Search engine optimization (SEO) skills are in high demand as SEO is a long-term strategy that is integrated with many other marketing-related disciplines such as copywriting, PR, and content marketing.
These are some questions your interviewer may ask you if you are applying for an SEO Specialist role:
Why is SEO an important aspect in marketing?
How would you convince the management and marketing team to invest more into an SEO campaign?
Go through this technical SEO audit report and tell me how you would solve some of these technical SEO issues.
Do you have knowledge in web development (e.g. HTML, HTML5, CSS, Javascript, PHP, MySQL, etc.)?
How do you deal with duplicate content?
How regularly do you keep up to date with the latest SEO trends?
What SEO-related websites do you frequent?
What are the latest search engine algorithm updates (e.g. Google)?
What other search engines do you optimize for other than Google?
What process do you apply for an SEO site migration?
Tell me about a successful SEO campaign.

What SEO techniques did you apply to achieve the goals within the stipulated timelines?
What metrics did you use to measure your success?

Tell me about an unsuccessful SEO campaign.

What did you think went wrong?
How would you do differently in the future?

When there is potential conflict between prioritizing UX, SEO, and brand, how do you approach the situation without compromising other important aspects?
Here are three keywords I want to rank on the top 3 positions of Google. What strategies would you propose to achieve this goal?
How do you capture the top featured snippet results for these keywords?
How do you construct your website architecture?
What is your typical keyword research process?
What SEO tools do you use?
Which content management systems are you experienced with?
How do you implement structured data markup?
Have you ever dealt with a manual penalty?
What is your link building process?
How do you integrate SEO into the overall marketing strategy?
How do you optimize a website for local SEO?
How do you optimize a website for international SEO?
If you had a $100k budget for SEO, how would you spend it?
What are some important SEO metrics you measure?
What is your typical SEO audit process?
How often do you measure your SEO performance?
How often do you conduct a full SEO audit?
Which audit findings do you prioritize fixing first?
How do you conduct competitive SEO analysis?
Review this SEO service proposal report from an SEO agency and share your thoughts.
Expert Tips
Being an SEO specialist requires you to have a good balance of creative, technical, and analytical skills. On top of being objective-oriented, a go-getter, you need to demonstrate your ability to analyze data and propose viable solutions and alternatives.
For instance when going through a technical SEO audit report with the interviewer, there may be hundreds of issues that need to be solved. However, there may not be sufficient time and resources to resolve certain issues. Thus, you will be expected to suggest viable alternatives rather than harper on a particular issue that may not even be the priority to achieving the main objectives.
Say for example, there are two technical SEO issues present, one being slow page loading time and the other being duplicate meta descriptions. Since page loading speed affects the user experience and may negatively impact rankings, you will need to prioritize fixing this over the duplicate meta description issue. This comes from having a deep understanding of how search engines work and technical jargon.
An SEO specialist within a large organization or a digital agency will need to work closely with other marketing teams. He/she will need to understand that not everyone realizes the importance of SEO, hence, the SEO specialist needs to be an excellent communicator to push forth important SEO initiatives that can positively impact the organization as a whole.
An appropriate response to the question "When there is potential conflict between prioritizing UX, SEO, and brand, how do you approach the situation without compromising other important aspects?" would be:
"I would first hear everyone's perspectives and try to find an optimal solution to avoid compromising any aspect. For example, if a UX designer wanted to design a one-pager with content embedded within lightboxes that compromise SEO rankings, I would check with the UX designer exactly what type of experience he wanted the user to have. If the UX designer wanted to prevent the user from loading another page and also prevent content clutter, I would propose another web design element such as accordions which are more SEO-friendly and would almost achieve the same objective."
Keyword research is a significant aspect of SEO and should be integrated with other aspects of marketing including content marketing, social media marketing, and paid search advertising. Be as detailed as you can when you describe your keyword research processes such as the 4-step keyword research process covered extensively in our SEO course.
Digital Advertising-related Interview Questions
Global digital ad spend reaches the hundreds of billions every year with the US topping $100 billion in 2018 alone. – CNBC
In Singapore, many companies run digital ads through Google Ads and Facebook Ads, although there are many other DSPs that larger companies use that can be found here.
If you're applying for a role as an Account Executive, Media Planner, Ad Operations Manager, or Performance Marketing Specialist in a digital agency or any client-side role listing Google Ads, Facebook Ads, Search Engine Marketing, and Programmatic Advertising as a required skill, be prepared for these questions:
Which digital advertising platforms (e.g. Google Ads, Facebook Ads, Double Click, Bing Ads, Criteo, Outbrain) have you had experience with?
If you had $100k advertising budget, how would you spend it?
If the average CPC bid is $1 and the profit margin of a sale is $50, what should the max CPA be?
How do you structure your Google Ads account for different languages and different countries?
View this ad creative and tell me what you like and don't like about it.
Have a look at this landing page and tell me what's wrong or right about this page.
Do you have experience with Google Tag Manager?
Do you have experience with Google Analytics?
Do you have technical expertise in implementing tags (e.g. Google Ads Tag and Facebook Pixel) onto websites?
How do you research your audiences?
What are some audience targeting options you use?
Tell me about a time you targeted the right or wrong audience.

What were the results?
How did you measure the performance?
How would you target differently or similarly in the future?

If a company wanted to launch ads for brand awareness, which metrics would you recommend tracking and analyzing?
If a company wanted to launch ads for lead generation and sales, which metrics would you recommend tracking and analyzing?
Go through these Google Ads/Facebook Ads reports and tell me what is doing well and what isn't?
What do you look for when choosing a digital advertising agency?
Go through this proposal by a digital ad agency and share with me your thoughts.
We've been running our remarketing/retargeting campaigns for some time, but there's been a drop in clicks over the past few months. What could have gone wrong?
How do you tell the signs of ad fatigue?
Which reports do you access to gain competitive insights for Google Ads?
How do you factor in the dropoff rate when calculating the effectiveness of your digital ad campaigns?
What attribution models do you apply when analyzing your digital ad campaign reports?
Have you ever run into inconsistent data reporting across different advertising platforms and how did you manage it?
Which is more important – conversions or conversion rate?
When do you optimize for reach and when do you optimize for impressions?
How do you improve the CTR of your ads?
What could be wrong with an ad campaign that receives many clicks but little to no conversions?
Tell me about an A/B testing experiment you conducted.

Did you achieve the intended results?
If not, what did you not get right or wrong?
How would you conduct the experiment differently in the future?

What websites or books do you read to keep up to date on digital advertising trends and emerging technologies?
Expert Tips
Budget management, technical hands-on experience across various advertising platforms, and data analytics are all important skill sets to have for digital advertising.
If the interviewer asks you any technical questions relating to any digital advertising platform (e.g. Google Ads and Facebook Ads) such as "what is quality score and what is relevance score?", it is okay to reply directly and explain what they are.
However, for questions that require more insight and a deeper understanding of the data such as "What could be wrong with an ad campaign that receives many clicks but little to no conversions?", do not jump to conclusions but instead, take your time to ask more questions and analyze the reports further before producing any insights. This is an important test for your analytical abilities which is essential for digital advertising.
Social Media Marketing-related Interview Questions
Preparing for an interview for a Social Media Manager, Community Manager, or Social Media-related role? Be prepared for these questions:
Which social media platforms have you executed social media marketing campaigns on?
What are the features, pros and cons of each social media platform?
How do you decide which social media channels to publish specific types of content (e.g. branded, thought leadership, educational, videos, whitepapers, etc.)?
What is your social media marketing process?
How do you research and create your customer avatars?
What social media tools do you use?
How do you keep track of consumer sentiments about your brand i.e. social listening?
How do you research your social media topics for social media content creation?
Which marketing funnels do you map your social media content and storyboard development to?
Tell me about a content piece that went viral on social media.

What were some elements that triggered the virality?
How did you measure the "viralness"
Was there anything you thought you could have done better?

Tell me about a supposedly viral content piece that didn't go viral as intended.

What did you think went "wrong"?
How would you do differently for future content pieces?

Tell me about a content piece that backfired i.e. garnered negative public sentiments.

How did you manage the situation?
What did you learn from it?
How would you approach it differently in the future?

How do you decide which timings are the best times to post social media content to achieve the best results?
How do you ensure content posting timelines from your social media editorial calendar are met?
What are your processes for growing fan bases across different social media platforms?
What are some community management strategies you have developed and implemented?
What is your process for newsjacking trending topics?
Which are your favourite social media content creation tools?
Tell me about a social media promotion campaign you ran.

Was the response positive or negative?
How did you measure the performance?
What were the key takeaways?

Do you have experience in video production and video marketing?
Have you ran ads on social media platforms such as Facebook, Instagram, and LinkedIn?
Do you have experience implementing social media tags such as Facebook Pixel on websites?
Share with me your experience working with influencers up to this point.
How do you determine which influencers to work with?
How do you track the effectiveness of influencer marketing?
A customer left a negative review on one of your social media profiles. How would you respond to the customer?
How do you decide the right campaign objectives when running Facebook Ads?
What metrics do you use to measure social media engagement?
When do you go for reach and when do you go for impressions?
When running a brand awareness campaign, which social media metrics do you measure and why?
How do you keep abreast of the latest social media trends and emerging platforms?
Expert Tips
To perform spectacularly in a social media marketing role, you need to be creative and an excellent communicator. Besides having a deep understanding of popular social media networks, hands-on experience on various social media and content tools (e.g. Buzzsumo, Facebook Audience Insights, Buffer) will also be essential for this role.
Understanding virality and what makes content "tick" with your target audience. If your interviewer asks you to share an experience of a content that went viral or failed to go viral on social media, be completely transparent while breaking down the exact process and elements (e.g. Jonah Berger's 6 STEPPS of Virality covered in our social media marketing course) that triggered or didn't trigger to virality.
Another important aspect of social media marketing is community management. Interviewers may give you a scenario where a customer left a negative sentiment and ask you how you would manage the situation.
Never dive into the answer right away, but investigate further and get to the bottom of the situation in order to understand the whole context. That way, you will be better equipped to deal with the situation having uncovered all the facts.
For example, a customer could have had multiple negative experiences with a brand from the point of sales contact to the followup support. Put yourself in the customer's perspective and decide how best the brand could appease you. For someone who even bothered to leave a negative review, what if the brand spokesperson sincerely apologized and offered to reconcile in a genuine tone? Would continuing to bombard the brand change public opinion?
Good PR skills and an excellent command of English are also essential skills interviewers will look for. Demonstrating your ability to craft "hard-to-ignore" outreach emails and winning social media influencer partnerships will secure you this job position.
Digital Marketing Analytics-related Interview Questions
Digital marketing analysts interview questions:
Which web analytics platforms (e.g. Google Analytics, Adobe Analytics) have you had experience with?
How do you stress the importance of digital marketing analytics to your team?
How do you organize your UTM tags for consistency?
How do you decide which marketing channels a company should focus on for each stage of the customer journey?
What process do you use to determine the total number of users to reach?
How do you determine the overall budget for digital marketing?
How do you justify the spending of the marketing budget on each channel?
What metrics would you measure for the following marketing objectives?

Brand awareness
Engagement
Leads
Sales

Go through these digital marketing reports (e.g. Website, Email, Social Media, Advertising, Search) and:

Analyze what worked and what didn't
Come up with some business questions that the reports can help to answer
Suggest improvements and recommend action plans

In a situation where the c-suites don't agree on the marketing strategy, how would you attempt to convince them?
How do you manage data discrepancies between different platforms?
How would you propose integrating traditional and digital marketing analytics data together into a report? (e.g. offline point-of-sale system with Google Analytics)
Do you have web development skills?
Have you had hands-on experience installing Google Analytics tracking code onto a website?
Which content management systems do you have experience with?
What are some types of filters you've set up before and why did you set them up?
How would you structure multiple domains and subdomains during your Google Analytics account setup?
Which are your favourite visualization report formats and why? (E.g. Data tables, pie charts, performance, comparison, pivot tables)
Which dashboards do you use on a regular basis? (E.g. Google Data Studio)
Describe some quantitative and qualitative techniques you use to improve upon your customer personas.
What are some common data "mess-ups" you have encountered (e.g. wrong channel groupings) and how did you go about cleaning up the reports.
How would the data you analyze in the Acquisition Reports impact your marketing strategy?
How do you determine industry benchmarks?
How do you resolve high bounce rates?
What types of event tracking would you apply to this sample website?
What sort of goals would you track for this sample website?
What conditions would you set to build your remarketing lists for this sample website?
Have you had any experience implementing standard and enhanced eCommerce tracking?
ROI from digital marketing efforts has been negative for the past few months, how would you approach this situation and what are some recommended steps to resolve this?
Expert Tips
Foundational knowledge of data analytics principles and experience in navigating Google Analytics reports are highly sought-after skills. To understand and accurately interpret report data, you need to have a solid understanding of the end-to-end customer journey and T-shaped knowledge across all marketing channels.
Interviewers want to see that you are able to demonstrate deep analytical skills and attention to detail. A question like "how do you resolve high bounce rates" shouldn't be haphazardly approached with "let's implement scroll event tracking to void a bounce when a user scrolls down to the bottom of the page". A follow-up question like "why exactly are we measuring bounce rates" and "are there more important metrics to be measuring engagement than bounce rate" would make you stand out in the eyes of the interviewer.
Actual hands-on experience on tracking implementation on marketing tags requiring JavaScript knowledge would also be advantageous since smaller companies don't have the luxury of an IT department.
In Summary
The whole point of the interview is to ascertain whether you, the candidate understands what marketing is all about and whether you (your personality, character traits, and experience) are the right fit for the advertised job role and scope of work.
When in doubt, avoid trying to smoke the interviewer as it is easy for an expert to see through your smoke screen. Instead, be honest and highlight that there is still a lot to learn in the field of marketing. This will show that you have integrity and the willingness to learn what you don't know.
Most importantly, come prepared for your interview by referring to this handy guide. We wish you all the best in securing your dream job as a digital marketer!
Check out our Digital Marketing Career Resources to help you better prepare yourself to take that step into a digital marketing career. 
Digital Marketing Career Portal Menu
Download the Complete Digital Marketing Career Handbook (PDF Version)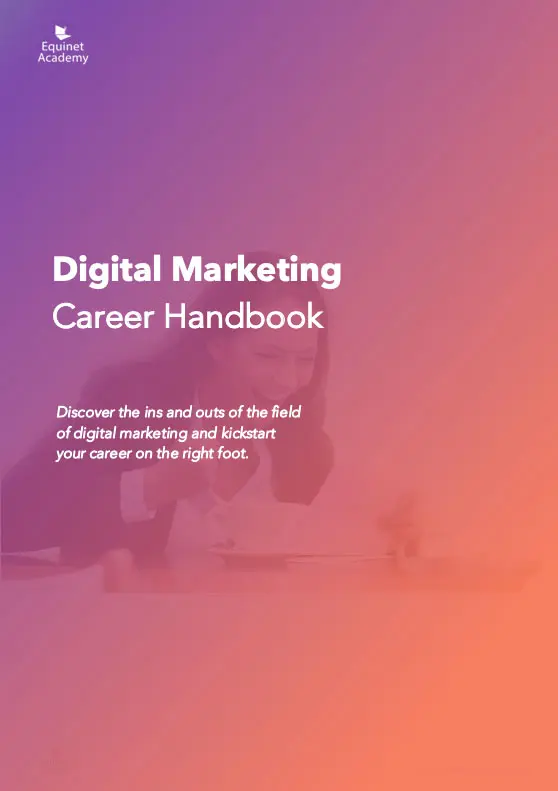 Discover the ins and outs of the field of digital marketing and kickstart your career on the right foot.