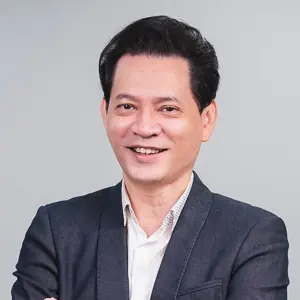 Chris is a senior Marketing & Communications professional with over 29 years of experience as both an in-house practitioner and as a consultant servicing clients from a wide range of industries. He possesses the unique combination of strategic, creative, technical, and writing skills critical for today's integrated marketing needs.
A Communications graduate, Chris gained invaluable experience in a wide range of marketing-related fields, including Branding, Corporate Communications, Public Relations, Content Marketing, Search Marketing, Advertising, Copywriting, Graphic Design, Audio-Visual Production, and Events.
In the areas of Branding and Communications, he was part of the team responsible for rebranding the education institute MindChamps in 2005. He contributed to the brand's rapid growth by conducting numerous ad campaigns and generated, on average, $500,000 of publicity per year between 2006 and 2014. Today, MindChamps has expanded regionally and is listed on SGX.
In PR & Content Marketing, he was responsible for implementing thought leadership and social media content strategy for recruitment firm ScienTec Consulting (2015 to 2017) to grow the follower base organically by 178%. He managed to generate numerous publicity in the major press and industry magazines, including a full-page personality feature on the CEO in The Sunday Times. He was also responsible for putting together submissions that resulted in the firm receiving 15 major industry awards.
As a Copywriter & Graphic Designer, Chris has written numerous articles and copy for a whole range of communications and marketing collateral, including websites, brochures, social media ads, etc., often with accompanying layout designs. He has also ghost-written 1,000 to 3,000-word feature articles for clients, including the #1 ranked Google Search article on 'Lasik Singapore' for Atlas Eye Specialist Centre.
His passion for wanting to share his experience and knowledge with others has led him to attain the WSQ Advanced Certificate in Learning & Performance (ACLP). Chris currently develops and delivers curriculum on a wide range of marketing subjects in M.A.D. (Marketing, Advertising & Design) School by CMA (Chatsworth Medi@rt), its social enterprise arm M.T.C. (Make The Change, teaching students with disabilities), and here in Equinet Academy.
The trainer was well-prepared and knowledgeable about the subject, able to clearly explain the various terms and also provided suitable videos, and real-life examples.
Melissa Ann Loke
Chris is a very patient instructor. He also provided clear and concise examples that helped in my understanding during the entire course of 2 days.
Ang Wei Jie
I like how the trainer responds to each of my questions and was really nice. He took his whole lunch hour to explain to me the areas that I was confused about to ensure that I understood everything clearly.
Nicole Soh
Courses Chris Facilitates:
Articles Written by Chris:
Learn Digital Marketing From The Best
Get yourself certified, apply actionable digital marketing strategies at work and see results.