11 Copywriting Tools to Help You Write Better Copy
Writing copy is part and parcel of running a business. However, what sets companies apart is the ability to write copies that work. When promoting your business' products or services, it is not enough to only state what the features are. The key here is to eloquently showcase the advantages and benefits that clients will receive should they choose to engage your business — that is the factor that will close a deal.
Remember — features tell, but benefits sell.
However, all that might be easier said than done. There is no doubt that effective copywriting can be challenging, but using the right tools can significantly help your copywriting strategy to bring about desired results.
In today's age, many of these tools implement new technologies like Artificial Intelligence (AI) in order to help copywriters produce engaging materials. There are many benefits of using AI tools. AI copywriting tools go beyond just producing content — it can also expand your thought process, optimise keywords for SEO efforts, significantly cut down your research time, and much more.
This article will present 11 of the most effective copywriting tools, both traditional and AI, that will allow you to craft more robust copy. If you are ready to upgrade your copywriting skills —  let's get started.
What are copywriting tools?
Copywriting tools are essential components of any successful business as they help streamline the creation and distribution of content. Whether it's a blog post, website copy, social media posts, or email campaign, copywriting tools can support your writing process and give inspiration to craft compelling pieces of content that attract, engage, and convert audiences.
They also offer insightful information on the copy's success, allowing further improvement. With the right copywriting tools, copywriters can create content that drives results and helps them reach their desired goals. Good content is necessary to help increase sales, boost customer loyalty, and build a positive brand image.
Top 11 Copywriting tools
1. Facebook Ads Library
The Facebook Ads Library is an excellent source for gathering ideas and understanding the strategies of your competitors. It provides a comprehensive overview of the advertisements that have been running recently, and thus it can be an invaluable resource for improving your own copywriting.
Business owners can maximise their potential to the fullest through the following:
Analysing advertising from competitors. You are able to search for ads by keyword and gain access to archival data to see the messaging used by competitors. Seeing their ads can help you understand how competitors employ copywriting to promote similar products.
You can get an overview of the various versions of the same advertisement brands are utilising for

split testing

and create a list of ad characteristics to experiment with for your upcoming ad.
To ensure an effective result, glance at the network's current trends and future sustainability favoured by your target audience.
How to use Facebook Ads Library?
This is an invaluable tool that can assist in conserving time and money when optimising ads. Here is a look at how you can use the Facebook Ad Library to uncover competitors' ads.
To begin, open the Ad Library home page, and you can select "Search ads" immediately.

First, choose the location of the audience that is being served the ads. It is important to remember that this is not the location of the advertiser but the audience.

Next, you may select the type of ad you'd like to find. This will enable you to view all ads created by specific advertisers or ads related to a certain election, political concern, or issue. Unless you have a special interest in these subjects, it is recommended that you opt for the 'All Ads' selection.

Finally, type in the name of the page whose advertisements you want to observe. Select the appropriate brand name from the search results list below.

Once done, you can view all the ads the brand runs in your area. By choosing "Filters" in the upper right corner of the page, you may further narrow the results.

The filters allow you to narrow down the ads based on language, platforms, media types, active status, or the time frame of the ad runs. This is the best way to locate effective ads and use them to accelerate ad market research.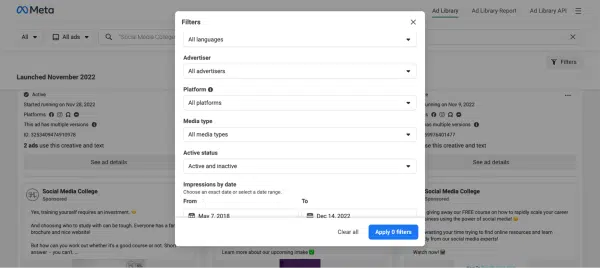 This is the best way to locate effective ads and use them to accelerate ad market research.
Launching a marketing effort that yields tangible results can be a difficult task. Fortunately, Meta's fantastic tool can make the process simpler. Utilising comprehensive market analysis, marketers can be at the helm of a prosperous campaign.
If you are a business owner and have not already taken advantage of the Facebook Ad Library, you should check it out immediately. You will gain a good grasp of what other businesses are doing with their marketing.
2. Grammarly Premium
As a business copywriter, you must recognise the value of proofreading your writing. Although informal expression has become regular in professional communication, proper grammar is still necessary for conveying thoughts with accuracy, clarity, and precision.
With a specialised proofreading tool such as Grammarly, more options are available to make the process of proofreading smoother.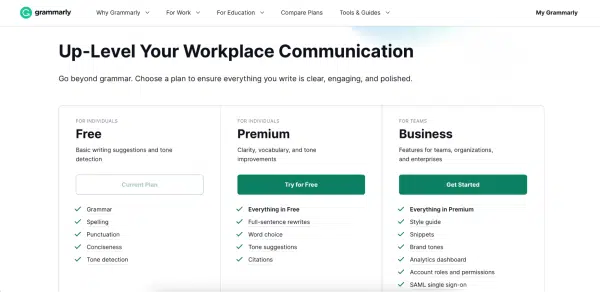 Grammarly is a highly praised online grammar correction tool for writers. It has multiple functions, but its primary purpose is to work as a dependable spell checker and writing assistant. Grammarly is committed to helping people craft their writing in the best way possible and reduce errors.
Features include:
Grammar Scanning: As the name implies, Grammarly offers basic and complex grammar examinations. Additionally, it gives an elucidation of grammar guidelines.
Punctuation Verification: Helps to prevent grammar errors and adjusts your punctuation.
Spell checking: This is a must!
Plagiarism Detector: It uses a 16 billion web page database to identify any unintentional plagiarism cases in a text.
Vocabulary Expansion: Refrain from using the same words again and again. Grammarly offers suitable word substitutions.
Writing Format Evaluation: Grammarly offers inspections of several types of writing formats. You will receive personalised tips depending on the type of content you are producing and the audience you are targeting.
Readability Rating: This evaluates how easy (or hard) it is for the readers to comprehend the sentence. Your sentences receive a maximum grade of 100; the greater the score, the better.
The tool also extensively emphasises a few other minor features. However, these Grammarly features are only available with Grammarly Premium.
Grammarly is one of the most accurate and high-quality AI writing tools available. It significantly enhances any text and is an essential tool for every marketer.
3. Answer the Public
There are a lot of useful SEO tools available; however, when it comes to content marketing, we do have some favourites. One of these is Answer the Public, an invaluable resource for business writers and marketers.
This long-tail keyword tool shows inquiries and autocompletes searches related to a particular topic. By utilising Answer the Public, it's possible to determine what audiences are searching for so that marketers can provide content with pertinent and comprehensive answers that audiences are actively trying to find.
It also provides a dashboard to track content and ensure you see it. The results are shown, divided into the different variants used to generate them: it shows the "whys" and the "hows" separately, all displayed in a shareable image.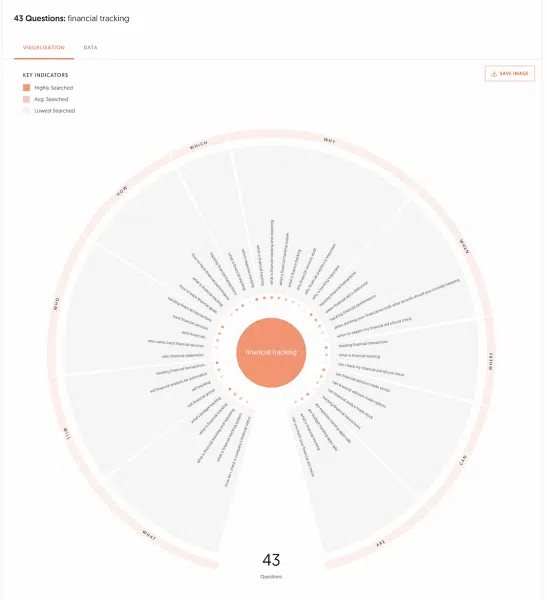 Copywriters and content creators can use this tool to study and find trending subjects.
You can leverage these trending areas to write blog entries to increase traffic and improve your SEO rating.
This kind of thorough research on your topics is essential because it enables you to produce content that is more likely to be read, shared, and cited, all excellent factors for your SEO.
4. Copy.ai
Copy.ai is a tool that can be used to create content and enhance your marketing plan using machine learning algorithms.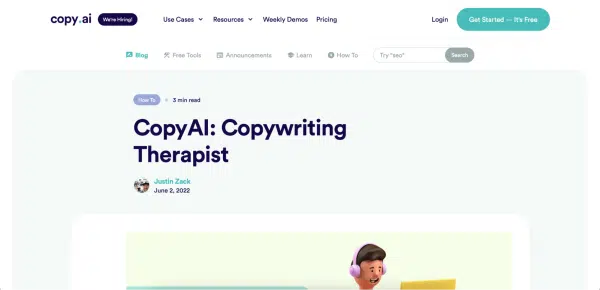 Copy.ai helps you create more sales pages, blog posts, and social media posts for your business by providing a way to easily create content for any topic or industry. You can use Copy.ai as a copywriting tool or as part of an SEO strategy to improve your ranking in organic search results.
Even though Copy.ai is focused on short-form content and does not produce long-form content like blog articles, it nevertheless has a range of unique features.
Text Analysis: Copy.ai can analyse an existing piece of text or website URL and generate insights about its tone, style, structure, readability, and more. The company can use this to evaluate the effectiveness of its content and identify areas to improve.
Content Creation: Copy.ai can generate custom-written copy based on a brief provided by the user or from analysing an existing piece of text or website URL. It can also suggest keywords that are relevant to the topic at hand.
Style Adaptation: Copy.ai can adapt its writing style according to the business preferences, generating copy in a tone that matches its brand voice perfectly every time.
Plagiarism Checker: Copy.ai also offers services like plagiarism checking. When you're done creating or editing your marketing copy, just paste it, and you'll receive a score in a matter of seconds.
Copy.ai will help you generate great pieces of content on the regular without breaking a sweat.
5. Hemingway App
The Hemingway App is an online tool that can help businesses make their writing easier to read for their targeted clients. It provides instant feedback on your copywriting, including highlighting overly complex sentences, passive voice, and other areas that can be improved.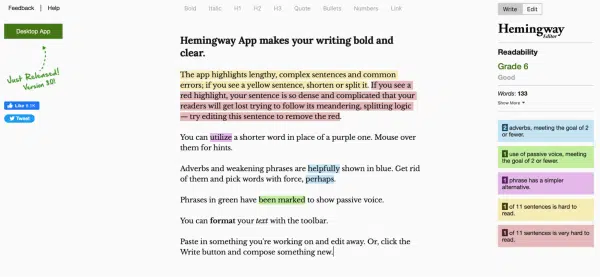 Hemingway is the only app that directly connects businesses to a team of trained copywriters who powerfully and expertly craft marketing messages for their campaigns.
Every business executive and marketing expert should take advantage of this app with its ability to take narrative creation to the next level.
6. WordTune
WordTune is an AI-enhanced tool that can assist in expressing your ideas.
It can detect the content of your writing and provide suggestions to make it more understandable, engaging, and credible.
First, WordTune helps businesses brainstorm topic ideas based on their target audience's interests and needs.
Next, WordTune provides a comprehensive keyword research tool that allows businesses to find the best keywords related to their chosen topics. This ensures that their content is optimised for search engine visibility and drives more organic traffic to their website or blog.
Finally, WordTune offers an AI-powered writing assistant that guides marketers through the entire writing process from start to finish.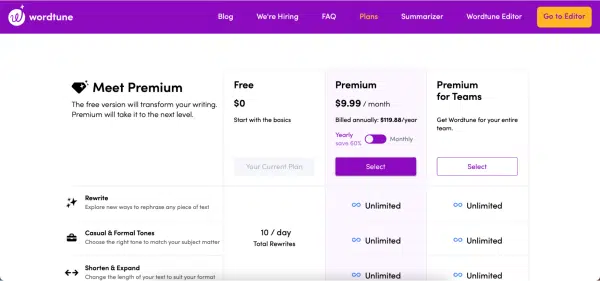 WordTune is a free, open-source, effortless way to type and copy faster than ever before. Try it today. It is the most intuitive typing software for touch devices and keyboards.
 7. Anyword
Maximising conversion is fundamental for any marketer. Thanks to the AI marketing copy generator tool "Anyword," marketers can now accomplish more tasks in less time as it generates different text variations in bulk.
Anyword is a copywriting tool that makes it simple and quick to produce engaging content. Companies can showcase the highlights of their offerings by employing distinct key phrases.
It offers a range of features designed to make the writing process faster and more efficient, and also includes:
Original text suggestions: Generate multiple versions of the text to maximise appeal to and conversion of customers.
Personalization of text: Utilise AI to quickly detect the most successful phrase.
Preset keyword collection: Use the AI to produce various renditions of the current copy and point out popular offers, such as new items and free delivery.
Predict performance: Instantly predict the likely outcome of each message with a performance rating.
Unique Keywords: Embed pertinent words into ideas for the AI to utilise.
Integration of the Ad Account: For current campaigns, get exclusive optimization tips and predictions on how they will perform.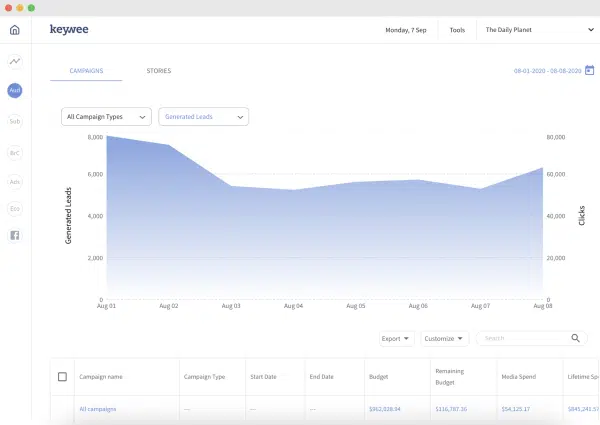 Image by: Andy Thompson (bloggersideas.com)
Produce powerful copy to advertise blog posts.
Maximise your landing page and service page writing.
Not only does this tool enable you to save costs and valuable resources, it also allows for messages to be tailored to certain platforms — making them visible to more current and potential customers.
8. Copysmith
The AI-powered copywriting tool Copysmith helps companies produce interesting and engaging content, all with the click of a button.
Ideas for your articles are generated by Copysmith and all you have to do is to select a theme.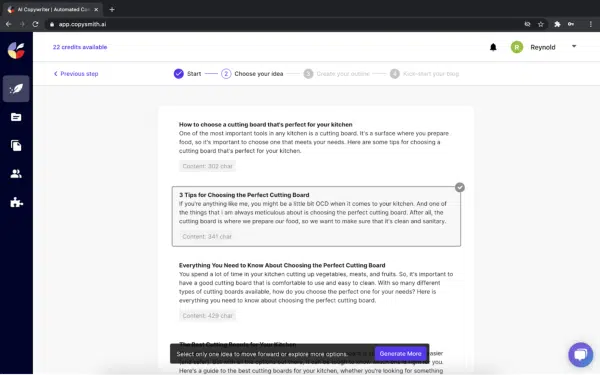 Image by (Copysmith.ai)
You will then be presented with several outlines depending on your suggestions. If you see something you like, simply select it.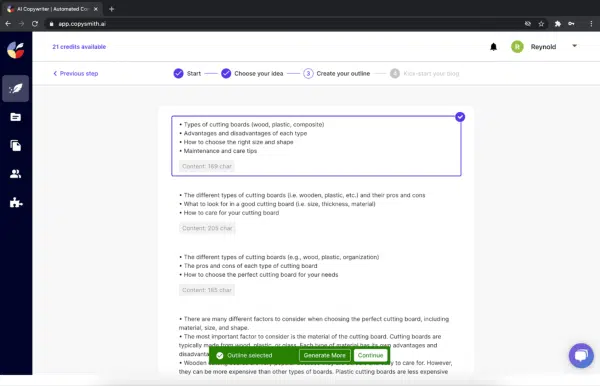 Image by (Copysmith.ai)
And then, boom! You receive a fully written article on the topic of your choice. It's that easy!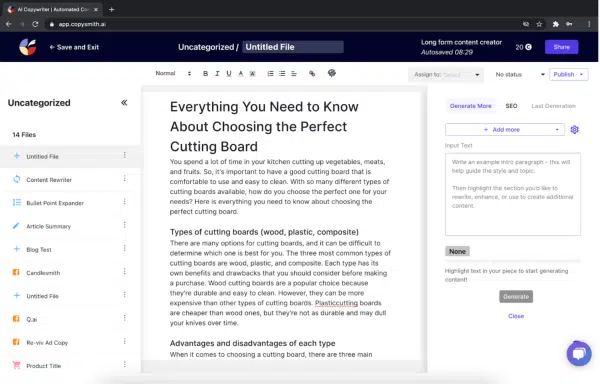 Image by (Copysmith.ai)
There is no limit to what can be achieved.
Texts are designed to be engaging and effective content for different platforms and forms of copy.
It offers unique data to raise the ranking of article keywords.
It creates original, strong content for blog posts and web pages.
It is simple to select a variety of topics to generate content that meets business demands.
By posting on several social networks, you may raise awareness of social media.
Increase sales for small businesses with Low-Cost content writing services.
With some of the greatest natural language processing skills we've encountered, Copysmith is a fantastic blog post generator. Even though its entire feature set is fairly expensive, it's worth it for the quantity and caliber of options it provides.
9. Coschedule Headline Analyzer
Since just 2 out of 10 people click on the links to read blog articles, marketing experts already understand how crucial it is to write compelling headlines. Now it's possible to increase that number with the Coschedule Headline Analyzer.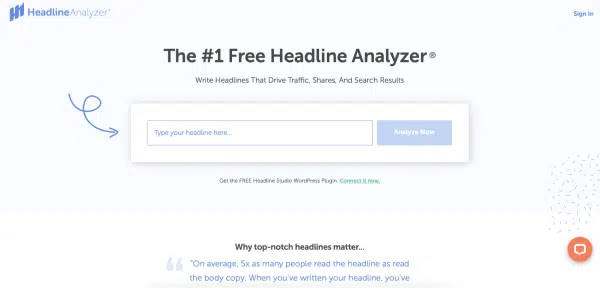 It is one of the best and most popular tools out there for creating engaging headlines to convert leads. The Headline Analyzer combines all of the data and analyses your headlines for quality metrics that are likely to boost likes and shares, SEO impact, and traffic.
Business professionals can also use the CoSchedule headline analysis tool to:
Pay attention to the headlines that have been shown to increase traffic for list postings, instructions, and queries.
Increase social shares and clickthroughs.
Find out which words and phrases help bring in clients.
Compare competitors' content for better optimisation.
If you are willing to make the investment, the CoSchedule Headline Analyzer is the one to go for.
10. Frase
Frase is an AI writing tool that uses search results to aid you in identifying and content opportunities.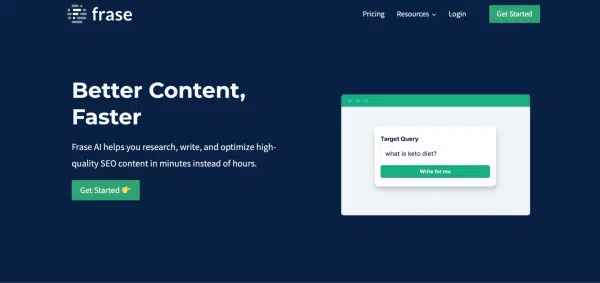 Topic research is one of the top uses of Frase. It offers ideas and additional keywords to utilise when marketers enter their goal keywords.
Apart from that, businesses get additional features, like:
Content research services.
AI content development templates. These templates include introduction generators, outline generators, product descriptions, summary generators, paragraph rewriters, blog title generators, etc.
The ability to access content from other websites with Frase.
If you're looking for an AI writer who can not only generate content, but provide help with your SEO efforts, Frase would be the way to go.
11. Unbounce's Smart Copy
Smart Copy is an excellent tool that can assist you in enhancing your writing with AI technology.
Even if all you have is just a concept of what you'd like to write, Smart Copy can still be a great help.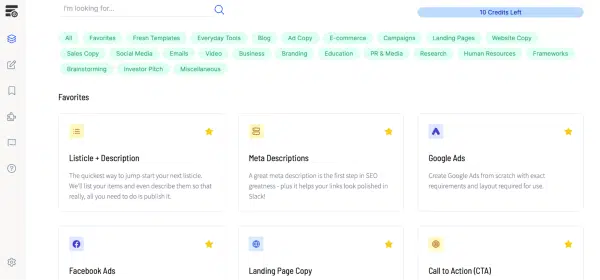 Several features make it worth using Smart Copy for your business copywriting, including:
Unlimited generation: Paid plans allow you to generate as much new content as you want each day.
Multiple Templates: The software provides you with more than 45 preset templates to assist you when drafting copy.
Multiple Languages: Translate what you write with the software into over 30 languages.
SEO Analysis: Analyse web keywords to improve business copywriting.
Integration: A web app, a convenient desktop app, and a Chrome extension are available for easy access and integration with the tool.

Smart Copy has the ability to be an integral part of your marketing strategy. This software is a great choice if you are looking to create fresh content on a regular basis.
CONCLUSION
While the use of tools, especially AI-enabled ones, can generate ideas and content like never before – it's important to not rely too heavily on this. Remember to constantly double-check the work produced by these softwares. They are not meant to replace a writer, they are just tools for a writer to use.
Now that you're informed on the 11 copywriting tools that could be of great help to you, hopefully you are ready to bring your business' writing to a whole new level.
To give traditional marketers and aspiring digital marketers a more thorough grasp and a wider perspective of how to drive leads and clients to take action, Equinet Academy offers the WSQ Copywriting and Content Writing course.
We also host a wide range of digital marketing courses, including Digital Marketing Strategy here in Singapore and a Advanced Certificate in Digital Marketing Programme, which covers the following five modules:
Learners who complete these modules will be awarded a Certified Digital Marketing Strategist certificate. Our courses are WSQ-accredited, and eligible learners can receive up to 90% subsidy.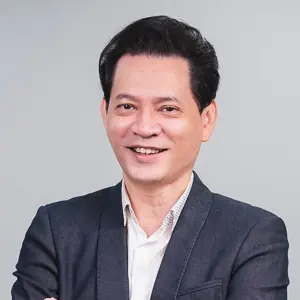 Written By: Chris Minjoot
Chris is a senior Marketing & Communications professional with over 28 years' experience as both an in-house practitioner and as a consultant servicing clients from a wide range of industries. He possesses the unique combination of strategic, creative, technical and writing skills critical for today's integrated marketing needs. Chris is currently also the lead trainer for the Copywriting and Content Writing Course here at Equinet Academy.