Digital Marketing Internship
Understand the career pathways a Digital Marketer can progress towards.
Digital Marketing Internship
Getting into the field of digital marketing can be difficult, especially since many positions in this field require some level of experience. To compound this barrier, companies are very selective in their hiring process despite having a hard time finding skilled digital marketers.
However, Shaun Lee, Senior Client Solutions Manager at LinkedIn, advised, "If you're trying to go after senior positions in multinational corporations, you need a wealth of experience. But if you're going for an entry-level position in a startup, the barrier to entry is usually much lower."
An internship can give you the experience needed to propel your digital marketing career vertically from ground zero. If you're looking to embark on a digital marketing career and want to find out what it entails and how you can get started, you'll get a clearer picture reading this article. 
What is a Digital Marketing Internship?
A digital marketing internship is a short-term job placement in the marketing department of a company or digital agency where interns get to assist in the development and implementation of digital marketing campaigns.
The scope of work ranges from creative work to technical implementation varying from search engine optimization to digital advertising, social media marketing and email marketing. The actual job scope varies from company to company and may extend to writing articles to designing creatives, supporting lead generation campaigns, and constructing reports.
Digital marketing internships typically last from 1 month to 3 months and can even go on for 6 months or longer depending on the contract and any private arrangements between the company and the intern.
The salary of a digital marketing intern normally ranges from $800 to slightly over $1,000 a month.
Benefits of a Digital Marketing Internship
Unlike in school or online-based learning (e-learning), in an internship, you get practical experience working on real world digital marketing campaigns as you learn on the job, which will benefit you a lot more than theory-based lectures and project-based assignments.
Getting an internship in a digital agency can be a very different experience from interning at a company (client side). Interns in a digital agency may get to work on multiple client campaigns across different industries while interns at the client side usually experience only one industry.
This gives digital agency interns more exposure on how digital marketing strategies can be applied across various industries and opportunities to get hands-on. However, the workload in a digital agency can be much heavier than the client side.
In larger marketing teams, interns also get networking opportunities and learn the ins and outs of the industry through conversing with more experienced digital marketers.
Regardless of whether you are interning in a digital agency or client side, there are plenty of benefits starting out as a digital marketing intern:
Gain a Broad Overview of Digital Marketing and What to Specialize in
There is a whole ocean of knowledge and skills to discover in digital marketing. Even traditional marketers who graduated from universities a decade ago are baffled by how much marketing has evolved over a short span of time.
The birth of the term "T-shaped marketer" describes someone who has general knowledge across all disciplines in marketing but has deep knowledge in one or two specific disciplines. Being a T-shaped digital marketer is essential for productive meetings and effective communication between different marketing departments.
Working as a digital marketing intern can provide you with the optimal learning platform to gain a broad overview of various digital marketing disciplines. You will be given the opportunity to experience different marketing disciplines and discover your interests, allowing you to choose your specializations with clear direction on the road ahead.
Hands-on Learning Experience
Being a digital marketing intern, you are basically one of the lowest ranks in a company and will most likely be tasked with the least favourite job tasks such as uploading content to the website, designing an email newsletter, and writing social media posts. This is the hard truth. However, there is much to be gained from any of these tasks as long as you keep an open mind.
Ng Zhuo Ling, Marketing Executive at Cycle and Carriage, recalled having to learn how to use SalesForce for lead nurturing campaigns, navigate a content management system to publish product information, and design graphics with Adobe Illustrator during her internship at Bosch. The experience from her internship had helped her optimize her productivity in her current role where she did not have much time to learn how to use CRMs such as SalesForce, content management systems or graphic design software from scratch.
Bountiful Networking Opportunities
Unlike in school, you get to mingle around with like-minded individuals and industry veterans. The contacts you get to connect with can help you with your future job hunts. For example, an ex-colleague may refer you to good job opportunities or recommend you to potential recruiters.
Other benefits of networking include establishing future partnerships. For example, you may have joined a new B2B software company and happen to discover that an ex-team member is working in a company that may potentially become a client. Or that your future role may require you to headhunt competent marketers and that you can tap on your existing contacts to source for potential hires. Either way, fostering a strong social network will make your outreach a lot easier.
Enhance Your Interpersonal and Communication Skills
Working in a team environment in a corporate setting is very different from working on group projects in school or running a one-man show in a new startup.
If you're working in a digital agency (client-facing), you may have to deal with clients or team members who may not be the most favorable. You will have to learn how to take constructive criticism well.
At the client side, you may have to work with digital agencies who may not provide the best service, or a tyrant boss whom you have to report to everyday. You will have to understand bureaucracy and learn to adapt to it.
In any case, you will be given ample opportunity to enhance your interpersonal and communication skills during your internship.
Learning to Work Independently
Even though you will be assigned to a supervisor in your internship, your supervisor will mostly be busy with his/her day to day tasks and will not always have the time to guide you through all the way.
Ng Zhou Ling recounted having to "figure out a lot of things" on her own during her internship at Bosch. Her supervisor had guided her through SalesForce but it was as brief as pointing to her what to click. She had to spend a lot more time exploring the platform on her own.
It was through "playing around with the system" enough on her own that she managed to master it. This helped her a lot in her new role at Cycle and Carriage where she was able to create and manage lead nurturing and customer relationship management campaigns with ease.
Feeling a Sense of Achievement and Fulfilment
At the end of the day, nothing matters if you don't feel a sense of achievement and fulfilment.
Your sense of achievement will come from learning new skills and successful execution of your assigned tasks, and your sense of fulfilment will come from your day-to-day interaction with your colleagues and fostering strong bonds with your team.
Transiting to a Full-time Job
The most important thing is not to forget why you're doing an internship in the first place – your main objective of securing a well-paying full-time job as a digital marketer.
The work accomplished during your internship will enhance your portfolio, increasing your chances of getting a new full-time job or even converting your current internship into a full-time position.
To find a digital marketing role that suits you, check out our Digital Marketing Career Resources for a more in-depth look into a career in digital marketing. 
What Should You Not Do as an Intern
As much as you should do everything you can to get the most out of your internship, these are some don'ts.
As a digital marketing intern, you shouldn't:
Not Ask Questions
This is the best time to learn and absorb everything you can. Ask your team members for help whenever you need it but be mindful of how and when you ask. You don't want to offend anyone unintentionally.
Assume too many things
Spinning off from the previous point, you don't know what you don't know.
For example, you may think the email newsletter design you created was the best thing that was created since sliced bread. Nevertheless, there's always room for improvement and you should seek a second opinion on what can be improved upon.
Be Afraid to Take on New Tasks
It's normal to be afraid of making mistakes, especially when it comes to working on new and unfamiliar tasks. However, the saying is true that if you don't attempt anything, you will never master anything.
Not Socialize
One of the main benefits of an internship is the opportunity to build connections that may help you in your future endeavors. Strike conversations whenever you're at the pantry, at an event, or even in the company's WhatsApp group. Do your best not to turn down lunch gatherings and company get-togethers.
Overwork Yourself
Even though it may be counterintuitive, working long hours without regular break intervals can hinder your creativity, productivity, and quality output in your work.
Take regular breaks to clear your mind. Work never ends, so leave the extra paperwork for another day.
Not Manage Your Time Well
One of the essential skills a digital marketer needs to possess is good time management and project management competency. The need to multi-task and run multiple projects simultaneously will be a common occurrence.
Seek advice from your supervisor if you are running late on deadlines and check with your team members if you are able to offload some work to them. The ability to prioritize and focus on the more important tasks first is an essential skill set.
Not Have Fun While You're at It
Again, your passion for digital marketing should be reinforced on a daily basis. Digital marketing can be very challenging yet rewarding at the same time, requiring you to activate both creative and analytical brains simultaneously. Have fun while you're at it.
What Does a Digital Marketing Intern Do?
The job scope of a digital marketing intern ranges broadly depending on what the company needs at any point of time. Tasks will fall quite commonly under any one of the four categories:
Creative
Writing
Campaign
Technical
Creative
Creatives are one of the most common tasks assigned to interns since the learning curve is less steep than its counterparts. Creative works include everything from writing ad copies to creating email newsletters and designing graphics used for marketing collaterals.
Writing
Depending on the size of the organization, the organization structure, and whether a content team already exists within, writing tasks may or may not be assigned to digital marketing interns.
In a multinational corporation for example, all product copy and articles may be controlled by the HQ and go through strict quality guidelines.
In smaller companies and digital agencies however, interns may do blog writing and product copy when editorial guidelines and content governance are not tightly controlled.
Campaign
Digital marketing interns may get to assist in the setting up and management of digital marketing campaigns ranging from SEO/SEM to Digital Advertising (Google Ads), Email Marketing, and Social Media Marketing.
Technical
Interns with a technical background may also be tasked to develop landing pages, maintain content management systems, and set up marketing tags.
Requirements of a Digital Marketing Intern
What does it take to get into a digital marketing intern position in a company or digital agency?
Even with the thousands of digital agencies and companies out there in the market, job seekers still find it difficult to get into a digital marketing role.
The main issue lies with having a lack of experience and essential skills and characteristics required of a digital marketer. The need to stand out from the rest is getting more and more apparent.
Employers are looking for self-driven, passionate and eloquent individuals with experience running digital marketing campaigns and have achieved some degree of success.
Shaun Lee, who once got accepted as an intern in a global startup firm advised, "If an intern reached out to a potential employer with a well thought out media plan, laying out all the action plans and strategies, all ready to run, he/she will definitely stand out from the rest of the job applicants. One should also proactively research about the company's competitors, try to understand their business objectives and try to uncover possible struggles before applying for the job."
He added that having a sales background helps especially when customer empathy i.e. understanding consumer needs on the ground is necessary for persona marketing.
This is becoming more prevalent since the lines between sales and marketing are getting blurred as sales and marketing departments begin to merge.
Taking certified digital marketing courses to build some foundations and working on a side project to enhance your digital marketing resume (CV) and portfolio are additional preparations to stand out from the crowd.
Once you've made the necessary preparations, get a third party to vet through your CV and cover letter. At Equinet Academy, our team of passionate digital marketing trainers are more than happy to review the CVs of their learners and offer pointers on how to improve on them.
Ultimately, you want to join a company that will be able to provide you with the opportunity to experience areas of specializations that will benefit your career as a digital marketer. That comes with doing preliminary research on the company and asking the right questions, which we will cover in the next part.
How to Choose a Good Company for Your Digital Marketing Internship?
A fruitful internship programme goes both ways. It should be mutually beneficial for both the intern and the hiring company.
With that said, interns need to probe a little further before and during the interview.
Tiffany Lim, a graduate of Equinet Academy's Certified Digital Marketing Strategist (CDMS) Programme, shared her experience working in a digital media event company who had plans to spin off a digital marketing department and put her in charge of developing and implementing all of the company's digital marketing strategies. "It was hectic, I was learning everything online for the first 3 months without much guidance." The lesson she learned was to make sure to ask the right questions to find out whether the company had the appropriate infrastructure in place to benefit both parties.
"Do not undervalue yourself! Be clear on what you want and find out what's in store for you before committing your time and effort." Shaun Lee urges.
Check the salary range and make sure it is sufficient to cover your basic needs e.g. travelling, meals, and savings (after CPF deduction). Avoid joining companies who don't have a salary package (undervaluing your time) or worse, require you to pay a joining fee (e.g. MLM companies).
Do some research on the company to find out what campaigns they are currently running and ask questions such as:
What is my job description?
What campaigns will I be running?
How much creative work will I be doing?
Will I be doing any writing?
What technical knowledge will I learn?
What are the company's campaign objectives
What are the current struggles and how can I help?
Who are the competitors?
Ask respectively and approach it in a consultative point of view e.g., "These are my skill sets, I think this is where I can help, and how can I help with that?"
If the company does not know where you can fit in, it's probably not the right company for you.
Look out for companies who also have plans to convert interns into full-timers, as this shows they value talent and have longer term plans to retain them.
If you're looking to start your digital marketing internship within the next couple of months, browse through our digital marketing agency directory for potential agencies to join in Singapore.
Digital Marketing Career Portal Menu
Download the Complete Digital Marketing Career Handbook (PDF Version)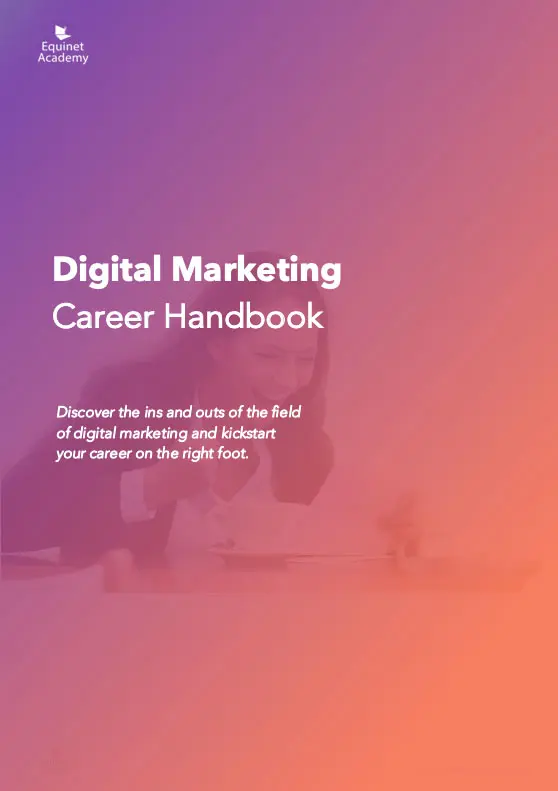 Discover the ins and outs of the field of digital marketing and kickstart your career on the right foot.